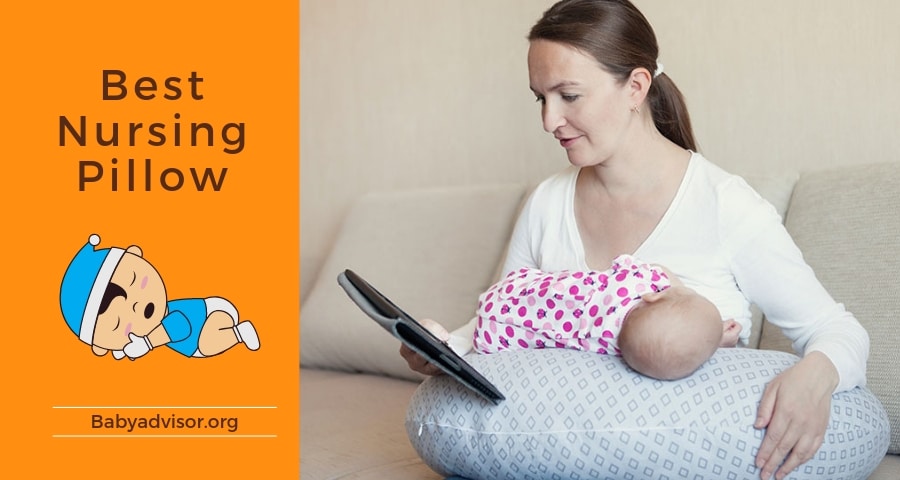 Breastfeeding typically requires fewer items and supplies than bottle feeding, but one of the most important items is a nursing pillow.
Finding a comfortable position while breastfeeding is harder than you might imagine, and it can make or break your baby's latch onto the breast. The right latch is essential for a happy breastfeeding relationship. What supplies you are going to need for breastfeeding? Learn more about Breastfeeding Supplies Checklist.
An average newborn baby nurses around 8 to 12 times a day! Proper positioning can lead to backaches or worse – sore nipples. The best nursing pillow gives you height and support to nurse your baby comfortably, but don't feel as if you can't use the pillow if you don't nurse. There are many uses to these pillows, even just providing support while holding your baby for long periods.
What is a Nursing Pillow?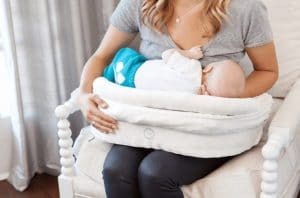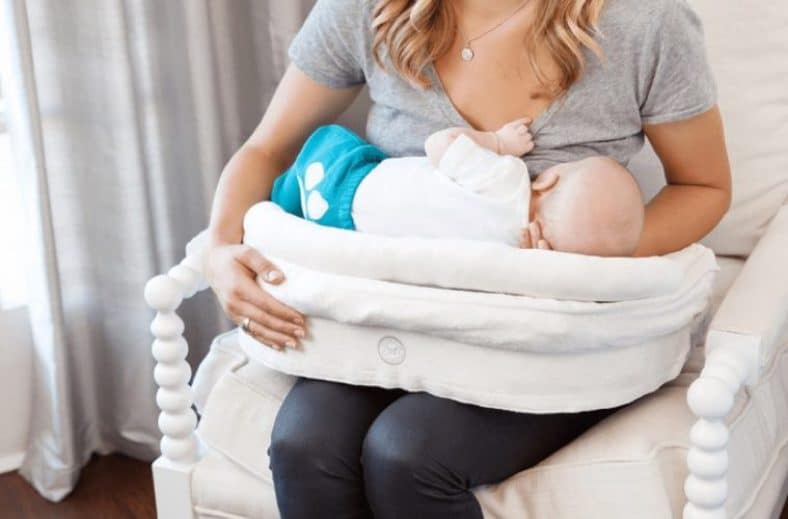 A nursing pillow is a pillow that helps you prop up your baby near to your breast. It helps to take the load off of your arms because supporting a newborn for hours and hours every day can be tiring. Newborns have no head and neck control. Even though babies are small, they're surprisingly heavy to hold for an extended time.
Nursing pillows lay in your lap and wrap around your body. It creates a stable and comfortable surface to help position your newborn at the breast. Nursing pillows help make the breastfeeding pillow more enjoyable and easier.
Why You Need a Nursing Pillow?
You might hesitate to purchase a nursing pillow, but you can need them for a variety of reasons. Some women love these pillows before birth to help relieve your aching back during pregnancy.
A few reasons why you need a nursing pillow include:
Tummy time is important for the development of your child's neck muscles. You can lay your baby on a boppy, on his tummy, to help him develop those muscles, lifting his head up to look around.
When you bring your baby home, you might notice that your back pain hasn't improved any than it did in late pregnancy. It can last up for several weeks, so finding some relief in your back pain becomes a priority. Using the pillow can help to reduce back pain.
Find the Right Position While Breastfeeding
Nursing pillows are essential during feeding time. A supportive pillow can help you find the right position that works for you and your baby as you breastfeed. It also works for bottle feeding to find a cozy spot to feed your baby.
Is a Nursing Pillow Necessary?
Of course, you can get by without a nursing pillow. Women have raised babies without nursing pillows for hundreds of years, but that doesn't mean that you shouldn't not have a nursing pillow.
If you have the extra money, getting a nursing pillow is a great use of your money. It can reduce the strain on our lower back, arms, and shoulders. Holding a baby for long times every day can add strain to your back, leading to sore muscles.
When Do You Need a Nursing Pillow?
Babies nurse a lot, especially in the beginning. They breastfeed 8 to 12 times per day and sometimes more, especially if they're cluster feeding. Babies develop better neck and head control around 4 to 6 months old, so you may not need a pillow at this point. By then, you should have better control over breastfeeding.
That doesn't mean you have to put nursing pillows away at that point. You can use nursing pillows for tummy time or a spot to set your baby who cannot sit up on their own. It gives them a better view and helps you interact with your baby easier.
Different Kinds of Nursing Pillows
Moms have to pick from several different shapes and kinds of nursing pillows. All of these have pros and cons to help you with your feeding issues and aches.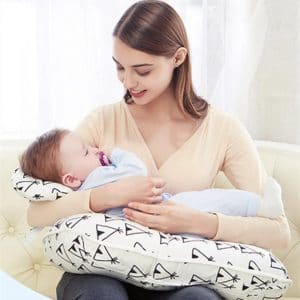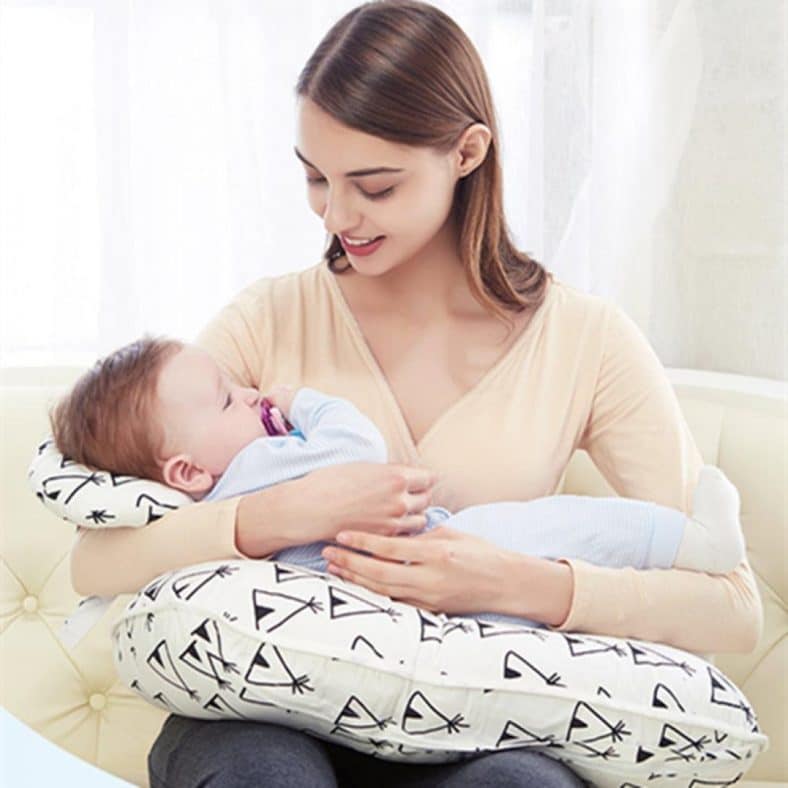 These are the most common types of nursing pillows that look like a large letter C or similar to neck pillows that you see for traveling. Boppy pillows are shaped nicely to fit your body to provide support for feeding. The shape also helps your body sit up on his own when he's ready. You can place these flexible pillows around our baby to stop your baby from toppling over and smacking his head.
Flat or Shelf Style Pillows
The shelf-style pillows have a stiff ledge that you strap around yourself and fasten. They are stable, large, and have back support unlike the Boppy style pillows listed above. Some women like the back support while others dislike it. The nice thing about these pillows is they have don't go flat or move as you feed.
Other pillows are shaped like the number 3, and they're ideal for feeding twins. Some pillows are large, soft rectangles. You might also find an extra-large sized pillow or a boomerang shape, which is ideal for plus-sized moms. Those are also great for c-section moms who want to avoid pressure on their bellies.
This type of pillow slides onto your forearm, and it's a creative style that works for mothers who are recovering from a c-section. It doesn't apply any pressure to your midsection. This style is great for traveling, and it's great for women of various shapes and sizes. However, this style can make your arm sweaty and needs a steeper learning curve.
How to Pick a Nursing Pillow
When you pick the best nursing pillow, a few things to consider are:
Most importantly, the nursing pillow should fit you comfortably, especially those wrap-around ones. You don't want it to fit uncomfortably, leading to discomfort.
Breastfeeding moms need to have a pillow that's the right height for your baby to find the right latch. If it goes too high or too low up your midsection, you won't be able to latch your baby onto your breast.
Babies spit-up and diapers explode. Bottles leak, and, at some point, your nursing pillow will get nasty and stink. It will need a good washing. Ideally, the cover can come off and you can throw it in the washing machine.
Most nursing pillows are between $25, but some reach over $100, especially nursing pillows designed for twins. The classic nursing pillows range between $25 and $60. If you want extra slipcovers, expect to spend $10 to $20 per cover.
Each mama and baby is unique, so it does take time to adjust. The size of your torso, the weight, and length of your baby, along with the size of your breasts play a factor into the right nursing pillow and how easy it is for your baby to latch.
The Best Nursing Pillows
1

My Brest Friend Deluxe Nursing Pillow – The Best Flat Nursing Pillow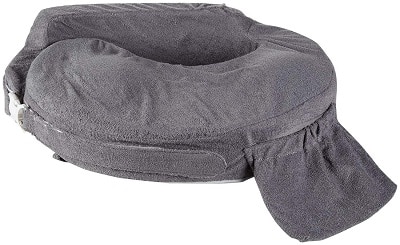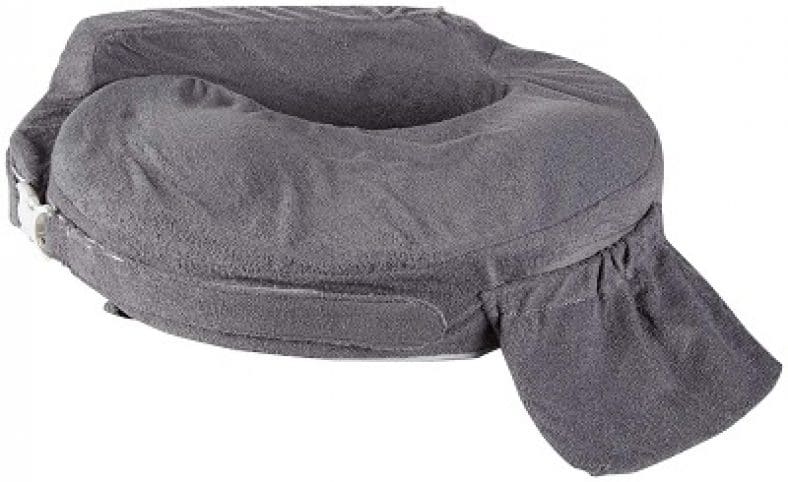 Many mothers love this nursing pillow, and it's recommended by many lactation consultants. It has a soft slipcover that can go in the washing machine. It is durable enough to withstand months or years of use. The pillow provides plenty of space for your arm and elbow to rest when you're breastfeeding, which helps to relieve your shoulder muscles. Sometimes, you have to hold your baby for extended times.
My Brest Friend wraps around you, staying put because of a fastening strap and latch. That back strap adds plenty of support for your sore back, and it's right where you need it the most. That clip keeps the pillow in place without it slipping.
Moms love the storage pocket that lets you store things like burp cloths or nipple cream. You can purchase extra slipcovers if you want to change the design. There is also a twin version available!
While parents love the Brest Friend, the quality of the foam is a bit of a disappointment, and there is no cover on the foam beside of the slipcover. The foam can fall apart when you remove the slipcover for cleaning. Also, putting the pillow on can be a bit of a pain to put on because you have to connect the straps, and that can be challenging.
Check Pricing and Availability
PROS:
Helps to relieve back pain

Keeps baby at right height while breastfeeding

Has a convenient pocket

Baby can't roll out of position.
CONS:
Can't put on one-handed

Doesn't fit plus-size women well

Foam degrades over time
2

Boppy Nursing Pillow – The Best C Shaped Nursing Pillow
The Boppy Nursing Pillow is made of polyester and cotton. It's a great choice for breastfeeding and bottle-feeding pillows, and it can be used to take the strain off a mother's sore arm, shoulder, and back muscles.
Boppy sells separate, machine washable slipcovers for the pillow. So, you can find a pattern that matches your nursery decor. The most popular slipcovers are the polyester and cotton blend ones, and parents also like the plush fabrics with a 2-sided design. Boppy also sells a water-resistant that reduces how often you need to wash it.
One of the best reasons to use the Boppy Nursing Pillow is that it's versatile. You can use it for years with multiple children. It works for tummy time, playtime, and sitting unassisted. It's worth the money.
The Boppy is a great choice, but the pillow does pull away from your stomach at times, creating a gap. Your baby can roll a bit. Also, the foam does flatten out over time with daily use, but it's still great to use for years.
Check Pricing and Availability
PROS:
Affordable

Versatile – used for many years

Soft fabric is great for sensitive skin.

Used for tummy time

Multiple slipcovers available
CONS:
No back support

The rounded top might allow baby to roll

Not ideal for plus-size women

Flattens out over time
3

Luna Lullaby Bosom Baby Nursing Pillow – Great for Plus-Sized Women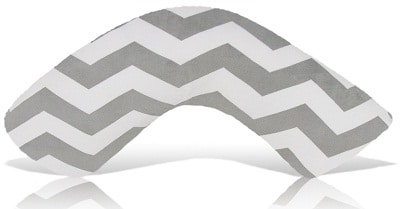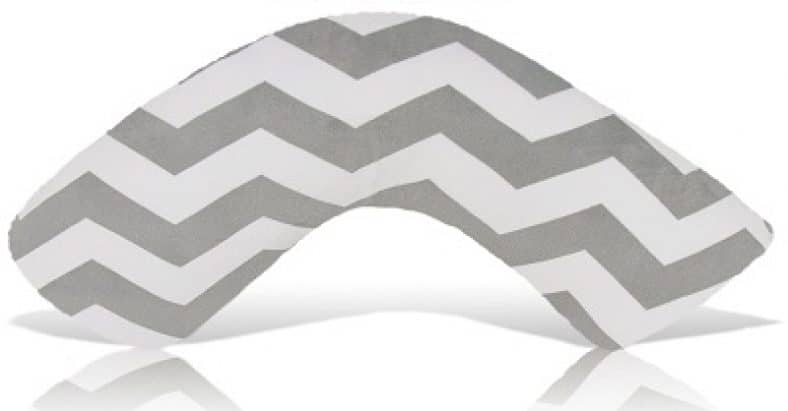 Plus-sized women have to pick the right nursing pillow, and the Luna Lullaby is designed differently than the popular nursing pillows. This pillow is shaped like a boomerang, and it doesn't fasten behind our back. C-section moms love the Luna Lullaby because it doesn't sit too close to your body, reducing the risk of it irritating the incision area.
This pillow is compact but effective, and it could fit in your carry-on bag or in your stroller. It can help with tummy time support because of the soft material and curved shape. Luna Lullaby uses a soft fabric that baby and mom will enjoy, and the pillow doesn't contain any flame retardant chemicals. It's great for babies with delicate skin.
Of course, even though parents love how soft this pillow is, it can be too soft for some people. It can lead to problems like the baby sinking in or the parents having to hunch over. The pillow can slide away from you. Also, the pillow isn't machine washable. You can wash the over, but spit-up or urine can make it through the cover and make it into the pillow. That might be gross over time.
Check Pricing and Availability
PROS:
Easy to get slipcovers on and off

Good for a variety of body types

Decorative look that is great for your living room
CONS:
Doesn't work well for travel

Expensive

Too soft
4

The Nursie Slip-On Arm Nursing Pillow – Great for Traveling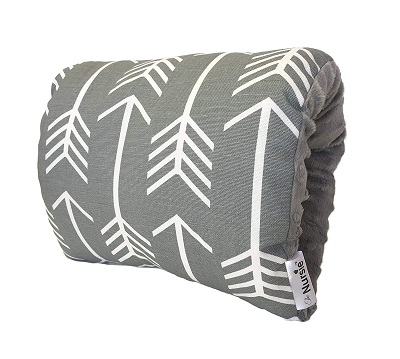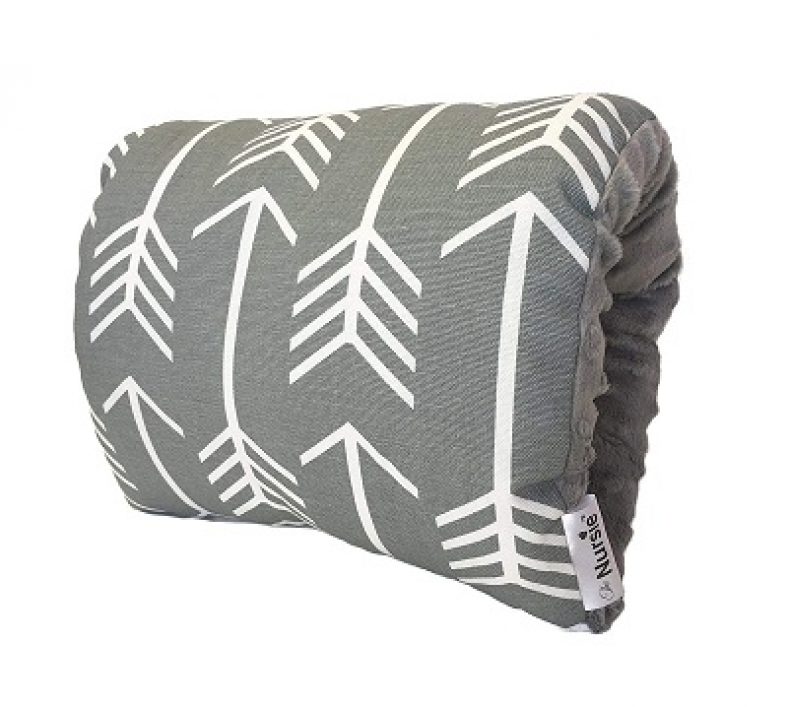 Do you want to carry around a huge nursing pillow when you're traveling? Probably not! The Nursie Slip-On is great for moms and dads. It looks like those swim floaties that you put on a toddler learning how to swim in the pool. It adds support to your forearm, letting you feed your baby without having to strain.
This style might be good for mothers who have had a c-section. The design is nice because it relieves the pressure that a wrap around pillow might place on the incision site. Some mothers love The Nursie because it props your baby up high enough to prevent acid reflux. Parents love the small, convenient traveling size, and it's machine washable.
However, the pillow isn't the best for little infants or new nursing mothers. It might be hard to figure out how to breastfeed one-handed for new moms.
Check Pricing and Availability
PROS:
Easy to use

Fits into a diaper bag

Easy to wash

Prevents acid reflux
CONS:
Doesn't provide back support

Doesn't have other uses

Fleece lining will make your arm hot.
5

Twin Z Nursing Pillow – Best for Twins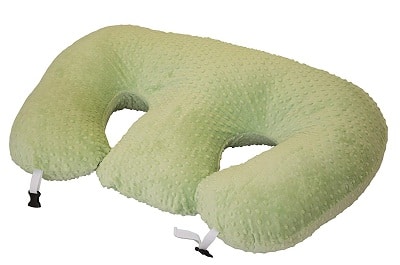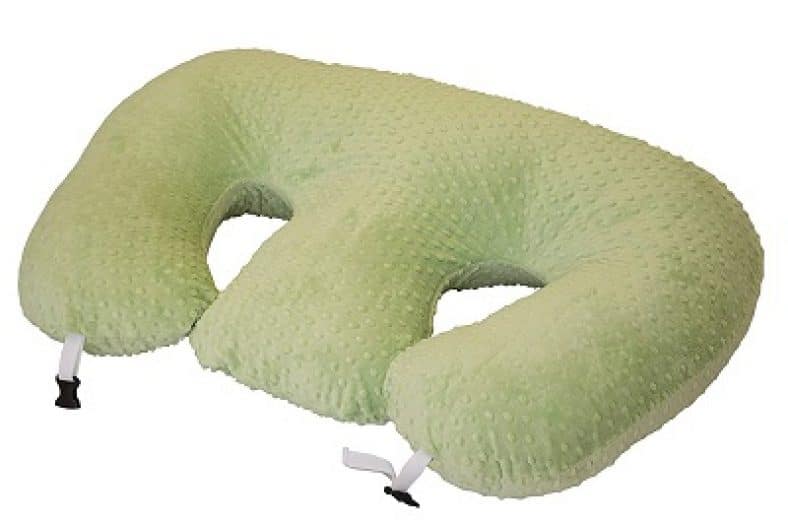 Breastfeeding twins is a unique situation, and it can make for some extra troubles. The Twin Z provides some back support for mothers who are struggling under the weight of two babies. This pillow lets you position each baby on either side of you, under each arm in the football hold position, letting you nurse comfortably both at the same time.
Mothers love the versatile nature of the pillows. You can use it for bottle feeding, tummy time, as a pregnancy pillow, support for two sitting up babies, and a toddler pillow. It's a great place to put your twins down at an incline to help with reflux. This pillow is designed differently because it has a centerpiece that folds up to go behind mom's back while feeding.
One thing to note is that the Twin Z isn't a small pillow. It weighs around 6 pounds, but it's worth the weight. The outside of the pillow is covered in nice, quality cotton fabric that is soft. There is a buckle that helps keep the pillow securely in place.
Of course, the Twin Z is quite large and that makes it hard to find a comfortable spot to feed your babies. You probably won't be able to breastfeed in a recliner. Instead, you'll need to nurse on a couch, bed, or a floor to accommodate the width of the pillow.
Check Pricing and Availability
PROS:
Good for plus-sized women

Provides back support

Babies can lay in the pillow side-by-side on the floor

Comfortable
CONS:
Will need to be used on the floor, soda, or bed because it's so large.

Not ideal for traveling

Expensive

Flattens out over time
6

All American Collection Bamboo Nursing Pillow – The Best Hypoallergenic Nursing Pillow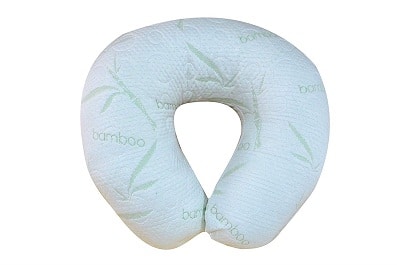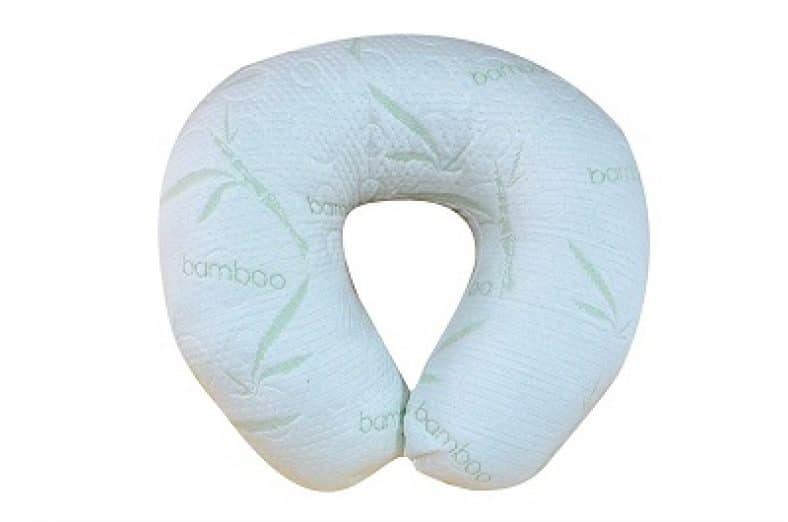 If you or your baby have allergies, the soft All American Collection Nursing Pillow is allergen protected and lightweight, making it a cozy, safe place to feed your baby. Parents and babies love the texture. It's soft, yet firm, and lightweight.
All American used 100% polyester filling, so it won't bother your baby's allergies. The cover is made of light bamboo-polyester blend. This combination of fabrics and materials that it is easy to wash and dries quickly.
It is a medium-sized pillow, so you can bring it along if you're traveling. All American used a low-key design rather than bright colors or ugly prints.
Check Pricing and Availability
PROS:
Soft and firm

The cover washes easily and fast

Great for allergies
CONS:
It will go flat after use.

The filling isn't durable.

The cover might fray and need an extra cover.
7

Leachco Cuddle U Basic Nursing Pillow – A Versatile Nursing Pillow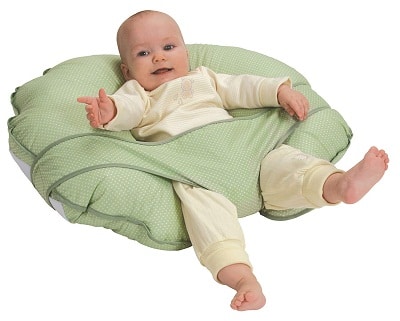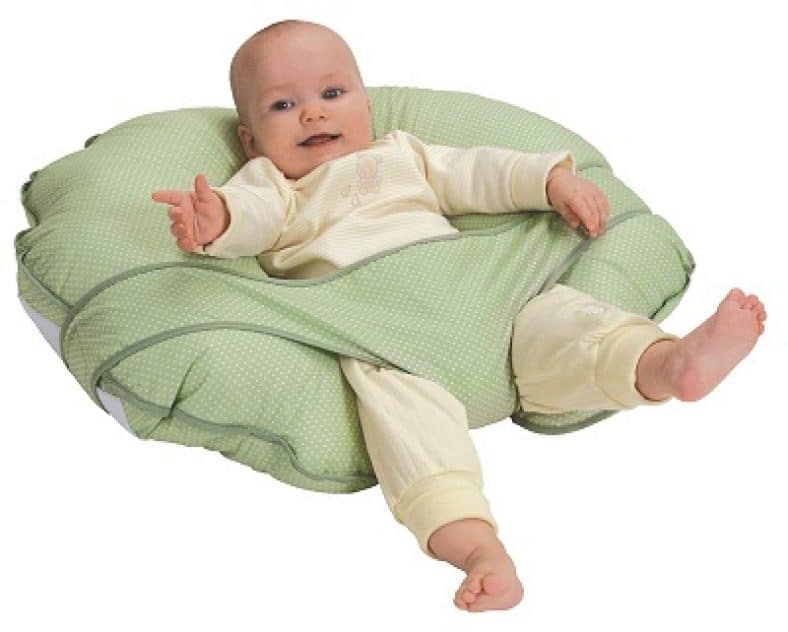 If you want a versatile nursing pillow, the Leachco Cuddle U transitions from a nursing pillow to a baby lounger, and it comes with a little, attachable seat. The seat helps keep your baby in place, preventing him from wiggling around. The Leachco is great for babies with acid reflux, and it can be used as tummy time support.
Parents like that it contains plenty of stuffing, stopping the baby from rolling around while providing adequate height and arm support. It's a lightweight pillow, so carrying it around isn't a big deal and it doesn't take up much space. The only issue that parents tend to note is that the cover isn't removable, so cleaning can be an issue.
Check Pricing and Availability
PROS:
Comes with an attachable fabric seat

Changes to a baby lounger

Great for acid reflux

Made in the USA
CONS:
Slipcover isn't removable, making cleaning hard.
8

Blessed Nest Nesting Pillow – The Best Organic Nursing Pillow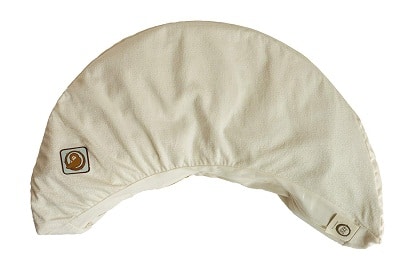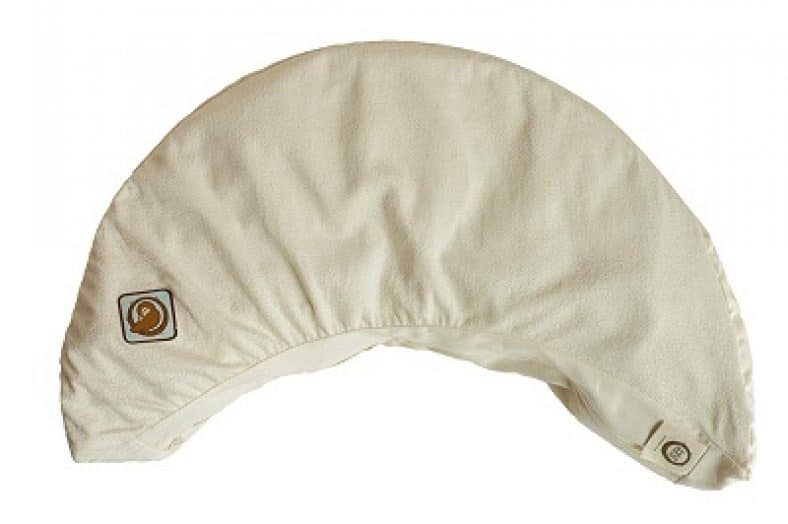 The Blessed Nest is the only moldable and organic nursing pillow that mothers love. You can adjust the pillow's shape and elevation by moving the buckwheat hull filling. It feels similar to a beanbag and it conforms to your body and baby better than most nursing pillows. You can scoop and push the filling to make one part of the pillow thicker and fluffier than the other to help support your baby's head better.
Due to its versatility and moldability, it can work well with newborn babies and older infants. It also works for non-breastfeeding parents. You could use it as back support and between your legs while sleeping.
Blessed Nest uses a cotton terry cloth and canvas cover that comes in several designs. It looks like home decor rather than baby gear. Best of all, the pillow's materials are certified organic. The GOTS certified outer organic cover is easy to remove for washing, and the cover absorbs spit-up before it reaches the inner pillow. You can toss it in the dryer as well.
However, it is heavier than most picks and it is expensive. It weighs 5 ½ pounds, and when you add the weight of your baby, it can be quite a bit, especially if you had a c-section. That can apply pressure to your incision, making it too difficult. If you're trying to heal, using the football style hold helps to avoid discomfort.
Check Pricing and Availability
PROS:
Certified organic

Moldable to you and baby

Comfortable
CONS:
Expensive

Heavy

Not ideal for traveling
How to Use a Nursing Pillow
The proper way to use a nursing pillow will depend on the position you are in and how you want to position the baby while feeding. Here are the general tips to use a nursing pillow.
When you're seated in a comfortable chair and your baby is across your lap, use the nursing pillow to support your baby's head and neck. This is important for newborns and infants without any neck strength.

If you're using the football hold with your baby positioned under your arm, use the pillows to help place you or your baby comfortably. The pillows should lift your baby up to latch correctly onto your breasts.

You don't need a nursing pillow if you feed your baby while laying down on your back or on your side.
Common FAQs about Nursing Pillows
Can Babies Sleep on a Nursing PIllow?
Unfortunately, no. Babies should not sleep on a nursing pillow because babies can easily slip down off of the pillow. Slipping down into the nursing pillow can cause a baby to suffocate by blocking their airways. Babies should always sleep on a firm, flat surface, on their backs.
How Do You Wash Nursing Pillows?
Read the description set by the manufacturer to see if the entire pillow is machine washable. Many come with removable slipcovers that allow you to just wash the cover instead of the entire thing. These are nice because you can purchase several covers.
Our in-depth analysis, reviews and buying guide of the Best Crib Mattress.
Final Words
Picking the best nursing pillow should be for your personal style, as well as any specific needs when it comes to your baby's latch. Not all people need a pillow to help in feeding.
Each pillow above is different and presents unique pros and cons. All of them provide support and help you and your baby. Your choice of pillow is personal and need to match your body shape and size as well as your feeding style.
Do you have a favorite nursing pillow? If so, let us know in the comments!