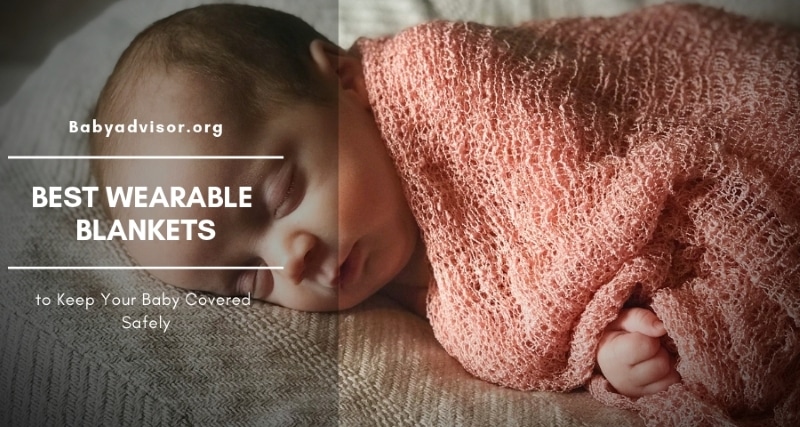 Blankets are a safety hazard in a crib, and experts recommend that babies sleep in an empty crib. Babies should be kept at a comfortable temperature, but without blankets, that seems like a challenge. The answer is getting a few wearable blankets, also known as sleep sacks.
Wearable blankets are sacks that you put your baby in that keeps their legs covered. Most leave their arms open, so you still need a onesie or a shirt underneath, but your baby's torso and legs are covered. Even toddlers can use and love wearable blankets. Everyone knows that toddlers kick off blankets as soon as they're covered! Here's our top picks of best wearable blankets for babies you should try.
| Brand | Materials | Sizes Available | Price |
| --- | --- | --- | --- |
| HALO SleepSack | 100% Cotton | Small, Medium, Large, X-Large | $$ |
| Burt's Bees Wearable Blanket | 100% Organic Cotton | Small, Medium, Large | $ |
| HALO Early Walkers | Microfleece | Medium, Large, X-Large | $ |
| HALO Muslin SleepSack | Cotton Muslin | Small, Medium, Large, X-Large | $$ |
| Jasper Long Sleeves | 100% Cotton & Polyester Filling | Small, Medium, Large, X-Large | $$ |
| HALO Microfleece SleepSack | Microfleece | Small, Medium, Large, X-Large | $ |
| Nested Bean Zen Sack | 100% Cotton | 3-6 Months, 6-12 Months, 15 to 24 Months | $$$ |
| The Woolino | Merino Wool | One Size – 2 to 24 Months | $$$ |
| Baby DeeDee Sleeping Sack | 100% Cotton | Small, Medium, Large | $$$ |
---
What is a Wearable Blanket?
A wearable blanket is also called a sleep sack, and it's a one-piece, wearable blanket that keeps your baby warm and safe while sleeping in his crib. At the top of the sleep sack, it looks like a normal sleeper, but it fans out with a closed sack at the bottom. The bottom is like a sleeping bag!
The purpose of a wearable blanket is to replace loose blankets that can pose a safety hazard to your baby. Wearable blankets come in a variety of fabrics and styles, so you can find one for every season. Different brands have different fasteners, like zippers and snaps.
Sleep sacks are great for babies and toddlers. Parents who are transitioning out of swaddling find sleep sacks a great choice to help keep your baby feeling cozy. If you buy the right sleep sack, your toddler can still stand up!
---
The Benefits of Using a Sleep Sack
Using a wearable blanket has several benefits, which are why parents love using them. Let's take a look to see if a sleep sack would be a great choice for you.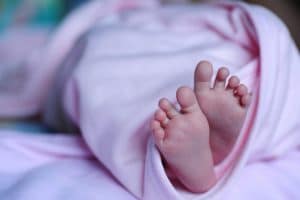 The first benefit is the most important. Our baby's safety is of utmost importance for parents. Loose blankets and pillows can lead to Sudden Infant Death Syndrome, also called SIDS. Around 1,200 babies die from SIDS each year.
SIDS takes place, in most cases, while babies are sleeping, so it's very important to keep the right sleep environment. We know that blankets aren't safe for babies, so sleep sacks eliminate any danger that they might pose. At the same time, a sleep sack performs the same function as a blanket.
Babies need to stop being swaddled when they're able to roll over, which is typically around 3 to 4 months, but your baby may still crave that comfort and snugness provided. When babies turn over in a swaddle, it's very dangerous because your baby has no way to push up and roll over. Your baby is stuck in a face-down position.
Wearable blankets eliminate that problem. Babies can roll freely while wearing them, and toddlers can even stand up while wearing the properly sized sack! Sleep sacks allow your baby to have arm and leg mobility, completely eliminating those risks.
Sometimes, we just need things that are easy to use and still help our babies get what they need. Swaddling takes time and practice, unless you use a stretchy, swaddling pod or something similar.
A sleep sack is perfect for bedtime and simple. Put your baby in a onesie or a cotton sleeper. Then, zip your baby inside of the sleep sack. Easy peasy! Now, your baby is ready for bedtime, and you don't have to worry that he'll be too cold.
Keeps Your Baby Comfortable
Babies are used to cozy, warm environments because the womb is warm! That's one of the several reasons why babies thoroughly enjoy being swaddled.
Using swaddle sacks help your baby to feel that same comfortable, cozy feeling that the womb and swaddling offered. Swaddling offers your baby that feeling as well, but eventually, your baby will grow too big to swaddle or he may not like to be swaddled. If your baby feels as if swaddling is too restrictive, a sleep sack is an awesome alternative.
---
Picking the Best Wearable Blanket
In general, there are only two types of wearable blankets on the market. That does make it easier for you when it comes to picking the right one.
Baby Sleep Sack: As you might expect, these sleep sacks are designed to be used by infants, starting at newborn age and upwards.
Toddler Sleep Sack: For your bigger child who can stand on his own, it's best to switch to a toddler sleep sack. These have holes in the feet, so your baby won't stand up and falling, hurting himself. Besides the exposed feet, toddler sacks are designed and perform the same function as a baby sleep sack.
Once you designed which type you prefer, which is based on the age of your child, it's time to take a look at the features. You want to make sure you get the right one to meet your baby's needs and your own.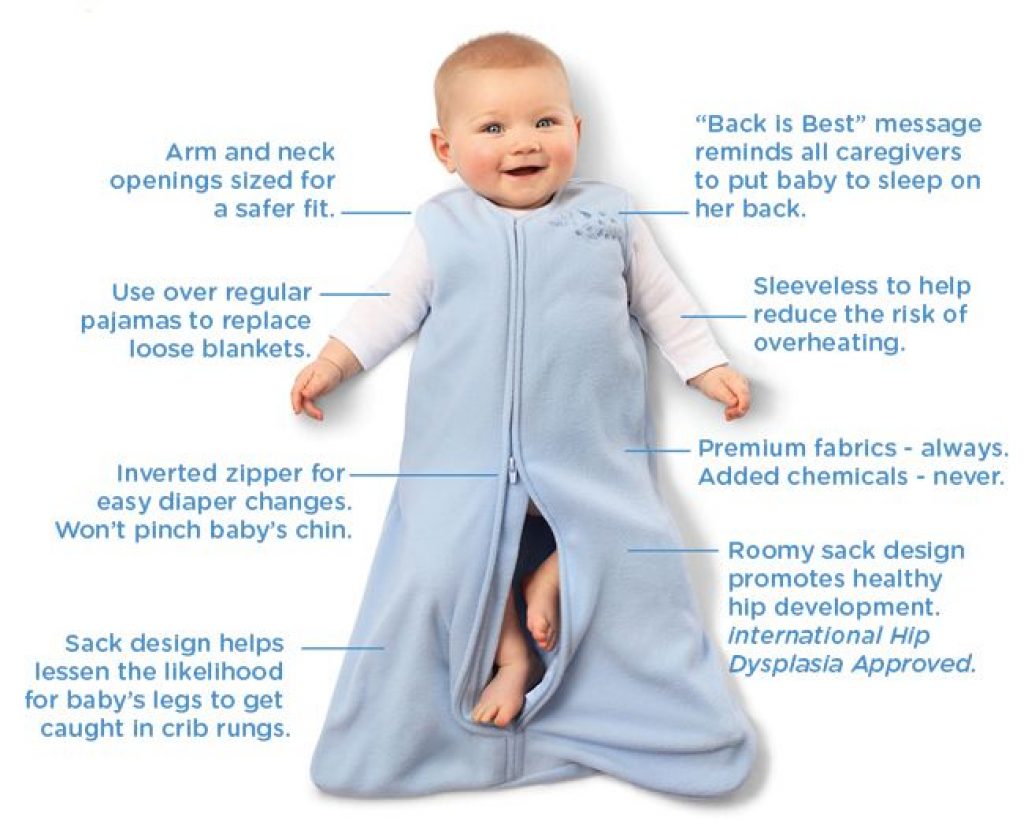 ---
Look at the Features of Sleep Sacks
First, take a look at the fabric choice. Most commonly used is cotton. Cotton is a natural fabric that is soft against the skin. It's naturally breathable, and it's unlikely to irritate your child's skin. Cotton is often the most commonly selected fabric for wearable blankets.
Wool, in particular merino wool, is another fabric that parents love. Merino wool is a natural fiber, so it's breathable, absorbs moisture, and is naturally fire resistant. Most people imagine wool, and they think it's scratchy and hard to clean. Merino wool is the opposite. Many are machine washable, and the fabric is very soft.
You will also find some sleep sacks that are microfleece. These are not natural, breathable fibers, so it is best to reserve these wearable blankets for when it's really chilly. They'd be a great choice if you're taking your baby camping!
One of the most important feature is how easy the wearable blanket is to use. We love any sleep sacks with inverted, 2-way zippers. That helps to prevent your baby from waking up too much during diaper changes. It's a must-have feature if you're using the blanket on a smaller infant.
Some wearable blankets have snaps on the shoulder straps that let you adjust the size as your baby grows. That's an awesome feature because it means you have to buy fewer sleep sacks as your baby grows.
Also, having removable sleeves is a great feature. That makes it very versatile, perfect for anyone who lives in an area that has all four seasons. You can add the sleeves whenever its cold outside and remove the sleeves when it gets warm outside.
Price is always a factor. Expect to pay the least for thin cotton or fleece sleep sacks. Muslin cotton increases the price because its a nicer material. Wool is the most expensive. Remember that the price also tends to indicate the durability of the fabric. Wool is the most expensive, but wool sleep sacks are typically one size and will last for multiple kids.
TOG stands for Thermal Overall Grade, and that is the unit of measurement for textiles and warmth. Pick the right TOG rating for your house temperature and how warm or cold your baby often is.
---
The 9 Best Wearable Blankets
1

HALO SleepSack – The Original Wearable Blanket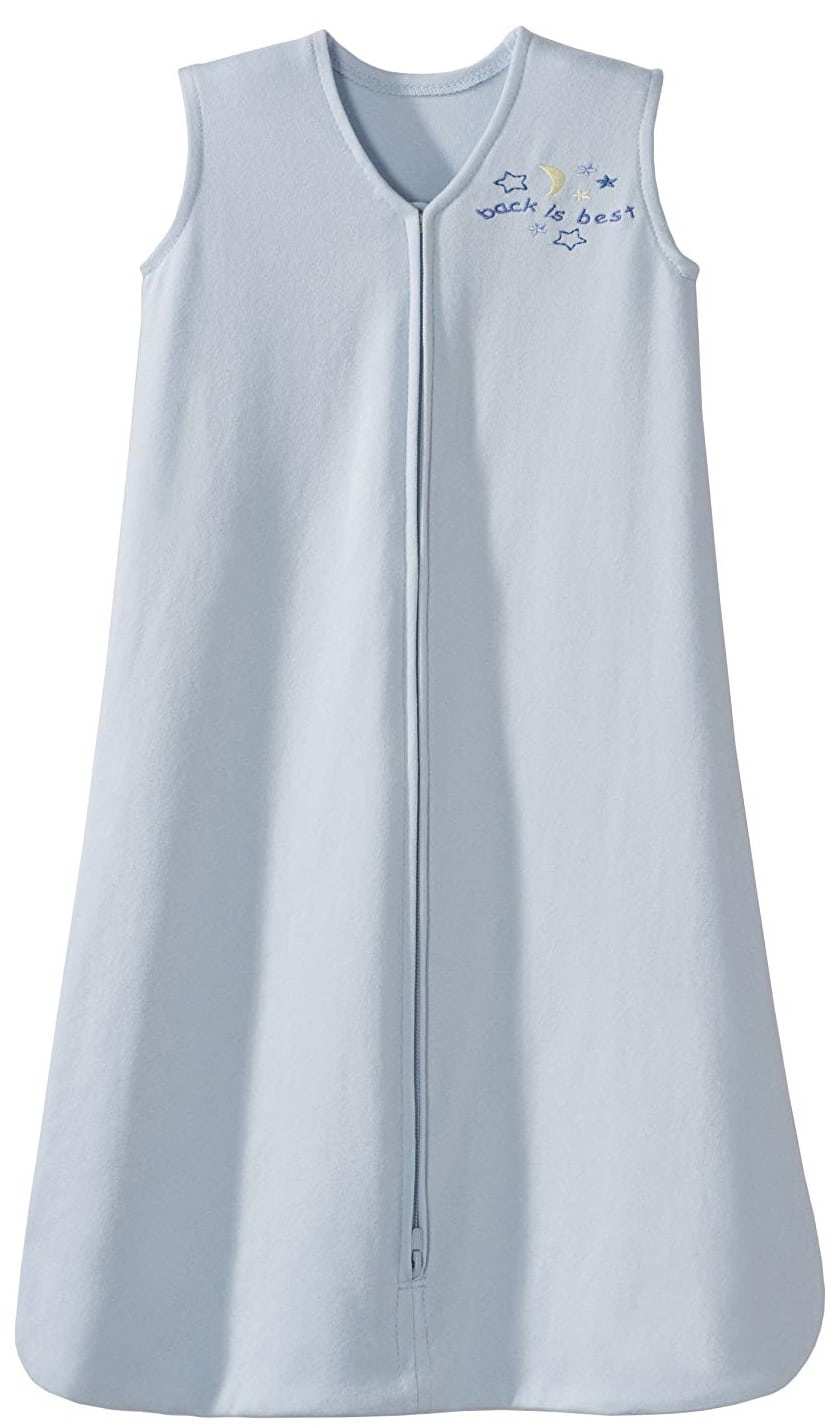 We have to start with the HALO SleepSack because it's the original. It seems as if HALO started the trend and continues to lead the pack with their designs. Their wearable blanket is made from 100% cotton, which is breathable and soft. This cotton interlock fabric has a TOG rating of 0.5, so it's great for warmer and cooler climates.
The HALO offers so much to love. First, it has the inverted, 2-way zipper for easy diaper changes. The roomy design is recognized by the International Hip Dysplasia Institute, which means you know it's not going to harm your baby's hips or legs.
It's a sleeveless design that prevents your baby from overheating, and the arm and neck holes are sized for a proper, safe fit. If you just want to buy one sleep sack and have it work for all of the seasons, the HALO is the way to go.
Check Pricing and Availability
PROS:
Comes clean easily
Unzips at the bottom for diaper changes
Comes in 4 sizes and 42 colors and designs
CONS:
Neckhole might be too large for baby
Durability of zipper is lacking
2

Burt's Bees Baby Wearable Blanket – The Best Organic Sleep Sack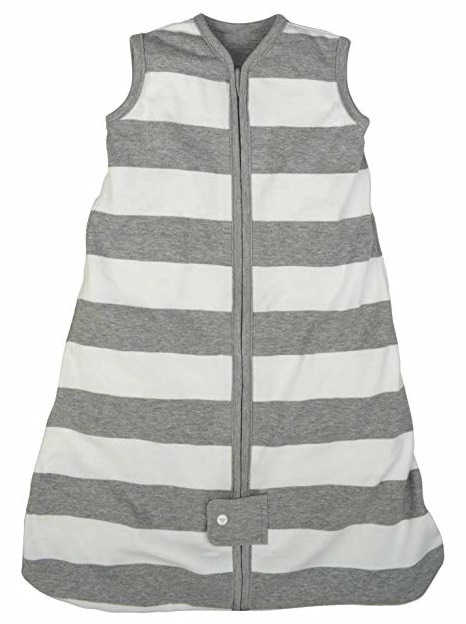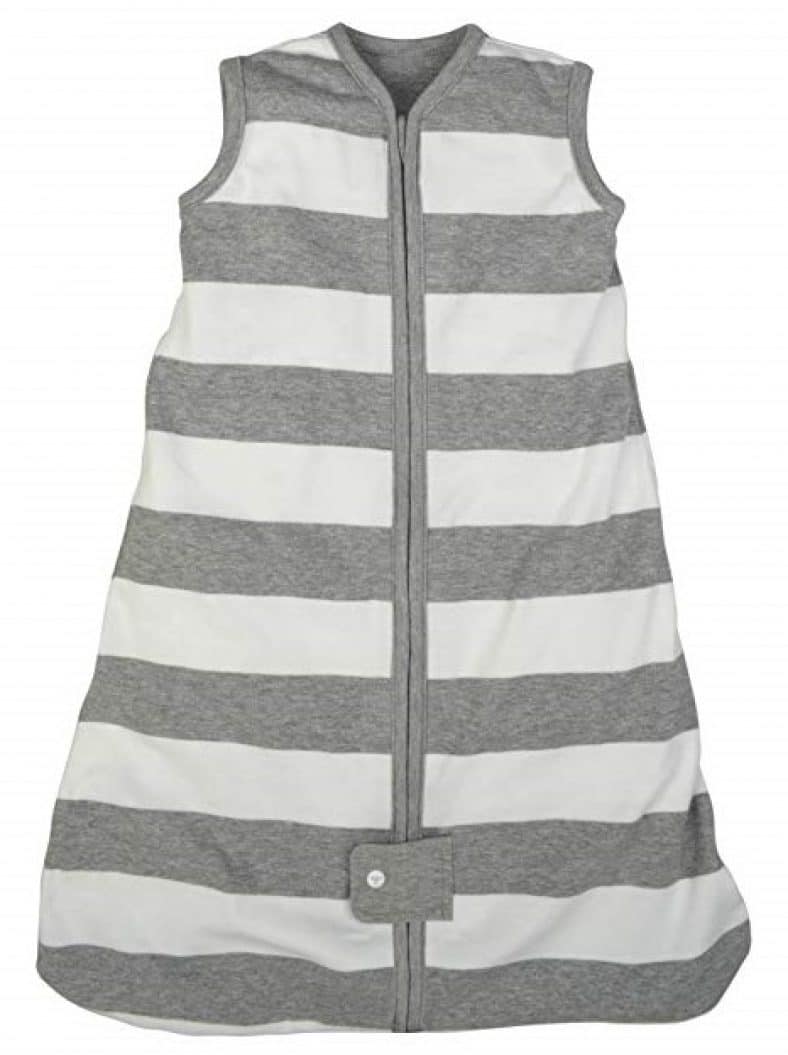 Everyone loves Burt's Bees, whether it's their adorable sleep sacks or awesome baby bath soap. Their products are trustworthy and high-quality. We love their BeeKeeper Wearable Blanket, which is made of 100% organic cotton, a safe and soft material for your baby.
In fact, Burt's Bees uses the best fabric! It's GOTS certified cotton that is combed and ring-spun for durability. It's soft, but you don't have to worry about it pilling in the washing machine.
We love the built-in zipper guard because it keeps your baby's skin safe. No one likes to get hurt from a zipper, plus Burt's Bees offers a lifetime guarantee on their zippers. That's awesome! It also features a snap tab zipper cover and a zipper garage. The zipper opens from the bottom for easy diaper changes.
Check Pricing and Availability
PROS:
Adorable, gender neutral prints
Designed with hip health in mind
Built-in zipper protection
Roomy
CONS:
Sizing is too large
Might be too thick for hot climates
3

HALO Early Walker SleepSack – Best for Toddlers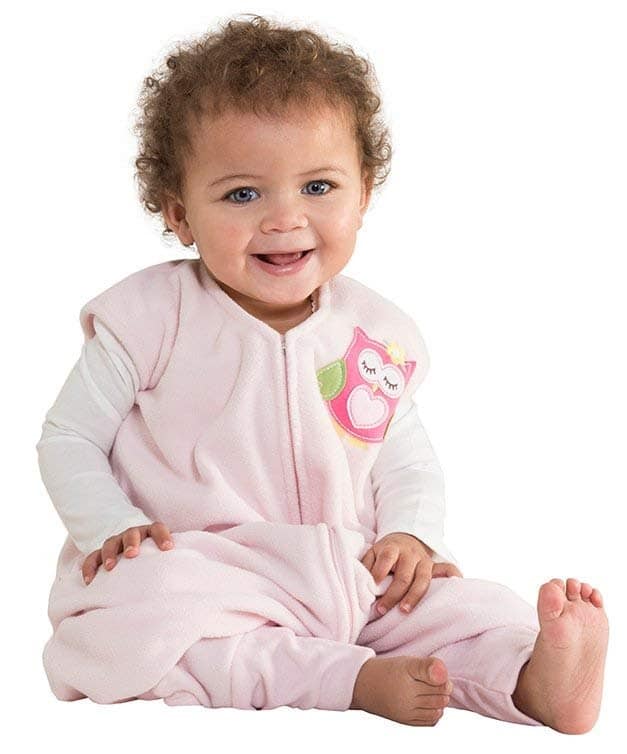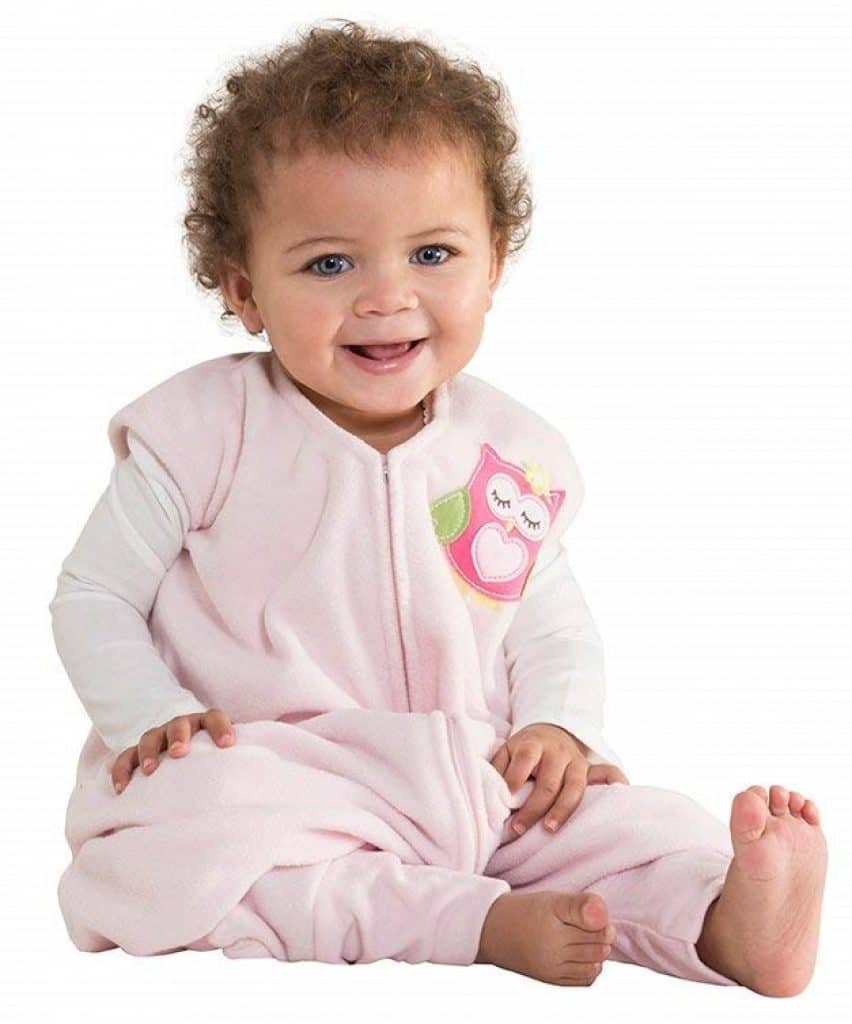 Before you know it, that tiny baby is a walker, and it seems to happen in the blink of an eye! The HALO Early Walker lets your baby sleep in his sleep sack still but with feet holes! This wearable blanket is made from microfleece, which makes it like a cuddly blanket for your baby that they can't kick off. It's perfect for snuggling down on cold nights.
HALO offers the Early Walkers in a variety of adorable patterns for boys and girls. We love that its sized so that your child can tuck their feet inside if they're feeling chilly or keep them out of the sack. Parents should put their toddlers in regular pajamas and put the Early Walkers SleepSack over top.
Just like the original HALO SleepSack, the Early Walkers unzips from the bottom for easy peasy diaper changes! It's also quite roomy, so your toddler can pull his legs up and sleep in the fetal position easily.
Check Pricing and Availability
PROS:
Babies can tuck their feet inside while sleeping.
Sleeveless
Great for cooler climates
CONS:
Sizing is large
Not for hot climates
4

HALO Cotton Muslin SleepSack – Best for Summer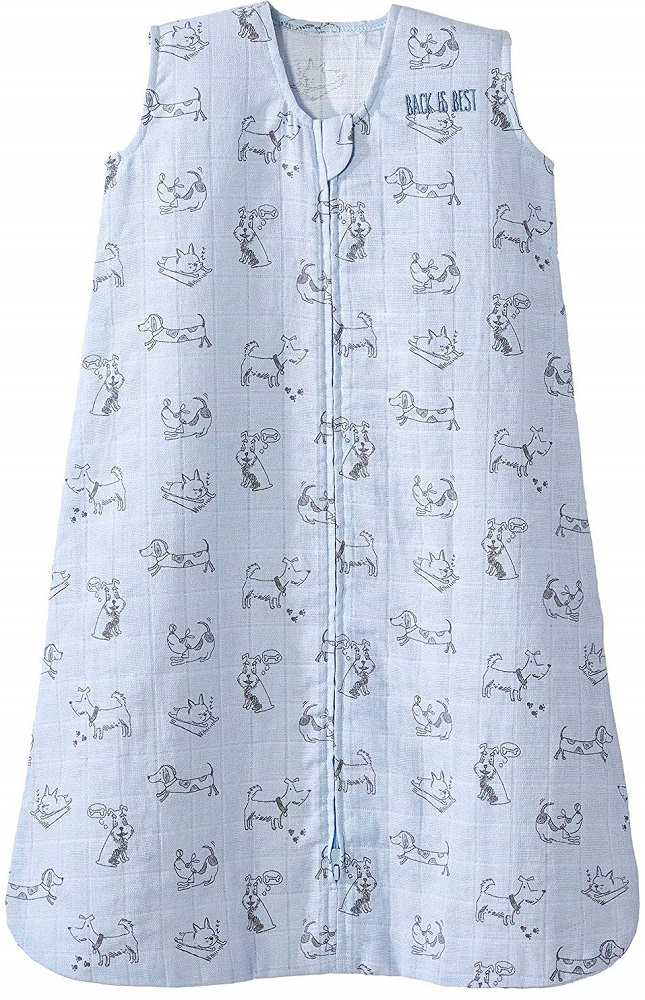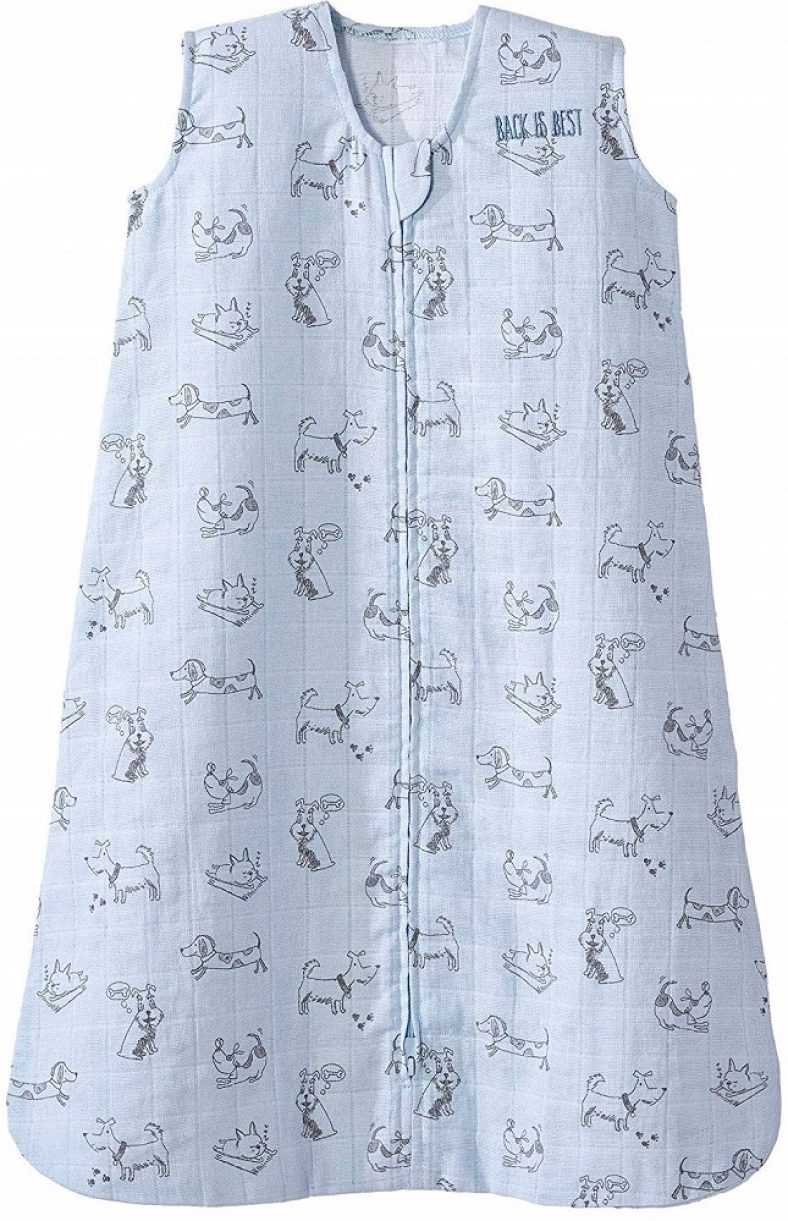 Can you tell just how much we love HALO? Their products are top of the line, and their Muslin SleepSack is a great choice for summer or hot climates. This sleepsack features a double-layer of muslin, which means its soft, comfortable, and breathable. The muslin has a TOG rating of 0.5, which means it can keep you cool or warm, depending on the environment.
The HALO Muslin SleepSack has all of the features we love by HALO like the roomy sack certified by the International Hip Dysplasia Institute. It has the 2-way zipper that opens from the top or the bottom for easy changes, and it has a tab at the top to protect your baby's chin.
Check Pricing and Availability
PROS:
Lightweight and breathable
Inverted zipper for easy diaper changes
Sleeveless to stop overheating
CONS:
Sizing is large
Stitching is weaker
5

Jasper Long Sleeves Wearable Blanket – Best Sleeve Wearable Blanket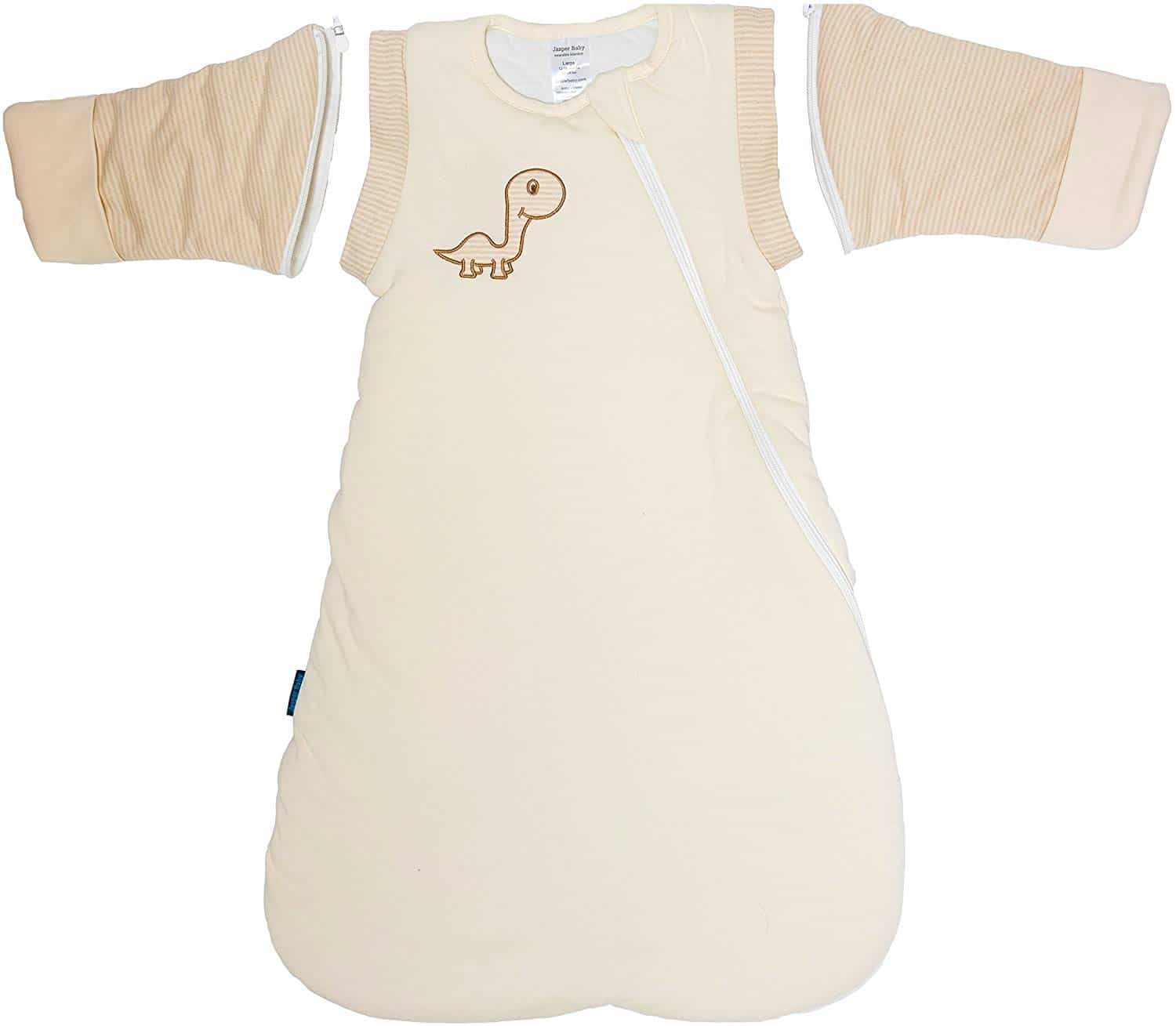 If you want the best of both worlds – sleeved and sleeveless, you need the Jasper Long Sleeves Wearable Blanket! This sleepsack features removable sleeves, which is pretty awesome! They means you can adjust your child's wearable blanket based on his current temperature and the temperature in the house. You can keep the sleeves on when its chilly and take them off when your baby feels too warm.
Jasper Baby added features parents want to see, like the dual zipper that lets you access baby from tp and bottom for middle of the night changing. There is a zipper guard at the top for comfort.
You never have to worry about safety! This wearable blanket meets all US government CSPC requirements, and it's made with 100% coton in the shell and liners. It does have 100% polyester filling, which some might not like because it does decrease its breathability.
Check Pricing and Availability
PROS:
Sleeves are wide for ventilation
Great for warm and cool climates
Dual zippers
Made of cotton
CONS:
Fit is too large
Taking sleeves on and off can be hard
Has polyester
6

HALO Microfleece SleepSack – Best for Winter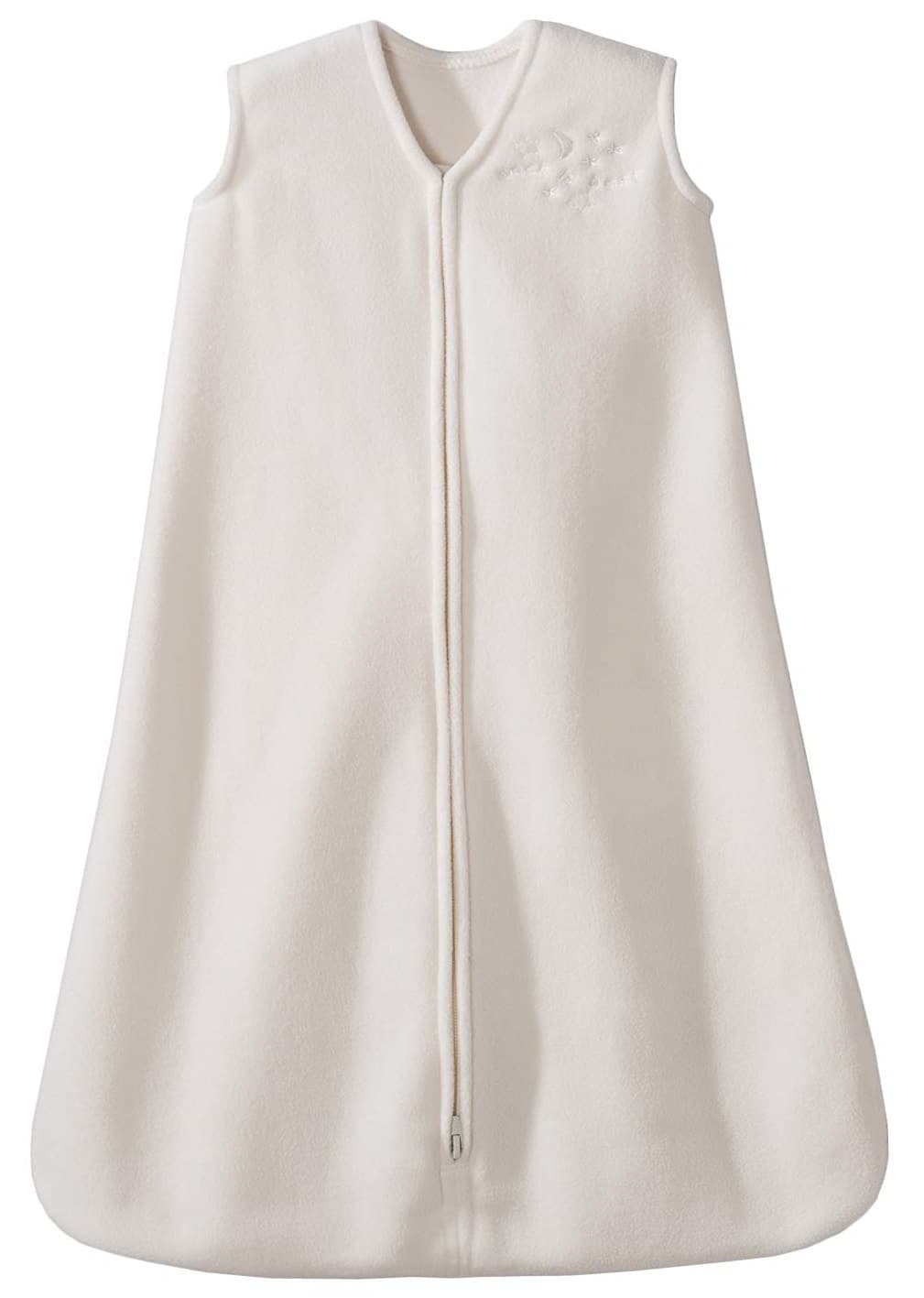 Winter in many areas is extremely cold, and your baby needs to stay warm. If you live in a chilly, drafty home, the HALO Microfleece SleepSack is a great choice. It's made from super-soft polyester microfleece that has a TOG rating of 1.0. That means it's great for moderate climates and cooler temperatures. It's quite plush and comfortable inside, like a cozy blanket!
HALO added all of the awesome features you would expect in all of their wearable blankets. It has the inverted zipper for diaper changes, a roomy sack design for proper hip development, and sleeveless to reduce the risk of overheating.
Check Pricing and Availability
PROS:
Super soft on baby's skin
Comes in 26 colors
Great for winter
2-way zippe
CONS:
Zippers might break easy
Not good for hot climates
7

Nested Bean Zen Sack – Best Weighted Wearable Blanket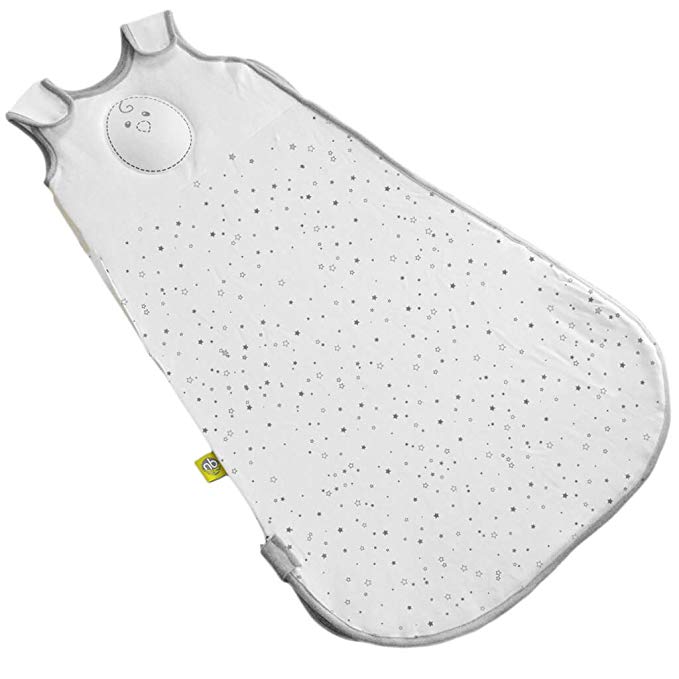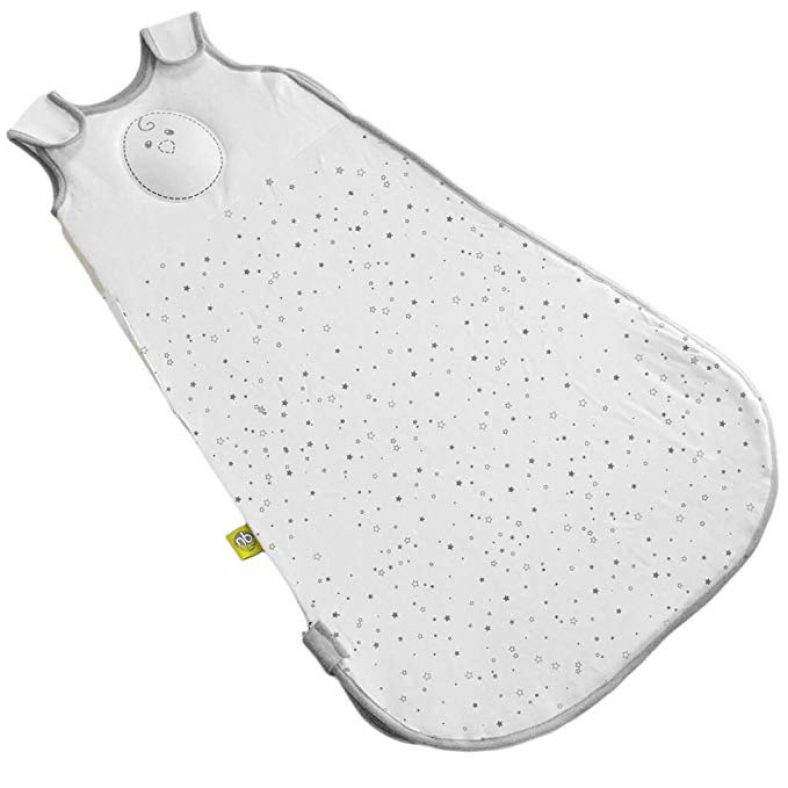 Transitioning out of the swaddle can be hard for some babies who love the feeling of being cozy and snug. The Nested Bean Zen Sack is the perfect tool to help your baby transition from a swaddle to a wearable blanket.
The Zen Sack has a slight, weighted area on the chest of the sleepsack. It's almost like when your baby lays down and you put your hand on his chest. It adds a sense of security and peace for your baby. He thinks mom or dad is still there for comfort. The weighted factor makes the Zen Sack unique and helpful for many babies and toddlers, especially those who suffer from anxiety.
Nested Bean added all the qualities we would expect, like a 2-way zipper system to make diaper changes easier. There are adjustable shoulder straps so the wearable blanket grows with your baby. It makes an awesome choice for transitioning from swaddles.
Nested Bean used 100% cotton with a TOG rating of 0.5. That means the fabric is breathable for warm days but its still warm enough for chilly evenings. The fabric is free of BPA, toxins, phthalates, and any other chemicals that might be damaging to your baby.
Check Pricing and Availability
PROS:
100% Cotton
Free of Toxins
Weight chest area
Adjustable shoulder straps
CONS:
Weighted bean isn't removable.
Doesn't work for every child
Pricey
8

The Woolino – The Best Wool Wearable Blanket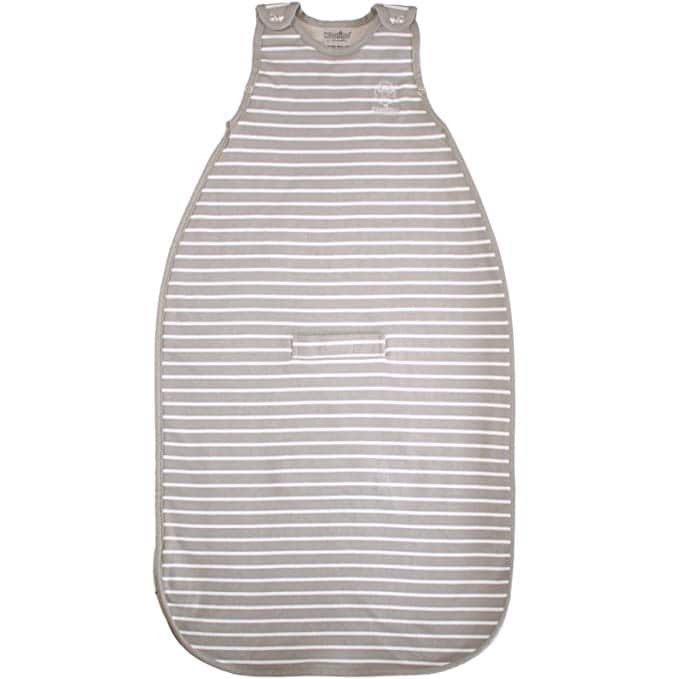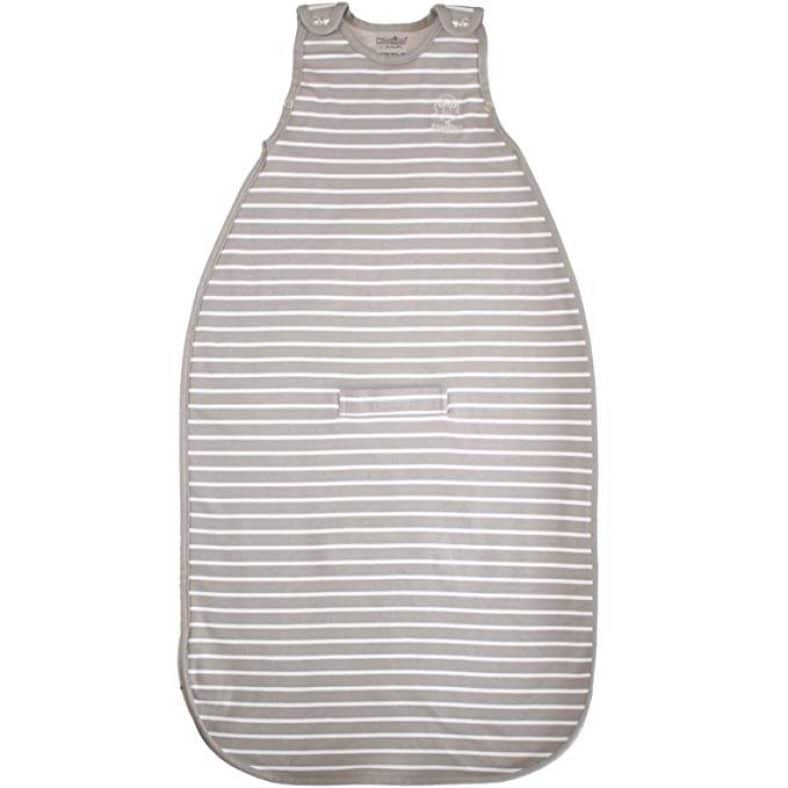 Wool offers many benefits, and parents swear by it for sleepsacks. The Woolino is made with premium, hypoallergenic, Australian merino wool. Unlike the other wearable blankets on the list, the Woolino is a one-size sleepsack, meant to fit babies from 2 months old to 2 years old. We love that, especially because the Woolino isn't cheap.
This wearable blanket has shoulder snaps and an inverted side zipper for easy changing. It also has a seat belt slot to transition baby from crib to car seat. The Woolino is perfect for those who live in colder climates, but don't worry if you don't. Merino wool keeps your baby at the perfect temperature, and we love that the wool is machine washable.
It's generously sized since it fits kids for such a wide period. There is plenty of space for your baby to kick around inside of the sleep sack. Woolino also added a zipper-pull guard to protect your child's skin, and a tagless back that ensures your baby won't feel itchy.
Check Pricing and Availability
PROS:
Machine washable wool
Keeps baby comfortable in all seasons
One-size fits all babies
2-way zipper with a guard
CONS:
Expensive
Might need to do extra layering in really cold weather
Really large on a small infant
9

Baby DeeDee Baby Sleep Sack – Best Quilted Wearable Blanket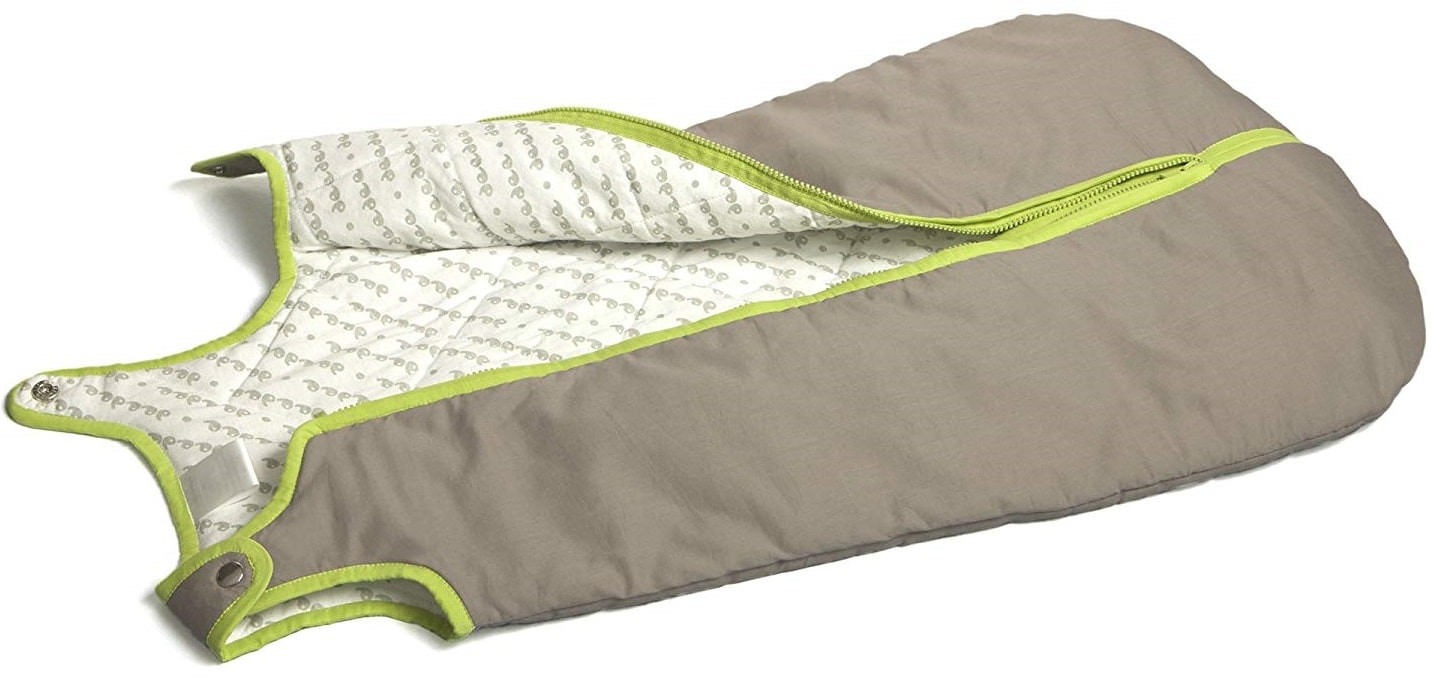 Baby DeeDee offers quilted fabric that feels like a miniature sleeping bag for your baby. This sleep sack is meant for cold temperatures, so you should consider this if you live in a very cold region – like Alaska! – or if you like to take your child camping during spring or fall.
The quilted fabric provides extra warmth by trapping warm air. You can be in freezing temperatures, and your baby will still feel warm and cozy. It's made of 100% high-quality cotton, featuring two layers for comfort and warmth, anad it has a TOG rating of 2.5.
Baby DeeDee has a single snap shoulder that makes getting baby in and out easy peasy. You can do it without waking up your baby. This sleep sack is generously sized, so your baby has plenty of space to grow. It also has a zippered front that lets you change diapers without waking baby up.
Check Pricing and Availability
PROS:
100% Cotton
Extra warm
Shoulder snaps for easy using
Generously sized
CONS:
Fabric tends to get stuck
Too big for small infants
---
Potential Safety Hazards from Wearable Blankets
Of course, just like any baby product available, there are some safety hazards that parents need to understand. There are two concerns when it comes to using a sleepsack.
Overheating is a major concern for parents. It's a risk factor for SIDS, so parents need to stay diligent about ensuring their baby stays at the proper temperatures. Babies do best between 68 to 72 degrees F.
Just like swaddling, it's important for parents to watch their baby's temperature when i nte sleep sack, especially in the summertime. Watch to make sure your baby doesn't feel too hot. If he does feel too warm, it's time to change clothes.
A few signs that your baby is overheated include:
Red skin
Warm to the touch
Vomiting
A fever
Rapid heartbeat
Sweating
Lethargy
Don't be frightened! You can avoid overheating by making sure you put your baby in a sleep sack that works with the time of year and your environment. For example, you would never want to put your baby in a microfleece wearable blanket in the middle of a summer heat wave.
Look for fabrics like wool and cotton that are great for all seasons if you plan to use the sleepsack throughout the entire year!
Anything can be a choking hazard for an infant. When it comes to wearable blankets, the have zippers, and zippers can break. If that happens, the zipper becomes a choking hazard for your baby.
That is why you should use trusted, safety-tested brands. Trusted brands typically use durable, strong zippers that are less likely to break while in use.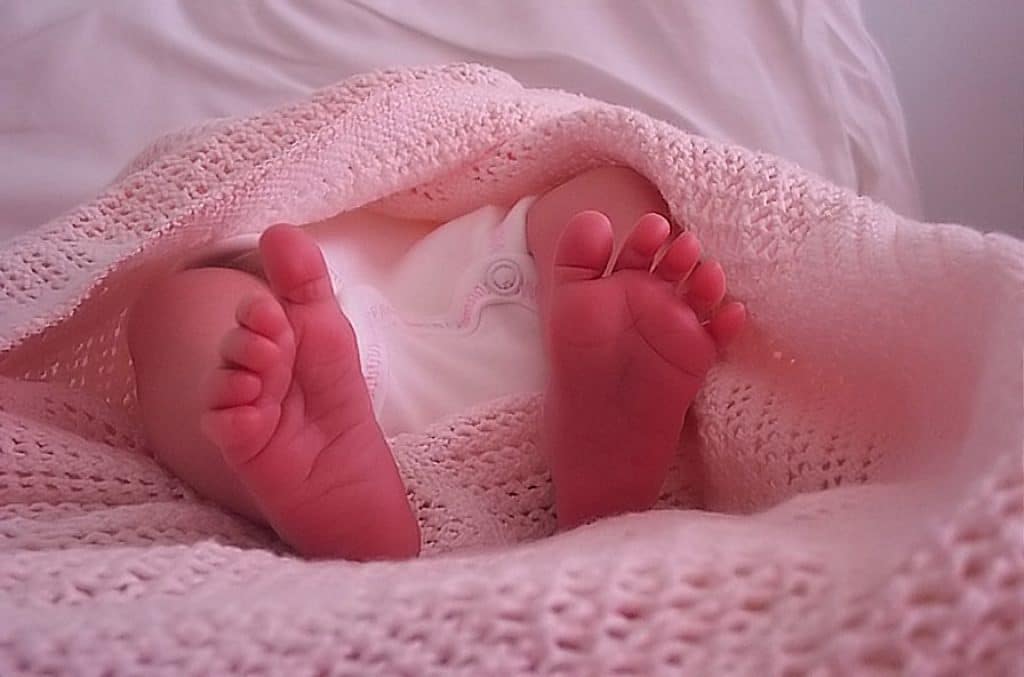 When Do I Have to Stop Using Sleep Sacks?
Unlike swaddling, there is no rule as to when you have to stop using sleep sacks. Because babies and toddlers have mobility in them, you can continue to use a sleep sack for as long as your child desires it. You can use them for as long as your child fis into the manufacturing sizes. Once he outgrows the largest wearable blanket on the market, then you're done using a sleep sack!
---
Can My Baby Sleep on His Tummy in a Sleep Sack?
The short answer is yes, your baby can sleep on his tummy in a sleep sack if he rolled over himself. Remember, parents should always place their baby down on their back to go to sleep. If your child is old enough to roll over independently, it's safe to leave him there!
Looking for best baby blanket? Read more and find out The Best Baby Blankets to Buy Today.
Picking the Right Wearable Blanket
Whether your baby didn't like swaddling or he is too old to swaddle, a wearable blanket, also called a sleep sack, is a fantastic choice. We know that blankets increase the risk of SIDS, so parents need to keep all loose bedding out of the crib area. A wearable blanket covers your baby and keeps him warm without any of the dangers posed by loose blankets.