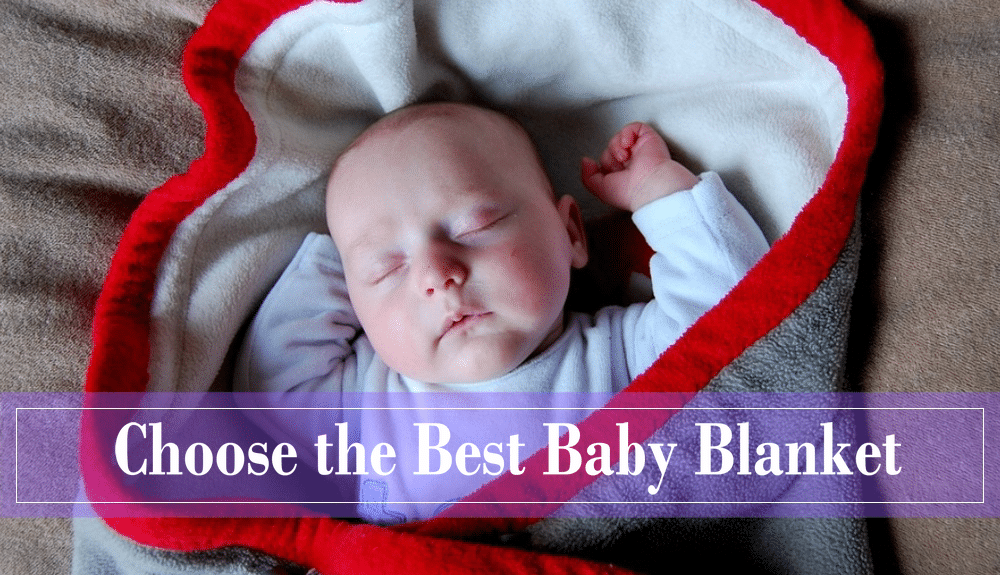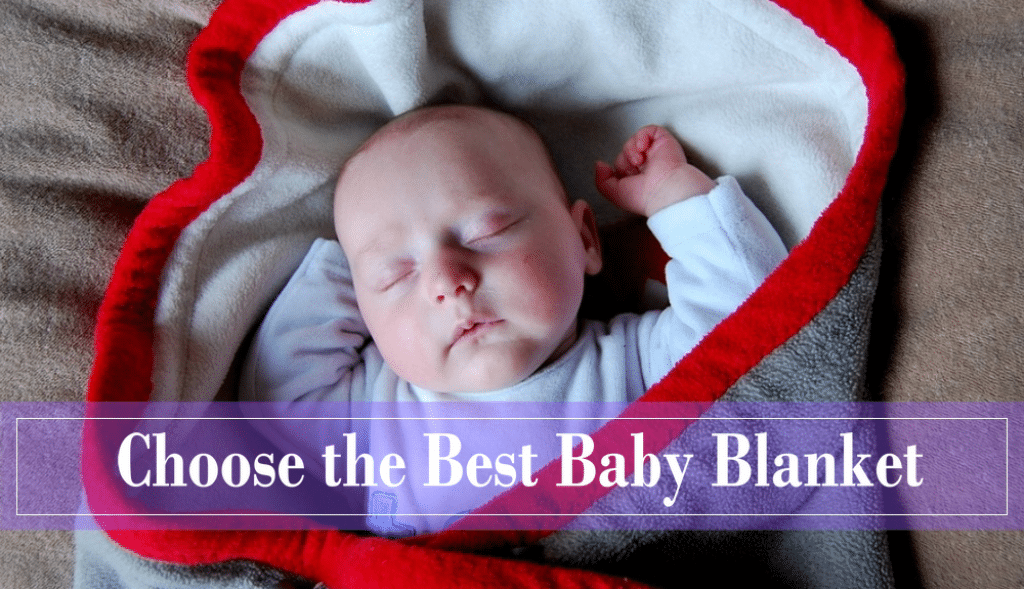 Are you looking for the best way to keep baby warm? Do you need a way to shade your baby in the car seat? Looking for the perfect swaddling solution? You'll definitely want to find the best baby blankets for your baby and we are here to help!
Originally, I thought baby blankets were basically all the same. I got a lot of cheap, small receiving blankets for my first baby thinking that would be all we needed. I was wrong! The blankets we ended up with weren't good for much other than as burp cloths.
It's really important to make sure that you get high-quality baby blankets that are of a decent size. Really, you want a variety of different types of baby blankets with different sizes. You'll use blankets to keep baby warm, to swaddle baby, to block wind and sun, and even just as a comfort object for baby like a security blanket. Find all of that and more below on our baby blanket buying guide and list of baby blanket recommendations with detailed baby blanket reviews!
---
Are baby blankets safe?
Baby blankets are safe when used appropriately. Like most products out there, baby blankets are only harmful if used incorrectly against manufacturer recommendations and/or safety guidelines.
The American Academy of Pediatrics' safe sleep policy talks about how it is safe to swaddle your baby or put your baby in a wearable blanket while they sleep. Other blankets should only be used while you are awake and directly supervising your baby until your baby is at least 12 months of age.
---
Do you need baby blankets?
You'll definitely need some baby blankets for your baby. Baby blankets serve all kinds of important uses and you wouldn't want to go without them. You can use them to swaddle your baby, to wrap your baby up while you hold them, or to keep them nice and warm during waking hours.
Read more useful things about the Best Baby Swaddles to Soothe Your Baby.
---
Differences in Baby Blankets
Like with most products, baby blankets can be much more versatile than you may think at first. There are actually a lot of details that can be different from one baby blanket to another.
So, when you are looking to buy blankets for your baby, you'll need to know just what it is you're looking for and hoping to get out of the baby blanket before you purchase. Check out some of the differences in baby blankets that you should be aware of to help you choose the best baby blankets for your specific needs.
A huge differing factor with baby blankets is what size they are. This was actually a mistake that I made with my first baby. I had tons and tons of very small baby blankets – which were great for a lot of things – but I didn't have any larger ones, which are also important to have for many purposes.
The smallest of baby blankets – usually 28-30 square inches or so – tend to make great multi-purpose baby blankets that you'll likely want to be well-stocked on. They are great for burp cloths, changing mats, providing shade in the car seat, a light blanket in the stroller, or even using as a nursing cover if you prefer.
Larger baby blankets can have a variety of great uses, too. Swaddling is the perfect example. You may be able to swaddle a small newborn with a very small baby blanket, but it won't last long. The best swaddle blankets are at least 45 square inches, but some slightly larger ones may work even better. Swaddling has tons of amazing benefits, so you'll definitely want some larger blankets in your arsenal for swaddling your baby.
---
The other major difference to consider in baby blankets is the material that they are made from. Some baby blankets are made completely of a single type of material, while others are blends. Each fabric has different benefits and drawbacks to consider. There are several common baby blanket materials that you'll want to be aware of:
Cotton – Super easy to care for, highly durable, versatile, affordable
Organic cotton – Good for the environment, durable, easy to care for, versatile, expensive
Bamboo – Super soft and highly sustainable, not as durable as cotton
Polyester – Very affordable, highly versatile, can be extremely soft, artificial
Fleece – Extremely soft, lightweight, holds heat well, lacks breathability
Finally, while not necessarily as important as material and size, style is still a relevant consideration that should help you choose what baby blankets are right for your family. What you are looking for is relatively straightforward with style. You just want something that looks good and fits your family and your baby well.
For most blankets, this means simply considering the prints, designs, and colors that are available. In some cases, there can be extra style features to consider such as blanket trims or even personalization options. Many parents choose to get a decent number of blankets that are a little simpler and more generic and then just a couple of blankets with a more specialized style
---
10 Best Baby Blankets to Buy - Top Picks
1

Custom Catch Personalized – Best Personalized Baby Blanket
Features:
36" by 36"
Soft fleece material
Wide satin trim
Personalized with baby's name
Option to add birthdate
Pink or blue
Check Pricing and Availability
The first year of your baby's life is a very precious time in your own. Personalized baby blankets are very popular because they give you a special way to capture that time in a keepsake that your little one can hold onto. This high-quality baby blanket from Custom Catch is our pick for the best personalized baby blanket out there!
This large baby blanket comes in a very nice size at 36 inches by 36 inches. It is super soft since it is made of a high-quality fleece material. Your baby will get plenty of snuggly cuddles out of the secure softness this blanket provides.
The best part is obviously the customization, though! Custom Catch personalizes this lovely super soft baby blanket with your child's name! You can choose your child's first name or go ahead and add in their full name. You can even add their birthdate below if you would like! Pick baby blue or soft pink for the perfect finishing touch for your baby boy or girl!
Wide Satin Trim

:

Wide satin trim is securely attached to all four sides of this personalized baby blanket. This adds a little extra comfort and luxury to your baby's blanket. It makes the edges incredibly smooth and soft – perfect for your baby's super soft and sensitive skin. It also happens to look very nice and gives the blanket a perfect high-end appearance that will last many years to come.

As can be expected with both personalized and truly high-quality items, this is a pretty pricey blanket. While it is a decent amount to pay for a single blanket, you have to consider that you are creating a lifelong personalized keepsake for your child.

PROS:
Pink or blue color is perfect for baby girls or baby boys
Fleece material makes for a super soft baby blanket
Satin trim adds a luxurious finishing touch perfect for sensitive baby skin
Personalization helps you provide your child with a lifelong keepsake
This beautiful baby blanket makes a wonderful keepsake and amazing first blanket for your sweet baby. Alternatively, it is also a great gift for a baby shower, or to give right after baby is first born!
2
Hudson Baby Printed Mink – Best Baby Blanket Overall
Features:
12+ different design choices
Polyester plush fabric
Sherpa fabric backing
36" by 30"
Machine-washable
Check Pricing and Availability
Hudson Baby is an amazing brand that makes some of the best baby blankets on the market! So, it's not surprising that one of their amazing choices is our pick for the best baby blanket overall!
This adorable blanket has baby softness written all over it! It is made of a plush polyester fabric that you and baby won't be able to get enough of. To really top it off, they backed the blanket with Sherpa for an incredibly soft finish that makes for the most amazing baby cuddles. At 36 inches by 30 inches, this is a decently sized baby blanket that will be perfect for wrapping baby up in for some cozy cuddle time.
Over a Dozen Design Choices:

The best part of this plush baby blanket is that it comes in tons of different super adorable designs! You can choose from over 12 different designs that will be perfect to go along with your baby's nursery or just your own personal preference. Some of the cutest options include an adorable woodland creatures theme, soft pink floral options, footballs or airplanes, and a classic damask look in black and white.

While we love what a super soft baby blanket this is, it's definitely too thick for swaddling or leaving baby with overnight. You'll want to stick to using this blanket in the daytime when baby can be closely supervised. Of course, once they are about a year old, it's perfectly safe for them to use the blanket even at night.

PROS:
Easily machine-washable for super easy care
Over a dozen different design choices let you easily find the perfect blanket for your baby specifically
Plush polyester fabric with Sherpa backing is incredibly soft and comfortable
A good sized baby blanket that will work well into toddlerhood
CONS:
Not safe for unsupervised sleeping when baby is less than 12 months old
Overall, there is no doubt that this is one of the top baby blankets on the market. It isn't great for overnights since it is thick and could pose a danger in an unsupervised setting but will be perfect for daytime cuddles or keeping baby warm in the stroller or even car seat on occasion.
3
WONDER MIRACLE Fuzzy Blanket – Softest Baby Blanket
Features:
28" by 40"
Micro-fleece knit fabric
10 color choices
Machine-washable
Lightweight
Check Pricing and Availability
If you are looking for the softest baby blanket, look no further! This incredible baby blanket from WONDER MIRACLE is easily the softest baby blanket that you can get your hands on.
My kids and I can not get enough of this ultra-soft baby blanket. My husband actually tells me that this blanket is too soft – as if there is such a thing! This is basically a mini throw blanket. Of course, at 40 inches long and 28 inches wide, it isn't exactly mini when it comes to baby blankets. The thick, micro-fleece knit fabric is what makes this blanket so remarkably soft. It's perfect for warm and cozy cuddles. You might even find yourself borrowing your baby's blanket to cover up your legs on the couch like I sometimes do.
10 Color Options:

Something else to really love about this baby blanket is the color choices available. You have 10 different colors to choose from, so it's easy to pick one perfect for your baby and personal preferences. What I really love is that they offer a solid mix of both deep, vibrant colors as well as soft, pastel colors! Choose from everything from grape purple or smoked blue to pastel green or soft peach!

This is definitely not a good summer baby blanket or a good blanket for baby to use overnight. It's too thick to snuggle in and the fabric lacks breathability. For cold winter days, it's great for daytime cuddles, but you won't find much use for it during the warmer parts of the year or as an overnight option.

PROS:
10 color choices add fun and versatility
Extremely soft blanket feels wonderful against baby's sensitive skin
TThe thick knit material provides great warmth on colder days
Long size adds more versatility and allows baby to use it for a longer period of time – even past toddlerhood
Again, this won't be a good swaddle blanket or overnight blanket for your baby. It won't breathe well, so you won't want to use it during warmer times. However, for colder winter times and the softest baby blanket ever – it is absolutely perfect!
4
LifeTree Muslin – Best Blankets for Newborn Babie
Features:
47"by 47"
Lightweight
Breathable
2 gender neutral designs
70% bamboo
30% cotton
Check Pricing and Availability
Here are some really high-quality and versatile blankets sure to be adored by all! These muslin blankets are from LifeTree and are our choice for the best blankets for newborn babies.
This super breathable baby blanket comes in your choice of either dandelion print or feather print in a gender-neutral color scheme. This makes it the perfect choice for boys or girls! These are highly versatile blankets making them work well as receiving blankets, swaddling blankets, stroller blankets, or even a blanket for the car seat.
They are super breathable baby blankets, so can even be used during the hotter times of the year when you need to block wind or sun from baby's car seat or stroller. The fabric is 70% bamboo for amazing softness and 30% cotton for improved durability. 
47 Inches by 47 Inches:

This muslin baby blanket is a very nice size of baby blanket at an impressive 47 inches by 47 inches. The large square shape is absolutely perfect for swaddling, easily wrapping around your baby. This allows you to swaddle even larger babies with ease.

These are definitely not the most expensive option on our guide of baby blankets, but they are up there. Considering these only come in a 1-pack, you are paying a pretty good amount for a single muslin blanket. Although, the quality is definitely there!

PROS:
Versatility lets you use this as a swaddle blanket, receiving blanket, stroller blanket, and so much more
Large size adds even more versatility and longevity to your purchase of this baby blanket
Both design options are gender-neutral for easy options for boys and girls
Great for use as a swaddling blanket thanks to the size, thickness, and breathability
CONS:
Expensive for a single muslin blanket
This muslin blanket from LifeTree is truly wonderful. It is soft, comfy, thin, breathable, and a very nice size. It provides great versatility that you just can't go wrong with!
5
Simple Joys by Carter's – Most Affordable Baby Blankets
Features:
30" by 30"
7-pack
Cute colors and designs
Receiving blankets
Swaddle blankets
Machine-washable
100% cotton flannel
Check Pricing and Availability
Babies tend to be very messy little creatures, so having a good number of baby blankets is definitely a good idea. The most affordable baby blankets from Carter's Simple Joys make that super easy even on a tighter budget!
This is an amazing set of receiving blankets that will come in very handy for your baby. It's a great way to start your newborn out. At 30 inches by 30 inches, these baby blankets can certainly be used for swaddling at the newborn stage and possibly for the duration of time you continue to swaddle your baby depending on their size. They are made of 100% cotton flannel, so they are breathable and super easy to care for by just washing in the washing machine on a regular basis. 
7-Pack:

You get seven blankets in just one purchase with Simple Joys by Carter's! This adds even more overall value to your purchase and makes the price almost completely unbeatable. The best part is that you don't have to sacrifice quality for price. Carter's is a great, trustworthy brand that you can really rely on for high-quality products that are very well-made.

The relatively small size of these blankets is part of why Carter's can offer them at such a great deal. Sadly, it does mean that you won't get a whole lot of long-time use out of them. They can swaddle most newborns, but when baby starts to grow, they might not work well for you.

It's unlikely they would be good for much more than burp cloths after a couple of months or less depending on the size of your baby. Although, I can tell you from experience that these are great blankets to have around in abundance when your baby is first born due to their great versatility!

PROS:
Assorted colors and prints are cute and gender neutral
Versatility allows these blankets to work great as receiving blankets, swaddling blankets, or even burp cloths
100% cotton flannel is very breathable and easy to care for
Super affordable price allows you to easily stock up on a good number of these blankets to use during the newborn stage
CONS:
Smaller size means you won't get as much use out of them overtime
If you are on a tight budget, or you just want to make sure you stock up with plenty of baby blankets, these are an amazing choice. They are relatively small, but still high-quality and super useful and convenient during those first few weeks or months.
6
Margaux & May Organic Muslin – Best Organic Baby Blanket
Features:
47" by 47"
2-pack
100% organic cotton
Stylish designs
Muslin blankets
Breathable
Check Pricing and Availability
There are lots of reasons to go organic and many parents are starting to lean more that way. Not only does it mean that your avoiding potentially hazardous pesticides used in the making of your child's products like baby blankets, but it is also much better for the environment! So, here is our pick of the best organic baby blanket from the adorable brand Margaux & May.
As another amazing muslin baby blanket measuring in at 47 inches by 47 inches, this pick from Margaux & May is a really versatile option perfect for swaddling and much more! The lightweight, breathability and large size make this a perfect option year-round. These organic blankets come in a 2-pack with a few designs to choose from. They have blue feathers, green ferns, a green and blue meadow print, or even a brightly colored dandelion option.
100% Organic Cotton:

Obviously, the best part of the best organic baby blanket is that it is made of 100% organic cotton! Not only is this great fabric super soft and amazingly breathable, but it has other benefits too! First of all, you know that the materials were responsibly sourced in a way that won't negatively impact the environment. You also have the peace of mind that your baby's blanket wasn't made using potentially harmful pesticides.

Since these are organic baby blankets, they certainly cost more to produce and that cost, of course, always translates back to the customer. So, they are a little pricey. The high-quality, organic materials, and versatile designs make it worth the price for many parents, though!

PROS:
100% organic cotton is better for the environment and possibly even baby's health
Stylish designs are adorable and go well with a variety of themes and colors
Thin, muslin baby blankets make perfect swaddling blankets for your baby
Large size adds good versatility and allows you to maximize use
CONS:
Cost is relatively high due to organic material
There is so much to love about these amazing organic baby blankets! If you're looking to live a more natural lifestyle or you'd just like to help do your part for the environment, choosing organic products can be a great start! These blankets from Margaux & May are an amazing choice with great versatility!
7
Hudson Baby Muslin – Best Swaddle Blankets
Features:
46" by 46"
100% cotton
Muslin blankets
Swaddle blankets
Fun print options
Breathable fabric
Check Pricing and Availability
Another wonderful baby blanket option from the awesome brand, Hudson Baby are these adorable swaddles. These are actually our pick for the best swaddle blankets for multiple reasons!
First of all, when it comes to a high-quality swaddle blanket, these are extremely affordable. They also come in a convenient 3-pack for more added value. They may not be organic like the previously mentioned Margaux & May muslin blankets, but they are still very nice and quite a bit cheaper than our organic pick.
At 46 inches by 46 inches, these are just a tad bit smaller than some of the other options in our guide but are still a very nice size that retains great versatility. That includes being ideal for swaddling your baby! They are nice and thin making them super breathable.
Cute and Fun Prints:

My personal favorite feature of these swaddle blankets is the huge number of different adorable prints they come in! Each 3-pack features 3 different adorable prints that compliment each other wonderfully. I really love the fox and arrow prints, but you can also choose from ice cream themes, sports designs, rocket ships, floral prints, fruits, dreamcatchers, cactus prints, and so much more! The possibilities are nearly endless!

The one downfall here is just that these aren't quite as soft as many other muslin blanket options. They aren't uncomfortable by any means, but when compared to some other choices side-by-side, the difference is fairly clear.

PROS:
Decent size is great for swaddling and adds longevity to the overall usefulness of these blankets
Very affordable muslin blankets
3-pack is convenient and adds good value
Tons of cute print options make it easy to find adorable choices perfect for your baby specifically
Breathability makes these great year-round
CONS:
Not quite as soft as similar options
If you are looking for some more affordable swaddling blankets that are super high-quality, you definitely need to check these ones from Hudson Baby out. They come at a good price, are super adorable, and work great for swaddling and much more!
8
Burt's Bees Baby Wearable – Best Wearable Baby Blanket
Features:
100% organic cotton
Inverted zipper
Zipper guard
Zipper cover
Multiple color and print options
Multiple sizes
Check Pricing and Availability
Here is a cute blanket option that is quite a bit different than most of the choices on our baby blanket guide! This is the best wearable baby blanket and comes from the high-quality, more natural brand – Burt's Bees Baby.
There is just so much to love about this remarkable wearable baby blanket. It seriously has a very clever and innovative design that puts it way ahead of the competition. A wearable baby blanket is really wonderful for little babies because it allows you to make sure they are cozy and warm without any risks involved that you can get with putting other types of blankets in the crib with them.
This is a great choice for babies that either don't like swaddling or are too big to be swaddled. The Burt's Bees Baby Wearable Blanket has precisely sized holes perfect for keeping baby's face and arms safely and comfortably out of the blanket. You can also choose from multiple cute colors and designs! Oh, and did we mention that this is another 100% organic cotton baby blanket option?!
Inverted Zipper:

One of the really innovative things about this wearable baby blanket is the inverted zipper. Instead of going from bottom to top like most zippers, this one goes from top to bottom. This keeps the zipper away from baby's face for comfort, but more importantly, it makes diaper changes in the middle of the night super easy without you having to pully our baby completely out of the wearable baby blanket!

This is a very well-designed baby blanket choice that also happens to be 100% organic cotton, so as you may have guessed, it's one of the most expensive choices on our list of recommendations.

PROS:
100% organic cotton fabric is better for the environment and your baby
Completely safe baby blanket even for overnight
Inverted zipper makes diaper changes a breeze
Zipper guard and zipper cover protect baby from the zipper from both directions
Plenty of cute prints and colors to choose from
CONS:
One of the most expensive options of those we reviewed
This is a very high-quality and absolutely adorable baby blanket choice! When it comes to wearable baby blankets, its innovative design and 100% organic cotton fabric make it the best without a doubt!
9
Luvable Friends Flannel – Best Receiving Blankets
Features:
28" by 28"
Cotton flannel fabric
4-pack
Multiple colors and designs
Highly versatile
Breathable
Check Pricing and Availability
Receiving blankets tend to be considered a staple item when it comes to preparing for your baby. I can attest that we used a huge number of blankets just like these ones for all sorts of purposes. Since you'll definitely want some, here is our pick for the best receiving blankets from Luvable Friends!
These receiving blankets are made of cotton flannel. They are super lightweight and very soft to the touch. At just 28 inches by 28 inches, these are the smallest blankets that we included in our baby blanket recommendations.
Of course, while they aren't good for swaddling, they do still make great receiving blankets with all sorts of uses. These are very affordable and come in a 4-pack for added value and convenience. You also get to choose between several color themes including girly prints, boyish designs, and gender-neutral options!
Versatility:

The best part of good receiving blankets is simply how versatile they are. These blankets have nearly endless uses. You can use these as extra-large burp clothes to really make sure your clothes stay clean. You can use them as a make-shift changing mat during diaper changes. You can use them to shade baby in the car seat, keep them cozy in the stroller, or even cover up while nursing baby. They are even machine-washable, which is great because you'll definitely be going through them quickly.

PROS:
Highly versatile design makes these perfect for many different uses such as burp cloths, changing pads, and nursing covers
Extremely affordable price makes them easy to stock up on
Cotton flannel material is soft and breathable
Machine-washable for easy care and convenience
CONS:
Smallest blankets on the guide
While these are relatively small baby blankets, they still remain highly versatile. These are the type of baby blankets that you really want to stock up on because you will go through them very quickly – especially when your baby is in the newborn stage.
10
Little Starter Plush – Best Toddler Blanket
Features:
30" by 40"
Plush polyester fabric
Multiple color and design options
Machine-washable
Lightweight
Ultra-soft
Check Pricing and Availability
Finally, we will end our recommendations with the best toddler blanket. Even once your baby isn't technically a baby anymore, they will still need some great blanket options to help them keep cozy and warm. This is a plush blanket option from Little Starter!

At 30 wide and 40 inches long, this incredibly soft blanket is the perfect size to cover your growing toddler from neck to toe! Your toddler will love wrapping up in this cuddly blanket made from plush polyester fabric both day and night. You even get to pick between lots of different fun colors and designs to find one perfect to match your toddler's blooming personality!
Some of the cool prints you can choose from include polka-dots or zig-zag stripes in all sorts of color combos ranging from super girly to very boyish and everything in-between! This toddler blanket is also machine-washable to increase convenience and make care super easy. This is especially important since we all know how messy toddlers are!
Great Year-Round:

Another bonus about the best toddler blanket is that it is good for year-round use. It is thick and plush enough to effectively keep your little one nice and warm when needed. However, it also retains a lightweight breathability that prevents your child from overheating with it even when it's a little warmer.

While this toddler blanket is great in most ways, it does lack durability a little. It is of decent quality, but with a toddler using it regularly, it will need to be replaced every so often. Of course, the fact that it is so affordable makes it not so awful that it won't last forever.

PROS:
Super soft fabric is perfect for your toddler to cuddle up in
Extremely affordable price works well for almost any budget
Cute polka-dot and zig-zag designs are fun for toddlers
Lightweight construction is breathable and easy for your toddler to carry around
CONS:
Not as durable as many other options
There are a good number of baby blankets that may very well last your little one into toddlerhood, but this one in particular is perfect for toddlers! It is super soft, the perfect size, and comes in fun designs your toddler will love!
---
How many baby blankets do I need?
There isn't an exact number of blankets that you'll definitely need. It comes down to your personal preferences, how much you plan to use blankets, the climate in your area, and how often you are going to be washing them. For things like receiving blankets and swaddling blankets, you might be surprised at how quickly you actually go through them. So, you will probably want to get a decent amount of each of those.

Having at least 8-10 swaddling blankets and the same of receiving blankets can be very helpful and beneficial. Make sure you have a good few wearable blankets too, if you plan to use those. Thicker blankets more geared to comfort and warmth are best used in the day when baby isn't sleeping, or you are closely supervising baby, so you might not need quite as many. Two-three thicker blankets would probably be okay for most babies.
Final Words on Baby Blankets
A lot goes into preparing and caring for your sweet baby. Choosing the best products for them is a part of that, but it's not always as easy as it sounds. Baby blankets, for example, come in many different sizes, shapes, and materials.

How to choose the best baby blankets for your baby may not have been clear, but we hope that our buying guide, recommendations, and detailed baby blanket reviews have made the process easier. That way you can easily choose the best baby blankets to help keep your baby cozy, comfortable, and soothed!