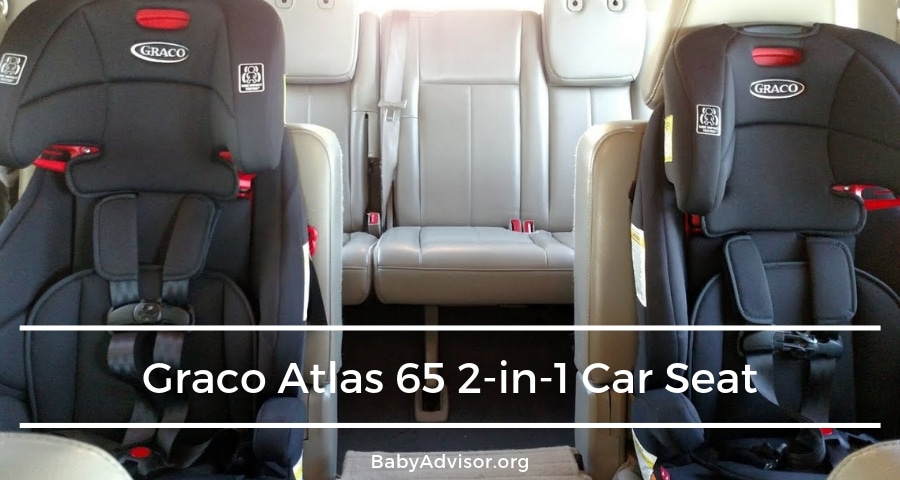 The Graco Atlas 65 is a 2-in-1 car seat offering parents a forward-facing harnessed seat that transitions to a booster seat. Keep reading to learn more about the Graco Atlas.
The Graco Atlas 65 is a harnessed booster car seat that is a combination seat, called a 2-in-1. It has a built-in 5-point harness system that transitions to a high back booster car seat. You can use this car seat from the time you turn your child forward facing to when he is in a booster seat. So, the seat works from 22-100 pounds – impressive.
Graco created a well-built, sturdy, safe car seat that can be moved from one vehicle to the next with ease. It's FAA approved for airplane traveling, making it an appealing choice for families on the go. You could use it while RVing or bus travel as well.
Let's dive in why the Atlas 65 is so excellent.
Key Features of the Graco Atlas 65 2-in-1 Car Seat
Key Features
Two modes – forward-facing harnessed seat and a high back booster

Integrated LATCH system

Ten harness positions

Five headrest positions

Two included cup holders

7-year expiration date

Two reclining positions
Check Pricing and Availability
---
Height and Weight Limits of the Atlas 65
Forward Facing Seat
Weight Range: 22-65 pounds

Height Range: 27-49 inches
Booster Seat
Weight Range: 30-100 pound

Height Range: 38-59 inches
Measurements of the Graco Atlas 65
Height of the Seat: 25 inches
Outside Width: 19 inches
Depth of the Seat: 22 inches
Weight: 18 Pounds
The size of the Atlas isn't overwhelming, measuring around the size of one seat in an average vehicle. Parents note that it easily fits into two-door cars, which is a big deal. Have you ever tried to squeeze a car seat into a two-door car? It's not the easiest task, but the Atlas isn't as bulky as other convertible car seats.
According to Graco, you can use the Atlas 65 with a vehicle that have jump seats. Jump seats are seats that fold up when not in use, but you must ensure you get a tight fit during installation. Graco tested the Atlas in a variety of vehicles from compact cars to mini-vans.
The Pros and Cons of the Graco Atlas 65
PROS:
Affordable
Easy to assemble and install
Integrated LATCH system
Exceeds safety standards
Cup holders on each side
Machine washable seat covers
Converts to a booster seat
CONS:
Not enough padding
Hard to get a tight install with a seat belt
Hook style LATCH system
Only can be used in the US
Not a backless booster
Strength and Durability
The Atlas is all about strength and durability. After all, it has to live up to the name of the Greek God who held up the sky for all eternity! It must be pretty strong with a name like that.
Graco crafted their Atlas 65 to hold your child from toddlerhood up to their youth ages. It features a steel reinforced frame that will hold up in any vehicle accident you might face.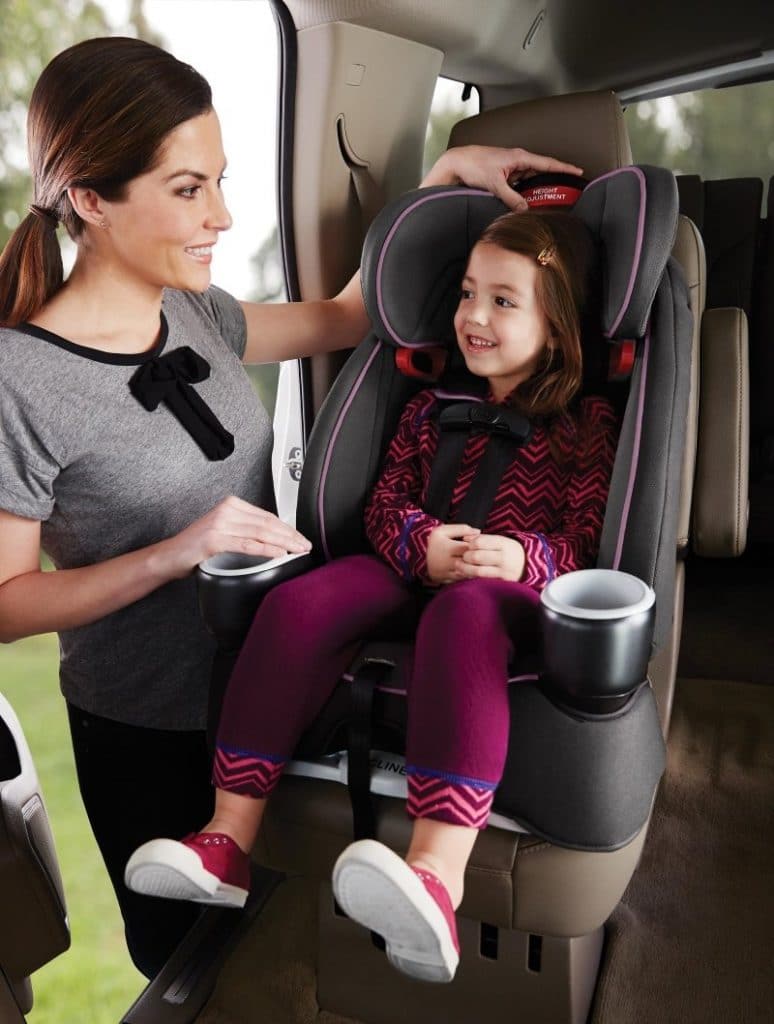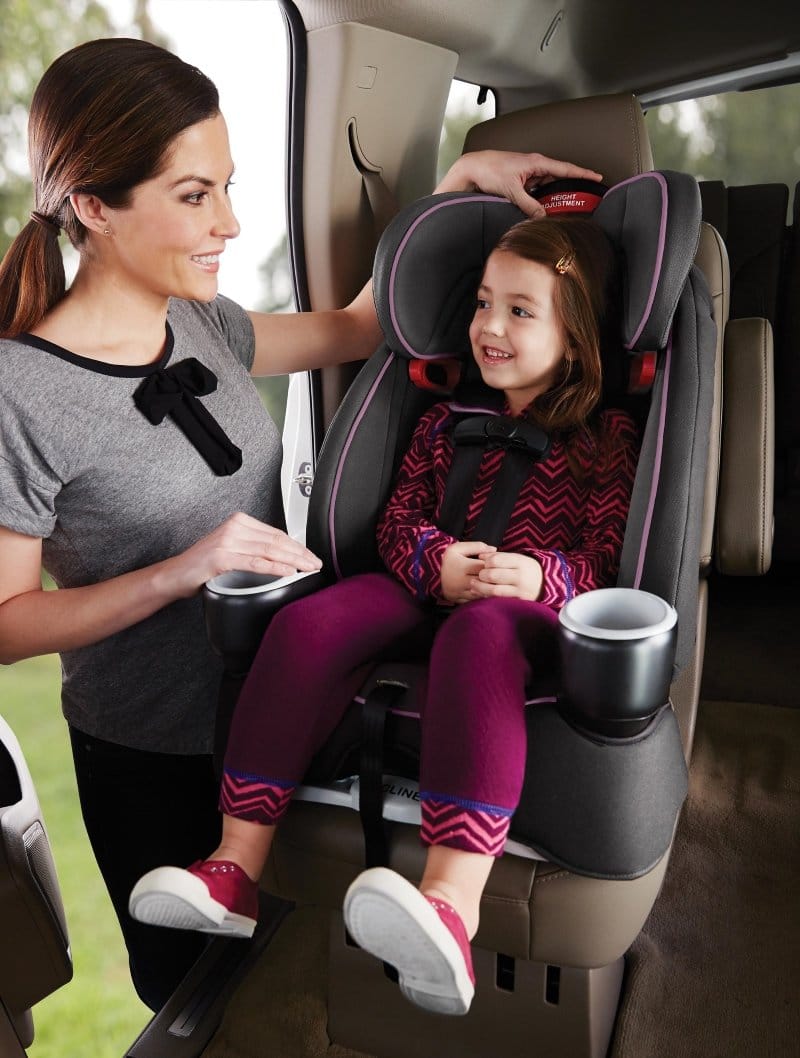 This car seat meets and exceeds both the crash test and side-impact tests set by the US standards. Graco added energy absorbing foam for energy management during vehicle accidents, which can absorb peak crash forces two times the car seat standards. All of this is important because it helps to prevent your child's head from suffering an injury during a crash.
Don't forget that the Graco Atlas 65 receives the "Best Bet" booster award from the Insurance Institute for Highway Safety.
We love that the 5-point harness can be used for children up to 65 pounds, which is more than most forward-facing car seats. Keeping your child in a harness is ideal for safety, so the Atlas lets you harness your child for longer than the average. Most five-year-olds aren't 65 pounds just yet!
The Installation Options
We like that the Atlas 65 can be installed using either the vehicle's seat belt system or the LATCH system. You can use whichever method provides the best install in your car. Either way, the top tether should always be used for maximum safety.
You do need to stop using the lower LATCH anchors with the 5-point harness when your child is 45 pounds, which is 20 pounds less than you can use the harness. So, parents have to try to remember to change that when they know their child has met the maximum LATCH weight limit.
Also, you can use the LATCH system when you transition to the booster seat. However, it's optional because, in some vehicles, using the LATCH system will interfere with your child being able to access the vehicle's seat belt buckle.
Simple Steps for Installation
There's no assembly required with this car seat – seriously! It all comes in one piece except for putting on the cup holder. That's about as easy as it can be, and we love that.
When you install the Atlas with LATCH, it only requires a few steps, and the LATCH hooks and tether straps are stored in the seat.
When you want to switch from a harnessed car seat to a booster seat, it's a simple change because the base of the car seat stays the same. All you have to do is remove the harness and put them into the included harness storage compartment, which means you don't have to remove them all the way because the storage is integrated into the car seat. It's behind the seat pad.
You will have to remove the crotch buckle when you switch to booster mode, but that's only one step compared to the many that other brands require you to do to change modes.
The Updated Harness System Rocks
The Graco Atlas 65 comes with the company's new, patented Simply Safe Adjust harness system. It's one of the most straightforward systems to use because you can adjust the shoulder straps without rethreading the harness. If you've ever had to rethread a car seat harness, you know what a severe pain in the butt that task is.
All you have to do is press the button at the top of the headrest and lift upwards, which will slide the shoulder straps upward as well. It's a fantastic, simple system. Plus, the Atlas has ten height positions for the harness – yes, ten! – Which accommodates children of varying heights as they grow. That's a great thing because your child will grow rapidly throughout these years and every child is different.
It Grows with Your Child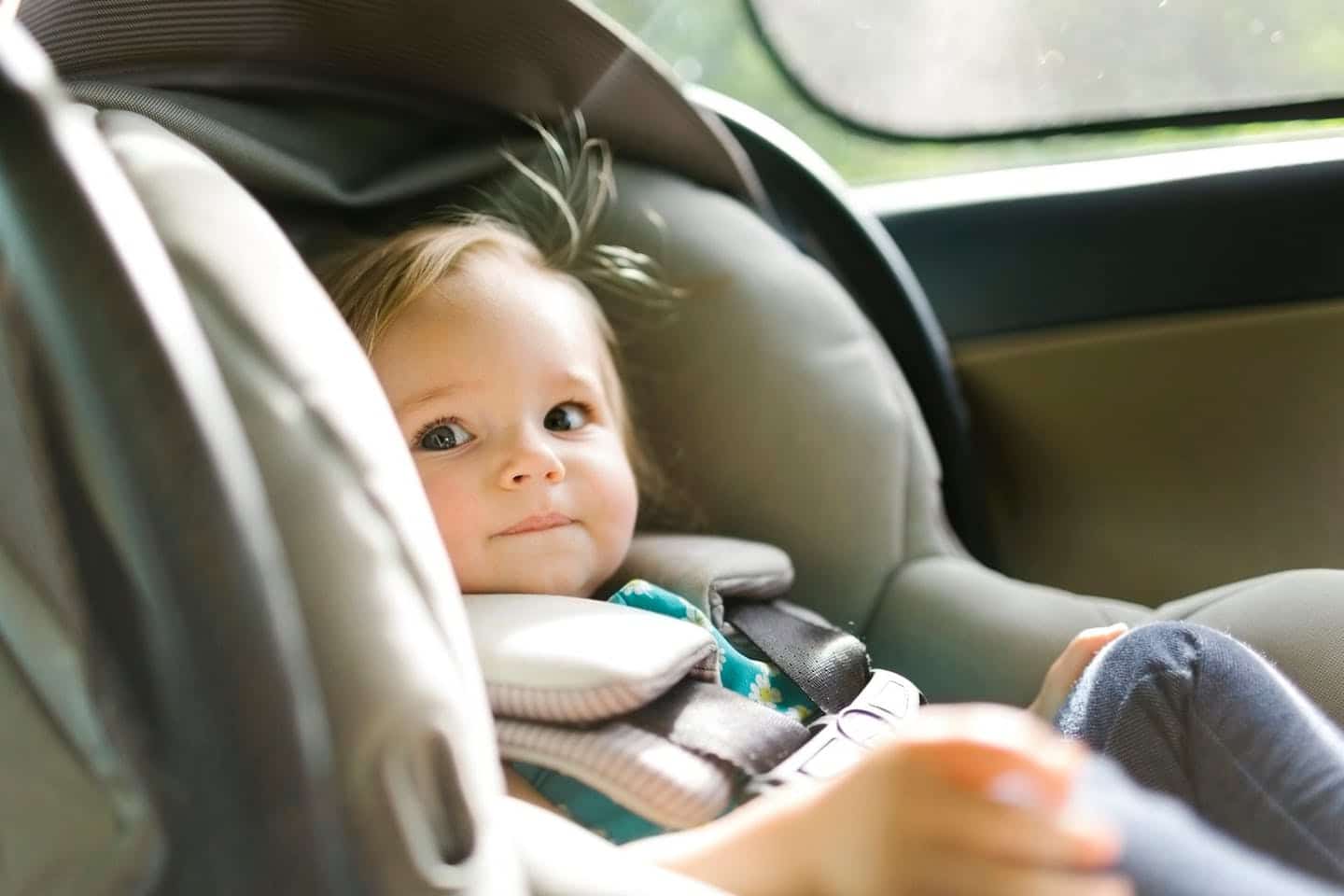 Speaking of growing with your child, the Atlas 65 has features that help the car seat grow with your child from toddlerhood to youth.
A few of these features include:
A height adjuster lever

Harness adjuster lever under the seat pad

Harness adjustment strap

LATCH adjuster

Shoulder belt guide
Also, along with the ten positions for the harness, Graco added five adjustable headrest positions that will help to keep your child's head safe during a vehicle crash. There are two reclining positions, ranging from two to four inches, that help your child sleep without the head slouch that parents hate.
It's Great for Traveling
This booster seat is lightweight and not bulky, so parents like it as a traveling option. You could carry it around the airport if you wanted or use it in taxis. The Atlas 65 is FAA approved only when using the 5-point harness. No booster seats only are FAA approved.
You can use the Atlas on buses, trains, and any other vehicle if they have seat belts. The booster seat works for RV travel, and you can use the 5-point harness if you have a lap belt and top tether.
The Negatives of the Graco Atlas 65
So, all of this sounds great, but what are the negatives of the Graco Atlas? Here are a few complaints that parents have had with this combination seat.
The cup holders are difficult to get into place because you have to align and attach the cup holder to the shell of the car seat then rotate it back into its locking place.

It can be hard to get a tight install using the vehicle's seat belt. You will have to put weight on the seat and tug really hard on the seat belt to get the seat adequately tightened.

While we love that Graco used the LATCH system, they used the old hook style system rather than the push-on connectors we love on their newer car seats. The hook style LATCH is harder to use.

You'll still want to purchase a backless booster because the Atlas only converts to a high back booster. So, as your child gets older and needs a backless booster, you'll need to buy another car seat. Luckily, they aren't expensive.
---
Our Final Thoughts
The Graco Atlas 65 offers two car seats in one – the harnessed forward-facing seat and a high back booster seat. Once your child grows out of the harnessed seat, you can transition him to the booster seat, lasting until your child weighs 100 pounds!
We know that this car seat is built to last, meeting and exceeding all federal car seat standards. It's made with your child's comfort in mind as well as the budget.