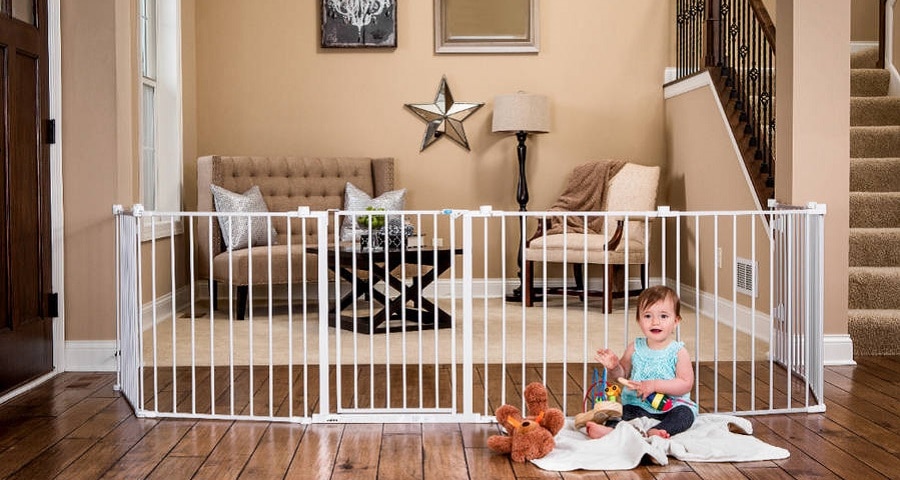 Why long baby gates? They offer an extra safety feature and are perfect for homes with door frames, hallways or other wide openings between rooms. Our list has the ideal selection for you!
Now that your baby is mobile and always busy crawling, rolling, scooting and walking around the house, you need to act fast! Your home needs to become safer for your little one with the right baby gates. Since every parent wants maximum security for their little ones, long baby gates have an extra feature and set safety boundaries to prevent them from the most dangerous areas. And since long baby gates are more extensive than regular baby gates, they are an excellent option for door frames and hallways.T
If you are not sure which long baby gate will meet your needs, we've our ultimate list to help you with the selection. Explore, weigh your options and find the ideal solution for you and your little one. Having in mind that you are looking for the safest baby gates for your toddler, we guarantee our top picks are of high quality.
---
Best Long Baby Gates
---
Why we picked it: A highly trusted baby gate by most parents. It can act as a portable playpen making it reliable and versatile.
If you need an extra-wide barrier, using this Toddleroo by North States 3 in 1 Metal Superyard will meet your needs. The gate has modern features for your modern home. It is a hardware mounting gate to accommodate extra tall baseboards, and you can mount it even to angled walls. This provides ultimate security through its high-quality double-locking mechanism and swing-lock functions. It doesn't matter whether you need to create a safe play area for your little one or block off large spaces; this gate is customizable for everything. You can also add or remove the panels as needed.
Check Pricing and Availability
PROS:
It has modern features to suit modern homes
Safe and convenient
Can be used for many spaces
Built with heavy-duty metal for longevity
Has an attractive beige finish
CONS:
To increase the overall size, you'll require an extension, but it is sold separately
---
Why we picked it: No drilling is required with this easy to operate the gate. It is also suitable for everyone to pass directly without constant opening and closing.
Install this extra-wide ALLAIBB walk through Baby gate with auto close tension to protect your curious crawler from dangerous areas in the house. The gate is easy to install because it is pressure-mounted (requires no tools), and can extend and be adjusted to fit various spaces in your home. It comes with tension pads to prevent any damages on your wall and tension knobs to hold it firmly. The manufacturer had you in mind by including a simultaneously auto-close design to save your precious time. The gate also has a hold-open feature for you to walk through easily without opening and closing.
Check Pricing and Availability
PROS:
Has a durable and sturdy design
Easy to install as it is a pressure-mounted baby gate
It is a double-lock safety release
It is a multipurpose gate
It is convenient to use due to its dual-swing door
CONS:
One will need to purchase U type bolt separately for cylindrical stairs
---
Why we picked it: The gate can fold flat for storage when not in use and is excellent for wide spaces, doorway, hallway, angled openings and bottom stairs.
Sometimes you might need to leave your toddler for a few minutes to focus on other tasks, and that's why this super wide gate and play yard is a great option. The gate is wall mounted to maximize safety and protection, so it meets the current safety standards. Unlike most gates, Regalo 192-Inch baby gate has a double door design to create a wide and comfortable pass-through space for adults. And since it's a 2 in 1 gate, you can turn it into a play yard.
Check Pricing and Availability
PROS:
It is configurable to fit in most openings
It has a safety locking feature
It is super wide
The design of the gate is a double door
A tough and sturdy gate
CONS:
Although it is sturdy, it is lightweight
---
Why we picked it: Extra wide and tall baby gate with a room for expansion for extra-wide doorways, which is ideal for toddlers.
Summer Metal Expansion 6-Foot-Wide Extra Tall Walk-Thru Baby Gate will childproof your home in style. It has a beautiful bronze finish for your home to look lovelier. Although it is a hardware-mounted gate, installation is a breeze. You'll only need a few tools to keep the gate steadily in place. If you want to use it between rooms, this gate has a simple walk-through door that operates one-handed for easy movement from one room to another. The gate also cannot scratch hardwood floors due to its soft scratch guard feature.
Check Pricing and Availability
PROS:
Installation is pretty simple
It's a one-hand walk-through gate
Secure your home in style
It is 100% safe and secure
CONS:
You'll require tools for hardware mounting
---
Why we picked it: Wide enough to fit opens up to 29 inches tall and 74.5 inches wide. It also has a stunning premium black finish.
Regalo Deluxe Home Accents 74-Inch Widespan Safety Gate is an excellent choice if your home has wider openings. This means it can be adjusted to be used for hallways, doorways, the bottom of stairs and open spaces. The attachment pieces can rotate 360 degrees and move up and down the entire pole for you move around without any limitations. It has a three lock system to ensure maximum security, which also gives you peace of mind.
Check Pricing and Availability
PROS:
Has a high-quality end design
It is adjustable to fit any opening
Constructed with safety lock
It is durable and convenient
CONS:
It is not super study as it bows and bends a little
---
Why we picked it: Great for both indoors and outdoors. The gate is perfect for large openings due to its extra-long barrier feature.
Toddleroo by North States Superyard 6 Panel Baby Play Yard/Barrier with Wall Mount gate is what you need to create a safe play area for your little one. It comes with a convenient and lightweight carry strap to bring fun whenever you go. This superyard hardware-mounted gate has six interlocking panels to ensure your little explorer is always safe when crawling or walking around in the house. The gate also includes skid-resistant pads to prevent slipping and floor scratching.
Check Pricing and Availability
PROS:
It is versatile and expandable
The gate is a simple hardware mount
Built with superior materials
The design is easy to clean
The panels link with ease
CONS:
The gate requires one to open corner panels to walk-through
Has a wall mount feature, so tools are a must
---
Why we picked it: An ideal baby gate to install all over your home. It has a dependable safety feature for curious babies and toddlers.
This hardware-mounted baby gate is taller and extra-wide compared to standard baby gates to facilitate more expansive spaces. Munchkin Extending XL Tall and Wide Baby Gate are great for use at the bottom or top stairs, doorways, and hallways to protect kids aged 6-24 months particularly. The handle is rugged for them to open but easy for adults. The gate is designed with a locking mechanism that you can operate with one hand while holding your little angel on the other arm. It can open in one or two directions and has no tripping bar to accommodate top stairs where not all gates are convenient.
Check Pricing and Availability
PROS:
Made from high-quality steel and modern design
It is dependable
You can set the gate to one or two way opening
Great for wide openings
The gate detaches easily with a quick release
CONS:
It is a pretty heavy gate
Measuring your spaces is a must before purchase
---
Why we picked it: A trustworthy brand with an extra-wide wire mesh feature to keep your toddler baby safe and visible.
This childproof gate looks traditional but has all the durability you need. It is dependable and stylish to ensure your home is more beautiful. The gate is pressure-mounted, so no intense installation required as it does not use hardware. Your walls will also remain the same; no damage at all. In short, Toddleroo by North States 50″ Wide Extra Wide Wire Mesh Baby Gate is a must-have product because of its strength and stability.
Check Pricing and Availability
PROS:
Installation is a breeze as it is a pressure-mounted gate
Made of all-natural non-toxic wood
The quality of the gate is exceptional
It is strong and stable
CONS:
The wood is flimsy and could break if not handled properly
---
Why we picked it: This gate easily creates a safe space for kids in your home or when you have visitors and friends around.
You can use this extra-wide and extra-tall to block off any larger throughways in your home. It provides both height and width protection, making it an excellent option for your children. With Safety 1st Easy Install your life becomes more manageable, and you'll have nothing to worry about. To be 100% sure that your baby is securely locked in place, this great gate is designed with a secureTech indicator that you'll find helpful. All in all, the gate has fewer concerns and more joyful moments.
Check Pricing and Availability
PROS:
Easy for adults to open and difficult for children
Quick and easy installation
It is adjustable to facilitate wide openings
No hardware or tools required
CONS:
It does not close automatically, but could a great feature when the baby is asleep
---
Why we picked it: An ideal baby gate to limit kids from accessing unsafe areas around the house using its double-locking technology.
Fairy Baby Extra Wide Baby Gate closes automatically after releasing the handle, so if you're worried about forgetting to lock it, the manufacturer had that covered. Its double-sided design makes it convenient to open in both directions. The gate is suited for hallways, stairs, living room, doorways, kitchen, and any other open space in the house. The metal construction is heavy-duty and sturdy to handle up to 100 pounds impact. Also, your kids are in no risk of getting their heads stuck between the vertical bars as they are only 2 inches apart.
Check Pricing and Availability
PROS:
It is automatic and multi-functional
Adjustable to fit any opening
Has a durable, heavy-duty metal construction
Does not need hardware tools that could damage the wall
You can install and remove the gate with ease
CONS:
Requires you to measure your openings before purchasing
---
Read more,