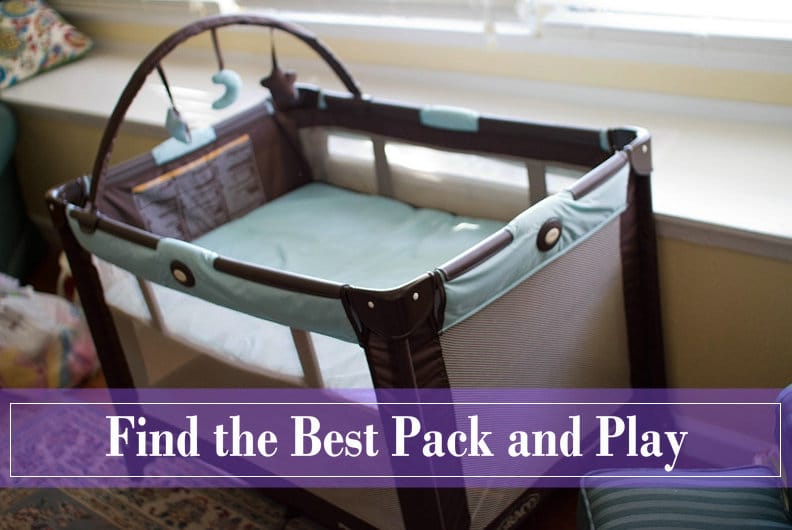 Pack N plays were long thought just to be a simple play yard to help contain your little infant or toddler. They are a place you could set your infant when you need to leave them alone and not have to worry that they'll be harmed.
The best pack N play for your child is more than that! It's a place for your child to sleep and a convenient, portable option for parents who are traveling.
You might know these by other names – playards and playpens. All of the names indicate the same thing – a rectangular-shaped crib with mesh sides that folds up compactly. No matter what you call it, they come in handy and are a versatile baby gear item to buy.
---
What is a Pack 'n Play?
Are you wondering what is a pack and play? There can be confusion about what it is and if there is any difference between a pack and play and portable cribs or playpens.
The most important thing to know is that a pack and play is basically the same thing as a playard, but they tend to be more suitable for portability and sleep. A "Pack 'n Play" is a term that was coined by Graco, but now the name is pretty mainstream.
Pack and plays have several benefits, such as:
They are portable and perfect for traveling, whether it is going on vacation or heading to a family member's house.
They are lightweight, so it is easy to carry with you.
Putting them together is easy – assembly doesn't take ages.
Now, putting them together isn't ALWAYS easy! Some have multiple attachments, like changing tables and bassinets, that make the assembly a bit different.
---
Are Pack and Plays a Necessity?
Not much is a necessity when it comes to raising infants, but they sure can be handy! Manufacturers nowadays add a lot of different features, such as a diaper changing station or a bassinet. Some come with mobiles and different vibration settings.
Sure, swings and bouncers are great for infants as well, giving you options as to where to put your baby. Playards give your child a bit more freedom, which is perfect once your child can sit independently or starts to crawl.
If you travel often or head to grandma's house on a regular basis, a pack and play gives your child a space place to enjoy without you needing to worry that she will topple over grandma's antique vase. When you go on a vacation, you have a separate bed for your child to take naps and sleep at night.
---
Is a Pack and Play Safe for Newborn Sleep?
Without a doubt, one of your largest concerns has to be ensuring your child is sleeping in a safe environment, so you might wonder if a pack and play is safe for sleep. The American Academy of Pediatrics recommends that you keep your child in the same room where you sleep to reduce the risk of sudden infant death syndrome (SIDS).
Their recommendation means that a crib is probably not going to be your child's first sleeping pace. Most pediatricians consider pack and play a safe every-night sleep environment for babies. All play yards must meet the same standards set by the Consumer Product Safety Commission (CPSC) created in 2012. That means if you do use a second-hand pack and play, make sure it was created after 2012.
All play yards have breathable, mesh sides, and they come with a thin, firm mattress. Both of these features meet the guidelines for preventing SIDS. Make sure you pick the right fitted sheet to use with your pack and play.
You might be wondering about a removable "napper" or bassinet on top of the playpens. It is important to know the weight limit of the bassinet. Typically, babies outgrow this feature by 15 pounds or when they can rollover.
Read more useful things about Pack and Play:
It is a great place to let your child sleep throughout the day, especially if you are sore after delivery! Some of these bassinets have an incline, which is not recommended by the AAP for SIDS prevention, so it might be best to only use those for supervised sleep.
To ensure your pack and play is a safe place for your child to sleep, follow these recommendations.
Avoid any pack and play that seems worn or unsteady.
Don't use a playard that is made before 2012 because it won't meet up-to-date federal standards.
Use the thick, soft mattress that comes with the playpen. If you do opt for a different mattress, make sure it is firm and fits your playard without any gaps!
Only attach a mobile or toy if you can ensure it won't fall or that your baby can't reach it. These toys can pose a suffocation hazard.
---
Benefits of Using a Pack and Play
As you can tell already, there are many reasons why you might want to use a pack and play. Here are the top benefits of using one!
Do you have a toddler? If so, keeping your baby out of your toddler's reach is so important. Toddlers may love their new sibling to pieces, but they can be rather rough.
If you want to be able to clean or take a shower, you need a safe place to put your new baby. That's where the pack and play comes in handy! Your baby is safe from the grasps of your toddler, and you can get things done without worry that your new baby will be harmed.
Babies are ALWAYS learning – seriously! Several pack and plays come with fun, educational toys that your child can interact with and enjoy. If yours doesn't come with any toys, that's ok! You can find some yourself, so long as you can attach it safely and it won't fall off.
Keeping your baby safe just feels right. A playard lets you keep your child within sight and earshot, so you can cook, do the laundry, or enjoy a TV show. Also, as mentioned above under safety, keeping your child close reduces the risk of injuries and accidents. If you have a toddler, you can place the toddler in the pack and play, ensuring nothing serious happens.
Most pack and plays are lightweight; some are not. They can be folded up easily, so you can always have your child close to you in a safe place. They are perfect for traveling and long journeys. You can store it right inside your car, so you always have the perfect place to set your baby. Taking it on vacation or to grandma's house is easy!
Parents lover versatile products for good reasons. Baby gear costs money, and you want the best bang for your buck. Many playards come with additional features, such as bassinets or changing tables. You can change your child somewhere other than the floor! Some have canopies that stop the sun from getting in your child's eyes.
---
9 Options for the Best Pack and Play
1

Graco Pack 'n Play Reversible Napper and Changer – Best for Newborns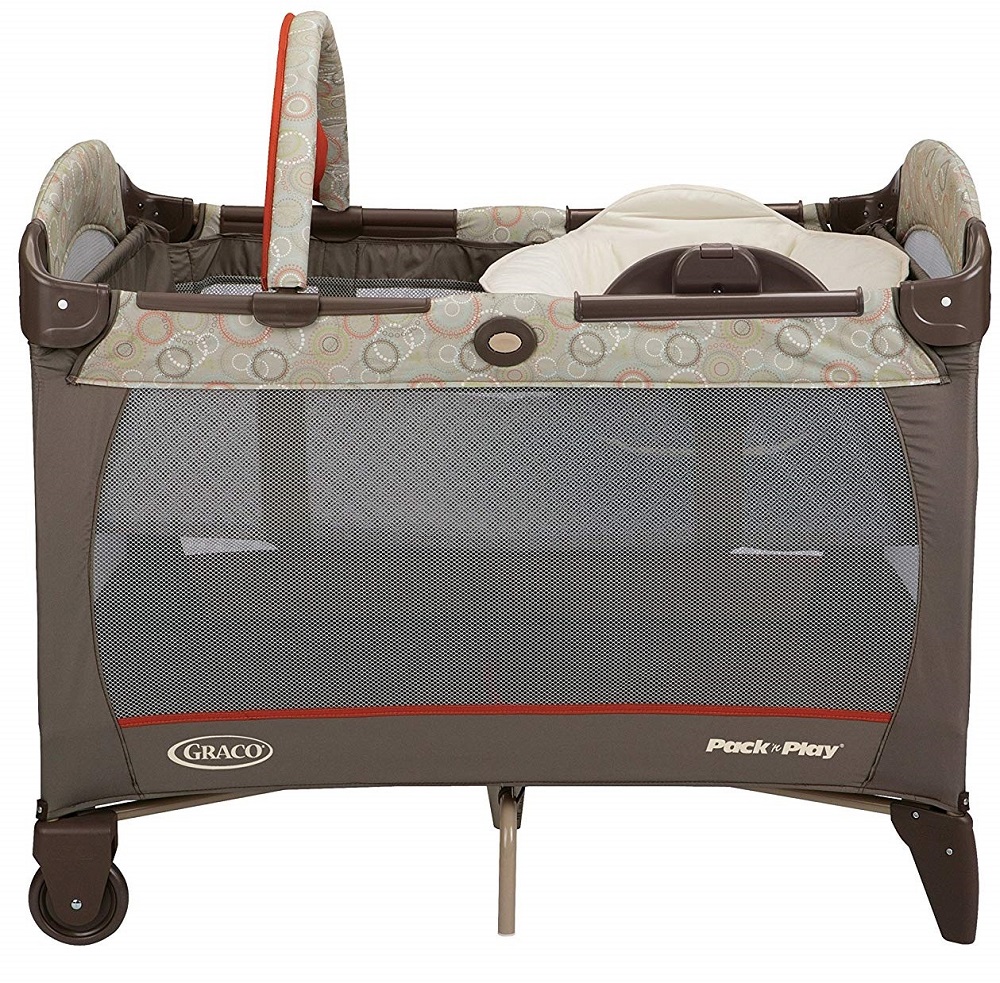 Graco is one of the leading brands for pack and plays, so you will notice several choices made by them. The Reversible Napper grows with your child, making it a great investment. The first thing you will notice is the cozy bassinet that is elevated above the playpen itself. You can flip it over to make it a wipe-clean changing station.
Once your child is too old for the bassinet, you can move your child to the full-size bassinet with a cushy mat. Graco added plushies overhead to give something for your child observe. For mobile babies, simply remove the mattress and you have a safe playard for your child.
The only negative to consider is that the Reversible Napper tends to be heavier and harder to put together than other models. That would be an issue if you like to travel often.
Check Pricing and Availability
PROS:
Bassinet
Wipe-Clean Changing Station
Grows with Child
Great Quality
Read more: Graco Pack and Play Playard with Napper and Changer Review.
2

4Moms Breeze Classic Playard – Top Quality Pack and Play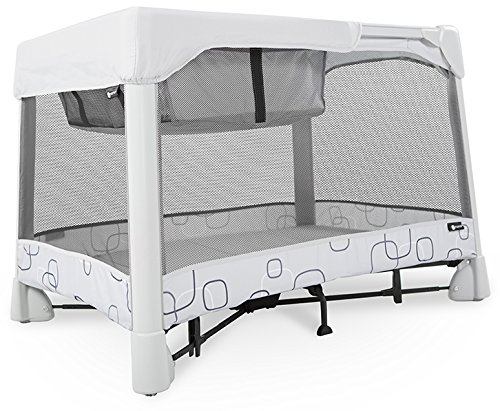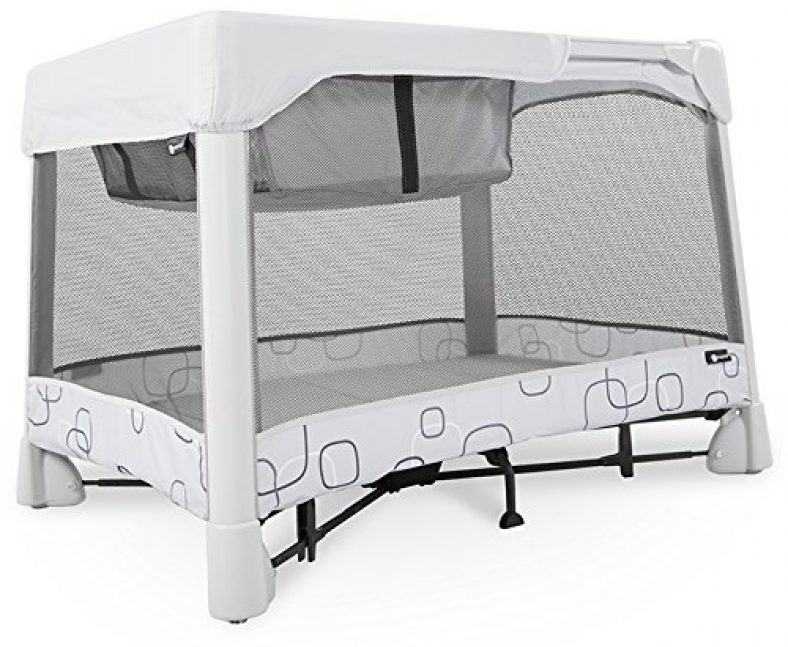 The inventors of the beloved Mamaroo also created a fantastic playard that parents and babies love! The best feature of the Breeze Classic is how easy it is to setup and breakdown. All you have to do is push down on the center and the four legs will spread and pop out. That's it! To fold back up, pull on the center, and the legs fold back together neatly. It comes with a convenient travel bag as well.
4Moms added a removable bassinet mattress and a portable changing pad. Both of those features are so important for parents, especially after you have a rough delivery.
However, you have to consider the two main negatives – the price and the weight. It is one of the most expensive choices, but 4Moms make products that are TOP quality. So, rest assured, your money IS well spent. Also, the Breeze Classic is one of the heaviest pack and plays, weighing in at 30lbs. If you don't feel comfortable lifting it, then this won't be the choice for you.
Check Pricing and Availability
PROS:
Easy to Assemble and Disassemble
Removable Bassinet
Portable Changing Pad
3

Baby Bjorn Travel Crib Light – Best for Traveling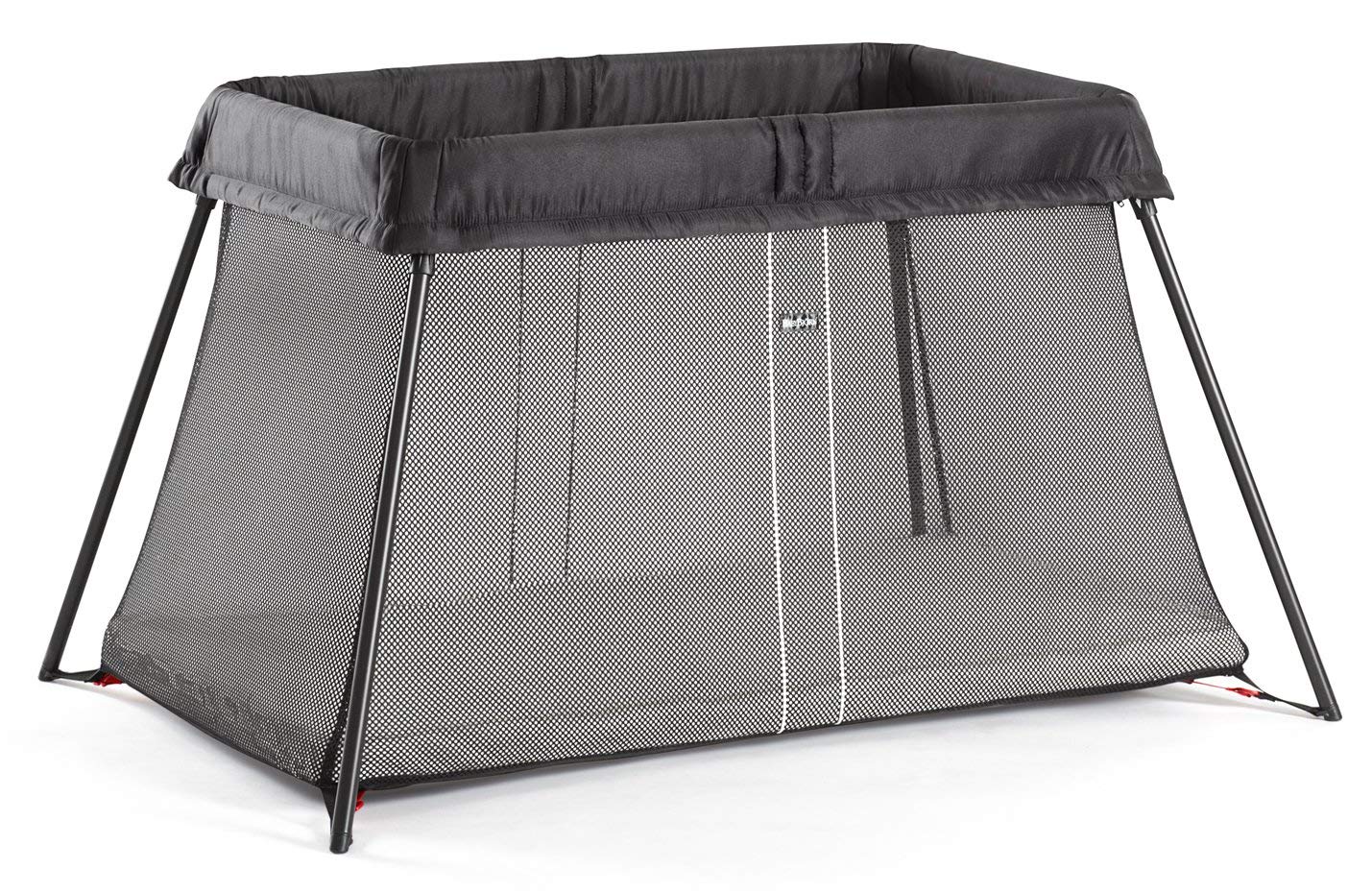 Families who travel often need to take careful consideration when picking the right pack and play for their child. No one wants sore arms as they try to carry their child's playard from place to place. You want a pack and play that is lightweight and can be opened quickly. Parents get both of those with the Baby Bjorn Travel Crib, plus it only takes about 30 seconds to assemble or disassemble!
Parents can remove all of the materials and wash them. All you have to do is unzip the top and remove the fabric. Put it in the washing machine for simply laundering! Most pack and plays don't offer the option to remove all of the fabric, but you want to be able to do so if you travel often!
The playard sits directly on the floor rather than on legs. It has a built-in base plate that keeps it planted and a mattress for a comfortable place to snooze. The mattress is quite comfortable and durable; Baby
Bjorn added thick material to it. The only negative to consider is that there is no bassinet option. Many parents prefer a bassinet for their little baby, especially when the mother is still in her postpartum phase.
Check Pricing and Availability
PROS:
Lightweight
Easy Assembly and Disassembly
Easy to Clean
Comfortable Mattress
4

Lotus Travel Crib and Portable Baby Playard  – Best for Cosleeping Parents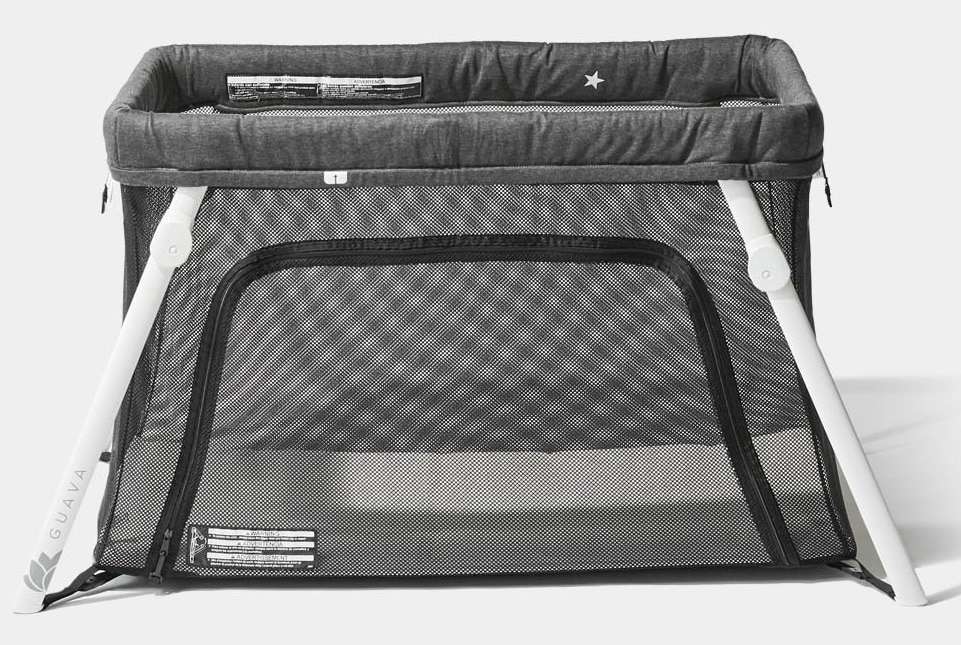 Do you want a super-light playard that folds up compactly? The Lotus Travel Crib folds up into a backpack case, so you can carry it easily while still being able to carry your little one. The most unique feature of the Lotus Crib is that it has a zippered side door, so you can lay down with your child to nurse or cuddle while he falls to sleep. Then, you can pull away once your child is asleep. How cool is that?
You can leave the little side door open so your infant or toddler can go in and out. The playard becomes more like a special fort or hiding area, somewhere that your child REALLY wants to go! Best of all, you can set up the travel crib in seconds. The mattress lays flat on the floor.
Traveling parents really love the Lotus. It can be brought on a plane as a carry-on because it folds up so compactly. It measures 23" x 11" x 8". Another reason parents love this playard is that it is GreenGuard Certified, which means it is free of any harmful chemical, such as PVC, BPA, or lea.
Like any brand, the Lotus does have some negatives to consider. First, you can convert into a bassinet, but you have to purchase an additional kit to make that happen. Also, some parents think that the mattress is too thin.
Ultimately, the Lotus is a great choice for parents who are on the go. It is long and narrow in shape, measuring 42" x 24", which is about seven square feet of space.
Check Pricing and Availability
PROS:
Folds Up Into a Backpack
Zippered Side Door
Easy to Assemble and Disassemble
CONS:
Have to Buy Extra Bassinet Kit
Some Say Mattress is Too Thin
5

Graco Pack 'n Play Playard with Automatic Folding Feet – Best for Toddlers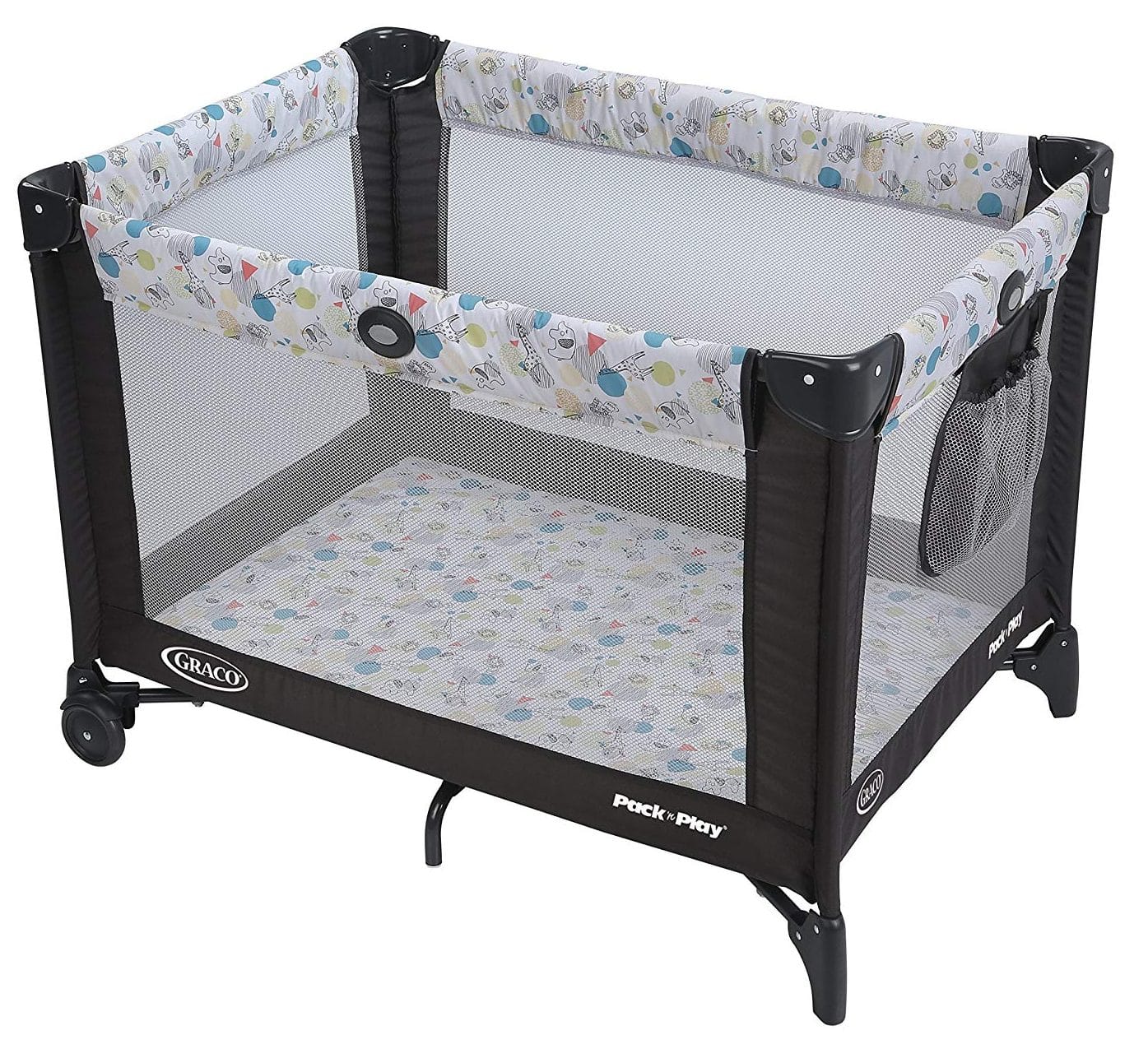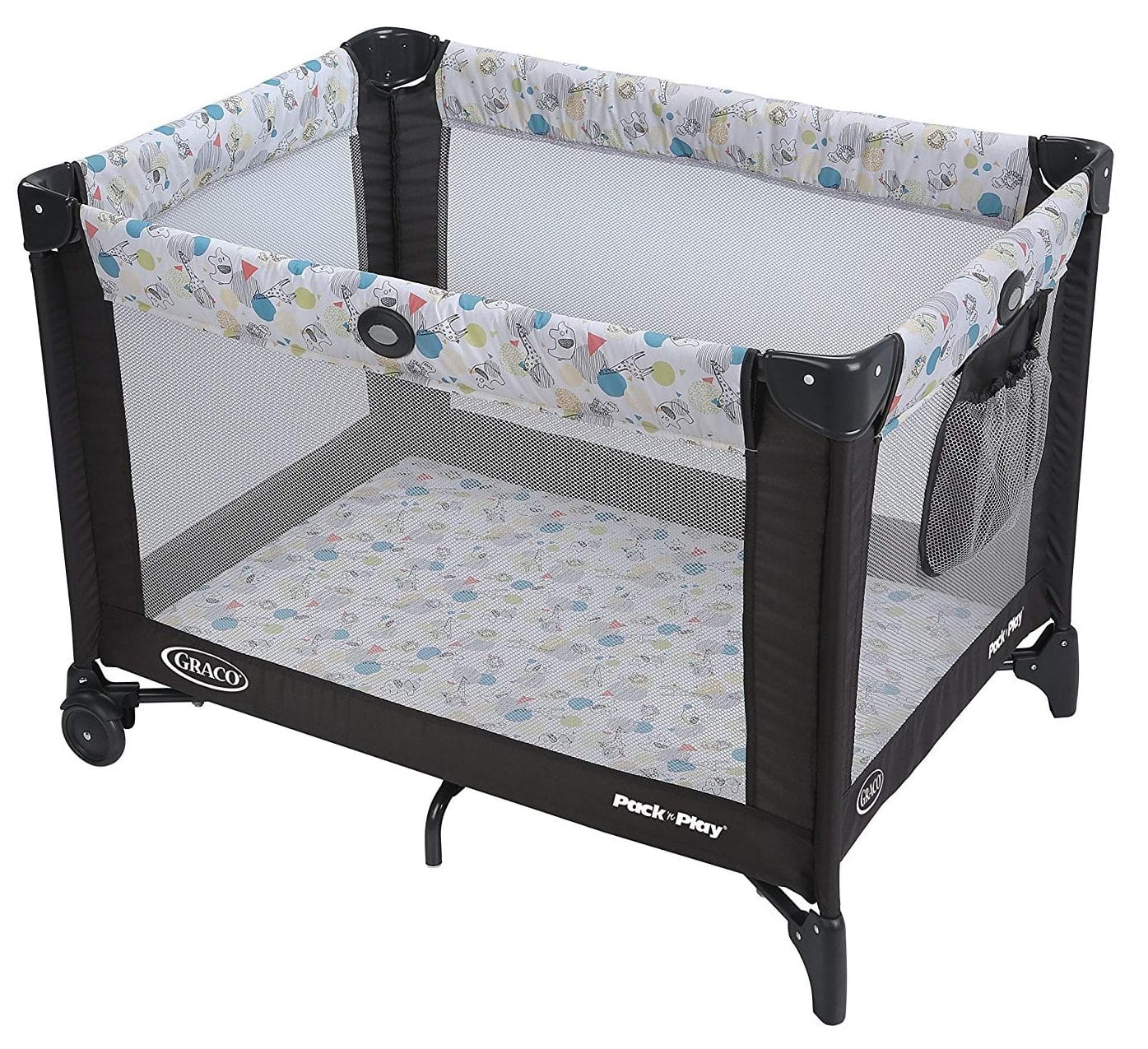 If you just want a simple playpen where your child can sit with toys and you can get some chores finished, the Graco Playard is perfect. It is a lightweight, flexible, and well-built pack 'n play that is perfect for traveling. Just like any other Graco product, you can trust their quality. The fabric is easy to wipe clean, and it will meet all of your expectations.
Foldable feet and wheels means you can fold this down compactly, so it doesn't take up much trunk space. It is really easy to store as well! Graco includes a convenient carrying case which holds the entire playard once disassembled. It also features Graco's one-click disassembly lock and safety features.
This playard isn't fancy, and it doesn't come with special features that you see on other options. However, if you want basic and affordable, this one is a good choice.
Check Pricing and Availability
PROS:
Easy to Assemble and Disassemble
Great for Traveling
Easy to Clean
Comfortable
Affordable
CONS:
No bassinet
No special features
Read more: Review of Graco Pack and Play with Automatic Folding Feet.
6

Joovy Room2 Portable Playard – Great for Twins!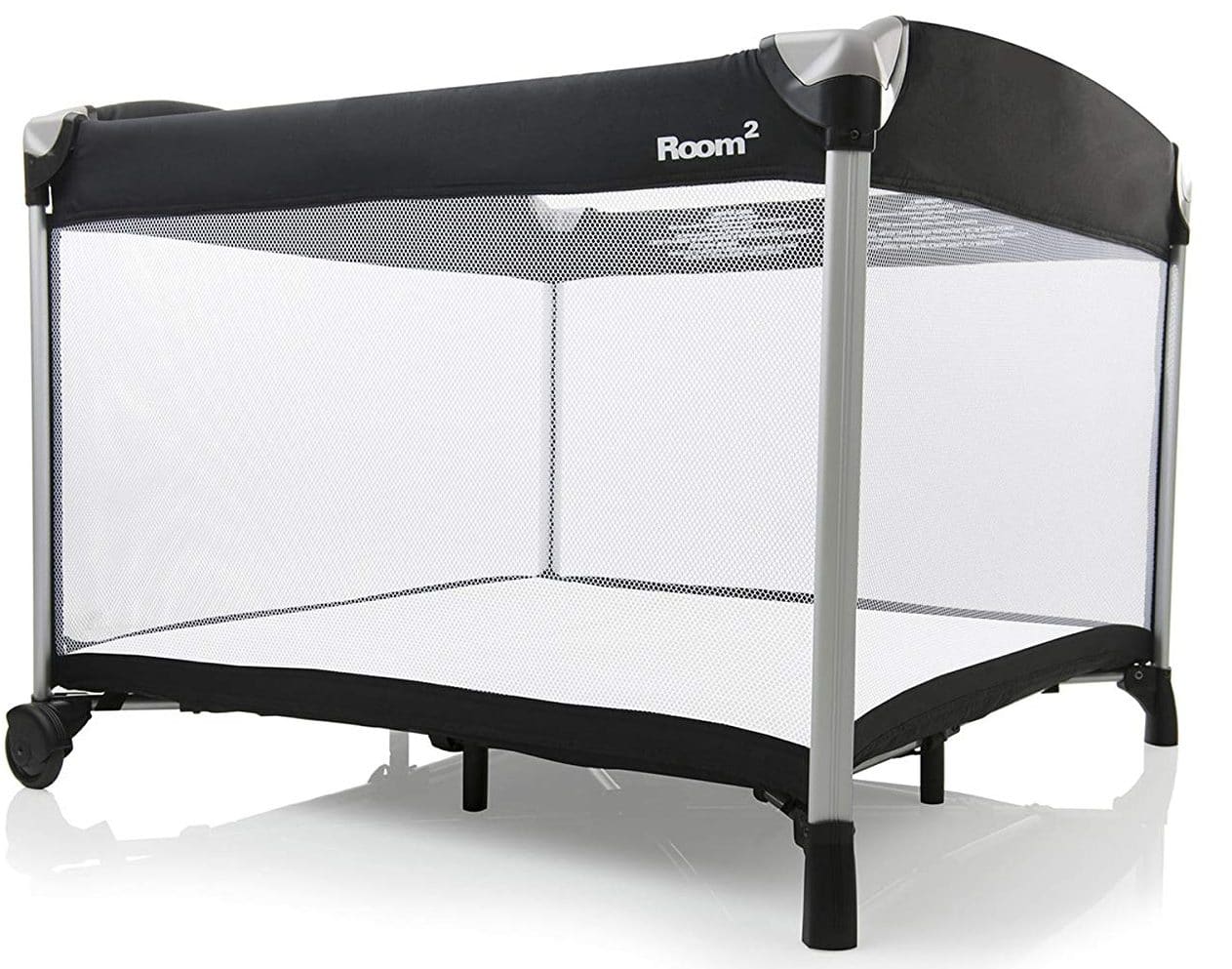 With over 10 square feet of interior space, the Joovy is one of the biggest pack and plays on the market, making it a fantastic choice for twins! It's also great for the parents who just want a large area for their child to play safely.
Joovy is known for their exceptional products. Their baby gear also feels strong, and the materials are high-quality from their high chairs to their strollers. You can trust Joovy. They created their playpen in a simple black and white color scheme with rounded corners. The mattress is heavy-duty and comfortable.
You can take this playpen outside because it is so easy to wipe down. Joovy had versatility in mind, and they made sure this one will last for years to come. All of the mesh makes it a good outside playpen, so the breeze can flow in and out nicely.
Best of all, parents note that the Joovy Room2 is one of the sturdiest choices. It has a very low center of gravity, so the chances of tipping over is very small. It also has locking latches and other safety features. Also, Joovy added locking wheels!
The size, while a huge pro, can also be a con. This playpen is just big, and there is no way to get around that. Also, the size means it is heavier than other pack and plays. Also, it is rather hard to set up, taking quite a bit more force than expected to get it properly opened.
Check Pricing and Availability
PROS:
TONS of Space
Safe and Secure
Well-ventilated
Comfortable Mattress
Great for Twins
CONS:
Takes Up Lots of Floor Space
Not Good for Traveling
High Price Tag
7

Graco Playard with Newborn Napperstation – Grows with Your Baby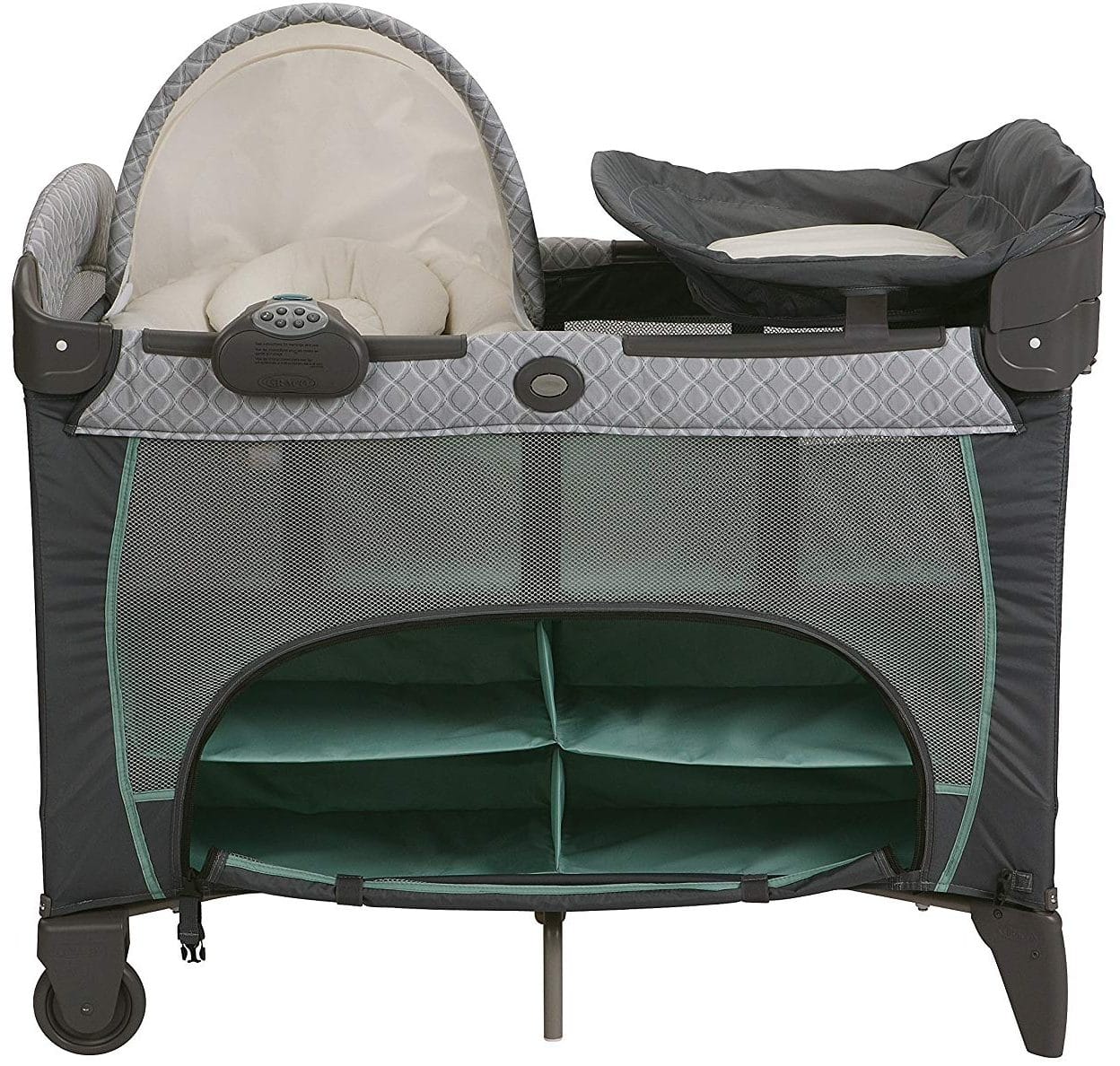 If you want a pack and play that grows with your child, this Graco Playard has all of the important features. It has a bassinet attachment, a changing table attachment, and shelves that turn the body of the playard into a storage unit. Then, you can remove all of these features once your child is older, so you just have a sturdy, durable playpen!
Another unique feature is that there is a canopy attachment so you can keep the sun off your baby. This feature is great if you plan to let your baby nap in the playard attachment. It helps prevent your child from overheating.
It goes without saying that Graco creates products that are superbly built. Also, parents love the one-touch disassembly. This pack and play is the ultimate choice for parents who want something that will last through multiple kids and multiple age ranges. Plus, everything is so comfortable! Graco used a quilted mattress pad and a microfleece fabric for a cozy feel. Plus, it is well-ventilated so your child won't overheat.
The only things to consider is that this playard isn't ideal for traveling because of the multiple attachments. It takes time to assemble, and the playpen is smaller than average because Graco focused on the newborn stage.
Check Pricing and Availability
PROS:
Keeps Supplies in One Place
Grows With Baby
Ideal for Newborns
Comfortable and Safe
CONS:
Takes Time to Assemble
Slightly Pricier
Small Playard
Not Travel-Friendly
8

Graco TotBloc Travel Crib – Great for Active Infant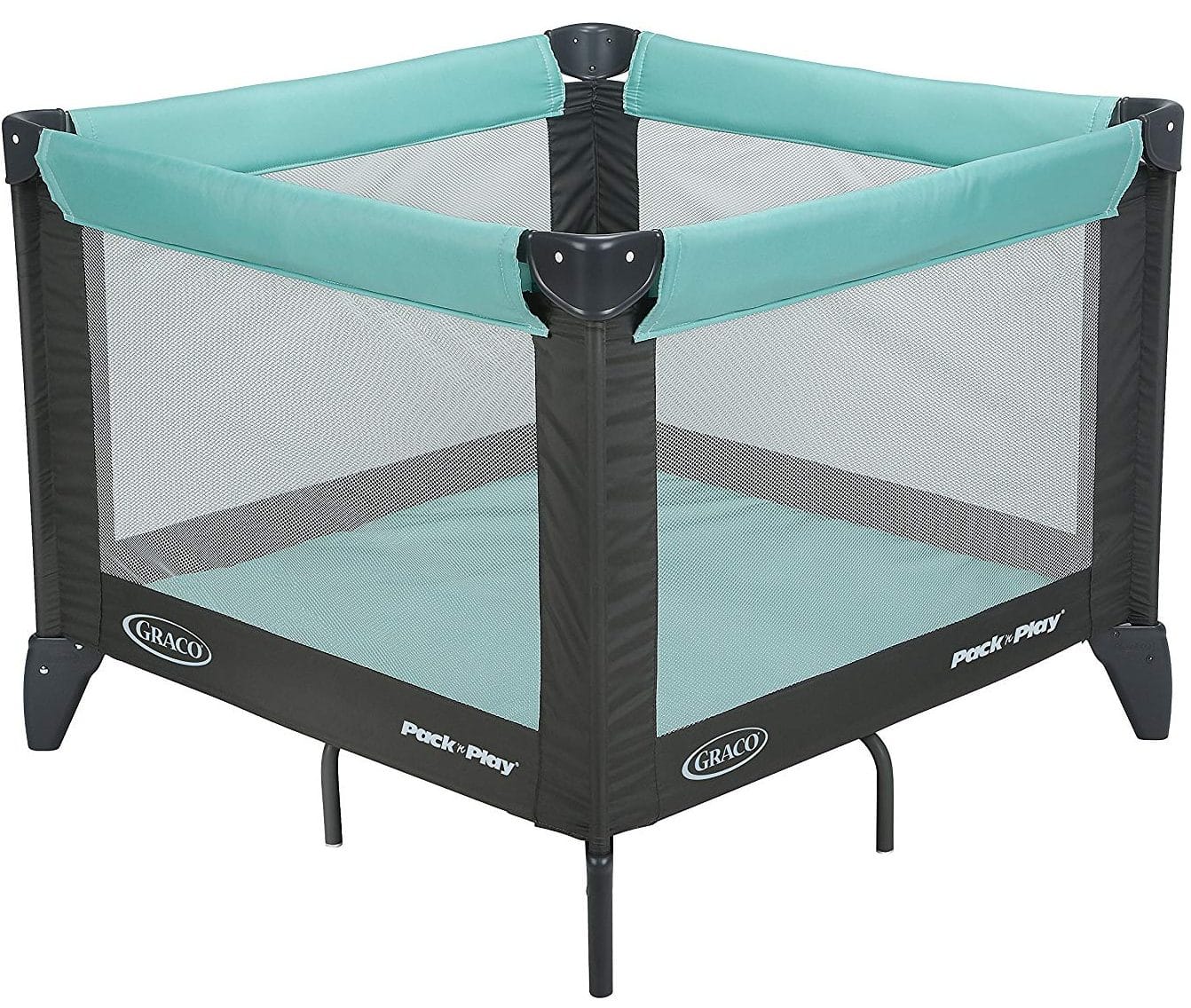 The TotBloc has a unique look that many parents find appealing. It is a square shaped, rather than a rectangle, and very simple. However, the TotBloc is comfortable, useful, and sturdy, which means it fits the important qualifications. This playpen measures 38" x 38" which gives your child about 1- square feet of play area.
Parents can set up the TotBloc in just a few minutes. It is simple and fast, and you don't require any special tools to put it together. All you have to do is unfold it and push down on the middle of the mattress area. It simply pops into shape! Compared to other playpens, the mattress is quite thick with extra support; you don't find this often in a playard!
The major negative to the TotBloc is that it is quite heavy, weighing around 24lbs. That means it's not ideal for air travel, but it is more spacious than other options. However, if you want to use it as a place for your toddler to play, it is a great option! Plus, the price is lower than other choices!
Check Pricing and Availability
PROS:
Easy to Assemble
Perfect for Toddlers
Supportive, Comfortable Mattress
Affordable
CONS:
Heavy
Not Ideal for Traveling
9

Fisher-Price Ultra-Lite Travel Crib – Perfect for Portability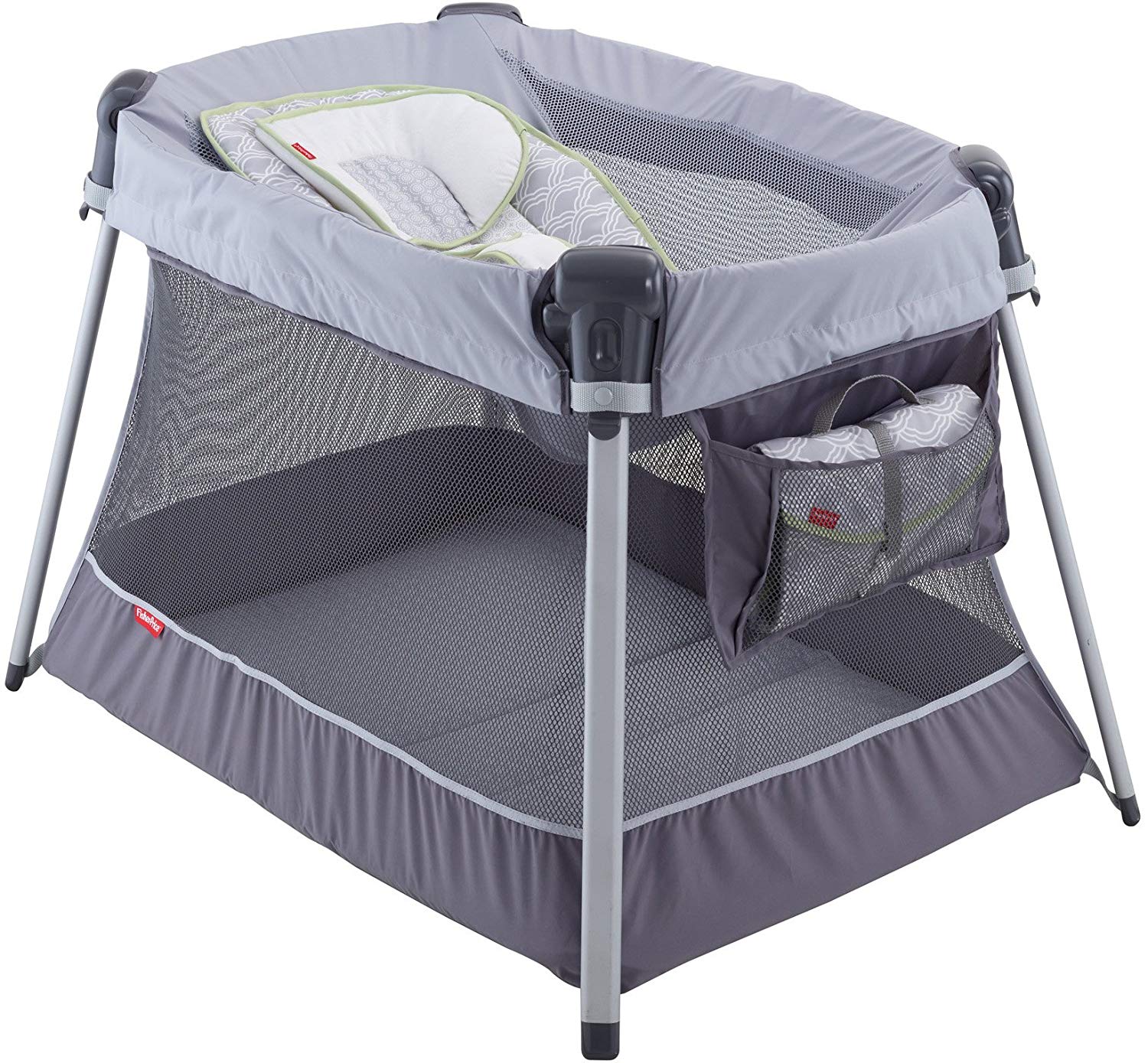 Every parent knows the name Fisher-Price! It acts like a top inclined sleeper with a playard below it. The top sleeper is perfect for smaller babies who aren't able to roll over or pull up on the sides. It is similar to the popular Rock 'n Play in design. Babies with acid reflux enjoy sleeping on an incline, plus all babies enjoy having a higher perspective to see what's going on and interacting with family!
The Ultra-Lite Travel Crib offers functionality that parents can appreciate. One thing to note is that assembling and folding the playard isn't the same procedure you use in most of these pack and plays. It might take a few tries, but it is easy to understand after a few tries.
The pack and play fold up to a square and measuring 26" x 23" and 9" thick. It slides into an included bag with a convenient shoulder strap. Your baby will like that the bottom mattress is nicely padded, along with the upper rails. The vertical rails are isolated, so your child won't topple over and whack his head.
Unlike other playards, the mattress does sit on the floor and has enough padding that your child will feel comfortable. That's not the reason that this playpen ranks so well with parents. The big feature we love is that it is "ultra-lite" meaning that it only weighs around 15lbs. Also, when folded, it is quite compact. These features make it a great portable travel crib for parents who are on the go, whether it's by car or by air.
Fisher-Price includes a travel changing pad and a diaper clutch, which you can fit into the mesh side pocket. Overall, this pack and play is perfect for the parents who travel.
Check Pricing and Availability
PROS:
Inclined Sleeper
Lightweight
Comfortable Mattress
Compact – Great for Traveling
---
Pack and Play Buying Guide
Because a pack and play is somewhere you child might spend a lot of time, it is paramount that you take your time to pick the right one for him. Safety is the most important factor, so you need a model that is well-built and sturdy. You want something that is durable, especially if you plan to use it for several kids.
The best thing is that pack and plays nowadays have evolved from just simple mesh playpens. So, keep an eye out for the special features that make each model stand out. They come in all shapes and sizes. The most basic models have a metal-frame that is covered with fabric and can be folded and dropped.
Here is what you need to consider when picking the right pack and play.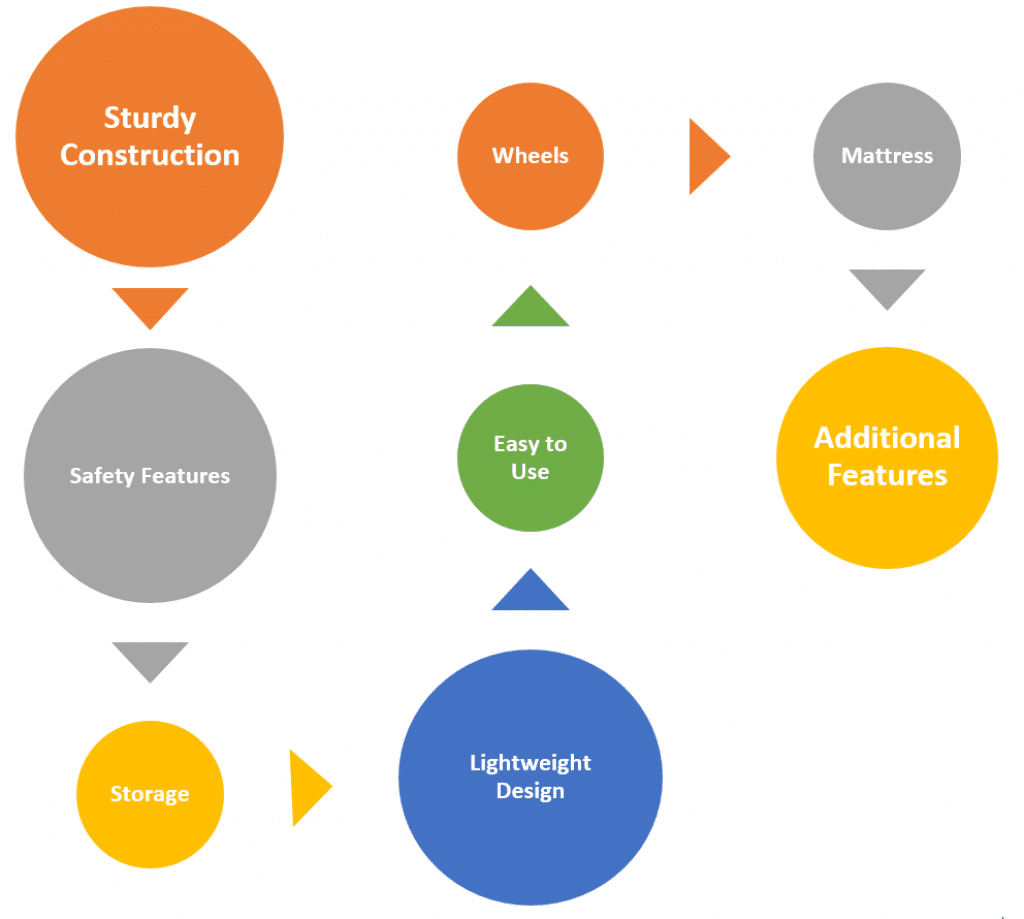 Since you will fold your playard up and down often, you have to make sure it has strong clips, a srdy metal frame, and strong sides. Everyting should fit together properly, so avoid brands that are known for poor build quality. Reviews are one of the best ways to determine the quality of the construction.
What safety features did the manufacturers include? You are leaving your child in it for extended periods, so it has to be safe to do so. It should have safety clips, locks on the wheels, and padding on the floor to prevent your child from bumping against the floor too hard.
All pack and plays must meet standards set by the Consumer Product Safety Commission (CPSC). These standards are rigorous, and all of them must go through stability tests, entrapment tests, and meet height requirements. All must have a latch and lock mechanism that prevents it from folding down on your child. That means accidents are usually from improper use, such as placing a baby above the weight or height limit inside.
Storage is an important feature! Babies come with a lot of items. Zippered pockets, hook on pouches, and other storage options on the unit come in handy, especially if you placed the playpen in a separate area of the house. Who wants to run all the way upstairs for diapers? These storage options face outward, so they are out of your child's reach.
You'd think that, because modern pack and plays have see-through mesh sides, they wouldn't weigh a lot, but many portable cribs are HEAVY! If you travel a lot, you don't want a pack and play that weighs a lot. Look at the overall weight and decide if you are comforable carrying it.
Also, mesh sides are important because they allow for adequate ventilation. Also, you can see what your child is up to when he is playing in his playpen. The more mesh, the better it is!
Baby gear can be downright confusing! Look for pack and plays that are easy to fold up and fold down. Nothing is worse than trying to figure out how in the world to set up the playard when your child is screaming, ready for a nap.
If you want to be able to move the playpen from place to place, wheels let you transport the kids easily. Make sure the pack and play has lockable wheels, which stops your child from scooting it around the room. Kids are smart!
Do you want to sleep on an uncomfortable mattress? Of course not! One of the most important features is the comfort of the included mattress. Look for a plush mattress that keeps your child safe and comfortable. Most come with a built-in mattress, but the amount of cushioning varies a lot. Find one that doesn't feel like a rock.
Some parents like to add extra mattress pads to ensure their child is safe. Extra padding is gerat for safer play because, if your child is accident prone, it prevents them from hitting their head.
If you decide to use an extra mattress pad, make sure you pick one that its the pack and play exactly. You don't want to risk any gaps where your child might get stuck. It is important to not have gaps, especially if your child is taking a nap.
Also, make sure the mattress pad you pick has a protective coating. Diapers leak, bottles spill, and babies puke! A coating lets you put it in the washing machine and keep it clean.
As mentioned before, pack and plays have many different features that make them unique. Some come with chaning tables and bassinets. You might find ones with mobiles, toys, and canopies. Not all accessories are useful for you and your child. What matters to you the most will depend on your lifestyle and how you intend to use a pack and play.
If you don't already have a changing station set up in your house, having a removable changing table on the pack and play is super convenient! Typically, the changing station will attach to the top railing, just like the bassinet. Some allow you to flip it over the outside of the railing and hang it there until you need it again. That's so nice for when your child is sleeping and you need to lay them down!
A removable bassinet is another handy feature that you can find in many pack and plays. These are secure and a great place for your child to sleep when supervised. Bassinets are removable, so you can take it off once your child exceeds the weight limit or is able to roll over.
Babies want to be entertained as much as you do! Lights, toy bars, and jingles are some of the different entertainment options that manufacturers include on a pack and play. Adding these features does increase the price, but you may find it worth the cost if helps keep your baby happy and entertained.
If you plan to take the playpen with you on vacation or outside, you want one that features a canopy. It shields your child from harsh light, and some of the canopies have hanging toys to entertain your child. Canopies are convenient even if you don't take them outside; light comes through the window as well and can disturb your child's sleep.
---
Questions to Ask Yourself When Buying the Best Pack and Play
You know the important features, but we have to go one step further and know the right questions to ask yourself when buying the best pack and play.
Do I Plan to Travel Often?
First, think about your traveling plans. Sure, you might go on vacation once or twice, but people who travel often have to consider this question more. If the travel bug is your friend and you find yourself on the go often, you will want a pack and play that is lightweight, compact, and easy to assemble.
---
Will I Use The Pack and Play for Newborn Sleep?
If you want to use the pack and play for newborn sleep, you need to make sure it follows all current safety recommendations for sleep. You might also want one with a bassinet feature on top. A bassinet is a convenient option for newborn sleep, so long as it doesn't have an incline!
---
Age plays a huge factor when picking a pack and play for your child. If your child is already a toddler, you might just want a simple playpen so you have a place for your baby to play safely when you aren't nearby. Toddlers can take naps in a pack and play as well. If you have a newborn, purchasing one that will grow with your child is smart. You get the most bang for your buck that way.
---
Are There Any Features I Want to Include?
Last, think about the features that you want. It's helpful to ask the first three questions before thinking about the features. For example, if you plan to use this pack and play from birth on, you might want to have a changing table as well. If you want to have it in the living room for accessibility, you might also want one that has pockets on the side for diaper supplies. Do you want a bassinet or a mobile? These are features to consider!
---
Picking Out Pack and Play Sheets
Just like cribs, you will want to have additional pack and play sheets. There are a few things you should remember when picking sheets.
Make sure they're 100% cotton. These are the best sheets because they prevent rashes and won't cause your child to be too overheated.
Find machine-washable sheets. You can wash these around 40 degrees, which is the hygienic way to clean sheets.
Purchase only fitted sheets because loose sheets are a suffocation risk for infants.
How to Clean a Pack and Play
Keeping your pack and play clean is important! Your child is going to spend time in it, and you want the area to be nice for him. Most are made with a few materials, like soft plastics, fleecy fabrics, or metal. Keeping them clean is pretty straightforward, for the most part.
Remove any machine washable parts. Look at the directions and figure out what elements of the pack and play can be removed and placed into the washing machine.
Spot clean the remaining parts. So, if the fabric or material can't be removed and washed separately, you should just spot clean it with soap and water. It can be time consuming, but you don't want to damage your playard!
It's best to avoid purchasing pack and plays that don't allow you to disassemble for easy cleaning. You want pack and plays that have a protective coating on the mattress and mesh because it is easier to keep those in good condition.