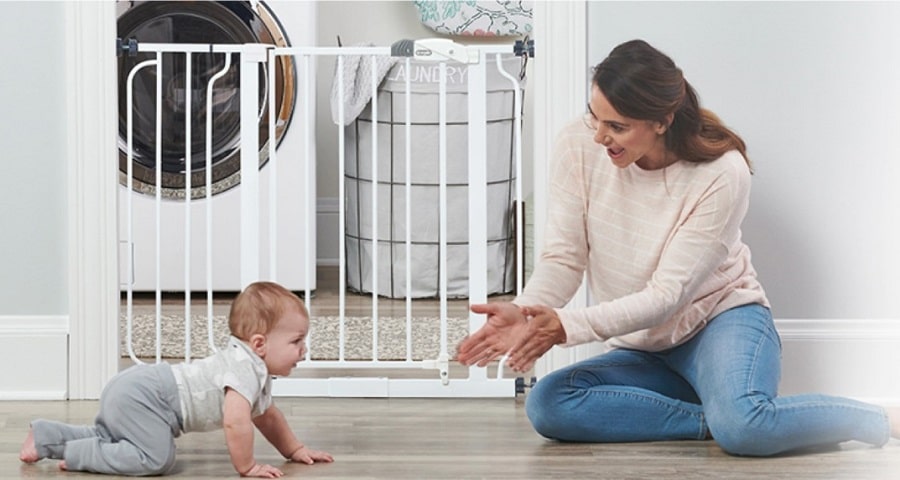 Which Regalo baby gate is best for your home? Don't worry! We've you covered. Regalo offers multiple versions, but this list highlights only the top-notch baby gates.
Childproofing your home is essential if you have a mobile child, and the best way to do that is buying a baby gate. Child's safety is a priority, and there are many things to consider for maximum protection. Since baby gates are from different families, in this list, we'll focus on Regalo products.
Regalo has a variety to offer from tall gates, standard-sized gates, hand-free gates, walk-thru gates and play yards. They also have extra-wide gates for unusual and unique spaces. While protecting your little one, they also offer a great warranty, unlike with most manufacturers. Not to mention, the gates are durable and convenient to walk through. So, they had your essential needs in mind. Please scroll down below to see what we're talking about!
---
Best Regalo Baby Gates
---
Why we picked it: This gate is ideal as a play yard, at the landing of stairs, for extensive openings and a fireplace barrier.
This gate is super wide to accommodate large openings of up to 192 inches. Regalo 192-Inch Super Wide adjustable baby gate can fit in almost all spaces including doorways, hallways, angled openings and other vast areas. It is two in one as you can configure it into an 8-panel play yard. And since it comes with eight 24 inch panels, you can connect them to hinged posts to experience unique shaping possibilities. The gate is also foldable for easy storage and convenient to carry it with you. Not to mention, it has an adaptable locking feature.
Check Pricing and Availability
PROS:
The gate is adaptable and configurable
Does not require tools
It is constructed of a durable and convenient steel
It is portable and folds easily for storage
CONS:
You can only remove two sections at a time
---
Why we picked it: The gate is multi-purpose, making it perfect for the bottom of stairs, hallways, and doorways. It also has multiple safety lock features to provide maximum security to your baby.
If you're looking for an ideal baby gate to contain and protect your toddler, Regalo Easy Open 47-Inch super-wide Walk thru baby gate will for sure meet your needs. It is extra-wide to fit various openings and since it is pressure mount design, setting up takes a few minutes. For added security, you must install the gate with the provided four wall cups, four spindle rods, and screws. The good thing about the gate is that it is removable for storage when not in use.
Check Pricing and Availability
PROS:
It is easy to set up and use
The gate can be used for many openings
It includes multiple safety lock features
It has a convenient walk through door
CONS:
To ensure proper fit, you need to measure your desired openings
It has a gap between the frame and latch but closes after installation
---
Why we picked it: The gate is extra tall for maximum protection, and it is a perfect option for parents with 6-24 months babies.
Regalo 2-in-1 Extra Tall easy swing safety baby gate is beautiful and straightforward to attract everyone. If you buy it now, your home will be childproof as it is sturdy and convenient to protect your mobile child out of dangerous zones like stairs and fireplaces. You can adjust the gate to accommodate stairs with spaces between 24- 40.5 inches. It also swings open by merely rotating the latch for you to pass through with ease. However, before purchasing, remember to measure your opening for a proper fit.
Check Pricing and Availability
PROS:
It is extra wide and tall
It includes a safety lock feature
It is hardware-mounted to added security
The gate is durable and convenient
Has adjustable panels
CONS:
The lock is made of plastic material
Requires tools because it is hardware-mounted
---
Why we picked it: A fashionable gate made from hardwood with all metal frame and has a fantastic high-end finishing. Not to mention, it's not all about décor since it is designed with a safety lock.
Regalo home accents extra wide walk thru baby gate has all the functionality you need in a gate. It childproofs your home and ensures that your mobile baby is safe at all times. This designer gate has a black durable and robust steel frame, with striking cherry wood accents to fit most décor homes. You'll find the gate convenient as the handle locks automatically with a simple push. Walking through this décor gate is also a breeze. And whenever you want to go on a trip to grandmas you can pack this gate along.
Check Pricing and Availability
PROS:
It meets all safety standards
Has a convenient walkthrough design
It is foldable and portable
The gate is extra wide
It is sturdy
CONS:
The gate is small in size
Requires some assembling
---
Why we picked it: Goes easy on walls as it is designed with soft rubber bumper, so your beautiful home will not have scuffs after removing this gate due to its wall-safe design feature.
The features and functions of this incredibly fantastic gate are adorable! It is sturdy for both indoor and outdoor use, patented for a comfortable fit, and installation is pretty fast. The gate mixes functionality and convenience, and that's why we consider it extraordinary. There is nothing to worry about its plastic nature because it is durable and robust to serve you for years. It is practical and meets all safety standards with its safety-lock feature to protect little ones from dangerous areas. So, it's worth your purchase.
Check Pricing and Availability
PROS:
Quick and easy installation
Durable and convenient
Great for indoor and outdoor use
It is soft rubber pressure-mount design to go easy on walls
CONS:
You need to know your opening size before buying
---
Why we picked it: A great top of stairs baby gate constructed to be sleek and secure with strength and durability in mind.
Your child will no longer be at risk of falling down the stairs after purchasing this baby safety gate. It is extra-wide to facilitate openings between 24-40.5 inches and stands 28.75 inches tall. Regalo 2-in-1 perfect for the top of stairs baby gate is all steel to ensure durability. It is hardware-mounted, and both sides of the gate need to be fixed on the wall or banister for added security. After securing the mounts, attach the gate with a simple slide, and that's how easy the installation is. Now, the gate can swing open with a simple rotating latch for you to pass through.
Check Pricing and Availability
PROS:
You can set up the gate in minutes
It has a functional rotating latch for easy opening
The gate is designed for a convenient walkthrough
The all-metal frame makes it sturdy
CONS:
You might require a spacer to install the bottom hinge as the baseboards are small
The gate swings in one direction
---
Why we picked it: A stylish safety baby gate with a high-end bronze finish. It is also a perfect fit for doorways, hallways, the bottom of stairs and open spaces.
If you are looking to take multiple things into accounts such as safety, security, and extensions? Regalo Easy Step Arched Décor Walk Thru Baby Gate is the right choice. This gate is exceptionally well made, and you'll love its various features. It is not only sturdy and safe but also connects beautifully to the wall to provide your little guy with safety. The gate is easy to use and adjustable to accommodate openings between 29-35 inches. It also gives you both a pressure mount and wall mount options. Go with what you'll find applicable and best for your wall.
Check Pricing and Availability
PROS:
Has a one-touch release safety lock
Does not require tools for set-up
The door opens in both directions
It is more secure with the hardware mount
CONS:
It does not open and closes smoothly
---
Why we picked it: The gate is versatile, making it essential for homes with an open floor, angled openings and unusual spaces.
Are you a work-at-home mom with active kids and need to keep them away from your computer and out of the kitchen while working? Regalo Deluxe Home Accents 74-Inch Widespan Safety Gate is the solution you need. This gate gives your kids and homes superior protection. It is safe and convenient as it can stretch to fit a variety of openings. You can easily mount it yourself, in case you're worried about the installation. Another thing that will make you want to have this gate is its three-lock system that no kid can figure out.
Check Pricing and Availability
PROS:
Easy to convert into a play yard
Attractive for home décor
Foldable for storage when not in use
Has an adjustable feature
The design is of high quality
Fits most openings
CONS:
The gate is not one-handed, so opening and closing is a bit difficult
---
Why we picked it: The gate meets all safety standards and has a limited 90-day warranty set by the manufacturer.
You don't have to damage or drill into your woodwork as this great baby gate comes with hard-rubber banister mounts for secure attachment. The gate is extra tall and wide to fit all stairways and other openings of up to 55 inches. It comes in handy as the manufacturer includes banister corner protectors, mounted level poles, plastic wall spacers, square and round banister adapters and a wall mounting hardware. With these tools, installation is a breeze, and when you want to remove the gate, it will take you minutes.
Check Pricing and Availability
PROS:
Has an easy to adjust the size
It is an all-steel construction gate for durability
Comes with one wall mount kit
Includes an instructional manual
CONS:
Latching the gate can be difficult with one hand
---
Why we picked it: Not only perfect for protecting kids but also pets. The gate is ideal for hallways, the bottom of stairs, and doorways.
Try Regalo Regalo-51-Inch-Extension Pressure Platinum, and without doubts, you'll be delighted. The gate is ideal for vast hall and doorways openings. It is pressure-mounted, and installation will take you a few minutes as no tools required. The door is convenient to pass through by only releasing the safety lock. The gate can fit openings between 29-49 inches, but in case you want to expand, it includes 4 and 12-inch extensions. You'll see a gap at the door area, but it's not a defect because it closes after tightly fitting the screws.
Check Pricing and Availability
PROS:
It is gentle on the walls as it is pressure-mounted
Has an easy-to-use lever handle
Accommodates wider spaces
It is packable, portable and convenient.
CONS:
Requires one to measure openings before buying to ensure it fits accurately
---
Read more,