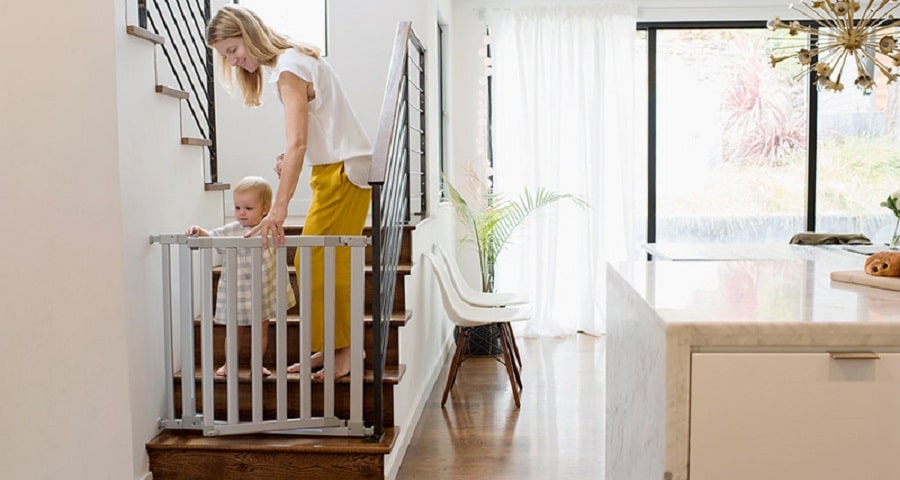 Do you have active kids or tiny explorers on your hands? You might want to install some high-quality baby gates around the house, and this list contains the best gates by Munchkin.
When babies start crawling and walking, they are unstoppable as they want to place their little hands on everything, including dangerous areas. So what do you do to stop them? You need to set some boundaries using baby gates to protect and keep them safe.
Baby gates are crucial for safety, and you can get the design that complements your beautiful home best. Munchkin develops a variety of baby gates, including decorative wood, metal, steel, and bronze. These gates are also available in different styles and types such as quick to install gates, auto close, extra-wide extending, and other kinds. When buying, you can also consider features like modern designs, sleek, one-way, or two-way opening for stairs and doorways, respectively.
For ideas to buy the best Munchkin baby gate, use our helpful checklist below to ensure your house is baby proof to keep your precious baby safe.
---
Best Munchkin Baby Gates
---
Why we picked it: The gate is very easy to operate and helps parents keep their mobile babies locked in safe places.
Since baby gates are meant to make life easier and not harder, Munchkin Easy Close Pressure Mounted Baby Gate is the ideal selection to safeguard your home. The gate will help you keep your curious crawler safe. It can fit widths 29.5 to 35 and comes with 2.75 extensions for larger openings. If you need help selecting the right baby gate or extension, you can always contact Munchkin customer service. This gate installs with ease and can be either pressure or hardware mounted. For pressure mount gates, no drilling is required unless it is at the top of stairs. On the contrary, you will need some screws for the hardware-mounted gate.
Check Pricing and Availability
PROS:
It has a simple push gate that is easy to close and lock
The door can swing in both directions
Has a dual locking system
Installs easily with either wall-cup or pressure mounts
CONS:
The gate requires structurally sound surfaces
You cannot fit this safety barrier across windows
Allow only a few extensions
---
Why we picked it: With this gate, you can have safety and style at the same time (all in one). It also provides maximum security to little ones.
Unlike other baby gates, Munchkin Auto Close Pressure Mounted Baby Gate has a unique gravity hinge for allowing the door to close its self. To open, you need to pull and lift the handle, while closing and locking require one to push the gate. So, you won't have a hard time using this gate. It has a dual-locking mechanism that allows the door to swing in both directions and an extra-wide walkthrough feature for easy in and out access. In case your need is to extend the gate to fit larger openings, you can buy additional extensions available on Amazon.
Check Pricing and Availability
PROS:
It is sturdy
Offers maximum safety to kids
It has a unique gravity-fed hinge
Opening this gate is pretty simple, and the lock is auto-close once released
CONS:
To use at the top or bottom of stairs, you'll require at least four wall cups
---
Why we picked it: A perfect gate for wide openings and stairways with sturdy steel material to provide strength and durability.
We believe that you'll love this gate because it is extra-wide to allow you to walkthrough all day with ease. The gate was built, especially for parents seeking versatility and peace of mind as it provides 100% safety to their little ones. It is a pressure-mounted gate to prevent hardware damage. The gate is also super flexible as it comes with three extensions in case you want to adjust for wider openings. It is the ideal gate to provide your home with stylish safety.
Check Pricing and Availability
PROS:
The handle has a dual-locking system
Constructed from durable metal with a sleek design
Does not damage hardware because it is pressure-mounted
Operates with one hand
CONS:
It is a danger to kids if not securely installed
Not appropriate to keep children away from the pool
---
Why we picked it: Appreciated by most parents and caregivers as it makes their lives easier and safer for their kids. It was also built to fit the modern and technological world.
Munchkin Loft Hardware Mounted Baby Gate offers both intelligent function and modern style while keeping your baby safe. The gate has a lightweight aluminum for durability and a sleek silver finish that makes it appealing and robust. It has an integrated tuning system and indexed sizing system for you to install any location in your home.  It requires little effort to open and shut with an extra-wide walkthrough door for added convenience. The door can also swing in both directions and has a dual-locking handle that is easy for adults to operate and difficult for kids.
Check Pricing and Availability
PROS:
It is convenient enough to fit anywhere in your home
Installation is quick and fast even on irregular walls
It is extra-wide to facilitate heavy traffic areas
Adjustments are easy with the help of its indexed sizing system
CONS:
Installs easily but requires patience to place it correctly
---
Why we picked it: This stylish safety gate closes itself automatically, so whenever you release it using the gravity hinge ramp, it shuts firmly to protect your baby at all times.
This elegant pressure-mount gate will look lovely in your modern home. The gate stands 29 inches tall and features dark wood and strong steel for durability. It comes with a hardware mounting kit to fit openings like stairways and doorways properly for added safety. However, it is essential to measure the desired spaces before purchasing this safety barrier. You can either decide to go with pressure or hardware mount, but they are both easy to install. Additional features that might excite you about this gate include self-closing and a double-locking system that is easy to use.
Check Pricing and Availability
PROS:
Comes with hardware mounting kit
It has an auto-close hinge
Adults can easily open with one hand
Features a dual-locking mechanism
CONS:
The self-closing feature can be annoying sometimes
---
Why we picked it: Has a unique structure and applies less stress on the walls due to its integrated tilting hinge mechanism.
Munchkin Push to Close Baby Gate is stylish, and hardware mounted to ensure added safety. The gate is excellent for use at the top and bottom of stairs, doorways, and hallways. Operating this gate is a breeze as you only need to push to close and lock. If you want to engage the gate securely, you can go with the locking mechanism. And when not in use, you can quickly release this detachable barrier to remove.
Check Pricing and Availability
PROS:
Attaching and re-attaching the gate is pretty simple
It has a spring mechanism for it to tilt open or close
It is a stylish gate to make a home beautiful
Safe to use anywhere in the house
CONS:
It is a bit difficult to install at the top and bottom of stairs
---
Why we picked it: A modern design baby gate that can look great in any style of décor. It is also perfect for areas that may require a little extra width and height.
Munchkin Extending XL Tall and Wide Baby Gate is an excellent barrier suited for wide openings and stairways. It can open in both directions, but there is an optional one-way latch if you need extra safety at the top of the stairs. When the gate is not in use, you can easily detach and re-install. Just like the name suggests, "Extending XL Tall and Wide Baby Gate," it can expand from 33 to 56 inches to fit various openings in your home. Hence, the gate is flexible enough to accommodate your needs.
Check Pricing and Availability
PROS:
Easy to use with one hand
Swings in both directions
Removes quickly when not in use
Ideal for installing anywhere in your home
It is made from high-quality steel
CONS:
The flimsy anchors they include does not hold well on drywalls
---
Why we picked it: The gate has a designer look and innovative safety features to blend with your home and meet your needs.
This baby gate is not only sturdy but also looks nice to complement your home.  Munchkin Wood & Steel Pressure Mounted Baby Gate has a wood design to add a natural softness to its overall appearance. After fixing the gate, you'll also notice the U-shaped pressure-fit steel frame that creates a strong seal. This tastefully designed baby gate can fit extra-wide openings, and it is ideal for halls, stairways, and doorways. It has a gap between the handles and frame, but that shouldn't worry you because it's not a defect.
Check Pricing and Availability
PROS:
The gate has a lovely look
Perfect for stairs and doorways
Easy to open and close
It is strong and durable
CONS:
It can be tricky to install this gate in row houses
---
Why we picked it: Unlike most baby gates, this safety gate has innovative turnkey mounts to ensure installation is quick and super easy.
There are many safety baby gates with almost the same purpose, but this one is slightly different. Its features are unique, and we believe you'll love it! Munchkin Luna Baby Gate with LED Light, Turn Key Mounted Safety Gate is quite innovative, which as a result, simplifies the installation process. It is convenient even at night because of its motion-activated LED light that offers a soft glow to illuminate your pathway. It also has a one-year warranty, so if it fails before, you can always return to the manufacturer for a free fix.
Check Pricing and Availability
PROS:
Has a beautiful modern design
Installation is a breeze with innovative turnkey mounts
Comes with 2 AAA batteries
The door closes with a simple push
It's a one-way opening for stairs and a two-way opening for doorways
CONS:
One cannot use the gate without fitting sticky pads, all the four wall cups, and screws
---
Why we picked it: This gate has no tripping hazards because it doesn't have a bar along the bottom, making it an excellent option for stairways.
This sure shut white baby gate is constructed with a single gate panel configuration to fit most doorway widths with ease. Although it is safe for all areas in the house, it is best suited to the top and bottom of stairs because it does not have a bar running along below. So, you don't always have to pay attention to avoid tripping whenever you go through this gate. It has a quick and convenient release feature to facilitate a fast and easy removal when not in use. Your walls will also remain intact due to its unique tilting spring mechanism.
Check Pricing and Availability
PROS:
There is no bar at the bottom to prevent tripping.
Has a unique tilting hinge system to prevent damage to the walls
Can be used anywhere in the home
A quick and easy release gate
CONS:
You're required to measure your opening before purchase
---
Read more,