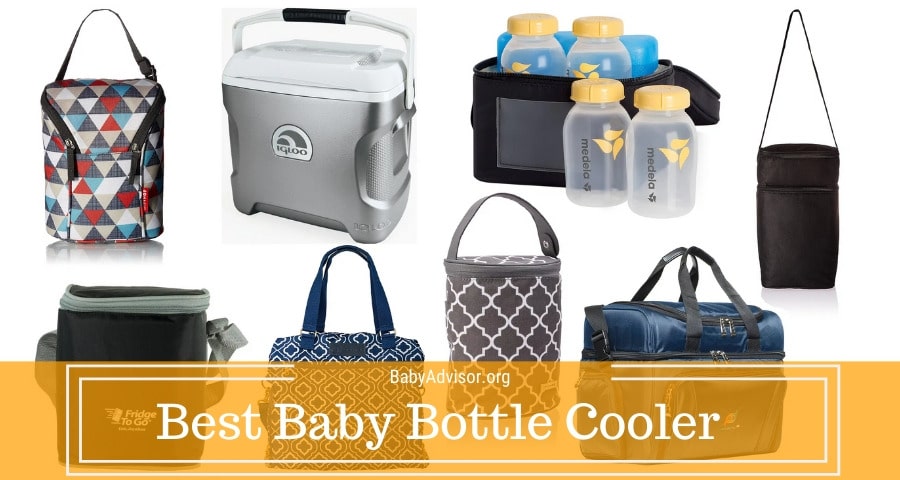 Have you never heard of a baby bottle cooler? If you give your baby bottles, it can be a useful item to have on hand while you're on the go, whether it's running errands or sending bottles to daycare each day.
Baby bottle cooler bags are made to store milk, whether its breast milk or formula, for up to a day, but some models can store milk longer. These coolers let the milk stay at a safe temperature, so you can pre-make bottles without worry that bacteria will grow.
---
Quick Recap of the Baby Bottle Cooler For On-The-Go Parenting
---
Safe Bottle Practices
Before we dive into finding the best coolers for your bottles, you might have some questions about how to properly serve bottles to your child.
Many people believe that you have to heat a bottle before giving it to their child, but that's not the truth. While many babies prefer their milk to be warm, some enjoy cold milk. If you do decide that you want to heat the bottles, you need to learn how to heat breast milk or formula correctly.
Here are some tips for heating bottles properly.
Yes, a microwave is the fastest way to heat a bottle, but it's the most dangerous choice. When you use a microwave, it doesn't distribute the heat evenly, and that can cause problems. The most dangerous of those problems is the possibility of heat pockets. Those are little hot spots in the formula or breast milk that can burn your baby's mouth.
If you use a microwave to heat the milk, the other concern is that it will deplete the nutrients in the breast milk or formula. When milk exceeds a specific temperature, nutrients start to degrade, and you want your baby to get all of the proper goodness he needs to grow.
The safest, yet slowest, way to heat a bottle is by using warm water. Typically, you put the bottle into a bowl or a cup and fill the container up with warm to hot water. Leave the bottle in the milk. Then, take it out, gently swirl the bottle, and test the temperature. Put it back into the warm water if the bottle is still too cold.
Alternatively, you can try a bottle warmer. Some bottle warmers reach temperatures that are too high for breast milk, so be sure you read the directions. The best methods use warm, swirling water to heat the milk to the right temperature properly.
Don't Leave at Room Temperature Too Long
Something else to consider is that both formula and breast milk shouldn't be left at room temperature for more than four hours. You also should dispose of a bottle if your baby drank out of it longer than two hours ago. That stops the growth of any bacteria z in the milk after coming in contact with your baby's mouth.
---
The Benefits of Using a Baby Bottle Cooler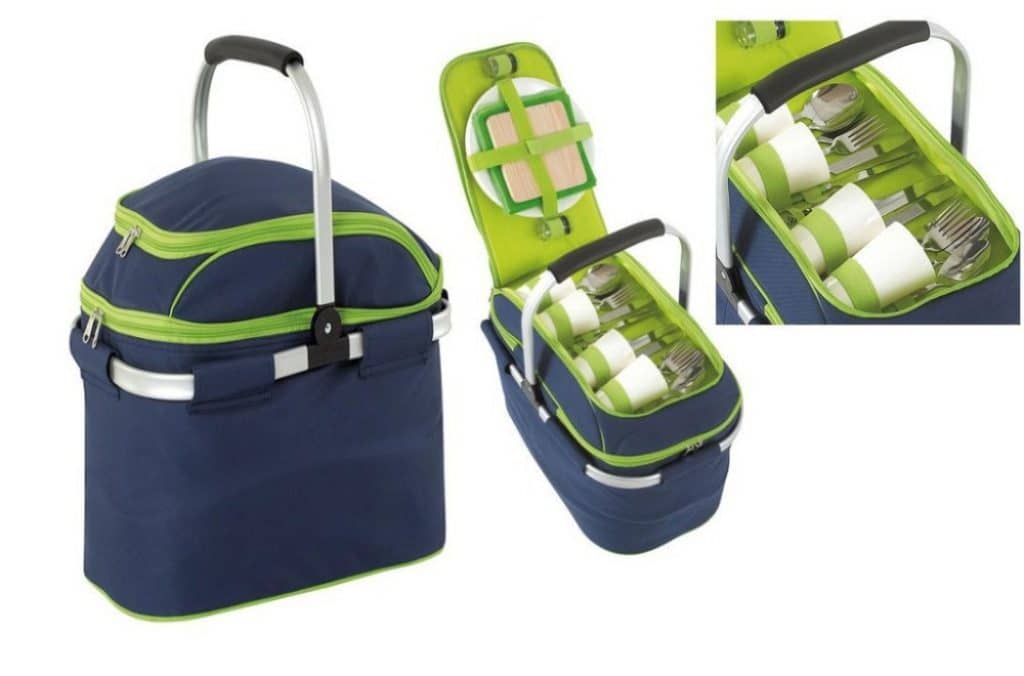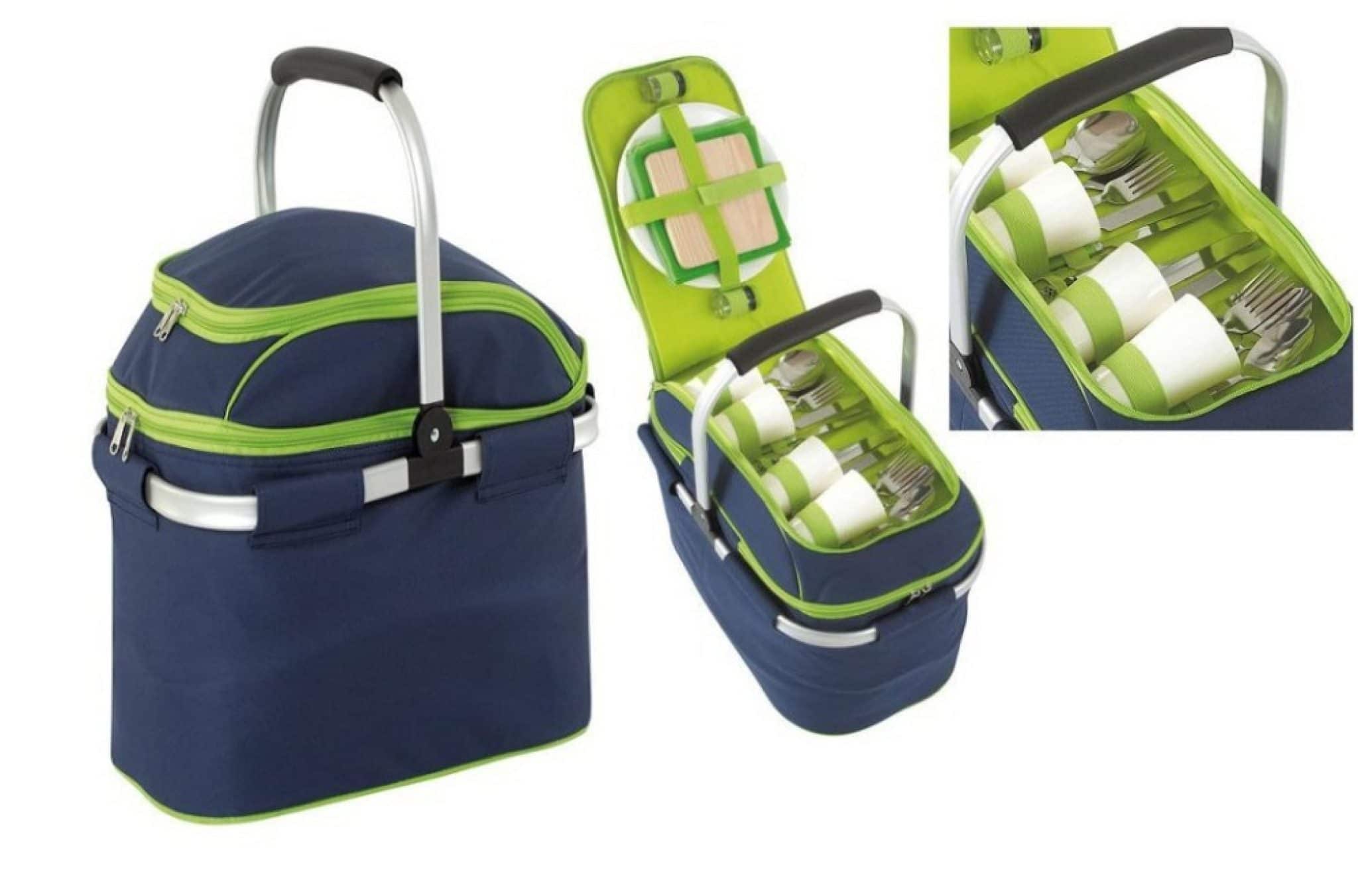 A lot of parents never consider getting a bottle cooler, but they're typically an inexpensive, yet convenient, baby gear item. Many times, they're overlooked when you're putting together a registry. If you're wondering whether or not you want to buy a baby bottle cooler, here are some benefits.
You'll soon see that these bags come in a variety of shapes and sizes, and some of the bigger cooler bags give you space to store other things, such as diapers and wipes. If you buy a bigger bag, you might not need to have a diaper bag at all.
One of the best reasons to use a cooler is that it gives you the ability to store bottles while you're out and about safely. These bags are insulated, so it helps to maintain the temperature of the bottle until you're ready to use it.
Most of these bags are capable of storing liquid at a consistent temperature for up to 24 hours. So, if you are worried about not having refrigeration access, there is no need to worry!
Great for Working Parents
If you're a working parent, having a bottle cooler is seriously convenient. For those moms who pump, you can have two cooler bags. The first bag takes ready-to-go bottles of breast milk to your daycare. The second bag can go to work with you. After you finish pumping breast milk, stick the bottles in the cooler. They'll stay at a safe temperature until you can make it home.
Related: Be aware of harmful germs. Check out our recommended bottle sterilizers to protect your baby from any kind of harmful germs.
---
How to Pick a Baby Bottle Cooler
The first thing to think about is how much storage space do you need in the cooler. Do you need only to hold one or two bottles? If you need to carry more bottles, you need to find a larger bag because most standard bags keep two or three bottles and an ice pack.
Let's be honest; parenthood is a mess. Most of those messes are related to how our kids eat and their food. Look at how to clean the bottle cooler bag. Each bag should include cleaning instructions. Like anything else, the easier the bag is to clean, the less frustrated you'll be if a bottle spills in the bag.
In most cases, the interior of these bags is wipeable, and some do have exteriors that are spot-clean only. You should be able to run water inside of the bag to clean out the milk.
Another consideration is the temperature at what the cooler can keep the bottles and for how long it can maintain temperature consistency. Think about how long, on average, the cooler needs to maintain the temperature. For most parents, you'll need the cooler to work for at least eight hours, which is the length of a typical workday.
For some people, style might not matter too much, but for a lot of parents, style is very much a consideration. You can pick between backpacks, lunch bags, or totes. Look at the different designs and even the color or pattern on the exterior. All of those things do matter since you'll take this cooler along with you each day.
---
The Best Baby Bottle Cooler Review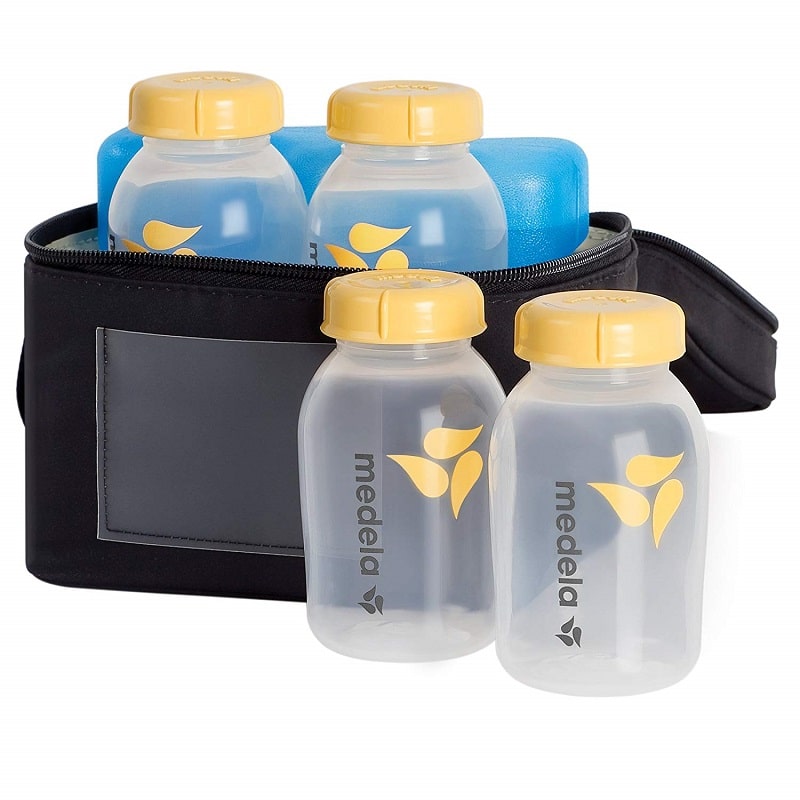 If you use a Medela breast pump, it makes sense to use the Medela breast milk cooler. It's one of the top-rated coolers, and it's compatible with Medela 5-ounce breast milk bottles. This bag works perfectly for a secondary container to transport breast milk from work to home or to leave at the daycare each day.
You can fit four bottles with lids into this cooler, along with the included ice pack. It comes with a contoured ice pack that is curved to fit around four bottles, capable of keeping bottles cold up to 12 hours. The cooler does come with the four bottles and four lids; all pumping moms need more bottles.
For those who use a Medela pump, this cooler bag fits inside of the Medela Sonata, Freestyle, and Pump-in-Style breast pump bags. It's a microfiber cooler bag made without any BPA or PVC.
Check Pricing and Availability
PROS:
Keeps Bottles Cold for 8-12 Hours
Fits Medela Bottles
Great for Those Using Medela Pumps
Comes with a Contoured Ice Pack
Fits Into Breast Pump Bags
CONS:
Only Fits Small Bottles
Cannot Have Nipples Attached When Stored
---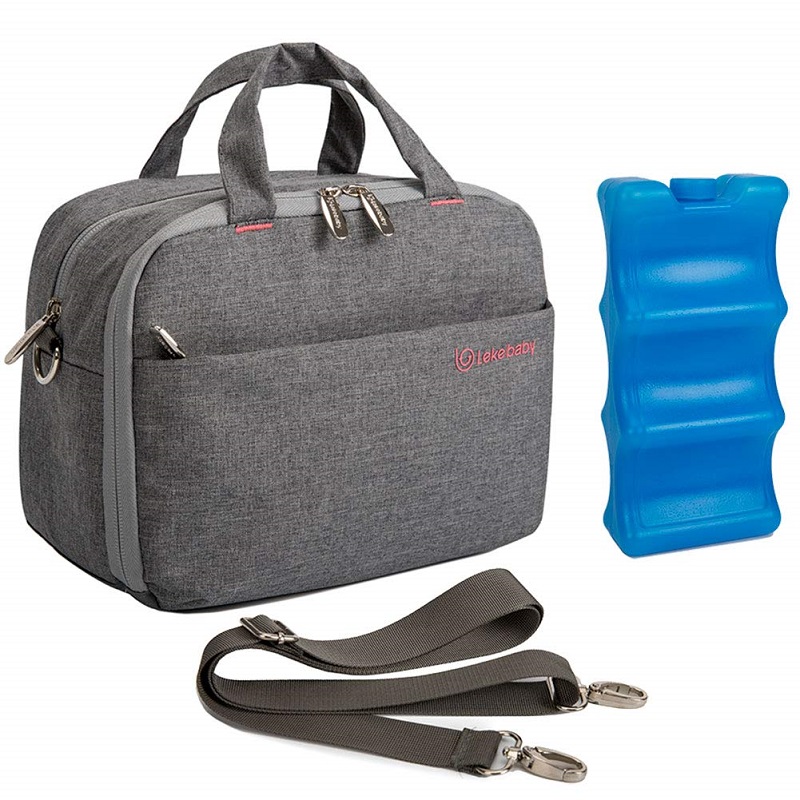 If you need a cooler that holds more than four bottles, take a look at the Lekebaby Cooler Bag. This bag has an insulated lining that can keep bottles warm or cold, and it comes with a contoured ice pack. The ice pack fits around six bottles for up to 8 hours.
Unlike other cooler bags, Lekebaby holds six large baby bottles, so it's perfect for taking to daycare or using it as your transport bag if you need to pump at work. This bag is made with 600D Oxford fabric, which means that it is water-resistant while also being durable. Then, the inside of the bag has an aluminum foil lining and EPE foam insulation that makes it perfectly insulated.
Lekebay created this bag with two zippers open design that lets you put and take bottles in and out of the bag easier. The front open is better for putting bottles into the bag while the top open is better for easy access. Then, there is a front pocket for small items, such as extra breast pump parts or maybe medicine for your baby!
One detail that is nice about this cooler bag is that it comes with an adjustable strap for carrying it over your shoulder. Also, you can remove the inner bag to make cleaning easier.
Check Pricing and Availability
PROS:
Maintains Temperature for 8 Hours
Holds 6 Large Bottles
Water-Resistant Materials
Two Zipper Open for Ease
Front Pocket for Storage
CONS:
Might Not Fit 6 Bottles – Depends on Brand
Material Holds Smells
---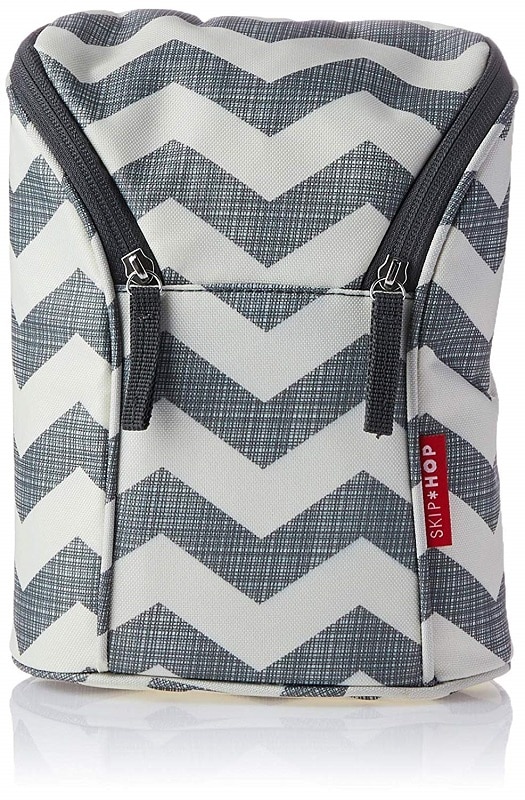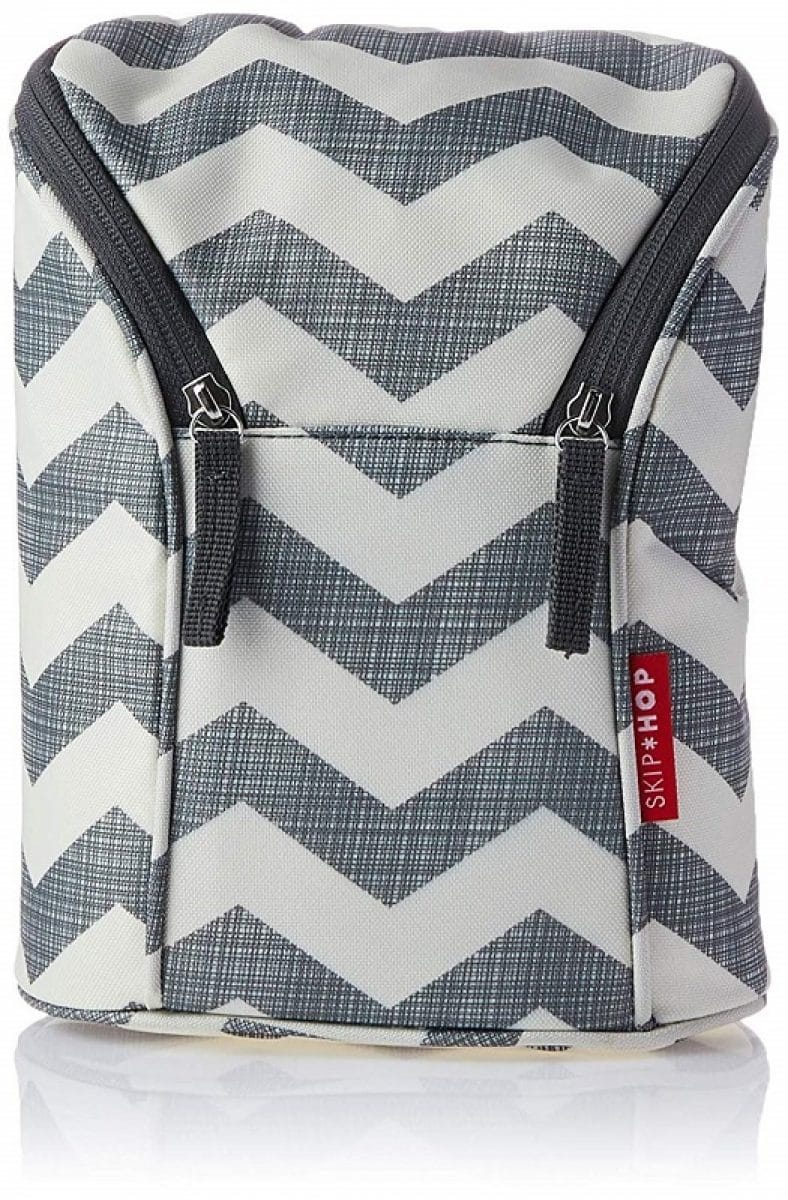 Do you need a bottle cooler that only holds two bottles so you can run errands? The Skip Hop Insulated Bottle Bag is a great choice. This bag contains two bottles or two sippy cups and keeps them cold for up to four hours at a time. It's also a great bag for tossing some snacks while running errands.
Skip Hop placed a wipeable lining inside of the bag that keeps bottles warm or cold, and the two-way zipper allows for single or double bottle access. When you buy the bag, you also receive a freezer pack.
That's not the only reason to love this bag. Skip Hop included an easy-open strap to attach a stroller, and the strap is adjustable. There is an interior mesh pocket for storage, and the entire bag is BPA and phthalate-free.
Check Pricing and Availability
PROS:
Keeps Bottles Warm or Cold
Holds Two Bottles or Cups
Wipeable Lining
Stroller Strap
CONS:
Not Waterproof
Only Holds 2 Bottles
---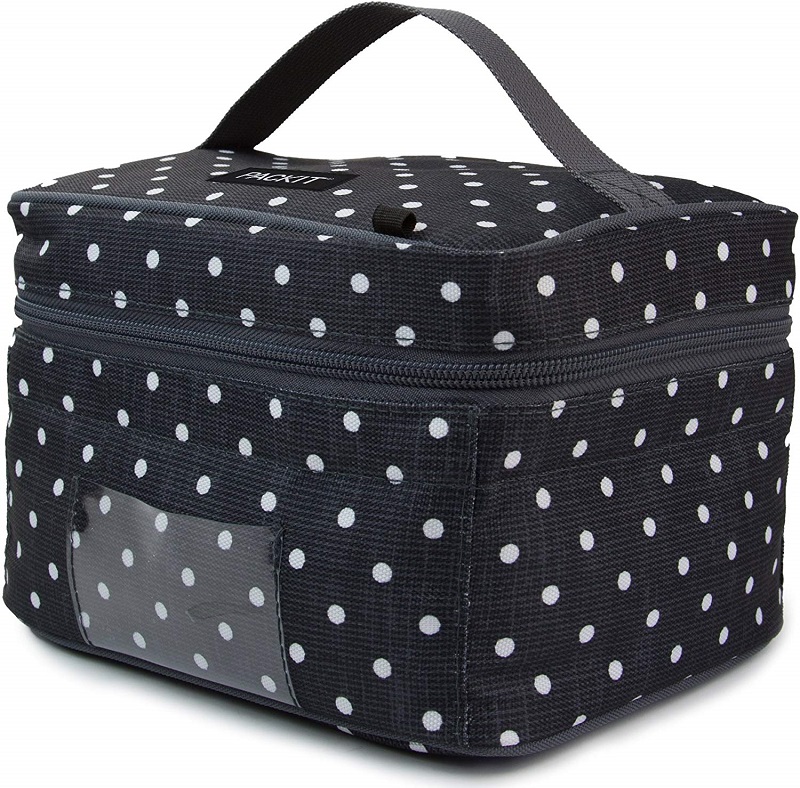 Parents love the PackIt. It's one of the only coolers that don't require any ice or gel packs to stay cool, so they're an excellent solution for parents on the go. This cooler can keep breast milk or formula chilled for hours.
This cooler features PackIt's patented cooling technology. The freezable gel is built into the bag, so you don't have to use separate ice packs or gel packs. Instead, just fold the cooler and store it in the freezer overnight (12+ hours). Then, in the morning, the walls of the cooler are frozen and ready to keep bottles cold for hours.
This cooler stands at 5.5 inches tall so that it can hold up to four 5-ounce bottles at a time. PackIt added a top carrying handle and a zip-top closure to keep the cooler closed. For extra storage space, there is an internal divider that can be flattened.
PackIt created its cooler from non-toxic poly-canvas, and it uses a food-grade, water-resistant lining. It's PVC, BPA, formaldehyde, phthalate, and lead-free.
If you want to clean your cooler, all you have to do is wipe down the interior with soap and water. The exterior of this cooler is spot clean only. This cooler comes in a variety of colors and patterns so that you can pick the best one for you.
Check Pricing and Availability
PROS:
No Need for an Ice Pack
Keeps Bottles Cold for 12+ Hours
Holds four 5-Ounce Bottles
Easy to Clean
Non-Toxic Materials
CONS:
Only Fits 5-Ounce Bottles
Heavy and Bulky
---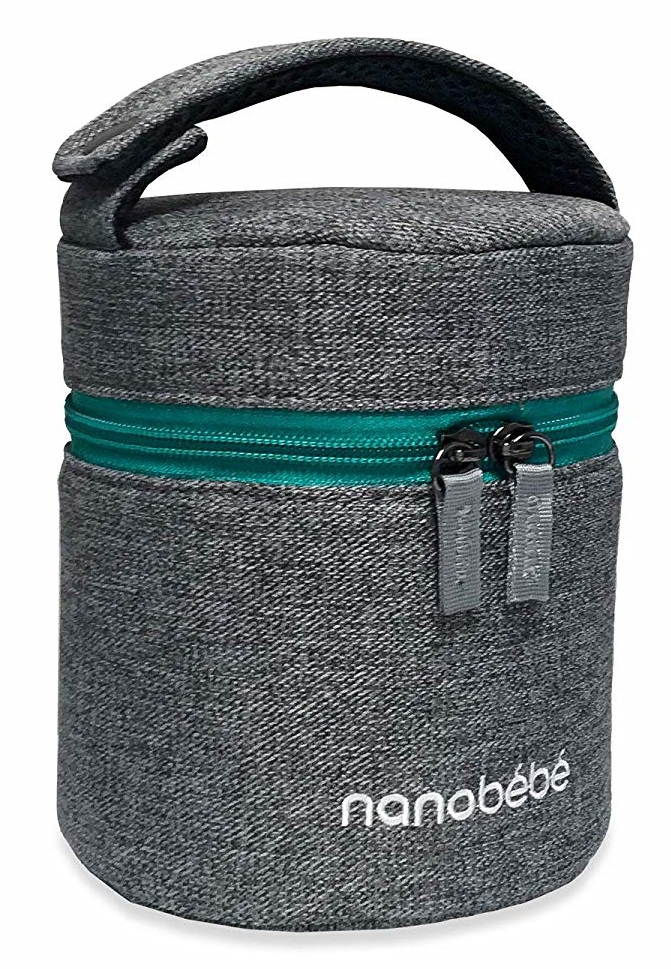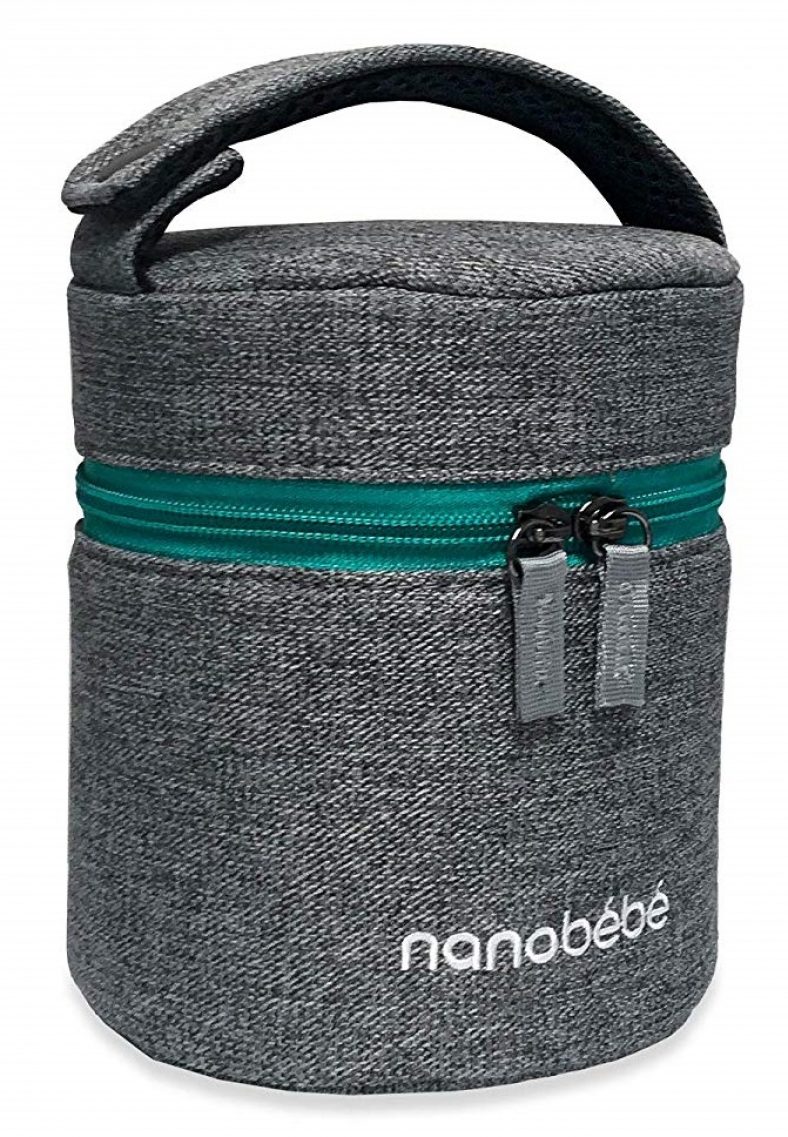 Do you use a nanobebe breast pump? If so, you need the nanobebe cooler to hold the uniquely designed bottles that go along with the pump.
This cooler clips onto your stroller or diaper bag, so you can keep the bottles wherever you might need them while on the go. It's a stylish, gender-neutral, classic grey insulated bottle bag that uses three layers of temperature holding insulation. This cooler can keep breast milk cold or warm for hours.
Similar to the PackIt, you don't need to use ice packs for this bag. It includes a made-to-fit freezer pack that keeps your bottles cold for hours.
If you use the nanobebe pump, you know that this is the only cooler bag designed to hold these breast-shaped bottles. Using their stackable shape, you can pack up to three nanobebe bottles into this bag. It also fits other accessories such as nipples, pacifiers, pump parts, and more. Don't worry; customers report that they fit a range of bottles in this cooler.
Perhaps one of the best things about this cooler is that you can toss it into the washing machine, but it also can be wiped or spot-cleaned.
Check Pricing and Availability
PROS:
Perfect for nanobebe Bottles
Made-to-Fit Freezer Pack
Washing Machine Safe
Clips
CONS:
Only Fits 3 Bottles
Insulation Might Be Lacking
---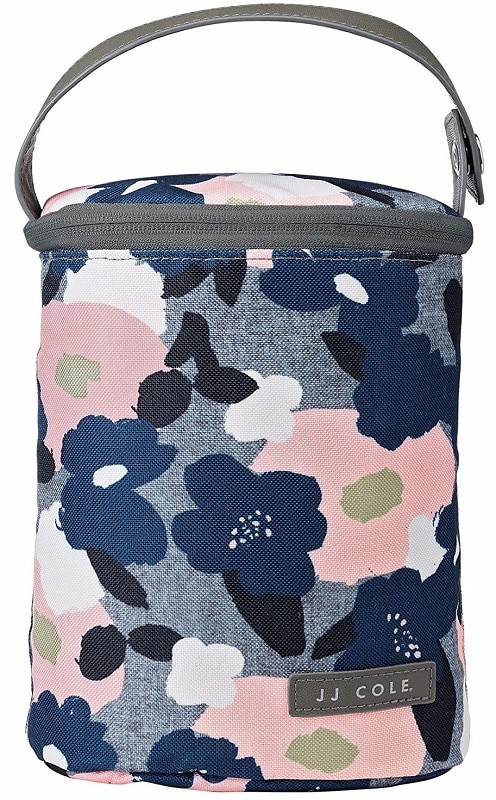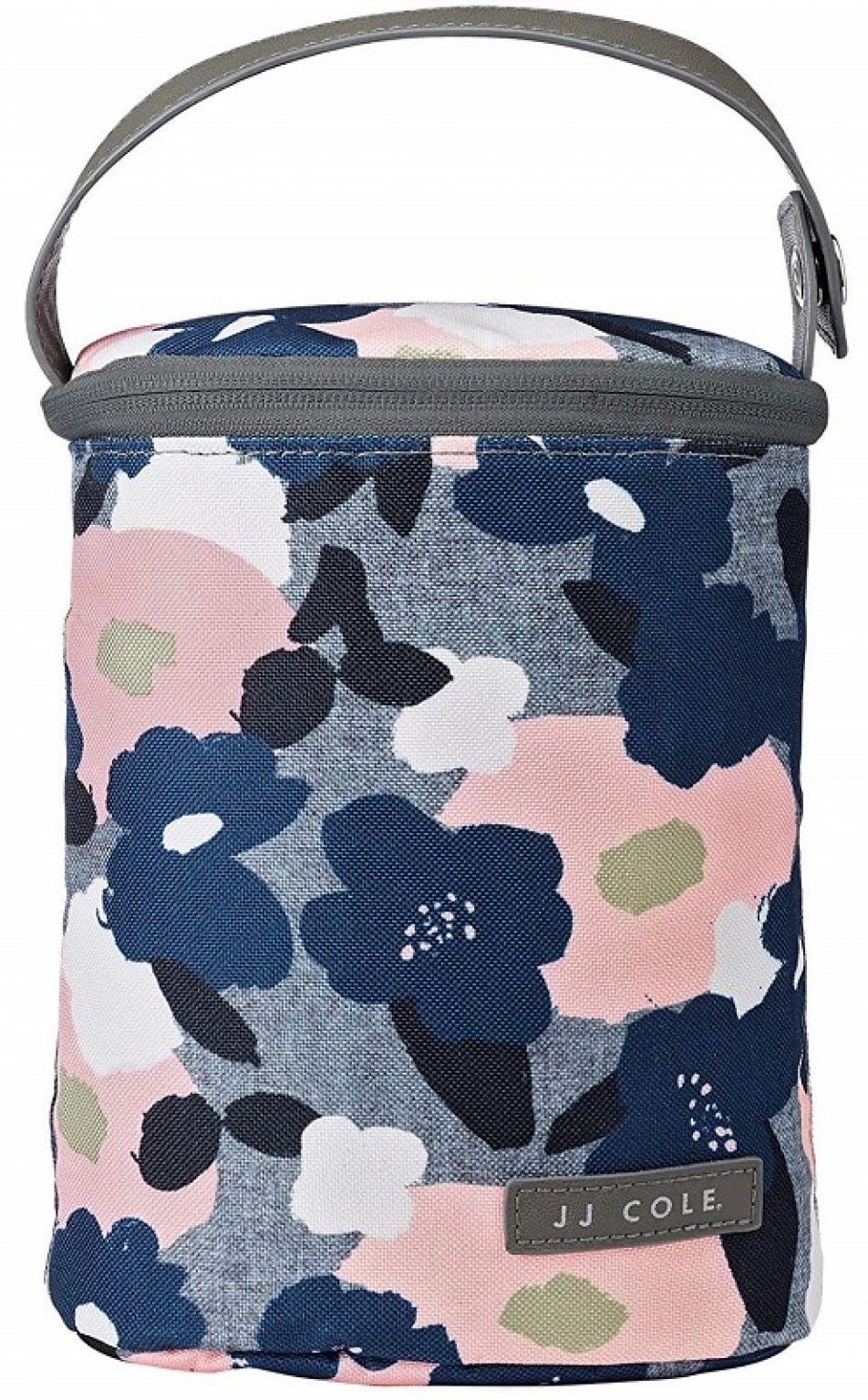 Do you want a stylish yet straightforward baby cooler? The JJ Cole Coler holds up to two large bottles or sippy cups, leaving space for snacks as well, but there is an option for a cooler with 4-bottle capacity. The bags come in several colors and patterns.
Inside of the cooler, you'll find an interior pocket that keeps the freezer pack in place. Combined with the insulated interior, the bottles will stay cold on the go.
On the exterior, JJ Cole added an exterior pocket that gives you space to store wet wipes, pacifiers, or extra pump parts. You can attach this cooler to your stroller or diaper bag with the convenient button-snap handle.
Check Pricing and Availability
PROS:
Several Stylish Patterns Available
2 and 4 Bottle Options
Exterior Pocket for Storage
Stroller Attachmen
CONS:
Tall Bottles Are A Tight Fit
Not Waterproof
You may also interested: Is Bottled Water Really Safe for Babies?
---
Conclusion
While you might not think that using the best baby bottle cooler is essential, it's hard to deny that they add convenience to your life. You can use these coolers to safely store the bottles while running errands, sending your child to daycare, or when you pump at work.
Baby bottle coolers are relatively inexpensive options, so give one a try. You might find that it makes your life easier.