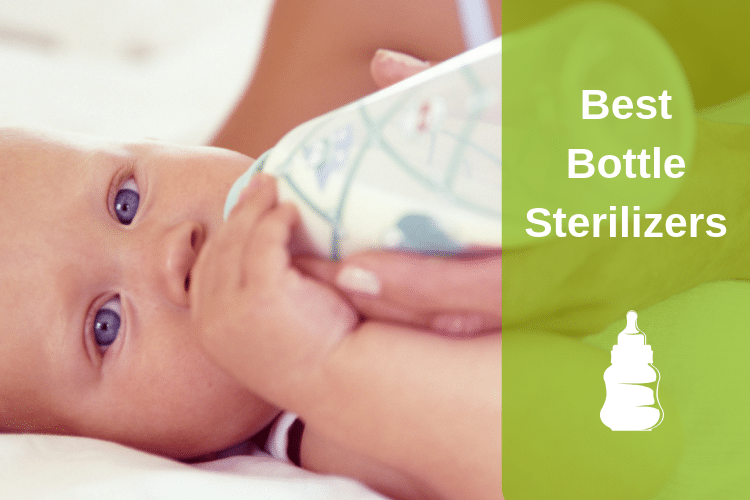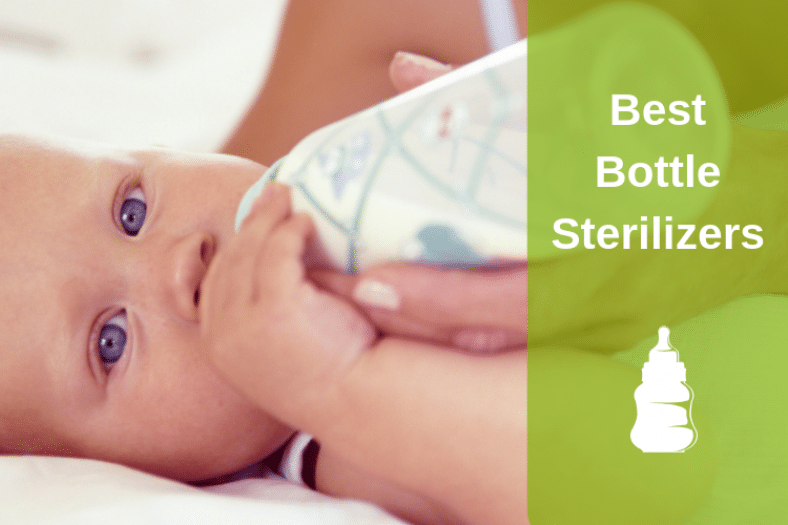 Are you worried about keeping your baby's bottles sterile and safe? Do you want to avoid having to boil your baby's bottles all the time? The best bottle sterilizer gives you the ability to safely and easily sterilize your baby's bottles in almost no time at all!
Before my first baby was born, I got a big pot out and boiled water to clean and sterilize all of his pacifiers and bottles. It was a pretty awful experience if I'm being honest. I had trouble keeping all of the parts underneath the water long enough to effectively sterilize them and I actually burned and melted one of his pacifiers because it touched the edge of the pot for too long.
At the time, I didn't even know bottle sterilizers existed. Fortunately, since I breastfed him and he decided to never take a bottle or a pacifier, I didn't have to get that pot back out many more times after that. With this upcoming baby, I am absolutely determined to get him to take those things, so we will definitely be purchasing one of the best bottle sterilizers to make it easier to keep our baby safe from harmful germs!
---
Are bottle sterilizers necessary?
There is some debate out there about the necessity of having a bottle sterilizer. There are other ways to sterilize your baby's bottles, like immersing them in boiling water. However, a bottle sterilizer is far easier and faster to use. You definitely want to sterilize your bottles in some way to keep baby safe.
So, if you want to avoid getting the pot of boiling water going on a regular basis – you will need a bottle sterilizer. Fortunately, there is a great option out there for everyone.
---
How do bottle sterilizers work?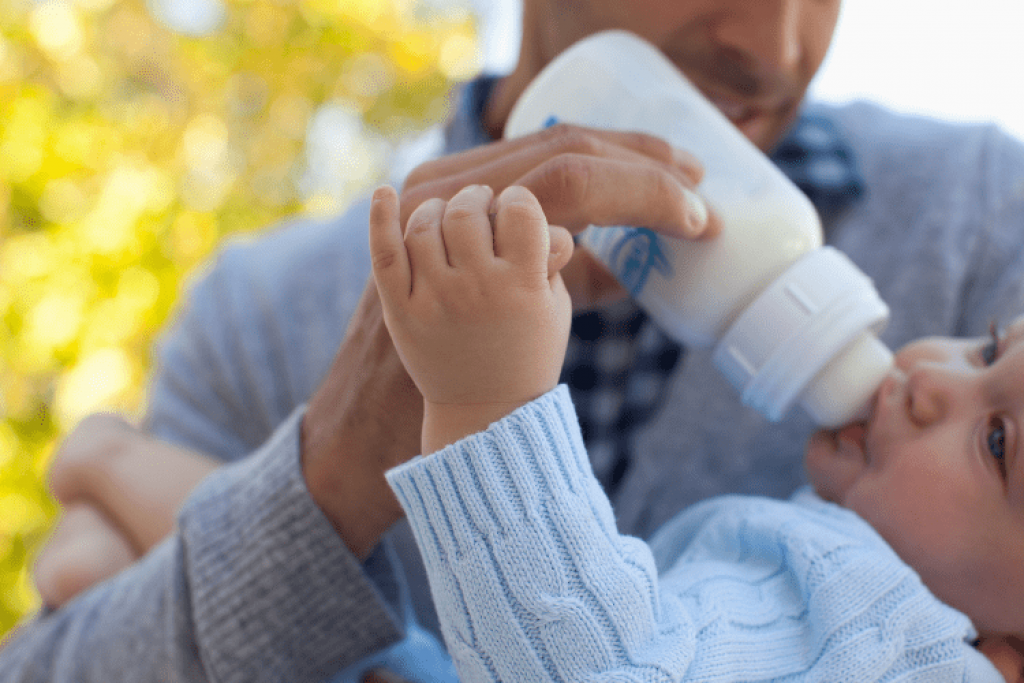 A bottle sterilizer is simply a device that is used to sterilize bottles, bottle accessories, breast pumps, pacifiers, and even some other items like small toys, bowls, and spoons.
The vast majority of bottle sterilizers use hot steam to effectively kill 99.9% of germs. Some options are electric bottle sterilizers that work on their own while others are inserted into the microwave with the bottles and/or accessories in them.
---
How to Choose the Best Bottle Sterilizer
In the case of bottle sterilizers, as with most other products, there are differences between your options that make it so that the best bottle sterilizer for one family is not the same as the best one for another family. There are definitely some specific things you will want to be aware of and consider when choosing what bottle sterilizer is best for your specific needs.
There are two main types of bottle sterilizers. You can choose between a microwave bottle sterilizer and an electric bottle sterilizer. Both have their own unique set of benefits and drawbacks.
Microwave bottle sterilizers are nice if you don't have a lot of counter space to dedicate to another appliance. They're also a lot easier to transport if you need to bring it along with you to a family member's home or when you're traveling. Finally, they tend to cost considerably less than electric options due to the much simpler design.
Electric bottle sterilizers are great because they work independently. You don't have to worry about them fitting into your specific microwave or bother trying to figure out how long to set the time according to the microwave's power. They often fit more and have extra functions and features as well.
The amount you will need to use your bottle sterilizer will have a strong affect on the capacity that you want to have. If you will be full-time bottle-feeding your baby, you will want to have a larger capacity bottle sterilizer in order to make sure you can sterilize as many bottles at once as possible.
If you are mostly going to be using your bottle sterilizer for just the occasional bottle and/pacifiers, you may not need one that holds more than a few bottles. Keep in mind that bottle sterilizers are ideal for breast pump parts, too. So, if you will be pumping regularly, a larger option might work better to regularly sterilize all of your pump parts and breastmilk storage bottles.
You don't just want to think about how many bottles a bottle sterilizer can hold when thinking about size, though. You also need to consider how much space the actual sterilizer takes up in your home.
Electric bottle sterilizers take up space on your counter, so you want to make sure you get one that will fit well in whatever space you have available. Microwave sterilizers also vary in size, so make sure that you check the size of your microwave verses the size of the bottle sterilizer before making a purchase to ensure a good fit.
One important thing that you may not think about right off the bat is if you want extra functions with your bottle sterilizer. Most microwave sterilizers will not have extra functions beyond acting as bottle storage when not in use. However, many electric bottle sterilizers have extra features and functions.
Working as a bottle dryer is a common extra function that you may enjoy the benefits of. These options dry the bottles while keeping them sterile, so you don't have to worry about water droplets and condensation after the sterilization process. Another possible extra function to look for is a bottle sterilizer that can also act as a bottle warmer or even a food warmer. These are features that add a lot of value to your bottle sterilizer.
You may love to know more about The Best Bottle Warmer.
---
Our Picks: 8 Best Bottle Sterilizers
1

Baby Brezza Baby Bottle Sterilizer – Best Universal Bottle Sterilizer
Features:
Universal bottle sterilizer
Fits up to 6 bottles
Sterilize and dry
4-in-1 functionality
User-friendly control panel
Check Pricing and Availability
Baby Brezza is a popular brand of high-end baby products. It's no surprise that the best universal bottle sterilizer comes from them! This is the perfect bottle sterilizer for anyone that is using a mixture of different bottles, larger bottles, or wants to use their sterilizer for other things like breast pump parts.

There are many reasons this amazing bottle sterilizer made our list as the best universal sterilizer. This bottle sterilizer is called a universal bottle sterilizer because it can sterilize any baby bottle. All sizes of baby bottles fit in this bottle sterilizer! It's also great for wide-neck bottles, narrow-neck bottles, glass bottles, and plastic bottles! It can hold up to six bottles at once. It even has a rack for various accessories like pacifiers, nipples, collars, and even breast pump supplies.
By using steam to clean your baby bottles, this baby bottle sterilizer eliminates 99.9% of germs and even keeps your bottles sterile for 24 hours after the sterilization cycle. It automatically switches to its drying feature once it's finished sterilizing and then even automatically turns off once it's all done. A user-friendly control panel even makes this sterilizer simple for anyone to use.
4-in-1 Sterilizer and Dryer:
There are four different ways that this bottle sterilizer can be used. It can be used as just a bottle sterilizer, just as a bottle dryer, as a bottle sterilizer/dryer combo, or it can be used as a storage system. This adds versatility and value to your bottle sterilizer purchase.
Of course, with such an impressive universal bottle sterilizer, you are going to pay more. This is our highest priced recommendation. It costs a good bit more than any of the other options on the list, but the high quality, effectiveness, and the fact that it is universal make it worthwhile.
PROS:
Can fit up to six bottles
Fits bottles of all shapes, sizes, and materials
4-in-1 function adds versatility and value
Automatically switches between sterilizing, drying, and off settings
Provides easy storage solution for bottles and accessories
This product is a great choice for anybody who is looking for a universal bottle sterilizer. It is especially wonderful for those that will be using different types of bottles and/or using a breast pump regularly. It is pricey, but overall is one of the best choices out there.
---
2

Philips AVENT Electric Steam Sterilizer – Best Bottle Sterilizer
Features:
6 minutes sanitizing cycle
Automatic shut-off
Compact design
Adjustable size
Fits up to 6 large bottles
Check Pricing and Availability
There is no doubt that Philips AVENT has some of the top baby bottles on the market, but they also have one of the best bottle sterilizers, too! This is the Philips AVENT Electric Steam Sterilizer and it has the perfect mixture of quality and affordability!

For starters, this bottle sterilizer only takes 6 minutes to sterilize your bottles allowing for faster access. It even has a convenient automatic shut-off feature. This bottle sterilizer fits as many as six 11-ounce bottles at once. It even works for both wide and narrow neck bottles. Plus, as long as you keep the sterilizer closed, it can keep contents sterile for up to 24 hours. This bottle sterilizer's clever and compact design reduces how much counter space it takes up allowing it to easily fit into almost space.
Adjustable Size:
This bottle sterilizer can be easily adjusted to three different size settings thanks to the 3 configurable compartments. The smallest size setting is good for sterilizing small accessories like pacifiers. Add on the second section to have room for larger accessories such as breast pump parts. Finally, the third section provides ample room for up to six bottles with a top section that can even fit your bottle nipples, collars, and lids!
While this is a great bottle sterilizer, that is really all it is. This particular option has no drying mechanism like some of the other options on our list.
PROS:
6-minute sterilization cycle
Automatic shut-off for added convenience
Can fit up to 6 bottles plus accessories
Adjustable size for increased versatility
Compact design takes up only a small amount of counter space
This bottle sterilizer is one of the best out there. It doesn't have a drying feature like some other options. However, the compact design, adjustable size, and affordable price make this a great option even without the drying feature.
---
3

Philips AVENT Microwave Steam Sterilizer – Best Microwave Bottle Sterilizer
Features:
Microwave bottle sterilizer
Sterilizes in as little as 2 minutes
Secures closed
BPA-free
Compact design
Check Pricing and Availability
Here is another amazing choice from Phillips AVENT! This option is quite a bit different than the Philips AVENT Electric Steam Sterilizer, though. Instead of being a free-standing option that plugs into the wall – this is an option that simply goes into the microwave! In fact, this is our pick for the best microwave bottle sterilizer!

There are a couple of benefits that microwave bottle sterilizers have over electric bottle sterilizers. The most obvious is the price. Microwave options are considerably more affordable in almost every case when compared to electric sterilizer options. They're also great because they are more compact and lightweight.
This makes them easier to store, easier to transport, and take up less space overall! We really love this particular option because of its simple yet effective design. Depending on the wattage of the microwave you're using, this sterilizer can get the job done in as little as 2 minutes!
BPA-Free:
Philips AVENT has always been wonderful about taking care of its customers and doing their best to ensure safety and quality with their products. Just like Philips AVENT baby bottles, you can rest assured that this plastic bottle sterilizer is completely free of potentially harmful substances like BPA.
The one downfall to this bottle sterilizer, which is the case with many microwave bottle sterilizers, is that it only holds up to 4 bottles at a time. So, you may need to sterilize more often or do several rounds at a time with your different bottles.
PROS:
Compact and lightweight for easy storage and travel
Affordable price fits most budgets
Can sterilize bottles and accessories in as little as 2 minutes
BPA-free for added safety and peace of mind
CONS:
Holds less bottles than most options
This is a really fantastic microwave bottle sterilizer option. It fits well within almost any microwave, works fast, and is easily portable. It is even super affordable, too! If you want a simple bottle sterilizer for just a few bottles at a time, this is a perfect choice.
---
4

Tommee Tippee Bottle Sterilizer – Best Steam Bottle Sterilizer
Features:
Fits 5 Tommee Tippee bottles
Top rack for accessories
Compact design
Electric steam sterilizer
Black or white base choice
Check Pricing and Availability
I love Tommee Tippee bottles! They are easy to use and clean and the wide nipple is great for breastfed infants or formula fed infants. This bottle sterilizer from Tommee Tippee definitely provides another great example of Tommee Tippee's commitment to quality and innovative design. Most bottle sterilizers use steam, but we have chosen this one specifically as the best steam bottle sterilizer because of that clever design!
The Tommee Tippee bottle sterilizer is an electric sterilizer that heats up quickly to provide hot and effective steam very quickly almost as soon as you need it. After the short warm-up time, it only takes 5 minutes to thoroughly sanitize your bottles and accessories. The compartment is smartly designed with 2 levels that fit up to 5 Tommee Tippee bottles.
Since Tommee Tippee bottles are wide-neck, you can likely fit a couple of extra bottles if you are using more narrow options. The top rack in this bottle sterilizer is specially designed to fit nipples, collars, lids and pacifiers in a way that best utilizes the space while also still ensuring that the steam effectively gets into all cracks and crevices around each piece for proper sterilization.
Compact Design:
Tommee Tippee recreated their original bottle sterilizerin order to make one with a much more compact design. This helps to save space which can be very helpful – especially for anyone with a smaller kitchen. What is even cooler is that the new compact look is also modern and sleek meaning it will fit great with almost any décor or style!
One thing that some parents do complain about with this option is the lack of an off button. If you needed to turn this off mid-cycle for any reason, you would have to manually unplug it from the wall.
PROS:
Sleek and compact design works great anywhere you need it
5-minute sterilization cycle is fast and effective
2 color choices to best match your kitchen
Fits up to 5 Tommee Tippee bottles or even more if using more narrow bottles
This is a nice, medium-priced bottle sterilizer with some really cool features. It is well-designed to ensure that the steam gets into every crevice for proper sterilization. The sleek and clever design even saves space while still fitting plenty of bottles at a time!
---
5

Dr. Brown's Microwave Steam Sterilizer – Most Compact Bottle Sterilizer
Features:
Compact design
Microwave sterilizer
Dishwasher safe
Included tongs
Kills 99.9% of germs
Check Pricing and Availability
Several of the bottle sterilizers that we reviewed are made to be more compact, but this is the most compact bottle sterilizer! This microwave sterilizer from Dr. Brown's is a great, affordable, and super compact option!
The smart design of this microwave bottle sterilizer is what allows it to work so well even though it is smaller than most options. There are small crescent cut-outs on the bottom tray of the sterilizer. This allows you to insert taller bottles into the sterilizer at an angle rather than having them stand straight up. This makes the whole sterilizer shorter and more compact while still being able to accommodate taller bottles. It also has spaces in-between the crescents that are perfect for nipples and other accessories!?
Dishwasher Safe:
Another nice feature of the Dr. Brown Microwave Bottle Sterilizer is that it is dishwasher safe! Just like with all appliances, you'll need to clean your bottle sterilizer sometimes. This is made so much easier since you can just pop it right in the dishwasher with the rest of your dishes!
Even though this bottle sterilizer is designed to utilize space well, it still won't fit as much as many larger bottle sterilizer options. This is especially true when comparing it to free-standing electric options.
PROS:
Super compact design fits well in any microwave
Great choice for easy storage and portability
Included tongs for easy and safe handling
Specially molded to fit tall bottles at an angle
This is a great option if you only need to sterilize a few bottles at a time or you need to save as much space as possible. It is easy to use, fits any microwave, and can even be thrown in the dishwasher for easy cleaning!
---
6

Munchkin Steam Guard Microwave Sterilizer – Best Budget Bottle Sterilizer
Features:
Carrying handle
Open-away latch
Microwave bottle sterilizer
Lightweight
Heat-resistant handles
Check Pricing and Availability
Here is one more great microwave bottle sterilizer! This one comes from Munchkin and is our pick for the best budget bottle sterilizer thanks to its incredibly affordable price!
This microwave bottle sterilizer has a refreshingly simple design that gets the job done perfectly. It uses hot steam to sterilize your baby bottles and accessories by killing 99.9% of germs. You simply pour a little water in the bottom of it, load up everything you need sterilized, and pop it in the microwave. It can even sterilize everything in as little as 2 minutes! Although, keep in mind that the exact time needed will depend on your microwave specifically. It is also nice and lightweight making travel super easy.
Open-Away Latch:
The open-away latch system on this bottle sterilizer is unique and super beneficial. It is a special safety feature that many other bottle sterilizers don't have – even the much more expensive ones! The way it works is that latches on either side of the bottle sterilizer secure the lid in place. When you go to open it, you have to open it in a way that would direct any remaining steam away from your hands and body. This is the perfect innovative way to prevent burns from hot steam when sterilizing your bottles!
This option is a bit bigger than the microwave sterilizer from Dr. Brown's. So, if you have a very small microwave, this might not work well for you. Make sure to check the size of your microwave before you purchase this product.
PROS:
Open-away latch prevents steam burns
Lightweight design makes portability easy
Kills 99.9% of germs with natural steam
Carrying handle adds extra convenience
CONS:
May not fit in smaller microwaves
All in all, even at the super low price, this is a good, quality bottle sterilizer. It gets the job done, is easy to use and transport, and even has added safety features you won't find in most choices. If you need something affordable, this is the perfect choice!
---
7

Dr. Brown's Deluxe Bottle Sterilizer – Best Electric Bottle Sterilizer
Features:
Electric bottle sterilizer
Included tongs
Included measuring cup
Built-in accessory tray
Holds 6+ bottles
User-friendly controls
Check Pricing and Availability
Here is an electric bottle sterilizer from Dr. Brown's. It's their Deluxe Bottle Sterilizer and won a spot in our recommendations as the best electric bottle sterilizer!
We love this incredible bottle sterilizer because of its super user-friendly controls and fast steam cycle. It comes with 2 simple buttons – the power button and the start button. This really simplifies things while also providing you good control over the sterilizer. The best part, though, is the cycle indicator lights! There are three different lights that tell you where the sterilizer is at in the cycle. The lights indicate if the sterilization cycle is in process, if the sterilizer is in cool-down mode, or if the sterilizer is ready to be opened.
Built-In Accessory Tray:
The built-in accessory tray provides the perfect place for all of your smaller pieces. This is an extra level at the top of the bottle sterilizer where you can place bottle nipples, collars, lids, and more for easy and effective sterilization! Many parents use this area for pacifiers and smaller breast pump pieces as well.
This sterilizer easily holds 6 bottles and tons of accessories. However, if you choose to not use the actual bottle placement spots at the bottom of the tray, you can fit even more bottles in! Of course, with it being so roomy, it does take up a good bit of counterspace.
PROS:
Plenty of room for lots of bottles and accessories
User-friendly controls simplify use
Built-in accessory tray utilizes space well and fits a ton
Cycle indicator lights tell you exactly where the sterilizer is in the cycle
CONS:
Bulkier than most options
If you have the counter space for it and want something really nice and roomy, this is an excellent choice of bottle sterilizer. It is super effective and easy to use. Plus, it fits more than almost any other option out there!
---
8

OMORC 5-in-1 Bottle Sterilizer – Best Bottle Warmer and Sterilizer
Features:
Configurable size
Customizable cycle time
Heats bottles and food
Sterilizes and dries
User-friendly controls
Check Pricing and Availability
Finally, we are rounding off our list with the best bottle warmer and sterilizer! That's right – this bottle sterilizer is multifunctional to increase value. This is the OMORC 5-in-1 Bottle Sterilizer!
This is a very highly functional piece of baby equipment. It can be used as just a bottle sterilizer like most of the options on our list. It can also be used as just a bottle dryer. If you choose, you can also just go with the sterilizer and dryer combo mode where it does both all at once. What is especially unique, though, is that it can be used as a bottle warmer or even as a food warmer!
This adds so much value to the product and really allows you to maximize how much use you are able to get out of it. The control panel is also super easy to read and use for even more added convenience! It also has a configurable size just like the Phillips AVENT electric bottle warmer option!
Customizable Cycle Time:
Something unique about this particular bottle sterilizer is that you can choose how long the sterilization or warming cycle takes. Most bottle sterilizers have a set time setting that can't be adjusted at all. This option lets you set the time to best suit the amount of or type of items inside the sterilizer. You can choose cycles anywhere from 6 to 15 minutes.
Its not shocking that this is the second most expensive option on our list of recommendations. This is a high-quality and very-value product with lots of special and unique features.
PROS:
Unique 5-in-1 functionality adds incredible overall value
Customized time settings allow you to set the exact time you want depending on what you are sterilizing
Configurable size to best accommodate your changing needs
Large capacity to sterilize more items at once time
CONS:
More expensive than most options
If you are willing to spend a little more on your bottle sterilizer, this is a wonderful option that does more than just sanitize bottles. It is easy to use, has multiple functions, and even has a nice modern look to it!
Also, You can read more about The Best Bottle for Breastfed Babies.
---
Final Words on Bottle Sterilizers
With how fragile babies are with their sensitive stomachs and immature immune systems, you want to keep their feeding supplies sterile and safe from harmful germs. There is no question that the easiest and best way to do that is with a good bottle sterilizer. Use our guide and recommendations to help you find the best option for your needs!