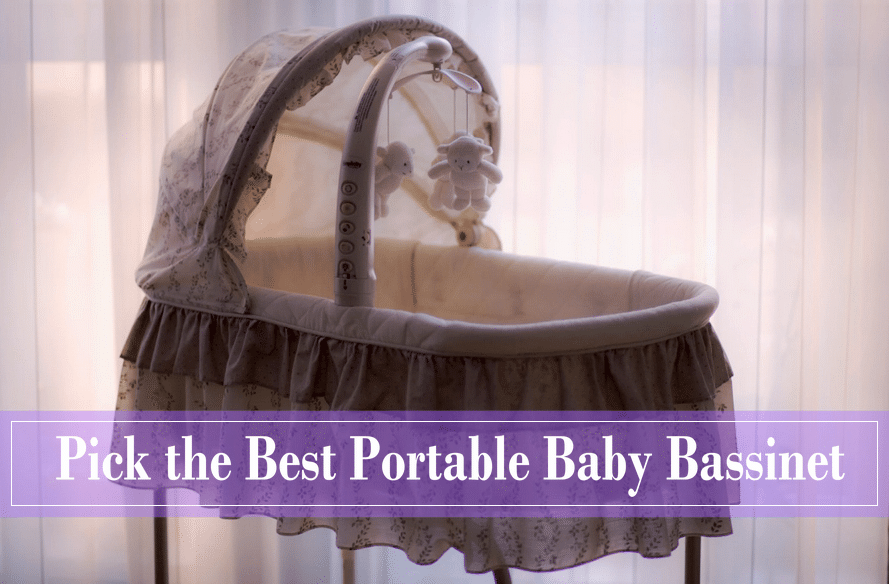 Did you know that the American Academy for Pediatrics recommends that parents room share for a minimum of six months?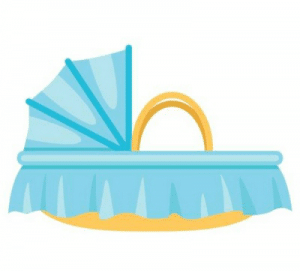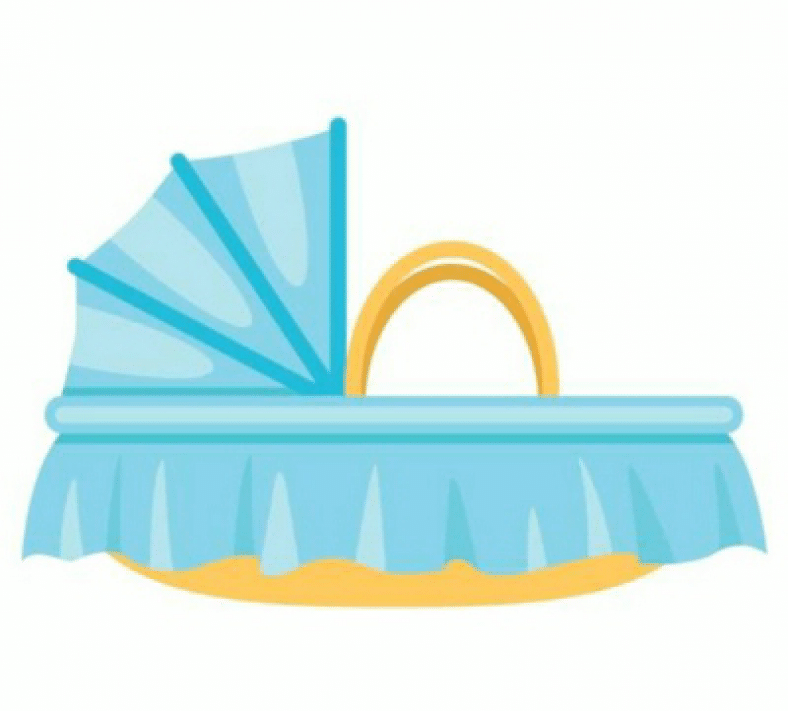 I bet you didn't! The AAP is constantly working towards finding new information about how to keep our babies safe, and parents need to know what's best. According to the AAP, room sharing reduces the risks of SIDS, and every parent wants their child to be as safe as possible.
However, this recommendation brings about some troubles. How are parents expected to keep their child in their bedroom? Cribs can be large, and if you have a small bedroom (like me), then you'll struggle to fit in a crib along with your bed and dressers.
That's where a portable baby bassinet comes in handy. A bassinet is a safe sleeping space for babies that are smaller than cribs and designed specifically for younger babies. You can place it next to your bed, or move it around throughout the house so that your baby sleeps wherever you are. Many parents prefer to keep an eye on their new baby at all times!
If you are on the go a lot or want to be able to move the bassinet from room to room, a portable bassinet may be the pick for you. Often referred to as travel bassinets, portable bassinets are travel friendly. Keep reading to learn more!
---
Is a Baby Bassinet Necessary?
Bringing home your new baby is scary, to say the least. Using a baby bassinet comes with multiple benefits. It may not be a necessity, but it sure has reasons that you may want to purchase one!
Makes Middle of the Night Feedings Easier: The first reason you want to use a bassinet is that it makes those middle of the night nursing sessions so much easier. You can just reach over, pick up your baby, and feed him without ever leaving your bed. Let's be honest; we are exhausted! Getting up exerts way more energy than necessary.
Parents Feel Relaxed: When I've brought all four of my babies home, I prefer to keep them somewhere I can see. Using a baby bassinet means that parents can relax and sleep better knowing that your newborn baby is right there for you to see and touch throughout the night.
Gives Baby a Place to Sleep: If you are traveling, baby needs a safe place to sleep as well. A portable bassinet means that your baby can sleep whether he is at grandma's house or at the beach. It is a safer choice, especially for naps, than just letting your baby sleep in an adult bed alone.
For some people who are light sleepers, keeping the baby that close can be hard because babies make all kinds of strange sounds. If grunts and squeaks keep you awake, you might want to move your baby further away from your bed. That's why a portable bassinet is so convenient!
---
How Does a Portable Bassinet Differ?
Just like everything else, there are several types of bassinets on the market. Each type of bassinet offers different things for parents. Let's take a look!
Portable Bassinet: Often referred to as a travel bassinet, these fold up easily, so you can go when you are in a hurry. Travel bassinets are compact in size for easy storage and most tend to be lightweight so that you can carry them with ease. Some include a traveling tote or bag for convenience. You will want to bring this on vacation with you or when you head to grandma's house for dinner!
Bedside Bassinet: These are the typical style that you might invision when you think of a bassinet. You position the bassinet close to your bed, and it might include an adjustable stand.
Co-Sleeper Bassinet: A co-sleeper bassinet is ideal for nursing moms or babies that need to be closely monitored due to breathing issues or other health concerns. You can typically use a co-sleeper bassinet as a freestanding bassinet, but the purpose of these are to attach to the side of the bed when you sleep. You can drop one side of the bassinet and attach it to your bed, kind of like an extension. A co-sleeper bassinet makes nursing and snuggling at night easy and safe!
---
Portable Bassinet vs. Travel Crib
If you are searching for travel-friendly options, you will stumble across both of these options. A portable bassinet and a travel crib are NOT the same! They do have a few common features such as they are comfortable and provide a cozy place for your child to sleep.
The most important difference is the size. Cribs are larger in size while bassinets are known for being smaller in size. That means a bassinet will take up less space than a crib, which is ideal for hotels and traveling. If you want or need to drag it around the house.
Another difference is the rails. Bassinets typically have lower side rails, making it easy for parents to reach over in the middle of the night and lift up the baby. Cribs have higher rails and they are heavier, so moving around the room is harder as well.
Both portable bassinets and travel cribs are meant to be on-the-go, but a bassinet is meant specific for a newborn and child that is NOT mobile. If your child is already crawling or rolling over, you should get a travel crib. Also, bassinets have a lower weight limit than cribs.
---
The Appropriate Age for a Bassinet
Bassinets have a specific time frame when they are usable. Unlike cribs, a baby bassinet cannot be used for years, which deters many parents from purchasing one. Bassinets are for the newborn stage until your child is able to move around, push up on their hands or roll over, which typically happens between three to five months old.
Before you make your purchase, be sure to read the manual. Some bassinets also have a weight restriction. Depending on your child's size at birth, a bassinet may not last very long.
---
What to Look for in a Portable Baby Bassinet
The most frustrating thing about picking a portable bassinet is that there are so many options. They all seem similar, yet they're so different at the same time. You know you're focusing on making a decision when you end up having dreams about portable bassinets – these things happen!
With portable bassinets, you have to pay attention to a few particular details that matter the most.
Some bassinets are meant to be stationary, while others are able to be moved from place to place. If you want portability, look at how much it weighs and how big it is when you fold it up. Does it even fold up? Are you comfortable carrying the weight while carrying your diaper bag and probably your baby too? Do you really want to have to go to the gym a few times a week just to be able to carry your portable bassinet? Probably not.
Ones that come with a carrying bag and handle are the most convenient choices for portability. There are some that have wheels, so when they're unfolded, you can move them from place to place. Some bassinets are meant for airplane use as well!
We all have different styles, and if the colors or design make you cringe, it's not the right one for you. No, even if the other feature are nice, don't pick one you think is ugly! You don't want to cringe at the thought of using it at your friend's Super Bowl party because it's just ugly.
Look at the design, color options, and overall style!
Storage options are great whether you are traveling or not. It is convenient to have all your items that you need for the baby within arms reach. A portable baby bassinet that has pockets will help you keep yourself organized while traveling. Even if you aren't traveling, you can store diapers and wipes in the pockets so you don't have to stumble around the house at 3 am searching for them!
A portable bassinet typically has limited movement, but movement may help your baby fall asleep. Many babies love gentle rocking to fall asleep. However, a rocking bassinet can be considered dangerous if you leave your baby unattended. Having the feature is nice though!
Obviously, your baby can sleep in the bassinet, but what else can it do for you? I don't know about you, but I prefer baby gear items that are multifunctional or multipurpose. It has to work to earn a spot in my house.
Does it allow you to rock your baby to sleep? Can you adjust it to an inclined position or does it fold up nicely? Some bassinets have a canopy or two! What is the weight limit? Make sure you pay attention to these things because all bassinets are different
Let's be honest; the price is one of the most important features. Don't think you have to buy the most expensive choice, but you also shouldn't buy the cheapest option either. Many times, the item is so cheap because it lacks features and functions. Most baby gear items have to meet specific standards, so they all will be safe for your baby. However, why not pay a few more dollars to get several more features?
Ain't nobody got time to spend hours assembling a portable bassinet. No one wants to spend time with screwdrivers trying to get it together correctly. Make sure that a normal person can put together the bassinet. Looking at reviews – like ours – and ones left by parents will help you decide if it's easy to put together and tear down.
You want your baby to sleep the most possible, and a comfortable environment is important, especially if you want this as a permanent sleeping solution. Most often a thin mattress as standard, but you may have to purchase extra bedding as needed. Some mattresses are so thin that they don't provide any comfort or support to your baby. In that case, you may have to change mattresses.
It's important that the bassinet is large enough for your baby, but you don't want it huge either, especially if you travel often. You need a size that allows your child to rest comfortably, but it should still have that cozy feel. You should look at the width and length of the bassinet. Some babies will be too long for certain bassinets. If you have large and tall babies like I do (over 9 lbs and 23 inches long at birth!), the size of the bassinet is an important consideration.
Bassinets aren't as large as cribs, and there isn't much space for your child to spread out. If your baby manages to roll on his side and the walls aren't mesh, breathing could be hard. It does pose a safety hazard for your child. Also, mesh walls allow for maximum airflow and ventilation. Babies have a harder time managing their body temperature, and overheating can increase the risk of SIDS.
---
10 Best portable bassinet for newborn
1

Halo Bassinet Essentia Swivel Sleeper – A Bedside Sleeper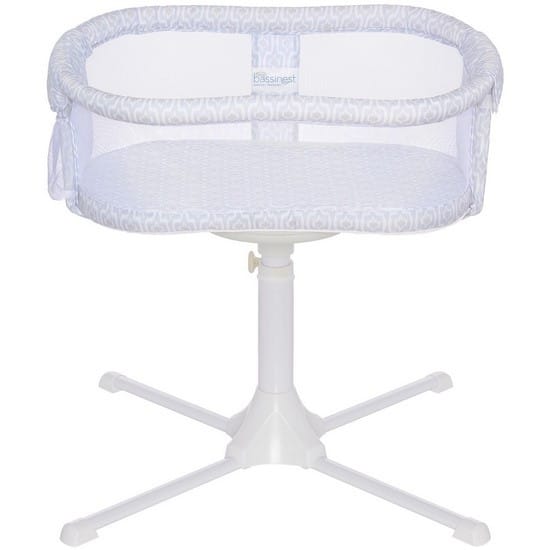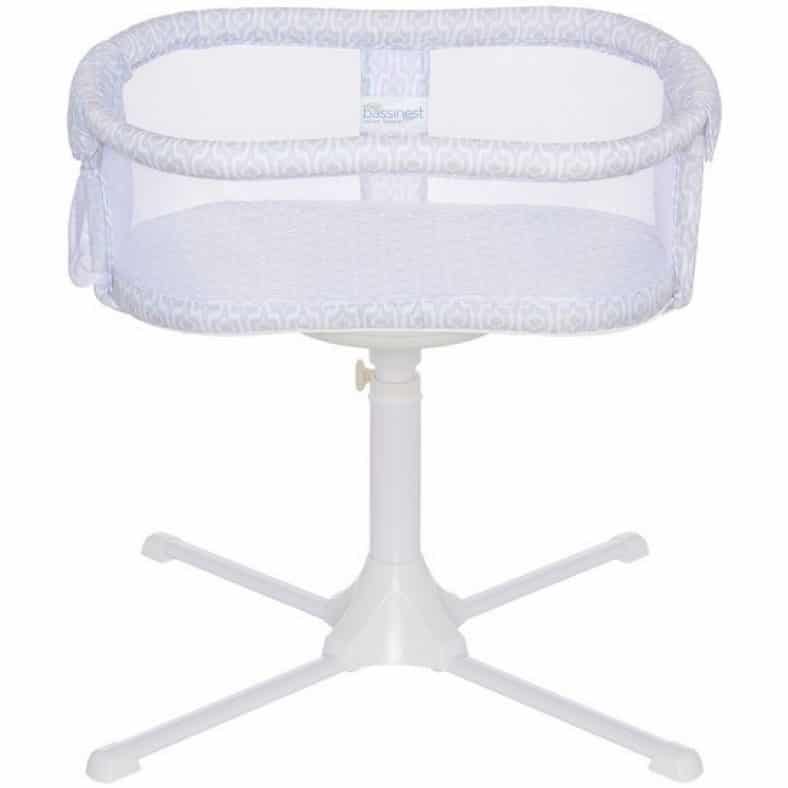 The Halo Bassinet tops the list when it comes to baby bassinets in general. Halo introduced a bassinet to the parenting world that features a 360-degree swivel, making it an ideal bedside sleeper. The stand is adjustable as well, so parents can find the perfect location and angle for their bassinet.
As a c-section mom, I know how different it can be to get your baby out of a bassinet, especially when you have to sit up in bed and try not to use your abdominal muscles. The Halo Bassinet is perfect for c-section moms, but it's great for any parent in general!
Another nice feature is that the base tucks under your bed, so it won't take up too much floor space. If you are living in a small space, you'll appreciate that! Also, a tucked-in base means that you probably won't kick the base in the middle of the night. No one enjoys feeling like they broke a toe at night – OUCH!
The CJ Foundation certified the Halo Bassinet as the safest alternative to bed-sharing for reducing SIDS. That's impressive!
Check Pricing and Availability
Some other features you will love include:
A retractable wall that lowers to easily move your baby out of the sleeper and into bed. This feature is extremely helpful during a c-section recovery and nighttime nursing sessions.
Sheer mesh sides mean you can see your baby at all times and provides plenty of air flow. Breathability means more peace of mind for parents.
A feeding timer to let you know the last time baby ate.
The height adjusts from 24" to 34" tall, but thats from floor to the bottom of the mattress. If you include the top of the rail in the count, it is 40" tall at its maximum height. If you have a taller bed, the Halo is a good choice.
Of course, parents must keep in mind that it's heavy, so its portability is limited. The design itself makes it easy to move, but you might need some muscle power to get it from room to room.
Also, the price is quite high, so it won't be a budget-friendly choice. In fact, the Halo is the most expensive choice, but it does fit many qualifications. It is a bassinet and a co-sleeper, plus it has all of those extra features like a nightlight and soothing vibrations.
PROS:
Adjustable Stand
360-Swivel
Breathable Mesh
Retractable Wall
Nightlight and Feeding Timer
Adjustable Height
CONS:
Heavy
Limited Portability
High Price
2

Arm's Reach Concepts Mini Ezee – Best Co-Sleeper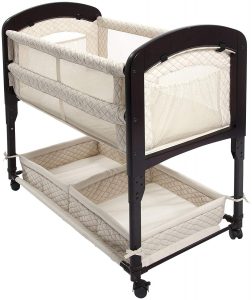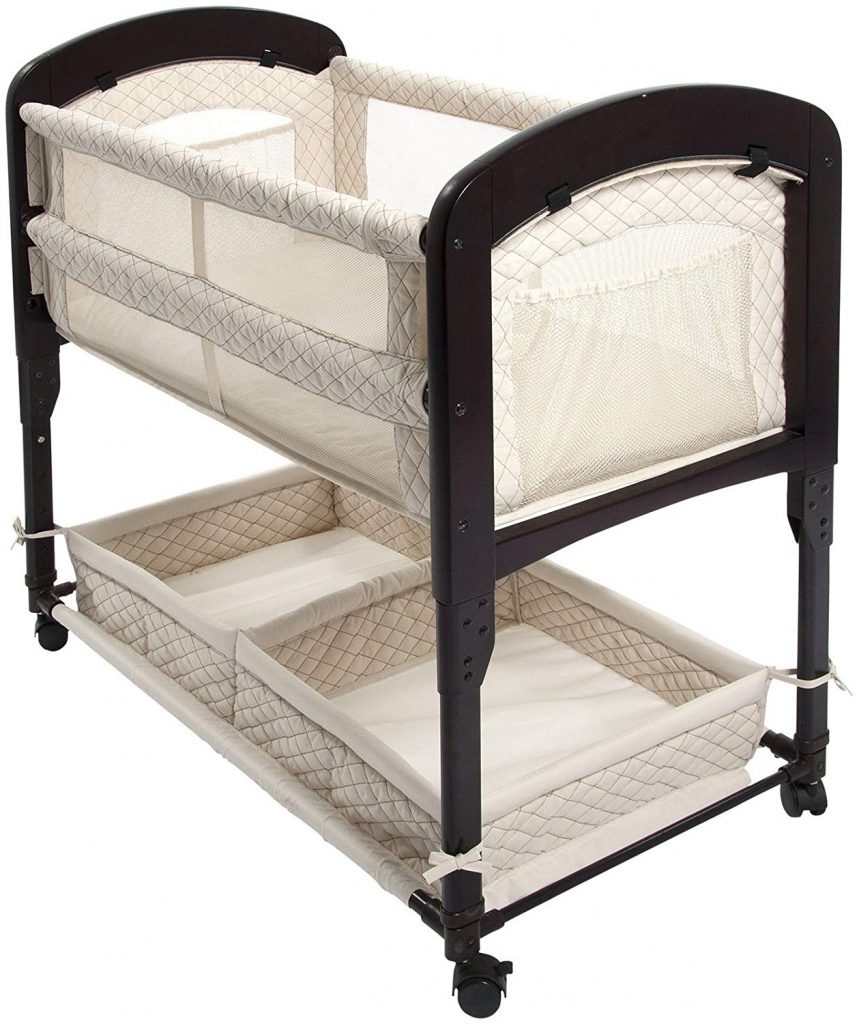 The name Arm's Reach describes the main benefit of this baby bassinet – your baby is always in arm's reach. You can sidecar this co-sleeper beside your bed because it securely attaches to your bed. It doesn't get much easier than that when it comes to middle of the night feedings. One of the sides drop down, making it easy to reach over and grab your baby at night.
When it's attached to your bed, it isn't very portable. However, Arm's Reach can also be used as a freestanding bassinet with four breathable sides. In this mode, you can easily move it from room to room because of the built-in wheels. It founds down compactly for travel.
Another great feature of the Arm's Reach is the storage space underneath for diapers, wipes, blankets, and more. Most bassinets aren't usable after your child reaches a certain age, but the Arm's Reach transfers into a playard. You really get a lot of use out of it for your money!
Before you purchase the Arm's Reach, make sure that you measure your bed. Arm's Reach is designed for beds starting at 24 inches from the floor to the top of the mattress. If your bed is higher, than you need to purchase additional leg extensions.
Check Pricing and Availability
PROS:
Attaches to Side of Bed
Can be Freestanding as well
Four Mesh Sides
Built-in Wheels
Folds for Traveling
Storage Underneath
CONS:
Heavy
Expensive
Must Purchase Leg Extensions if Your Bed is Tall
3

BRICA Fold 'n Go Travel Bassinet – Ideal for Outside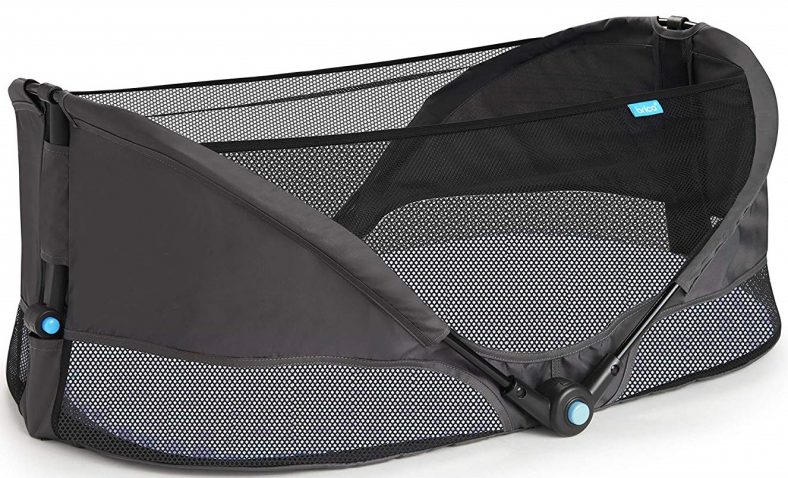 BRICA recently updated their bassinet, and parents are loving it now more than ever before! It is one of the most popular travel bassinets for many reasons. It is easy to set up; it locks in four different spots. You'll know it's locked and secure for your child.
The bassinet has a mesh screen that is secure and it promotes extra breathability for your child. Breathability promotes air floor and helps to prevent your child from overheating.
Wen you purchase the BRICA, it comes with a mattress pad and a fitted sheet. They will fit the bassinet perfectly, which means you don't have to worry. Improperly fitting sheets increase the risk of SIDS. You will also love a few other features, such as:
It is made for traveling. It is lightweight and folds up compactly, then you can carry it with the handle.
The material is stain resistant and can be wiped clean.
There are a few drawbacks. First, the child limits are either to discontinue use at 3 months or 15 lbs or when your baby starts to push up on the knees. Also, it doesn't have any legs or stand, so the bassinet just lays on the floor. That might not be very convenient in some circumstances.
Check Pricing and Availability
PROS:
Easy Step Up
Four Locks for Safety
Mesh Screen for Breathability
Comes with Mattress Pad and Fitted Sheet
Stain Resistant Material
CONS:
Must Stop Using at 3 months or 15lbs
No Legs or Stands to Keep Bassinet Off Ground
4

Evenflo Loft Portable Bassinet – A Lightweight Option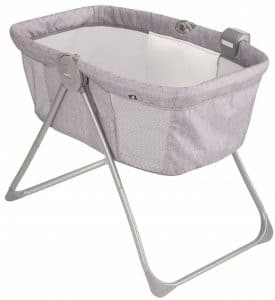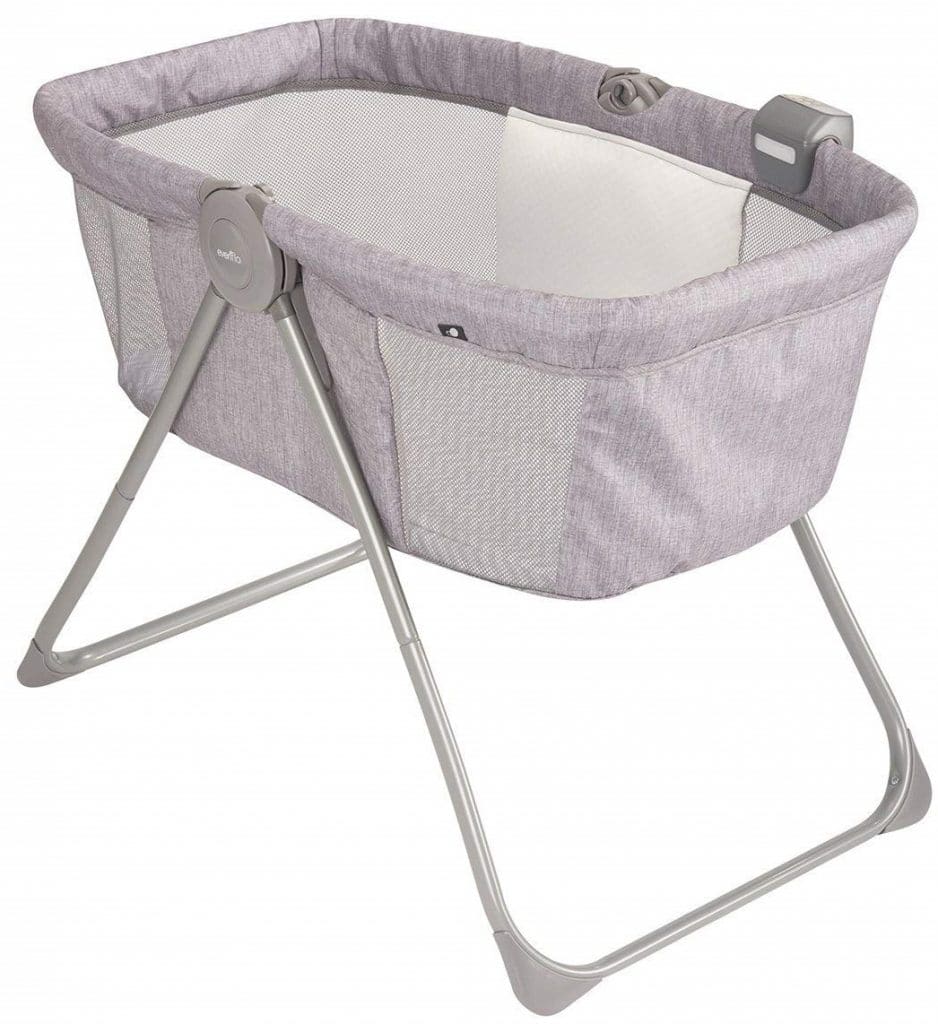 Evenflo got it right when they created their Loft Portable Bassinet. This thing has Bluetooth for your music – seriously. There is a built-in night light and air temperature gauge. If you're sick of hearing nursery rhymes, your baby can fall asleep to some good music.
Unlike other portable bassinets, the Loft is easy to stow and put together. You'll notice that the Loft is also one of the lightest choices on the list, weighing only 10lbs! Best of all, it won't break your bank. It's affordable and you get a lot of nice features for your money! There are gender neutral colors available, so you can find one you enjoy that will match your decor.
Evenflo has two areas that need to be improved in the Loft. First, it's not rockable, so if your baby loves to rock while sleeping, this won't be the bassinet for you. Also, no storage is underneath the bassinet, so you can't store extra diapers.
Check Pricing and Availability
PROS:
Bluetooth Capable
Built-in Nightlight and Air Temperature Gauge
Easy to Assemble and Disassemble
Lightweight
Affordable
CONS:
Not Rockable
No Under Bassinet
5

Chicco Lullago Portable Bassinet – Great for Airport Travel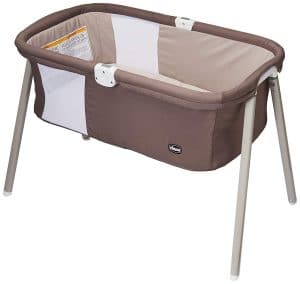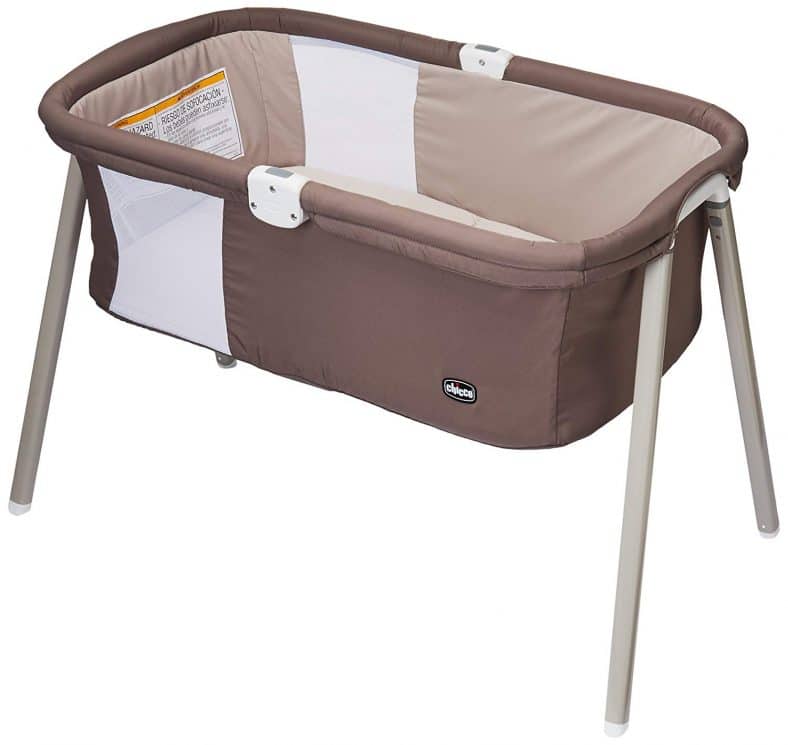 Chicco is a leading brand of baby products, and you can trust their items! The Lullago is a bit more expensive than the Loft, but not by much. Moms love it because its stable, safe, easy to clean and easy to assemble. That's almost everything we need and want to have in a portable bassinet!
The Lullago is a stylish, cozy bed for your baby that features a sturdy, streamlined frame. The legs snap on quickly; it'll only take you a few moments to assemble everything. You don't need any type of tools or special equipment to get it together either! Literally, all you have to do is unfold the basket, snap the legs on, and then it's done! After disassembling, you can fit it right into a matching carry bag for easy portability.
Check Pricing and Availability
A few other features that you might enjoy are:
A large mattress with a zip-off pad for machine washing. The mattress is padded and comfortable.
The fabric is high quality, lightweight, and soft. Plus, you can wipe the sides clean.
The mesh side panels provide visibility and breathability for your baby's (and your) comfort.
It weighs 18 lbs, which is a manageable weight.
Features anti-slip grips on the bottom of the legs to help prevent the bassinet from moving around too much.
18lbs is still lightweight compared to other options, but it might be heavier than you desired. The only other downside is that the Lullago isn't rockable and doesn't provide any motion or vibration, which your baby might prefer to sleep well.
PROS:
Easy to Assemble
Mesh Sides for Breathability
Anti-Slip Grips on Feet
Wipes Clean
CONS:
Not as Lightweight as Other Options
Not Rockable
No Vibration
6

Dream on Me Karley Bassinet – Best Double Canopy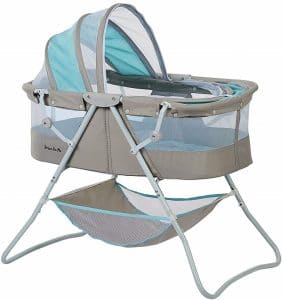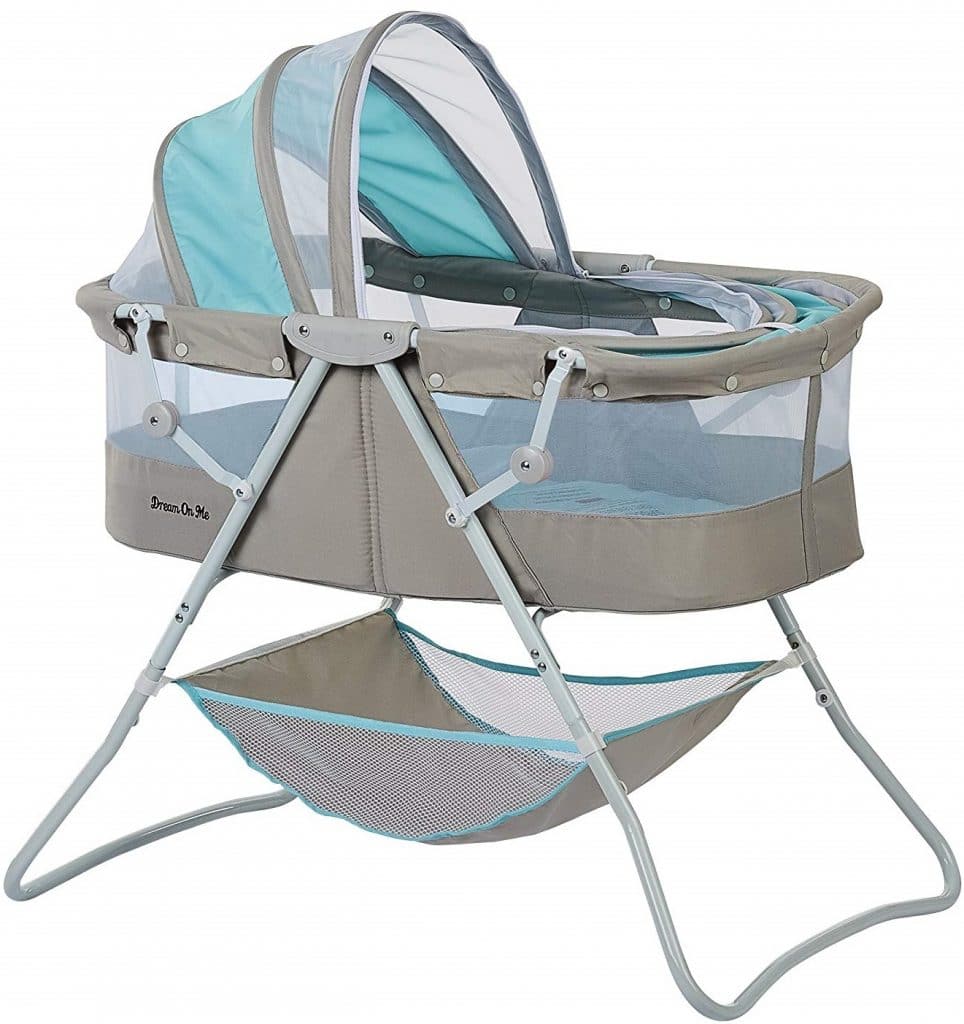 The main reason we love the Dream on Me Karley is that it features a double canopy. That is such a nice feature, especially if you plan to be somewhere outside. A double canopy gives you flexibility and makes the bassinet versatile. For example, the Karley would be a fantastic choice to take camping because the double canopy would act as a bug net!
Aside from the double canopy, the Karley is lightweight and compact when folded. It assembles easily and also is easy to fold down. You'll love how easy it is to use.
Some other positive features include:
Check Pricing and Availability
A few other features that you might enjoy are:
Only weighs 14lbs
It collapses super small, perfect for traveling and putting in your trunk.
Features undercarriage storage
Made almost completely of aluminum.
One of the few bassinets with a weight limit of 25lbs.
Affordable
The Dream on Me has a few drawbacks to consider as well. First, it doesn't rock or vibrates which many parents do prefer The bassinet only has a bed that is 21 inches long, so it may not work for babies that are tall. Other bassinets are 30+ inches!
PROS:
Double Canopy
Lightweight
Compact Once Folded
Easy to Assemble
Undercarriage Storage
Highest Weight Limit
CONS:
No Rocking or Vibration
Only 21 inches Long
7

FisherPriceStownGoBassinet – The Minimalist Option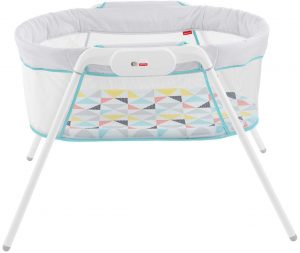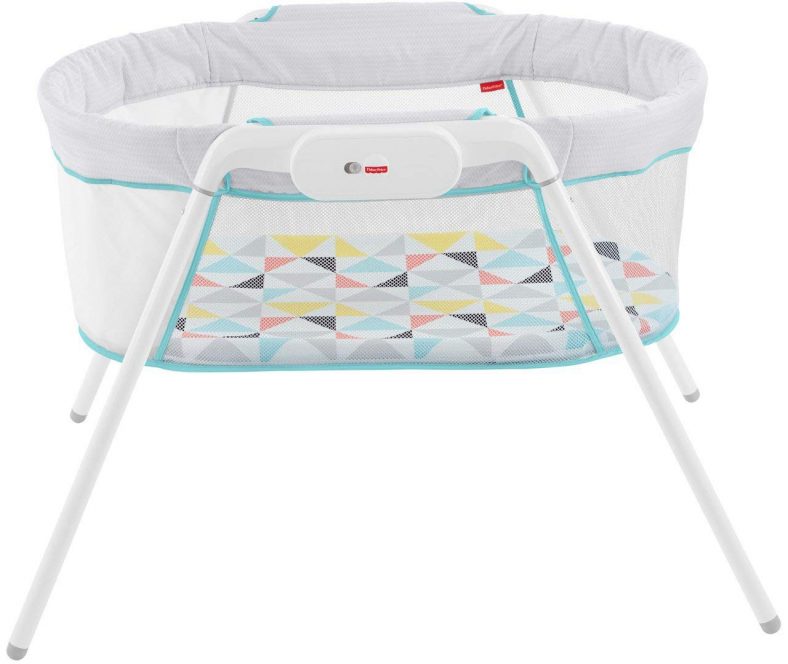 Everyone knows about Fisher-Price; they're a company you can trust. The Stow 'n Go Bassinet weighs only 11.5lbs and comes with a convenient carrying bag for portability. One feature that stands out is the battery powered vibration feature. Many babies love to have some kind of motion or vibration to sleep well throughout the night.
Fisher Price created a baby bassinet that your baby will enjoy sleeping in wherever they are. The mattress is cozy, but you can put it into the washing machine when your baby has an explosion. When you are ready to go, you can disassemble the bassinet in seconds.
There are several features that parents like such as:
Check Pricing and Availability
A few other features that you might enjoy are:
Mesh sides for ventilation and visibility
Compact and perfect for traveling
Made of aluminum
Easy to assemble
Flat and supportive mattress
The height and angle of the mattress isn't adjustable as some parents wish. Also, there is no undercarriage storage. The lack of storage is a deal breaker for some! However, if you are a minimalist, the Stow 'n Go is perfect.
PROS:
Lightweight
Carrying Bag for Portability Vibration
Washing Machine Friendly
Mesh Sides for Ventilation
Supportive
CONS:
Not Adjustable
No Undercarriage Storage
8

Ingenuity Folding Rocking Bassinet – Best Rocking Bassinet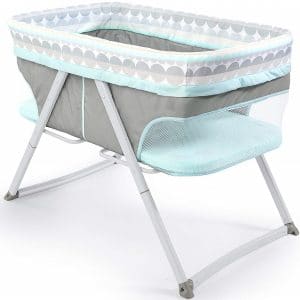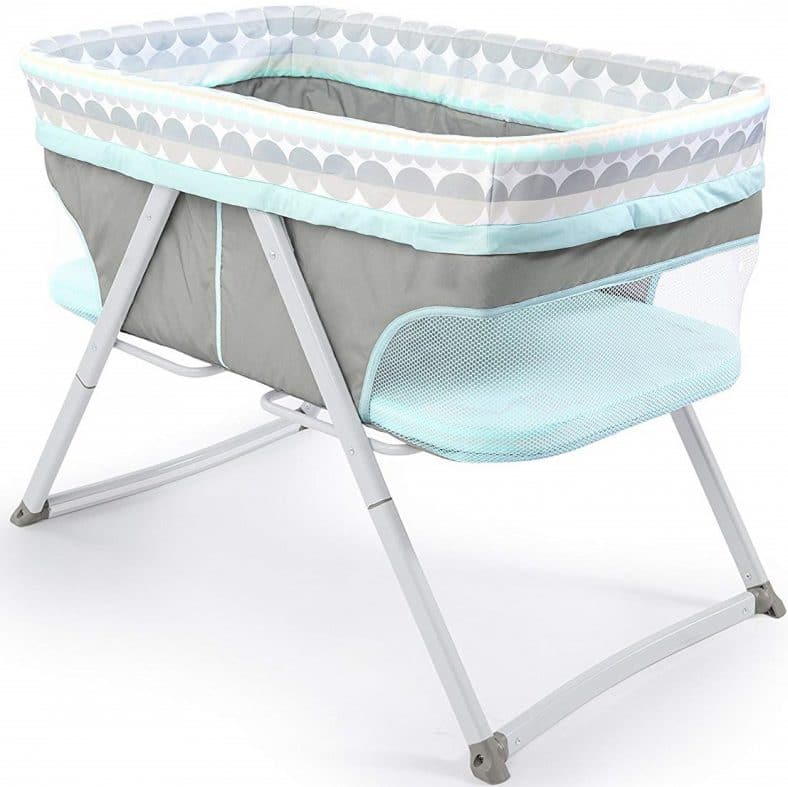 The Ingenuity Bassinet is several features that parents desire in a portable baby bassinet. It is easy to put together and easy to take apart to move from place to place. One of the coolest feature is that you can flip the legs around for either a stationary or rocking mode. Many babies love the rocking mode!
Mesh side panels create a breathable and cool environment for your baby, and they allow the parent to see their baby while he sleeps soundly. This bassinet measures about 22" by 23" and 9" thick. That is small enough to fit into a large suitcase.
The major downside to the Ingenuity Folding Bassinet is that it's heavier to lug around with you; it's over 20lbs! However, it does fold down easily and compactly. One disadvantage is that it doesn't come with a carrying bag – boo!
Another thing that parents will notice is that it's actually really deep. It's like a cross between a bassinet and a travel crib. So, you won't be able to reach in for the baby while still laying down. At the same time, Ingenuity didn't create it deep enough to allow it to be safe for a sitting or crawling baby.
It's important to note that the Ingenuity also has one of the lowest weight limits on the list. You can only use it with babies up to 15lbs, so your baby might outgrow it pretty quickly! Also, the bassinet doesn't include a sheet, and there doesn't seem to be any sheets available specifically for this bassinet.
Check Pricing and Availability
PROS:
Easy to Assemble
Rocking and Stationary Modes
Mesh Panels for Breathability
Folds Compactly
CONS:
Heavy – 20lbs
No Carrying Bag
Deeper Than Others
Only Used Up to 15lbs
No Sheets Included
9

Summer Infant Travel Bed – Great for Airplane Travel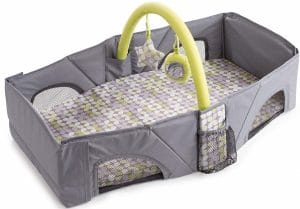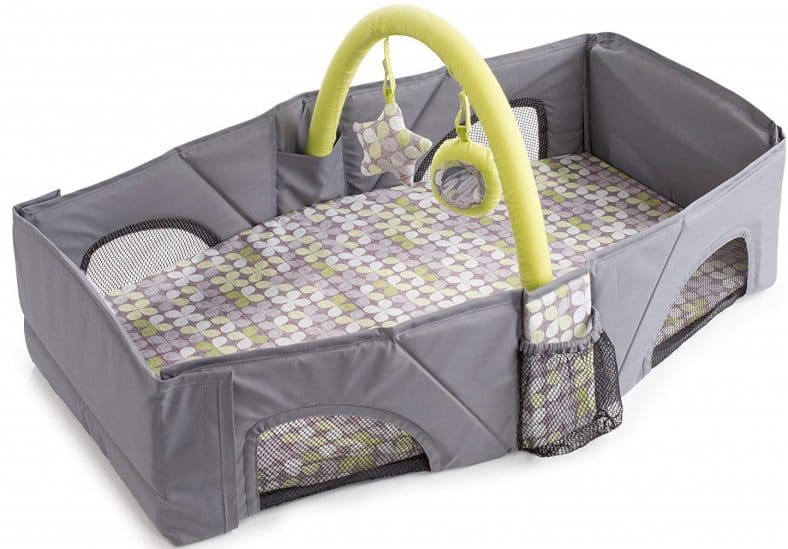 Summer Infant makes one of the best travel beds on the market. It founds super compactly and has everything that you need to ensure your baby is comfortable while traveling. The bassinet features a removable mattress pad and a washable sheet.
Once folded, a convenient strap makes it easy to carry from place to place. This bassinet is one of the most lightweight choices you will find, weighing only 2lbs. Another nice feature is that it includes a toy bar for your baby with two dangling toys.
The bed's front panel unzips and folds down, creating a cozy and clean place to change your child's diaper. If your baby has an accident, that's okay! Just remove the sheet and toss it in the washing machine. Then, the breathable mesh sides provide plenty of airflow and ventilation for your baby.
The mattress pad itself isn't very thick, so many parents tend to add a blanket underneath the fitted sheet to create more comfort for their baby. Remember that the AAP recommends a firm sleeping surface to reduce SIDS, so you don't want to make it too plush!
Check Pricing and Availability
PROS:
Folds Compactly
Removable Mattress Pad and Washable Sheet
Strap for Carrying
Lightweight
Dangling Toy Bar
Unzips for Diaper Changing Space
Mesh Sides
CONS:
Mattress is Too Thin
No Stand or Legs to Keep Off of Ground
10

SwaddleMe By Your Side Sleeper – Best for Bed-sharing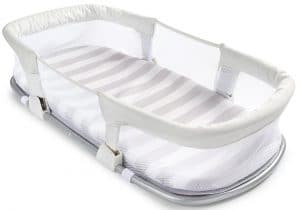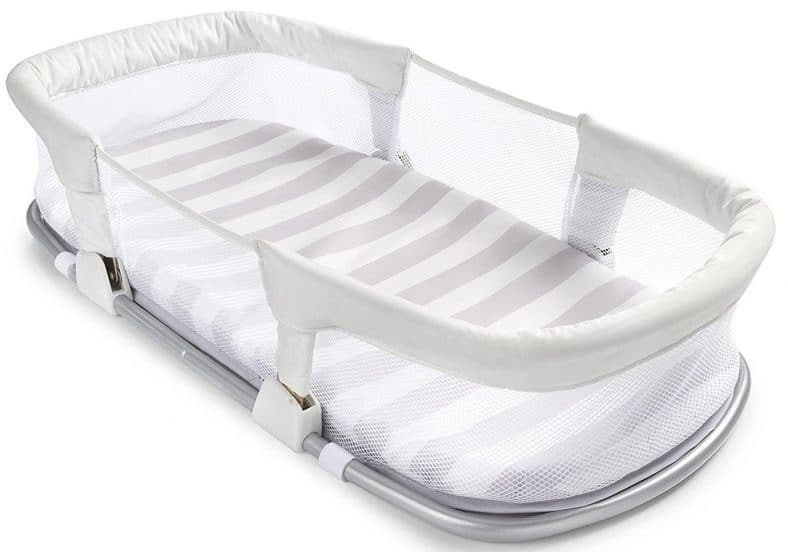 If you want a portable baby bassinet that you can also use at home as a safe co-sleeping aid, the SwaddleMe is a good choice. The SwaddleMe creates a safe, comfortable, portable environment that allows you to bedshare with your baby. You can feed, soothe, and watch your baby while ensuring he is safe and protected.
A metal frame protects your baby and prevents parents from rolling over. The entire sleeper has mesh sides that ensure your child doesn't get too hot and makes sure the parents have a clear view for peace of mind. When it is time to feed your baby, the compressible side walls let you reach your newborn with ease.
When it's time to travel, the bassinet collapses easily and can be placed right inside of a suitcase. It will take up room, but that's compact! It is really roomy when compared to other picks, so your baby won't feel crammed or uncomfortable.
SwaddleMe doesn't list a specific weight limit as to when to stop using the sleeper. However, most recommendations for bassinets are to stop using when the child can roll over and touch the sides. Something to consider is that this bassinet has no stands, so you need to keep baby in bed with you. When traveling, you might not always have a bed large enough for the sleeper and both parents!
Check Pricing and Availability
PROS:
Good for Bed-Sharing
Metal Frame Protects Baby
Compressible Sidewalls
Collapses Easily
Fits in a Suitcase
CONS:
No Specific Weight Limit
No Stand to Keep Off of Floor
Takes Up Room in Adult Bed
11

KidCo DreamPod Portable Bassinet – Best for Camping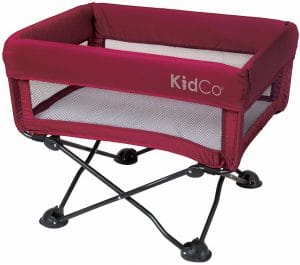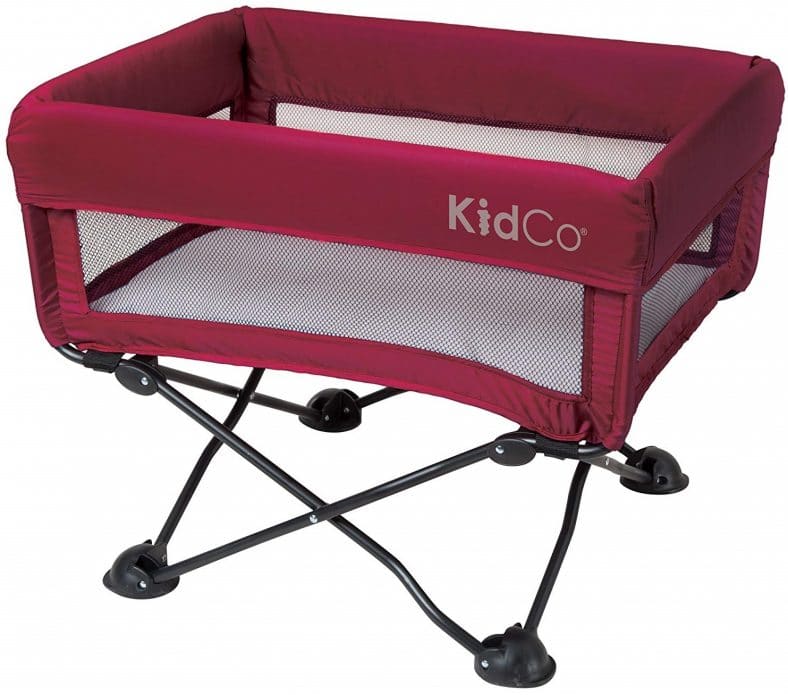 Are you an on-the-go type family that likes to spend time in a tent? The KidCo DreamPod may be the choice for you. It doesn't offer a lot of features and frills, and it definitely lacks in style. However, that doesn't mean it's not a fantastic choice!
The DreamPod only weighs 12 pounds, and it features a strong, steel frame. That means it is lightweight enough that you won't feel like your shoulder will give out while carrying it, but the bassinet folds easily. However, its sturdy enough that you won't feel as if its going to collapse at any given time.
Babies will love the soft padding that will keep them comfy at night. The entire bassinet is water repellent and keeps excess moisture out. That means your bassinet will be less prone to mold, an important factor if you take it camping.
The sheets are machine washable, which is perfect for babies! Also, the size of the bassinet is large enough for bigger babies, but not excessively large. However, the style, or lack thereof, tends to be the biggest drawback.
Check Pricing and Availability
PROS:
Lightweight
Strong, Steel Frame
Folds Easily
Soft Padding
Water Repellant
Large Enough for Big Babies
CONS:
Not Stylish
No Rocking
No Mesh Sides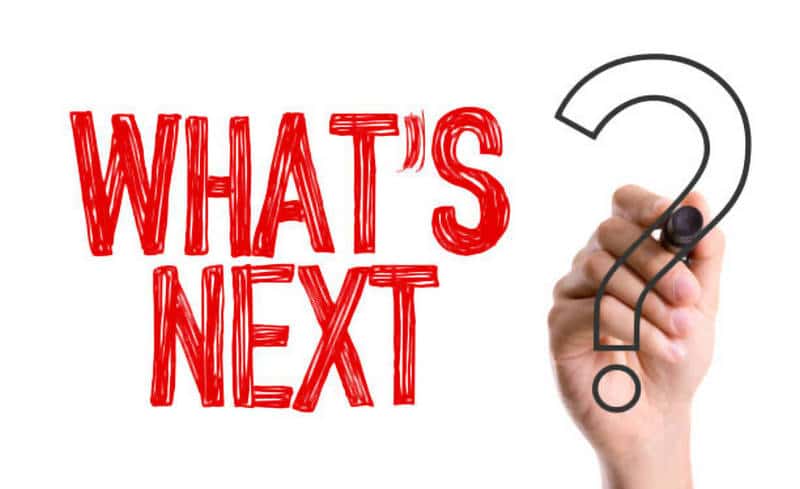 ---
Safety Advice for Bassinet Usage
All bassinets must meet certain safety standards to be permitted on the market, but that doesn't mean everything is okay. You still need to follow advice from experts. You should never place stuffed animals, toys, blankets, or pillows in your bassinet. While these items are comfortable, they all may pose a choking or suffocation hazard.
If the bassinet has wheels, always make sure you lock them in place when your baby is inside of the bassinet. Leaving the wheels unlocked means that the bassinet could accidentally travel down the hallway if your toddler decides that would be fun.
Above all else, always make sure you never use the bassinet in ways not recommended. Once your child has outgrown the bassinet, do not continue to use it. At this time, it's best to transition your child to a crib, which still can be in your bedroom!
Always check the bassinet for the specific recommendations as to when to stop using it. Some only support babies up to 15lbs.
---
Bassinet Sheets
It's highly recommended that you purchase additional sheets with your bassinet. Let's be real – babies are a mess! Their diapers explode – often – and they spit up. Bassinet sheets will need to be changed. If you have an extra sheet on hand, you can easily remove the soiled one and replace it with a fresh, clean one as needed!
---
Picking the Best Baby Bassinet Portable
Now that you've seen all of the fantastic choices available, it's time to make a decision, and that's hard! Here are some questions to ask yourself!
How portable do you want it to be? Do you plan to just move it from room to room OR are you a jetsetter who plants to take off on a new adventure soon after birth?
Picking the Best Baby Bassinet Portable
Is it affordable for you?
Is it safe for your baby? Are the walls mesh and the materials used sturdy?
What is the weight limit that you want to see? Think about the current (or suspected) size of your new baby!
These questions should help you decide if one of these picks for the best portable baby bassinet works for you. Whether you want to just keep baby close or you travel often, your baby will catch all the Z's possible in these bassinets.
Read More: What is a Pack and Play Bassinet?
Final Words
It is important to remember the safety recommendations. If your child is already rolling or close to doing so, you should instead pick a travel crib. Our job as parents is to keep our child safe, so make sure you pay close attention to the safety of what you pick. Don't select a bassinet that your child will outgrow quickly.
Do you have a favorite recommendation for a portable baby bassinet? Let us know in the comments!