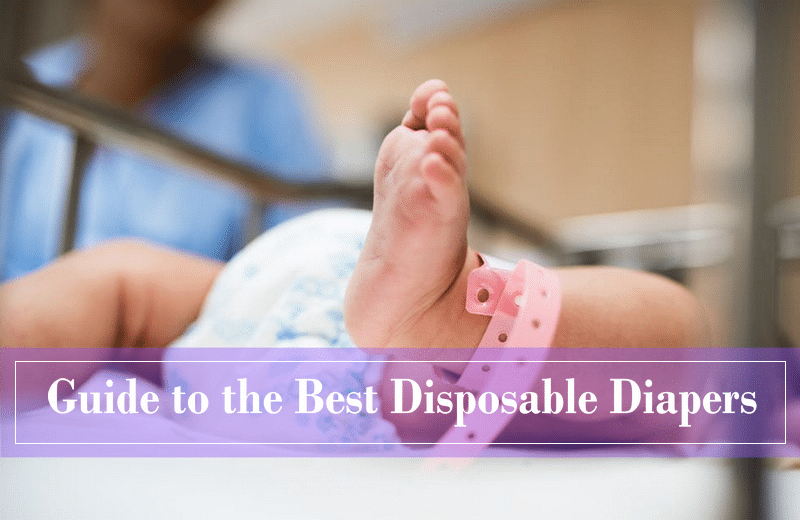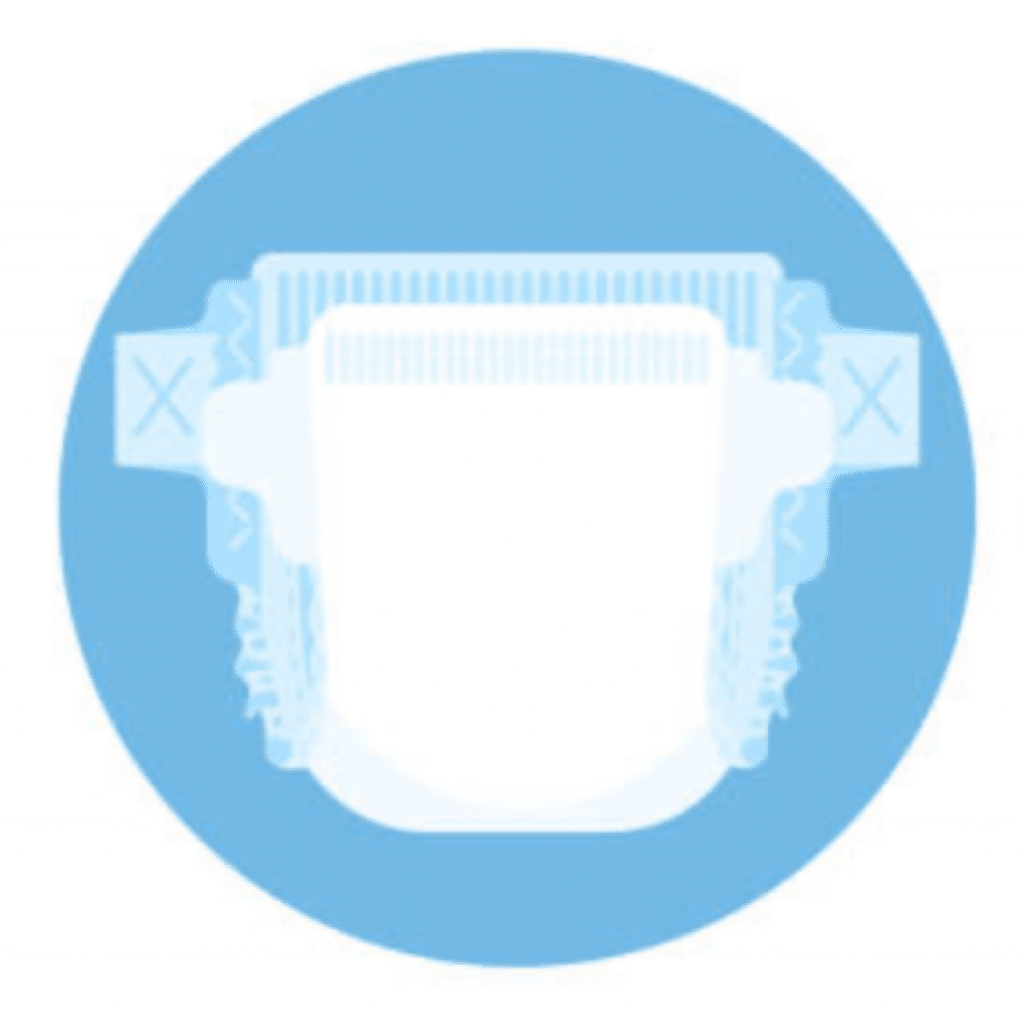 Babies are adorable, but what they create in their diapers is not so adorable. It's downright gross at times, but one of the main jobs that a parent has is to ensure your child's bum stays clean and dry. After your baby arrives, expect to be slinging diapers every day, all day. Pretty soon, you'll be a diaper-changing pro. Considering a newborn can use 10 to 12 diapers per day for an entire month, you'll change at least 300 diapers for the first month – WOW!
Disposable diapers may be one of the best modern parenting inventions to date. Disposable diapers save you time and stress.
---
---
Are Disposable Diapers Necessary?
Some type of diaper is a necessity. Cloth diapers have made strides and changed drastically over the past decades, but cloth diapers don't work for every family. Some families use a combination of cloth and disposable diapers for a variety of reasons. For example, some families prefer just to use disposables at night.
While cloth diapers can save you money, some people just prefer the convenience and ease offered by disposable diapers. That's OK! Both choices are up to the parents, and you have to do what makes you comfortable and happy.
---
Understanding A Disposable Diaper
Everyone knows what a disposable diaper looks like! Chances are you've seen them in person several times, and the store aisles are packed with boxes and bags of different brands. Despite the different packaging, all disposable diapers have the same basic construction.
Most disposable diapers are made of wearable plastic materials such as polyesters or polyethylene. Each diaper has three different layers, and each layer has its own purpose and function.
The topsheet is the layer that comes in contact with your child's skin, and it creates the inner liner of the diaper. It is the layer that you would touch with your hand inside of the diaper. Many brands like to add a barrier ointment to reduce redness and diaper rashes. This layer is one to be concerned with if your child has sensitive skin.
The inner layer is the part of the diaper that absorbs the urine and fluids. Most companies use superabsorbent polymers (SAP), which can absorb up to 30 times its weight. The first layer of this core is called the distribution layer, and it helps the liquid spread out evenly through the core. It uses channeling or grooves to direct the flow. The absorbent core is made with cellulose fluff pulp and sodium polyacrylate, also known as SAP. The fluffy pulp absorbs liquids quickly, but it will release quickly as well. Think of a sponge! SAP has small granules as well that become gel-like when wet, allowing it to hold onto the liquid better.
The last part of the diaper is the outermost layer, and it's what you see on the exterior of the diaper. This layer is waterproof, which prevents the diaper from leaking and whisks away moisture.
Disposable diapers also have fasteners, which looks like a resealable tape that you can close, adjust, open the diaper. There is elastic along the back of the waistband. The elastic and fasteners create a snug, custom fit to your child.  You want a snug fit to prevent pee and poop from escaping!
---
How Are Eco-Friendly Disposable Diapers Different?
As the green, environmentally-friendly movement gains more steam, the emergence of eco-friendly disposable diapers increases. These green diapers combat some of the environmental issues and concerns surrounding the use of disposable diapers. Experts estimate that around 20 billion disposable diapers are put into landfills each year. That's a staggering number, and something we should think about when making choices.
You can still throw these diapers away – isn't that the main reason parents use disposable diapers? At the same time, their environmental footprint isn't as bad. The construction of these diapers is very similar to a conventional diaper, but there are two differences you should know.
Biodegradable Materials: Eco-friendly diapers are made with biodegradable materials that won't stay in landfills for years. Conventional disposable diapers take decades to break down. There is a good chance your diapers from your infancy are still in a landfill slowly degrading. That's gross to think about! So, these diapers use plant-based materials, such as corn, wheat, or bamboo, to quicken the decomposition process.
Chemical Free: Most eco-friendly diapers stay away from chemical additives. You should still read the label, but most won't use chlorine, perfumes, latex, or dyes.
---
The Top Features that Matter When Picking a Disposable Diaper
Your baby is different than your friend's child, and that means what works for her baby may not work for yours. It typically requires trial and error to find the right one. Fit can only be determined by trying them on your child! However, no matter what brand you pick, a few features still matter, so here are the suggestions.
The main idea of a disposable is to keep all urine and feces inside of the diaper. The best way to ensure your chosen disposable diaper doesn't leak is to try one with a proper fit. A good fit comes from a contoured fit, which means the diaper is designed to fit snugly around your child's legs and hips.
A contoured fit is particularly important as your child starts to become mobile. A contoured fit means the diaper stays with your child as he wiggles, squirms, crawls, and rolls!
The diaper fasteners keep your child's diaper on his body once you place it there. Most diaper fasteners are made with a thin tab of plastic that has a sticky adhesive on one side. All you do is open up the fastener and stick it to the front of your baby's diaper.
The best fasteners are the ones that you can reseal. Sometimes, the diaper might come off, or you might open it to check on your child's rash.
The topsheet used should wick away the liquid into the absorbent core quickly. You don't want your child's bottom to stay in contact with prolonged wetness. The core also shouldn't act like a sponge, releasing the liquid under compression. It must retain liquid, even under pressure. Prolonged wetness can cause your child to have frequent rashes.
Wetness indicators stop the guessing game about whether or not your child's diaper needs to be changed. It can be harder than you might realize to determine. A wetness indicator is found on the outer layer of the diaper, and it looks like a line or symbol. When the line becomes wet from urine, it changes colors, letting you know it's time to change.
At one time, parents assumed perfumes were a necessity because used diapers can be stinky. Scented diapers don't necessarily mask the scent of the urine and feces. Rather, it creates a very strong odor. Also, the chemicals that create the scents have a higher chance of irritating your child's skin. Some companies use non-allergenic perfumes, but just staying away from perfumes entirely will solve that problem!
What's the point of using a disposable diaper if it doesn't absorb anything? You need a diaper that is going to work, plain and simple! The diaper must be able to hold a lot of fluid without a mess or causing your child discomfort. A super absorbent core ensures you don't need to change every 30 minutes while still keeping your baby dry.
Think about this. A baby who is 12 to 18 months old and weighs around 24 pounds produces around 60 milliliters, or about ¼ cup, each time they urinate.
---
How to Properly Dispose of a Disposable Diaper
You may not know this, but you aren't supposed to just wrap up the diaper and put them into the trash. Fecal matter is a hazardous waste that you shouldn't put into our landfills. Most diaper brands encourage parents on the side of their products to dump soil messes into the toilet beforehand. Learn more, do more!
Dump the solid matter of the diaper into the toilet.
Wrap the diaper up to contain messes.
Seal the diaper in a plastic pail or container.
Throw out diapers in an appropriate location.
Remember to wash your hands. Fecal matter carries plenty of bacteria!
---
Understanding Disposable Diaper Sizing
Some diapers do fit differently based on the cut and contour of the material. Most use the same weight guidelines when it comes to the sizes of the diapers. Picking the right size is important for your child's comfort and absorbency. Wearing a diaper that is too small will feel too tight and won't have adequate absorbency for your child. Most larger sizes also have extra absorbency because they urinate larger quantities at one time.
Here are the general disposable diaper sizings.
| Size | Weight Range |
| --- | --- |
| Preemie XS | 0 to 4lbs |
| Preemie | 0 to 6lbs |
| Newborn | 0 to 10lbs |
| Size 1 | 8 to 14 lbs |
| Size 2 | 12 to 18 lbs |
| Size 3 | 16 to 28lbs |
| Size 4 | 22 to 37lbs |
| Size 5 | 27+lbs |
| Size 6 | 35+lbs |
| Size 7 | 41+lbs |
---
You should note that not all brands sell all of these sizes. Most brands sell size 1 to size 6, and a majority also sell newborns. The two preemie sizes and size 7 aren't available in all brands. Preemie XS is typically reserved for NICU settings, but you might need a preemie diaper for your newborn baby if she is small in size.
---
The Best Disposable Diapers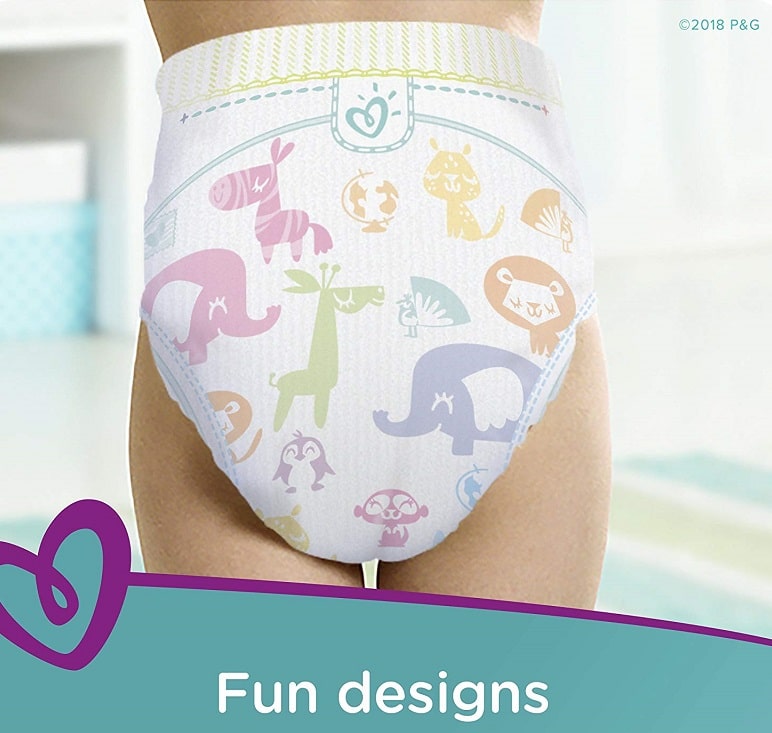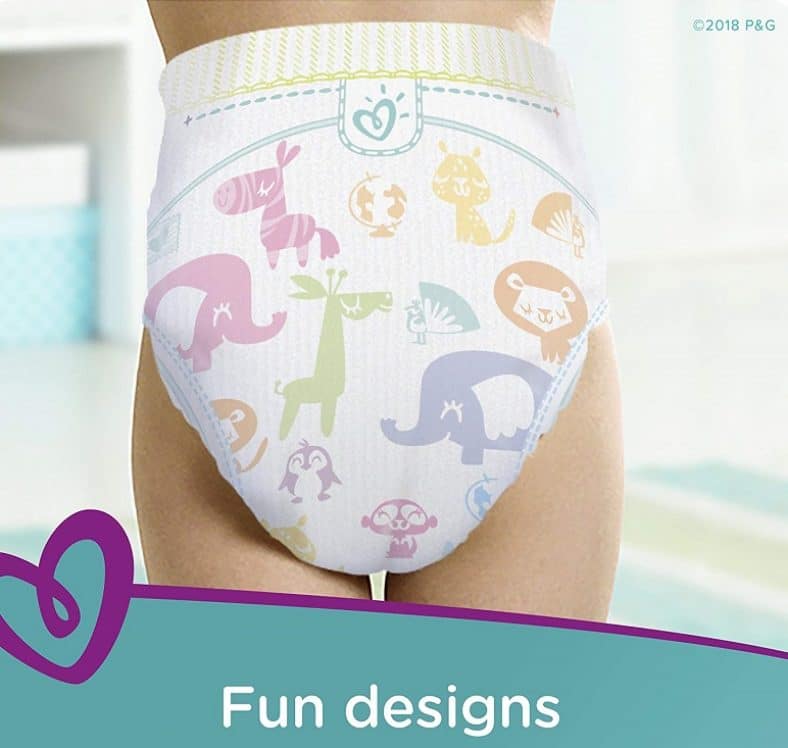 One of the best overall disposable diaper options for babies 16 pounds and up are the Pampers Cruisers. They are highly recommended by mothers, and they are the step up from Swaddlers. Once your child reaches size 3 (and up to size 7), it's time to transition up to the Cruisers. These diapers are meant for active, growing infants with larger bladders and output.
Pampers Cruisers feature three layers of absorption, a flexible and contoured fit for babies of different shapes and sizes, and better overnight protection for infants sleeping longer periods. The overnight protection is great because, around this age, some babies sleep for longer stretches at night, or at least you hope! You don't want a wet or leaking diaper to wake up your baby.
Moms love that blowouts aren't very common when using the Cruisers. However, they aren't as soft as Swaddlers, nor are they as padded. Comfort comes after leak-proofing, which most parents are ok with that compromise!
Check Pricing and Availability
PROS:
Extra Layers of Absorption
Contoured Fit
Great for Mobile Infants
Elastic Prevents Blowouts
CONS:
Not as Soft
Doesn't Have as Much Padding
You may also interested: Learn the difference between Pampers Swaddlers and Cruisers.
---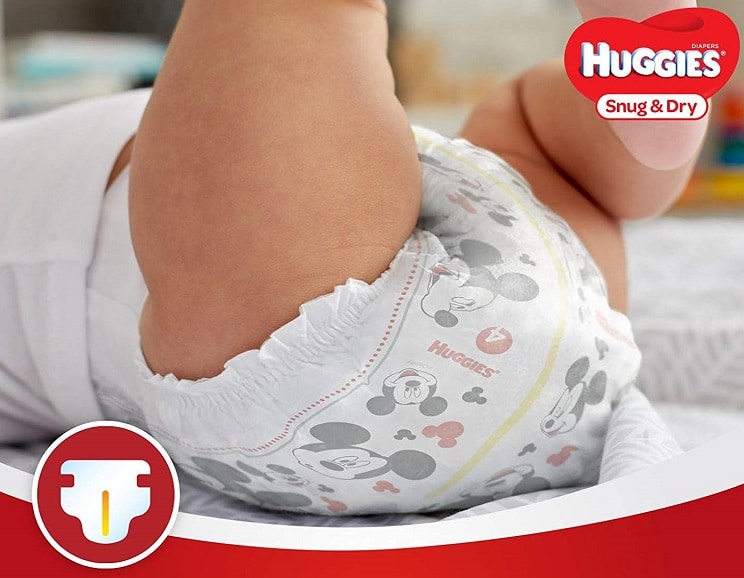 While Huggies is most known for their Little Snugglers line (discussed below), the Snug & Dry Line is well-known as well, and they are meant for babies on the move as well. Parents love the elastic around the waist because it works to prevent diaper blowouts from traveling up your child's back. No one enjoys that; it means an immediate bathtime!
The trusted Leak Lock system stops any leaks for up to 12 hours. Huggies added four layers of protection to help absorb moisture quickly, and the quilted liner keeps your baby feeling nice and dry. On the front of the diaper, a wetness indicator lets you know when it's time for a diaper change.
Something to keep in mind is that Huggies are known for their roomier fit. That can be a good or bad thing, just depending on the size of your baby. If the Snug & Dry don't fit your child correctly, their Little Movers may do the trick!
Check Pricing and Availability
PROS:
Waistband Elastic Stops Blowouts
Leak Lock System
Extra Layers of Protection
Quilted Liner for Dryness
CONS:
Roomier Fit May Not Work for Your Baby
---
3

Luvs Super Absorbent Leakguards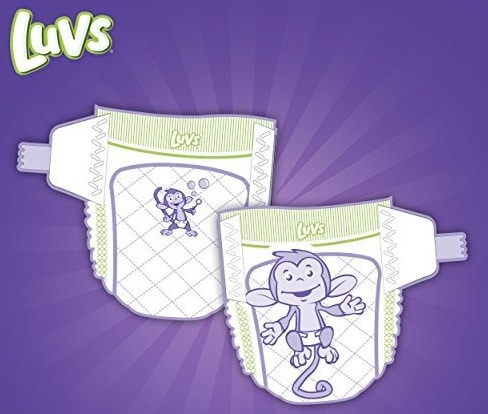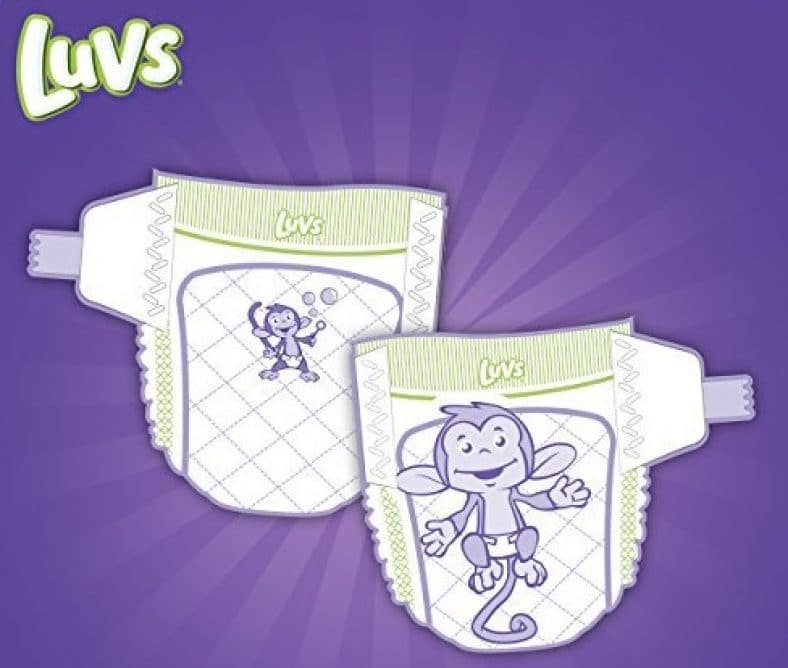 Considering how many disposable diapers your child will use in a year, affordability matters. One of the most affordable brand name disposable diapers on the market is the Luvs Leakguards. After all, you will change an average of 8 to 10 diapers every single day for the first year of life. That adds up, but you need to keep your baby clean, dry, and happy without blowing your budget. If you purchase one of the largest boxes, you will get between 124 and 252 diapers, depending on the size. That makes most diapers around 14 cents apiece, which is really budget-friendly!
The design of the Luvs helps to prevent leaks, and the fit is very similar to other traditional diaper brands without the added costs. Cheap doesn't mean poor quality. You will find the interior made with super-soft materials, and the NightLock Plus feature prevents leaks, even overnight. Luvs claims their diapers can last for 12 hours overnight!
The fasteners are large and stretchy to get the best fit. The wide fastener makes changing easy, and they will re-stick!
A few negatives to consider is that many parents note that Luvs have a stronger chemical scent. That may or may not be a problem for you. Also, the lower price point means that these diapers don't have a wetness indicator or fragrance-free choices.
Check Pricing and Availability
PROS:
Budget-Friendly
Available in Bulk Boxes
Wide Fasteners
Leakguard Protection
Money-Back Guarantee
CONS:
Strong Chemical Odor
Might Leak Easier Than Others
No Wetness Indicator
Uses Fragrances
---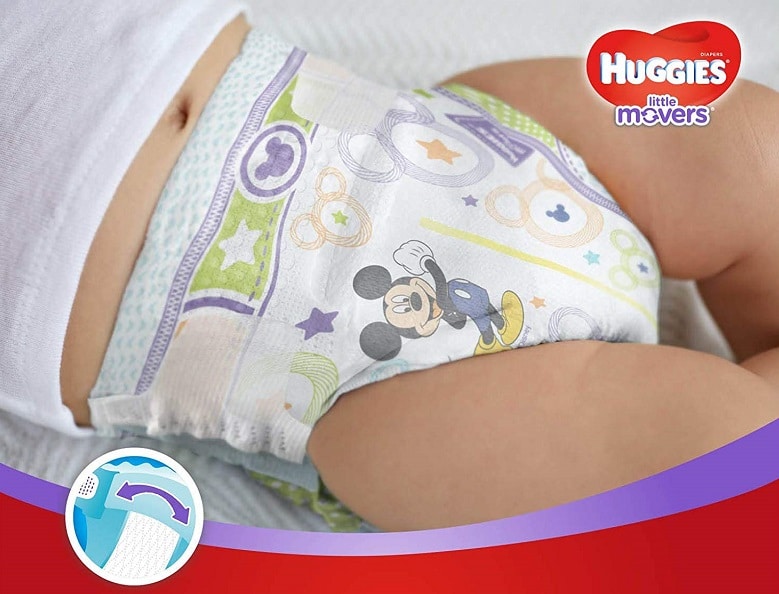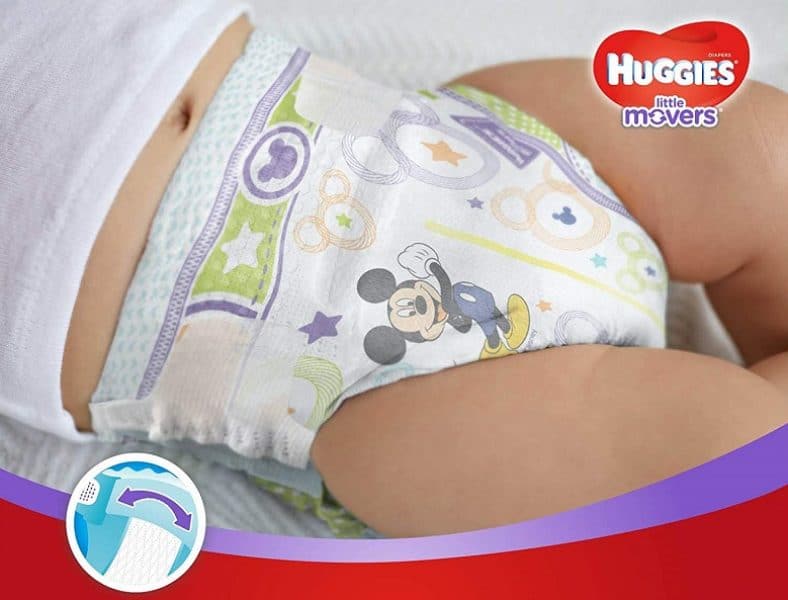 If you have an older infant or a toddler, the best disposable diaper needs to be able to move and adjust with your child. Toddlers aren't known for sitting still; they're movers and shakers, exploring this exciting new world. The diaper has to be able to keep up with your baby!
Parents with toddlers love Huggies Little Movers because they were created with the flexibility of movement in mind. A contoured fit snugly hugs your baby's legs, so no leaks will occur while leaking or walking. The snug waistband keeps the diaper in place no matter what your toddler is doing at that moment – it could be anything!
So, these features could really be for any other diaper, so what makes them ideal for toddlers? First, the double grip strips that keep the diaper on your baby across two points. They won't come loose. Also, the Dry Touch liner quickly pulls away moisture, so your baby is always comfortable.
Check Pricing and Availability
PROS:
Double Grip Fasteners
Inner Wicking Liner
Contoured Fit for Movement
CONS:
Not the Softest
Might Cause Rashes
---
The Best Disposable Diapers for Newborns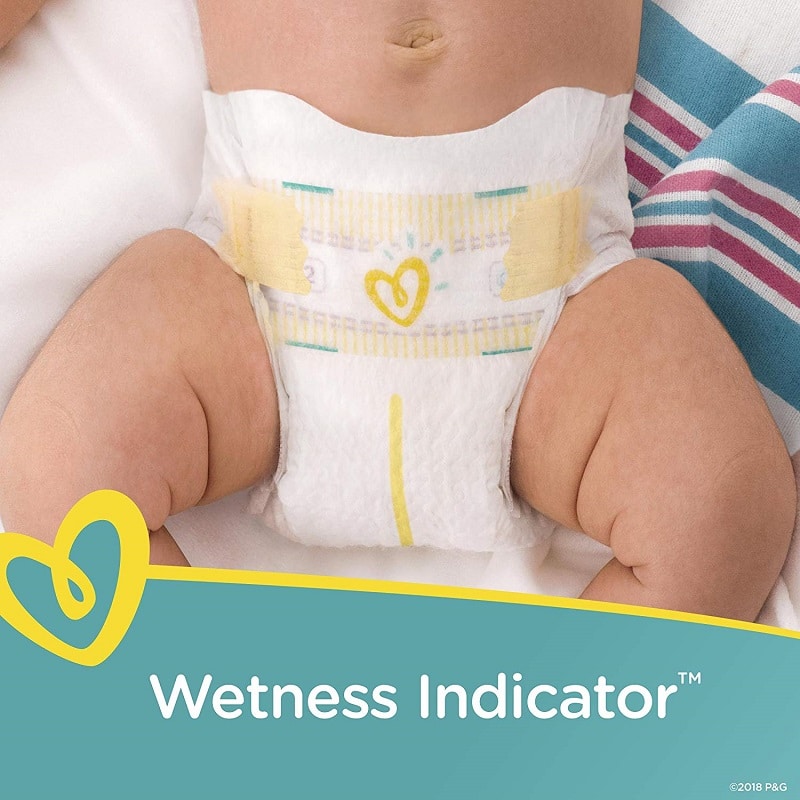 When you were at the hospital with your newborn, chances are your hospital used Pampers Swaddlers, which is the #1 rank by Cherry Picks. They are, by far, the most popular choice among parents because of their super-soft feel and flexible fit. A flexible fit means fewer poop explosions, and breastfed babies are known for diaper explosions!
If you feel the Swaddlers compared to other diapers, you'll notice that they feel cushy and cozy. Another nice feature is the wetness indicator, and the design does make space for the umbilical cord. One of the most popular features is the uniquely-designed liner that looks like it has netting in it. It helps protect your child's little bum from the mess, so his dry starts dry. This feature also helps to prevent diaper rash
Recently, Pampers developed their Hypoallergenic Pampers Swaddlers Sensitive. These diapers have all of the features parents and newborn babies love, like the cloth-like softness and wetness indicator.
Swaddlers are available in sizes newborn to size 2, and they're designed to distribute wetness for up to 12 hours. You won't be able to go that long without changing since newborn babies can use up to 12 diapers per day!
Check Pricing and Availability
PROS:
Super Soft
Flexible Fit
Wetness Indicator
Unique, Absorbent Liner
---
2

Huggies Little Snugglers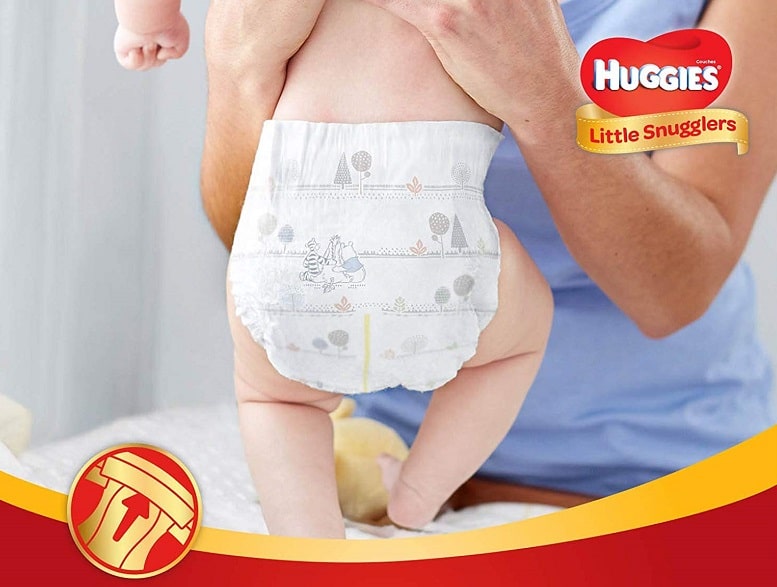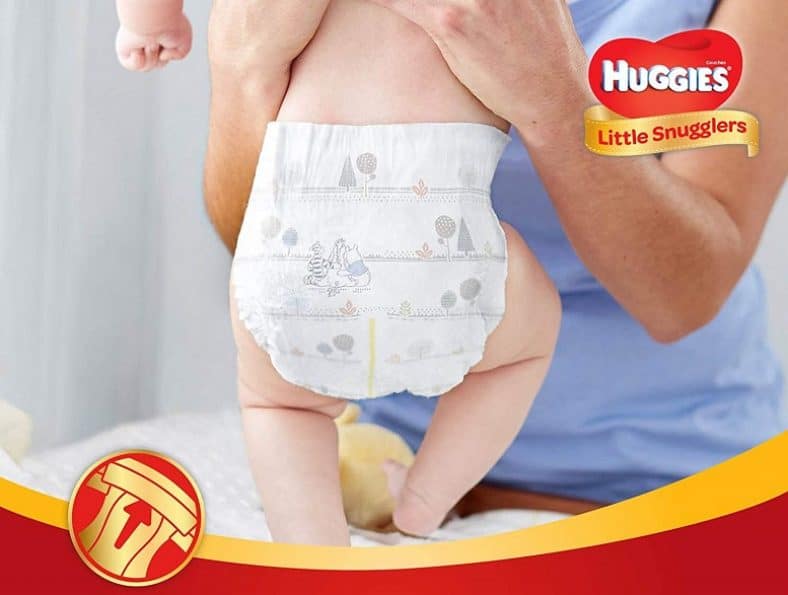 Huggies is such a well-known brand, so it's natural for them to create a line for the little babies! Little Snugglers comes in sizes newborn up to size 3. The Little Snugglers feature Leak Lock technology that features strong absorbency and a special "pocket" on that back waistband that stops the poop from coming up the back. This feature might seem silly, but it stops you from having to change your baby's outfit throughout the day!
On the exterior of the diaper, Huggies added a reliable wetness indicator that will change color when your child urinates. This diaper actually has a great umbilical cord cut out that prevents the diaper from rubbing against the sensitive umbilical cord area.
These diapers hold urine for many hours, up to 12, but if your baby is sleeping that long, it's best to move out of the Little Snugglers. These are meant for younger infants who don't sleep through the night. A contoured fit ensures your baby never has leaked, and that the diaper fits snugly on all parts of his legs.
Check Pricing and Availability
PROS:
  Leak Lock Technology
Special Waistband to Stop Blowouts
Wetness Indicator
Umbilical Cord Cutout
CONS:
Only to Size 3
Not Meant for Overnights
---
The Best Natural Disposable Diapers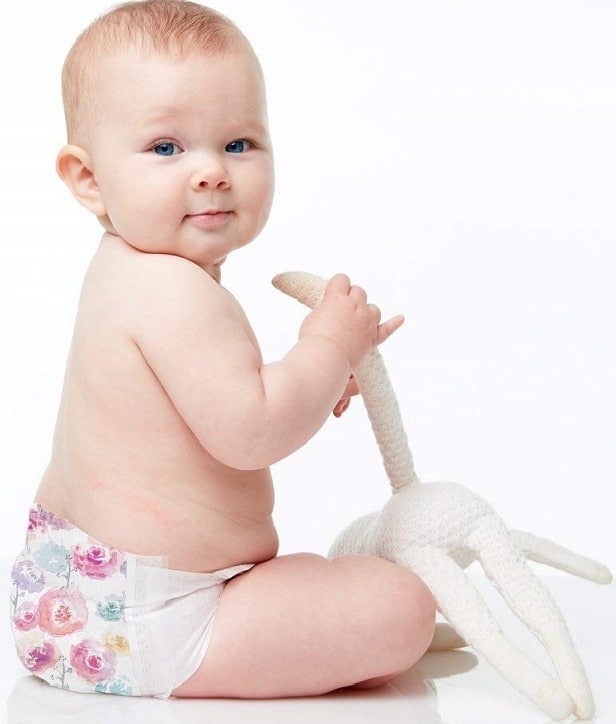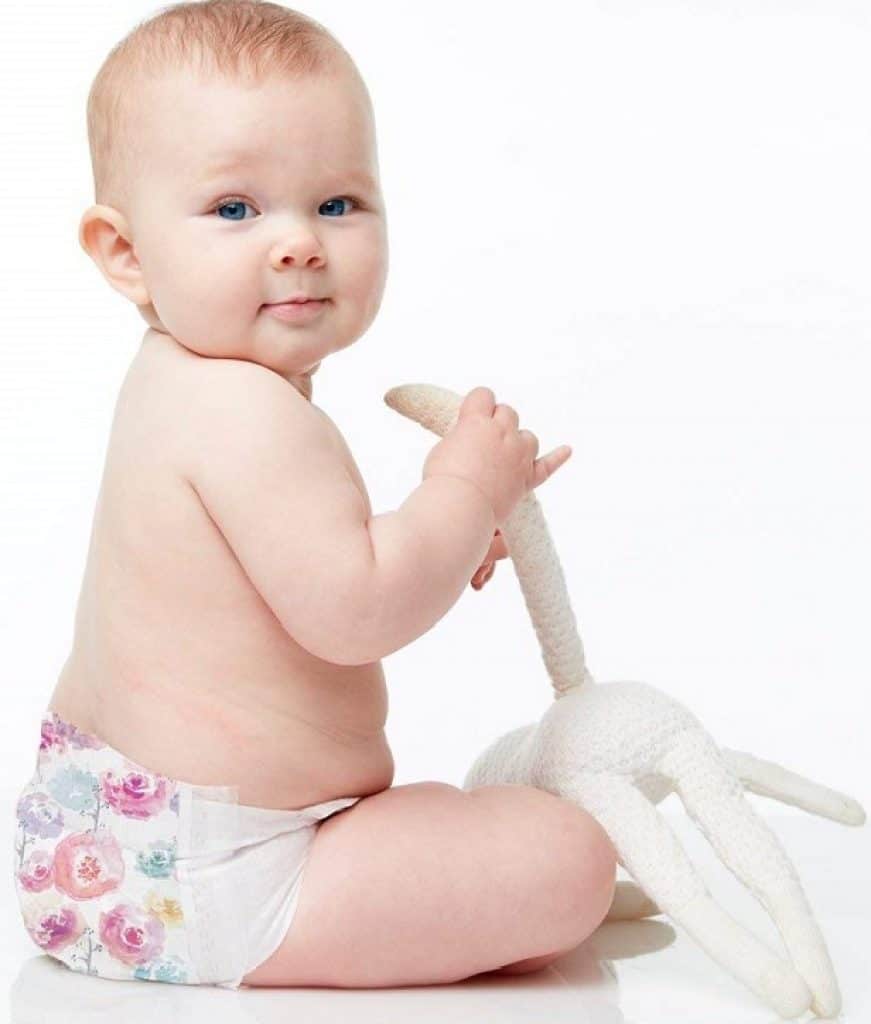 Honest Diapers are subscription-based diapers, but you can also purchase them in stores. The Honest Company uses plant-derived materials and sustainably harvested pulp, which means these diapers are better for the environment. They don't undergo the normal chlorine processing, nor do they contain any type of perfumes that might irritate your child's skin.
There are other reasons to love Honest Diapers! The soft, stretchy side panels reduce chafing while providing a proper fit. The waistband is stretchy as well, which helps to prevent any explosions.
One of the main reasons parents love Honest Diapers are the prints. Seriously, they create some of the most adorable designs. Each season, The Honest Company comes out with something different!
Two things to consider are price and availability. Depending on your location, you may not be able to find these diapers close by, so you'll have to make sure you order enough online. Also, they are pricier than other brands.
Check Pricing and Availability
PROS:
Plant-Derived Materials
No Chlorine Processing
No Perfumes
Contoured Fit
Adorable Designs
CONS:
Expensive
Not Available in All Locations
---
2

Seventh Generation Diapers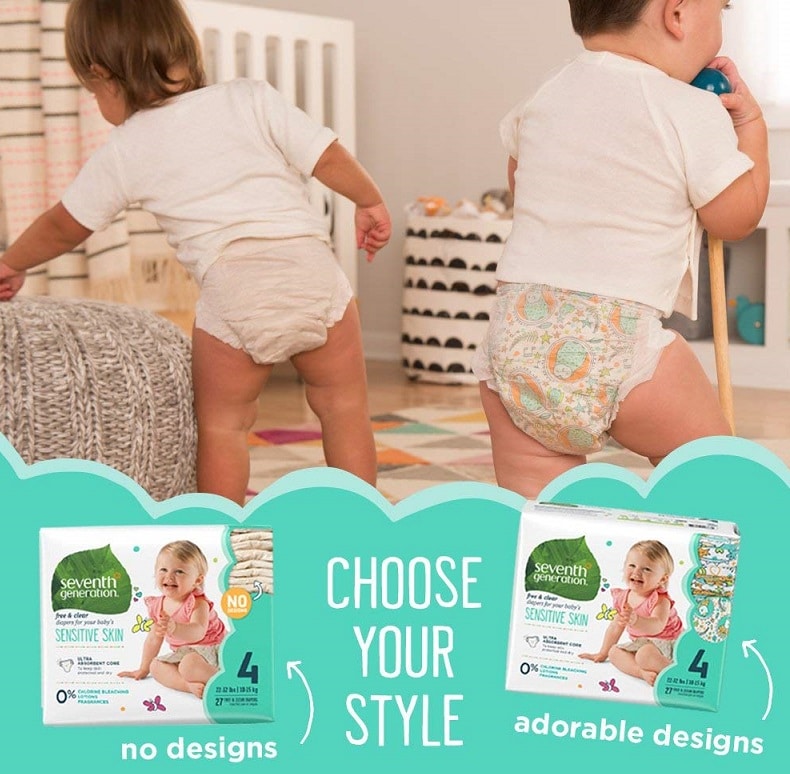 There is a good chance you've heard of Seventh Generation! This company creates dozens of products you might find at the store like laundry detergent, toilet paper, and dish soap. So, it's no wonder that their disposable diapers are some of the best on the market.
If you notice rashes developing on your child's skin, it might be time to consider a free & clear style of diapers, which is what Seventh Generation offers. These diapers are meant to pamper your baby's sensitive skin. So, these diapers are chemical- free, but they also increased the absorbency. Extra wetness won't cause discomfort and chafing.
Seventh Generation used a chlorine-free process and wood fluff pulp, which is a sustainably sourced material. These environmentally friendly diapers have no dyes, perfumes, or lotion. Best of all, you can find them in many stores throughout the United States.
On the front of the diapers, Seventh Generation added cute animal prints. Most of the time, prints on diapers are made with inks that contain toxins, but these diapers used inks and pigments that are free from lead and other toxins. Parents love that!
Check Pricing and Availability
PROS:
Gentle on Sensitive Skin
Quilted Liner for Comfort
Chemical Free
Absorbent, Moisture Wicking Core
CONS:
Expensive
Not the Best Fit
---
3

Bambo Nature Friendly Premium Diapers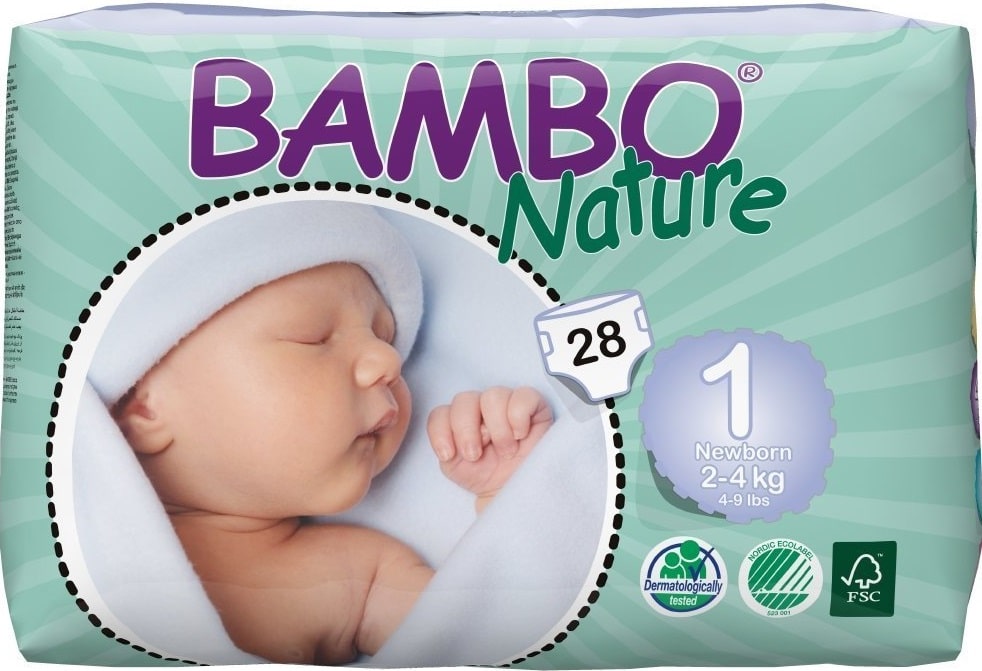 Do you want the benefits of cloth diapers without having to use them? If so, Bambo Nature is the next best thing. These skin-friendly diapers are perfect for babies with sensitive skin, and they are compostable. Yes, you read that right!
Bambo knows that a dry baby is a happy baby, so their diapers feature a three-layer design that pulls moisture away from your baby's skin. Your child stays dry throughout the day and night. The backsheet is fully-breathable, which helps to lower the heat and allows moisture to escape from around the baby's bottom. The breathability reduces irritations and keeps your baby comfortable.
If you are worried that these diapers aren't nice, you have nothing to fear. Bambo Nature features certification from the Nordic Swan Eco label, Asthma-Allergy Denmark, FSC, and EcoCert. All of this means that their products are safe for babies and the environment.
One thing that parents note is how soft these diapers are. Many natural diapers aren't soft and cozy, but Bambo Nature makes soft, absorbent diapers that won't irritate your child. However, their newer version is softer than before. Bambo Nature added softer materials along with a thinner design with enhanced technology for maximum absorbency. There is also a wetness indicator.
Check Pricing and Availability
PROS:
Three-Layer Design for Absorbency
Breathable Backsheet
Soft Materials
Thinner Design
Wetness Indicator
CONS:
Aren't As Soft and Cozy as Others
Expensive
---
4

Babyganics Ultra Absorbent Diapers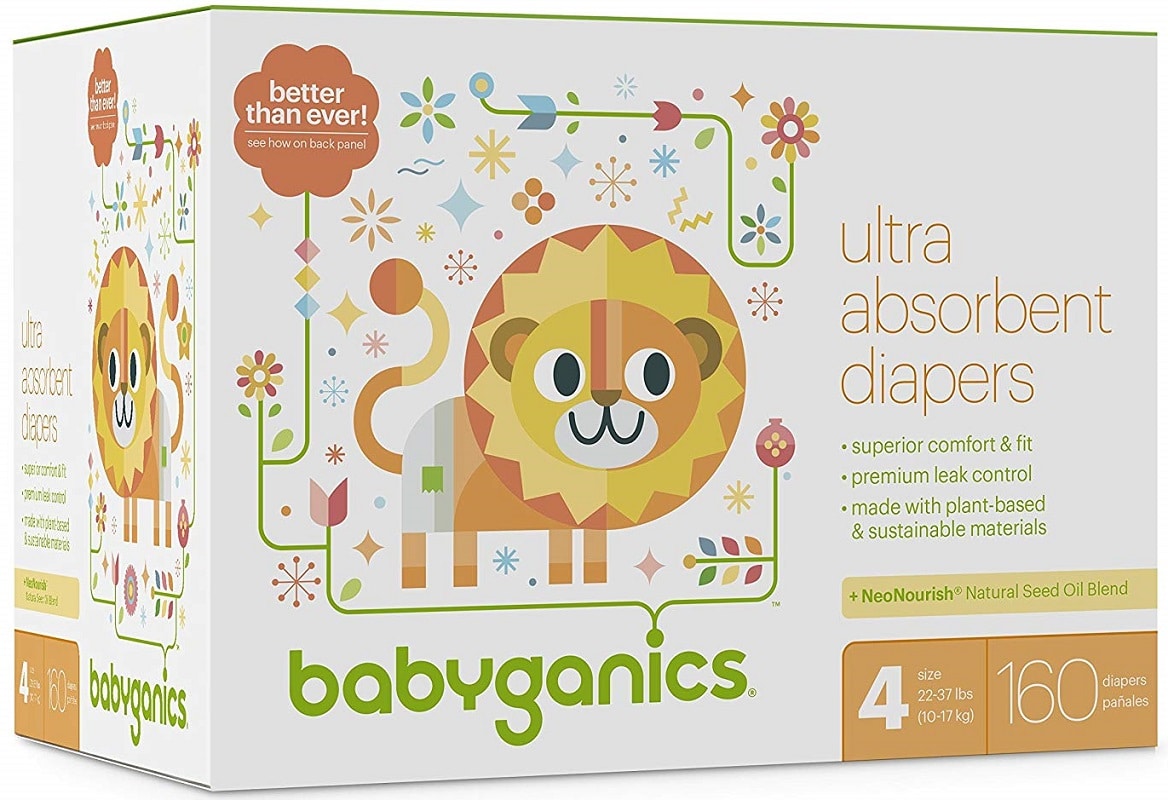 Babyganics makes a variety of baby care products such as sunscreen, diaper rash cream, and laundry detergent. Their products are perfect for parents who are concerned about the environment.
The diapers from Babyganics feature a unique organic blend of plant-based materials to make the diapers. The materials include of seed oil blend made of cumin, raspberry, cranberry, tomato, and sunflower which is designed to keep your child's sensitive skin hydrated and protect. They use this same seed oil blend in their sunscreen and other products!
When compared to traditional diapers, the absorbency and effectiveness are the same. Babyganics added a contoured fit to prevent leaks, and they feature all of the standard features you would want to see in any other diaper.
Unfortunately, these diapers aren't fully biodegradable, but that's ok! Using these still helps to minimize your ecological footprint compared to conventional disposable diapers. The Babyganic diapers give parents a way to minimize their environmental effects without having to use cloth diapers.
Check Pricing and Availability
PROS:
Environmentally-Friendly
Seed Oil Blend Hydrates Baby's Skin
Meets Rigorous Environmental Standards
Contoured Fit
CONS:
Fit Tends to Run Smaller
Not as Comfortable – Fabric Isn't as Soft
Not as "Green" as Competition
---
5

Earth's Best TenderCare Superior Absorbency Diaper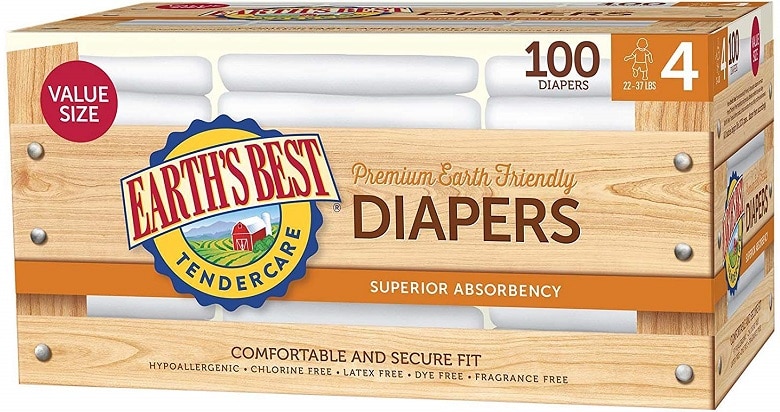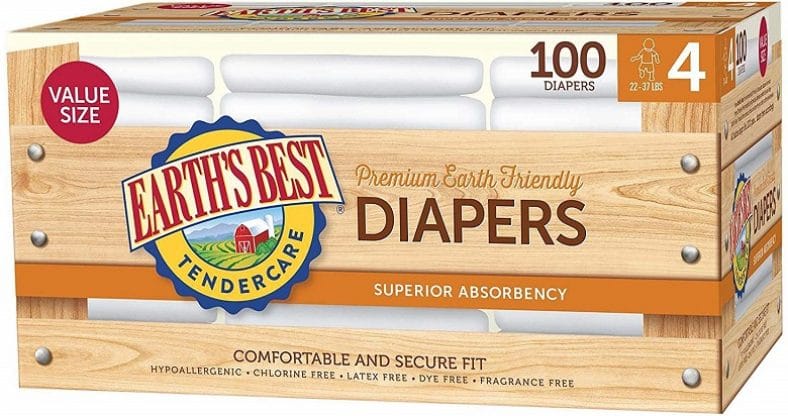 Earth's Best is a well-known organic baby brand company that makes everything from baby diapers to baby food. Their line of baby food was one of the first to become certified organic! Their diapers are chlorine-free and latex-free. Parents also love that they contain no dyes or fragrances. We expect nothing less out of Earth's Best!
They stand out because Earth's Best also believes in fewer petrochemicals than other diaper manufacturers, so they use a mix of renewable resources instead like corn and wheat. These resources do a great job at absorbing your baby's messes while still being environmentally friendly.
These diapers come in sizes newborn to size 6, so they will last throughout your child's entire diaper life. Breathable sides prevent any chafing your child might experience from the sides rubbing on him. A moisture barrier cuff stops leaks, so your baby's clothes always stay clean and dry. Also, refastenable grip tabs ensure your baby's diaper always fits well.
Check Pricing and Availability
PROS:
Chlorine-Free
Latex-Free
No Dyes or Fragrances
Uses Renewable Resources
Breathable Sides to Reduce Chafing
CONS:
Pricey
Not as Soft as Other Picks
---
The Best Overnight Disposable Diapers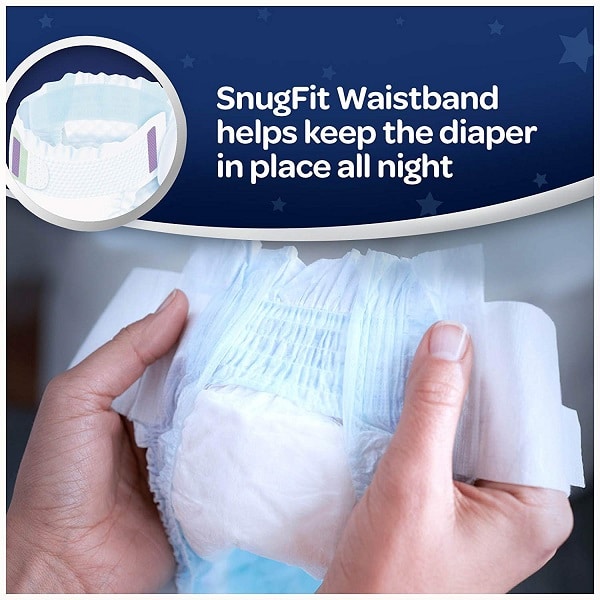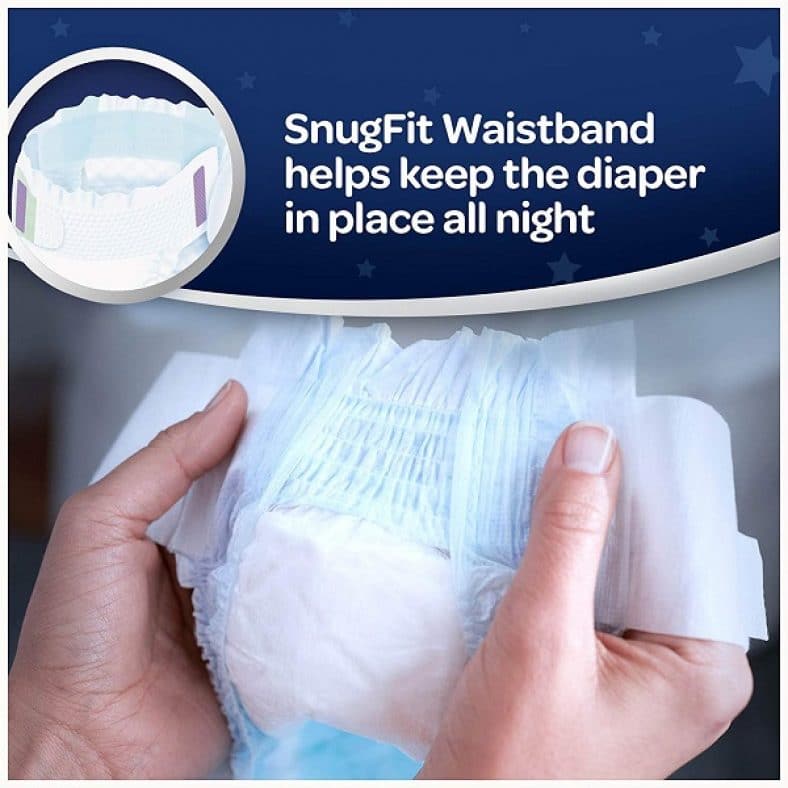 When your baby is a newborn, they wake up so frequently that there is no need for overnight diapers. Once your child is about 4 months old, the heavy-duty overnight diapers come in handy. The Huggies Overnites are the most popular choice for an overnight disposable diaper. Huggies created this diaper to lock-in leaks for up to 12 hours without your child's bum becoming irritated. The Double Leak Guard keeps moisture inside of the diaper where it belongs. Wet sheets are a memory of the past with these diapers.
OverNites are the most absorbent diaper in the Huggies diaper line, and they're more than 25% more absorbent than Snug & Dry. They feature the Double Grip Strips that fasten at four points, ensuring the diaper always stays in place. A stretchy waistband uses SnugFit Technology to move with your baby throughout the night.
Huggies added a wetness indicator on the front of the diaper, so you never accidentally change and waste a dry diaper. An embossed inner liner pulls moisture away from your baby's skin, and then a breathable exterior keeps your baby feeling dry and comfortable.
Check Pricing and Availability
PROS:
Double Leak Guard
Extra Absorbent
SnugFit Waistband
Liner Wicks Away Moisture
CONS:
Thicker Than Usual
Only in Sizes 4 and Up
---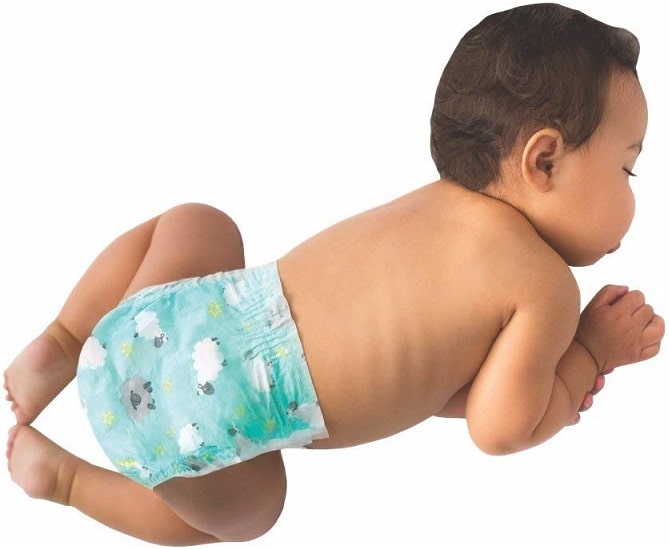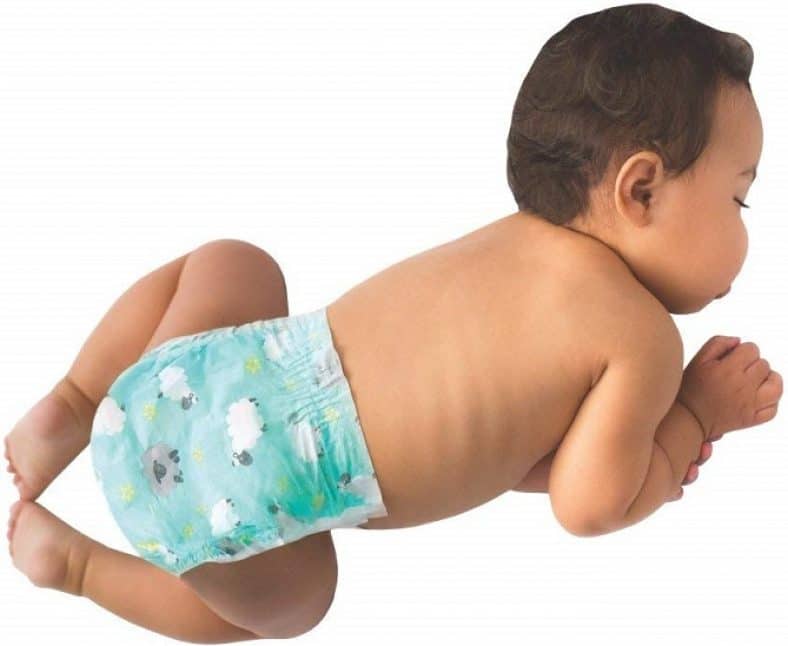 The Honest Company understands that a good night's sleep creates a happy baby and a happy mom. Who wants to be tired all the time? As your baby gets older, a wet diaper can disturb them at night. Using an overnight diaper helps your baby sleep throughout the night and stops you from having to do more loads of laundry. Who likes changing sheets in the middle of the night?
The Honest Overnights offer some of the best overnight protection while being eco-friendly at the same time. That's a huge bonus! The Honest Company creates diapers from plant-derived materials. No latex, chlorine, or fragrances are used in the production, which is unusual in overnight diapers. Most of them contain extra padding and chemicals.
You will love the ultra-absorbent and ultra-thin lining. Most overnight styles are thicker, but the Honest Overnights are 20% more absorbent without all that heavy, stiff padding. Their inner lining features a bio-based core made with sustainably harvested pulp. So, the result is an effective, absorbent, but lightweight, lining.
Check Pricing and Availability
PROS:
Ultra-absorbent, Ultra-Thin Lining
Eco-Friendly
Made with Sustainable Materials
 Contoured, Stretchy Design
CONS:
Expensive
Baby Might Feel Damp
Want to learn more about Overnight Diapers? Read the Best Overnight Diapers to Keep Your Sheets Dry.
---
How to Save Money on Disposable Diapers
Does your wallet feel thinner now that you have to buy disposable diapers? If you have to purchase diapers for more than one child, you want to learn how to save money on disposable diapers. Here are some tips!
You don't have to become an extreme couponer to save money. Just using a few coupons can make a large difference when you start adding it up! Saving $5 a week is $20 a month and $260 a year.
You can find coupons in a number of places. Look to see if your local store has Coupons that load onto your shopper's card. Print coupons from websites online. Get the Sunday newspaper! Email your favorite diaper brand to ask for coupons. Pennies add up to make huge savings.
One of the easiest ways to save money on diapers is to buy in bulk. You can buy the large boxes at the store or head to a store like Costco for HUGE boxes! Purchasing online also is a great idea too because you can get the boxes shipped to your doorstep for the same price, so no wasting money on gasoline driving to the store!
Purchasing in bulk can seem worrisome because of the upfront cost, but you have to look at the per diaper unit cost. Make sure you love the diaper before purchasing a huge box! It's best to try a small bag first before committing to a box with over 200 diapers. Also, if your child is close to needing to size up, it's wise to get a bag or two rather than a huge box if he will size out of them.
Certain brands offer a rewards program. You get points for each purchase or activity that you complete, like interacting on a phone app. You then can redeem these points for coupons, gift cards, or free diapers.
Look at the website for the brand you use and see if you can find a program or point system. Brands love to reward their customers for loyalty!
Name brand diapers are popular because we know that they work. Major retailers are joining the disposable diaper party and making their own store brand diapers. If money is tight, using store brands is a great way to save some cash. Many brands work well, but you might have to try a few different brands to find one that fits your baby well.
You can learn more about Best Backpack Diaper Bags here.
Buying The Best Disposable Diapers
Finding the right disposable diaper for your child can be tricky because every baby is shaped differently. What works for your baby may not work for another due to body shape. With some trial and error, you'll find the best disposable diaper for your child!