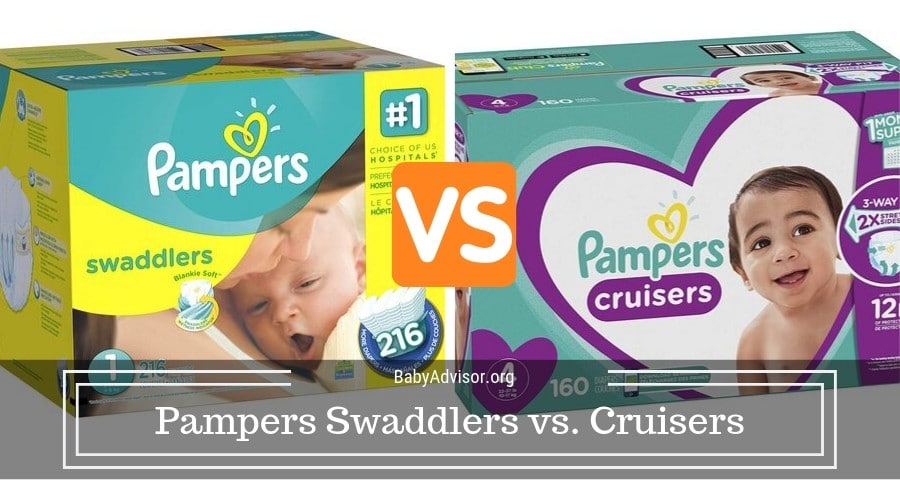 Pampers is one of the most well-known diaper brands in the world, and they offer a variety of diaper selections to pick. They're one of the pioneering companies of disposable diapers, creating a wide range of different products suited for babies and parents. All of their diapers also have different age brackets for infants, which leads parents to compare their diapers, such as Pampers Swaddlers vs. Cruisers. 
Not all disposable diapers are created equal. Any parent will tell you that not all diapers work for their child. I've tried several brands for my kids. Some leak, while others lead to rashes. Others have a smell that I don't like. You might have to try a few different brands before you find the one that works for you and your baby. 
So, let's compare two of the leading varieties of Pampers diapers. 
A Quick Overview of Pampers Swaddlers vs. Cruisers
Pampers Swaddlers
Pampers Cruisers

#1 Choice of Hospitals
12 Hours of Protection
Umbilical Cord Notch
Hypoallergenic
Free of Natural Rubber Latex and Parabens
Wetness Indicator

Suitable for Active Babies
Adjustable Waistband
Dual Leak-Guard Barriers
Easy to Tear Sides
Stretchy Sides to Flex with Your Baby
The Dry Max Incident
Before we dive into the diapers, I think that it's essential to discuss the proverbial elephant in the room – the dry max incident of 2010.
Anyone who was a parent in 2010 remembers this incident, and it led to parents paying more close attention to the type of diapers they pick for their child. 
In 2010, the Consumer Product Safety Commission received over 4,700 complaints regarding diaper rashes and Pampers diapers. Around 85% of them came from May 2010, and then the claims slowly decreased over time. 
Due to a large number of complaints received in a short time frame, the CPSC investigated the material, construction, heat retention, and moisture retention of the Pampers Dry Max diapers. The investigation failed to show any evidence that the diapers caused the diaper rashes and chemical burns. 
Despite this, Procter & Gamble was forced to pay $1,000 to each reporting parent. Due to this incident, diaper companies pay even more attention to their products. It also led to Swaddlers and Cruisers becoming the most popular two variety of Pampers diapers. 
---
The Features of Pampers Swaddlers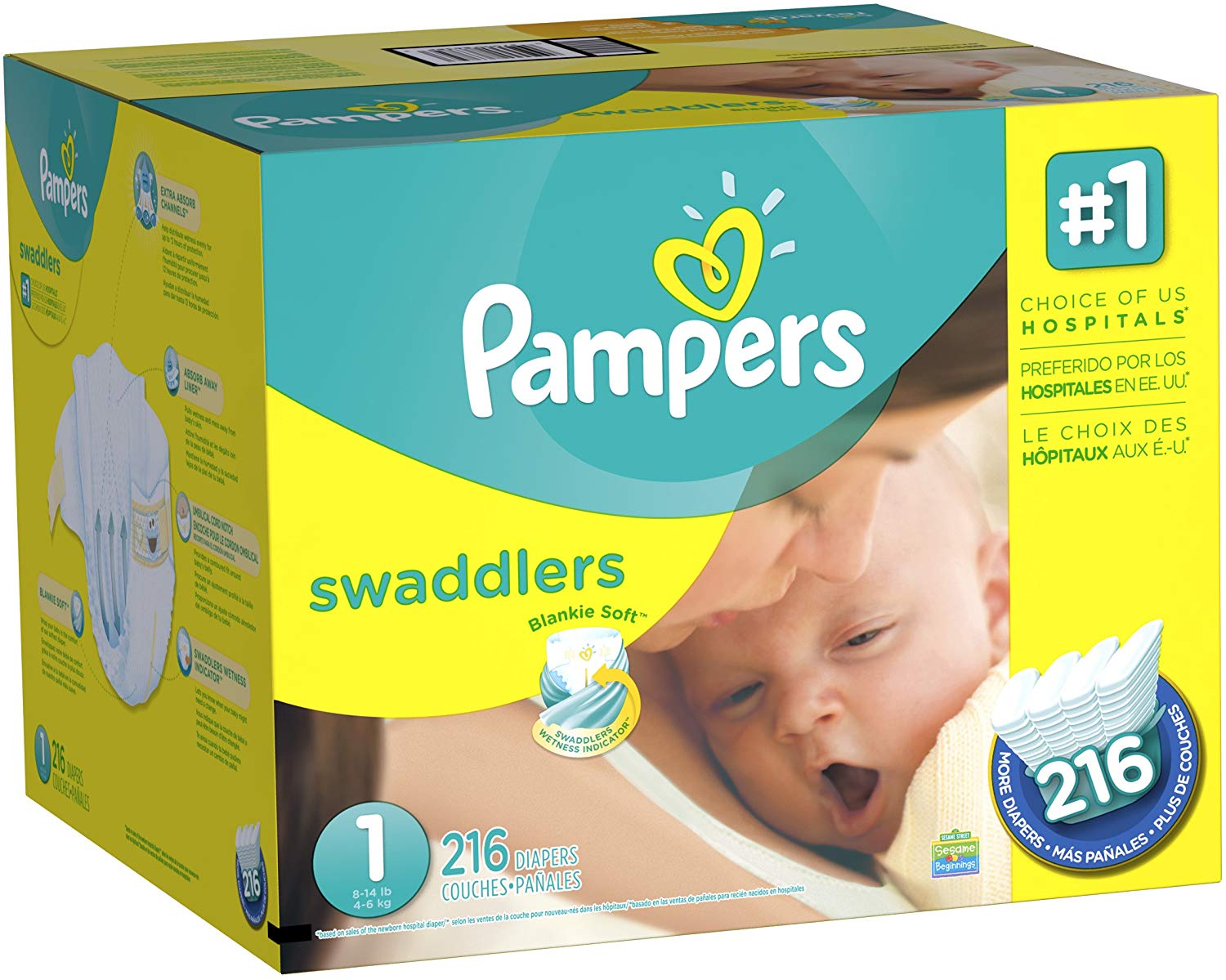 Pampers Swaddlers target smaller babies who have weak to little mobility. Swaddlers are one of the leading brands of newborn diapers, and Pampers included many great features that moms adore. Let's take a look at some of those features. 
Pampers added a small newborn notch, which is a slight dip in the front of the diaper to help accommodate your baby's umbilical cord. This feature is essential for newborn babies, so it's only present in the newborn and size one diaper. It helps reduce any irritation to the cord stump. 
Parents love the wetness stripe on the front of the diaper. Unless your baby urinates more than once, the diaper might not feel wet, and no one wants to waste a dry diaper accidentally. It's especially helpful for newborn babies because their urine output is small. The wetness stripe indicator makes it easy to know when it's time to change your baby's diaper. 
On the front of the diaper, there is a stripe that changes color when the diaper becomes wet. Typically, the line starts off yellow then changes to blue or green. 
One feature that parents like in particular is the channels for wetness. Pampers added grooves in the surface of the diaper that helps to reduce the concentration of urine in a single area. 
The distribution of wetness is particularly crucial because it helps to reduce how much you need to change the diapers. That means your baby can go longer overnight and stay comfortable at the same time. 
You may also interested to know about some high-quality best overnight diaper suggestion for your baby.
Affordability matters to most families. When you have a newborn, you'll find yourself changing 8-12 diapers per day. Most newborn babies blow through bulk diapers like it's their job.
While I can't say that Pampers Swaddlers are the cheapest diaper on the market, they're an affordable brand name diaper. 
I'll be the first to tell you that I toss out diapers immediately if they aren't soft. Who wants a scratchy diaper in their butt? Not my baby!
Thankfully, you never have to worry about scratchy diapers if you buy Pampers Swaddlers. These diapers are made from soft polypropylene, and they feel like a soft blanket on your baby's bottom. You never have to worry about scratches or overall discomfort. 
---
The Sizing Guide for Pampers Swaddlers
Let's look at the sizes for the Pampers Swaddlers.
| | |
| --- | --- |
| Preemie (P) | Less than 6lbs |
| Newborns (N) | Less than 10lbs |
| Size 1  | 8-14lbs |
| Size 2 | 12-18lbs |
| Size 3 | 16-28lbs |
| Size 4  | 22-37lbs |
| Size 5 | More than 27lbs |
| Size 6 | More than 35lbs |
The Features of Pampers Cruisers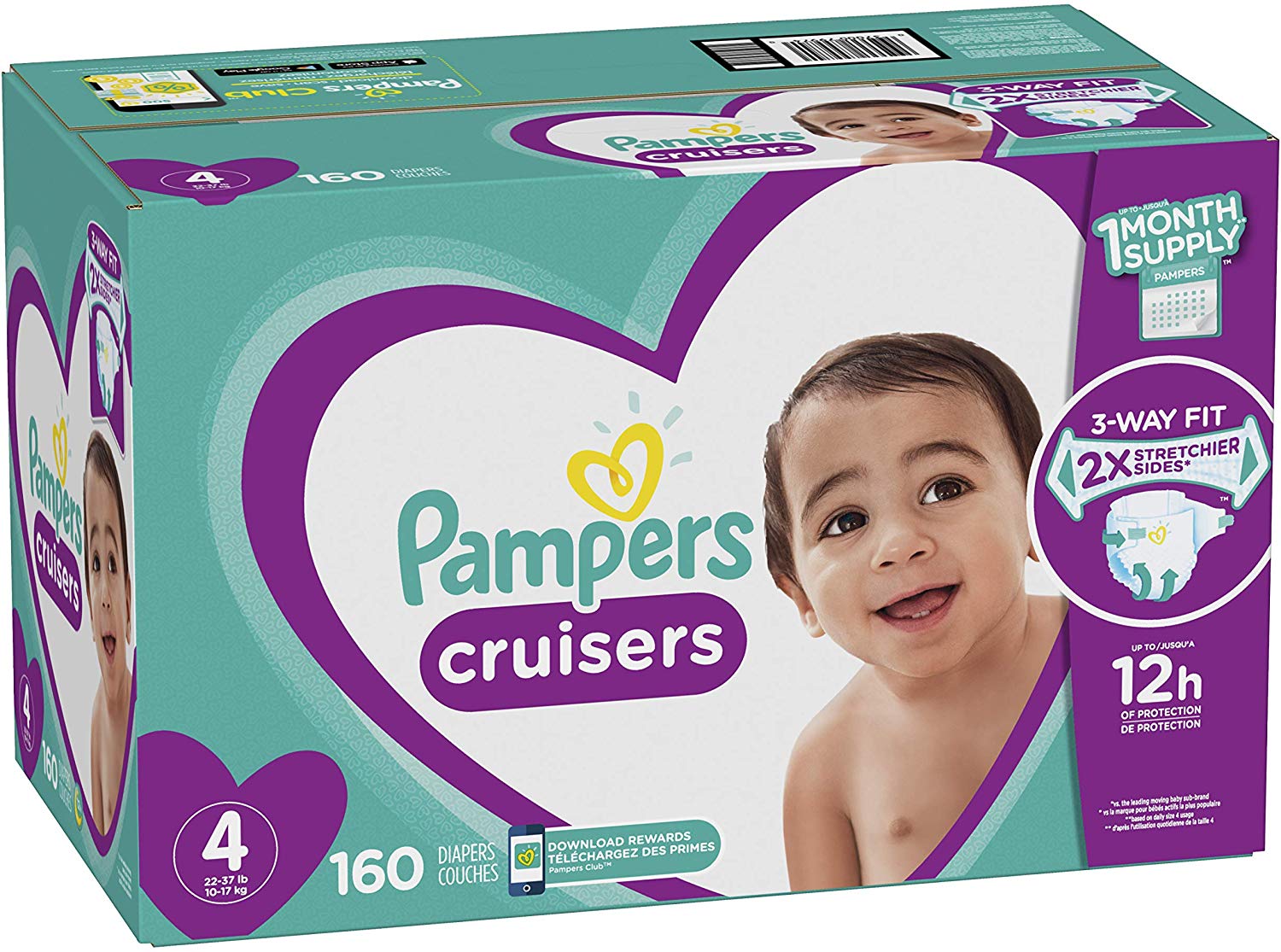 Now, let's take a look at their next variety of diapers called the Pampers Cruisers. These diapers are created for mobile babies, as you might guess by the name Cruisers. While these diapers are comfortable, the overall design helps to prevent leaks as your baby is rolling, crawling, and cruising around the house. 
Pampers Cruisers achieve their goal through a unique design with features that parents love. Let's take a look! 
The first part of the design that parents and babies love alike is the soft, stretchy sides. They feel as smooth as cloth diapers! We love that the Cruisers have super-soft, plush sides that flex and move with your baby. 
One concern you might have is that the diaper will sag if it's too full because it's so stretchy. However, in my experience, Cruisers don't have a sagging problem. 
The second part of the innovative design of the Cruisers is the 3-way fit that helps to counter leaking problems. When babies crawl and walk, diapers tend to have gaps in the thighs as they move. That leads to leak issues, and no one wants to deal with that. 
Pampers defeated this issue by using their 3-way fit design. The diaper adjusts on the waistline, as well as the bottoms and legs. When your baby moves, the diaper moves with them, each time. 
Cruisers are meant for older babies, which is why they start at size 3. Most babies, at this stage, sleep longer at night, or they aren't changed often throughout the nighttime. So, some diaper brands leak more at this time. 
Cruisers, on the other hand, are designed to hold more fluid in them. They can do so through the wetness channels, which are the same that we discussed above in the Swaddler's features. These channels move the wetness throughout the entire diaper rather than letting the moisture settle in one area. 
Have you ever found diaper gel on your baby's legs? To be honest, that freaks me out; it's so gross! I don't want that on my baby's skin. However, it becomes more common as babies start t move, twist, and bend. 
Since Cruisers are designed with mobile babies in mind, you're less likely to encounter this problem. The snug, flexible design keeps the gel on the inside where it belongs. 
Older babies don't tend to need their diapers to be changed as much as younger babies. You can expect to change 6-8 diapers per day. Cruisers aren't as affordable generic diapers but remember you might have to change those diapers more or experience gel leaking. You get quality with the Pampers Cruisers, and they are affordable compared to other brand diapers. 
---
The Sizing Guide for Pampers Cruisers
Let's look at the sizes for the Pampers Cruisers.
| | |
| --- | --- |
| Size 3 | 16-28lbs |
| Size 4  | 22-37lbs |
| Size 5 | More than 27lbs |
| Size 6 | More than 35lbs |
Comparing Pampers Swaddlers vs. Cruisers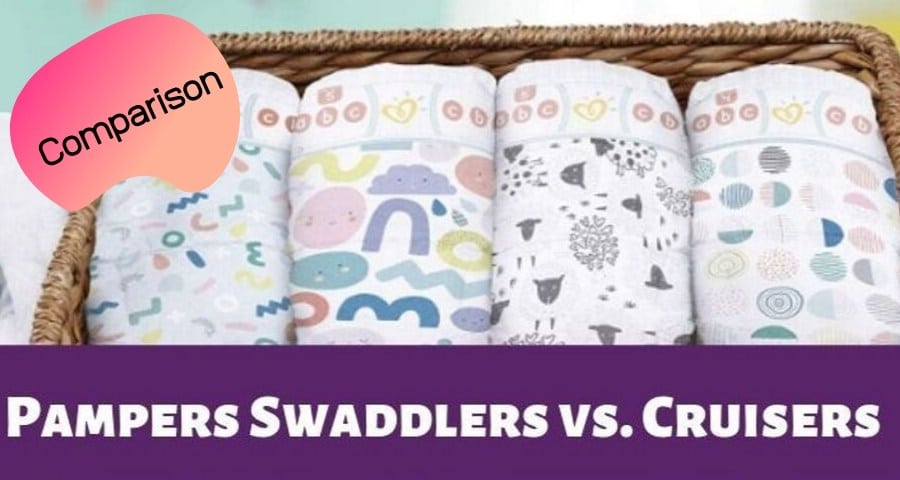 Now that you know the unique features for each Pampers Swaddlers vs. Cruisers, it's time to compare them to see where each diaper stands. That helps you decide which diaper is right for your baby. 
Similarities Between Pampers Swaddlers vs. Cruisers
If you're worried that one of the diapers is more absorbent than the other, don't worry. Both are absorbent, and you'll find yourself not needing to change your baby in the middle of the night often. Their design prevents leaks and helps to distribute the wetness throughout the diaper, decreasing the risk of leaks. 
When it comes down to the cost of these diapers, Swaddlers and Cruisers are, for the most part, at the same price point. Prices always vary based on the store where you purchase them, but they're supposed to be around the same cost. You won't save money by picking one over the other. 
Some diapers do a terrible job of masking the smell. It's a wonder that such little babies can create such a bad smell sometimes! Thankfully, both Cruisers and Swaddlers mask odors, and neither have a chemical scent that is just as disgusting. 
Neither Cruisers or Swaddlers are uncomfortable. I'm anti-scratchy diapers, but both of these diapers fit the bill when it comes to comfort. You don't have to worry about your baby being uncomfortable in the diaper or getting scratches. 
---
Differences Between Pampers Swaddlers vs. Cruisers
While Swaddlers do offer diapers in the larger sizes, it's important to note that these diapers are primarily created for babies who are not mobile. They don't have the features that move and flex with your baby as the Cruisers have. So, you might end up experiencing more leaks if you use Swaddlers with a crawl or walking baby. 
Swaddlers have eight sizes, starting with their preemie line, but most of the time, you can't find preemies in the store. So, you can find Pampers Swaddlers from under 6lbs up to above 35lbs; that's an impressive range. 
Cruisers, n the other hand, are meant for older babies, and the size range reflects that. The diapers start at size three and go up to size 6. So, your baby can wear these diapers from 16-35+ lbs 
Pampers Swaddlers have a wetness indicator that lets you know when your baby needs a diaper change. Cruisers, on the other hand, do not have a wetness indicator. That means you need to decide if your baby's diaper needs to be changed or not. 
Swaddlers are known for being the softest diaper on the market. That's why they're created primarily for newborns. The interior is super-soft and plush. Cruisers, on the other hand, are soft, but not nearly as smooth as Swaddlers. 
4

Faint Smell of Swaddlers
Something else to note is that the Swaddlers have a slight smell of baby powder. You can notice it if you smell the diaper, and some batches are more noticeable than others. For many, this isn't a problem, but it's important to note if you don't like the smell of baby powder. 
---
Final Thoughts on Pampers Swaddlers vs. Cruisers
Both Pampers Swaddlers and Cruisers are fantastic diapers that keep your baby dry and comfortable. You don't need to worry about your baby being uncomfortable in his diaper; these are soft and won't scratch your baby.
Remember that the main difference is that Swaddlers are primarily created for smaller babies and Cruisers work better for mobile babies. Many parents start with Swaddlers and transition to Cruisers as their child gets older. You can do the same thing!