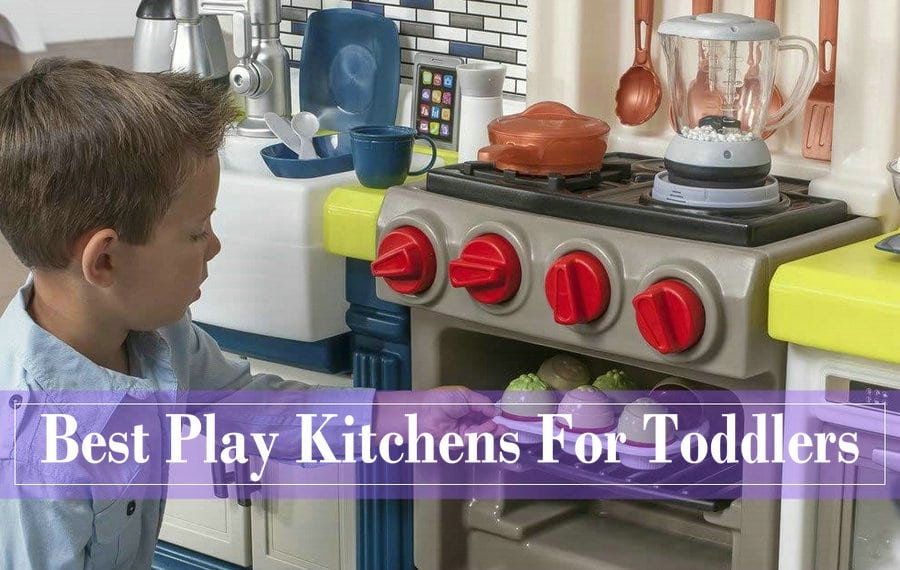 Are you interested in providing your child with good opportunities for pretend play? Would you like to encourage imagination and healthy development? The best play kitchen can do this and more!
Play kitchens are a wonderful tool for your child to help encourage good imagination and pretend play. These are important things for your child to experience for healthy development. Play kitchens also provide an opportunity to practice real-life skills since everyone needs to know how to cook and clean up!
My son was so thrilled when he got a play kitchen for Christmas last year! He plays with it daily and now that his sister is big enough, she does too! They love pretending to cook and wash dishes! My son often brings me his creations to try some of and he is so proud of himself, too. I love watching his face light up when I "take a bite"!
---
How does a play kitchen help a child's development?
Pretend play is extremely important and vital to proper and healthy development in children. The great thing about a play kitchen is that it provides an excellent opportunity for easy pretend play. Almost all children love to copy things they see adults doing, which is also very beneficial to development. A play kitchen provides great pretending opportunities as well as helps prepare children for an important real-life skill, which is cooking and cleaning up!
---
What age are play kitchens for?
The age recommendations for different play kitchens tend to vary. Many options have a starting age of 36 months or 3 years and there are lots of play kitchens for 2 year olds.
However, most 18-month-old and 2-year-old can really still benefit from and enjoy a play kitchen even if they aren't using it as efficiently as slightly older kids.
You'll usually find those play kitchens last a long time as even children 10-years-old and sometimes older can really enjoy them and benefit from the play involved. Lots of play kitchens design for 6-year-old toddlers.
---
Choosing the Best Play Kitchen for Your Child
Play kitchens are one children's product that has nearly endless variations! There is a lot to take in and consider when it comes to choosing the right play kitchen for your child and your family. To help you make the best choice possible, we will go over some of the basics of what to look for and consider to make sure you get the play kitchen that fits your needs best!
The first thing that you will probably want to think about when deciding on the right play kitchen for you is the size of it. The sizes of different play kitchens varies wildly. It is important to consider how much space that you will actually have available based off of where you intend to keep your child's play kitchen.
Once you figure out how much space you have to work with, you can decide how large you would like your child's kitchen to be. Bigger kitchens are especially great options for multiple children while small kitchens are still great if you are limited on space.
Next up, think about what type of materials you want your kitchen to be made from. Most play kitchens are either made from wood or plastic, so you don't have a ton to think about here. Wood tends to be more durable, safe, and environmentally friendly. However, plastic is often cheaper and more versatile. Either can be great options depending on your personal preferences.
You'll, of course, want to think about what features are included in each toy kitchen you consider! The most basic things you will want to think about are which appliances are included. Common appliances to look for and consider include:
Fridge
Stove
Oven
Freezer
Sink
There are also extras on many kitchens that you might also want to look for. Some kitchens include coffee pots, storage areas, cutting blocks, and more! You will even find some more unique options on certain kitchen sets like a washer or recycling bin! Beyond appliances, other features can be things like interactive lights and sounds that you may want to look for in your ideal play kitchen.
With play kitchens, accessories are almost a necessity. Without dishes, utensils, and food, it is a lot more challenging and less interesting to effectively pretend play in the toy kitchen. Your child will benefit greatly from kitchen accessories like play food.
Choosing a play kitchen with accessories is definitely beneficial and adds value to your purchase but it isn't necessary. Just keep in mind that if you choose a kitchen without accessories included that you will probably want to make an additional purchase for some good accessories for your child.
Last, but certainly not least, price is a very important consideration with a product like a play kitchen. Even the super affordable options are a substantial enough purchase that you want to carefully consider your budget and the value you are getting from your purchase. Since the price varies so greatly, you will want to make sure to balance what you want to pay with what you hope to get from your play kitchen.
Read More: Best Baby Play Mats To Boost Sensory Play.
---
Our Picks: 10 Best Play Kitchen
1

Step2 Elegant Edge – Best Play Kitchen Overall
Features:
Working lights
78-piece accessory set
Over 6 feet long
Tile backsplash appearance
Farmhouse sink
Multiple storage areas
Check Pricing and Availability
This kitchen set is the top of the top. It is massive, well-built, and looks amazing. This is the Elegant Edge Kitchen from Step2. Step2 has managed to make it into our recommendations multiple times because they make so many different incredible play kitchen sets! The Elegant Edge is our pick for the #1 play kitchen overall as the best plastic play kitchens!
This is one of the biggest play kitchens out there and is full of different fun parts! It has everything you'd want in your own kitchen. It has a stove, an oven, a microwave, fridge, freezer, coffee pot, blender, food processor, farmhouse sink, and tons of storage! There are even multiple surfaces for food prep!
The little details really help to bring the whole thing together. This play kitchen has a really nice, modern look to it. The farmhouse sink, tile backsplashes, stacked stone backdrop, and more all come together wonderfully for a really elegant and classy kitchen look. Working lights and realistic accessories add even more fun to your child's play time!
78-Piece Accessory Set:

On top of the actual play kitchen being so amazing, Step2 also includes a high-quality 78-piece accessory set with the Elegant Edge! This really increases the value and gives your child tons of great toys to play with inside their kitchen. Some of the accessories are special pieces like a blender and food processor that simulate actual working versions. There are also tons of food pieces, utensils, dishes, and more!

It's no surprise that this is the most expensive play kitchen of all those that we have reviewed. It costs well over 3 times the price of the most affordable options on our list. Of course, it is priced accordingly to what you get. As in, even though it is expensive, it is very nice and full of amazing realistic features!

PROS:
Large size is perfect for multiple children
Realistic look is fun and modern
Tons of accessories provide lots of opportunity to play
Interactive sounds and lights add more to the play experience
Plenty of storage places all over the kitchen
CONS:
By far the most expensive option of those we reviewed
This is the most extravagant play kitchen that we came across. The price is pretty high up there, but it isn't too bad when you consider how much you are actually getting from your purchase! This is no-doubt an amazing option that your child will be totally thrilled with. It's even perfect for multiple kids to play with together due to the larger size!
2
Melissa & Doug Wooden Chef's Kitchen – Best Wooden Play Kitchen
Features:
Wooden design
Storage areas
Hooks for utensils
Clip for a grocery list
Working ice dispenser
Check Pricing and Availability
If you prefer to stick to wooden toys for their known safety, novelty, and quality, this is definitely the best wooden play kitchen you can buy. This is Melissa & Doug's Wooden Chef's Kitchen and it is sure to be a hit with the little ones!
This wooden play kitchen is simply adorable. It has several realistic appliances like the "gas" stovetop. Your child will also love the large fridge and freezer, microwave, sink, oven, and extra counter space! The entire thing comes in a nice charcoal grey color to fit a variety of styles. Of course, if you prefer, you can choose it in shades of pink instead!
The little details of this wooden kitchen set really bring the whole thing together. The "tile" backsplash adds a lot to the overall look of the kitchen while small hooks and handles provide the perfect place to store utensils and washcloths. There is even a clip next to the fridge that holds a little grocery list for your child's pretend shopping trips!
Working Ice Dispenser:

One of the neatest things about this wooden play kitchen is the working ice dispenser! On the front of the fridge, there is a small place where your child can place a cup. When they push the cup back into the lever, little toy ice cubes fall out into the cup! This is a super fun feature for kids as it mimics many real fridges with ice dispensers.

This is one of the play kitchen options that we reviewed that does not come with extra accessories. This isn't a huge deal as you can easily get some separately, but it does mean an additional purchase. Melissa and Doug sells a really cute and high-quality set of accessories to go perfectly with this kitchen if you do choose it!

PROS:
Working ice dispenser is exciting and fun
Plenty of storage space
Wooden design is natural and looks great
High-quality design built to last
Details like grocery list clip, utensil hooks, and extra counter space increase overall value
This is such a sweet wooden play kitchen option! Your child is almost guaranteed to love this high-quality kitchen with its adorable details and working ice dispenser! Melissa and Doug is a very nice brand that creates high-end products without losing affordability.
3
Step2 Grand Walk-in – Best Large Play Kitchen
Features:
Realistic appliances
Walk-in design
Multiple electronic features
Large sink
103-piece accessory set
Grill
Dining area
Check Pricing and Availability
Another huge play kitchen option from Step2 is their Grand Walk-in kitchen. This play kitchen is the only walk-in option on our list of recommendations, which helped it to win the title of the best large play kitchen!
The Step2 Grand Walk-In kitchen has loads of cool features including custom appliances like an oven, a microwave, and a "stainless steel" refrigerator. A large sink and built-in grill add even more value and opportunity for pretend play!
This amazing play kitchen also comes with a 103-piece set of accessories to make roleplaying even more fun! The attached dining area provides the perfect place for your little ones to enjoy pretending to eat their play meals! To top it all off, there are even plenty of storage places perfect for all the accessories and anything extra you'd like to add to your child's kitchen set!
3 Electronic Features:

One of the coolest things about this play kitchen is that it has 3 unique electronic features. The stove makes fun sizzling and popping sounds to enhance their pretend play! The phone also makes a variety of sounds and last, but certainly not least, the grill also has interactive features! The grill makes cooking sounds as well as lights up to better simulate a more realistic experience for more fun!

Due to the walk-in design of this play kitchen, it can be more difficult to assemble than some of our other options. Although, most parents agree it is still well worth the purchase. The extra time it takes assembling this play kitchen is well worth the many hours of play your child will get out of it.

PROS:
3 electronic features add to roleplaying and make it a more realistic and interactive experience
Realistic appliances add to the value and appearance
Walk-in design surrounds your child for a more in-depth play experience
103-piece accessory set adds to the opportunities for play
Large size is perfect for multiple children
CONS:
More difficult to assemble than many other options
This play kitchen may be a bit harder to put together, but it is incredibly valuable. For the size of it and all of the accessories, the price is impossible to beat. It is high-quality and very well-designed with unique features!
4
Little Tikes Super Chef – Best Small Toy Kitchen
Features:
Stove sounds
Corner fit
Storage space
Towel bar
Coffee pot
Phone
13-piece accessory set
Check Pricing and Availability
This adorable Super Chef Kitchen from Little Tikes has the smallest footprint of all of those we included in our recommendations. This definitely makes it the best small toy kitchen since they've packed so much value into such a compact little toy kitchen!
You won't believe how much Little Tikes was able to include in such a compact toy kitchen! The design is very well-done and creative to accommodate lots of features in a small space. This small toy kitchen has an oven, stove, sink, fridge, coffee pot, phone, storage cabinet, microwave, towel bar, and cutting board block!
Some of the cool features of this kitchen are things you won't even find on larger options. The towel bar and cutting board block add a lot to the kitchen for increased value and more play opportunities. The stove also features fun sounds to add even more to your child's play experience!
Corner Fit:

This compact toy kitchen is definitely designed to save space. In addition to being nice and compact, it also is made to fit into a corner for added space-saving ability. Of course, the back is also flat, so you can choose to put it against a wall outside of a corner if you need as well. Something I really like about the corner design is that it creates 2 separate areas of the kitchen. This means that two children can play with it pretty easily without being in one another's way.

Of course, the downside to fitting so many unique features and appliances into such a compact toy kitchen is that all of the features and appliances are rather small. Things like the sink, microwave, and fridge of this toy kitchen are a lot smaller than the options on most of our play kitchen choices.

PROS:
Compact design fits well into almost any area
Fits well into a corner or against a wall for versatility and space-saving
Lots of unique appliances and features for a small kitchen
Stove sounds add more to your child's play experience
CONS:
Features and appliances are relatively small compared to most options
This is an amazing, very affordable, super compact play kitchen! It is very impressive the amount of individual features that Little Tikes fit into this kitchen without making it take up too much space for those needing a small play kitchen option!
5
KidKraft Ultimate Corner Play Kitchen – Best Corner Play Kitchen
Features:
Wooden play kitchen
Play washing machine
Dishwasher
Interactive sounds and lights
Curtains
Corner fit
Check Pricing and Availability
For a much larger corner play kitchen option, check out this Ultimate Corner Play Kitchen from KidKraft! This is actually my personal favorite! In fact, it is a strong contender for our kids for Christmas this year! This is our pick for the best corner play kitchen due to its size, quality, and value.
This corner play kitchen is absolutely incredible. It is fits well into any corner of your choosing to help save space while still providing lots of room and features. It is made of wood rather than the plastic of most play kitchens and is just a very high-quality design overall. Special touches like the backsplash behind the sink and curtains give it perfect details for a more realistic and fun experience.
Speaking of realistic, this play kitchen does feature realistic lights and sounds for both the 2-burner stove top as well as the cute ice dispenser built into the door of the fridge. A dishwasher next to the oven provides an additional fun feature that most play kitchens end up leaving out!
Play Washing Machine:

This is the only play kitchen on our entire list of recommendations that actually has the added fun of a washing machine! So, your child can have fun cooking all their meals and treats and then they can wash all their towels, wash cloths, and oven mits! Just like playing pretend kitchen will help prepare your child for navigating the real kitchen, this pretend washer will help prepare your child for helping with the real laundry in a fun and simple way!

PROS:
The corner design of this kitchen helps to save space even though it is a fairly large option
Dishwasher and washer additions are unique and add a lot more to the play experience
Interactive sounds and lights help to further entice the imagination
Fun details like backsplash, utensil hooks, clear oven door, and curtains help to create a more realistic feel
CONS:
Assembly is time-consuming
This is a very high-value play kitchen! We love how it fits neatly into the corner and still provides lots of play options including a dishwasher and washer! Simple details like a clear oven door and backsplash really help bring it to life!
6
Little Tikes Cook 'n Learn – Best Interactive Play Kitchen
Features:
Kitchen responds to accessories
46 included accessories
Smart device compatible
Built-in garden area
Chopping block
Multiple storage locations
Check Pricing and Availability
Here is another really cool play kitchen from Little Tikes! This is the Cook 'n Learn kitchen and is our pick for the best interactive play kitchen! It has a similar set-up to the previously mentioned Little Tikes kitchen but is a little bigger and much more high-tech!
This is such a fun toy kitchen option! It is filled with unique and interactive features to get your child super excited about working in the kitchen. The really neat thing that helps this to be an amazing interactive option is that the kitchen actually recognizes the different accessories that come with it. So, if your child cuts a tomato on the cutting board, the kitchen makes a chopping sound to go along with it! Speaking of cutting food, some of the food accessories are designed to be "cut" into pieces that go together with Velcro!
The Cook 'n Learn kitchen comes with 46 different accessories including dishes, utensils, and food! Another cool interactive feature is the rushing water sounds that play when your child turns on the sink and the way the stove sizzles when your child cooks! One of my favorite things is that there is a small built-in garden area where your child can "harvest" fruits and veggies for their different recipes!
Smart Device Compatible:

To add even more to the interactive fun of this toy kitchen, it has been made compatible with most smart devices including phones and tablets. The Bluetooth app connects to the kitchen with 4 different modes that let your child play freely, follow recipes, play games, or play in music mode.

The unfortunate part that comes a long with a lot of different smart toys is that sometimes connectivity can be inconsistent. A common complaint from parents that own this toy kitchen is that it is difficult to get their device connected quickly.

PROS:
Interactive features draw your child into play
Smart device compatibility adds another layer of educational and interactive play
Plenty of accessories provide good opportunity for more in-depth play
Plenty of room for 2 children to play at once
CONS:
Connecting devices doesn't always go smoothly
This is a really cool and unique option of play kitchen. Your child will enjoy how interactive this kitchen is and the smart device compatibility provides greater opportunity for learning!
7
Step2 Best Chef's Toy Kitchen – Best Budget Play Kitchen
Yet another great choice from Step2 is the Best Chef's Toy Kitchen! This is a really wonderful option if you are looking for something more affordable. The low price, high quality, and tons of features make this the best budget play kitchen!
This is definitely one of the most affordable options on the entire list. Even at its super affordable price, it still has plenty of fun features and is even a decent size. It's definitely a lot smaller than the larger options on the list, but still provides enough room for more than one child to comfortably play.
A pass-through kitchen window adds a fun element to this kitchen with a little extra space on the window sill for whatever your child would like to place there. Multiple storage locations allow plenty of room for putting things away. This kitchen also includes a 25-piece accessory set!
Recycling Bin:

Something nice about this budget play kitchen that is unique is the inclusion of a recycling bin. Not only does this actually provide additional storage but it helps teach your child about cleaning up well and about recycling, which is great for the environment!

Of course, with being a bit smaller and much cheaper, this kitchen does lack a little compared to other options. There are less appliances and features here with the most notable being that this kitchen doesn't include a fridge.

PROS:
Super affordable price works well for most budgets
Recycling bin adds important opportunity for education in clean-up and environmental preservation
Pass-through window is fun and adds to the overall look
25-piece accessory set provides more opportunity for easy pretend play
CONS:
Less appliances and features – no fridge
If you're looking for a toy kitchen that won't break the bank, this affordable option from Step2 is perfect! It costs a lot less than most of our recommendations but still has some really nice features and a high-quality and durable design!
8
KidKraft Little Cook's Work Station – Best Simple Play Kitchen
If you're into more minimalistic toys as many parents are these days, the best simple play kitchen may very well be for you! This option from KidKraft is the Little Cook's Work Station. It's simple, yet high-quality design makes it a worthwhile choice perfect for any play area.
This play kitchen keeps things refreshingly simple. It has a stove, an oven, a sink, a cutting block, and some storage. By keeping things really simple, you end up with a minimalistic kitchen that
allows kids freedom to play
using their imagination without getting overwhelmed or too distracted.
The other nice thing is that the features on this kitchen are all very realistic for a more in-depth play experience. The oven features a see-through door that lets your child look in at their food just like in a real oven. The burners on the stove look like real gas burners and the faucet on the sink has a "stainless steel" spring neck!
Built-In Cutting Block:

To add to the realistic design of this little kitchen set, there is a built-in butchers block between the sink and the stove. This is the perfect place for your child to practice cutting their play food while they're cooking away! It also adds a really nice visual element to the play kitchen.

Just like with the super affordable Step2 option, this is a kitchen that has less features overall. There is no fridge or microwave on this kitchen. However, the features it does have are of the highest quality that your child is sure to appreciate. Of course, it also doesn't come with accessories – so, you'll probably want to buy some separately.

PROS:
Minimalistic design lets your child's imagination soar without distractions
Realistic appliances add to the overall look and experience
Clean, modern look fits well in any area
Compact design won't take up too much space
Wooden material is high-quality and durable
CONS:
No fridge, microwave, or accessories included
This is definitely a really nice option of play kitchen. It is very well-made and durable while still remaining quite affordable. The features are super realistic, but the kitchen itself is nice and simple with plenty of room for imagination and creativity!
9
KidKraft Vintage – Best Toddler Kitchen Set
Features:
Small design
Vintage look
Removable sink
Multiple storage areas
Wooden material
Cordless phone
Check Pricing and Availability
One more awesome KidKraft kitchen is this Vintage Toy Kitchen! This super cute and fun kitchen set is actually our pick for the best toddler kitchen set due to durability and smaller size!
Like the other KidKraft kitchen options that we have reviewed, this is another wooden toy kitchen. The benefits of wood really speak for themselves. This is a very high-quality, durable, and safe toy kitchen because of the wood construction. It looks better and feels better. This safety and durability make it a great choice for toddlers because they are often rougher on their things than slightly older kiddos.
The other thing that really makes this a great toddler kitchen set is the size of it. It isn't just small in a sense of being more compact, but it is actually shorter than most options and has smaller features. This is ideal for toddlers since they are still very little. A toddler can easily reach all parts of this kitchen for the most fun experience possible!
Vintage Design:

So, this is something that your child probably won't care that much about, but it really is a ton of fun for us adults! This wooden play kitchen is made with a super adorable vintage design. The appliances and details all look like they come from a much older kitchen compared to the modern design of many play kitchens today. Watching your little one play in this super cute vintage toy kitchen is adorable and fun!

Obviously, the downfall to the smaller size and height of this kitchen is that it won't last as long for easy and comfortable play. A lot of toy kitchens are great for even older kiddos, but this one will be pretty small for your child when they grow well-out of the toddler phase. They can still play with it, just not as comfortable.

PROS:
Shorter height is ideal for toddlers
Vintage look is unique and adorable
Wooden construction provides durability and high quality
Cordless phone adds extra value and provides a good opportunity for extra play
CONS:
Not the best option for bigger kids
If you're looking for a play kitchen specifically for a younger kiddo like little toddlers, this is a great choice! It is high-quality, durable, and super adorable! Your child will adore it without a doubt!
10
Step2 Fun with Friends – Best Pink Play Kitchen
Rounding off our list of the top 10 best play kitchens is our final choice from Step2! This is their Fun with Friends kitchen and is our pick for the best pink play kitchen! A lot of parents like to specifically choose pink kitchens, especially for their little girls, so we wanted to make sure to deliver with a super valuable play kitchen adorned in sweet shades of pink!
This fun kitchen is decorated from top to bottom with mostly pink of different shades. White and silver accents bring it together really nice for a fun, girly look! It has a stove, microwave, fridge, and sink for all the basics! It also features a super cute coffee pot.
One of the best things, though, is that this space includes tons of counter space for both storage and play! Hooks in the peek-through windows as well as additional space with baskets underneath provide even more ample storage space! That's especially good since it comes with over 40 accessories!
Special Pet Area:

This pink play kitchen has one more unique feature! A special area for pets sits at the very bottom of this kitchen in the center. It has both a water bowl as well as a food bowl for your child's pretend pets to enjoy meal time too!

Assembly on this particular kitchen may be a little difficult for some. Many parents found that the holes weren't very well-placed and actually ended up drilling their own.

PROS:
Pink colors are super fun and girly
Pet area provides a fun and unique opportunity to play
Plenty of features and appliances for lots of play opportunities
Over 40 accessories included for added value and play
CONS:
Possibly difficult assembly
When shopping for a play kitchen, you may be looking for something super specific like a pink play kitchen! Lots of parents look for pink kitchens for their little princesses. This is definitely the perfect choice coming from a great brand like Step2 and including special features like a pet area and nearly endless storage!
You may interested to read: Best Baby Playpen & Playard.
Final Words on Play Kitchens
Play kitchens are a wonderful toy that children will both enjoy as well as benefit greatly from! They are exciting and help to keep children nice and busy while providing important developmental skills and education. Finding the best toy kitchen for your child is definitely worthwhile, which you will find out for yourself as you watch them enjoy hours of fun pretend play with their kitchen!