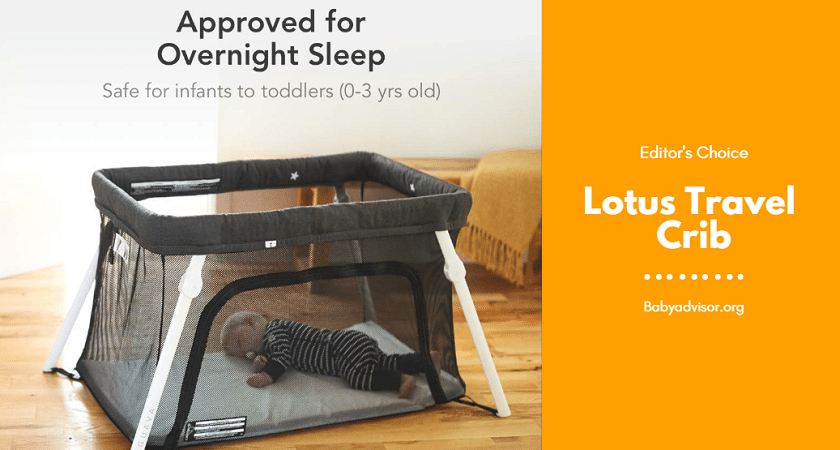 If you are looking for a lightweight travel crib that folds up into a compact unit for easy portability, the Lotus Travel Crib and Portable Baby Playard is the perfect solution.
Manufacturers gave great attention to detail when they made this portable playard for parents who always seem to be on the go. It provides an excellent solution for busy parents who spend time travelling and want to ensure their child has a safe and secure place to sleep and play.
One of the primary benefits of the Lotus Travel Crib is that it is very lightweight and very easy to set up. Its most distinguishing feature is that the entire crib can be folded up and placed inside a carrying bag which has straps that allow it to be carried backpack style. This makes it one of the most portable and versatile playards available.
Read more:
Features of Lotus Travel Crib and Portable Baby Playard
This playard is perhaps one of the most portables of all the latest designs making the Lotus Travel Crib perfect for parents who want to travel and take their children with them. It comes with these standard features:
15 second set up
Fits in a backpack for portability
Greenguard Gold certification for safety
Mesh sides which allow complete airflow and clear view of a child
Nice sized mattress
Weighs maximum of 13 pounds
The unique zippered side door that makes it fun for kids
Fitted sheet included
The Lotus is one of the lightest travel cribs on the market and is smaller in size than many of the other popular playards. Setting it up is very easy since the top rails and legs fold out and then snap right into their position. To secure the mattress there are a few Velcro straps to fasten during setup. Once it is set up there is a zippered door on one of the side panels that let a child be placed in the playard without having to bend and reach over the top. This is a unique and nice feature for when it is being used in a very tight spot. When you are ready to go, the crib folds up into a compact unit and can be placed in a backpack style bag that can be carried on the back. This is a very nice feature since it allows your hands to remain free for tending to the baby.
The Lotus is a travel crib that can be taken everywhere because it is so lightweight and portable. It can be used at home, a friend's house, or carried through the airport for use around the world. It is stylish and appealing to the eye. The graphics and logos use modern colours, clean lines, and fabrics are softly textured for visual appeal and comfort.
When it comes to quality, the Lotus is right at the top of its game. All of the materials used in the travel crib are very high quality and there are absolutely no harmful chemicals used in the making of the crib. The Lotus has a very high safety rating as there are no lead, PVC or flame retardants used in its making. The Lotus is the only playard which bears the Greenguard Gold certification which means it has been completely tested to ensure it is free from chemical emissions. This means it is BPA free, lead-free, and phthalate free. Side panels are made out of mesh material which allows for plenty of airflows without having to worry about suffocation should the child roll over into the side or corner of the travel crib. The sheet that comes with the playard is form fitted and cannot be pulled off the mattress.
There are several accessories that can be purchased to go along with the travel crib from Lotus. More fitted sheets are nice if you are going to be going on a trip for a long time. You may also purchase a bassinet conversion kit, a fun sunshade and a mosquito net. These are all purely optional items that can just improve on the crib's versatility.
For families that travel a lot, the Lotus Travel Crib and Portable Playard is ideal. It is a very compact and setting it up is easy and fast which makes it perfect for taking along. It's the best solution for parents who want a travel crib they can take with them. It is suitable for children from birth to when they no longer have need of a crib or portable bed. There are no weight restrictions on the Lotus Travel Crib since the mattress sits on the ground when it is set up. Some parents worry about keeping the crib clean since it is toted along with them wherever they go. The Lotus Travel Crib is easy to clean. The fitted sheet can be washed in a washing machine and the rest of the crib can be wiped clean with a damp cloth or disinfectant wipes. It comes with everything needed to get started using it including the fitted sheet, the mattress, its unique carrying backpack and an instruction manual.
Pros & Cons for Lotus Travel Crib
As with any item on the market, the Lotus Travel Crib has its own set of pros and cons. Here are a list of the best features and the ones that might need improvement:
Check Pricing and Availability
PROS:
Lightweight and easy to transport
Easy to set up and fold up
Totally free of any harmful chemicals
Washable
Made of high-quality materials
Zippered side entry
Includes backpack style carrying bag
Mesh walls for breathability and unobstructed views
No weight restrictions
No harmful materials used in construction
Small enough to take as a carryon on planes
CONS:
No bassinet
Very thin mattress
Lots of Velcro tabs used for setup – confusing at first
---
Final Words
Overall the Lotus Travel Crib and Portable Baby Playard is reasonably priced and an excellent option for parents who are social and on the go. It's a perfect solution providing portability and comfort for their young ones to be safe and comfortable.