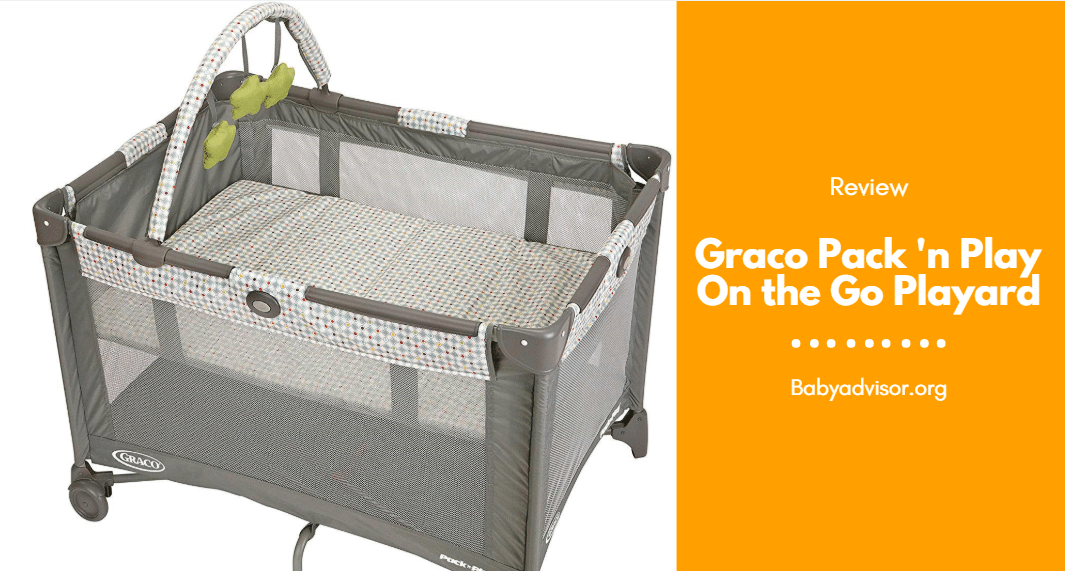 For those looking for the basic pack and play and the benefits that come with having one, the Graco Pack 'n Play on the go Playard Stratus is a great solution. This pack and play is a very solid, but basic product that provides an excellent napping spot for kids and grandkids.
There are not a lot of distracting bells and whistles, which just means it is simple to use as well as store. It's super easy to move from one location to another and folding it up is literally as easy as pushing a button.
The Graco Pack 'n Play comes with a bassinet for added convenience. This playard is an excellent choice and in the perfect price range for purchasing a second one to keep at grandma's house. It can provide secondary sleeping space or a safe play area for kids. The mesh sides allow parents to see the child from any angle and allow free air flow during naps.
Features of Graco Pack 'n Play on the go Playard
Choosing the Graco Pack 'n Play on the go Playard provides a perfect and affordable option for parents with small children and it comes with these great features:
Features
Quick setup and take down
Foldable wheels and feet
Removable full-size bassinet
Soft toy bar
Push button to fold up
Sturdy and durable frame
Bassinet folds up with playard
Editor's Review
The Graco Pack 'n Play on the go Playard provides a nice, comfortable place for baby to sleep no matter where you are. It comes with a full-sized bassinet which can be folded up with the playard for moving or storing the unit. It is also completely removable once the baby has grown past the 15-pound weight limit.
The playard is designed to be very easy to set up and to take down; many say they can do it using only one hand. This makes it easy to travel with and it has no extra parts that have to be toted along. It folds up into a single unit and stands as a single unit.
It is sized perfectly so that it is suitable for small spaces once it is set up. For moving, the Graco Pack 'n Play it all folds up into a compact package, tighter than most similar products on the market. Everything folds up neatly into one packable unit. One of the most unique features of this playard is the push-button fold. This makes folding it up very simple and easy.
This playard by Graco provides a convenient and durable option for giving babies and toddlers a place to sleep or play. Side panels are made of strong mesh netting to provide great ventilation for the child to keep them from getting too hot and allow for plenty of airflow.
The mesh also lets parents see their child at all times to ensure their safety. Once you are ready to go, push the button, and fold it up to fold it into a compact unit. Then it can conveniently be placed in the carrying bag that comes with the purchase. The carrying bag helps make portability easy as well as keeps the unit tucked in compactly for storage purposes.
The accessories that come with this pack and play include a bassinet for use when the baby is small and a toy bar. The toy bar has soft, visually attractive toys that will keep the baby's attention and are safe for them to play with. It also comes with the full-sized bassinet which can be removed once the child exceeds the weight restriction. The other accessory is the carrying bag which the folded unit fits into snuggly so it can be moved or stored. The fabric portions of the crib can be washed with warm water and soap and can be allowed to air dry. The carrying bag can be washed in a washing machine and then left to air dry.
The pack and play is designed to take along with you on any type of trip. It can be used when going to a friend's house or for staying all night with grandparents. If you are traveling, it is important to make sure no sand gets into the working parts of the playard.
Sand can cause damage to the top rail lock. Be sure to clean any sand out of the unit before packing it up for storage. This versatile pack and play can be used with infants who can benefit from the full size bassinet.
Once the baby graduates to the playpen portion it can be safely used until the child reach 35 inches in height or when they are big enough to attempt to climb out. This makes the Graco playard a very good value as it is versatile and can be used for a long period of time from the time the infant is born until they are well into their toddler stage.
This means your little one is safe and comfortable no matter where you go. The frame is durable so it can stand up to plenty of travel and moving from place to place. No matter where you are, the child can be kept safe, cozy and comfy.
Check Pricing and Availability
Pros & Cons for Graco Pack 'n Play On The Go Playard Stratus
Many times it all comes down to specific pros and cons when a parent is trying to make that final decision. Here is a list of organized pros and cons to help you see plainly what the benefits are and what might need to be better:
What we like:
Affordable
Full-sized bassinet included
Bassinet can be totally removed or folded up with the playard
Comes with a toy bar for the child's entertainment
Foldable wheels for a compact fit
Easy push-button mechanism for folding
Carry bag or cover for storage or travel purchases
Small and compact
What we not like:
The mattress is not easily cleaned thoroughly
Kind of heavy
Bulky for storing in a vehicle
---
Final Words
The Graco Pack 'n Play on the go Playard Stratus is a very affordable travel crib that comes with its own bassinet. It's a high-quality option providing a nice nap or play area for babies and toddlers.