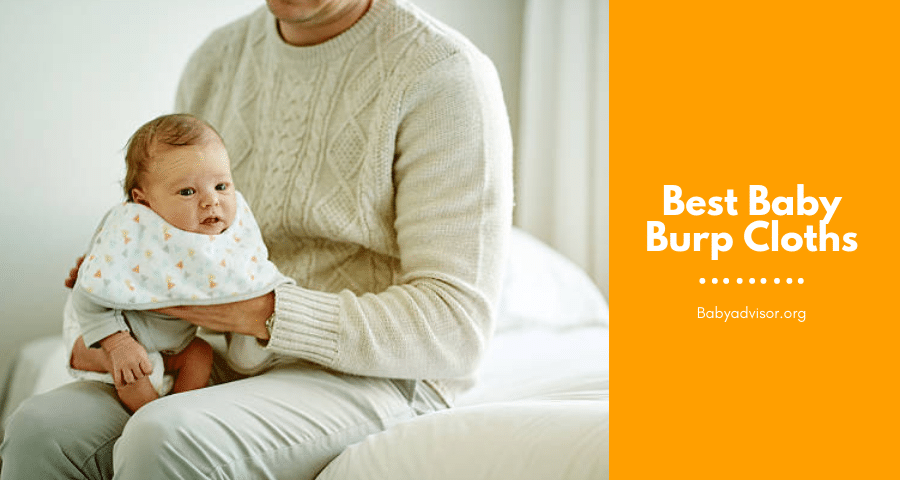 Baby Burp cloths are one of the few true necessities of motherhood. Babies are messy, burping and spitting up on a regular basis.
Sometimes, it will feel like everything your baby just drank came back up out again, down your shoulder and torso. The best baby burp cloth will help to stop you from having to change your clothes after each feeding.
A baby burp cloth acts as a barrier between your baby and your clothing. Burp cloths are of great importance, and you want to make sure you add them to your list of necessities.
---
Do You Need Burp Cloths?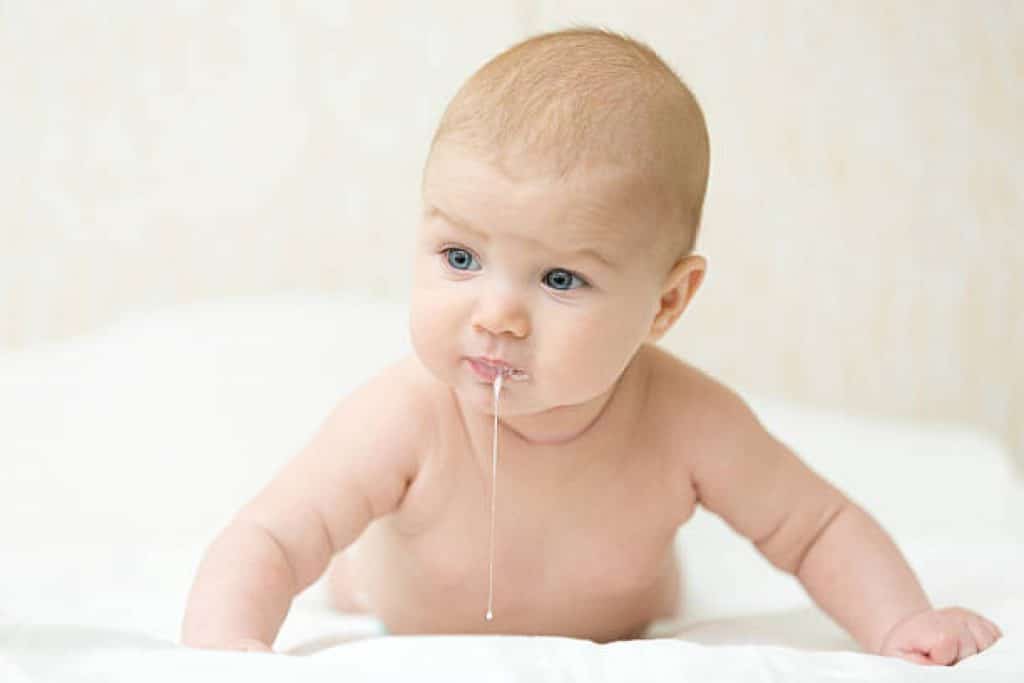 You might hope that you won't need burp cloths, but you will – trust us. It's not something you will want to gamble on, because over 50 percent of babies spit up on a regular basis. Those aren't good betting odds in your favor.
The other 50 percent of the babies spit up occasionally. That means it's not frequent, so you never know when it might happen. Spit-up is tricky. If you're breastfeeding, your baby might spit-up more often depending on what you're eating. Sometimes, a baby will have a trapped bubble, leading to a random spit-up attack.
---
How Many Burp Cloths Do You Need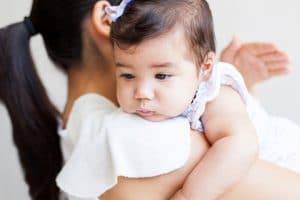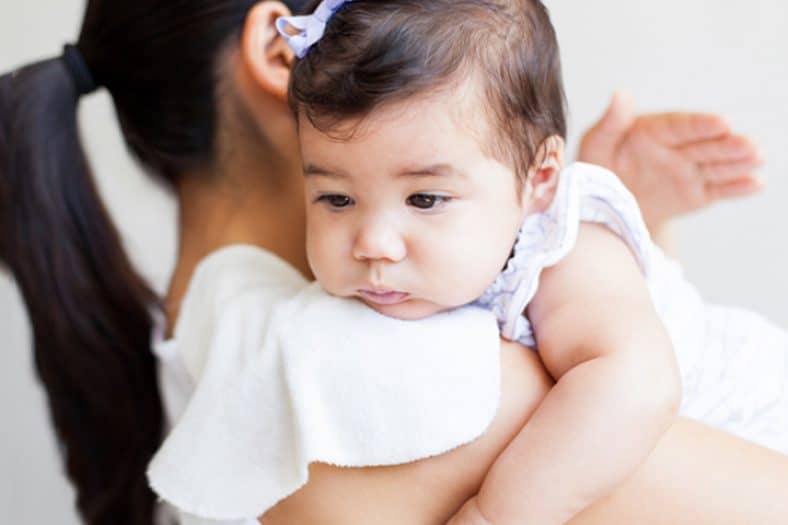 One big spit-up can soak an entire burp cloth, so you need to have multiple on hand. This is one area that you don't want to skimp on or just get the minimum number. Burp cloths are pretty cost effective and don't cost too much, but they can save you from having to wash a lot of clothes. It probably costs you more to wash your clothes over and over again than purchase a few packs of burp cloths.
So, the ideal number of 12 to 18 burp cloths. That gives you enough to keep in your diaper bag because you'll need them even when you're on the go. If you don't want to do laundry too often, 16 to 18 burp cloths are better.
---
What to Look for in Baby Burp Cloths
There are tons of different burp cloths out there. You can find them in all different types of fabrics, shapes, and sizes. Here is what you need to look for when picking the right ones.
Your baby may be small, but he can make a huge mess in no time. Spit-up is runny, so it can travel down your back or over surfaces fast. Longer and wider burp cloths are better, providing more protection over your shoulder, protecting your clothes. The bigger the baby, the more spit up, so you may need to size up if you don't purchase larger enough ones in the beginning.
Baby burp cloths come in all kinds of fabrics. You want to find a fabric that will absorb the spit up rather than repelling it. You also want to consider any family sensitivities you might have to certain fabrics.
Burp cloths don't have to cost a fortune. There are plenty of affordable burp cloths out there. If you can afford the higher-end brands, that's awesome, but don't feel you need to break your budget to do so.
You're going to wash these burp cloths over and over again. They should be thick and durable, capable of handling repeated washings. You don't want them to rip or fray easily.
Burp cloths are going to be reused over and over again. They need to be able to withstand regular and heavy washings. Make sure that they don't need any special care when washing. These should be workhorses that can dry quickly.
The Best Baby Burp Cloths
1

Gerber Baby Flannel Burp Cloths – Best Patterned Burp Cloths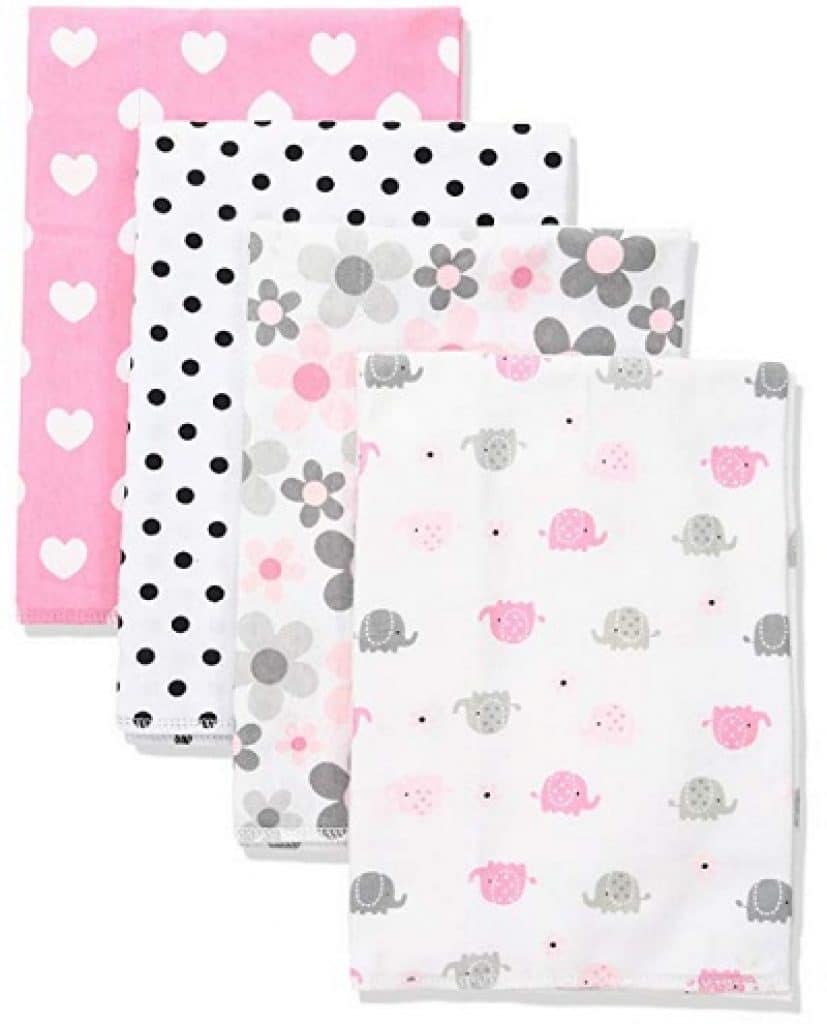 Gerber burp cloths is an iconic baby brand, and these burp cloths are large enough to cover your shoulder. Gerber burp cloths is one of the best burp cloths for babies. You don't have to worry about your clothing ending up covered in spit-up. Gerber sells these burp cloths in four packs, so they also happen to be a great bargain if you need to watch your wallet.
All of the burp cloths come in different, adorable patterns like flowers, polka dots, stripes, elephants, and more. Gerber created these burp cloths out of 100 percent cotton, which means you probably don't have to worry about your baby having any skin irritations because of them. Gerber neatly finished all of the edges, so they shouldn't fray even after repeated washings.
Check Pricing and Availability
PROS:
Durable

Affordable

Cute patterns

Absorbent cotton
CONS:
Colors will fade over time

The fabric is thin.
---
2

Gerber Prefold Gauze Diaper – Best Cloth Diaper Burp Cloths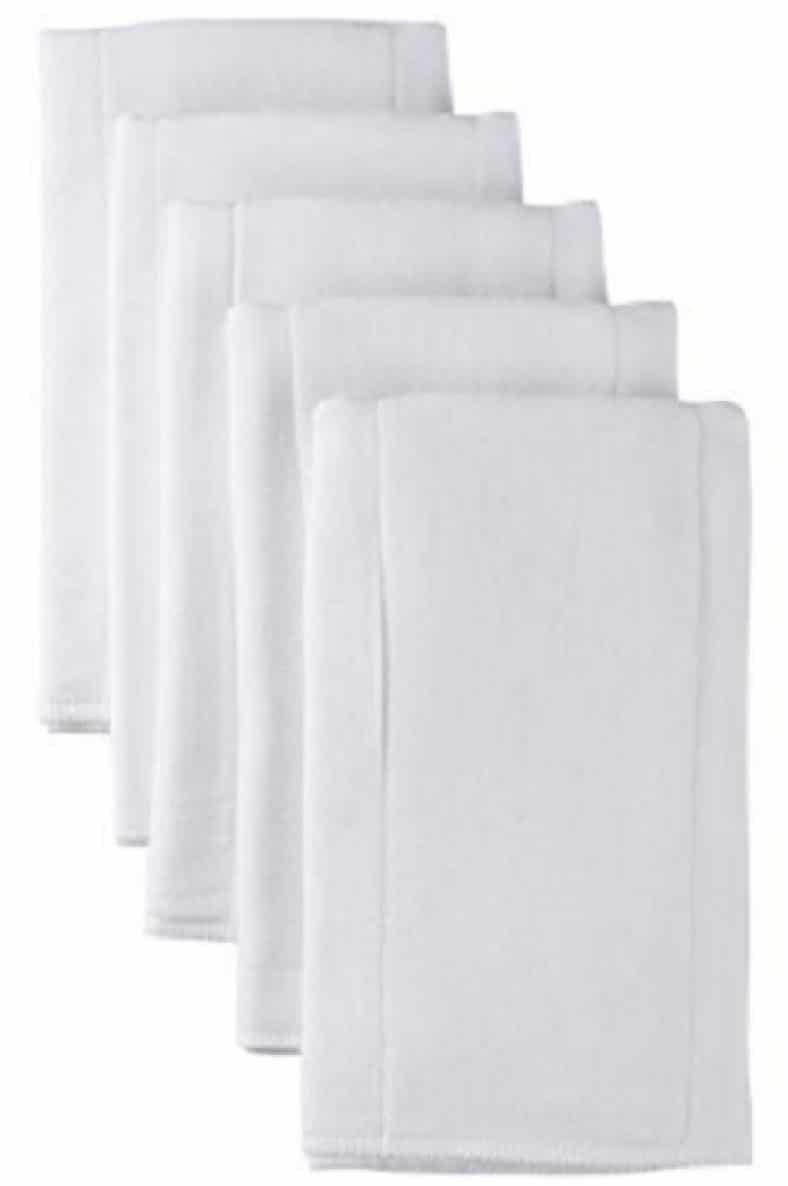 Even if you don't use cloth diapers, the Gerber Prefold Gauze Diapers are a great choice for your baby. They work as cloth diapers, but they're great as burp cloths because they're so absorbent. You don't have to worry about the spit-up leaking through to your clothes, and you can use them as changing pad covers and more.
 Each pack contains five prefold diapers. In the middle, they're thicker. Their dimensions are 11.5 inches by 16 inches, but they do tend to shrink in the wash, so expect them to get a bit smaller.
 Check Pricing and Availability
PROS:
Larger than many brands

Affordable

Fabric won't pill up

Versatile – useable for other purposes
CONS:
Fabric can seem a little rougher

Will shrink with repeated washings
---
3

Burt's Bees Baby Burp Cloths – Best Gender Neutral Burp Cloths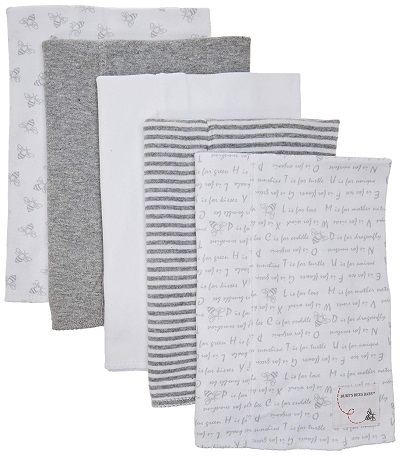 Burt's Bees are thick, made with an absorbent 2-ply construction. They have a 3-panel design that you can fold up easily for on the go use. Burt's Bees uses 100% organic GOTS certified cotton. This material is thin and soft against your baby's skin. Burt's Bees combed and ring-spun for durability and softness.
Their durability is why so many parents recommend them. They can last for years, so you only need to purchase a few for all of your kids. Their size makes them a perfect choice for your shoulder or to use as a changing pad. Also, organic cotton is very absorbent, so you don't have to worry about spit-up soaking through the burp cloth onto your clothing.
Burt's Bees washcloths aren't the cheapest, but they do come in a 5-pack. So, when you break down the cost, it's not so bad! These burp cloths measure 16 inches by 11.8 inches, and they'll notice that they get softer with each wash. Organic cotton is like soft butter!
Check Pricing and Availability
PROS:
Gets softer with each wash

Comes in a 5-pack

GOTS organic cotton

Tri-fold design
CONS:
Only comes in a gender-neutral design

Pricey
---
4

Aden & Anais Classic Burpy Bib – The Best Muslin Burp Cloths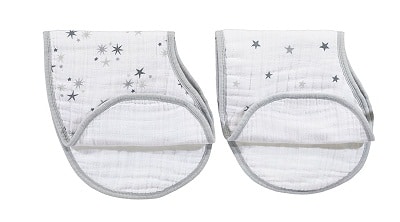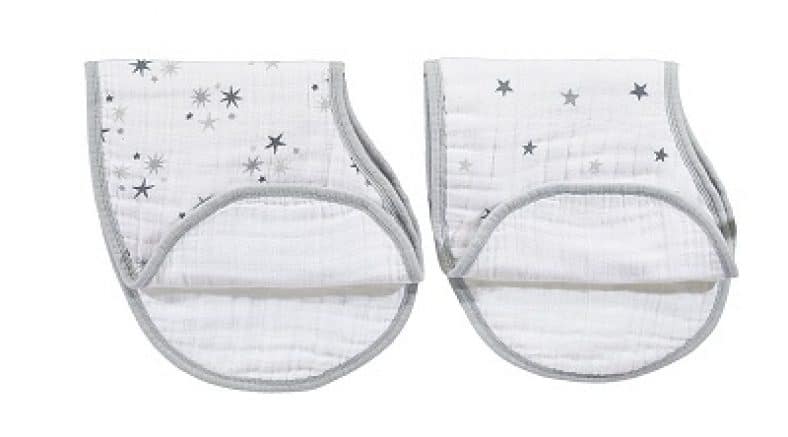 Who doesn't love everything created by Aden & Anais? Aden & Anais took their signature patterns and super soft muslin fabric to make these awesome burp cloths called the "burpy bib." These burp cloths are uniquely shaped with a no-slip design. They drape perfectly over your shoulder, covering the front and back of your shoulder.
This muslin fabric is where it really stands out. It's nice and sturdy, able to hold up through several of washings. Over time, the fabric gets softer over time, so it feels great on your baby's skin.
These burp cloths are a bit more expensive than other choices, but they serve a second duty as a breathable bib. All you have to do is snap the sides together in the back to create a bib, covering your baby's shoulders, chest, and arms. It makes it a versatile choice, so you're able to really use these burp cloths for a full year or longer!
Check Pricing and Availability
PROS:
Soft, muslin fabrics

Shape drapes perfectly over shoulders

Can be used as a bib later
---
5

Green Sprouts Muslin Burp Cloths – Best Cotton Made Organic Burp Cloths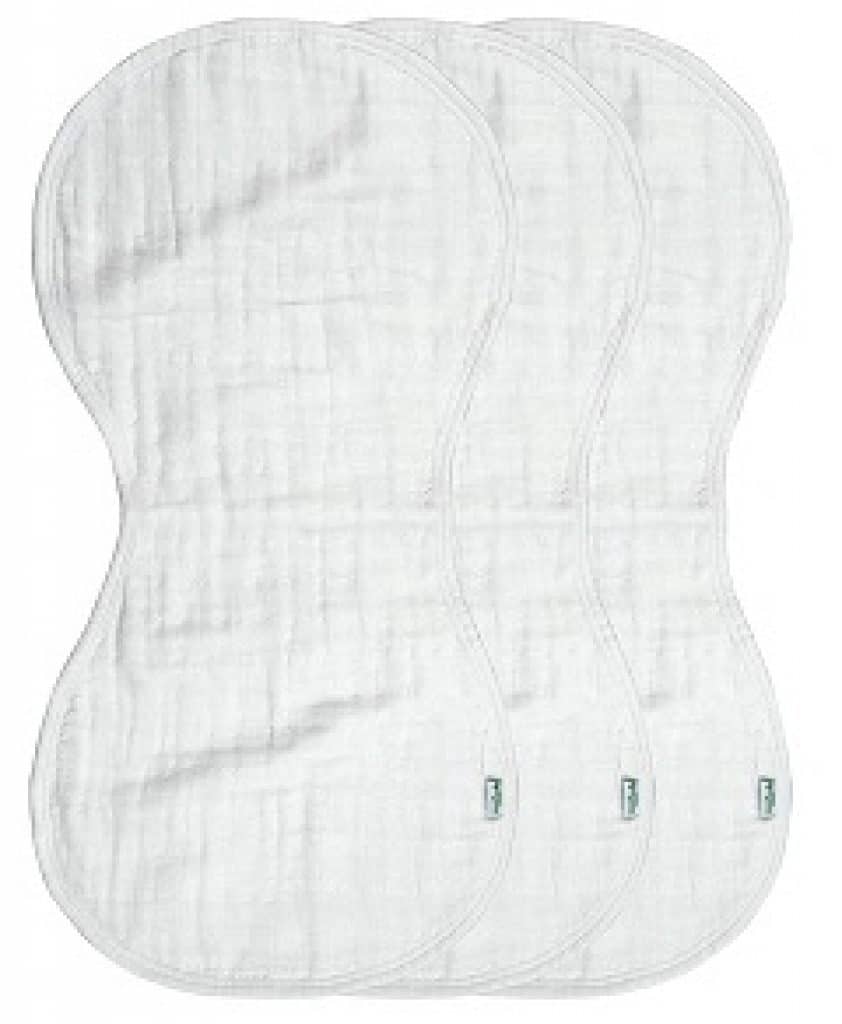 If you're looking for an organic cotton burp cloth, parents love the ones by Green Sprouts! They're created from organic cotton and come in packs of three. They are rather long, protecting most of your back, and they measure 11 inches by 22 inches.
Green Sprouts is great for parents who want to avoid any types of chemicals around their child. They're hypoallergenic and feel so soft next to your child's skin. You'll notice that they also tend to get softer with each wash, feeling so cozy!
Each burp cloth is made of four layers, so you know they're good at absorbing up liquids. Organic cotton is a super-absorbent material.
Check Pricing and Availability
PROS:
Choice of several colors

Get softer with each washing

Curve to find around your neck and shoulders
CONS:
Shrink in the wash

Edges tend to fray after washings.
---
6

Copper Pearl Baby Burp Cloths – Best Extra-Large Sized Burp Cloths
Copper Pearl made burp cloths from 100 percent cotton on the front and back. They'll be soft against your child's skin, so you don't have to worry about them irritating your child's delicate skin. In the middle of these burp cloths, Copper Pearl placed a layer of fleece to help absorb even more spit up.
These awesome burp cloths come in a three-pack, making them pretty budget-friendly. They measure large – 21 inches by 10 inches, so they can cover all of your shoulders. Parents like that these burp cloths are reversible, with a pattern on one side and a solid color on the other side.
Check Pricing and Availability
PROS:
Fun, adorable prints

Durable and hold up well in washes

Large enough to handle huge spit-ups
CONS:
Not the cheapest choice

Must air dry them
---
7

Brooklyn Bamboo Burp Cloths – Best Bamboo Burp Cloths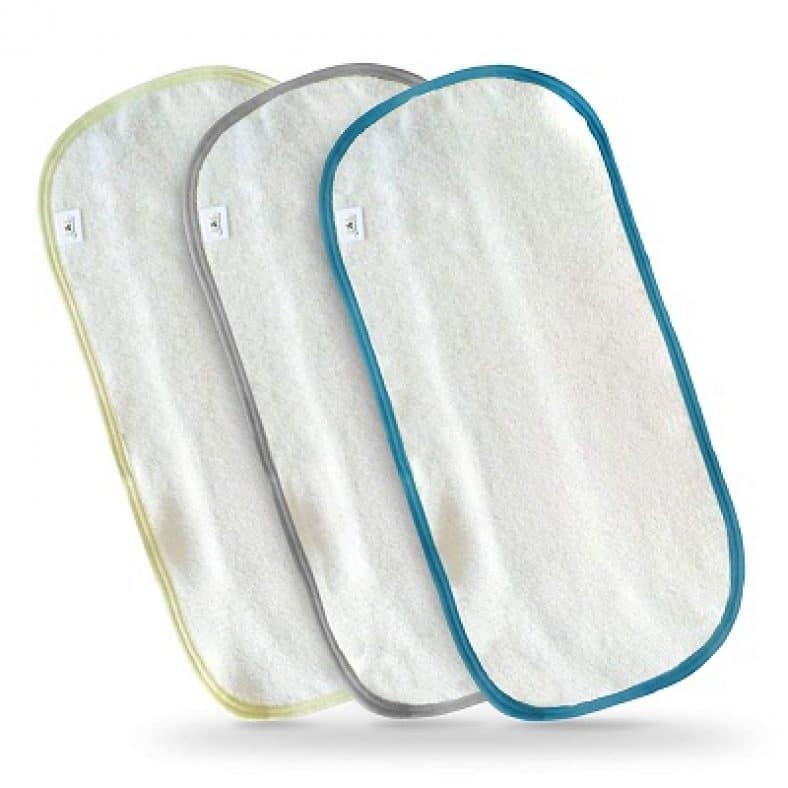 Some parents prefer bamboo burp cloths because it's a hypoallergenic fabric that is great for babies who have allergies or sensitive skin. However, bamboo means that these aren't the cheapest fabric on the market! For eczema-prone babies, they're worth the money.
Bamboo fabric is so soft, and your baby will love to rub his face against the burp cloth. It'll be great to cuddle against. You'll notice that all of the burp cloths are plain white with just a thin band of color around the edges of the burp cloth. That means they'll work for both genders and you can use them with all of your babies.
Brooklyn Bamboo sells these burp cloths in a three pack. They're a decent size, measuring 11.2 inches by 23.6 inches.
Check Pricing and Availability
PROS:
Great for babies with sensitive skin or eczema

Large enough to cover your shoulder

Free of any harsh chemicals

Come in a three-pack
CONS:
Not the cheapest choice

Need to be washed before using.
---
8

Luvable Friends Flannel Burp Cloths – Best Budget-Friendly Burp Cloths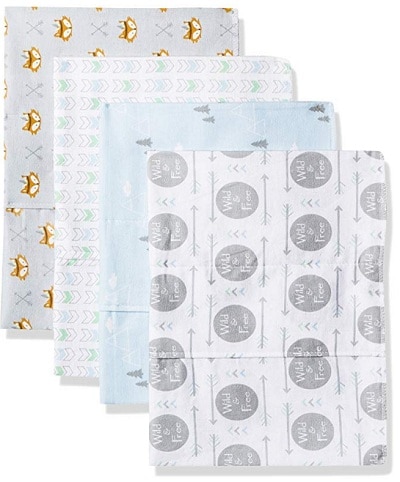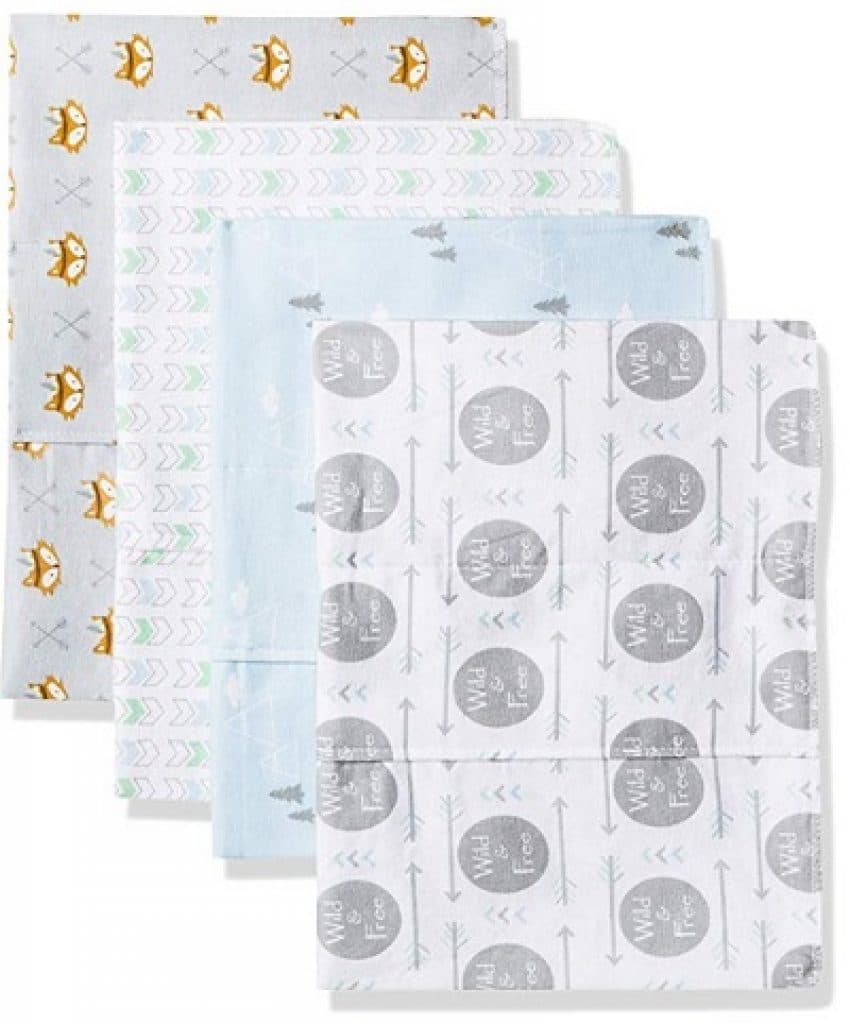 If you're on a serious budget, then some of the other options might have been more than you can afford. Luvable Friends offers an affordable choice that gives you quality. These burp cloths come in many different colors and prints. They're so affordable that you can easily stock up, so you don't ever have to worry about going without a clean burp cloth on hand.
Luvable Friends created their burp cloths to measure 20 inches by 14.5 inches, so they are a bit smaller than a few of the other choices. Each of these has 3 layers of cotton in the center and 2 layers of cotton on the sides. They're sold in packs of three, making them even more budget-friendly!
Check Pricing and Availability
PROS:
100 percent cotton

Affordable

Absorbent

Lots of prints available
CONS:
Strange smell at first

Fray after washing several times.
---
9

Milkbarn Bamboo Cotton Burp Cloths – Best Baby Shower Burp Cloths
Milkbarn sells some of the cutest prints on burp cloths you can find, especially if the mom-to-be loves vintage or rustic bab designs. These are so old-school that they're simply adorable. You'll want to be the one using these bamboo cotton burp cloths.
Milkbarn made these baby burp cloths from 70 percent bamboo rayon and 30 percent cotton. This combination of fabric is so super-soft, eco-friendly, and durable.
These burp cloths aren't the cheapest, but bamboo isn't a cheap fabric. You get two burp cloths in each pack, and they measure a 23-inch square. Milkbarn even wraps them in an adorable burlap wrapper with a wooden button.
Check Pricing and Availability
PROS:
Large size

Adorable designs

Environmentally friendly

Super soft material
CONS:
Not as absorbent as other materials

Might feel rough at first
Read more useful things about baby wipes. Here's our best quality biodegradable baby wipes pick-list.
---
Wrapping It Up
Burp cloths are a necessity, and you need to have at least a dozen on hand. You want to pick the right brand, or you might want to pick several different types of brands to see what you like the best. The fabric that you pick makes a difference, as well as the size. Bigger is often better when it comes so burp cloths if you want to protect your clothing.
Do you have a favorite burp cloth? We would love to know what works best for your family! Let us know in the comments.