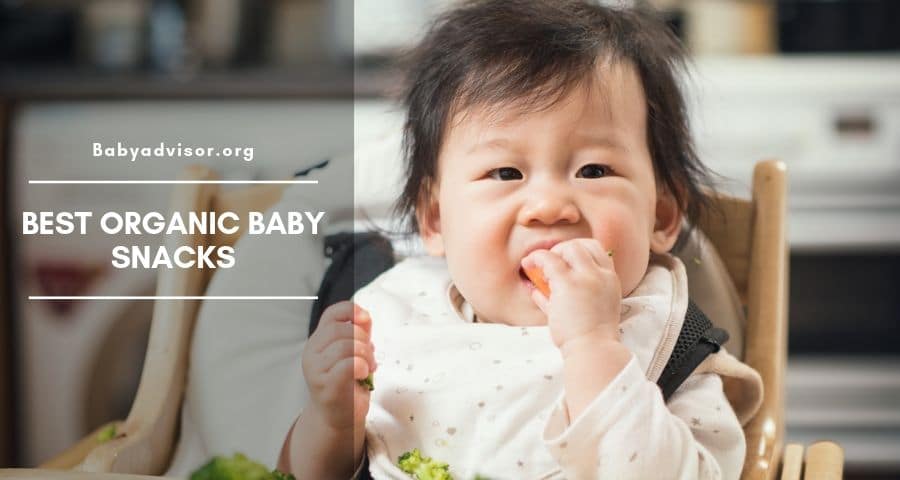 Once your baby is old enough to start eating snacks, you'll find yourself picking up more each time you go to the grocery store. Baby snacks should be a delicious and nutritious addition to your baby's diet. You might want to look for the best organic baby snacks to add to his meals each day.
Baby snacks encourage independent eating, and some help when your child is teething. They're created with safe, blended formulas that won't constipate your child and dissolve easily in your child's mouth. It can feel stressful to watch your baby eat snacks for the first time, but they're designed to melt in your baby's mouth. So, even babies without teeth can enjoy them!
---
When Can I Introduce Organic Baby Snacks?
You might wonder when you can introduce organic baby snacks to your baby. Baby snacks are best saved for when your child can use his fingers to pick up food.
Doctors recommend that babies wait until they're around six months old to start eating solid foods. That doesn't mean your baby should or can eat snacks just yet. The finger dexterity necessary to pick up snacks doesn't develop until your child is between 7-9 months old.
Be sure to read the packaging on each snack for when it's safe to introduce the snacks. Some suggest that your child should crawl on his hands and knees with his belly off the ground. Army crawling doesn't count!
---
Nutritional Needs for Babies 6-12 Months Old
Babies need nutrients and vitamins to grow and meet their milestones. When you select a baby snack, take a look at the nutritional value it gives to your child. Whatever your child is fed at this age should provide some of the daily requirements for vitamins and minerals.
Let's look at what your baby between the ages of 6-12 months needs for their vitamins and mineral.
Iron is an essential vitamin in your body. It's absorbed from red meat, spinach, and other dark green leafy veggies. You also can absorb iron through beans and iron-fortified infant cereals.
All babies need zinc in their diet. Zinc can be found in lamb, turkey, shrimp, lentils, spinach, quinoa, yogurt, and pumpkin.
This vitamin can be found in many fruits and veggies, such as citrus, strawberries, mangoes, broccoli, peppers, and papaya.
Another essential vitamin is vitamin A, which can be found in sweet potatoes, carrots, and orange-colored fruits. Vitamin A is also found in dark green leafy veggies, such as kale, spinach, and beets.
You can find vitamin D in tuna, fortified cow's milk, yogurts, and some whole-grain cereals. The American Academy of Pediatrics recommends that breastfed infants and combination-fed infants be given 400 IU of vitamin D supplement each day. Formula-fed infants should receive their 400 IU through the formula.
---
How to Pick Organic Baby Snacks
When you stand in the grocery aisle, you'll find dozens of choices – literally – for baby snacks. It can be overwhelming if you don't know how to make a selection. So, here is what you should consider when picking the best organic baby snacks.
The most crucial factor is the ingredients used to make snacks. You want your baby to eat wholesome food. Look at what is in each snack. Does it include real fruits and vegetables? Does it have whole grains?
You also need to look at what it doesn't include. Are there artificial flavorings and colors? Are there ingredients that you don't think are safe for your child or necessary? It's best if you can pronounce the name of each ingredient.
One of the most important features of organic baby snacks is that it can dissolve easily. Babies, at this stage, are still learning how to chew properly. Some don't have teeth!
To avoid choking, these snacks have to be dissolvable. The longer that they stay in your baby's mouth, the faster that they dissolve. Not only does this make it safer for your child to have a snack, but it makes you feel more comfortable offering it to them.
Flavor matters! You won't know the actual flavor until you get it a try, but you can read what the flavors should be. Do they sound good? For baby snacks, it's best if it has some flavoring, but it shouldn't be overwhelming for a new baby developing taste buds.
Make sure it's something that your child has eaten before. If your child has never had strawberries before, it could cause a reaction.
Price always matters. Organic snacks are more than non-organic; that's just how it always works out. Look to see what you can comfortably afford. Are they too expensive? Look for coupons as well!
The Size of the Packaging
The last thing to consider is the size of the packaging, and this goes along with the price. Are you getting a good amount of snacks for the price? Or, do you feel like it's a total rip-off?
You can also make healthy foods for your baby. Here you find everything you need to know!
---
The 7 Best Organic Baby Snacks
Baby Mum-Mum Rice Rusks developed around ten years ago, and they're on every list for organic baby snacks. They now sell their rice rusks in different flavors, such as banana and vegetable.


Parents love Baby Mum-Mum Rusks for several reasons. They're travel-worthy with two rusks in each self-contained package. The box itself only weighs 1.76 ounces. They're prepared with organic, baby-safe ingredients without any peanuts, eggs, or gluten. These snacks are also free of preservatives, food coloring, and artificial flavors.
Here are the ingredients used in the banana-flavored Baby Mum-Mum Rice Rusks.
Japonica Rice, Potato Starch, Sugar, Banana Powder, Salt, Natural Banana Flavor 
Once opened, your baby does need to eat the snacks within a few hours. Since no preservatives are used, the rice rusks do go stale quickly. Despite this flaw, parents do like that the snacks are a long, oval shape that makes it easy for babies to hold. Also, they dissolve fast. Your baby can suck on the snacks, and they'll dissolve fast.
Check Pricing and Availability
PROS:
Only Organic, Baby-Safe Ingredients
Affordable
Easily Dissolves
Easy for Babies to Hold
CONS:
Go Stale Fast
Not Too Flavorful
---
2

Plum Organics Little Yums Teething Wafers 
If you have a teething baby, you might want to try a quality teething snack that will nourish your baby while teething at the same time. Plum Organics Little Yums Teething Wafers are a great option as an organic baby snack that will soothe his sore gums.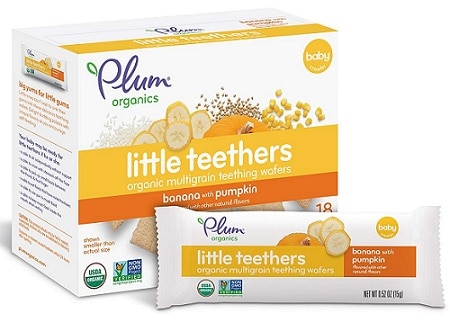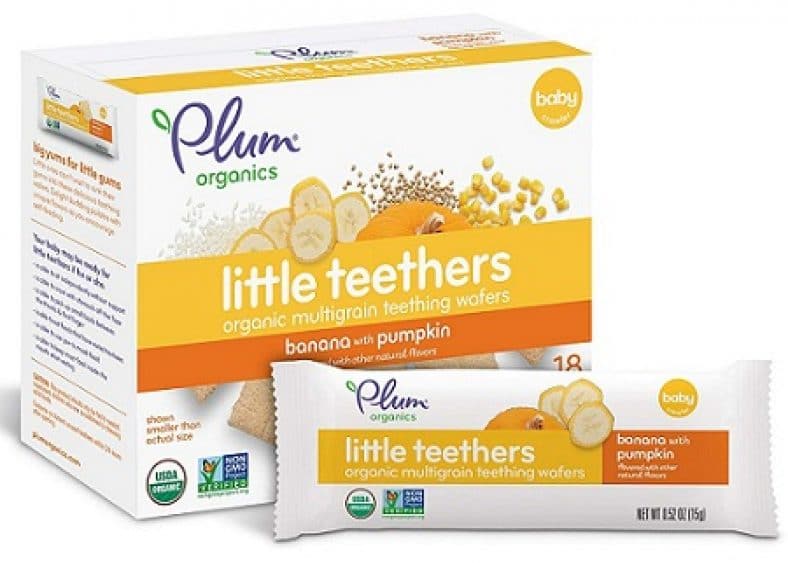 Each box contains six 3-ounce snack pouches, and they're affordable. Plum Organics uses a pumpkin banana flavor that babies love, and they use a certified organic blend with non-GMO ingredients that are baby-safe.
Here are the ingredients:
Organic Rice Flour, Organic Corn Flour, Organic Cane Sugar, Organic Buckwheat Flour, Organic Banana Powder, Organic Pumpkin Powder, Organic Banana Flavor, Organic Pumpkin Flavor 
These snacks dissolve easily for convenient and safe feeding, and they come in a portable 100% BPA-free packaging. Plum Organics create safe food for children from birth up through two years old.
Check Pricing and Availability
PROS:
BPA-Free
Easily Soluble
Yummy Flavor
Baby-Safe Ingredients
Organic
---
3

Earth's Best Organic Sunny Days Snack Bars 
Who doesn't love fruit-filled snack bars? Even adults love them! Earth's Best is one of the best known organic baby brands, and their Sunny Days Snack Bars are organic strawberry-flavored baby-safe snack bars.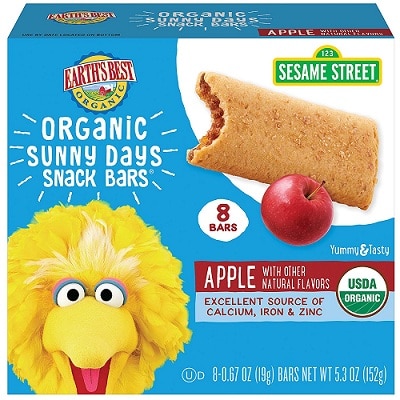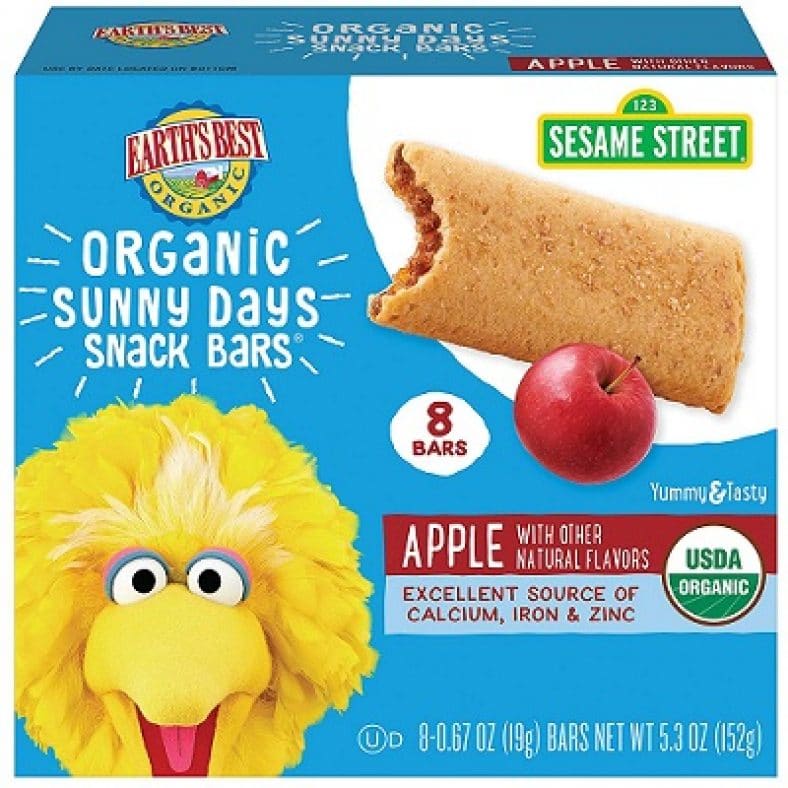 These little snacks are packed with significant vitamins, such as zinc, iron, and calcium. Earth's Best uses 100% real, vitamin-rich strawberries to fill the snack bars, and then they use red cabbage extract to ensure the color is appealing to your child.
Some of the ingredients used in the Sunny Days Snack Bars include:
Organic Flours, Organic Strawberry Filling, Organic Cane Syrup, Organic Sunflower Oil, Organic Wheat Bran…
They're USDA certified organic snacks that lack genetically modified ingredients, artificial colors, and preservatives. It doesn't contain any hydrogenated oils or trans-fat. Your child can enjoy these snack bars for breakfasts, lunch, or snacks throughout the day.
Check Pricing and Availability
PROS:
Certified Organic
Contains Vitamins
Tastes Great
CONS:
Expensive – Only 6 Per Boxes
---
4

Happy Baby Organic Superfood Munchies 
Do you want to add more veggies to your baby's diet? Babies can be picky when it comes to their vegetables, and Happy Baby Superfood Munchies gives parents a sneaky way to incorporate more vegetables every day.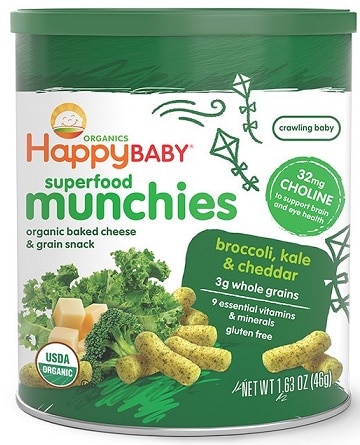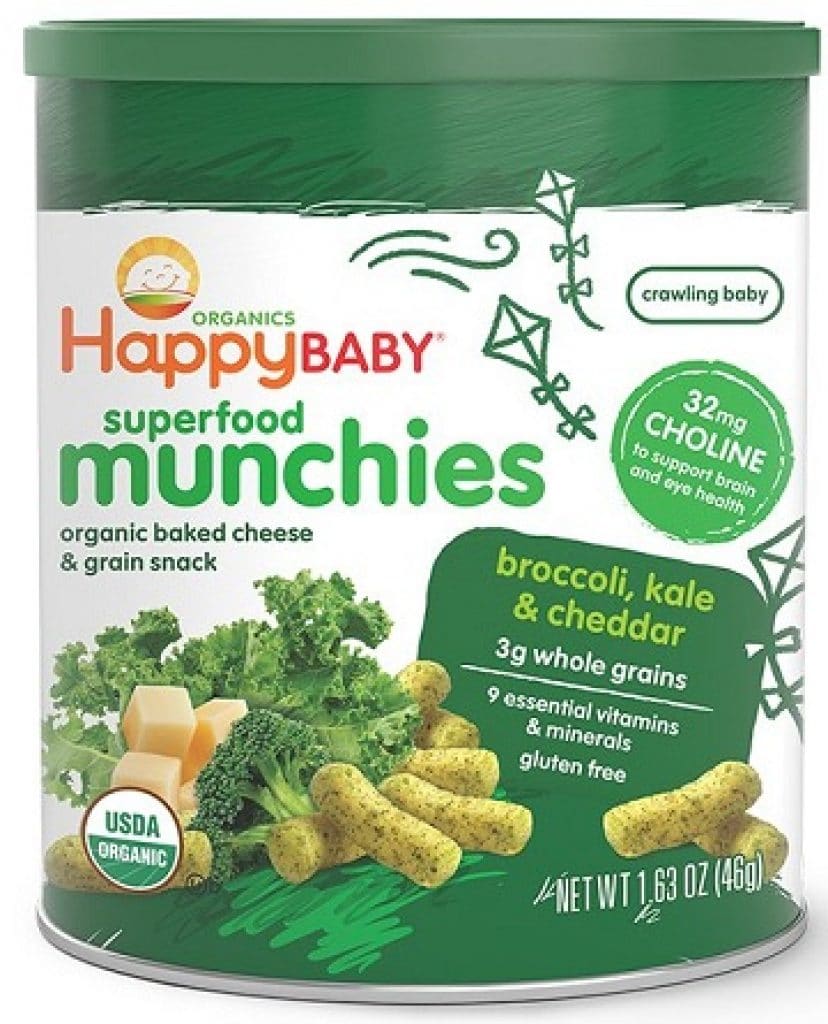 These snacks are yummy and nutritious, prepared by using baked and powdered broccoli and kale, grain snacks, and cheddar cheese. Happy Baby sells these snacks in 1.63-ounce containers, and they have a smooth, dissolvable consistency that is great for snacking and teething.
Some of the ingredients include:
Organic Yellow Corn Flour, Organic Canola Oil, Organic Cheddar Cheese, Organic Non-Fat Milk, Organic Whey, Organic Broccoli Powder, Organic Kale Powder… 
These snacks are certified organic, using a choline-rich formula that helps support your child's eye and brain development. The formula doesn't contain any BPA, phthalates, artificial colors, or preservatives. So, if you want a veggie-filled snack for your baby, give the Superfood Munchies a try!
Check Pricing and Availability
PROS:
Highly Nutritious
Affordable
Certified Organic
No Artificial Ingredients
CONS:
Doesn't Dissolve As Easy As Other Munchie Brands
Might Be Bland
---
5

Happy Baby Organic Superfood Puffs 
Here is another excellent organic baby snacks option by Happy Baby. Babies love the organic apple and broccoli-flavor, creating a tasty and nutritious snack. The packaging states that babies can get approximately 10-15% of their daily requirements of vitamin C and vitamin E from these snacks.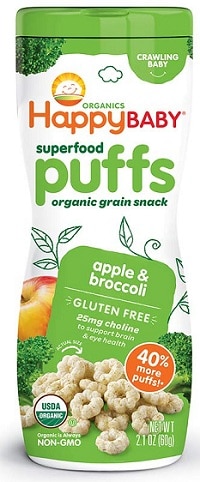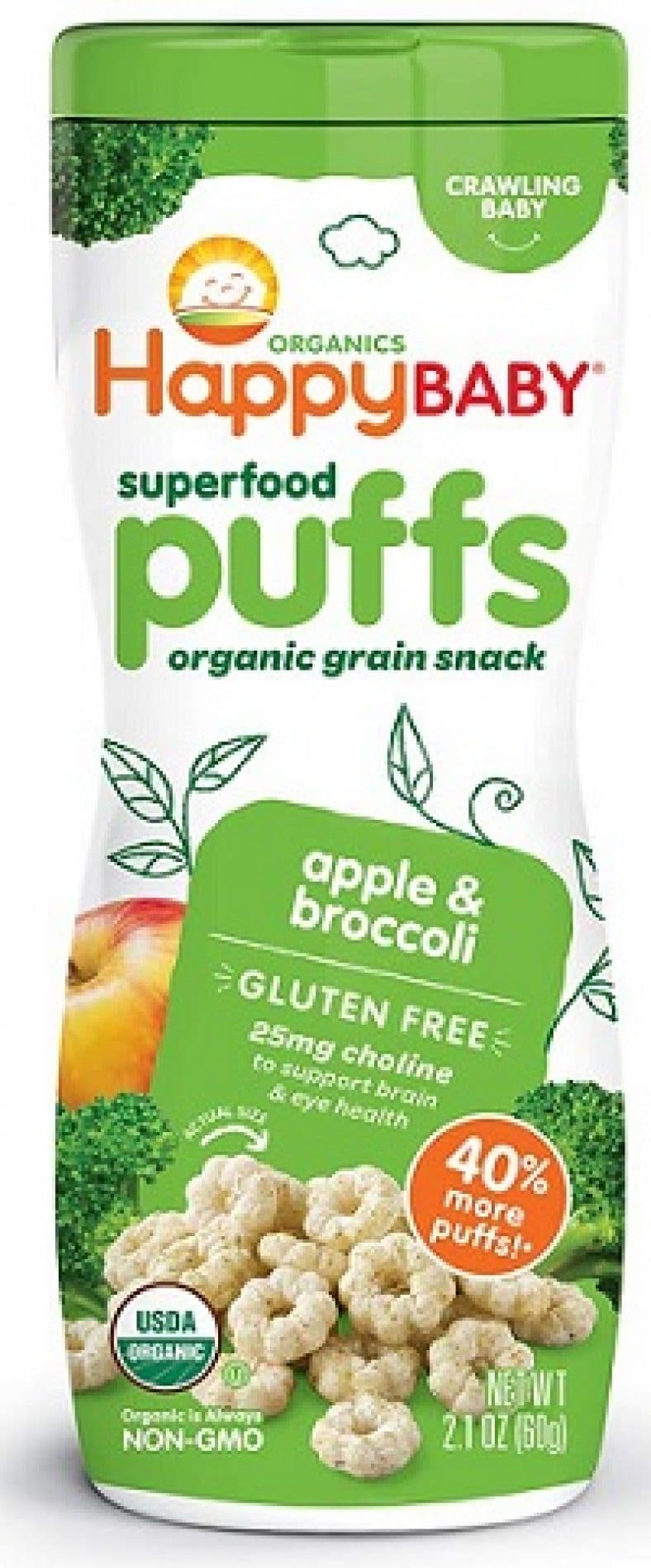 Each serving of the Superfood Puffs contains 20mg of choline for eye and brain development, and they use a certified organic formula that helps your child grow.
Parents agree that these Superfood Puffs are everything you could want in an organic baby snack. They're healthy, easy to digest, dissolvable, and nutritious.
A few of the ingredients for these Superfood Puffs include:
Organic Brown Rice Flour, Organic White Rice Flour, Organic Apple Juice Concentrate, Organic Broccoli Powder, Organic Apple Powder…
Check Pricing and Availability
PROS:
Certified Organic
Contains Nutrients and Vitamins Needed
Daily Dose of Vitamin C and E
CONS:
Expensive
Don't Dissolve As Fast as Other Puffs
---
6

Sprout Organic Quinoa Puffs 
Sprout Organic is known for offering tasty and wholesome snacks for babies. Their quinoa puffs are made with four grams of whole grains, along with a blend of fruits and veggies. These Carrot Mango Quinoa Puffs are sweet and don't contain any added sugars!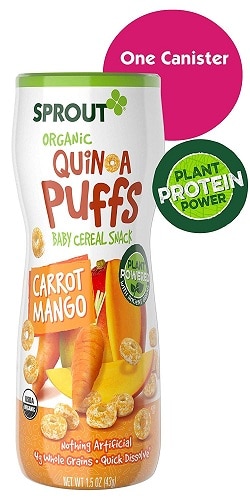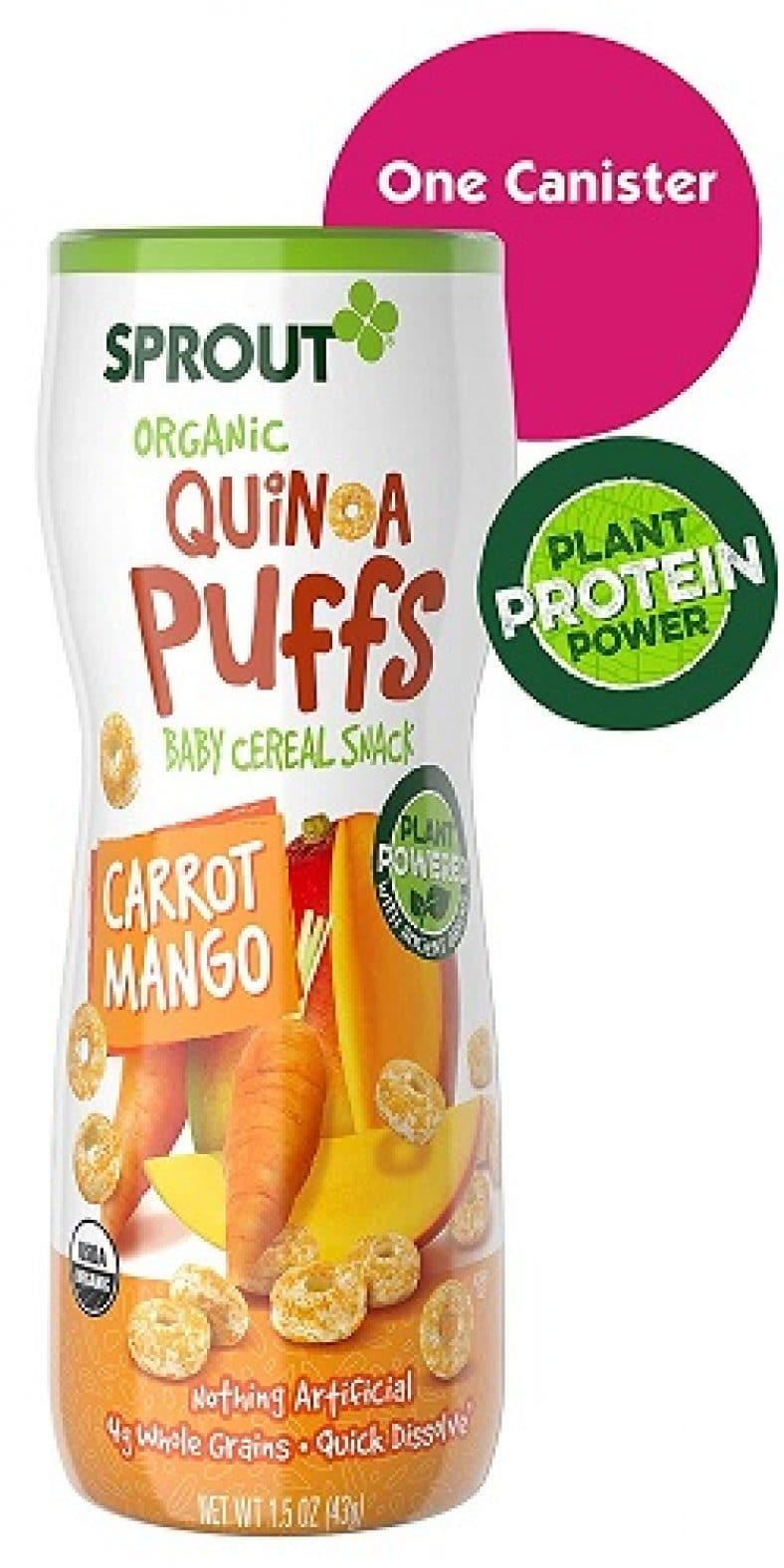 Parents love how innovative Sprout Organics Quinoa Puffs are. They use organic rosemary to preserve the puffs without affecting the flavor. These puffs come in other flavors, such as Apple Kale and Maple Cinnamon.
These puffs dissolve quickly and are easy to pick up for feeding. Parents like the Sprout Organic Quinoa Puffs so much that they received the National Parenting Product Awards for flavor and sustainable protein sources.
Sprout uses real, honest, and pure ingredients. All of their products are USDA certified organic that uses non-GMO ingredients. You won't find anything artificial in these puffs! Plus, they're dairy and gluten-free, vegan, and contain no added flavors or colors.
Here are the ingredients that Sprout Organic uses:
Organic Quinoa Flour, Organic Sorghum Flour, Organic Brown Rice Flour, Organic White Rice Flour, Organic Carrot Juice Concentrate, Vanilla Extract, Organic Mango Powder, Calcium Carbonate, Organic Rosemary Extract to Maintain Freshness
Check Pricing and Availability
PROS:
Dissolves Easily
Real Ingredients
USDA Certified Organic
Uses Rosemary for Preservation
CONS:
Get Sticky After Opening
Some Say The Flavor Isn't Great
---
7

Happy Baby Organic Creamies Freeze-Dried Veggie & Fruit Snacks 
Are you looking for a yummy, creamy snack for your baby? Happy Baby Organic Creamies are a melt-in-your-mouth, delicious snack that mixes organic fruits and veggies with coconut milk. Each bag contains, at least, 40% veggies.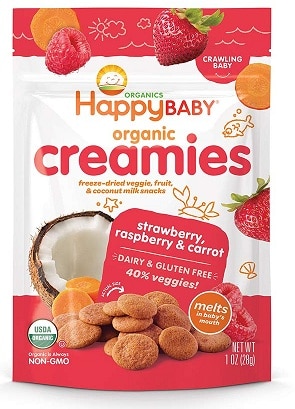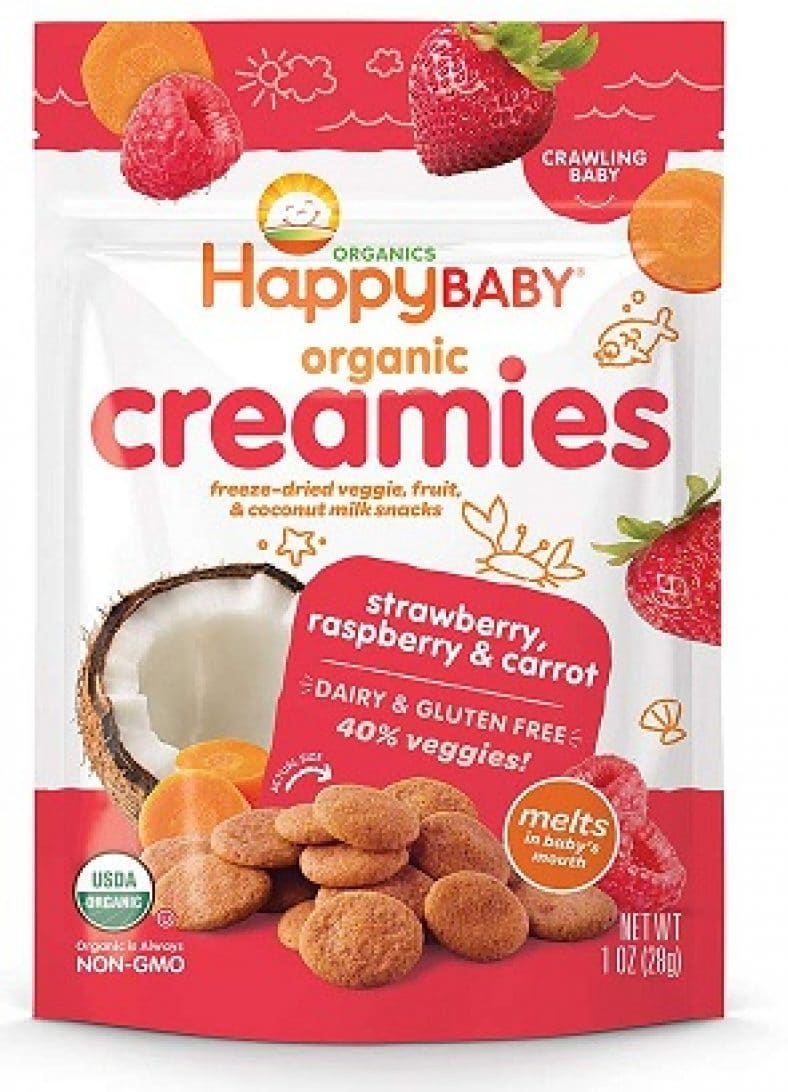 Parents love the ingredients used by Happy Baby to create the Organic Creamies. They're wholesome and real food. That's what parents want to see!
You know that your baby is ready for these snacks when they can crawl on their hands and knees, without touching the ground. Your baby will develop his self-feeding skills while enjoying his snacks.
These awesome ingredients contain:
Organic Butternut Squash Puree, Organic Apple Puree Concentrate, Organic Strawberry Puree, Organic Carrot Juice Concentrate, Organic Coconut Milk, Organic White Grape Juice Concentrate, Organic Raspberry Puree, Organic Tapioca Starch, Natural Flavor
Check Pricing and Availability
PROS:
Tasty
Dissolves Easily
Great Ingredients
USDA Certified Organic
CONS:
Go Stale Fast
Small Amount in Each Bag
You may also love the read: Best Organic Food List for Babies!
---
Final Thoughts
As your child gets older, you'll want to try some organic baby snacks for your child. Snacks help to keep your baby happy because everyone is happier with snacks. They also should fill in some nutritional gaps, adding vital nutrients to his diet to help with growth and development. Make sure the baby snacks you pick aren't just junk food; they should be real food!