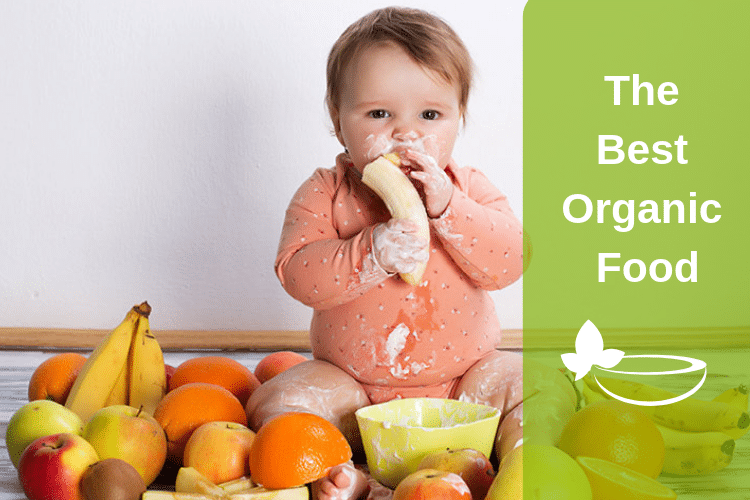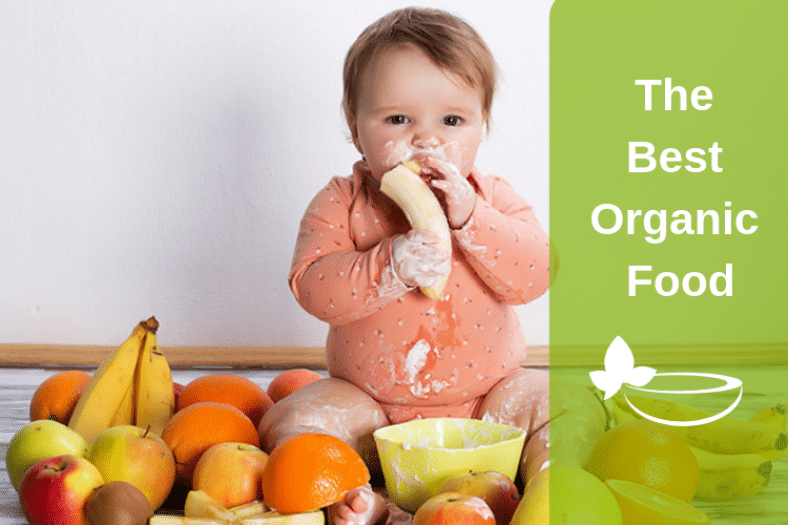 Do you feel overwhelmed by the choices of organic baby food in the store? Many parents feel as if they should feed their children organic foods, and that belief is for good reasons!
The recent court case against Monsanto, the maker of Roundup, shows up that not enough research has been done to determine the dangers of chemicals in our food.
The court case awarded millions to a man who claims that these chemicals, found in our food supply, led to his cancer. If that doesn't scare you, what will?
| Brand | Jars, Pouches, or Both? | Stages Offered | Price |
| --- | --- | --- | --- |
| Plum Organics Baby Food | Pouches | Stage 1, Stage 2, Stage 3 | $$$ |
| Sprout Organic Baby Food | Pouches | Stage 1, Stage 2, Stage 3, Toddler | $$ |
| Earth's Best Stages 1 to 3 Organic Baby Food | Both | Stage 1, Stage 2, Stage 3 | $ |
| Gerber Organic Baby Foods | Both | Stage 1, Stage 2, Stage 3, Toddler | $ |
| Happy Baby Organic Baby Food | Both | Stage 1, Stage 2, Stage 3 | $$ |
| Pure Spoon Organic Baby Food | Plastic Jars | Stage 1, Stage 2 | $$$$ |
| Once Upon a Farm Baby Foods | Pouches | Stage 1, Stage 2, Stage 3 | $$ |
| Peter Rabbit Organics Baby Food | Pouches | Stage 2 | $$ |
| Ella's Kitchen Organic Baby Food | Pouches | Stage 1, Stage 2, Stage 3 | $ |
---
Organic vs. Conventional Baby Food
Parents have to make decisions about what to feed our kids, and that's a serious choice, especially at this young ages. Organic and conventional baby foods have differences, so you need to understand those to make an informed decision.
Baby food is made by cooking, pureeing, and packaging fresh foods. If you use non-organic baby food, the food used is grown using conventional techniques and methods, such as the use of pesticides and herbicides. These methods allow the foods to be cheaper.
Organic uses the same methods to create baby food, in general, but the food used is different. In order for any food in the United States to carry an organic label, it must meet all of the strict standards set by the USDA's National Organic Program.
When you consume a food product with the organic label, that means the fruit and vegetables are not sprayed with any chemical pesticides. They don't contain artificial flavors, colors, or preservatives.
If you see the words "all-natural" or "homegrown" without a USDA organic seal, don't immediately believe it. Any company can use these words to convince you that it's organic, but there is no guarantee a product is organic unless it has the seal.
All of the listed baby foods here have the seal. Don't trust the wording! It might be true, but you want proof, especially because organic foods do cost more.
---
Why You Should Use Organic Baby Food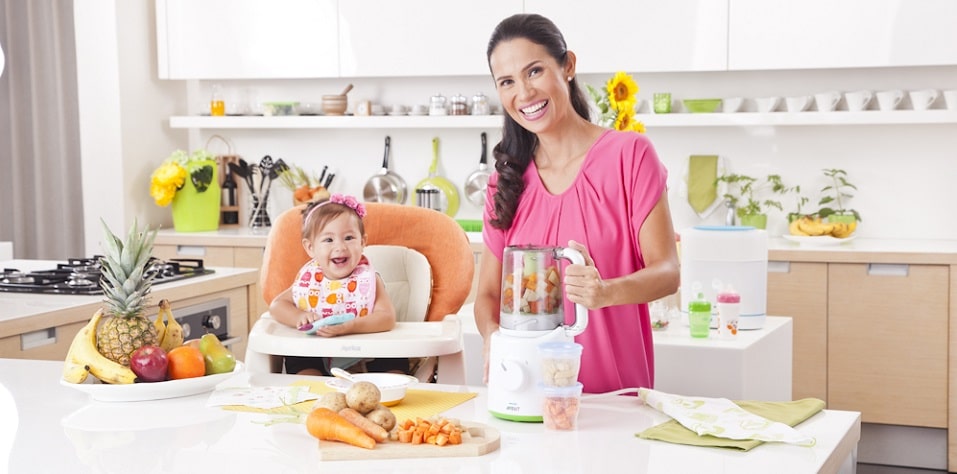 Organic foods don't mean you are providing your child with extra vitamins and minerals. Conventional foods offer the same vitamins, minerals, and nutrients as organic options, at a cheaper cost! But, there are several reasons why you should use organic baby foods.
Lower Pesticide Levels: The most significant benefit of organic baby food for younger children is the lower pesticide levels. Your baby's immune, nervous, and hormonal systems are still developing, which makes them more vulnerable to chemical exposures than adults. Organic farmers avoid the use of chemical herbicides and pesticides. Instead, they rely on natural fertilizers and pesticide methods. This benefit is important because you are avoiding any concentrated pesticide residues that might be on those fruits and veggies!
Less Likely to Be Contaminated with Drug-Resistant Bacteria: Organic farmers don't use antibiotics, so you are less likely to encounter these dangerous bacterias.
Doesn't Contain Genetically Modified Ingredients or Additives: You won't find hydrogenated fats, artificial sweeteners like aspartame, or monosodium glutamate. These additives are banned by organic standards.
Environmentally-Friendly: Of course, one of the best reasons to use organic baby food is that it's good for the environment! Farmers give their animals organic feed, year-round access to outdoors, and better care. If you are concerned about animal welfare standards, organic is the way to go. Also, organic farming promotes ecological balance and conserves biodiversity.
---
Buy The Dirty Dozen
Sometimes, purchasing all of your baby food organics is really expensive and out of your budget range. That happens, and it can feel disheartening. First, remember that your baby is still receiving the necessary nutrients no matter if you feed organically or not.
If you struggle to purchase all organics, focus first on buying the dirty dozen. Based on pesticide residue tests, these 12 foods have the highest amount of pesticides on them at the time you purchase. These are the foods you want to buy organic as much as possible because they are sprayed with more chemicals or they absorb more than average.

Nectarines
Strawberries
Apples
Pears
Cherries
Grapes
Celery
Tomatoes
Sweet Bell Peppers
Potatoes
Hot Peppers
---
When Can I Introduce Solid Foods?
Between the ages of 4 to 6 months, you can start to consider adding solid foods to your child's diet. It's best to speak to your pediatrician. The American Academy of Pediatrics generally recommends that parents wait until six months of age to introduce solid foods.
Watching for signs of food readiness of more important than waiting for a particular age. The recommended signs are:
Can sit with minimal support
Has control of their head and neck
Doubled birth weight
Turns away head when full
Starts to place things in mouth
Is interested in your food!
Loses the tongue thrust reflex
---
You may be interested in Making Your Own Baby Food.
The Stages of Baby Food
As you look at the jars and pouches of baby food, you will notice three stages indicated on each one. It might say "Stage 1" in the corner or "Stage 2" on the bottom corner. It's important that you pay attention to the stage of the baby food before you make selections, especially in the beginning.
Stage 1 is the first foods you will introduce to your baby, typically from ages 6 to 7 months. This stage only uses single ingredients, such as bananas, apples, or peas. It's best to feed your baby single ingredients at a time because it lets you keep an eye out for food allergies or sensitivities.
Typically, parents wait two or three days before introducing a new food at this stage. Once you determine that your child isn't sensitive, you can introduce another and start introducing blends. When you use stage 1 foods, your child's main source of nutrition is still breastmilk or formula.
Stage 2 is when you start to introduce new flavors and textures to your baby, and this stage has two or more ingredients. For example, you might try strawberry banana or apples and granola. There are so many different combinations of flavors for your child to try and enjoy! Stage 2 is for babies 7 to 9 months.
At this stage, your baby will also start to eat more and spit out less than before. Most of these containers are larger than stage 1.
The final stage of baby food stage 2. With this stage, you see multiple combined ingredients, along with soft chunks of fruits or veggies. It's best to start this stage around 9 to 11 months. You'll notice more meal combinations at this stage, such as spaghetti and meat or sweet potato, turkey, and pumpkin.
---
Understanding the Organic Baby Food Labels
There are multiple certifications you might find on organic food, so it's important that you understand what each means.
100% Organic: It means that it is completely free of all chemical fertilizers, hormones, pesticides, genetic modification, and antibiotics.
USDA Organic: It means that it's the same as above, but the law states it must have at least 95% organic ingredients to receive that certification.
GMO-Free: This food item is not organic (unless it has that certification as well), but it's free of any genetically modified ingredients.
Made with Organic Ingredients: This label means that it contains at least 70% organic ingredients.
---
Baby Food Pouches - Are They Safe?
Baby food has been sold in jars for decades. Chances are your parents fed you baby food in a jar, but recently, manufacturers started selling baby food in pouches. Parents naturally wonder are baby food pouches safe and what are the pros and cons of using baby food pouches.
So, let's take a look so you can decide if they are the best choice for your child.
Pouches are Great for On-The-Go Eating
Parents are busy! We go places, enjoy the park, and visit friends and family. Pouches make it so easy to ensure your baby has access to nutritious food while on the go.
Baby Must Still Be Stationary While Eating
Even though a pouch isn't the same as a fork or a spoon, it's important to always exercise caution as your child learns how to eat. Anything in your child's mouth can cause injury if your child falls with it in their mouth. That's why it is important for your child to remain stationary at all times when eating.
Incorporate a Spoon Still
So, many people just hand their baby the pouch and let them eat it alone. That's fine sometimes, but the original intent of baby food pouches was to use them with a spoon – seriously. Companies intended for parents to squeeze baby food onto the spoon and feed it to their child. However, most of the time, parents skip the spoon, letting the child just suck on the pouch.
Skipping the spoon misses the opportunity to teach your child how to eat off a spoon. Spoon eating helps your child use mouth muscles to manage, propel, and chew food. Babies need to learn how to handle a diverse range of textures to increase their feeding skills. To avoid feeding problems later, babies should be introduced to more textures by nine months old.
Don't Skip The Finger Foods
To expose your baby to more textures, introduce finger foods between six and seven months old. You can even squeeze the baby food pouch into a bowl and mix in bits of noodles, shredded coconut, or chia seeds for an interesting texture!
Oral Hygiene Still Applies
Anytime food enters your mouth, bacteria can follow. That bacteria can cause cavities. So, to reduce the risk, it's best to consume the pouch at one sitting rather than sucking on it over an extended time. Make sure you rinse with water or a quick brush of the teeth!
Continue Enjoying Meals With Your Baby
Giving your child a baby food pouch doesn't mean that you can just give it to your baby and leave them to eat alone. Part of encouraging healthy eating habits is to eat with your child. Place your child beside you in his chair and chat with him as you both eat.
---
How to Pick the Best Organic Baby Food
Once you decide you want to feed your baby organically, you have to decide which brand is best for your baby. Here are some key factors that you will want to consider when deciding which organic baby food you want.
Ingredients: What do the ingredients on the label state? Sometimes, you might find unwanted juices or other ingredients added to the baby food. Make sure there are no artificial flavors or added salt or sugar!
Taste: Does the food taste like real foods? Your baby has taste buds too, even though he has no idea what those foods should taste like. Certain brands make their baby food taste so bland, and it's nothing like what the foods actually taste like! Babies are more likely to eat food that tastes good, just like adults.
Price: Unless you don't have a budget, the price will matter. Conventional baby food can cost under a dollar, but most other brands are over a dollar per pouch. Some cost a few dollars each. You have to consider that your child, at one point, will eat three to six per day. Can you afford that brand?
Packaging: Do you like the packaging choice or choices? Is it BPA-free and recyclable? Do you want to use jars or pouches? Take a look and decide if it works for you!
Nutritional Value: What nutritional value does it provide? You want a brand that will target your child's different needs. As your child gets older, you want to make sure the brand provides protein and other important vitamins for your growing infant.
---
The Best Organic Baby Foods
Key Facts:
100% USDA Certified Organic
Tasty Flavor Varieties
Optimal Nutritional Value
No Preservatives or Artificial Ingredients
Check Pricing and Availability
Plum Organics has been on the market for several years, and parents rave about the quality and flavors. This company understands that proper nutrition is valuable during all stages of life, especially for infants. Food helps your child grow, so you want the best for your baby.
A few of the popular flavor combinations include:
Pear, Purple Carrot, and Blueberry
Banana Pumpkin
Pear, Spinach, and Peas
Apple and Carrot
Pear and Mango
You won't be disappointed in any of the flavors that you try. Plum Organics are certified organic, non-GMO, and they use whole, simple, organic fruit and vegetable ingredients as often as possible. No added salts or sugars are used, as well as no preservatives, additives, or artificial colors and flavors. Instead of using preservatives, Plum uses lemon juice, vitamin C, and/or citric acid.
Plum Organics uses non-BPA packaging, as well as a childproof, recyclable cap. Don't forget that the Plum also makes Stage 1 Just Veggies and Just fruits, which is perfect for your baby who is new to solids. For Stage 3, Plum Organics adds more spices and proteins to the mixtures, creating some gourmet-level meals for your baby! Your baby might enjoy quinoa and leeks with chicken and tarragon – YUM! Stage 3 Hello Meals have grains and spices, but those must be mixed with hot water.
Plum has a line of pouches called "Eat Your Colors." This line uses fruits and veggies that are a particular color. For red, there are beets, apples, and red peppers. Cauliflower, leek, and apples are for white, and apples and peas are for green.
Another line they are released are resealable bowl foods called Baby Bowls. It is the same purees as pouches, but they can be used with a spoon and resealed for storage. Baby Bowls are great for compact storage and stacking. These bowls are made with recyclable plastic rather than heavy, delicate glass jars.
---
2

Sprout Organic Baby Food
Key Facts:
Whole Food Ingredients
BPA-Free Packaging
Wide Variety of Flavors
No Artificial Ingredients
Check Pricing and Availability
Sprout Organic is another popular choice of pouch baby food that doesn't need to be refrigerated. They use only whole food ingredients, so there are no food-based derivatives or concentrated ingredients.
There are plenty of delicious flavors, such as:
Sweet Potatoes
Banana, Buckwheat, and Cinnamon
Pumpkin, Apple, Cinnamon, and Red Lentils
All of their pouches are BPA-free and feature a twist-off cap that is recyclable. However, the pouch is not! Sprout Organic offers a variety of stages from Stage 1 up to Toddler (12+ months). If you taste these flavors next to other brands, you'll be impressed with how fresh and high-quality these flavors are.
Their Stage 1 offers simple, single ingredient foods. Stage 2 offers a wide selection of flavor blends, such as the ones listed above. This stage also offers fruit and grain blends, such as blueberry, plum, banana, and quinoa. You can find veggie and grain blends, like sweet potato, white beans, and cinnamon. Sprout also sells yogurt blends for additional protein.
Their Stage 3 adds some additional chunkiness and textures for your baby. There are fruit, veggie, and grain blends, and you can purchase full meal pouches, like market vegetables with pears and turkey.
Sprouts has toddlers covered as well. Their toddler pouches contain nutrient-dense ingredients like buckwheat, amaranth, and butternut squash. They even sell pouches that your older kids will enjoy, along with an entire line of snacks for your growing child. The only negative to consider is that they are a bit more expensive, even pricier than the Plum Organics.
---
3

Earth's Best Stages 1 to 3 Organic Baby Food
Key Facts:
One of the Original Organic Brads
Optimal Nutrition and Flavors
Over 60 Flavor Varieties
Jars and Pouches
No Added Sugar, Starch or Artificial Flavors
Earth's Best has been on the market for years, selling a variety of different baby products. The company started making delicious baby food in 1985, and they were one of the first to be certified organic. One of their goals as a company is to work with individual farmers to make sure they are only using the highest level of quality foods. Everything must be 100% certified organic and GMO-free.
They sell a full lineup of organic baby foods in stages one, two, and three. You'll find a wide variety of fruits and veggies, from stage 1 options like carrot, apples, and bananas. Stage 2 offers different exotic fruits and veggies, as well as fruit and veggie blends.
Their stage 3 line offers chunky blends of fruits and vegetables. They also offer dinner blends and soup! All of their choices taste nice and are consistent. You might think something like chunky veggie beef pilaf would be nasty, but it's quite tasty for a portion of baby food!
Earth's Best uses all organic products, and you never have to worry about additives, preservatives, salt, or sugar. Unlike other choices, you purchase these in jars, and the containers and lids are both recyclable.
You can find Earth's Best in most box stores, such as Wal-Mart, but the price is cheaper if you purchase in bulk online. The price in the stores isn't that bad though! Some people think that the price is a downside. On average, each jar costs around $1.25 for a 4-ounce jar, but the bigger ones (stage 3) can be more expensive.
---
4

Gerber Organic Baby Foods
Gerber might not be the first thought that pops in your mind when you think of organic, but they aren't known for their organic baby food. Recently, Gerber realized that parents desired this for their children, and they started their own line of organic baby foods. Parents are loving it! They are readily available at almost any supermarket, which makes it easy to find if you are short on time and don't want to buy online.
Gerber started by incorporating organic rice cereal and oatmeal to their line. These come in boxes or containers, and they must be mixed with water before serving. The baby food line includes a nice variety of fruit and veggie purees. The first stage offers all single ingredient choices, like bananas, green beans, or carrots.
The Stage 2 purees have blends of fruits, vegetables, and grains. Your baby might enjoy apples, zucchini, spinach, and strawberries. He might think that banana, acai, and granola is delicious! Gerber also has a stage 3 that includes purees with yogurt, such as bananas, raspberries, vanilla, and yogurt, a new food, or a new spice for a complex flavor.
You can purchase Gerber Organics in jars and pouches. The pouches do have more varieties than the jars though! You won't find all of the options in the jars, and Gerber sells many varieties!
---
5

Happy Baby Organic Baby Food
Key Facts:
Optimized with Probiotics
Large Variety of Flavors
Jars and Pouches
BPA-Free Packaging
Check Pricing and Availability
Happy Baby is very similar to Earth's Best, but the largest difference between the two is that Happy Baby offers more unique flavors and varieties. Offering baby a wider range of flavors early in life may help to reduce the chance of having a picky child!
Something that parents like is that you can also purchase oatmeal, brown rice, and multi-grain cereals with probiotics. These cereals are also fortified with iron. Their Happy Bellies Probiotic Cereal was the very first organic baby cereal on the market that contained probiotics for healthy digestion and DHA for brain and eye development. It continues to be a top seller and shows that Happy Baby is innovative!
Their special line – Clearly Crafted meals feature clear baby food pouches, so you can see the food inside. This idea is great because some parents worry about mold inside of the pouches, and this lets you see before you use them. The Clearly Crafted line has some unique flavors for your child, such as black beans, beets, and bananas, or beets, guavas, and apples.
Stage 3 contains hearty meal purees with textures and proteins, as well as some very creative flavors. Your baby can enjoy super salmon with veggies and quinoa, or amaranth and quinoa ratatouille.
You can find Happy Baby in both jars and pouches. That's convenient because you can keep the jars for at home and take pouches on the go. However, one thing to know is that the purees tend to be a bit more liquidy than other brands.
Despite that negative, Happy Baby uses only high-quality ingredients, and they stick to their rigid manufacturing practices. The packaging does NOT contain any BPA, so you can feel comfortable using these!
---
6

Pure Spoon Organic Baby Food
Key Facts:
Cold-Pressure Process to Retain Nutrients
100% USDA Certified Organic
Allergen-Free Kitchen
Variety of Flavors
Check Pricing and Availability
Pure Spoon is a brand new company, debuting in 2018! They make baby food with high-quality, organic, whole-ingredient foods. There is so much to love when it comes to Pure Spoon, and chances are they will become a huge hit with parents.
The first thing to know is that Pure Spoon handmakes each batch of food with only fresh (never frozen) produce, using a cold-press process that ensures all of the nutrients, flavor, and texture are maintained. No chemicals are added, and the process doesn't require high heat.
Pure Spoon sells their fresh baby food purees in 4.2-ounce containers with a reusable container. All of the foods are 100% organic, approved by the USDA and Nature's International Certification Services. Everything is made in an allergen-free, certified organic kitchen.
There are two different stages available. Stage One options are called the "Simply Purees" with only one ingredient, preservatives, coloring, and flavors. Stage Two varieties have combinations of ingredients your baby will love. You'll find choices such as:
Simply Apples
Blueberry, Banana, and Apples
Spinach, Pear, and Banana
The major downside is the price of Pure Spoon Baby Foods. Each 4.2-ounce container costs almost $3, which is a lot more than other options. Another con is that, because of the cold-pressure pasteurization process and lack of preservatives, they must be refrigerated at all times. That's part of why the cost is so high! They must be shipped in a cold insulated container, so make sure you are home when they arrive!
---
7

Once Upon a Farm Baby Foods
Key Facts:
Eco-Friendly Packaging
Kosher
Many Varieties of Flavors
Cold-Pressure Process Keeps Flavors Intact
Check Pricing and Availability
Another new addition to the baby food world is Once Upon a Farm. Two people, Cassandra Curtis and Ari Raz, began this company in 2015 with a goal to bring healthy food to kids. Their team works with nutrition experts and pediatricians to make the best of the best. An overarching belief for Once Upon a Farm is that a lifetime of healthy eating starts with each first bite your child takes.
This company offers different flavors and textures for your baby to enjoy. Unlike most choices, Once Upon a Farm does require refrigeration to stay fresh, which can be a con for some people.
However, that lets you know the ingredients are fresh and there are no unnecessary preservatives used! Once Upon a Farm stands out here because they don't use any preservatives in their formulation, not even citric acid or other natural additives. Once Upon a Farm also uses a cold pressure process that guarantees food safety, but it allows the food to retain more of its nutrients and flavors.
So, all of that being said means you have to worry about freshness and keeping the food refrigerated. The plus side is that these might be some of the best-tasting and freshest baby food you can offer your child! They will taste as they should. Make sure you read the ingredients because Once Upon a Farm also uses coconut milk as well as other forms of healthy fats to support your child's rapid brain development.
The starting stage is smooth, using single ingredients. As your child progresses to the advanced stages, you will notice different textures. Their Strawberry Patch option tastes delicious, but it also contains bits of chia seeds and coconut. For toddlers 18+ months, there are some delicious options, like their Chocolate Ever After, which is a blend of banana, raspberries, and cacao.
All of the fruits and veggies used come from California and Washington state. Everything is organic, kosher, gluten-free, vegan, and non-GMO. That's a lot of reason to want to use these organic baby food pouches!
The drawback is the price. It is higher than most pouches, selling in 3.5-ounce pouches. When you compare the price ounce for ounce, it's actually higher than the Pure Spoon option! However, it's worth the cost to pay for high-quality for your child! It's quickly becoming a favorite among parents who care about details.
---
8

Peter Rabbit Organics Baby Food
The Peter Rabbit Organics is a new choice for organic baby food, and babies are loving it! It is a baby food line created by Pumpkin Tree Snacks, who have a goal of bringing the best quality to the market. They offer a variety of yummy flavors, such as strawberry banana. Parents enjoy the flavors as much as babies, which is important. No one wants to give their baby flavorless baby food.
All of these are made in Oregon and certified organic by Oregon Tilth. No salt or sugar is added to the blends. Peter Rabbit created packaging that is BPA-free. All of the ingredients used are 100% USDA certified organic. Peter Rabbit only uses fruits and vegetables; they don't use any natural flavoring. It's what comes straight out of the garden.
The only negative to consider is that they don't offer staged varieties, so its best only to offer these once your child is in the stage 2 options with two or more ingredients. So, this option may not work for kids who are just learning how to eat, but they're great for babies who are ready for complex flavors. Overall, it's a great brand for parents who want their child to eat pure, fresh food, and they like transparency in a company.
---
9

Ella's Kitchen Organic Baby Food
Ella's Kitchen isn't available at every store, but some box stores do sell it. Ella's Kitchen started as a UK-based international company that sells organic baby and toddler foods in the US, Europe, and Canada. All of the ingredients used are 100% USDA certified organic.
These come in baby food pouches come in three different stages. First Tastes (Stage 1) have a single fruit or vegetable puree. You'll find a variety of veggies and fruits, like mangos, banana, pears, and apples.
Their Stage 2 pouches have blends of fruits and vegetables, baby cereals, fruit and cereal blends, fruit and rice blends, as well as dinner combination purees. You can find pasta with cheese and other textured meals!
No matter the variety you select, Ella's Kitchen never uses preservatives, additives, thickeners, gluten, or added water.
---
Safety Guidelines for Keeping Baby Food Safe
Since your child is going to consume this food, it's important that you understand the guidelines on how to handle and use baby food. It's not complicated; most you should already know!
Always Check Expiration Dates: Because some companies don't use preservatives or they use alternative preservatives, it's wise to keep an eye on these dates. Most baby foods have an expiration date is pretty far into the future, but just glance at it before feeding to your baby, especially if it's truly an organic food.
Watch the Packaging: If the jar or pouch looks weird of damaged, you should throw it away. If it gets really puffy, that could be an indication air got into your baby food pouch and the food is spoiled.
Toss Out Uneaten Portions: If you place the uneaten portion in the fridge, it should be used within a few hours. So, use it at the next meal time. If you can't and it ends up sitting in the fridge overnight, it's best just to toss it out. Bacteria from your child's mouth grows quickly in jars.
Don't Give Home-Canned Food: So, there is absolutely nothing wrong with canning your own foods, but there is a higher risk of bacteria. Adults and older children have no problems consuming these foods, but infants have immature immune systems which may not be able to process the bacteria.
Also, You can find out more about The Best Baby Food Maker in our complete review.
Buying the Best Organic Baby Foods
There is no shortage of choices for parents who want to provide organic food for their infant. With all of this information, you can decide which one is right for your child. You'll feel great knowing you are giving your baby the best from the start.