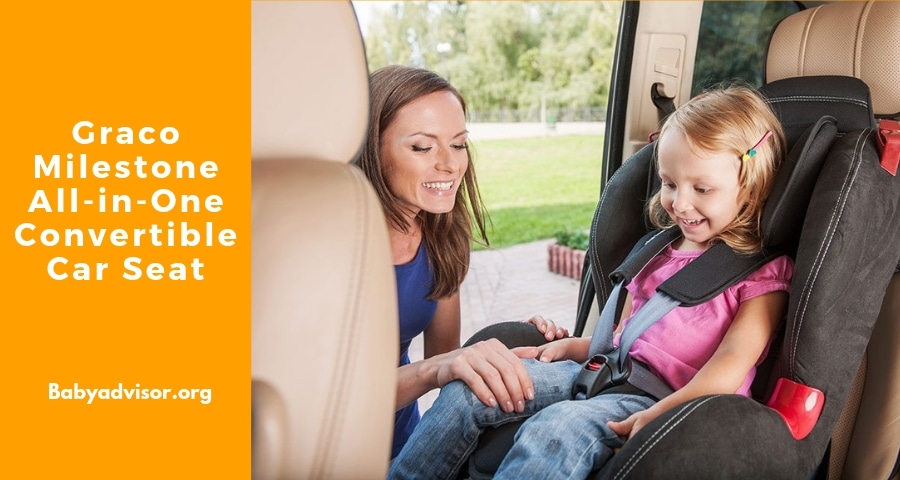 The Graco Milestone All-in-One offers parents an affordable pick for a three mode car seat. You have a rear and forward facing car seat plus a high-back booster!
When Graco debuted the 4Ever 4-in-1 Car Seat, parents were pumped. Soon afterward, Graco announced their newest choice, the Milestone All-in-One, which has three modes: rear-facing, forward-facing, and a high-back booster. It's highly rated and loved by parents, making it a fantastic choice if you want a seat that will last for years to come.
The Milestone receives awesome reviews stating that it's a super-safe seat with a fantastic latching system, maximum comfort, and an overall thoughtful design. Let everything, the Milestone does have some flaws, but that doesn't overshadow the nice design of the Milestone.
Let's take a look at the key factors of the Graco Milestone and all the details you need to know.
Key Features of the Graco Milestone All-in-One Car Seat
Key Features
5 to 100 pound weight range

Three modes – rear-facing, forward-facing, high-back booster

4-position recline

No-rethread harness

Easy to use rear anchor

InRight Latch System

Infant inserts for newborns

FAA Approved

Machine washable fabric

Movable cup holder

10 year expiration
Check Pricing and Availability
---
Pros and Cons of the Graco Milestone
PROS:
Three stages
Easy to adjust the harness
Machine washable padding
Four reclining positions
Movable cup holder
CONS:
Straps loosen easily
Recline button is hard to reach
Might be too big for small babies
Height and Weight Limits for the Graco Milestone
Let's look at the height and weight limits for the Graco Milestone in all three modes.
Rear-Facing
Weight Range: 5-40 pounds
Height Range: 1 inch below adjuster button on headrest when fully extended
Forward-Facing
Weight Range: 20-65 pounds
Height Range: Less than 49 inches
High-Back Booster Mode
Weight Range: 30-100 pounds
Height Range: 38-57 inches
Measurements of the Graco Milestone
Width at Widest Point: 19 inches
Shell Height: 28 inches
Weight of Seat: 19 pounds
Seat Depth: 12 inches
The Milestone is FAA Approved, but you should note that it's only approved with the 5-point harness. It's not approved in booster mode because airplanes don't have shoulder straps.
---
---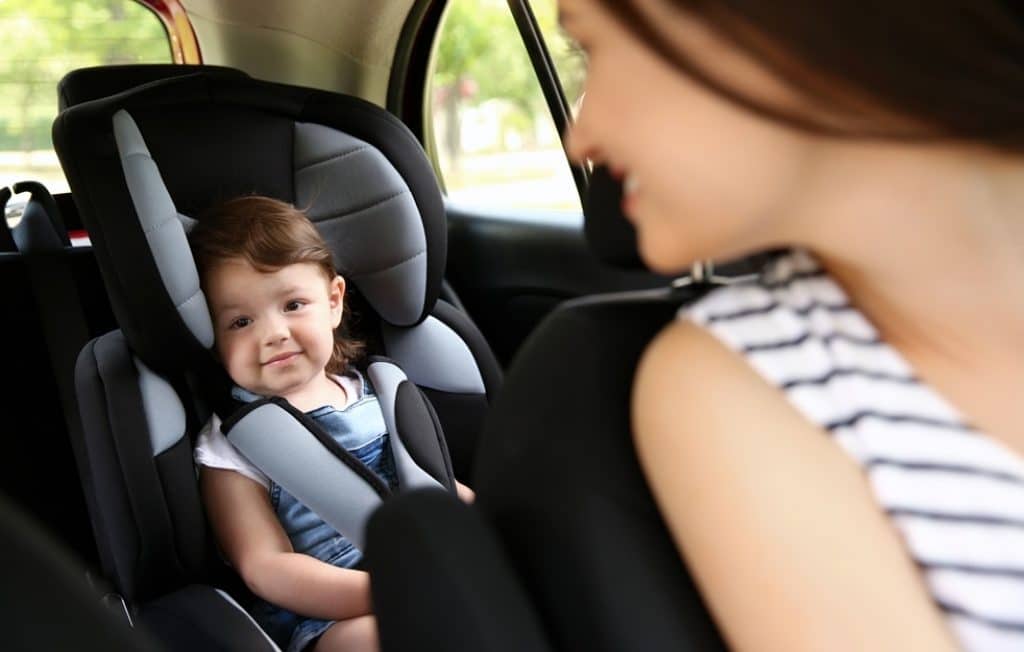 Growing With Your Baby
The Milestone is really a three-in-one rather than an all-in-one. The name is a bit deceptive because it has three modes rather than four. It's missing a backless booster, which is the final seat your child will need. When we think of an all-in-one seat, we think of one that will last until your child outgrows his seat around 8-years-old. The Milestone is mislabeled and should be called a 3-in-1.
That doesn't mean it doesn't offer great values to you as a parent. It can fit a 5 pound baby, but many parents do prefer a traditional infant seat for a baby so small. However, for an average sized infant, the Milestone works great.
At 20 lbs or 2-years-old (or older, ideally), you can turn your child forward-facing with the Milestone until he reaches 65 pounds. Many 5 or 6 years olds aren't even 65 pounds yet. Then, it transitions to a belt-positioning booster for kids 30 to 100 pounds.
If you use this car seat from the day you bring your baby home until he reaches 100 pounds, you will get a lot of use out of this car seat. If it works for 7 to 8 years, the Milestone is a great value considering that you only need to purchase a backless booster, and those usually only cost around $50.
---
Safety First for Graco
Whenever we take a look at a Graco car seat, the safety features are a top concern. Remember that all car seats in the US have to meet certain safety standards, so any car seat on the market is safe enough to protect your child. What parents need to know is how this car seat will protect their child and how that differs from other car seats models and brands.
First up, the Graco Milestone meets and exceeds all US and Canada federal safety standards. It is SafeSeat engineered, crash tested approved for side, rear, and forward impact at 2 times the national standard. That's impressive.
To keep your baby safe, Graco added a steel frame that is durable and reliable. The downside of the steel is that the seat is on the heavier side. Plus, it's tested for extreme temperatures. Some car seats have shown to not be as safe if in extremely low or high temperatures, but not the Graco Milestone.
---
What About the Install?
Every parent has some horror story about installing a car seat, so it's natural to wonder if it's going to take ages or if it's actually simple. A car seat is only good if it's properly installed in your vehicle.
Graco used the InRight latch system with the Milestone. The LATCH hook offers an audible cue that lets you know it is properly secured. Graco said that this should only take a minute or two, but that's going to depend on if the LATCH gives you the best install. The best install is whatever works best for your car, and that might mean you need to use the seat belt instead.
Parents get to pick between four different reclining positions. Two are meant for rear-facing, and two are for forward-facing. It lets you accommodate a wide range of ages and situations. For example, you can increase the recline if you're heading out for a road trip and want to leave in the middle of the night when your child typically sleeps.
NOTE: When the car seat is installed rear-facing, the recline handle is harder to reach. So, you'll have to adjust the car seat before you install to avoid even more hassle.
On the side of the car seats, Milestone have a recline bubble level indicator. It helps to make sure you have the recline in the correct position without all the guesswork. If your child is rear-facing, the ball needs to stay in the blue area of the indicator.
---
Extra Features You Might Love
This car seat may not be the top-of-the-line luxury, but Graco didn't fail to deliver features that parents love and want to see.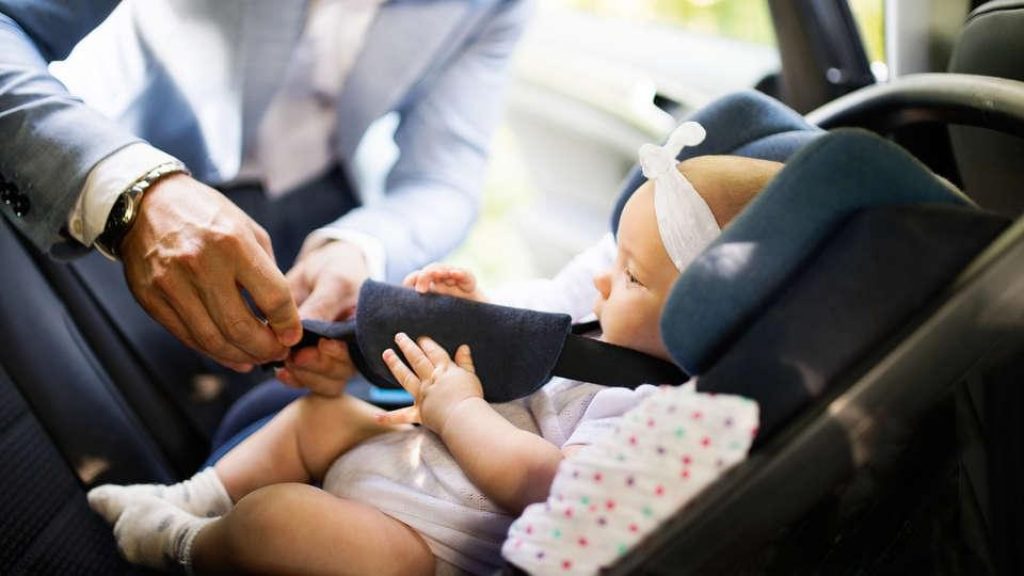 One of the nicest feature is the easy to adjust harness. The headrest and shoulder straps are connected. So, to move the straps up, all you have to do is lift up on the handle at the top of the seat and pull the headrest up. The straps come up with the headrest. You don't have to think about rethreading ever again. Graco added 10 different headrest positions, so you'll find the perfect position for your baby.
Most Graco car seats include a cup holder, but the Graco Milestone has a moveable drink holder. Who doesn't love that? Depending on where your child's car seat is installed, you can move the cup holder, making it easier for you to place their drink or hand back some delicious sacks. It's a good sized cup holder as well, capable of fitting most sippy cups and drinks.
Harness Storage Compartments
This is such a small detail, but it makes a difference. When you are done with the five-point harness, what do you do with it? Do you tape the straps or try to pin them in place?
Instead, Graco added storage compartments for the harness. All you have to do is lift up the padding behind your child's back, and you'll find a secret compartment. Put the harness in there and forget about it. So easy.
All parents know that every baby gear item has to come with machine washable fabric. The padding in the car seat is machine washable, so you can just toss it in the washer and forget about it. If your child gets sick and throws up, you need a washing machine.
You'll find the padding is easy to remove and reattach. There are several little loops you need to find, but other car seats are more complicated.
Without these inserts, you wouldn't able to use this car seat for smaller babies. Graco added soft padding to support your child's head, neck, and body. The padding is also removable and machine washable.
Here's an another model you may interested: Graco SnugRide 35 LX Click Connect Infant Car Seat.
---
The Final Thoughts
The Graco Milestone All-in-One is an impressive car seat, especially with all the different features. The secure and easy to use LATCH system keeps the car seat in place, and the adjustable harness is convenient to use. Parents love the harness storage compartment and machine washable fabric.
The flaws in the Milestone are there but seem small in comparison to the positives. Parents have noted that the straps loosen over time and reaching the recline button is challenging in rear-facing mode. Overall it's a smart buy for any parent wanting a good car seat that will last for years to come.