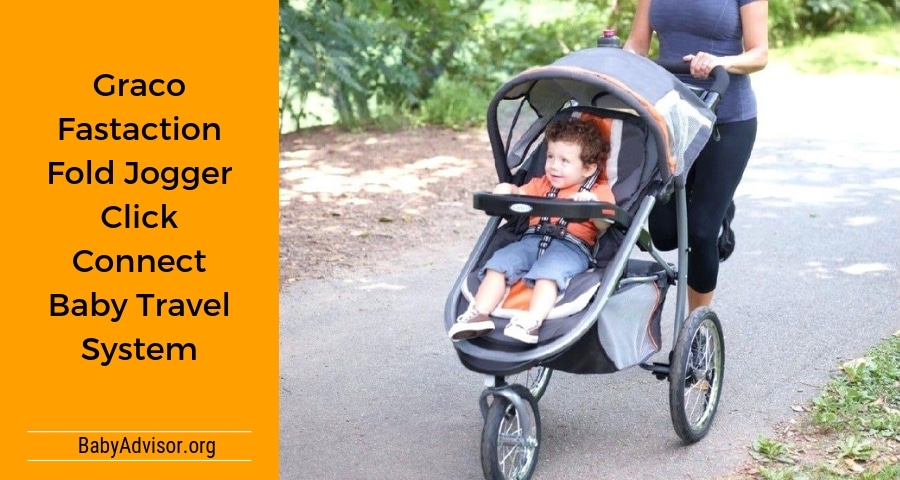 Are you looking for a travel system? The Graco Fastaction Fold Jogger Click Connect Travel System is all you need for the first year of life and more.
A travel system is a stroller and infant car seat combination that provides value and versatility to parents. It is one of the most logical purchases to make because you do need a car seat for your infant, and most parents find strollers to be a must-have item. The Graco Fastaction Fold Jogger Click Connect is one of Graco's most popular travel system, making traveling just a bit easier for parents.
What is a Travel System?
Before we take a look at the key features of the Graco Fastaction Travel System, you might have questions about a travel system and how important it is for you to get one.
A travel system is what they call a complete infant package. It comes with an infant car seat, a car seat base for your vehicle, and a stroller. Some travel systems don't come with the car seat base, so read the descriptions thoroughly.
In most cases, a travel system makes sense because you need these items anyway. Most manufacturers price travel systems competitively, offering a discount when you purchase both of them together.
You don't have to purchase a travel system, but when you do, you know the car seat works with the stroller. When you buy separately, the car seat might not connect and sit in the stroller sfely. With travel systems, the items go together, and it's more convenient than purchasing separately.  
Key Features of the Graco Fastaction Fold Jogger Click Connect Travel System
Key Features
Comes with a SnugRide Click Connect 30 Infant Car Seat

FAA approved car seat

Comes with the base of the car seat

One handed folding stroller

All-terrain jogging stroller

Includes a storage basket, a snack tray, and a parent console
Check Pricing and Availability
---
Height and Weight Limits of the Graco Fastaction Travel System
Click Connect Infant Car Seat
Weight Limit: 4-35lbs

Height Limit: 32 inches
Measurements of the Graco Milestone
Car Seat Dimensions: 30.7" L x 18.7" W x 15.6" H
Folded Stroller Dimensions: 28.5" L x 22.5" W x 18.5" H
Stroller Weight: 22 lbs
Make sure you measure your trunk to be sure it'll fit in your trunk. It measures to be about half of a smaller vehicle's trunk.
Pros and Cons of the Graco Fastaction
PROS:
Comes with the SnugRide Click Connect 30
Easy to fold the stroller
Large storage basket
Holds up to 50 lbs
Maneuvers well
Comes with a snack tray and a parent console
One hand folding
CONS:
The base can be tricky to install
Hard to unlatch car seat from the base
Car Seat canopy is too close to the handles
A Look at the SnugRide Click Connect 30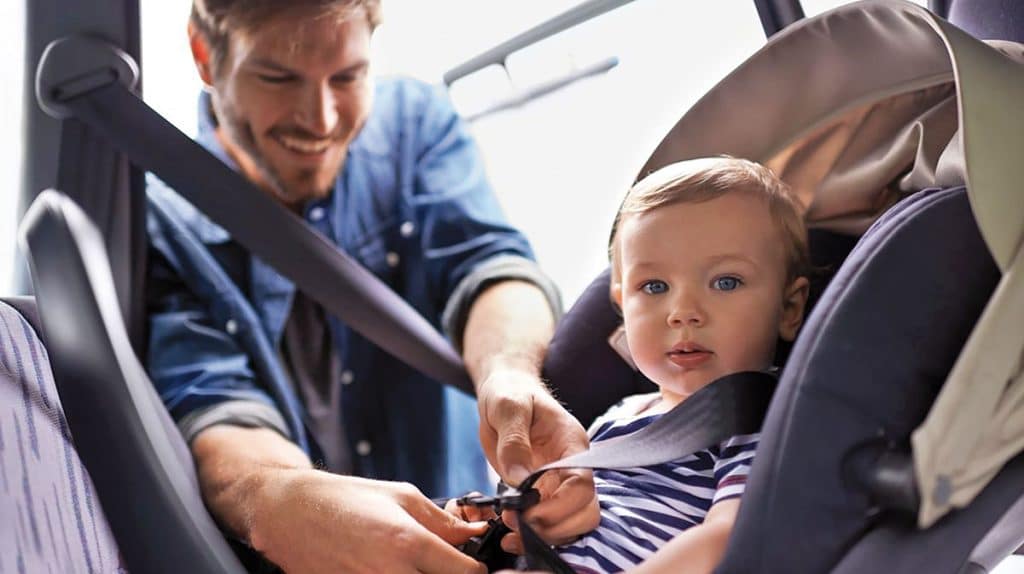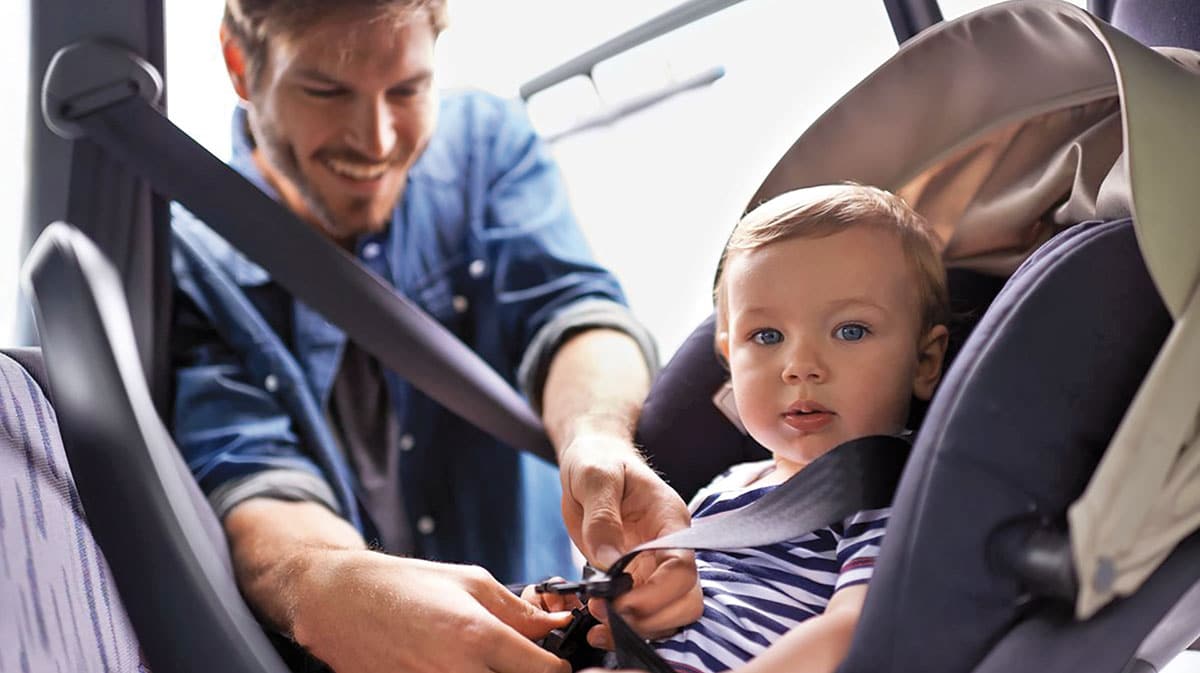 The SnugRide Click Connect 30 is one of Graco's most popular infant car seats. This travel system comes with the infant car seat and one vehicle base that stays in the car.
The Click Connect 30 is a rear-facing only car seat with a 5-point harness. If you like to travel, it's also an FAA approved car seat, so that's a win as well.
Graco gave this infant car seat its name because, when you put it in the vehicle, it makes a clicking sound that lets you know it's in the base correctly. You can quickly determine when the car seat is securely latched. This same sound is made when you attach the car seat to the stroller, letting you know it's locked in place.
Fastaction Fold Stroller
Once your child is old enough to hold his head up without support, you can start to use the Fastaction Fold Stroller. It's great for outdoor walks or heading to the store. The stroller reclines for naps, but it doesn't recline fully flat. That's why it's not recommended for newborn babies.
Graco added features that parents love, such as the peek-a-boo mesh cover that lets you check on your baby when he is in the stroller. The brake system is foot operated, and the front wheels lock and unlock as needed.
It's an All-Terrain Stroller
What impresses parents is that Graco created a stroller jogger combination, and it's an all-terrain stroller. It's surprising because most stroller and car seat combinations aren't joggers, let alone all-terrain strollers. Rubber tires with air create a smooth and comfortable that absorbs the shocks and bumps from uneven terrain. The tires also make maneuvering easier for parents, especially while jogging.
On the front, Graco added swiveling, locking wheels. The rear wheels are 15 inches, providing stability. They are air-filled tires, so they add cushion with the bumps and rocks you might encounter while on a trail. Air-filled tires act as a natural suspension system, making the ride smooth and even. However, that means you do have to keep a tire fix kit with you and be able to fill the tires up with air as needed.
Folding is Easy
This stroller lives up to its name Fastaction Fold Stroller, and it's made for people who like to travel and be on the go a lot. Opening and folding the stroller is quick and easy. With one fast hand motion, the stroller is folded. With one quick pull, the stroller is open. That's it.
The Fastaction isn't a lightweight stroller, weighing over 20 pounds. That's considerably heavier than other strollers on the market, so pulling it in and out of your trunk might be a problem.
Easy Installation and Set Up
Graco provides straightforward, easy to understand instructions. Assembling the stroller takes less than an hour start to finish if you take your time.
Installing the car seat is even easier. The directions show precisely what you need to do, and the car seat can be used with a seatbelt or the LATCH system. Remember, both are safe. You need to pick the one that provides the most reliable, snug install in your vehicle.
Some people do find unlatching the car seat to be a bit of a problem. It can get stuck, so you do have to give it a bit of a jerk to get it out of the vehicle at times. Removing the car seat isn't a one hand job.
Is It Safe?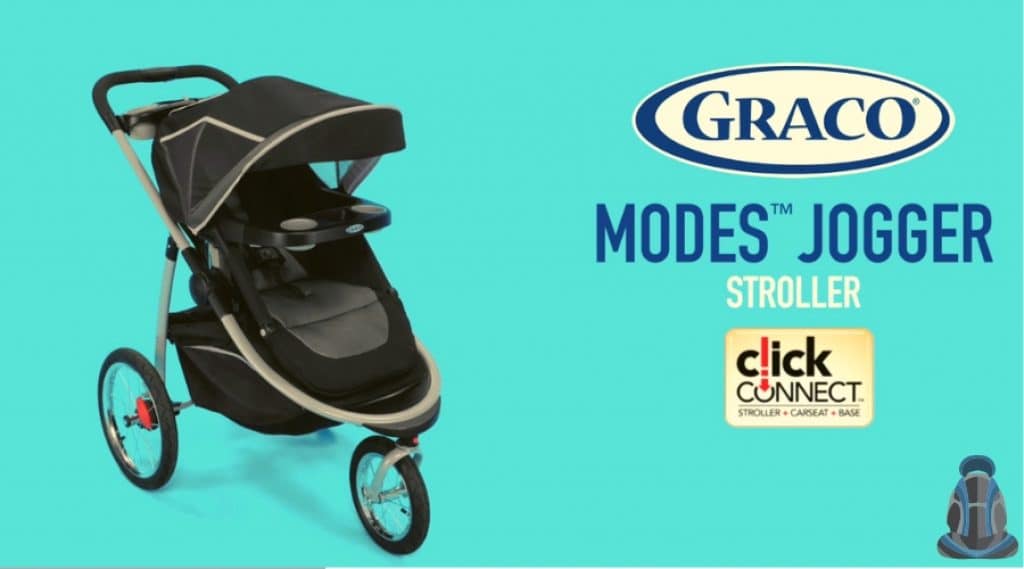 As parents, it's our job to keep our children safe, so is the Graco Fastaction Travel System safe and secure for our baby?
The Fastaction Fold passes the FMVSS 213 test, which is the Federal Motor Vehicle Safety Standard 213 for child restraint systems in a motor vehicle or aircraft. This means that the Click Connect 30 has been tested against many requirements and passed. Also, according to Graco, the Click Connect exceeds all safety testing.
This jogger is self-contained, which means it stands by itself and won't tip over if your child moves too much. The stability is due to the wide wheelbase. Not only does the ample base help with balance, but it also helps with maneuverability.
The seat comes with an adjustable 5-point harness to keep your baby snug in his seat. You don't have to worry he will fall or tip over. As your child gets older, you can switch the seat to a 3-point lap belt. So, the stroller ages with your child, and it helps give you more options.
Other Features That Parents Love
A few other things that parents love include:
Kids are messy, and your child is going to have accidents in the car seat as well as the stroller. The car seat cushion is removable and can be machine washed in cold water. You also can spot clean the cushion with cold water. The stroller can be spot cleaned as well with mild soap and warm water.
Keep in mind that both the car seat and stroller need to be air dried, so you'll have to plan to wash and dry when you don't have to leave anytime soon. Graco recommends that owners oil the wheels if they notice any resistance or friction.
The Fastaction Fold Stroller comes with two trays. One is a belly tray with two cup holders and a snack tray. The second is part of the top of the stroller with the handle. So, the belly tray is for the child, perfect for snacks while on the go and their drink. It's ideal for older kids. The second tray is meant for parents. You need a place to keep your coffee and car keys!
One of the excellent features is that the snack tray can be easily detached for better cleaning. Graco added a large under-the-stroller basket, which is big enough for a diaper bag and several other items while on the go.
---
You may also interested in: Graco Affix Youth Booster Seat full review.
---
The Final Conclusion
Graco hit it out of the park with their Graco Fastaction Fold Jogger Click Connect Travel System. It combines an all-terrain jogging stroller with their most popular Graco Click Connect infant car seat. While it does have some negatives, such as the higher price and weight, the combination will last you the first year of your baby's life. The stroller grows with your child, continuing until your child is a preschooler. That makes it a great value.