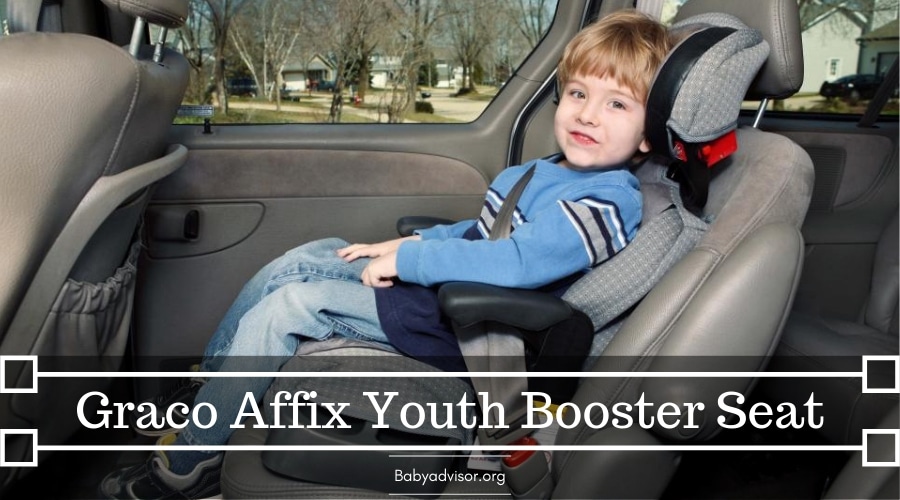 The Graco Affix is one of the most popular booster seats for kids. It's a favorite for busy families, offering a wide weight range from 40 to 100 pounds. Plus, Graco included a one-handed LATCH system. Finding a booster seat that uses LATCH isn't easy, but Graco answered the calls of parents.
Just the Graco TurboBooster, the Graco Affix comes in two versions. You can purchase it with the high back and with the back removed. If you don't need a high back booster, the backless version is cheaper. Graco recommends that you wait until your child is at least four years old to use a backless booster, but most kids need to be 5 or 6 before moving to that model.
---
Key Features of the Graco Affix Youth Booster Seat
Key Features
One-handed LATCH system

Cup holder and a storage system

10-year expiration

Converts to a backless booster seat

6-position headrest

Can be used up to 100 pounds.
Check Pricing and Availability
---
Height and Weight Limits of the Graco Affix
High Back Booster Seat
Weight Range: 30-100 Pounds

Height Range: 38-57 inches
Backless Booster Seat
Weight Range: 40-100 pounds

Height Range: 43-57 inches
---
Measurements of the Graco Affix
Weight of the Seat: 

10 pounds

Widest Point: 

18 inches

Headrest Width: 

16 inches

Seating Width: 

10 inches

Seating Depth: 

14 inches
At 10 pounds, we don't consider the Graco Affix to be light enough to move from vehicle to vehicle. You should note that you don't need a headrest in your car if you're in a high back booster mode. When you do switch to backless booster mode, you'll need adequate head support.
Also, due to the width of the seat, it doesn't work well for three car seats across seating unless your back seat is spacious. Make sure you install the seat properly because Graco doesn't allow any overhang with this booster seat.
Pros and Cons of the Graco Backless TurboBooster
PROS:
LATCH system
Front LATCH tightener
Integrated cup holder
Pull-out storage drawer
Wide seat belt guiding paths
Converts to a backless booster
CONS:
Hard to uninstall from LATCH
Hard to pull out a drawer when the child in the seat
LATCH can come loose
Armrests aren't adjustable
---
Let's Talk about LATCH, Baby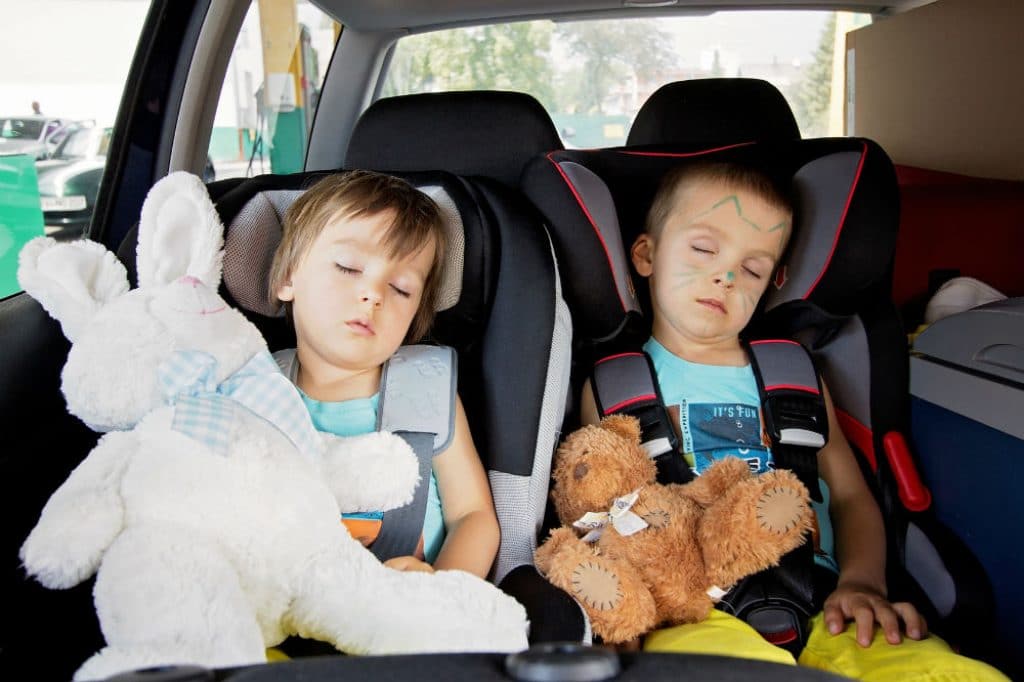 The Affix stands out in the crowd because it offers an integrated LATCH system that can be adjusted from the front of the seat. Not many boosters offer the LATCH system, so parents love this feature. It helps keep the booster seat stable and stops it from sliding all around the seat when your child is getting in and out of the vehicle.  
One interesting feature is that you hook the Affix to the LATCH hooks like you would with any other car seat, but you have to adjust the straps up front individually. You need to secure both the left and right sides to ensure it doesn't wobble. While it sounds a bit strange, it makes adjusting a lot easier.
We know that the LATCH straps aren't necessary to keep your child safe. Your child is just as safe if you don't use LATCH. Using the LATCH system is optional for the seat, and it hasn't been shown in any studies to be more reliable than a seat belt.
That being said, LATCH does provide extra safety by keeping the booster seat in place when your child isn't in the safe. You might not realize this, but empty booster seats can become a projectile during the event of a car crash. Keeping the booster seats in place when your child isn't in the car is essential.
As for safety, note that the Affix has the Best Bet Booster award by the IIHS. Graco hasn't issued any recalls, so you can be sure that this is one of the safest seats on the market.
---
It's Easy to Buckle
For older kids, ease of buckling is one of the essential features. You'll no longer, in most circumstances, be buckling your child into their seat, so it has to be easy for little hands. A backless booster is a bridge between car seats and the vehicle seat, so it comes with independence.
The Affix has bright red seat belt guiding loops to help your child follow the directions and buckle properly. Bright red makes it harder to miss, so your child can see what they're doing. However, the armrests do tend to get in the way of buckling up.
---
Easy to Install
One nice feature is that Graco added a storage compartment for the instruction manual under the seat, so you always have it close by to refer to when needed. The seat is easy to install with the LATCH straps. All you have to do is attach the LATCH to the anchors, tighten from the front of the seat, and have your child fasten in with the seat belt. Done!
---
Other Features Parents Love
Graco added additional features to the Affix that parents are loving! Here are some other features that are included with the Affix.
Kids love the storage options that Graco added to the Affix. There is an integrated cup holder so kids can keep their drinks close. Also, on the side, kids will find a sliding storage compartment for their snacks, games, or whatever they want to take along.
When comparing the Affix with the TurboBooster, the Affix has integrated cup holders, so they can't be hidden. This isn't a huge deal, but it is nice to be able to slide them away to save a bit of room when trying to squeeze in other car seats.
The seat cover is removable and machine washable. That's always a huge plus for parents. Taking off the cover isn't difficult nor is putting it back on correctly.
One perk of the Affix is the ability to recline. The TurboBooster doesn't offer this feature because it's only provided for high back boosters. For the Affix, you can use the recline when you're in high back booster mode, and it's a nice feature to have. It makes the seat more user-friendly for younger kids who are switching from a harnessed seat to a high back booster. Recline is excellent for road trips or late night driving.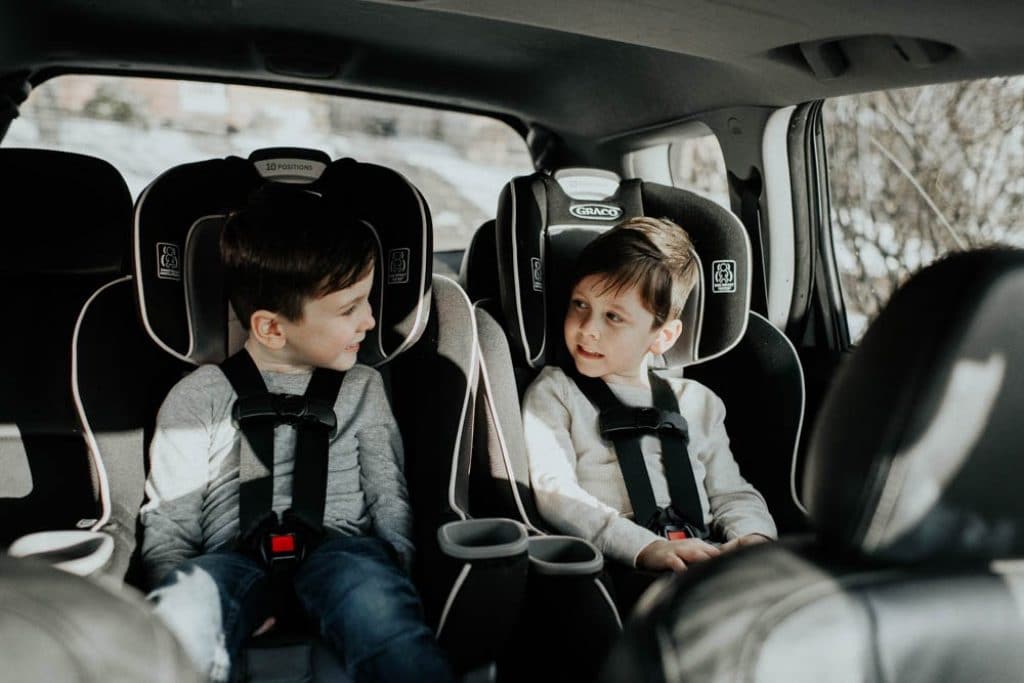 Negatives to Consider
Like any car seat, there are negatives to consider, so here are a few issues that parents who have used this car seat have noted.
One of the significant flaws with the Affix is that once you attach the LATCH straps, it can be hard to get them removed. They aren't the push-on connectors that Graco uses for many of their other car seats. So, you do have to rely on traditional hook-on connectors, and they can be a pain in the bet.
Of course, remember that LATCH installation is optional. So, if you find it a bit too difficult in your particular vehicle, try not to stress about it.
Another flaw that kids seem to dislike is short armrests. Unlike the TurboBooster, you can't adjust the height of the armrests nor can you pull them out of the water when getting in and out of the booster seat. Your child might have issues using the armrests comfortably.
---
How Do I Know My Child Needs a Booster Seat?
Switching from a harnessed car seat to a booster seat is a huge transition in your child's life and shows that they are aging and becoming more independent. It's quite a milestone, but don't take that milestone too quickly. Be sure that your child is ready for this big switch.
Your child needs a booster seat whenever he has reached the maximum weight and/or height restrictions for a forward-facing harnessed car seat. Depending on the car seat, that will be between 40-65 pounds.
A few other rules of thumb to consider when switching to a booster seat include:
Your child has outgrown his harnessed seat by weight and/or height.

Is your child between 4-8 years of age and at least 35 inches tall?

Your child is between 40-80 pounds and under 4 feet, 9 inches tall.

Is your child unable to sit with his back against the vehicle seat with his knees bent over the edge of the seat without slouching?

Does the vehicle seat belt not fit across the shoulder and over the lap when sitting directly on the vehicle seat?
You can't go by just age when deciding to transfer your child to a booster seat. Children all grow and mature differently, so it comes down to ensuring the weight requirement is met.
---
You may interested in Graco's other models:
Final Verdict
It's hard to go wrong with picking the Graco Affix Youth Booster Seat. You can convert the seat from a high back to a backless booster, lasting from 30 to 100 pounds. Most importantly, the Affix is one of the few boosters that offer the integrated LATCH system. Do remember that it is optional unlike infant and other harnessed car seats!