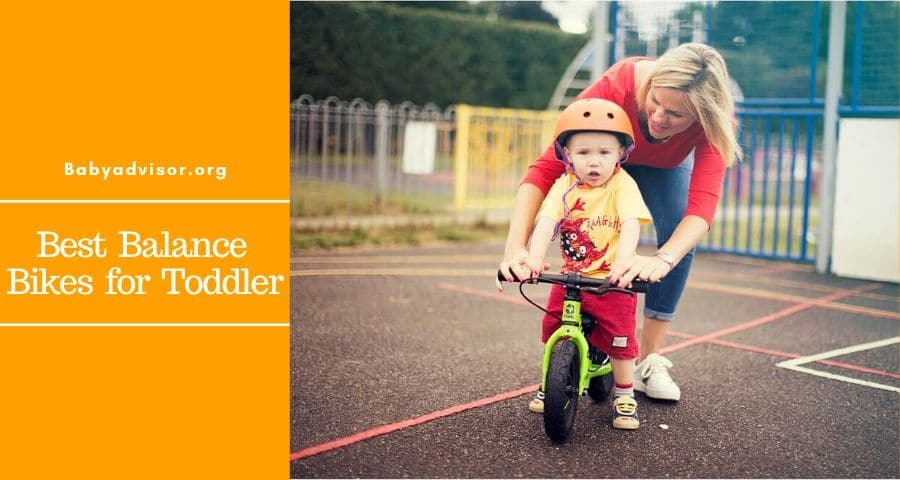 A balance bike is the ideal first bicycle for your toddler or preschooler, and they're taking the parenting world by storm. With hundreds of available choices on the market, you might wonder which are the best balance bikes for your child.
A balance bike isn't a one-size-fits-all, but neither are regular bicycles. All have different features to consider, such as the weight, recommended ages, brakes, size, and more. That's why it's beneficial to have all of the top picks laid out in a clear comparison.
Ready to dive into the world of balance bicycles for toddlers? Let's go!

---
Quick Recap of Best Toddler Balance Bikes
---
What is a Balance Bike?
I never had a balance bicycle growing up, and chances are, neither did you because they're a relatively new innovation designed to help train toddlers and kids to learn how to ride a bike.
We all remember when our parents took off our training wheels. It was a mixture of exhilaration and sheer terror. You wanted them to let go of the bike, but then again, you didn't want them to let go.
Using a balance bike helps kids learn how to ride on two wheels rather than starting with a tricycle or training wheels. These are pedal-less bikes that show your children have to steer and balance. Kids push with their legs, and when they get brave, they start to lift their feet, learning how to balance with their bodies.
Sound interesting?
They really are, and kids LOVE them. That's why they make a fantastic gift for kids.

The Best Balance Bikes
One of the best balance bikes on the market is the Retrospec Cub which is designed for kids between 20 months and five years old. It's a no-pedal bike with a low tube and kid-friendly frame, making it easy for your child to get on and off of the bike.
That's not all; there are so many reasons why this is so highly-rated by parents. Here are a few of the best features.
There is minimal assembly required, so your child can start riding quickly.
Retrospec used air-free tires that never go flat.
This bike is CPSC compliant, which provides more insurance that your child will be safe while riding.
Since this bike fits a range of ages, it offers an adjustable seat as well as adjustable handlebars. That means this bike grows with your child for years. You get your money's worth.
Check Pricing and Availability
PROS:
Ideal for Kids 2-5 Years Old
Adjustable Handlebars and Seat
Stable and Sturdy
Air-Free Tires That Don't Go Flat
Improves Coordination
CONS:
Heavier Than Other Bikes – Weighs 11lbs
Thin Thread on the Foam Tires
Footrest Platform is Too Wide
---
If you want a balance bike with a higher weight limit, the Strider 12 Sport holds up to 60lbs, so that will last your children years to come. It's designed for kids 2-4 years old, easy to use by themselves.
Strider created one of the lightest balance bikes on the market so that kids can pick it up by themselves. It weighs only 6.7lbs.
There are so many reasons to love the Strider 12 Sport Bike, and here are a few that you should know.
The 12 Sport can accept future upgrades such as heavy-duty tires and a foot brake.
The handlebars have mini grips on them, so your child has the ultimate control over the bike.
Don't forget that Strider designed this bike with a durable steel frame that will last for years to come. Also, they used puncture-proof tires, so you don't need to worry about potential damage to them as your child is riding along.
Check Pricing and Availability
PROS:
Lightweight Frame
Adjustable Seat and Handlebars
Built-in Footrests
Padded Seat for Comfort
Well-Made, Durable Bike
CONS:
Foam Tires Lack of Sufficient Tread
---
Schwinn crafted their balance bike to have a sport, BMX look with a steel frame. Combined with the pedal-less design and the low center of gravity, this bike is ideal for kids between 2-4 years old. It's one of the easiest balance bikes to use.
One of the main reasons that parents and kids love this bike is the distance between the seat and handlebars. It's larger than most bikes, so it gives toddlers plenty of room to stand and maneuver around. That makes it much easier to ride.
Here are some other features that you might love about this balance bike.
It features an adjustable, quick-release seat collar, so the bike grows comfortably with your child.
Schwinn added 12-inch spoked mag wheels that are air-filled tires.
The ball bearing headset is perfect for smooth steering, along with the sleek, chrome-finished handlebars.
It comes ready to be assembled with a limited lifetime warranty.
Check Pricing and Availability
PROS:
Adjustable Seat and Handlebars
Easy to Assemble
Long-Lasting, Durable Materials
Available in a Variety of Colors
Great for Toddlers
CONS:
Footrest Often Gets Caught
Too Big for Toddlers to Maneuver By Themselves
Not Rust-Proof
---
The Lightweight Balance Bike is great for kids 2-4 years old, but parents do say that it's best for kids 2-3 years old. It allows your child to learn how to develop balance and their biking skills.
This option stands out because it features the original banana-shaped bicycle frame, which is unique to this brand, hence the name. It has a low center of gravity, along with an easy step-through frame design. It's lightweight, weighing only 6.4 lbs.
Banana recently updated this bike, and it's better than ever. Here are some of the features that parents love about the Banana LT Balance Bike.
It has an ultra-comfortable, durable seat along with extra-safe handlebar grips for the best blend of safety and comfort.
Banana added lightweight, puncture-proof EVA wheels with improved traction.
The bike is constructed with premium parts, and it comes with a full warranty. If you have any problems with your bike, Banana is there to help you.
As your child grows, the Banana Bike has an easy quick-release mechanism that lets the seat adjust from 12.2" to 15.7".
Check Pricing and Availability
PROS:
Foam Tires
For Ages 2-4 Years Old
Adjustable Seat and Handlebars
Easy to Assemble
New Design
CONS:
No Footrests or Brakes
Not Ideal for 4-Year-Olds
---
We have to include a wooden balance bike! Early Rider is an eco-friendly bike with a wooden frame; it's made of marine-grade birch. Not only is it eco-friendly, but it's made with high-quality parts and has a 100lb weight limit.
Despite being wooden, the Early Rider Lite is made to be water and weatherproof. It weighs only 7lbs, perfect for little kids between 2-5 years old.
Here are a few other things we love about the Early Rider.
It has two levels of steering – restricted and unrestricted.
The bike grows with your child and has an adjustable seat and handlebar.
Early Rider added pneumatic tires with aluminum rims, and notched fork ends for easy assembly.
Check Pricing and Availability
PROS:
Wooden Frame That is Water and Weatherproof.
Durable, Quality Parts
100lb Weight Limit
Lightweight, Only 7lbs
---
How to Pick the Best Balance Bike
Here are the most important things to consider when you're looking for the best balance bike for your toddler
Look at how much the bike weighs. This is an essential factor when you have little kids riding it, such as the 18 months to 2-year-old range. Toddlers get frustrated quickly, so lightweight bikes are better. They need to be able to pick it up when they fall off or when they're ready to play with it.
Make sure the age range of the bike fits your child. Don't just look at what the company recommends; read the comments to see what parents say is working the best for their kids. While a bike might have an age range up to 5 years old, it doesn't mean that it fits the older kids well.
For the young crowd around 18 months old, the chances of them using any type of brake is slim, especially a handbrake. Their feet work as the only brakes they need.
By the time that your child is 2.5 to 3 years old, kids start to use handbrakes, and it's a good transition for kids who will be using a pedal bike as well. So, if you want your child to use this for a few years, go with one that has a handbrake included.
Younger and smaller kids need to have the lowest seat height. Putting your child on a bike that is too big will cause your child to fall off the bike or crash, plus they'll end up frustrated with the situation.
So, before you buy a bike, look at your child's inseam and pick a bike that has a minimum seat height that is no larger than their inseam. This ensures your child can put their feet flat on the ground.
Balance bikes have two different kinds of tires: foam/plastic or pneumatic (air-filled) tires. The foam or plastic tires never go flat, so that's a huge plus. On the other hand, pneumatic tires have better traction when your child is riding on the dirt, grass, or gravel.
Young kids typically ride on the driveway, your kitchen, or the patio, but as they get older, they quickly become more adventurous.

---
Common FAQs About Balance Bikes
At What Age Should I Get My Child a Balance Bike?
You can get your child one whenever you want, but most kids start riding theirs between 18 months and two years old. They can be used up to five years old, but a lot of kids get the hang of pedaling around four years old.
Do Balance Bikes Really Work?
Do you feel skeptical about balance bikes?
To be honest, I felt the same way too. There was no way something this simple could work, but much to my surprise, they really do work. They show your toddler how to ride on two wheels. As your child gets more confident on the balance bike, you'll watch them lift their legs as they ride down the driveway.
That's what they need to do! These bikes also help show your child how to steer, which is a necessary skill for riding a bike.
Does My Child Need a Helmet When Riding a Balance Bike?
Yes! Even though they aren't pedaling, there is still the risk of falling off. Helmets keep your child safe, and they also set your child up for a lifelong commitment to safety.
---
Final Thoughts
You might feel a bit skeptical about buying one of the best balance bikes for your child, but kids love them. They make an excellent gift, and it's a fantastic way to get your child to spend more time outside being active.
Remember, not all balance bikes are created equal. Look at the weight of the bike, the recommended ages, and the construction of the bike to pick the best one for your child.