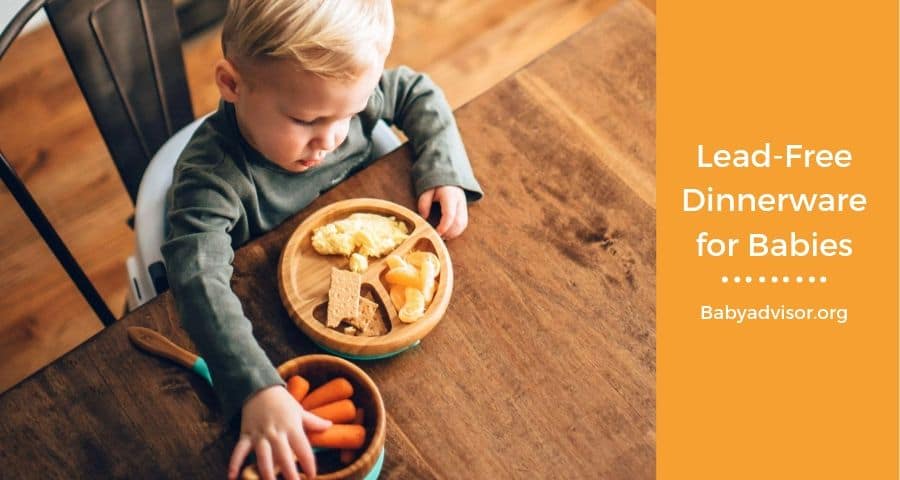 Everyone knows that what we eat is essential for our bodies, but people often don't think about the dinnerware we put the food on each day. We might think that the dinnerware we picked for our babies is safe. You want non-toxic, lead-free dinnerware that is durable and versatile.
That shouldn't be too hard, right?
In the perfect world, kids would eat on the same dinnerware as parents. We don't live in an ideal world, and kids love to toss their plates and bowls on the floor. Unless you want to shatter porcelain all over the floor, you need a durable, yet appropriate, choice for lead-free, non-toxic dinnerware.
---
Is Dinnerware Really Lead-Free?
Surprisingly, many dinnerware choices contain lead or cadmium. If you reach in your grandmother's china cabinet, you probably are holding lead or cadmium, and it still happens today.
In 2010, WTHR completed an investigation into lead-free dinnerware. Their results showed that around 36% of the dinnerware they tested had levels that are higher than what is deemed safe. Eating out of these dishes that contain lead can lead to an accumulation of lead in your body, leading to lead poisoning. Babies and young children are vulnerable to lead.
Lead is used in the glaze and decorations on the surface of dishes. It helps to make them look shiny, bright, and makes them more durable.
Another toxin to watch is cadmium, which is another toxic metal to humans that is from the Earth's crust. It can be found in batteries, paint, and more. This metal is linked to cancers and cadmium poisoning. Cadmium gives dishes the bright colors, so if you use ceramic, porcelain, or china, there is a high chance it contains cadmium.
---
Other Toxic Chemicals in Your Dinnerware
If lead isn't scary enough, there are other toxic chemicals in your dinnerware. That can be scary for parents, and that's why we need 100% toxin-free dishes.
Here are some of the chemicals you might find in your dinnerware.
Melamine is a chemical component that is often used in plastic tableware, and it leaches into our food. If you serve hot food, it can leach into your food, as well as into acidic food and drinks. Melamine is linked to kidney failure, especially in little kids.
Known as vinyl, PVC is a toxic plastic, and it's the least recyclable plastic. It's been linked to health problems, such as cancer and congenital disabilities. These chemicals migrate into our food when we use dishware containing PVC.
Phthalates are plasticizers that are used to soften plastic products. This chemical is used in children toys, plastic food containers, and cosmetics. In Europe, phthalates are banned because they're linked with infant development problems.
---
The Dangers of Plastic
The most common choice for dinnerware for kids is plastic. Plastic doesn't break when your child chucks it across the room. It seems like a logical choice if you don't want broken plates.
Despite this advantage, it doesn't get rid of the fact that plastic is full of nasty chemicals that you don't want near your baby. Plastic includes things such as:
BPA
BPS
Melamine
Phthalates
BPA is the biggest issue, and there is a good chance you've heard of it. Many packages now say BPA-free across the front. You can find BPA everywhere, in items like household electronics and toiletries.
BPA is a synthetic chemical component that is found in everyday items that use hard plastic. Through extensive studies, we know that food and drink items that contain BPA are dangerous, especially when heated.
We know that exposure to BPA leads to health problems, such as:
Heart disease
Hormonal interference
Type 2 diabetes
Reproductive disorders
Even if you purchase plastic dinnerware that is free of these chemicals, it can still be harmful because plastic releases toxins when it's heated up. That's particularly scary to think about if you heat and serve food to your children on plastic plates or cups. You also run the dishware through the dishwasher.
We want to stay away from plastic, so what can we use instead?
---
Material Options for Non-Toxic Dinnerware
Now, let's look at materials for lead-free dinnerware that you can pick instead.
Many parents love wood for dinnerware. It's sustainable, environmentally friendly, and not easily broken by crazy kids tossing their bowls. Who can argue with durability?
There are some problems with using wooden dinnerware. It can swell when heated, and you typically can't put them in the dishwasher or microwave.
Another option to try is stainless steel. We know that high-quality, 304-grade stainless steel is a durable, safe choice for non-toxic dinnerware. Unless you have a sensitivity to nickel or chromium, any trace amounts of metals that might end up leached won't harm you. Plus, stainless steel will last for years to come, making it a fantastic investment.
There are only a few downsides to stainless steel. First, you can't microwave it, and that can be annoying. It does get really hot so that you might need a cover for them. Also, have you ever dropped something stainless steel? It might wake a sleeping baby sibling.
Silicone is an excellent compromise if you like the flexibility of plastic but want something lead-free and non-toxic. Silicone is made of a non-toxic polymer called silica, which is mostly made of sand. Instead of belonging to the plastic family, silicone is a member of the rubber family.
Silicone can withstand abuse. Your child can toss it everywhere without damage. You can heat silicone materials without any cause for concern; it doesn't off-gas or leach harmful chemicals.
However, before you purchase, make sure that you only purchase 100% food-grade silicone. Some companies use plastic fillers, so always do your research before buying. If you twist or pinch silicone, it shouldn't turn white. If it does, it has plastic fillers.
You might not consider glass for dinnerware, but it's a legitimate choice that is usually non-toxic. Many people prefer glass for things such as food storage containers, so why not for your baby's dinnerware?
The glass used for dinnerware is much thicker and durable than typical glass. Tempered glass is durable, and it won't break if your child drops it from his highchair. This type of glass is 2.5 times stronger than average glass, plus it's shock-resistant because it's created with a process that involves extreme heating and cooling.
Tempered glass is heavy, so you might not want to deal with it. Plus, there is always the chance that it will break.
---
How to Pick the Best Lead-Free Dinnerware
So, how are you supposed to pick the best non-toxic, lead-free dinnerware? Let's take a look at some factors.
How easy is it to keep these plates and bowls clean? Dishwasher-safe is the preferred feature for most parents, and most of the products on our list are dishwasher friendly. If you dislike hand-washing dishes, be sure to pay attention to cleaning methods.
Anyone who has a toddler will tell you that they love to throw everything they can, including their plates. Whatever dinnerware that you purchase should be non-breakable. It's best if they are crack-resistant or wear-resistant.
Can you put them into the microwave? It's nice to be able to put the plate into the microwave to heat leftovers for lunch. Ideally, the plates wouldn't transfer heat, so your child won't burn themselves when touching the plate.
What material is used to create the dinnerware? Is it what you wanted? Each of the materials used to develop dinnerware has pros and cons.
Always consider the other features. Some of the plates stick to highchairs, which is an excellent feature since we know that kids toss their dinner on the floor. Different sets include forks and spoons.
---
The Best Lead-Free Dinnerware for Babies
1

WeeSprout Bamboo Toddler Plates – 4 Piece Set 
Bamboo is a long-lasting material, and WeeSprout uses the finest choices for their materials. These plates are stackable, so they store easily in your cabinet. We love that they're crack resistant, so you don't have to worry about replacing them often.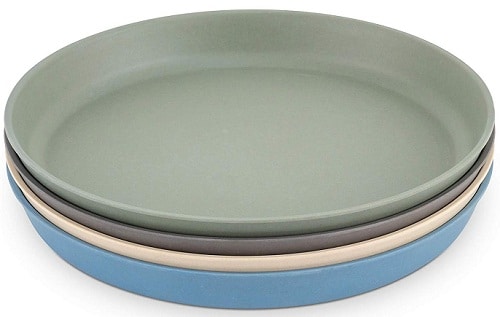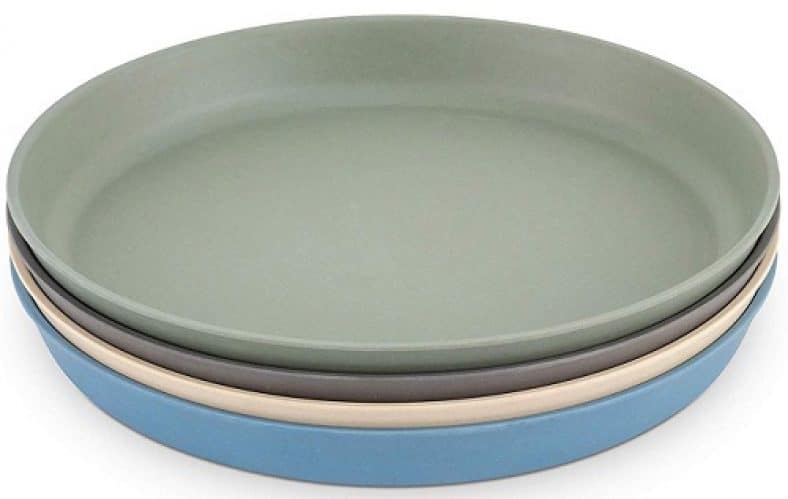 WeeSprout made sure their bamboo plates are dishwasher safe and FDA-approved without any toxins or chemical finishes. These plates are free of BPA, phthalate, PVC, lead, cadmium, and mercury. So, you don't have to worry about any of those chemicals harming your child.
Parents appreciate that WeeSprout crafted these bamboo plates to handle all temperatures. Whether you want to serve icy cold treats or hot dinner, these crack-resistant plates can handle it. Plus, they're freezer-safe along with dishwasher safe.
Don't stop with just plates! WeeSprout also sells bamboo toddler bowls and bamboo toddler cups for a complete dinnerware set.
Check Pricing and Availability
---
2

Kiddobloom Kids Stainless Steel Dinnerware Set 
If you want to try a stainless steel dinnerware set for your child, Kiddobloom sells one of the best-rated picks on the market. The set contains a child's bowl, a kid's cup, and a kid's divided plate. It's suitable for babies, toddlers, and kids.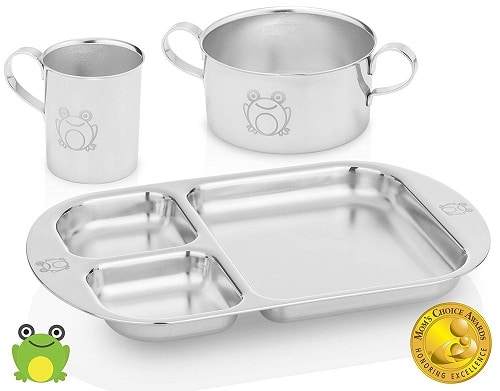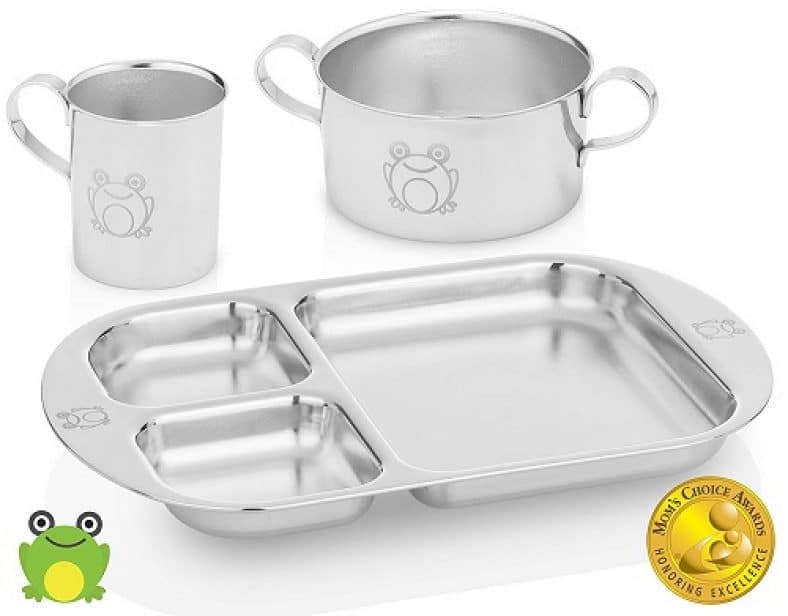 We love how easy it is to keep the Kiddobloom Set clean and hygienic. This set passed lab tests, so it complies with FDA food and CPSIA safety regulation using thick, 304 stainless steel. Kiddobloom is loved so much that it is a gold medal recipient of the Mom's Choice Award.
There are a lot of things to love about this stainless steel dinnerware set. For example, there are no sharp edges or points, and it's created not to rust quickly. Your child can toss it around because it's designed to survive drops. The lack of crevices on the rim makes it impossible for food and mold to become trapped.
Check Pricing and Availability
---
3

Happy Healthy Parent Silicone Bowl & Plate Set
Are you interested in using silicone for your child's dinnerware? Happy Healthy Parent sells a set that parents rave about all the time. Once you know all of the details, it's easy to see why this set is so loved.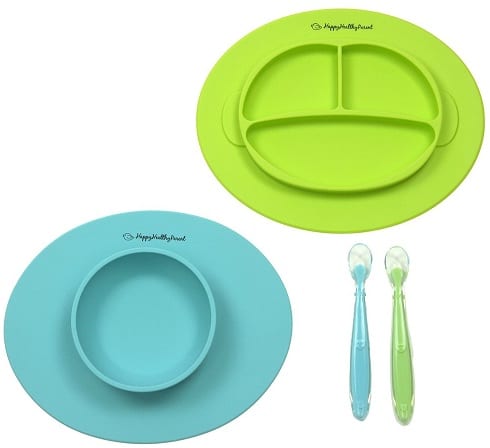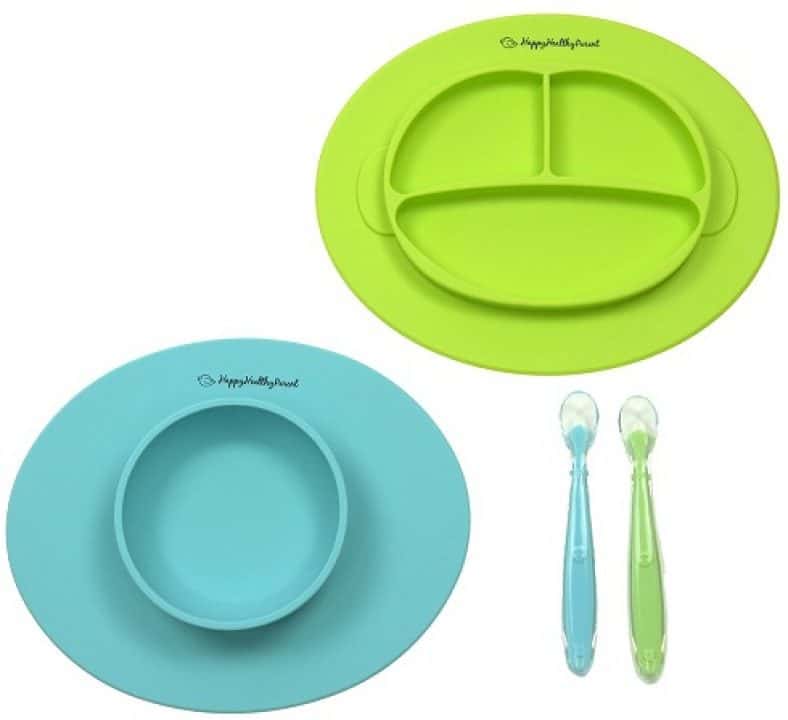 First, Happy Healthy Parent only uses 100% food-grade quality silicone, so you don't have to worry about your child coming in contact with dangerous chemicals. The silicone used is durable, high-quality, and stain-resistant, so it's easy to clean.
Each set includes a bowl, a plate, and two spoons, and you can toss them into the dishwasher after the meal. They're totally dishwasher safe and travel-friendly so that they can slip into a diaper bag easily. These plates are microwave safe, s you can heat meals without the risk of chemicals spreading into the food. We know that these plates and bowls are free of any toxins that might hurt your child, including lead and cadmium.
Check Pricing and Availability
---
4

Re-Play Made in the USA Dinnerware Set 
Despite the dangers of plastic, we included Re-Play on the list because they are lead-free and their message behind their products. All Re-Play products are BPA, PVC, lead, phthalate, and melamine free, as well as being dishwasher and microwave safe.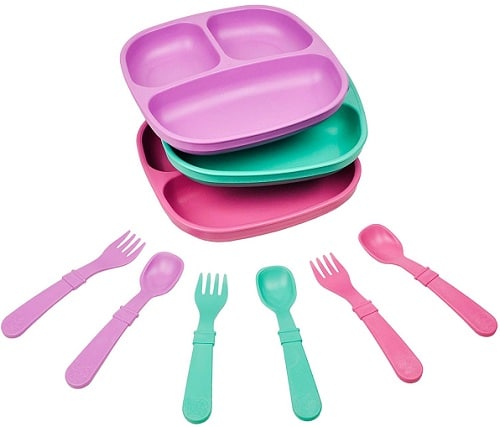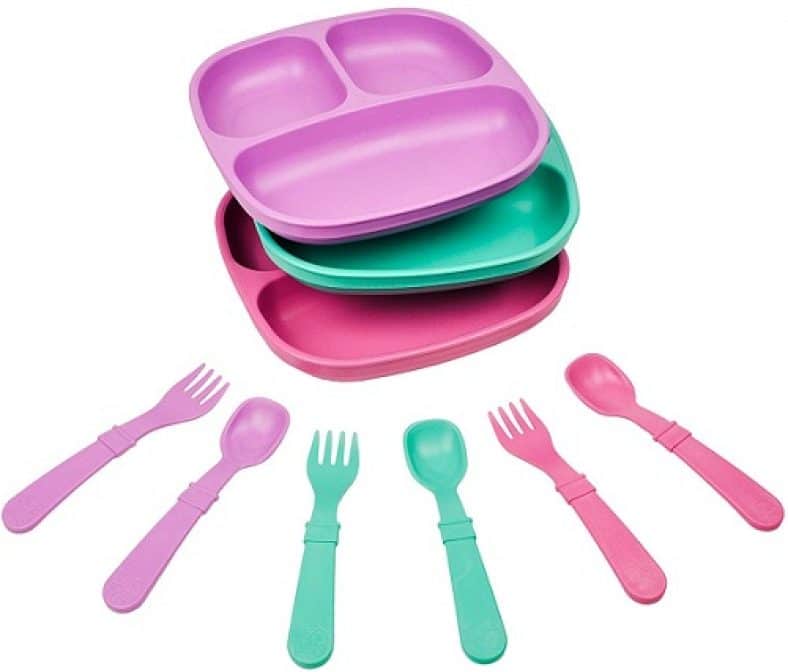 What we love about Re-Play is that all of their products are made in the USA from milk jugs and recycled plastic that are FDA approved for food contact. We love this message! Re-Play use of recycled plastic helps to reduce greenhouse gases and saves energy.
This dinnerware set is sized just right for your child. The forks and spoons have thick handles that make it easy to grip and use. The spoons are deep, so food stays on the spoon, not on the ground. Each set includes three divided plates, three spoons, and three forks.
Check Pricing and Availability
Need help to choose baby's first utensils? Here's our top picks of best baby utensils.
---
5

Bamboo Bamboo Baby Plates with Suction 
Here is another option for wood dinnerware for babies. Bamboo Bamboo creates all-natural bamboo plates that have a sturdy suction base that grips most highchairs and tables. Bamboo is naturally antibacterial and antimicrobial.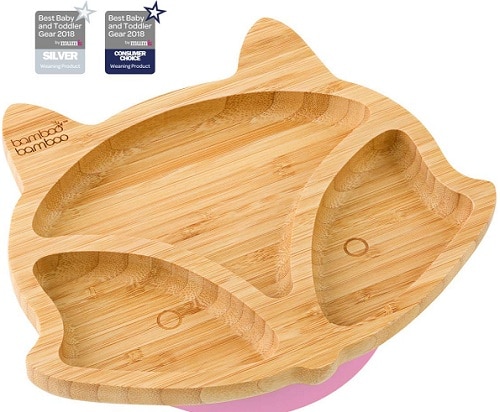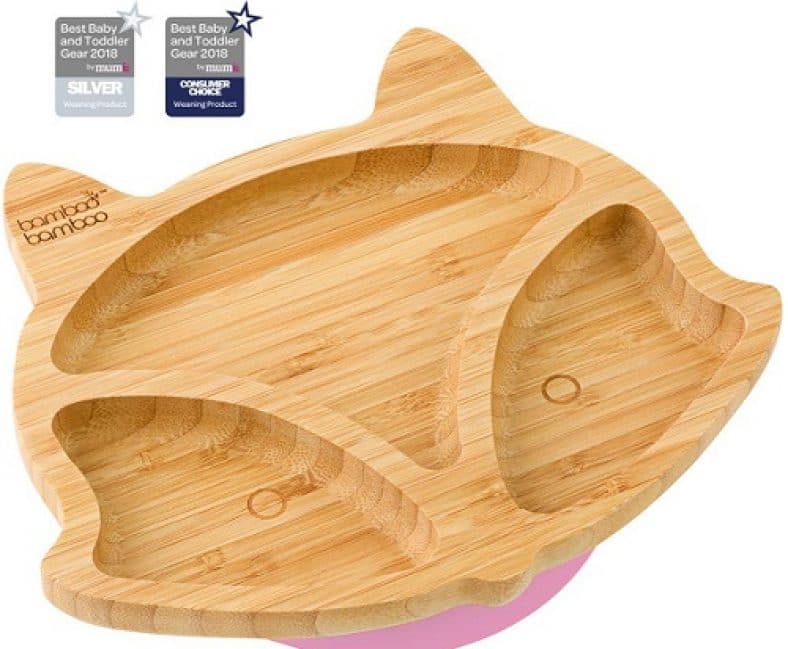 It's hard not to love these plates. They're FDA-approved, toxin-free, and no BPA or phthalates were used in these plates. The plates have a multi-portion design that is perfect for picky eaters. It can be used to separate foods, and the rounded, raised edges make for easy scooping.
These plates are award-winning, prized by parents who practice baby-led weaning. They come in six different unisex colors. You can purchase these plates in a few shapes – fox, bunny, divider, lamb, and dish plate.
Check Pricing and Availability
---
6

Jervis & George Kids Tempered Glass White Bowls with Silicone Sleeve
Are you interested in tempered glass dinnerware for babies? Jervis & George create tempered glass bowls using safe, non-absorbent materials. They're designed to be sure your child eats only from pure, natural materials.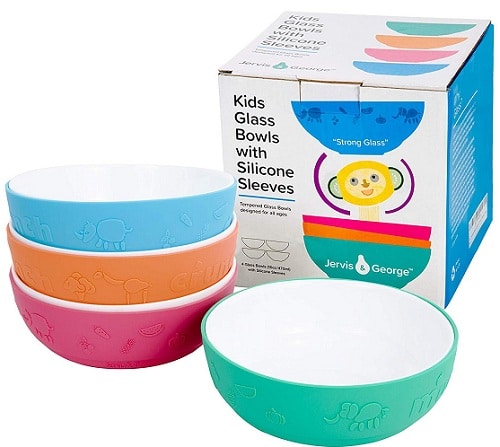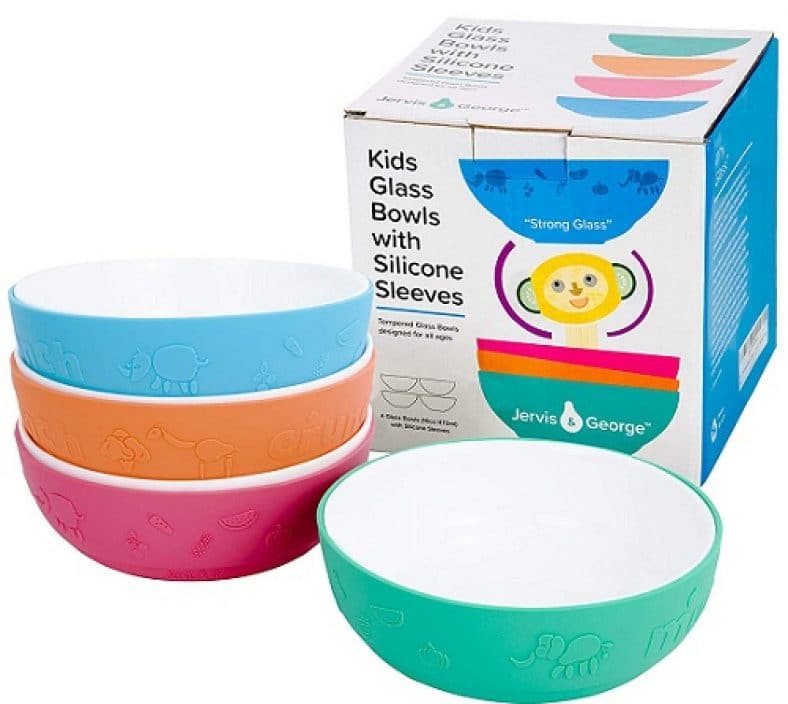 These bowls are strong. Their tempered glass is 4x stronger, and they're thermal resistant. Jervis & George designed their dishes to go into the freezer, dishwasher, and microwave. We love that these bowls have a non-porous surface that eliminates stains.
We love that Jervis & George uses fun, colorful silicone sleeves with animals designed into the silicone. The sleeve allows the bowl to be non-slip and protects little hands against the heat. Kids of various ages can enjoy these bowls, whether you have a baby or an older child eating cereal.
Check Pricing and Availability
---
Final Thoughts 
We do everything that we can to feed our kids the best food possible, but what if we're feeding that healthy food on toxin-filled plates? The dinnerware we use might be filled with lead, cadmium, and other nasty chemicals that might be harmful to our babies. That's why parents need to find the best lead-free dinnerware for babies so we can keep our children safe.