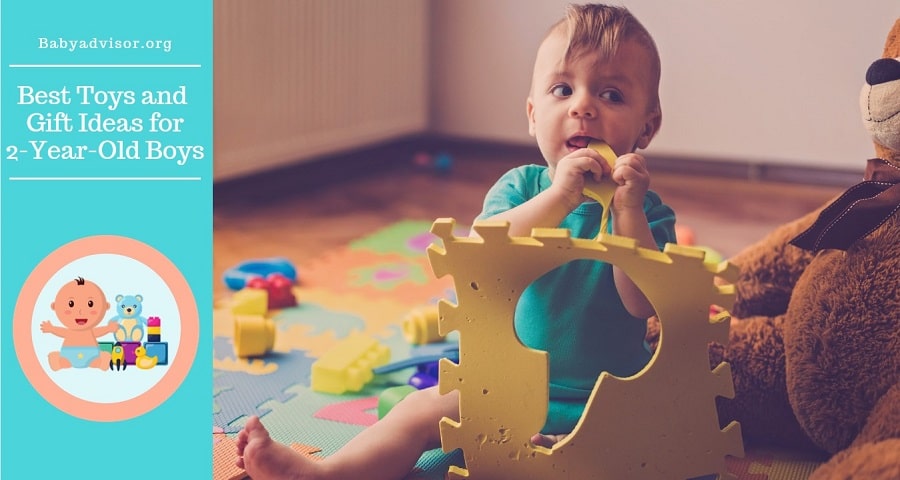 Are you looking to shop for a 2-year-old boy this year? There are several ideas, but you might want to ensure that the toy you pick promotes the development and keeps him engaged.
Having a toddler in the house can be pretty exhausting, but with the toys around to keep them busy, things are made easier. However, picking a toy for a 2-year-old boy is a big challenge as you need to be sure that the product you have picked matches the little one's interest and encourages development.
Most of the toys included in this list are built to help kids develop their motor skills, boost creativity and imagination. Some are also great for helping kids for pre-school and beyond, so they are not just selected randomly; they have plenty of benefits for your little guy. To confirm what we are talking about, check out our top picks below and buy what best for your kiddo!
Best Toys and Gift Ideas for 2-Year-Old Boys
This classic-colored building blocks package is the ideal gift for your kid. The shapes are special and perfect for little hands. The building blocks are great for early childhood development as they come with plentiful benefits and allow kids to become more creative. They can build and rebuild, and play and learn for hours without getting bored. You might think that your house will be messy, but after playtime cleanup is quick and easy by simply putting all the blocks in a storage bag.
---
This adorable book is quite interesting as it introduces kids to new vocabulary. We love the toy because it is clear and easy to use, and allows kids to learn tons of vocabularies. All your kiddo have to do is touch pictures and words on various pages to explore fun facts, words, sounds and music. By simply flipping the switch, your little one can learn new words including animals, objects, and colors in both Spanish and English. The book has 12 learning categories, and your kiddo will undoubtedly cherish what it has to offer.
---
Nothing more enjoyable than this Little Tikes First Slide! It brings lots of fun to your little guy's world. Every parent loves to watch their kids' cute smiles while playing, and this is the ideal present that kids adore and wish to have. Your kid doesn't need any experience; it is perfect for beginners. The benefit of sliding on this toy is that it promotes balance, fitness, and coordination. You'll also have an easy time storing the piece because it folds and unfolds in seconds.
---
If you want your little guy to develop fine motor skills, counting skills, color recognition, and sorting, this colorful learning spike is all you need to get. It is the right size for toddlers, and its features are 100% kid-friendly. The smiling hedgehog has several holes on its back where your little one can insert and replace the peg-shaped quills while developing his motor skills. Once the playtime is over the quills can be easily stored in the hedgehog, so you won't have any hard time to clean up.
---
You'll love to watch this playful educational and interactive puppy follow your baby boy around. It makes learning fun by simply pressing the number button to learn colors, numbers and objects, and hear a question or song. Every parent likes it due to its incredible features, including easy storage when not in use, automatic shut-off, and volume control. It comes in three colorful buttons that will encourage your kid's gross motor skills. Although the batteries are included, you'll need to buy new ones for regular use.
---
There are so many reasons you should consider buying this exciting Boon Building Bath Pipes Toy. Firstly, hand washing these pipe toys is pretty simple because you just need warm, soapy water, and then rinse them with clear water. Secondly, the tubes simplify your life as a mom or dad while retaining your personal style. With these tubes, water does not go to the floor as you can suction them to the wall so that the water can go back to the tub. Thirdly, you can use the tubes in a chain or individually. Another reason to buy the toy is that the functions and shapes are 100% unique and are made without BPA.
---
Check Pricing and Availability
This VTech Turn and Learn Driver is what every toddler boy needs! It has features that make the pretend drive seem real. For instance, it included the rules of the road like the horn and safety lights (red, yellow and green). This baby car makes learning fun and encourages kids to become more creative and imaginative. It has colorful buttons that your kid can press to introduce more than 60 songs and phrases about different vehicles and animals. Not forgetting, there are three ways to play the toy; music mode, driving mode, and animal mode.
---
By now you must have realized that kids like doing what they see you doing, so whenever you're on your phone taping various apps, your kid wants that too. With this VTech Touch and Swipe Baby Phone, your kid will feel equal as it adapts the features of a real smartphone. It has 12 touchable apps including pretend clock, weather and calendar. This customizable baby phone has different phrases, 15 melodies, and sing-along song to keep your kid engaged.
---
This fascinating VTech Drop and Go Dump Truck is a must-buy for your little one. It has three colorful buttons where your kiddo can press to introduce phrases, melodies and learn colors and tools; hence it is a great learning toy. The hinged bucket can be filled with the provided colorful boulders for your kiddo to push and pull around for fun while heading to the construction site. It will also give your toddler boy endless smiles through its smart responses.
---
Would you like to see your son all smiley? This cute and stylish racing car is all you need to get for him. The car comes with removable drivers to give your little one all the freedom to play. It has cool lights effect and exciting music. The toy adds more fun through its awesome speed that is easily elevated by a simple press on the remote button. From our top-notch research, we have no doubts that he will also love the music, honking sounds and flashing headlights.
---
Related,
---
Check Pricing and Availability
These delightful toys are adorable, and your little one will enjoy them for adventures. If you consider getting the set for him, you'll be making a smart and safe choice as the toy meets all international safety standards. Also, the plastic that has built the pieces does not contain lead, BPA, and phthalates, so your kid is secure against any harm. The Green Toys Ferry Boat with Mini Cars Bathtub offers imaginative and open-ended fun while encouraging your kid's motor skills.  The cleanup is also easy as the toys are dishwasher safe.
---
Check Pricing and Availability
This rocking horse will help your toddler boy to learn coordination and balance. Its seat was designed for stability as it is low and smoothly rounded to keep your little one from falling. This bright blue colored-horse has smoothed edges and corners to protect his tiny delicate hands. It is also easy to grip, making him comfortable and confident. The sturdy construction and unique design for this happy horse allow kids to saddle for hours, so we guarantee you endless fun.
---
Trust us. Your baby boy will love this adorable riding toy. It has a welcoming, friendly face, and has foot-to-floor making the ride easier and safe. He will not only use it now but also in the future as the seat is adjustable as he grows. His first ride will help him strengthen balance, active play and gross motor skills. You'll also start noticing his improved coordination skills. So, you'll have no regrets of buying this amazing toy whatsoever!
---
Let your toddler boy show you his fix-it skills with this kid-friendly VTech Drill & Learn Toolbox. It comes with a working toy drill, electronic fix-it tray, nails, hammer, screws and wrench. Your kid can pretend to make repairs by inserting double-sided project cards while following repair instructions. The toy will help him build motor skills and introduces cause and effect during the spins and drills. It also features 125 plus songs to make the fixing more enjoyable and fun. Once the playtime is over, the tools are easily put back into the box where they fit well.
---
Your son's life will get busier and busier with this amazing Playskool Busy Ball Popper Toy for Toddlers and Babies. He will have fun again and again popping, dropping and rolling down the colorful balls. As kids love noises, your kid will find this toy adorable due to its silly sound effects and lively music that will give him a fun sensory experience. It also has easy to push buttons to make life easy for little hands, and come with five brightly-colored balls.
---
Imagine a world that allows your kiddo to experience fantastical adventures as he plays!  With this Fisher-Price Imaginext DC Super Friends, he will grow his imagination skills and learn more about himself. He can light-up Batmobile by simply squeezing a button, which is so cool. Apart from the Batmobile, the package includes a cycle, Robin figures, thee disks, and Batman to allow your little one to act out to real-life events.
---
Are you tired of all the messy toys? This Alago Water Doodle Mat solves that problem because you don't have to clean up the mess after painting or playtime. The mat is unique as your child will only need to fill the pens with clean water, no chemicals, no ink, and no paint. You won't find any ink on the walls or floor and that why most parents love it. Your little guy will enjoy his own painting world as he learns to draw simple pictures. He can also take it with him whenever he wants since it is portable. Not to mention, it is large enough to accommodate his pals or siblings.
---
This is an exceptional and the best educational toy for your toddler boy. Learning can be cumbersome and boring, but with this Smarty Electronic Interactive Alphabet Wall Chart, things appear simpler and fun. Your kid will be able to study animals and exciting facts about them. He can also take quizzes, play games, and count from zero to ten. The chart is musical with sing-along songs and various dances. Don't worry about the space because you can simply hang it on the wall. You'll have an easy time with it since no messy toys around the house to clean up.
---
Is your kid always active? This TOMY John Deere Sit-N-Scoot Tractor Toy helps in stimulating the work he sees his dad do in the yard or around the farm. The toy is stable and lightweight to make your child feel comfortable when riding around. It is super cute with its old school decoration and easy to assemble so that he can start riding right away. He can decide to push it around or ride on it. Allow him to have the fun as he wishes in his green tractor.
---
Check Pricing and Availability
This LeapFrog Alphabet Phonics Bus teaches your kid all about animals, sounds and the alphabet. Each letter is designed like a button to allow your kid to hear its name and sound. He can also hear the name of the animal that begins with that letter, and the sound produced by that animal. Another fascinating feature about the bus is the tunes that allow little ones to play and listen to an interactive song with a simple push on the button. There is also a game-time where letters are used to guess who wants to step out of the bus. This fabulous toy will develop your kid's fine motor skills.
---