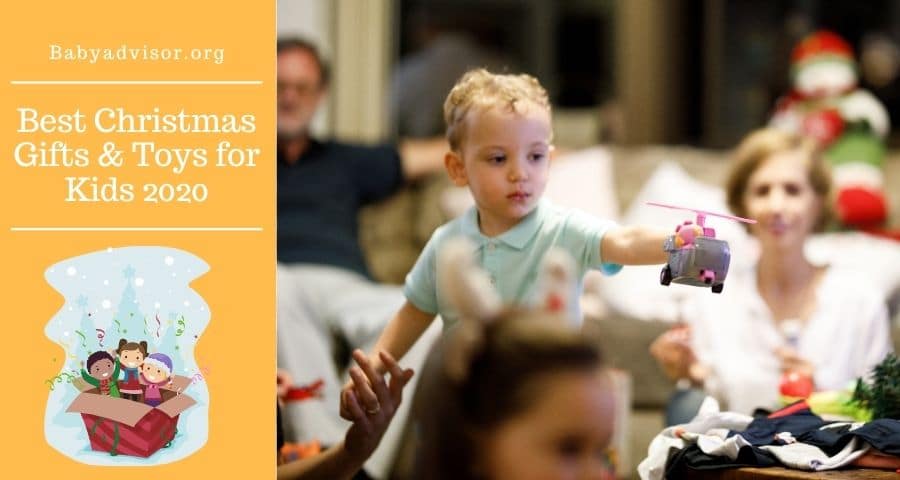 Looking to surprise your little one with a gift this holiday season? Here are the top trending and coolest toys that all kids are dreaming about in 2023. Choose the best!
The festive season is almost here, and most people are wondering which is the best gift or toy to buy for their kids. But worry not because this list makes things a little bit easier. You can select the finest and do some advance shopping.
We have amassed all types of toys that your kids will find mind-blowing and would want to get their hands on. It doesn't matter whether it's for your baby girl or boy; the list entails unique toys favoring both genders. There is plenty of excellent options we have in store for you!
Purchase our top picks for the latest gifts and toys of 2023.
Best Christmas Gifts & Toys
This pack is multicolor and comes with loads of surprises. Inside the glittery gift are pets, dolls, face masks, and other amusing accessories that have never been discovered before. It is portable, and kids can carry a collection of dolls anywhere they wish in a single purse. What makes it even more interesting is that kids can give their L.O.L Surprise dolls new looks as the pack offers several hairstyles to choose from. This gift is perfect for imaginative play.
---
LEGO Disney Frozen II Elsa's Jewelry Box is a beautiful gift that allows children to be interactive and creative while building the house. The experience is super fun and even more amusing once completed. The pack gives kids a moment of imaginative play as they craft all their creativity for hours. The fascinating features of the finished jewelry box are the drawer, a mirror, and a lock. Additionally, the fully built piece has perfect measures and incredible décor to blend well with your kid's bedroom.
---
This large surprise box offers a lot of fun, with more than 30 amazements to discover. Some of these surprises are "push and reveal" doors to open, "decode and discover" surprise with special glasses, making them fun. Kids can use Ryan's sledgehammer to smash and get the surprise. Ryan's world also has features like mix and match, articulated figures, treasures, etc. The excitement does not end there. It allows kids to reveal endless surprises through the secret locked compartment.
---
Skyrocket Blume Doll is quite magical through its surprise factor. All a kid needs to do is add some water to its flowerpot. And just like egg blooms in front of their eyes from the covering. The first thing to notice with this fantastic surprise is the doll's fabulous hairdo, which might look like rainbows, waves, flowers, ice cream, and crystals. It is so cute, and kids tend to fall in love with its collectible aspect of Blume. Other surprises to discover include sticker sheet, mini friend, fashion accessories, and so much more.
---
My Fairy Garden is a charming and magical gift that allows your little one to create their fantasy fairy garden to play. It seems real as kids can sew grass seedlings, watch them grow, trim and prune, and care for their garden. The box includes a captivating set of different components that kids need to build their fairy garden except for 2 AAA batteries and the soils. Some of these features are fairy mushroom, Evie fairy figure, raised growing bed, fairy flowers, etc.
---
Check Pricing and Availability
Scooby-DOO! Mystery Machine is a cool set of toys. It has many incredible things, including Scooby and Shaggy, a mystery machine, and a blind ghost figure. If your kid loves the film version, this set is a replica of the iconic vehicle, and will undoubtedly like what it has to offer. The toys allow kids to play as they solve mysteries like capturing monsters using the mystery crew.  Apart from that, the mystery machine creates a large playset area.
---
Toy Story True Talkers Forky Figure is quite exciting, and most kids love it for its incredible movie features. It has more than 15 movie phrases that bring the character to life. The toy's designs are iconic and blend very well with its facial expressions and poses. While buying, you can choose from various friends, including Woody, Buzz, Jessie, Forky, Bo Peep, and Rex. However, these are sold separately when available. Forky's friends help him discover his primary purpose, making it more fascinating.
---
Check Pricing and Availability
Lucky Fortune Collectible Bracelets look like cookies cracked open to reveal the surprise charm bracelet (your fortune). Kids can wear them on their wrists, especially girls.  The collectible charm bracelets are in four levels of rarity: lucky, very lucky, very very lucky, and ultra-lucky, which contains only one charm, "the gold-dipped 4-leaf clover." Kids can collect their charms into five categories: love, friendship, happiness, success, and adventure. They can also find up to 100 different charm bracelets and decide to pass some luck to their friends or trade them.
---
L.O.L Surprise Car-Pool is an all-new glamorous gift that all kids would like to have this year. It's a stylish sports car with pink details and incredible features like gold wheels, pool liner, fold-out mirrors, and luxe rose gold finish and an exclusive L.O.L Surprise doll.  The car seats are adjustable and have seat belts.  Also, it has a glove compartment where kids can open and close. What we love most about this particular gift is that the black light headlights can real more surprises.
---
Check Pricing and Availability
L.O.L Surprise Glamper is one of a kind with fashionable features that any kid would love as a surprise. The car's front can be detached to become separate with modifiable working headlights, booths, and horns. It gives kids a glamorous life experience as they can open the back of the vehicle where dolls can slide down into the pool to swim while having a moment of vanity. Some of its surprises include 10+ Hangout Areas, exclusive dolls, one makeup compact, one makeup organizer, glitter coals, and the list doesn't end there.
---
Check Pricing and Availability
With Barbie Dream-Plane, kids can take off for an imagination adventure and have a lot of fun. This toy is approximately two feet long and can open from side to top to reveal the seats, which can accommodate three of Barbie's friends.  The seats are adjustable to allow Barbie dolls to sleep on long flights, or even use toy headphones that come with the playset to watch a movie. One thing that undoubtedly fascinates kids about this toy is that they can use the provided accessories to play outside the flying adventure, such as the storage bin, the puppy, and a food cart.
---
The Pop-Up Pirate is a great toy that builds up tension as kids keep guessing the slot to make the pirate pop out. The swords are colorful, which is appealing to the eyes. In case the player chooses the wrong slot, the pirate does not pop. More than two kids can have fun playing the pop-up pirate game without any limitations as it does not require rules or cards. The setup is also easy, as no batteries are required. It's the best surprise for family fun.
---
It's a perfect game to challenge your kid's mind with simple pictures and vocabulary flashcards. It helps them build and enhance their matching and language skills. It is easy to learn as it comes with concise and quality instructions for you to explain to your little one. There are also 72 yellow plastic Zingo tiles, six double-sided Zingo cardboard with a playing grid in the box. If you are wondering how educational Zingo is, children can learn a lot from the game. It helps them with pattern recognition, the sight of words, and math skills due to time pressure.
---
House of Ice Stuffed Animal Set is a collectible surprise and super cute small gift for kids. It has super soft material and high-quality fabric, which is perfect for your shy little one. The stuffed and plush animals can become favorite pals to your kid as they are adorable and cute to cuddle up all night long. The gift reflects how the animals feel more secure and comfortable by gathering together in a single place.
---
The Super Fun Sit-n-Spin is an excellent toy to develop your kid's core strengths and gross motor skills. If you don't want your little one to play outdoor games, this particular piece will give him/her a couple of hours having fun indoors. It gives a wild ride through its sit and spins feature leaving the kid wiggling and giggling silly.  The packaging is easy to open, and there is no frustration with the surprise. The color of the product may vary depending on the stock, but they are all amazing.
---
It might seem old school, but there is a newer version of this product. Casio keyboard is undoubtedly a great brand to buy for your kid this Christmas as it lets them begin their music lessons early, especially if they have shown interest in learning to play the piano.  This gift features include dance music rhythms, 100 rhythms, 400 tones, 48 note polyphony, and chordate play app integration. It also has impressive features like a system for mp3 audio player. It is affordable, expressive, and realistic than ever before.
---
This instant camera gives kids fun moments as they capture quality and memorable photos. The controls of the camera are basic and easy to understand. The turn on and off button is next to the lens, so it's pretty simple. The lens is adjustable for different settings like sunny and cloudy conditions. It uses 2 AA batteries, and its shutter speed is one selfie per minute. One can take as many pics as wanted if the film is available.
---
The Mega Prank Kit is a giftable piece with incredible surprises. It has up to 35 funny jokes and pranks in a cool box. Even though it might seem like the old school classic, today it has new hottest pranks and jokes, and that's it's a perfect gift for your little one.  Some of the kit's pranks are 1 Doggie Doo, 1 Zap Chewing Gum, 2 Disappearing Ink, 1 Black Soap, Prank Parking violations, 1 Nail Through Finger, etc.
---
Wireless Bluetooth Karaoke Microphone is the best gift for your son or daughter, especially if they love singing and sharing favorite songs. It is of good sound quality with magnet loudspeakers and three layers of high-density noise, Suitable forthe Christmas party. The microphone is light for kids and easy to use. Also, kids can sing for more extended hours as it uses an 1800mAh lithium battery, which supports the piece for six good hours. You can configure the wireless microphone with a smartphone, tablet, pc, android, iPad, speakers, music players, and 32G TF card (bought separately).
---
This is a perfect gift for more mature kids who will quickly understand how the game works. However, it only takes 5 minutes to learn and approximately 15 minutes to play. Exploding kittens needs one to think articulately to avoid drawing a losing card against the opponents, so it's a highly strategic game. It is powered by Russian roulette and the most popular game in history that brings serenity and peace in the modern world.
---