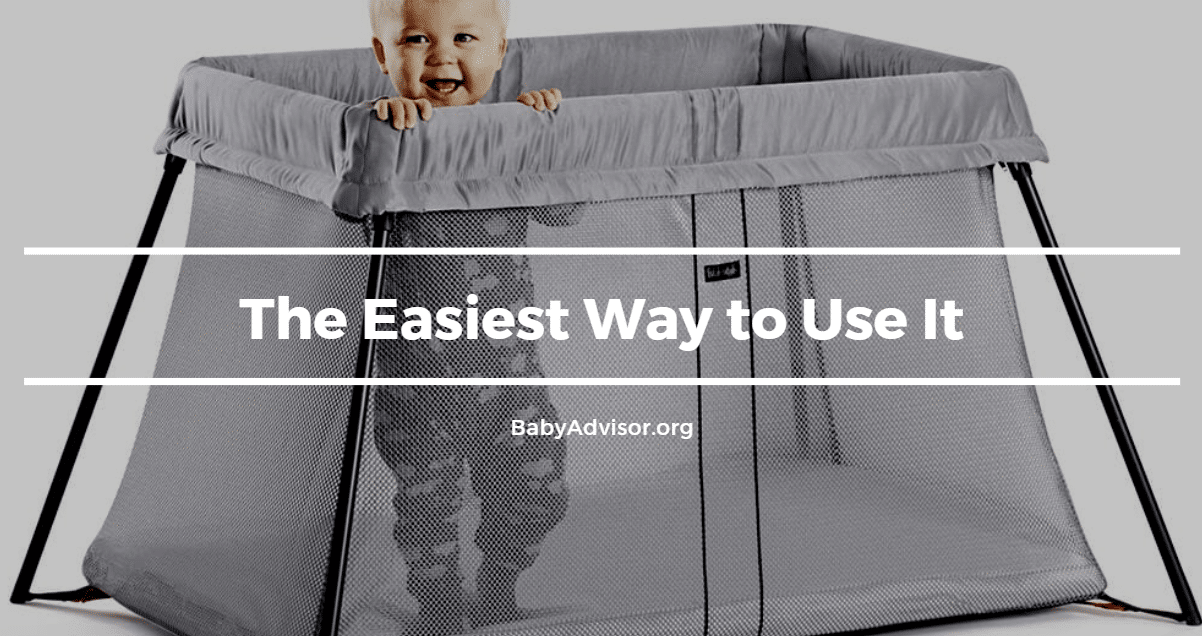 There's no doubt that a pack and play is one of the most modern conveniences for parents with babies and small children. The playard is very functional and most parents who make this purchase have found it to be very useful to the point of even helping them be more productive.
For starters, a pack n play is a lot more than the traditional playpen. Most models have many other uses and a wide variety of accessories and attachments to enhance and expand the playard past the traditional uses. Here is a list of ways to make the best use of your new pack and play.
Sleeping Area for Babies and Toddlers
The playard is a great tool for providing a place for babies of all ages to sleep. Some of them come with some sort of bassinet. Some models have a bassinet which is a smaller, separate crib like feature that attaches to the top rails of the playard. This is usually only for use for the first few weeks while the baby is very small and not moving around on their own at all. Other models have a bassinet feature which is an extra high bed surface in which an insert is removed or lowered once the baby starts moving around more or pulling themselves up on the side of the pack 'n play. Either of these are suitable options while the child is still an infant. Once the baby gets a little bigger and starts rolling and moving around, the bassinet features can be removed so that the bottom of the playard becomes a sleeping area and more for your toddler.
Ease of Portability Means Using the Pack n Play for Travel
The size and portability of the pack 'n play makes it perfect for taking on the road. This means that no matter where you go with your little one, they will have a safe place to sleep and play. One of the features of virtually every brand of pack n play is that it folds up nicely.
Most of them come with tote bags or carrying bags of some sort to make carrying it along with you a lot easier. Most of them can also be taken along even when flying. This means it can be a useful tool for caring for your little one no matter where you are in the world.
It can go with you to grandma's house, a hotel room, outside to the park or to a friend's house. And it can even be moved easily to different rooms of the house depending on your specific needs. Working in the kitchen? The baby can be nearby. Cleaning the den? Keep your baby close by in the pack n play.
Use it as a Small Play Ground for the Little One
Once the child reaches the weight limit set for your particular pack and play's bassinet, then you can remove all the attachments such as the bassinet and changing table. At this point, the playard can be used for the growing baby to sleep or to play in.
Parents can place some soft, safe, age appropriate toys in the playard for the baby. There are also some very creative ideas of ways to use it as a play area. For instance, you can create your own ball pit by placing a bag of plastic balls in the playard with the toddler.
Most department stores that carry baby items or toys will have bags of plastic balls and you can create your own ball pit for your toddler. This is a great way to use the playard for baby's first birthday and let him play with his friends in his own ball pit.
Playards with Changing Tables and Storage Bins
Many pack n plays come with a detachable changer station which makes it easier to change your baby without having to bend way over and taking a chance at hurting your back.
Many of these brands also have storage bins so you can keep supplies that you need for diaper changes handy and easy to get to. The changing table is easy to attach to the top of the playard and then it can be removed later on when it is not needed.
The storage bins usually hang on one end of the pack 'n play and hold all your necessary items like baby powder, lotion or diapers keeping them within reach for easy diaper changes.
Take the Pack n Play Outdoors
Playards are very versatile and portable. You can pretty much take them anywhere. If you want to sit out on the patio and read a book, you can bring the pack and play outside with you where baby has a safe place to play while you are reading.
The mesh sides allow for free air flow and you can always keep an eye on the baby. If you like to work outside in the garden the playard is the perfect safe haven for your toddler who can play safely while you get some work done. If you are concerned about your child getting too much sunshine, you can use a sheet to create a loose canopy over the playard so they have a tent-like playground. The mesh sides allow them to breathe freely and you can still see them.
Having a Pack and Play can mean Storage Options
For some parents, the pack 'n play is used every single day. For instance, they may use it more like a crib for their baby to sleep in every night or to nap in during the day. For others, it is only used occasionally.
If the baby's room is large enough, you can use the pack n play to store some items. It's the perfect size to fold and place a few blankets in until you are ready to use them. Another option is using it to hold all the toddler's stuffed animal collection.
Is a Pack and Play Necessary for Babies? What does a mom say about it. Let's find out here.
What's the easiest way to use the pack and play?
As you can see, there are many uses for the pack and play. It's portability also means that whatever the primary purpose you use it for, you can use if anywhere you want to. It's an on the go tool to help you take the best possible care of your baby.
It's easy to set up and easy to take down – making it one of the simplest and most practical tools available to parents today.