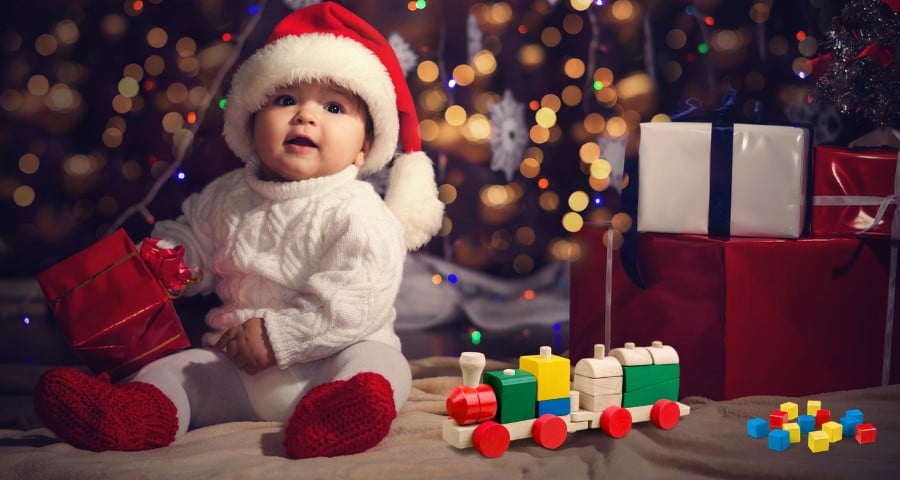 Looking for a perfect gift for a baby? Finding a perfect gift for a baby can be a hard task to many. But, we are here to help. We have a list of recommended gifts or toys ideas that will keep the baby entertained and busy.
---
Best Christmas Toys & Gifts for Babies
---
Why we choose it: This a good Christmas gift for babies because it allows them to practice basketball and soccer skills. The lighting up and making of sounds also act as entertainment to the kid.
Batteries required- 3 AA batteries which are not included
The VTech Smart Shots Sports Center is both engaging, fun and educational. This sports center is 2 in 1 which includes a basketball hoop and a soccer net. It has sensors that detect when the ball goes into the basketball hoop or basketball net and it responds with either encouraging phrases, cheers or lights. Some features of this VTech Smart Shots Sports Center include:Basketball hoop and Soccer net, 50+ phrases, songs and sounds, designed for babies between 1 to 3 years, It has shape buttons that introduce shapes to the baby and has an animated scoreboard that counts baskets up to 10.
Check Pricing and Availability
PROS:
Has multiple features that keep toddlers entertained and engaged
Quick to assemble
Durable
Can played while seated
Develops Basketball and Soccer skills
Quite an Educational Toy
Gives visual and sound stimulation
Teaches 50+ songs, sounds and phrases
CONS:
Too small for older toddlers,
Songs can be repetitive and boring
Lightweight meaning it can fall on them
---
Why we choose it:This is definitely a great Christmas gift for a baby because it is good for sensory development.
Batteries required– 3 AA batteries are included
Has your child began to show some interest in drums? Are they making little beats on the tables and other surfaces? Playing drums has a lot of benefits for a kid. Some features of this VTech KidiBeats Kids Drum Set include:Has4 playing modes: Letters, numbers, free play and follow-along, Each drum features a unique LED light, Two drumsticks, For toddlers aged 1 to 5 years old, Has three drum pads and cymbal, Power Saving mode and Babies can play along to 9 melodies.
Check Pricing and Availability
PROS:
Free AA batteries
Volume control
It's lightweight, easy to move around and portable.
Helps with phonics and counting.
It improves musical creativity and rhythm
Orange and Pink Color
Affordable
Aids in sensory development
Promotes visualization memory.
It is Educational modes
LED flashing lights are entertaining and attractive.
CONS:
Some rhythms are complicated for kids
The speakers are weak
It is quite small
---
Why we choose it: This is a good Christmas gift for your kid because apart from being fun, it also promotes language development.
Batteries Required- 2 AAA batteries
Get your baby ready for fun and entertainment once you buy the VTech Pull and Sing Puppy toy.With this toy you will just need to pull or push the puppy using the cord to activate music. This puppy is playful and loves to follow you around. Features of this toy include: Has three colorful buttons, Nose lights up and flashes along with all sounds, recommended for ages 6 months to 3 years and has over 60 Songs and Phrases.
Check Pricing and Availability
PROS:
Has educational and interactive toys
Promotes language development
Promotes motor skills development
It isa durable toy
The musical and sounds are entertaining and attract your child's attention
Responds with colorful lights and sounds.
Easy storage.
Cute
Advantageous since it is equipped with many features
CONS:
Feels cheap
Front paws stick on the carpet
---
Why we choose it: It is an elementary source of education because it has animated information that will help your kids develop good writing and drawing skills.
Batteries required-2 AA batteries included, new batteries preferred
This is a magnetic board that provides an entertaining way to engage your baby. It can be used as writing and drawing toy for kids. Features of this VTech Write and Learn creative center includes:A Magnetic drawing board, animated illustrations, a doodler, a stencil, has Letters, Shapes, Objects, Drawing, Vocabularies and Music, customizable and recommended for Ages 3-6 years.
Check Pricing and Availability
PROS:
The music or the sounds are easy to understand.
It has a large writing screen which erases easily and perfectly.
It is educational since it teaches a toddler how to write and draw.
Great for a beginner
It is a good alternative to aniPad for kids.
Teaches the baby upper and lower case letters
Animations that are easy to understand and copy
Music is entertaining
CONS:
The sound or music is not loud enough.
The stylus cord could be better if it was a bit longer.
Easy to open battery slot.
Letter displays at the may be too dark to read.
---
Why we choose it: They are so reliable for the small hands and therefore they have less trouble fitting the larger blocks together. It also has bright colors make attractive patterns.
Batteries required– Not needed
Building Blocks are considered a classic toy for toddlers, and these Mega Bloks First Builders Building Blocks are no exception. Some features of this Building blocks toy include:80 Building Blocks of different colors, shapes and sizes, a storage Bag, attachable wheelbase for cars, material isplastic and recommended for babies of age 1 to 5 years.
Check Pricing and Availability
PROS:
Little babies can hold the big blocks well
Durable
Educative since it encourages the baby to think
Easy storage
Quality construction
Pretty bright colors
Affordable
Easy to use and clean
Can be used to create so many things
CONS:
They block do not hold each other tightly
For tall structures, they may easily fall
---
Why we choose it: This VTech musical rhyme book is a perfect gift for a baby since it teaches the little ones about colors and instruments. It helps the kids read, hear and learn the rhymes. The colorful and bright pictures helps the kid retain the rhymes for a longer period of time.
Batteries required– 2AA Batteries included, new batteries recommended
Due to the kid-level vocabularies and the different instruments sounds, this VTech Musical rhyme bookis considered as a faster and effective way of learning while playing. Some features of this rhyme book include:6 nursery rhymes, 40+ songs, sounds, phrases and melodies, 5 colorful piano buttons, 2 modes: Music mode and learning mode, bright pages and a light up star which flashes with the sounds and recommended for kids of age 6 months to 3 years.
Check Pricing and Availability
PROS:
Easy to Use
A good educational toy
Bright and colorful toy and pictures
Page turning is entertaining and interactive.
Easy to clean
Great for developing motor skills
Helps the kids learn popular music
Entertaining and interactive
Durable with high quality construction
---
Why we choose it:It is easy to store since everything fits into a handled bag. This also makes it easily portable.
Batteries Required- Not needed
This Melissa &Doug Take-Along Shape Sorter allows kids to lift the crinkly flaps, identify the pictures and match shapes. It is recommended by doctors and child development experts because it promotes resilience, self-confidence, social and cognitive skills and imaginative play. It also has some countless ways to play that encourage interaction.
Some features of this shape shorter includes:Nine blocks in 9 colors and a variety of shapes, made of plastic material,crinkly flaps with pictures, a padded carrying bag with a handle and recommended for kids of ages 9 months and up.
Check Pricing and Availability
PROS:
It has 12 different shapes
Made of wood
Affordable
High quality and durable
Easy to clean
100% screen-free
Improves the fine motor, sensory and communication skills.
CONS:
Wood may crack easily
Lid may fall off when the box is turned
---
Why we choose it:It is good for the baby to experiment with different sounds. This toy will educate the baby on audio recognition, coordination and manipulation.
Batteries Required: Not needed
If a kid has shown some interest in music, it is best to introduce music for a baby at a young age. A good way to introduce him is using this interactive toy Hape Pound & Tap Bench with Slide out Xylophone. When the balls are hit with the hammer, they fall on of the xylophone creating an array of musical sounds.
Some features of this toy include:It is Multifunctional educational and musical tool, has a xylophone, a hammer and balls and it features durable, water based paints.
Check Pricing and Availability
PROS:
Durable water based paints and durable material
Colorful
Fine moto skills
Educational tool
The music is entertaining
No assembly required
CONS:
The ball can fit in the kid's mouth which is risky.
---
Why we choose it:This toy will help babies developstheir motor skills.It has two spinning rollers, three shape sorters and three light-up buttons that will help in developing motor skills for them.
Batteries Required: 2 AA batteries
Getting a multi-educational and a fun toy will do wonders for the baby's skills and abilities. This VTech Sit-to-stand Learning walker will do it all because it has features like music, buttons, telephone, piano keys etc. that will help the baby learn. Moreover, it gives support to the baby while ensuring secure movement of the baby.
Features of this toy includes: atop handle, has two modes: Learning and music, two legs, two wheels, 70+ songs, the play panel is completely removable and it is recommendedfor 9 months to 3 years old babies.
Check Pricing and Availability
PROS:
Durable and of high quality materials
Easy storage
Easy cleaning.
Super entertaining and fun.
Good handle
Good value for money
Supports the baby while walking
Easily portable
Adjustable height
Easy to assemble
Wheels lock providing extra safety
Volume can be controlled
CONS:
Light weight so there is a chance the baby will fall.
Can be quite noisy
The gears are difficult to understand
---
Why we choose it:We chose this toy as one of the best gifts for babies because of how it makes all the sounds of a symphony by just hitting a few buttons.The design of this toy is quite simple that the baby can easily understand.
Batteries Required: 3 AA batteries
The Munchkin Mozart Magic cube is considered an educational tool that has different sounds, colors and instrument. It is also an interactive tool that develops the sensory experience in kids. It is also not a small toy so removing the risk of the baby swallowing and hurting themselves with it.
Features of this toy include:Plastic in material, rounded corners, BPA and Phthalate free, colors included are red, green, blue, orange, purple and yellow. It also includes Instruments sounds include piano, flute, harp violin and French horn and Lights flashing to the tempo of the sounds.
Check Pricing and Availability
PROS:
Fun and entertaining
Educational toy
Easy to use
Durable and high quality
Good audio quality
Safe and easy to hold
Can play all the instruments at once
CONS:
Can sometimes be too loud
---
Why we choose it:A great feature of the ball is it is easy to grab which is good because it allows babies of different ages to use it. It also comes in a variety of bright colors making it a cute and attractive toy.
Batteries Required: Not needed
The Edushape See-Me sensory ball is a toy that includes a 7" ball that is see through and are available in different colors. These balls have a thick skin and a pin receptacle used for deflation and inflation of the balls. It has additional features that help the baby in stimulation and skills development.
Other features that make this ball a good gift for babies include:1 ball, Plastic in material, unique textured, it has varying colors and it is also BPA and phthalate free.
Check Pricing and Availability
PROS:
Easy to grip
Durable
Fit for babies of different ages
Skill development
Lead-free
Soft
Lack a choking hazard
Great bouncing
Helps with sensory and motor skills development
Bright colors that are visually stimulating
CONS:
Inflation and deflation of the balls might be a problem.
---
Why we choose it:This rattle encourages kids to grab the toy and shake the beads in order to make noises, move the wooden beads and change the shape. It is easy to hold it and is great since it helps in developing motor skills while also stimulating their senses.
Batteries Required: Not needed
The Manhattan Skwish Classic Rattle and Teether Grasping is a toy made from some wooden balls that slide up and down. It has elastic ties that allow it to be squished. It will always go back to its original shape. This toy is also used as a teething toy.
This toy features include: its material is rubber wood, has elastic ties, a non-toxic and water based finish, has pleasant sounds and it is recommended for kids aged 12 months going up.
Check Pricing and Availability
PROS:
Gives lots of visual satisfaction
Promotes sensory and motor skills development
Easy to hold
Beautiful design
Safe for teething
Durable
Easily portable in a diaper or daycare bag.
Educational
CONS:
Not so easy to clean
The elastic band may sometimes break
---
Why we choose it: This rattle responds to the baby's movements by lighting. It can entertain them for long and that why it is considered as one of the best Christmas gifts for babies.
Batteries Required: Not needed
This toy is a light up rattle which every baby will definitely love. It attracts the kid's attention because of its unique shape and the bright colors. It has a bumpy texture at the center making it easy for the baby to hold it. It is a great toy and any baby would be happy to have it.
Other features of this toy includes:Lights up in 3 colors red, blue and green, has a soft rattle sound, BPA, PVC, Lead and Phthalate free, and it is also suitable for babies from birth.
Check Pricing and Availability
PROS:
Lightweight and portable
Entertaining because of the changing color
Great sounds from the rattle
BPA and PVC free
Promotes healthy brain development
Promotes imitation and eye-coordination skills
A suitable gift for a new born
The underside mirror helps the baby to be self-aware
A soft sound that is pleasing to the years
Easy to grip
CONS:
The light goes off on its own
A slight movement may cause it to light.
---
Why we choose it: It is a perfect toy for batting and grabbing because of the rattle rings, tactile ribbons and the crinkle ears. The baby's hands can stay activewhile learning more about textures, sounds and patterns.
Batteries Required: Not needed
This is one of the perfect infant toys you can easily carry wherever you are going. It has some beautiful companion rattles, a soft bandana teether and crinkles that aid in sensory development.
Some common features of this Skip Hop Bandana with rattle and textures include: It has crinkle ears, tactile ribbons, two songs to play, musical dog barks, rattle rings and it is recommended for ages 0+.
Check Pricing and Availability
PROS:
Good value for money
A beautiful, attractive and colorful toy.
Easily portable
PVC free and Phthalate-free.
Aids in visual stimulation
Promotes sensory development
Easily twists around the carriers and strollers
Quality and a durable material
---
Why we choose it: This toy helps in brain development. The baby's brain thrives well when they are given a chance to stack up objects and this feature is provided by this toy.
Batteries Required: Not needed
Fat Brain Toys Tobbles Neo is a beautiful and bright colored toy. It is easy to grip because of its texture. It is made up of six pieces that are easy to stack up and spin. The baby will have fun balancing, wiggling, stacking, wobbling, spinning and toppling the pieces.
Features of this toy include: There is no assembly required, has 6 dual-colored Pieces and a base, spherical shaped pieces and it is recommended for ages 6 months and up.
Check Pricing and Availability
PROS:
Has an attractive contour that will encourage play
Interactive toy with moveable parts which encourages creativity
BPA-free and a safe toy
Entertaining and Fun
Educational
Easy to clean
Great for sensory development
Lightweight, making it portable
Durable
Unique and modern design
CONS:
Older kids may destroy the toy faster
Easy for the Balls to get wet
---
Why we choose it: With this mobile, you get a beautiful design with black and white patterns. Also, the movements and the music will entertain and calm your baby.
Batteries Required: Not needed
The Tiny Love Classic Mobileis a very cute gift and one of the most conventional looking mobiles. It is a combination of a unique and innovative design. It has three hanging spirals and three hanging animal characters that aid in educating and entertaining.
It comes in handy with its numerous features that include:Colorful shapes and beads, three hanging animals, three black and white hanging spirals, two music and nature sounds, Motion and light features.
Check Pricing and Availability
PROS:
Aids in visual stimulation
Soothing music
Good for entertainment
Attractive night light function
Easy to install
Good audio quality
Turns off automatically
Colorful
CONS:
Loose attachments that sometimes won't hold the mobile in place.
They may use a lot of battery power
---
Why we choose it:This toy can easily be tied to the side of the baby's crib. It allows the baby to tickle the ivories with his toes.
Batteries Required: Not needed
This toy will entertain the baby since the baby kicks initiate the piano notes. It can continuously play music up to 15 minutes. It encourages kicking and stretching while the hanging toys strengthen the neck, encourage reaching and attention. It is best for the first few weeks when there baby is not moving much.
Features of this Fisher Price Deluxe kick and play piano gym include: A Piano, 5 light up keys, a mirror, teethe able elephant, a rattle lion, a crinkle panda and monkey cymbal clackers. It also has different colors and textures and, a mat that is machine washable.
Check Pricing and Availability
PROS:
Easy to clean
Entertaining sounds
Good for sensory development
Easy to fold it making it portable
Detachable piano
Brightly colored
Encourages curiosity and wondering
Physical benefits
CONS:
As the child grows, it may get a bit small for the tummy area
Few songs
---
Why we choose it: It is one of the top trending picks of the year because of the Slam-fire Blasting Feature. It moves back and forth while it launches the darts in a rapid wave.
Batteries Required: Not needed
This Nerf and Strike Elite Strong arm Toy is an engaging toy that blasts all the six toys in a rapid blazing succession. It is easy to reload the darts. You just need to flip the rotating barrel then add the darts quickly, a maximum of six darts. Additional darts can be purchased separately.
Some features of this toy include: It has 6 nerf elite darts, a rotating Barrel, it shoots up to 90 ft. or 27 meters, has a wide range of designs and is a high performance toy.
Check Pricing and Availability
PROS:
Simple to use, a one handed operation
Compatible with all the elite darts
Reliable firing
Good triggering action
Simple to reload the darts
Long range
It is fun and entertaining
CONS:
Has or holds only 6 darts
Requires effort, no motor
---
Why we choose it: This is a great gift for baby boys and they will definitely love it. It is a big grave digger ever and also it is faster and more powerful.
Batteries Required: 2 AAA batteries
This Monster Jam Official Mega Grave Digger is a powerful RC Grave digger that is over 2 feet long. It has an attractive and light weight design. The baby can easily control it using the dual joystick controller, up to 250 feet away and in any direction.
Features of this toy will include: It is over 2 feet long, can be controlled from up to 250ft away, has a 2.4GHz frequency joystick controller, rubber treads, mega-sized suspension and shocks, BKT Oversized tires, Lightsthat are working, USB charging and it is recommended for ages 4+.
Check Pricing and Availability
PROS:
Light weight
Easy charging
Faster
More powerful
Can be driven in any direction
Can easily roll over any obstacle
---
Why we choose it: This is a specialsurprisefor girls because with it coms 8+ surprises to find a pet that you would adopt.
Batteries Required: Not needed
The Surprise Coloring Changing is a package that comes with baby born surprise pets. Every pet it comes wrapped with a soft towel. The baby will have to unwrap the 8+ gift it to find a pet in a soft swaddle and a bathtub.
This toy also features a pacifier color to tell you the gender of the pet, a glittery bathtub, a fabric towel, 8+ Baby born surprise pets, a color change surprise and an eye color reveal. It comes in 18 different unique combinations.
Check Pricing and Availability
PROS:
Engaging
A cute and beautiful surprise
Aids in sensory development
Educational
The pet can change its color or a different animal
---
You may be like,