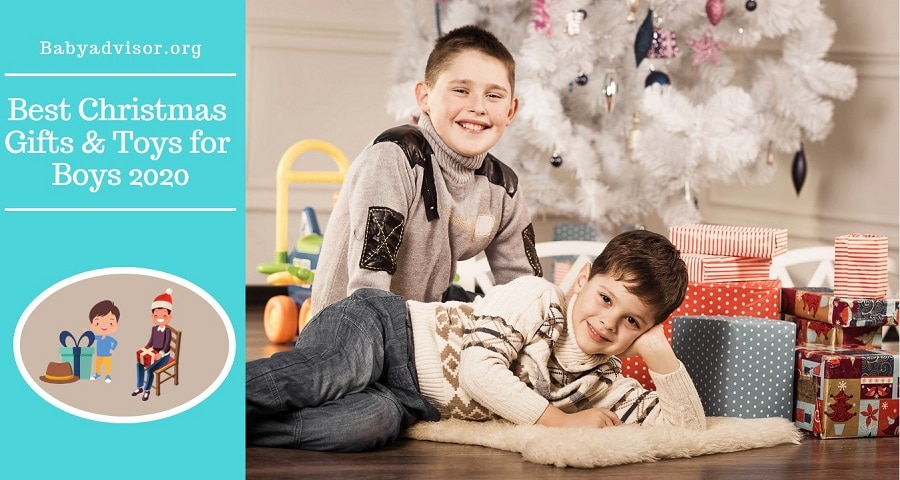 What are the top Christmas gifts & toys for boys 2023? With thousands of gift ideas for kids, here's our ultimate selection to help you buy the best surprise gift ever!
All kids wait for Christmas morning to open up their presents, and we definitely don't want to disappoint them. And that's where the pressure comes in from. Looking for the perfect toy to gift your cute little boy might not be all that easy, hence the need for a guide.
You don't have to hop from one website to another looking for different toys because we have compiled a list of the best in one piece for you, making it easier to make a selection. Some of these toys are educational, fun to play with, developmental, and everything in between. We've included the pros and cons of each item to ensure that you make an informed decision. This is not the year to disappoint that youngster. See our top pick below!
Best Christmas Toys & Gifts for Boys
Are you planning to surprise your little guy this Christmas? We guarantee you that he will love Mario Kart 8 Deluxe, especially if he is a fan of video games. No more boring travels because he can play anytime and anywhere through its handheld mode. The game also allows up to eight playing buddies to battle all day, giving them endless fun and fantastic entertainment experience. The latest version has new characters such as the Inkling boy and the Inkling Girl from Splatoon, Dry Bones, and the King Boo.
---
Let your youngster meet the learning friends this Christmas! The 100 words book is an incredibly fantastic gift that can be used by kids and the family altogether. We included it on our list because of its outstanding features. It comes with adorable pals like tiger, turtle, and monkey to introduce kids to new vocabularies. Don't worry about these words as they are age-appropriate for your kid. Each page has pictures, and words, fun facts, sounds, and music for him to have a thrilling moment. You might also find its bilingual play and the 12 learning categories quite interesting.
---
Razor A Kick Scooter will offer your young man safety, quality, service, and style. Isn't that amazing? We always want the best for our kids, and this gift will bring nothing else but joy and happiness to that cute boy you have on board. The Razor A kick scooter was built to last from day one using durable aluminum and lightweight construction. It is easy to use because all a kid needs to do is unfold and go. Just that! No time is wasted to assemble. The handlebars are adjustable to give your son a perfect ride, and that's why we love it for a gift.
---
Does your kid spend most of his time on the sofa watching all day long? This jump and squeak pogo hopper will be a great gift as an alternative to screen time. We adore the pogo stick because it has a lot to offer, and we believe you'll also find an exciting gift. It gives kids hours of healthy, bouncy fun without any compromise. It is constructed of durable foam and designed for indoor and outdoor use. Your kid will learn to balance and improve his gross motor skills and hand-eye coordination. The services are also incredibly exceptional and seamless as the manufacturer accepts you to return the pogo stick if you don't like it but within 30 days.
---
We love every single thing about the VTech KidiBeats Drum Set, and you'll see too! The features of the toy are attractive and intended for children. It comes with drumsticks designed to tap the cymbal and drum pads. These sticks produce unique sounds for sensory development. Also, the drum set offers nine melodies for never-ending fun. It is educational and allows your chap to have that mesmerizing experience of a real drummer. The four ways to play the drum: follow me, alphabets, number jams, and freestyle. So your kid can play the one that excites him the most.
---
This lightweight backpack never disappoints! Your kid needs to gear up, grab, and go. Its stunningly beautiful look and quality caught my attention, and that's why it is among the top picks. If your little man has a favorite color, there are more than 30 different colors to choose from. Let him have a taste of style by getting one for him this Christmas. Its features include a web haul handle, a roomy compartment, a front pocket with an organizer, and a bad padded panel.
---
Check Pricing and Availability
If your baby boy pretends to drive, this VTech Turn steering wheel toy is a must buy. Your kid only needs to press the colorful buttons on the toy to introduce different vehicles and animals. The toy was designed to encourage imaginative play through the signal lever that triggers fun music and sounds, and traffic light. Kids can interact with the toy all day as they learn and play. Safety rules of the road are also included as features to make your kid feel like a real driver.
---
ThinkFun Zingo Bingo is easy, fun, and fast-paced, and your kid will undoubtedly love it. You'll also find this pre-reading game fun and a great holiday present for that youngster you have at hand. Although it's a challenging activity, it is amusing and perfect to develop your kid's critical thinking skills. Zingo is constructed with high-quality components like cards and a zinger device to delight players of all ages. It also comes with easy to understand instruction manual for your kid to start playing and having fun right away.
---
This gift will undoubtedly turn out to be your kid's favorite toy. The basketball hoop sports center allows kids to toss and kick the ball, enhancing their motor skills. It is also an incredible toy for discovery and exploration as your little man can press the shape or turn the gears to present numbers, shapes, and lively sounds. We picked the toy for its amusing 50 plus songs, sounds, melodies, and phrases, which encourages fun moments. Not to mention your kid can choose to play in two different ways: score a goal or shoot a basket with either the soccer ball or basketball provided.
---
We suggest that you buy this colorful truck for your baby boy as a Christmas gift because we know he will love all the fun it has to offer. It is quite fascinating to pull and push the truck around as the balls roll into the yellow bed. Kids can learn numbers as it drops colorful rocks and tumbles into the bucket. They can also learn about colors and tools and push the three colorful buttons to hear beautiful melodies and phrases.  The hinged bucket is used to unload the colorful rocks making it even more enjoyable.
---
This fabulous playhouse is perfect for babies, toddlers, and kids. It is easy to set-up since no tools are required, and comes with an assembly instruction manual, so that is less of your concerns. The play tent will also give you ample time to do the clean-up as it is a built-in water-resistant fabric that you can easily clean with mild soap, damp cloth, and water.  It is spacious enough, and parents can monitor their kids. This privacy tent is breathable as it comes with meshed windows for ventilation, so your kid will be completely safe.
---
Your little man will certainly love cruising on this gorgeous Harley-Davidson Tough Trike. It is a great gift to allow young bikers to have fun while rolling from one adventure to the next. Do you want your kid to have miles of smiles this holiday? This is the ideal gift to buy for him. It has phenomenal graphics and styling, with a storage compartment to hide toys, snacks, and other essential kids' stuff. The reason we included this easy rider in our list is its kid-friendly features: stable wheelbase, comfy seat, and easy-to-grip handlebars.
---
If your kid has never tried LEGO Minecraft toy before, don't worry because it comes with an instruction manual that is easy to follow. Even a parent who has never built a Lego set previously can easily figure it out. The design is adorable due to its accurate Minecraft cave, and the set characters look a lot like the ones in the video game. The fun comes in when your kid will build and rebuild the pieces as much as he wants, giving him hours of creative and imaginative play.
---
Let your baby boy enjoy sea life adventures this Christmas with LEGO Creator 3in1 Deep Sea Creatures set. Your kid can use his creativity to construct his own animal with this incredible build and rebuild ocean play set. He creates from a scary shark, a crab to a mouthed Angler fish. The set will allow him to create as many toy animal figures as he wishes, and you can also join in to help when he is stuck. We like the set because your little guy can use these awesome sea creatures to dive into the world of imagination.
---
Is your little boy science-minded or aspires to become a scientist in the future? This is an ideal gift he should meet in the surprise box this Christmas. It is a complete learning kit that will allow him to dig up a real dinosaur, shark, and mosasaurs, brachiopods, and ammonite's fossils. The package includes excavation tools like chisel, brush, the trade, and magnifying glass to make the digging activity easy. We guarantee you 100% satisfaction as the kit provides a fun and fascinating educational opportunities.
---
It's a perfect gift for kids to sit and discover new things. Apart from its adorable look, this toddler chair has a lot more to offer, and we believe you'll find it captivating. It has 50 plus tunes, sing-along songs, and phrases that introduce kids to shapes, numbers, words, colors, and many more. It is built with buttons to press that introduces little ones to cause and effects. There is also a book for your kid to turn from one page to another. So, this smart stage chair has lots of busy activities to keep your chap fully engaged.
---
Check Pricing and Availability
This tough roll ride will allow your kiddo to get out and play. I know this year most kids have spent their time indoors due to the pandemic, and that's why we suggest this incredible toy as it encourages them to get outside. We have no doubts that your little man will enjoy playing with this big dig in your home playground and backyard sandbox. The toy will allow your kid to use his imagination and also help him build confidence. Not forgetting, it is a great gift for all seasons.
---
Kids enjoy bouncing around, and I thought this would be an incredible gift for your young man. The Flybar Foam Master Pogo Stick will entertain your energetic kiddo all day long. It is a great exercise tool for burning calories in just an hour leaving your kid fit, and that's why we included it in our top picks. Another thing to adore about this toy is that its vulnerable components like foot pegs and handgrips are replaceable. Don't worry about safety as the manufacturer constructed it well.
---
Your kid will explore and learn with this remarkable VTech Sort and Discover Activity Cube. Nothing makes us feel good like seeing our little ones enjoy and engage with toys during playtime, and this discovery cube is a must buy.  The cube will allow your little one to gain developmental benefits through the fun activities it has in store. These activities introduce numbers, colors, objects, and animals. And what we adored the most about the cube is that various activities play 75+ melodies, songs, phrases, and sounds.  You'll also love its light-up piano keys, musical book pages, and the animal spinner.
---
Surprise your little one with a tablet just created for him this Christmas! LeapFrog My First Learning Tablet has more than 20 songs and melodies, 25 pretend apps, three play modes, and a light-up touch screen to give your kid a fantastic experience. We included it in the list because it encourages pretend play whilst kids listen to phrases about sports, weather, and health. Just like you scroll and go through various apps, your kid also gets to do the same only that the toy gives him a role-play excitement.
---
You may also interested to read,
---