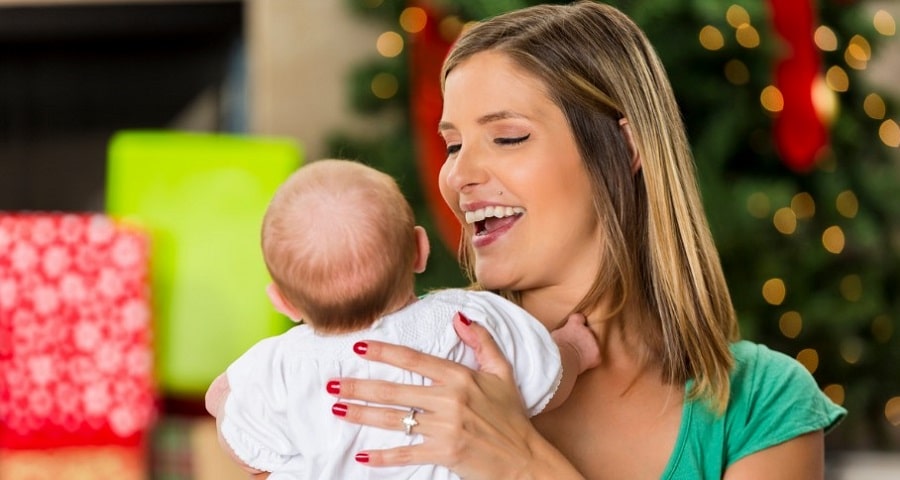 Wondering what gift to give a new mom?Gifts for new moms are different from baby shower gifts. They are fun and cute gifts that are necessary for the mom and a bit less necessary for the kid. This article will give you the best gift ideas and help you find a gift for a new mom.
---
Best Gifts for New Moms
---
Why we choose it: It is a good gift for thesleep-deprived new moms. Most mums experience sleep deprivation and so, this Sound machine with its nature sound, will come in handy.
Material- Plastic
The Big Red Rooster Sound is a machine that will give a new mom peace of mind. It has good quality sounds and an unobtrusive loop that makes the sound not sound broken.Any new mom would love this gift.
Features of this sound machine will include: It has an AC adapter, or can run on 3 AA batteries especially while traveling. It also comes with six sounds which include rain, thunder, white noise, summer night, brook and ocean. It has an automatic timer. Its size: 4" deep x 4.375" wide x 2.63" tall and the color is white.
Check Pricing and Availability
PROS:
Good value for money
Beautiful and aesthetically pleasing
Quality sound
Good quality construction
Affordable
Requires little storage space
Helps you sleep faster and wake up refreshed
Blocks noises from the background while sleeping or working
Portable
Helps with tinnitus or ringing in ears
CONS:
Buttons may click loudly
Power button's LED light is too bright
Volume adjustments requires more levels.
---
Why we choose it: This gift is a good gift to a new mom so that they can adapt to new job of taking photos. Every new mom would be interested in taking cute photos of the little one to keep them as memories.
Material: Plastic
The Zink Polaroid Zip Wireless Mobile Photo Mini Printer is a cute compact mini photo printer which can fit pretty much everywhere. It works with the free Polaroid Zip app to send photos from your phone to this mini printer. The app also has plenty of good editing tools for example a collage maker that will perfect your images, just before printing.
Some important features of this of this photo printer include:It is compatible with a lot of smartphones and tablets that haveWi-Fi, connects to phone using Bluetooth, has a cute Mini Pocket Design, expert editing using the Polaroid design, prints the photos on ZINK paper, printing takes less than 60 seconds and it is used with a free polaroid mobile app.
Check Pricing and Availability
PROS:
Unique design and compact size
Free app with a lot of editing features
Rechargeable battery
Uses a Zero Ink paper
Portable
Simple to connect to your tablet or smartphone.
Doesn't need to be connected to a computer
CONS:
Can print up to only 25 photos with single charge
ZINK paper can be expensive to buy
Limited to lower-quality and wallet-size photos.
---
Why we choose it:This kit will help the new mom capture some special moments of bringing a baby into this world, to later remember those moments when they grow bigger.
Material: Clay
The Bubzi Co. Best Baby Hand & Footprint is a kit that comes with three packages of non-toxic soft clay, plenty enough to create the perfect footprint and handprint. This clay doesn't require mixing or baking, a simple knead with the hands before placing the tiny feet or hands, would work. It needs a minimum of 48 hours to dry and become firm, before framing it. Features of this kit include: a wooden frame with 2 photo spaces, 3 clay packages, non-toxic and air drying. It also comes with a free baby eBook.
Check Pricing and Availability
PROS:
Easy and safe to use
Gives a smooth finish
Durable materials
Creates memories
Fun and entertaining
Good amount of clay
Affordable to many
CONS:
The clay may take longer to dry
---
Why we choose it: This is a good gift for new moms because it provide easy access for breastfeeding moms. The mom doesn't have to go through a lot to breastfeed her child. She might just need to open a few buttons and the baby will have access to the breast.
Material:Made of 95% Viscose and 5% spandex
This silky and smooth pajama set is a relaxing set with a button top and a boxer short. The top is short sleeved while the boxer has a chiffon drawstring elastic waist to make the set more comfortable. This gift will help a new mom enjoy the cozy time spent at home since it is relaxing and comfortable as well.
Some features of this set include: a drawstring closure on the waist of the short, button down top and the top has a chest pocket and a notch collar.
Check Pricing and Availability
PROS:
Available in a variety of colors
Of high quality materials
Comfortable
Classy design
Supports machine wash
Skin friendly
Lightweight
Silky smooth
Good value for money
Durable
CONS:
May get some wrinkles after washing
---
Why we choose it:This is a great book that will educate the new mom about everythingaboutpregnancybeforeandafterchildbirth. It is quite an informative and detailed book.
Material: A Book
The "What to Expect When you're expecting" book, will exceed the new mom's expectation with the information and tips it contains. This is a great book that will answer all the new mom's and pregnancy questions. The mom mind will be at peace knowing what to do and how to do it. Features of this book include:It has 656 pages, has a hard cover and it is written in English.
Check Pricing and Availability
PROS:
It is educative
Easy to read and understand
Affordable
Detailed and is full of important information
Written in a conversational tone
Good value for money
Informative
CONS:
Quite a long book
Small writings
Can be repetitive
---
Why we choose it: This comfy "Mama Bear" sweatshirt fills the bill as a perfect gift for a new mom since there are no flaws with the stitching and printing. It is made from soft material and there are a variety of colors to choose from.
Material: Soft Cotton
This Pink Queen Women's Blouse Top -shirt is sweatshirt written mama bear, perfect for a maternity leave when the new mom is staying at home. It is perfect for outdoor activities such as walks or just for an indoor wear.
Some features of this Sweatshirt includes: It is a pull on sweatshirt, has a batwing sleeve, a mama bear print, patchwork, Crew neck, it is long sleeve and stretchy.
Check Pricing and Availability
PROS:
Comfortable to wear
Available in a variety of colors
Some designs have pockets
True to size
Does not shrink when washed
Super cute
Good quality
Soft and comfortable
Fits great
Can be machine washed
CONS:
The sleeves might be too long
---
Why we choose it:It's easy to use for new moms with baby. There are a number of tutorials on their website that will help know how the momwill use this wrap in a position that will be comfortable for the baby.
Material:95% cotton and 5% spandex
This CuddleBug baby sling and carrier can be used from when the baby is born to when he is around 35 pounds. Wearing this wrap stimulates the baby's mind and creates a sense of audio-visual awareness. It helps in creating special moments throughout the day because of being close together in a cuddled way.The carrying technique can also be changed as they get older.
Features of this carrier include:9 wraps in 1, buckle and ring free and it is recommended to carry babies weighing 2-35 pounds.
Check Pricing and Availability
PROS:
Very versatile
Educational
Comes with a variety of colors
Cute
Supports machine wash
Comfortable
Affordable
Easy to use
Promotes bonding
Stretches keeping the baby secure
Promotes development of hips
Has a matching bag
CONS:
Can be too warm during summer
Not suitable for moms a small waist and a large chest
---
Read more about the baby wraps,
Why we choose it:The RENPHO foot massager has three kneading intensities and three air pressure levels that will enable the new mom to personalize and customize their massage. It also has a soothing heat function that can be independently controlled.
Material: Plastic
The RENPHO Foot Massager comes with it an easy toe display that aids in bend free relaxation. It offers a kneading massage on the feet using a rolling stick, heat, a rotation ball and air compression pressure. It helps relieve any pregnancy related foot pain and also foot pain from other conditions as well. Massage and heating tend to improve the circulation of blood therefore promoting healing.
Features of this foot massager include: It has 3 kneading intensities and air pressure levels, it fits up to a size 12 feet, has a washable and removable cloth found in the foot chambers, has a great Ergonomic design, the touch panel is foot controlled, remote controller and it has a rechargeable battery.
Check Pricing and Availability
PROS:
Easy to touch the buttons
Has a huge fitting
Ergonomic and cute design
Cloth chambers are detachable and washable
Battery can be recharged
Easy to use
Durable
A heat option
CONS:
It can be noisy.
You can't adjust the angle of your feet
May be too hot for some people
---
Why we choose it:This play yard gives the new moms space and frees them so that they can do other duties like cleaning. Kids love playing too much and having them play in this play yard is recommended.
Material: Steel frame, mesh walls and a nylon bottom
The Regalo Portable Play Yard sets up fast and it is lightweight enough to be moved around the house. This is highly recommended so that the kid can get to play, but in a safe and secure area. It features a meshed material design that makes it easy to monitor the baby and also well ventilated. It is made of high quality materials, which make this play yard stable.
Other features of this play yard include: It is 48 inches wide and 26 inches tall, has 6 panels and it is recommended for children of ages 6 to 24 months.
Check Pricing and Availability
PROS:
Easy to set up and fold
Lightweight and portable
Affordable to many
Nylon bottom acts as protection
Simple to clean
Quite spacious
Easy monitoring due to the mesh material
Great for outdoor and indoor use
CONS:
The bottom is not removable
Mesh sides are easy to tear up.
---
Why we choose it:  This speaker can do a lot of things for a new mom. It can play music, read the news, answer questions, check the weather update, call someone, set alarm, control compatible smart devices, order food, all of this, hands free!  Therefore, it relieves the new mom of these tasks.
Material:
The Amazon Echo Dot 3rd generation is the most popular and desired smart speaker at the moment. It has a fabric design and an improved speaker that delivers a louder and good quality sound. With Alexa voice control, you could do ask for a lot for example streaming music from services such as Apple Music, Amazon music etc. and you could also listen to an audiobook from Audible. The Echo Dot is ready to help the new mom.
Features of this speaker include:Alexa with 50000+ skills, 3.5mm jack for speakers, has Bluetooth, Alexa app, light ring, volume, mic off and action buttons.
Check Pricing and Availability
PROS:
The sound is improved compared to the previous models
Affordable
Simple to use and set up
Fits in smaller spaces
Great design
Has powerful speakers
Can order food
Streams music
Kid friendly
Can be used to get news and updates
Hands free calling
CONS:
Alexa is not good as Google Assistant in answering broad questions
Lacks USB port
Limited to some streaming services only
---
Why we choose it:This breast pump will make it easier for new moms to breastfeed their babies. It is hands free and the collection cups can easily fit inside the mom's bra therefore allowing her to pump with their clothes on
Material:Plastic
One of the most difficult decisions to make when it comes to babies is choosing the right breast pump. This Freemie Collection cups and breast pump is a piece of equipment that is important for moms who are planning or are hoping to breastfeed. It is electric, hands free and a concealable milk collection system. It's also considered to be surprisingly silent.
Features of this breast pump include: It comes with a pump unit, a power cord, two funnels, two collection cups and a connection kit all that has all the valves and valves one might need. A collection cup can hold about 8 ounces of milk.
Check Pricing and Availability
PROS:
Milk can be pumped while dressed
It is quiet
Adjustable suction
Comfortable
Collection cups can be used with other pumps
Affordable
It has a closed system therefore it is more hygienic
It is a hands free pump
CONS:
It has to be plugged in an outlet to be used.
Milk may sometimes flow back
Cups are not dish washer safe
---
Why we choose it: These are beautiful soft socks that have messages on the bottom and each features a message is adorable to the new mom.
Material: 90% combed cotton and 10% Spandex
This cute gift includes 4 pairs of unique non slip socks with quoted messages on the sole. Babies will enjoy wearing these socks since they are comfortable. They come in a variety of neutral colors, and therefore, it is a good gift for both boys and girls. They are soft socks and they won't have any effect on the baby's skin.
Some features of this gift include: 4 pairs of quoted socks, non-skid rubber feet, unisex and available sizes of socks for babies between 2 to 16 months.
Check Pricing and Availability
PROS:
Elegant and soft socks
Affordable
Puts a smile on the new mom's face
They are non-skid
A variety of colors
Super cute
Packaging is great
Good value for money
CONS:
The letters may fall off after several washes
---
Why we choose it:  With this temperature control mug, her coffee or tea never gets cold, no matter how long she takes to drink it. This is because, it allows users to change their coffee or tea temperature by connecting it to the Ember app or by rotational dial that is located at the base.
Material:
Moms can get busy, forget to take their tea or coffee and before they remember it, the tea is already cold. This Ember Mug allows its users to choose their ideal temperature for drinking tea or coffee, somewhere between 120° to 145°, then it willmaintain the temperature for up to two hours and the whole day when on Ember's charging coaster. Maintaining the cup of coffee's temperature all day long would inevitably save the new mom.
Features of this mug include: It has a Set Temperature of 120 – 145 degrees, comes with a halo lid,Bluetooth connectivity and is controlled by an app.
Check Pricing and Availability
PROS:
Temperature can be adjusted remotely
Compatible with both iOS and Android
Has an Ember Charging Coaster for all-day use
Availability of Celsius & Fahrenheit scales
A variety of sizes and colors
Easy to use
High Quality
Battery can last up to around 80 minutes
CONS:
Cannot be used in the micro wave or be cleaned by the dishwasher
Quite pricey
---
Why we choose it:  The mixer will help whenever the new mom will need to cook or bake anything. She can use it for all her best baking.
Material- Stainless Steel
Having a stand mixer with a pouring is one of the greatest benefits for the new mom. ThisKitchenAid Artisan Series mixer is one of the best mixers out there that is easy to use and has the things you might need for meal preparation.It comes with a 5-quart stainless steel bowl that can be used to mix dough. Features of this mixer include: A six-wire whisk, 10 speed control,a pouring shield, a coated flat beater and dough hook.
Check Pricing and Availability
PROS:
It has a powerful motor
A variety of colors to choose from
Has an ergonomic design
The beaters and the hooks are dishwasher proof
Great height to fit in cabinets
Good quality
Stable
CONS:
Lacks overload protection
It is heavy
---
Why we choose it:This monitor provides the best care for baby. The new mom might need to ensure the babies is safe and secure all the time by seeing or hearing the baby when she is not in the same room.
Material- Plastic
The Infant Optics Video Baby monitor features a good audio and video quality. It also performs well and is built with important features such as ability to tilt, zoom and pan etc., that makes it one of the best. Other features include: A night vision, a sound sensor, LED indicator, sleep mode, a thermometer, a solid monitor, 3.5-inch screen and adjustable brightness, volume etc.
Check Pricing and Availability
PROS:
Long battery life
Easy to use
Does not require the internet
Two-way audio
Simple setup required
Has different lens
Viewing angle and zoom can be customized
High video and night vision quality
Displays temperature
CONS:
Limited range
Required to be 5 feet away from other devices such as WIFI routers.
Doesn't display time
---
Why we choose it:It will help the new mom save time cleaning and reduce some troubles. This is because of its advanced features like app control, cleaning maps, virtual boundary lines and laser navigation.
Material: Plastic
The Neato Robotic is the most common and budget-friendly robot vacuum with advanced features that are only available in high-end vacuums, for example voice assistant and app control. Setting up this robot vacuum is easy. You just need to download the Neato app either for Android or iOS, create an account and follow the instructions to connect over Wi-Fi. Features of Neato Robotics D4 include:Corner-cleaning 'D' design, Laser Smart mapping, 11 inch brush, app support and a 360 degrees view.
Check Pricing and Availability
PROS:
Great laser navigation.
Cleans on any surface
Supports cleaning maps.
Virtual No-Go boundary lines.
Smart charging.
Compatible with Alexa and Google Assistant.
Better corner cleaning
CONS:
Battery life should be longer.
Loud
---
Why we choose it:It is easytoputdiapers in this backpack. It also comes with many pockets that provides extra storage space for other things as well.
Material: Polyester
The Bag Nation Diaper Bag has many compartments that will allow the new mom to easily keep the baby's dirty diapers and clothes far from the bottles. It comes with a sundry bag and a changing pad. The bag also has an insulated compartment that keeps your bottles cool. A new mom would definitely be needing this.
Other features of this diaper backpack include: 14 pockets, padded straps, unisex, water resistant, attachment handles for the stroller, an insulated bottle pocket,
Check Pricing and Availability
PROS:
Multiple pockets
Adjustable straps
High Quality
Water resistant
Light weight
BPA and Phosphate free
CONS:
A bit expensive compared to other bags
Not machine washable
---
Read more about the diaper bag backpack,
Why we choose it: Easy compact fold for storage or travel(20-30 words)
Material: Plastic
The Baby Trend Expedition Jogger Stroller can comfortably and safely fit babies up to 50 pounds and 42 inches tall. It is equipped with a reclining seat and a five-point harness.
Other features of this stroller include: Adjustable seat and canopy, lockable front wheels, two cup holders, a storage compartment, 5 point harness, two foot brakes and no hand brakes.
Check Pricing and Availability
PROS:
Easy and quick to fold
Easy to move and smooth ride
Can fit in the trunk
Easy to buckle
Comfortable
Durable
---
Read more about the Jogging Strollers,
Why we choose it:Newmomsmayneedsleepduring the day. The mask is made from a breathable and lightweight material that helps new moms sleep well regardless of their environment.
Material: Mulberry silk
The Alaska Bear eye mask has a major strength of temperature neutrality and is not prone to slipping. It has a baffled nose flap which helps in keeping the eye mask in place while also blocking the maximum amount of light. Features of this eye mask include: An adjustable strap.
Check Pricing and Availability
PROS:
Affordable
Lightweight
Breathable
Super smooth and soft
A variety of designs and colors
Easy to adjust the straps
High quality
Comfortably fits even when using ear plugs or CPAP masks
CONS:
The mask's dye may rub off
Might feel pressure on the eyes
---
Why we choose it:It is a weighted blanket that calms and comforts, relieves anxiety, and provides warmth during middle-of-the-night marathon feeding sessions.
Material: 100% cotton with glass beads
This Zonli Blanket uses anadvanced technology in its design that helps in producing an even distribution of weight. It also has two layers of microfiber which helps it secure the beads while preventing leakage. It is designed to help people relieve stress and relax.Other features of this blanket include: It is about 20lbs, fits a queen or king sized bed, high density sewing technology, smaller squares to distribute glass beads and two layer cotton fabric.
Check Pricing and Availability
PROS:
Breathable
Durable
Machine washable
Comfortable
Made from hypoallergenic materials
Relieves stress and anxiety
A variety of colors and styles
Extend the duvet life span
Can be used for all seasons
CONS:
Thin than expected
Expensive for some
---