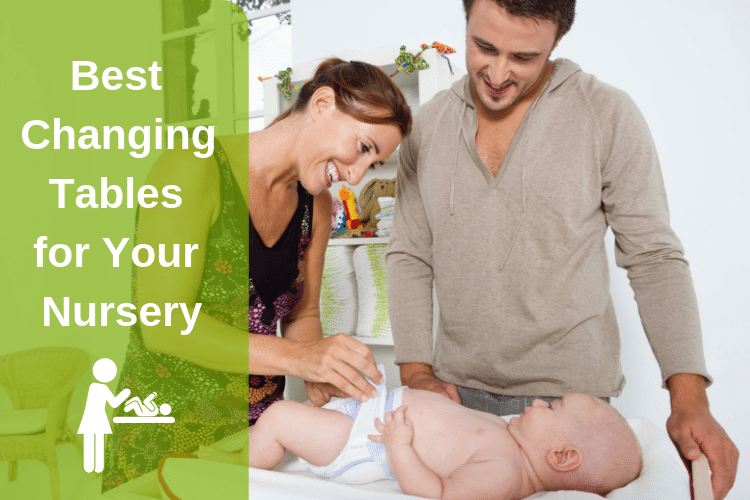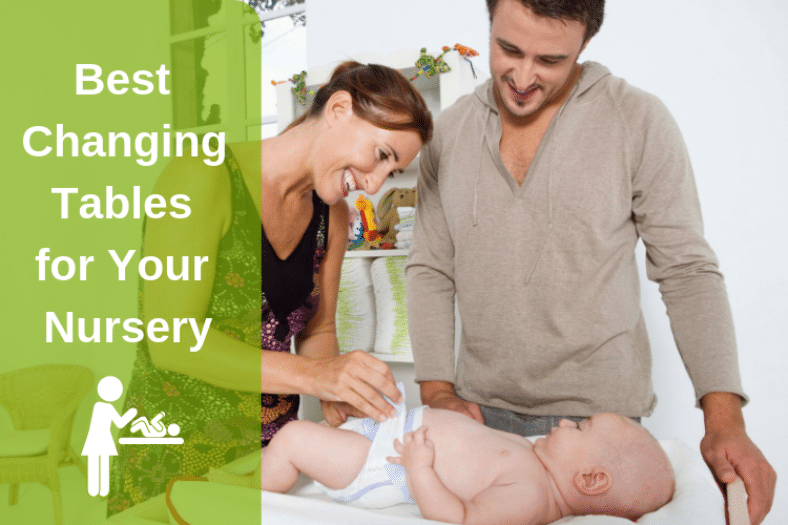 Are you trying to decide where the best place to change your baby's diaper will be? Are you tired of changing diapers on the floor or couch? The best baby changing table will add so much convenience to your life and can often serve as a great, multi-functional piece of nursery furniture!
A changing table is yet another great baby product that I completely missed out on with our first baby. We just didn't have a lot of room and thought it wouldn't be a big deal. After getting used to having a changing table with our second baby, I really regret not just making the room for one with our first.
I can't imagine how much back-ache and inconvenience that we could've avoided if we had one that first time around. It's so nice to have a dedicated space for diaper changes. Even more importantly, having baby at that perfect level for easy changing is so much more comfortable and convenient compared to bending over on a couch, bed, or even the floor.
---
Are changing tables safe?
Changing tables are definitely safe as long as they are used properly. There are some important guidelines to follow when it comes to changing table safety. You should never leave your baby unattended on the changing table, you should have all your supplies ready beforehand, you should always use the safety strap if your changing table has one, and you should remove baby from the changing table as soon as you're finished with the diaper change.
It is extremely important to follow changing table safety guidelines. While changing tables are harmless when used properly, it is important to note that around 3000 babies are injured each year because of changing table accidents.
Are changing tables worth it?
Changing tables are certainly well worth it for most parents. You'll be able to get by without one, but you will have a much easier time with one. They save a lot of time and trouble. You'll be changing a lot of diapers, so you might as well have a good and convenient space to do it!
How to Pick the Best Changing Table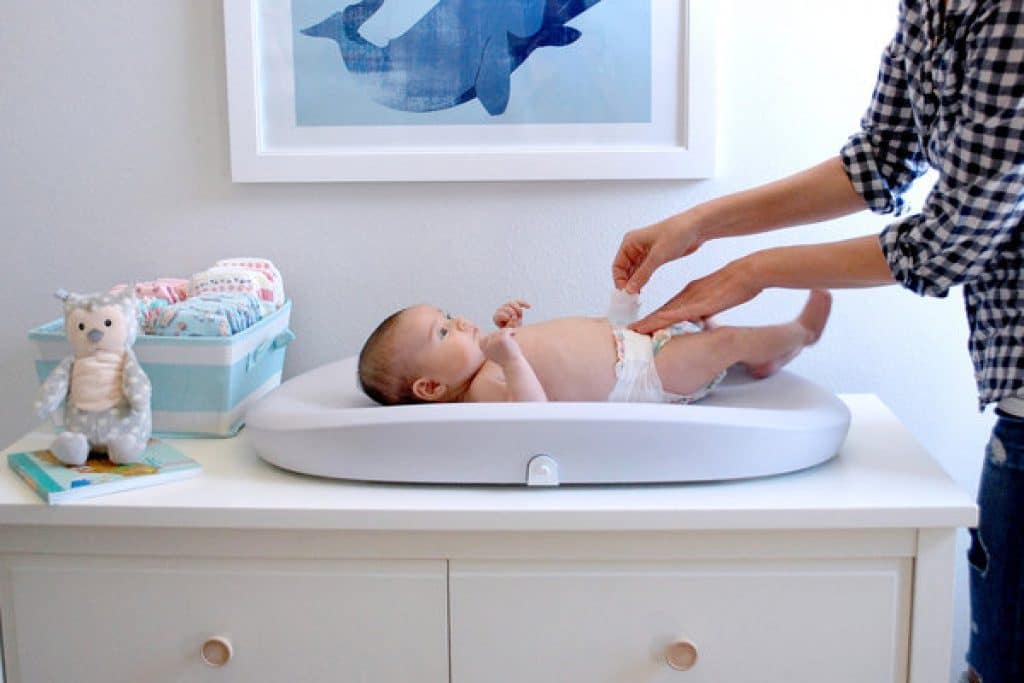 There are some very important differences among changing tables. Since your changing table is something that you will be using very often, you want to consider your options carefully. You will be changing your baby's diaper multiple times each day for well over a year and possibly even 2 or 3 years. Take a moment to look over the factors below to help you make the best decision when it comes to choosing a changing table!
The size of your changing table is very important as it can vary a good bit. You'll need to consider the footprint of your changing table as well as the height. The footprint is the amount of floorspace that the table takes up. The most important thing to consider here is how much room you have for it.
Think about where you would like to put your changing table and compare it to the dimensions of the changing tables you look at to make sure they will be a good fit. The height is important because it will affect your comfort level. Shorter tables are fine for shorter parents and caregivers, but anyone taller needs to make sure they choose a taller changing table as well to guarantee comfort.
Most changing tables are not meant to be portable, which works fine for most families. It is great to have a dedicated place to change diapers, but you don't need to use your changing table for every single diaper change if it is ever more convenient to change your child's diaper somewhere else. Portable options are great for anyone that will be spending large chunks of time in different areas of their home or for those that spend lots of time at friend's or family member's homes.
Almost all changing tables have some storage built into them. The type and amount of storage is what you want to consider. More storage can increase the value and usefulness of your changing table but may not be needed for everyone. Sometimes, it can be better to save space with a smaller option depending on your situation. The type of storage will affect the overall look and convenience of your changing table. Open shelving is easy to see and reach but closed drawers may have a cleaner, nicer look.
Chances are that you would like your nursery to look nice, so you will want a good-looking changing table! This is where personal preference comes into play. Do you want something big and fancy or maybe something classic and simple? Do you prefer vintage style or clean modern lines? Make sure to look at different options and think about what look and feel that you want to create in your nursery!
Finally, like always, price is a very important consideration. Changing tables can be a pretty considerable purchase and you want to make sure you get a good value. More expensive options can easily be 5 times the cost of the most budget-friendly options, so you need to carefully consider how much you want to spend and what you expect to get out of your changing table.
Obviously, the most affordable choices will have less features and typically be simpler and often less durable or visually attractive. Try to find the right balance for your wants and needs.
You may want to read more about The Best Gliders for Your Nursery.
Editor choice: Top 10 Changing Table Reviews & comparison
1

Delta Children Lancaster – Best Changing Table Dresser
Features:
3 large drawers
Easy-glide feature
Multiple color options
Sturdy design
Elegant appearance
Removable changing table topper
Included wall anchor
Check Pricing and Availability
Delta Children is an impressive and popular brand that focuses primarily on high quality nursery furniture. There isn't any doubt that Delta Children is one of the best brands in the industry, so you'll find them on our list of recommendations for the best changing tables several different times – starting with this lovely option that we have chosen as the best changing table dresser!

The Delta Children Lancaster Changing Table is very elegant and the perfect choice for a more formal nursery space. It is an actual dresser opposed to just a changing table. It doesn't just feature storage but has very large and spacious drawers that conceal anything you decide to store in them. This keeps a clean look in your nursery.
On the top of the dresser, there is a removable changing table topper. It secures safely onto the top of the dresser to provide the perfect safe diaper changing spot. Then, when your child has outgrown diaper changes, you can remove it and just keep the dresser.
Easy Glide Drawers:
One of the best parts of the 3 spacious drawers is the easy-glide feature. The drawers are secured onto special runners with smooth wheels that allow the drawers to very easily move in and out of the changing table dresser without falling out or getting stuck.
The major drawback with such a nice changing table option is the cost. This is one of the most expensive changing table options out there.
PROS:
3 spacious drawers conceal your storage
Multiple color choices to best fit your nursery colors and theme
Included wall anchor keeps dresser from tipping over
Changing table topper is removable once baby is grown out of diapers
Easy-glide feature lets drawers slide smoothly with little effort
CONS:
One of the most expensive options of those we reviewed
This is an amazing option of changing table for anyone looking for something nice and multi-functional. It is sturdy, elegant, and very useful. It works as an amazing changing table but continues to hold value as just a dresser long after your little one has potty-trained!
2

Delta Children Infant Changing Table – Best Changing Table
Features:
2 storage shelves
4 enclosed sides
Bell-shaped headboard
5 color options
Included changing pad
Check Pricing and Availability
Another wonderful choice from Delta Children is this infant changing table that we are regarding as the best changing table thanks to a solid mixture of quality, functionality, and affordability!

This Delta Children changing table is much simpler in design compared to the previously mentioned dresser version. It is more lightweight with open storage. The back also features a nice bell-shaped headboard for simple style that goes well with anything. You also have the option of choosing from 5 different colors including both white and black. The best part of this simple but high-quality changing table is that it is very affordable!
Included Changing Pad:
To add even more value to this changing table, it includes a changing pad! This is the piece that you will place inside the enclosed area on top of the changing table. It is water-resistant to make clean-up easy. The included safety strap allows you to secure your baby onto the table during the diaper change. This is an important safety feature, but remember that it is not a replacement for continuous supervision.
Most of this changing table is very strong and durable. However, the storage shelves are made with relatively thin particle board. You'll need to avoid too much weight on the shelves.
PROS:
Simple design fits well into a variety of places and themes
Shelves provide easy storage for diaper changing essentials
Affordable price works well for a wide variety of budgets
Multiple color choices let you match the changing table to your chosen theme and colors
Included changing pad is water-resistant and has a built-in safety strap
CONS:
Shelves are not as durable as the rest of the changing table
If you want high quality, but need something a little more affordable, this changing table has a great balance of benefits like lower cost, durable materials, and simple but functional design.
3

Graco Lauren Changing Table – Most Affordable Changing Table
Features:
Locking wheels
2 open shelves
Included changing pad
Multiple color options
Minimalistic design
Check Pricing and Availability
Graco is another brand of well-known, well-loved, high-quality baby products! This Graco Lauren Changing Table is refreshingly simple and is even more affordable than the previously mentioned option from Delta Children. In fact, it is our most affordable changing table pick!

This Graco changing table has a very minimalistic design that will go great with anything from modern to classic. It comes in 5 different colors to further help it match whatever aesthetic you're going for. Just like the last Delta Children changing table we talked about, this option has 2 open shelves that are ideal for storing diapering essentials.
Locking Wheels:
Most changing tables do not have wheels and are only made to be stationary furniture. This is one of 2 options on our list of the best changing tables that does feature wheels. This adds a lot of versatility and convenience to your changing table. The wheels also have a special locking mechanism that makes this a completely safe option as well. Always be sure to lock the wheels before placing baby on the changing table.
While it is great that this changing table comes with a changing pad to use in the table, it is important to note that it is much thinner than most changing pads.
PROS:
Minimalistic design matches well with any décor
2 open shelves provide ample storage room
Locking wheels increase versatility without sacrificing safety
Super affordable price is great for even tighter budgets
CONS:
Included changing pad is very thin compared to most options
This is the perfect changing table for someone looking for something simple and affordable. It maintains a lovely aesthetic and functional design while cutting back on costs and even includes locking wheels for better versatility and portability throughout your home.
4

South Shore Convertible Changing Table – Best Changing Table with Drawers
Features:
3 drawers
1 cabinet
2 pull-out shelves
Diaper storage on top
Convertible
Sturdy construction
Check Pricing and Availability
If you have a little extra space, this is a very impressive changing table choice that provides tons of storage and extra space. In fact, it is our pick for the best changing table with drawers due to all the extra storage space! It is the South Shore Convertible Changing Table.

This stunning changing table is quite large and full of amazing functionality. It is wider than most changing tables, so it has room on the top of the changing table for wipes, diapers, and diaper creams right next to where you will place your baby. This adds a great deal of convenience because you don't even have to bend down to get the supplies out of a drawer or off a shelf.
In addition to that easy storage location, the rest of the changing table utilizes the space it takes up perfectly with 3 spacious drawers and a cabinet with 2 pull-out shelves. This is tons of space for everything from toys, clothes, and blankets, to additional diaper and wipe storage.
Convertible Changing Table:
One of the great benefits of this changing table is the convertible design. It is highly functional as a changing table and as a storage solution. So, once your baby has outgrown the diaper stage, you can easily remove the changing table topper in order to simply have a very nice dresser for your child's room with ample storage.
This is the most expensive option of all those we reviewed when it comes to changing tables. It is costly, but it's understandable why it is. This is a super high-quality, highly functional, aesthetically pleasing piece of nursery furniture.
PROS:
Sturdy construction lasts for years to come with no issues and plenty of weight-bearing storage options
Tons of storage options to maximize use of space
Diaper and wipe storage on top greatly increases convenience factor
Ability to remove the changing table topper adds versatility and increases value
CONS:
Most expensive option of those we reviewed
If you are after something especially nice and useful, look no further. This amazing changing table takes up a bit more space, but it utilizes it perfectly with ample storage options including a special place right on top for diapers and wipes. The simple design allows it to match seamlessly with any décor, too!
5

Badger Basket Corner Changing Table – Best Changing Table for Small Spaces
Features:
Corner design
6 shelves
Fabric drawer
Fabric hamper
3 color options
Included changing pad
Built-in safety strap
Check Pricing and Availability
If the South Shore Convertible Changing Table was a bit too big or too costly for your needs, this unique Corner Changing Table from Badger Basket may be exactly what you are looking for! This is our pick for the best changing table for small spaces and it also costs about half of what the option from South Shore costs.
There is so much to love about this unique changing table. Unlike other changing tables, this changing table is designed specifically to be placed in the corner while also allowing the baby to be positioned in the most convenient position possible for easy diaper changes. The corner design saves a ton of space and also offers ample storage space. There is a total of 6 shelves with 3 on each side of the changing table.
Included Hamper:
Right beneath the fabric drawer, there is also a fabric hamper included. This is an easy place to put your baby's dirty clothes whether you are changing their diaper or not. It helps further save space and adds more convenience to the changing table overall.
Like the Graco Lauren changing table, this option comes with a changing pad that is a bit thinner and possibly less comfortable than many options out there.
PROS:
Corner design allows you to best utilize the space in your nursery
Plenty of storage thanks to 6 shelves and a fabric drawer
Included hamper adds versatility and value while also reducing clutter throughout the room
Multiple color choices allow you to match your changing table to your nursery easily
CONS:
Thinner changing pad may not be as comfortable as most choices
For a unique and very functional changing table, this corner option is really cool. It utilizes the space you have very well and provides plenty of convenience and storage!
6

Delta Children Arch Top Changing Table – Best Changing Table on Wheels
Features:
Safety tested
Simple design
2 open shelves
Locking wheels
Multiple color options
Included changing pad
Check Pricing and Availability
Back to Delta Children again, we have this lovely Arch Top Changing Table. This simple Delta Children option is our second and last recommendation that includes wheels on the bottom. It is our choice of the best changing table wheels.

This changing table features a very simple and lightweight design. This makes it even easier to simply glide around on the wheels from space to space. It is a perfect choice if you want to easily change your baby's diapers in a variety of different spaces in your home. I especially love this for the newborn stage because you can bring it from your bedroom to the baby's room to the living area easily. That way you don't have to go all the way to the nursery every time your baby needs a change.
Safety Tested:
Another cool thing about this changing table is that it is tested for safety in multiple ways. The materials, including the paint used on the changing pad, are all tested for things like lead and other materials. It is designed to meet or exceed ASTM standards. It is also JPMA certified for safety to provide you even more peace of mind.
The shelves aren't super durable like the top of the changing table. That means that while placing your baby on the top of the changing table is completely safe, you will still want to avoid larger amounts of weight on the shelves of this changing tale.
PROS:
Locking wheels allow easy portability while remaining safe for your baby
2 open shelves provide easy storage for diapering essentials
Simple design and multiple color options let you easily match the changing table to the rest of your nursery
Included changing pad is convenient and comfortable with a built-in safety strap
CONS:
Shelves won't hold a lot of weight
If you are looking for a high-quality option of changing table that is also easily portable throughout the house, this Delta Children option is ideal. It is very well-made and functional with the added convenience of locking wheels!
7

Costzon Folding Changing Table – Best Travel Changing Table
Features:
Lightweight metal frame
Durable canvas material
Easily foldable
Included storage basket
Storage shelf
Check Pricing and Availability
Another more unique changing table option is the Folding Changing Table from Costzon. It is much different than other changing tables and is our pick for the best travel changing table!

Instead of being made of wood and designed to stay up all the time, this changing table is made with a metal frame and soft but durable canvas material. It folds up for super compact storage and very easy portability. That's why it is so great for traveling. This can be a perfect option if you are going to grandma's house for the day or if you are planning a vacation with your infant. It is so easy to take along with you and allows you to always have a convenient and safe place to change your baby. It also happens to be super affordable too!
Storage Basket:
On the side of this option, a storage basket hangs down with several compartments. This provides an ideal location for diapers, wipes, diaper creams, and anything else you can think to put there. You also have a small shelf built-in underneath the changing table for other items you may need to place there.
Even though there is some storage with this option, it is definitely less than what most changing tables offer. You also may want to consider the fact that this option isn't nearly as nice in appearance when compared to other changing tables.
PROS:
Built-in storage basket and shelf
Folds up for super easy storage and portability
Affordable price works for most budgets
Canvas material is durable and comfortable for your baby
Non-slip grip feet keep the changing table securely in place for increased safety
CONS:
Not very aesthetically pleasing
Less storage than other option
This extremely affordable and convenient option is perfect for anyone that is constantly on the go from place to place. It is also a great choice if you are limited on space or just on a tight budget!
8

Delta Children Eclipse – Top Rated Changing Table
Features:
2 open shelves
Wooden slat design
7 color options
Included changing pad
Safety strap
Sleigh style top
Check Pricing and Availability
Yet another fantastic Delta Children changing table is the Eclipse Changing Table! This excellent option is the top rated changing table. This is no doubt due to its combination of affordability, functionality, and quality.

For being relatively simple, this changing table has a beautiful design. It has open shelving on the front, but wooden slats surround the back and sides for a fuller, more elegant look. Classy curves on the front and back create a really lovely sleigh style that will look amazing in almost any nursery. It also comes with a water-resistant changing pad with a built-in safety strap. The two large open shelves provide plenty of room for all of your diapering necessities and more!
7 Color Options:
Another reason that this changing table is so popular is because it is available in an impressive 7 different color choices. You can choose white, black, grey, dark chocolate, black cherry, espresso cherry, or vintage espresso!
One of the only complaints you may run into with this changing table is the height of it. It is just slightly on the short end. It should work fine for most parents and caregivers, but it might be a little uncomfortable for anyone that is rather tall.
PROS:
Beautiful design looks great in any nursery
Plenty of color options let you easily match your changing table to the rest of the nursery
Open shelving provides decent storage room
Includes changing pad with safety strap for added safety and value
CONS:
A little shorter than most changing tables
You know you have a good product when it consistently receives tons of great reviews. This is the top rated changing table, so you know for sure that ti is a great choice overall!
9

Badger Basket Modern Changing Table – Best Changing Table for Cloth Diapers
Features:
Multiple color options
Modern design
Included hamper
3 fabric drawers
Included changing pad
Safety strap
Check Pricing and Availability
Another very nice option from Badger Basket is this modern changing table. It has a nice, sleek look and high level of functionality for a decent price. This can be a wonderful option regardless of your diapering choices, but we especially love it as the best changing table for cloth diapers!

The biggest reason that this particular changing table is so excellent for cloth diapers is because it has a hamper underneath the changing table section. This is the ideal place to put a diaper pail liner, so that you have a convenient place to just toss your dirty cloth diapers to await the wash! The 3 fabric drawers along the side also provide ample cloth diaper and wipe storage!
Modern Design:
My favorite thing about this changing table is the super sleek, simple, and very modern design. It has an incredibly classy and clean look to it that will seriously go well with virtually any look that you may be going for. It is a huge help that you can also choose from grey, espresso, or cherry for the color!
The pieces of this changing table are somewhat small and thin compared to many other options. It just isn't going to be as durable long-term compared to some choices.
PROS:
Included changing pad with safety strap adds value
Multiple color choices to best fit your preferences
Modern design goes well with most décor choices
Hamper provides perfect place for cloth diapers or simply for dirty clothes
Plenty of storage with 3 fabric drawers
CONS:
Not as durable as other choices
This is a very cute and functional changing table. It isn't as durable as some choices but is relatively affordable and very functional. It is perfect for cloth diapers especially!
10

Delta Children Convertible Changing Unit – Best Convertible Changing Table
Features:
Convertible
Bypass doors
Open shelf
2 color choices
Sophisticated appearance
Sturdy construction
Check Pricing and Availability
Finally, we have one more great option from Delta Children! This convertible changing unit is our pick for the best convertible changing table out there!

This is one of the most sophisticated changing tables out there. The fact that it is convertible makes so much sense and adds so much versatility to it. This changing table has an extremely modern and refined look that will be perfect for virtually any space. You can use this as a great changing table while you need one, but it makes a fantastic piece of furniture with wonderful storage for anywhere in your home after you no longer need the changing table aspect!
Bypass Doors:
Even the storage on this changing table is especially sophisticated and refined in appearance. At the bottom of the changing table, there are 2 bypass doors that create a very nice look perfect for anywhere. They're also highly functional and spacious. Above these, you will also find an open shelf area perfect for more storage!
Considering that this is a relatively expensive changing table option, you might expect it would come with a changing pad. However, it does not. It is one of the few options on our list that does not include the changing pad.
PROS:
Sturdy construction is durable and long-lasting
Super modern and sophisticated design works in any part of the home
Plenty of storage including bypass doors and open shelf
Convertible option allows you to remove the changing table section once you are done with diapers
CONS:
Changing pad not included
This is one of my personal favorite changing tables because of the beautiful sophisticated design. It works great, is super sturdy, and looks stunning in any part of your home including the nursery!
Also, You can see our review of The Difference between Crib and Pack&Play and find out more!
Final Words on Changing Tables
Changing tables are one of the products that, even though they aren't mandatory to have, you will still really want one. They are so much more convenient than other diaper changing location options. They will save you a lot of backache and trouble for sure! We hope you find the perfect one for your needs with our guide and recommendations on changing tables!