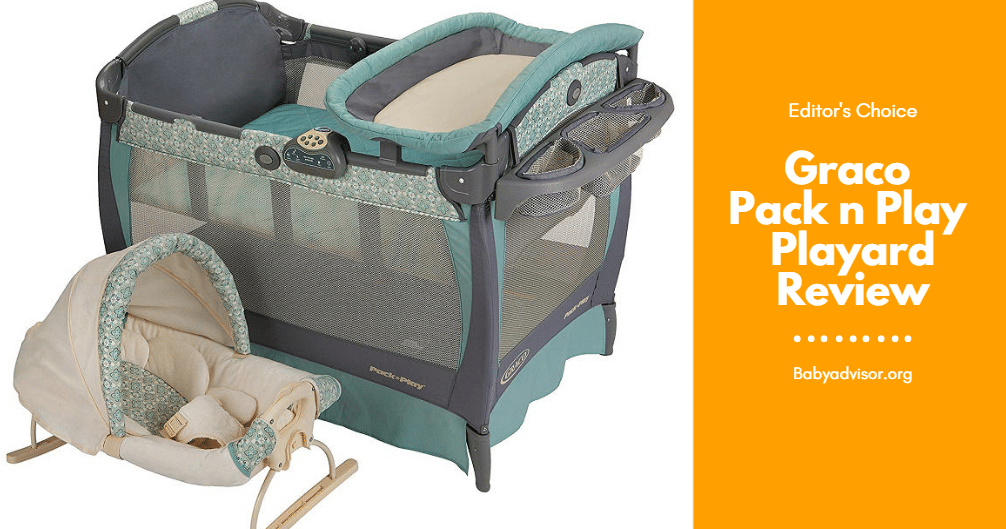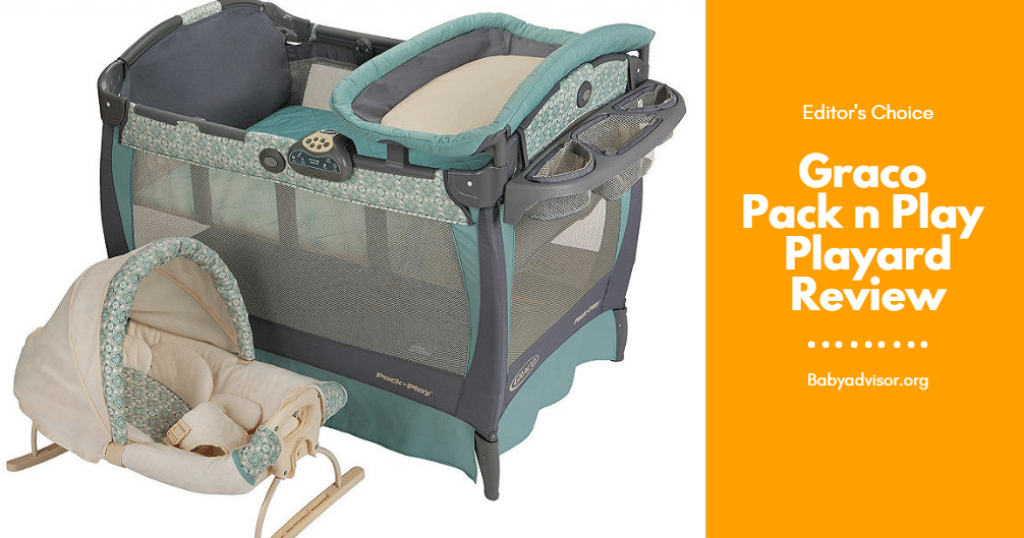 The pack and play is a modern convenience most parents don't want to live without. There are a wide variety of playards on the market from the most basic playpen to elaborate models with all sorts of additional features.
That's where the Graco Pack and Play Playard with Cuddle Cove Rocker Seat Winslet fits in. It offers parents the convenience of the playard and a whole lot more.
This all-in-one can be used across several growing stages. An infant can benefit from the rocker seat and changing table, sleep in the bassinet as they get a little bit older and then use the playard once they hit the toddler stage. It is one of the best pack and play available on the market today.

Playards are convenient since they are mobile and parents can take them along with them so the baby can sleep or play comfortably and safely anywhere, any time.
But this one has additional features that help make mobility with an infant or small child even easier. This product has the standard features that one comes to expect with high-quality Graco playards, but it also comes with a handy carrying seat to move the infant between rooms or locations with ease.
Read More: Graco Pack 'n Play On-The-Go Travel Playard
Update - 2019.01.17
Now the Graco Pack and Play Playard also offer the Newborn Napper(Manor) to Enrich their products.
---
Features of Graco Pack and Play Playard with a Seat
The features included with the Graco Pack and Play Playard which comes with a Cuddle Cove Rocker Seat include:
Removable rocker seat so you can keep baby close
Carrying handles on the rocker seat so it's easy to move
Vibrating motion in rocker seat and bassinet to soothe baby
Changing station with soft fabric to ensure comfort while changing diapers
Built-in storage cubbies
Carrying bag for transporting playard between locations
Machine washable cover on the rocker seat
Canopy provided on Cuddle Cove to protect the baby from bright lights
This playard has virtually everything a parent needs for taking care of their new baby all the way through toddler stages. The product includes a carrying seat which also rocks and is equipped with handles for easily transporting baby. It also has a nice canopy visor which can keep bright lights from shining into baby's eyes and making them uncomfortable. The rocker seat can be used for infants up to 15 pounds in weight or 3 months of age.
---
Our experience with the Graco Pack 'n Play Playard
Once they begin moving around more or are trying to roll over on their own they should be placed in the bassinet or playard instead. The playard also comes with a baby changing station which is at a convenient height so mom and dad don't have to bend way over to change the baby. The changing tale is designed to be used for babies until they reach 25 pounds. It also features a soft, quilted rim that helps provide more comfort for the baby while he's resting and secure. Both the changing table and the rocker chair detach so they can be easily removed once the baby gets too big for them.
Once the baby has grown and is moving around too much or is over the weight limit for the Cuddle Cove Seat or the changing station, there is still the playard for napping and playing as they continue to grow. The playard has a bassinet which allows for comfortable sleeping while the baby is still small. It can eventually be removed and the playard can be used up until the toddler is big enough to attempt crawling out. The playard is a key feature since its mesh sides provide a safe, but enclosed environment for babies to sleep or play while remaining visible to their parents.
Along with all these handy features, the playard is also equipped with cubbies to store supplies. They are conveniently placed near the changing table so that items needed for a quick diaper change are handy at all times. You can store extra diapers, clothes or changing supplies like wipes, powders and lotions nearby right where they are needed.
Additional features with the Graco Pack and Play Playard along with Cuddle Cove Rocker Seat includes a built-in vibration machine. This can be very soothing to babies and help them sleep better. It can be moved between the carrying seat and the bassinet. It can help calm baby down when it's time for a nap and can either provide soothing vibrations or sounds including five melodies and five fun sounds to entertain baby and keep them content. Also, the rocker seat is easy to clean and keep tidy. The fabric portions are removable and washable in a washing machine. This makes keeping it clean simple and easy.
Once you are ready to move the playard, it folds up simply and easily into a compact unit so it can be placed in a carrying bag. This makes it very easy to move from one location to another. Once you reach the new destination, it quickly and easily unfolds and sets back up ready for full use.
---
Pros & Cons for the Graco Pack and Play Playard
Each consumer has their own experience with a product. The primary pros and cons for the Graco Pack and Play Playard with Cuddle Cove include:
Check Pricing and Availability
What we like:
Playard, cuddle cove and changing station included
Handy carrying bag
Storage bins included
Easy to put together
Vibrating motion in the bassinet and cuddle cove for soothing baby
Changing table and Cuddle Cove are removable
Canopy to help block bright lights from baby's eyes
Cuddle Cove covered with soft, high-quality materials
Changing station keeps you from leaning over the playard to change the baby
Changing table and bassinet removable as baby grows
Easy to set up and take down
Convenient carrying bag included
The vibrating unit can be moved between the cuddle cove and the bassinet
Can be used from newborn to toddler stages
What we not like:
Changing table needs more stability
Does not come with sheets – must purchase separately
Rocker barely rocks
Final Words
The Graco Pack and Play Playard which comes with the Cuddle Cove Rocker Seat has everything a parent needs for their baby. It reduces the need to buy multiple pieces separately. Definitely worth the investment since it can be used from the time the baby is first born until they are fully in the toddler stage.