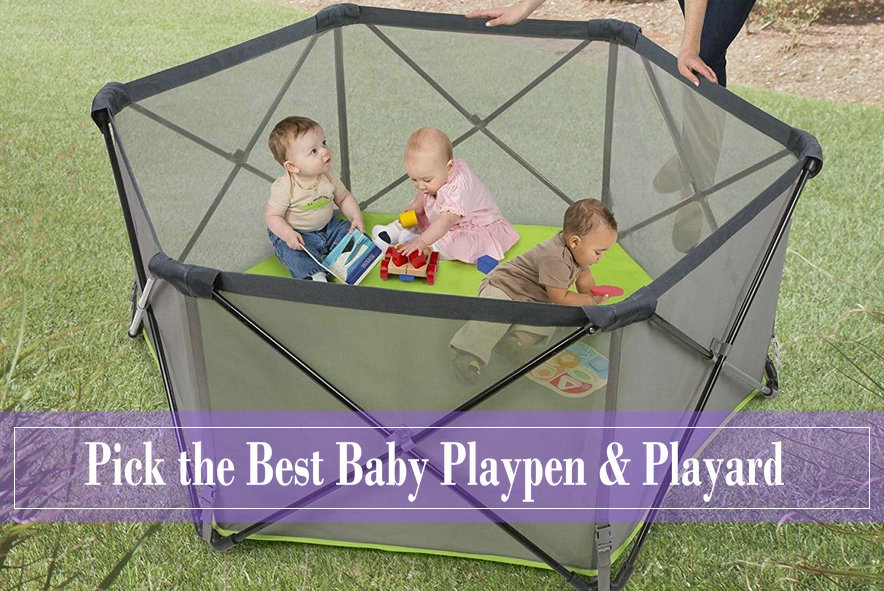 Now that your little one is on the move, are you having more trouble than ever getting a break or even just a moment to sit down?
We have all been there as parents. Once those babies are mobile, there is no stopping them. It can be difficult because mobile babies have typically outgrown their baby swings and baby bouncers, so, what is a desperate mom to do? Find the best baby playpen, of course!
A playpen is a fantastic option once your baby is on the go all the time! It seems as though, no matter how much you babyproof, that they will always find something to get into. A baby playpen is a wonderful way to allow them to move around, play, and enjoy themselves – all the while being restricted to a safe area that is easy to monitor!
As is usual with baby products, there are endless options out there when it comes to playpens! To prevent you from feeling overwhelmed or wasting too much time sifting through all the not-so-good options, we spent hours of research and even personal testing to find the very best of what is out there for you!
Below we will go over some important considerations when choosing the best playpen for your family as well as some helpful playpen tips that we have found really useful! Finally, you can view our picks for the top five baby playpens!
---
Different Baby Playpen Options
As you can imagine, with so many different playpen options, there are a lot of varying types, features, sizes, shapes, and prices out there. We just wanted to take a moment to go over some of the most important things that you will want to think about as you choose your own baby playpen.
The size of your playpen is extremely important and one of the first things you really need to think about. First of all, you will need an option that fits well within the space you have available. We are fortunate enough to have a lot of extra space now that we are expecting baby number 3!
So, we chose to go with a larger option to give the little ones more room to work with. There is definitely nothing wrong with smaller options though, especially if that is all you have room for at the moment. We used one of the smallest options available with my first baby and he still had a good time and we got great use out of it!
Next, you will need to think about where you want to use your baby playpen. Will you only use it in one location within your home? Or will you want to move it around to different rooms and perhaps even outdoors? Do you need something you can easily pack up and take to grandma's house?
If you hope to use your baby playpen in more than one location, it can be a great idea to consider a portable playpen option. We used a portable playpen with my son and it was so easy and convenient! Just keep in mind that the portable options are generally smaller than other playpens.
The extra features that your playpen has are another important consideration. Do you want your playpen to include built-in toys? Do you need a playpen with a gate or are you okay with just lifting your baby in and out each time? Does the color of the playpen make a difference to you? Do you need something that is good indoors and outdoors? These are all varying features of different playpen options to keep in mind when you choose which playpen is best for your needs.
Last, but definitely not least, is price! The cost of different playpen options varies greatly, and budget should always be taken into consideration when choosing any product. You want a good option that falls well within your budget, but also holds a really wonderful value. That way you get the most bang for your buck without breaking the bank.
We did include a variety of different playpen options all falling at different price points on our best baby playpen guide. The one thing that we did make sure that all of our playpen picks had in common though, was value! Each of our choices gives you a really good value, so that you really get your money's worth out of your purchase.
---
Our Picks: Top 5 Baby Playpen Reviews
1

Gupamija 14-Panel Activity Play Yard – Best Baby Play Yard
Features:
14 panels
Encloses 26 square feet
Fun colors and shapes
Configurable design
Built-in toys
Easy-to-use gate
24 inches tall
Rubber feet
Check Pricing and Availability
First up is the Gupamija 14-Panel Activity Play Yard. This is one of my personal favorites on the list because of a few really cool features. This is our choice for  best baby play yard for a couple of reasons.
First off, it is very large as far as playpens go. It encloses 26 square feet of play room for your little one. This is the second largest option of the playpens we reviewed. The other reason that we consider this the best baby play yard is because of the built-in toys!
This is actually the only playpen we included in our guide that has built-in toys. These include multiple stimulating activities on one of the panels of the playpen. It really helps add some excitement and entertainment to the best baby play yard.
Another really fun and exciting thing about the best baby play yard is that it features lots of adorable and stimulating colors! The panels come in a fun variety of pastel colors including blue, pink, purple, yellow, and green! There are also cute cut-out shapes throughout the panels for another cute touch that gives your baby more to look at and explore.
Of course, this is the most expensive option as well. It is definitely on the high-end when it comes to cost, but it also has lots of features that some of the other baby playpen options just don't have. The built-in toys, easy-to-use gate, configurable design, and more all add great value to your purchase of the best baby play yard.
Rubber Feet:

This is such a clever and innovative design that I just can't get over it! They have placed rubber feet on the bottom of the panels of the best baby play yard. This amazing little feature prevents the playpen from moving around on the floor. My son has been known to push on the side of a playpen to actually move the entire playpen across the floor with him in it. You won't have to worry about the best baby play yard sliding around on your floors!

PROS:
26 square feet of enclosure gives your baby tons of room to move around and play in the best baby play yard
Rubber feet on the bottom of the panels keep the best baby play yard from sliding around on the floor
Configurable design allows you to make the best baby play yard bigger or smaller as desired
Fun shapes, colors, and built-in toys help to stimulate your baby and keep them content and busy
CONS:
This baby play yard is by far the most expensive option in our guide
Takes up a lot of storage space when not in use
While this playpen is the priciest of all the choices on our list of the best baby playpens, it is still a wonderful and worthwhile option if you can work it into your budget. It is easy to get tons of use out of it and it has some really unique features that amp up the value.
2
North States Superyard Colorplay 8-Panel – Best Baby Playpen Overall
Features:
8 panels
Encloses 34.4 square feet
Brightly colored panels
Open at any panel
Set up in seconds
Non-slip design
Configurable
Check Pricing and Availability
From North States comes our pick for the best baby paypen overall! This is the Superyard Colorplay 8-Panel Playpen and it is just as incredible as it sounds! To start off all of the incredible features, this is the biggest playpen of all of the ones we reviewed! It encloses a whopping 34.4 square feet.
While the large size can be a downside if you are limited on space, it is a great roomy option if you do have plenty of space available. The fact that it can be used outdoors as well makes it even better! So, even if this might not be the best indoor playpen for you due to space restrictions, it could still be a great outdoor playpen option!
This is an extremely stable playpen that will safely stay in place on any surface. It even includes special foam pads that you can easily attach to the bottom of the gate if you will be using it indoors on potentially slippery flooring. Another cool bonus is that this gate is very brightly colored with highly stimulating colors like red, blue, green, orange, and yellow.
Open at Any Panel:

One really cool thing about this option from North States is that you can easily open it from any panel. Instead of having a single gate as a single point of entry, you can use any panel as a gate. Simply locate the side of the panel that has a grey topper. Then lift up on that section and side and pull it open just like any other gate.

PROS:
Huge enclosure size at 34.4 square feet gives your baby tons of extra space
Can be used both indoors or outdoors as desired
Bright colors are fun and stimulating for your baby
Being able to open at any panel gives you more accessibility and versatility
Simple design is super easy to set up in almost no time at all
CONS:
Large size takes up a lot of room that everyone might not have available
On the more expensive side
While the best baby playpen is a little more affordable than the most expensive baby playpen option we reviewed, it is the second most expensive by a considerable margin. Even so, it is super valuable and very worthwhile. The large size alone is worth the purchase if you are willing to spend a little more. The other great features are just a nice bonus!
3
Summer Infant Pop N' Play – Best Portable Playpen
Features:
Included carrying bag
Folds down very compact
Sets up quickly
Water-resistant floor
Lightweight design
Encloses 14 square feet
26 inches tall
Check Pricing and Availability
Here is a baby playpen option that is a good bit different than our previously listed options. This is our pick for the best portable playpen! The Summer Infant Pop N' Play is super easy to use, put away, store, and transport!
It would be hard to make a playpen easier to transport and use than this one from Summer Infant. This playpen works a lot like a foldable lawn chair. You just slide it out of the included carrying bag, and then spread open the legs. Once the playpen is in place, you buckle a few buckles for added stability and then you are all ready to go! It folds down super compact for extra easy storage and transportation.
The downside to this option is, of course, that it is a good bit smaller than our larger baby playpen options. This baby playpen encloses 14 square feet. While that is a lot less than some of the biggest choices out there, it is still a decent amount of play space for your little one. The easy portability and affordable price really balance out the smaller size of this Summer Infant .
Water-Resistant Floor:

Another unique and beneficial feature of this portable playpen is the water-resistant floor! Most playpens don't have a floor at all, so baby would always be in contact with whatever the playpen is placed on. Since this is a great playpen for both indoor and outdoor use, the water-resistant floor will help protect them from moisture on the ground during outdoor use. It will also help keep them from getting cold on hardwood. As an added bonus, the floor prevents children from being able to push the playpen around from the inside like my son used to do.

PROS:
Water-resistant floor protects baby from anything outside the playpen and makes this a great outdoor playpen option
Folds up super compact for very easy storage and transportation
Takes only a moment to quickly and easily set up or put away
Included carrying case adds even more convenience
CONS:
One of the smallest options available
This won't be the best choice if you are looking to give your baby a huge play space, but it is still a decent size and has tons of value within its other features. It is definitely a wonderful portable playpen if you need an option that is easy to take on-the-go. It can even make a great back-up playpen option if you want a larger option for your home and something more portable for other times and places.
4
Evenflo Versatile Play Space – Best Baby Outdoor Playpen
Features:
6 panels
Open at any panel
Encloses 18.5 square feet
28 inches tall
Reversible feet
Indoor and outdoor use
Check Pricing and Availability
The Versatile Play Space from Evenflo is our pick for the best outdoor playpen! It has tons of incredible features and comes at a very affordable price as well.
One really cool thing about this outdoor playpen from Evenflo compared to some other outdoor playpen options is that it is made of hard plastic. There is no fabric like on the Summer Infant playpen. This makes it much tougher when it comes to withstanding the elements and also makes it a lot easier to get a thorough cleaning after it becomes dirty outdoors.
Reversable Feet:

This is another great playpen that can be used both outdoors and indoors. One of the things that I love most about this playpen option is the reversible feet. The feet on this playpen can be switched between 2 different modes.

One end of the feet is a stake that you can use outdoors to firmly plant the playpen into the ground. This adds stability, which is extra important outdoors where the ground may not be perfect even or there could be more potential dangers around. Then, when you reverse the feet, they will have special non-slip bottoms that help protect your floors and keep the playpen in place even on hardwood.

The only real downfall that we found about this awesome baby playpen option is that the appearance is pretty boring. Most of the playpen options that we reviewed are fun, stimulating colors and some even feature toys and other stimulus. Tis one is a simple grey color with no other stimulating features.

PROS:
Stake feet option allow you to firmly plant this playpen in the ground outside
Non-slip feet option help protect floors and keep the playpen in place when used indoors
Plastic is super easy to clean and durable to the outdoors
Ability to use any panel as a gate adds versatility and convenience
CONS:
Monotone grey color can be somewhat boring and lacks stimulus for your baby
It is hard to say anything bad about this super high-quality, well-designed baby playpen. It has multiple unique and beneficial features. The grey color is a little boring, but you will be using other toys in it anyways, and the other features and affordable price give it a really great value.
5
Regalo My Play 6-Panel – Best Cheap Playpen
Features:
Portable
Included carrying bag
Sets up and tears down quickly
Encloses 10.4 square feet
26 inches tall
Mesh sides
Water-resistant floor
Removable sides and floor
Indoor and outdoor use
Check Pricing and Availability
Finally, here is our choice for the best cheap playpen option out there! I knew it was very important to choose a cheap option because babies are expensive as it is. A lot of parents won't have it in their budget to get the biggest playpen with the most features. Fortunately, I was able to find an extremely affordable playpen option that definitely still deserves its place on our best playpen guide thanks to its high-quality design and many impressive features!
The way that this playpen works is very similar in design to the previously mentioned Summer Infant playpen. It folds up for easy transportation in a similar way to a folding lawn chair. It also has a lightweight design and comes with a carrying bag for added convenience. While it is smaller than the Summer Infant option, it is also less expensive.
Removable Sides and Floor:

This playpen also  has mesh sides and a water-resistant floor. The one thing that this playpen does have over the Summer Infant portable playpen – other than price – is that the sides and floor are actually removable from the frame. They easily snap off to make cleaning even easier!

The least desirable feature of this Regalo playpen is definitely the size of it. It is by far the smallest playpen option on that we reviewed. It encloses just over 10 square feet.

PROS:
Extremely affordable price falls within almost any budget
Super easy to fold up and transport
Very compact size takes up only a small amount of space in your home and even less space when folded up for storage
Water-resistant floor makes it great for
CONS:
Encloses only just over 10 square feet
If the other options just don't fit well within your budget, or if you just need a smaller option, this Regalo playpen is still a high-quality choice. It will definitely still give you benefits you hope for with a baby playpen without breaking the bank.
---
Tips for Using Your Baby Playpen
As my years as a parent add up, I am constantly finding new tips, tricks, and information that I wish I had known from the start. That is why I wanted to go over a few tips for using your playpen that I have found to be useful with my own kids.
Start Using the Playpen Before Baby is Fully Mobile
You do not want to wait until your baby is already crawling all over the place before you start using your playpen. There is a good chance that your baby won't adapt well to the sudden change of the playpen right after they have gained the independence of mobility.

That is why it is a great idea to start using the playpen before your baby can even crawl. You can start placing your baby in the playpen on a blanket with some toys as early as you would like. You can even have them practice their tummy time in the playpen.

The point here is to simply get your baby accustomed to the playpen before it is actually adding any restrictions to them. That way, they won't be surprised or confused when they actually can get around in the playpen. You are much more likely to have your kiddo enjoy their time in the playpen if you get them used to it before they are able to actually move around by themselves.
This is something that I learned pretty quickly. You will want to rotate the toys that you keep in the baby playpen on a very regular basis. If you just keep leaving the same toys in the playpen all the time, your baby will lose interest much faster. Then, they won't want to stay in their playpen for very long.

Changing out which toys they have to play with in their playpen will keep it more interesting, fun, and stimulating for them. This allows you to get much better use out of the playpen while keeping your little one happy, too!
This is an extremely important playpen tip because leaving your baby unmonitored – even in their playpen – is a major safety concern. It can definitely be tempting because they seem so secure and contained in the playpen, but it is not worth the risk. All kids will at some point learn to escape the playpen and they are much less likely to try that with you around.

Of course, with little babies, escape isn't the concern as much as just general safety issues. They could fall and get hurt or any other number of things. It is definitely fine to have your back turned while you cook, or even run to the bathroom really quick while your baby is in the playpen, but don't leave your baby for more than a moment at a time and always stay close by.
Moderation is extremely important with most things in life and playpens are no exception. When utilized properly, your baby playpen can be an invaluable tool that makes your daily life much easier. You can definitely use it too much, though.

Some people have gotten it in their head that playpens are damaging to a child's mental growth and ability to explore, but the only way that would be true is if you overuse your playpen. Obviously, you should not leave your baby in the playpen all day.

There is absolutely nothing wrong, however, with using it for short periods of time throughout the day as you need some time to do something where close and direct supervision are not possible. It can actually help your child develop good independent play skills.
---
FAQ about Baby Playpen & Playard
Like a lot of other baby products, playpens sometimes get a bad reputation. Some people think that they can be dangerous or even neglectful. Rest assured that this is ABSURD. The only way that is ever true is if the parent is misusing the playpen. As long as you continue to monitor and care for your baby while you use the baby playpen, there is nothing to worry about and nothing wrong with using a playpen with your baby.
---
Absolutely! Baby playpens are completely safe when used properly. They are designed with your little one's safety as a top concern. As long as you follow all the guidelines provided by your baby playpen manufacturer, there is nothing to worry about at all when it comes to your baby's safety and your playpen.
---
Are baby playpens useful?

Obviously! Playpens are extremely helpful, and it is easy to get incredible use out of them. They are one baby product that you will certainly get your money's worth out of. They are a wonderful way to help keep your baby happy and safe while you get a little hands-free time to relax or get something else done like cooking or cleaning.
---
Very few baby products could actually be called necessary, as in you and your baby will survive without a baby playpen. However, their usefulness can be truly invaluable. With a playpen, you won't have to constantly chase your baby all around the house and repetitively take them away from the same potentially dangerous things. They give you a wonderful sense of freedom while allowing your baby to safely play in your sight.
---
When can baby use playpen?

Really, you can start using your baby playpen from birth with close monitoring. You can let them have tummy time and play time in their playpen long before they are mobile. However, you will really start getting use out of the playpen once your baby is actually mobile or close to it.
Final Words
When utilized properly, a baby playpen can make a massive difference in your daily experience as a parent. It can really give you a little bit of free time each day while also fostering some good independence skills for your baby. Plus, when you are more relaxed, you are happier. A happier mom (or dad) means a happier baby.

That is exactly why I strongly consider a good baby playpen to be well-worth the purchase. With the options today, most parents can easily afford one even if they are on a tighter budget. Hopefully this guide has helped you find the best playpen for your family, which should really go a long way to help you get some more time to yourself and to get those important daily tasks finished.