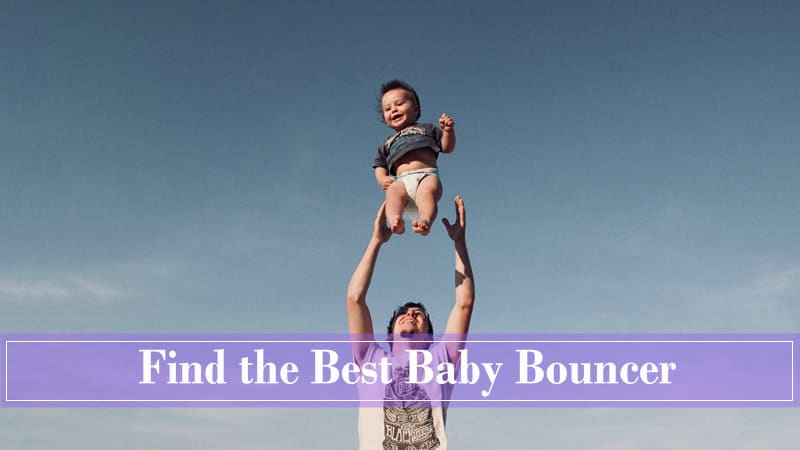 There's nothing like those sweet little baby snuggles. But at a certain point, you have to get things done. The dishes pile up, you have to change out of those leggings, and someone has to pick up all of things that have somehow ended up on the floor. The perfect solution? A baby swing or baby bouncer!
---
What is a Baby Bouncer?
A baby swing is usually higher off of the ground than a baby bouncer and is power operated rather than battery operated. A swing is a great item to have when you get home from the hospital, but it is not nearly as portable as a baby bouncer because of their size and also the need to be plugged into an outlet. I personally classify a baby bouncer as one of the essential new mom items to have, especially if you buy one that allows your baby to also sleep in it after kicking all of their energy out. The right baby bouncer will buy you the "me time" you will desperately need, and it will be easy to get with all of the fun your baby will have bouncing.
There are so many different bouncers now on the market that it can be hard to know where to start when trying to choose the right one. Even though they all serve the same purpose (giving your tired arms a break), they are all very different. This guide will help you figure out what is right for you and your family. If you don't have time to read the entire guide the pros and cons table for each bouncer is a great place to start!
---
When Can I use a Bouncer?
Most baby bouncers cannot be used until a baby is about 4 months due to the way most of the seats recline. A lot of baby bouncers are positioned in a somewhat upright position and should not be used until an infant has good head control. The only exception to this is if the manufacturer has explicitly stated that their product is suitable for newborns or if the product comes with a newborn insert. There are also certain baby bouncers where the position can be changed. If the bouncer reclines enough (say like a baby swing would be positioned) then it is most likely ok for a young baby to use it. I started using a reclining bouncer around 2 months and my daughter loved it.
When shopping for a baby bouncer make sure to check the weight limit and that the feet have grip pads that will not let the bouncer slide or slip on laminate, hardwood, or tile. And most importantly, NEVER place a bouncer on any surface other than the floor. I, unlike you, did not do enough research on bouncers and once placed my daughter briefly on the coffee table while I was sitting on the couch directly in front of her. I looked away for maybe one minute and when I looked back up she had bounced herself to the point where one of the back legs was off of the coffee table. This leads to the second safety rule. NEVER leave a baby unattended in a bouncer.
In addition to the non-slip legs, a harness is another essential safety component to a baby bouncer. Whether it be a three-point harness that just straps a baby in by the waist or a five-point harness like that of a car seat, it is an essential safety element to any bouncer and I would not buy one without it.
Safety Recap!
Safety Guidelines
Most bouncers are not safe for newborns unless explicitly stated by the manufacturer
Non-slip grip legs
Either a three-point or five-point harness
Never put a baby on any surface other than the floor
Never leave a baby unattended in a bouncer
---
Types of Baby Bouncers
These bouncers are the type that hang in your doorway and only have one main function: to allow your baby to jump up and down. They attach to the wall above your door frame using a clamp and are really only safe for babies that have full control of their heads and can sit upright without any assistance. This type of bouncer is great for babies that love to explore movement.
It allows them to develop better gross motor skills and learn where their limbs are in space. I never used this type of bouncer because just looking at them made me nervous thinking about what would happen if the clamp failed, but I know a lot of moms who have used them and absolutely love them. No matter what, I would not use doorway bouncers in small doorways as a baby could possibly jump into the door frame and get injured. I would also make sure that any doorway bouncer you choose has a design that does not allow the straps to get twisted because that could potentially also really harm your baby.
2

Traditional Reclining Bouncer
This type of bouncer has the most variation. Traditional reclining bouncers generally remain in one reclining position, but some (like many included in this guide) are now made to be able to adjustable. The ones that are able to recline further are great for newborns who are still not able to control their heads because it places them in a safe position to not be jostled.
I had this kind of bouncer for my daughter and she LOVED IT. I swear she has spent at least 1/3 of her life in this kind of bouncer (she is 11 months now) and if it had somehow broken in the middle of the night I promise you I would have driven immediately to Walmart and bought another one.
I even purchased one for my mom's house when I went to visit her and another one for work because I could not go without it. The traditional baby bouncer varies greatly between price and extra frills. You also have the choice between automatic and self-propelled movement. Personally, my daughter loved the kind that she propelled herself with her feet, but I don't think you can go wrong.
Extra Components to Consider when buying a Traditional Bouncer
Extra Frills
Automatic vs. Self-propelled
Calming Vibration
Bluetooth capability
Sounds and/or music
Toy bar attachment
Adjustable reclining position
Attachable mobile
This type bouncer is completely upright and should not be used unless a baby has complete control of their head, neck muscles, and can sit completely unassisted. They typically look like a big circle where the baby sits in the middle and has a many toys around the edge to play with. The way babies bounce in this case are by pressing their feet against the floor and jumping.
While a lot of people love these bouncers, sometimes they are not able to be used as long depending on how active your baby is when they begin crawling. I had this kind of bouncer for my daughter and she probably used it for about two months because once she started crawling she no longer wanted to be contained. It was amazing to have in my office when I worked from home though because all of the toys kept her entertained, she worked on her motor skills, and I could keep her directly next to me.
---
What to Consider When Buying a Baby Bouncer?
Do you plan on having more kids? Do you care if your baby bouncer matches the design aesthetic of your house? Design is an important element to consider. If you plan on having more kids, you may want a more neutral color palette. If you have a more modern taste or care how your baby toys are going to look when all over your house, you may want a sleeker design.
This is a big factor if you travel a lot or even if you just have a big house. You will want to be able to either fold up your bouncer or easily be able to move it from room to room. I never considered this element when purchasing my bouncer initially, but was so thankful that I was able to easily transport my daughter from room to room when I was trying to get things done at home.
There are many "extras" included in a lot of the bouncers listed below. Of course, with more frills comes a higher price. I would suggest deciding what is most important to you and choosing a bouncer that contains some, if not all, of those elements.
Bouncers vary greatly in price, especially if you are wanting something high-tech like the first bouncer listed below. But if you want a simple bouncer, you shouldn't have to shell out very much money.
Make sure any bouncer you choose has a machine washable pad that is easily removed. Trust me. No matter how cute your baby is, I promise you they will still spit-up and occasionally have a blow out and everything (and I mean everything) will end up going straight into your washing machine. You don't want to spend money on a toy that cannot be cleaned easily. Especially not after your baby has fallen in love with it.
Our Top 10 Picks: Baby Bouncer Reviews
1

4Moms Mamaroo – High Tech Splurge $$$
This may be the most well-known bouncer there is due to all of the extra frills that come with it. The 4Moms Mamaroo moves in five different directions that are supposed to mimic the motion a mom would rock their baby.
It also rocks at different speeds, and even has mobile connectivity allowing you to control the motion and sound right from your phone. This may sound like a bit overkill, but I had a swing that had this feature and I used it much more than I ever thought I would, especially in the middle of the night when I was already exhausted. Another positive thing to note about this bouncer is that you don't have to wait to use it!
4Moms makes a newborn insert that allows this bouncer to be totally safe to use while your child is still a newborn so while it is a pricier buy, you will be able to use this bouncer much longer than some others. The downside to the Mamaroo is that it is not very portable and requires an electrical outlet to work. If you are wanting a bouncer that does it all, but does it all in one room this could be a good choice for you. I would not buy this bouncer if you already own a baby swing because the two are very similar in design.
Check Pricing and Availability
PROS:
Mobile connectivity
Five unique motions
Newborn insert
Can be used up until 25 pounds or when baby can sit up on their own
Material can be easily cleaned with a wet cloth
Very comfortable
CONS:
Expensive purchase if your baby doesn't like it
Only has nature sounds, but you can plug in your iPod or phone with an AUX cable
Mobile is useless because it does not move
Some reviews claim it breaks easily
2

Baby Bjorn Bouncer Balance – Best All Around $$$
Although still a bit pricey, this baby bouncer will grow with your baby. It offers full body support and is approved by doctors to be used from birth because of its ergonomic design. Designed specifically to ensure your baby can sit in it for longer periods of time, you will never have to worry that your baby's neck, back, or head will be unsupported. It also reclines in four different positions making it completely safe for your baby to sleep in and if you are wanting more frills a toy bar is sold separately.
The biggest kick of this bouncer is that you can use it until your child is TWO because it can act as a child's chair later on. So while it is expensive, you will get your money's worth out of it. It is baby powered meaning that your baby has to kick to get it moving, but my daughter loved kicking to get her bouncer going and I found it taught her a lot of balance.
Check Pricing and Availability
PROS:
Sleek design coming in 5 colors
Can be used from birth (7.8lbs) until age 2 (28lbs)
Folds completely flat
Can be used as a chair when your baby can sit unassisted
Machine washable
Ergonomic design completely safe for newborns to sleep in
CONS:
Attachable toys are sold separately
Expensive
Some reviews say that the material can take a while to air dry
3

Fisher Price Baby Bouncer – Best Value $
If you want a no frills type of bouncer, stop reading right here. This is the first bouncer I bought for my daughter and she absolutely adored it. I did not want to spend a lot of money on another thing she may or may not have liked so I chose this bouncer to try out and I got way more than my money's worth. This bouncer is baby powered and has no extras aside from the detachable toy bar and vibration.
The biggest downside to this bouncer is that it does not fold up, but I was able to pick her up and carry her in one arm and the bouncer in the other from room to room very easily so I would still say it is portable. It has non-slip legs that make it completely safe from sliding on hardwood and is very easy to assemble, although you do need a screwdriver.
Check Pricing and Availability
PROS:
Removable toy bar
Inexpensive
Vibration
Machine Washable
CONS:
Disparity on weight limit. Some places say 25lb and others say 40lb
Not collapsible—need screwdriver to take apart
One seat position
Some reviews state that babies end up kicking the hard piece that houses the batteries for the vibration at the bottom of the bouncer
4

Fisher-Price Rainforest Jumperoo – Best for Older Babies $$
This upright bouncer has a lot going for it. If you want maximum entertainment for your baby, look no further. The Fisher-Price Rainforest Jumperoo has lights, sounds, music, and several toys to keep your baby's attention. It also has a wide base making it sturdy for all of your baby's jumps and bounces.
The main downside is that you can't use this bouncer until your baby has full control of their head and neck so you probably won't be able to start using it until your baby is around 4 months. Another downside is that this Jumperoo is much heavier than other bouncers at 18 lb and I would not classify it as portable or easy to store. I never had one of these jumpers for my daughter so I cannot personally speak for it, but many of my friends swear by this bouncer and Amazon customers do too.
Check Pricing and Availability
PROS:
Maximum entertainment—lights, sound, music, and spinning toys
Adjustable height in three positions to grow with your baby
Safe for jumping
Baby can spin around 360 degrees to play with all of the toys
CONS:
Not very portable—18 lb
The parts of the bouncer can nest into one another to store it but it is still rather large
Only suitable for older babies with complete head support (about 4 months and older)
Expensive
5

Graco Doorway Bumper Jumper – Best for Apartment Living $
If you live in a small space, like an apartment or condo, this may be the best bouncer for you. The biggest advantage to this bouncer is that it is very portable and easy to install in any doorway. If you work from home this would be a great buy because you could easily move it from room to room if you wanted.
You don't even have to worry about the clamp chipping away at the paint on your walls as Fisher-Price states that this bouncer has a "no-mark" clamp. It also was designed to not allow the straps to twist and has a safety clip in the spring to make sure that the bouncer never fails. I never used this kind of bouncer because as a new mom I was way too scared, but a lot of my friends swear by it.
Check Pricing and Availability
PROS:
Comes in several different colors
Takes up very little space
Portable
Machine washable seat
Designed so that the straps do not twist
25 lb weight limit
Toy tray
CONS:
Some reviews say the straps cannot be shortened in a way that is safe
May make some moms nervous
Should not be used in narrow doorways in case of injury
6

Fisher-Price Snugapuppy Dreams Deluxe Bouncer – Plushy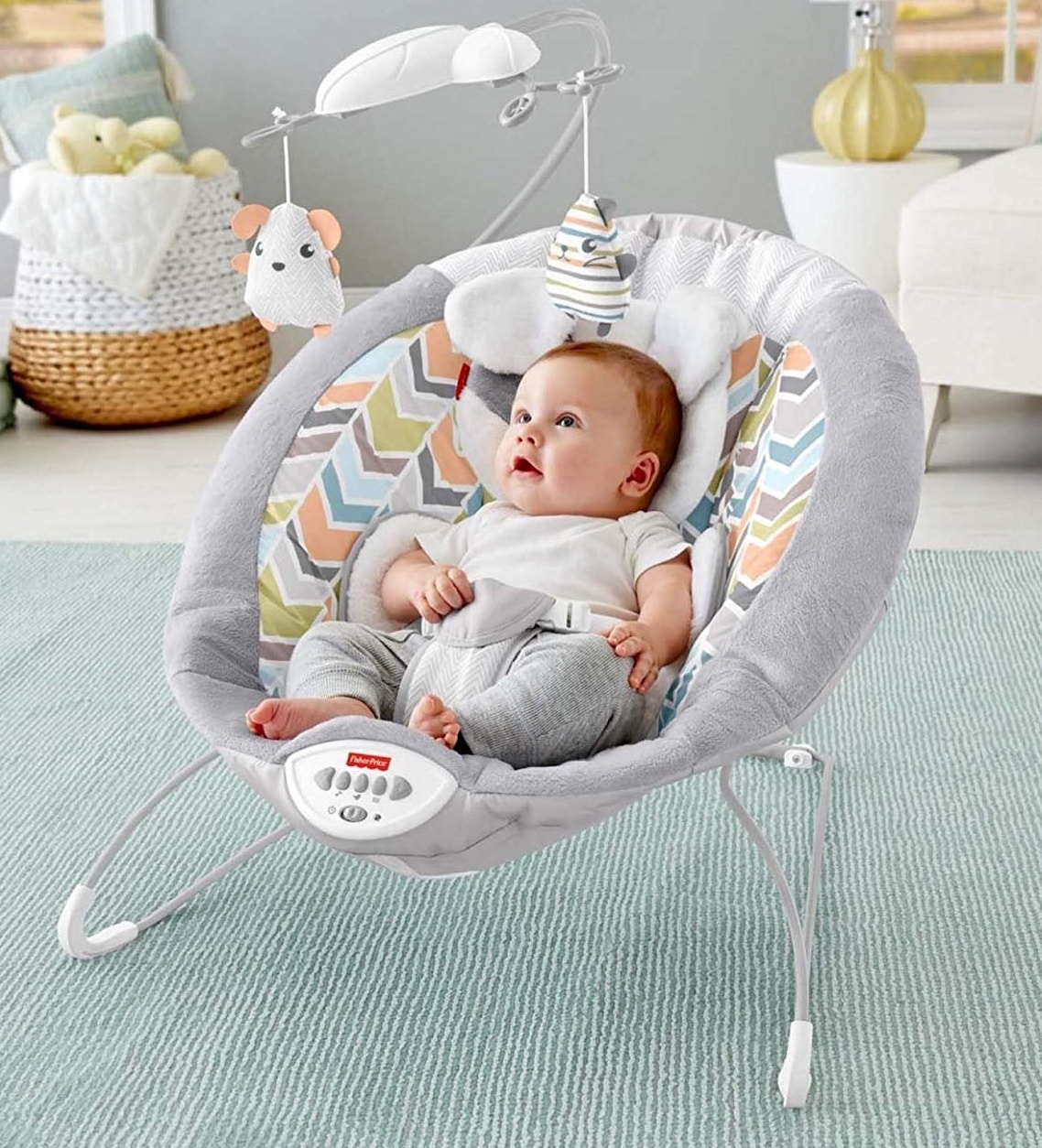 If you want a plushy and cuter version of the Fisher-Price Baby Bouncer this baby bouncer is a great option! While a lot of people say the mobile is useless because it doesn't move, it still comes with two hanging plush little toys that my daughter loved to stare at when she was a newborn.
This bouncer is able to be used for babies as little as 8 lb with the newborn insert as the puppy's head acts as a very soft, supportive head rest for newborns. A step up from the Fisher-Price Baby Bouncer, this bouncer not only has vibrations but also over 20 minutes of music and sounds to choose from.
Check Pricing and Availability
PROS:
Very soft and supportive
Vibration and 20+ minutes of sound and music
Newborn-25lb
Easy to move from room to room due to lightweight design
CONS:
Position is not adjustable
Mobile is removable but it does not move
Some reviews said that babies end up kicking the hard plastic where the batteries are housed
7

Ingenuity Smart Bounce Automatic Bouncer – Best Automatic Bouncer $$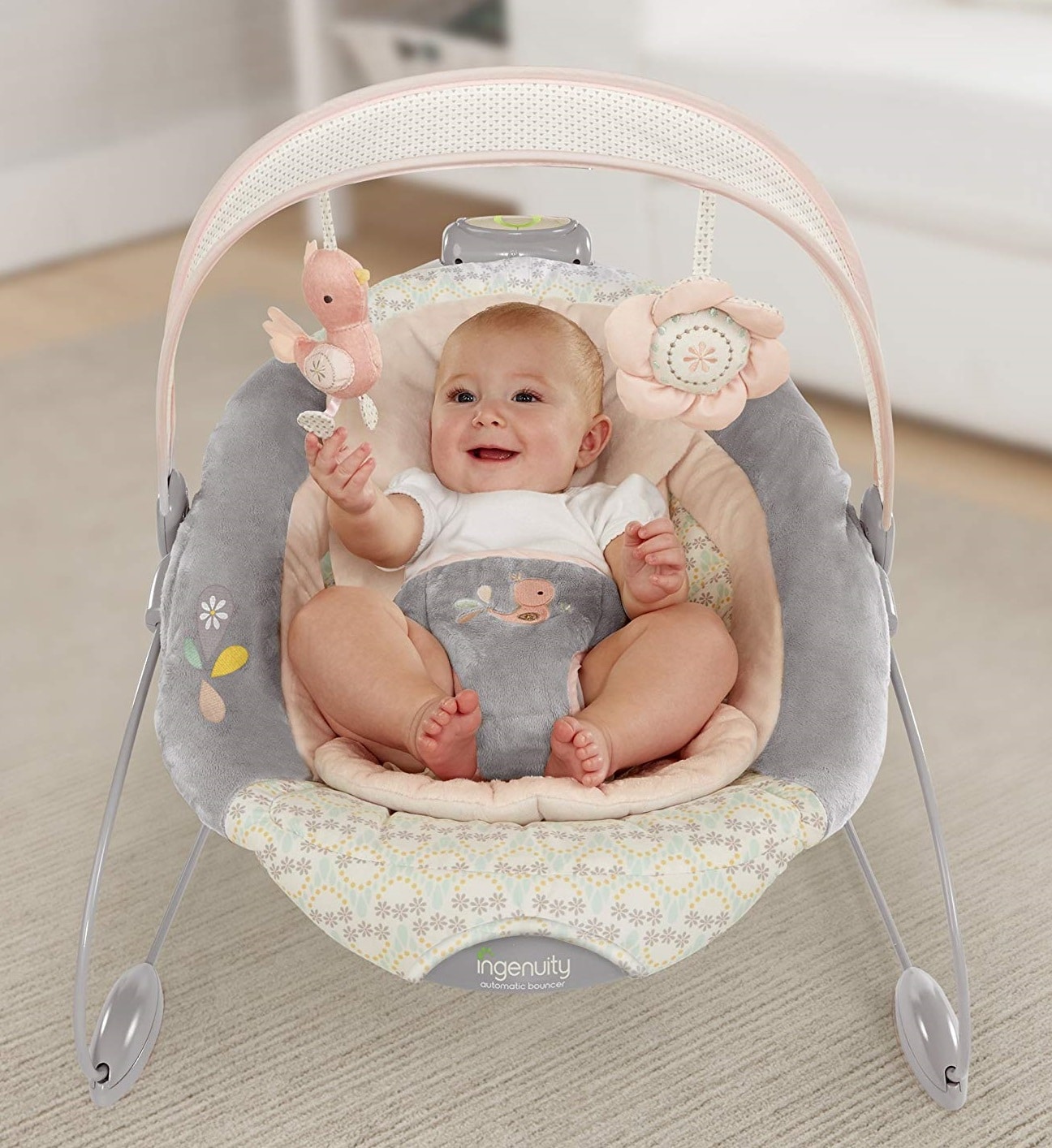 This bouncer has the plushness of the Fisher-Price Snugapupppy but is not a baby-powered bouncer. Ingenuity's Smart Bounce Auto Bouncer has two difference speeds of bounce that are designed to mimic a parent's natural bouncing motion. Although it doesn't come with the vibration the Snugapuppy has, it does have 11 melodies and nature sounds and the volume can also be controlled. Unlike many other automatic bouncers, it is battery operated so you do not have to worry about being near an outlet at all.
After seeing this bouncer at every TJ Maxx in my area for six months I finally caved and bought it for when I brought my daughter with me to work. I never used the auto bounce because my daughter liked to bouncer herself, but I loved the plushness of the fabric. I probably wouldn't buy it full price because the toy bar was a bit flimsy, but it is a good alternative to the Snugapuppy if you are able to find it elsewhere at a discounted price.
Check Pricing and Availability
PROS:
2 bounce speeds
11 melodies & nature sounds
Pivoting toy bar
Very plush and comfortable
Can often be found at TJ Maxx and Marshalls for half the price
CONS:
Lower weight limit than many bouncers—20 lb
30 minute timer on bouncer is great for saving battery life but could wake up a content and sleeping baby
Some reviews say that the toy bar falls off and that it does not bounce very well
8

Fisher-Price Infant to Toddler Rocker – Best Inexpensive Long Term Bouncer $
This bouncer is somewhere between a bouncer and a rocker, but I had to include it for the price alone. Unlike a lot of the bouncers on this list, this one comes with "bat-at" toys that promise a lot of entertainment. This bouncer has a higher reclining position that is perfect for babies with reflux issues.
The biggest advantage to this bouncer is the same of that of the Baby Bjorn—with a maximum weight limit of 40lb (even higher than that of the BB) it is meant to grow with your baby until he or she is a toddler. It even has a kickstand in case you want to use it as a chair to feed your baby. The kickstand can also be used if your baby falls asleep that way you can make sure they don't startle themselves awake if they move.
Check Pricing and Availability
PROS:
Inexpensive
2 Bat-at toys
Toys can be swapped out for your own
2 position recline
Can put the pad in the dryer rather than waiting for it to air dry
Kickstand
CONS:
If they can sit up they could possibly rock all the way forward
Toys are a little big and could hit your baby in the face if hit too hard
9

Fisher-Price Fold Flat Bounce Restage – Best for Grandparents and Caregivers $$
This bouncer is perfect for any grandparent or caregiver because it is completely portable and easily storable. When I was buying toys to keep at my parent's house for when my daughter went to visit, I never considered how easy they would be to store.
As a result, they also have baby toys all over their house. If only I had known about this bouncer! The one-step fold flat design of this bouncer makes it very easy to store when not in use giving you a break from all the baby items that may already be strewn all over your house.
Check Pricing and Availability
PROS:
Very portable–folds flat in one step
Chick, sleek, and gender neutral design
Can be used from newborn-25 lb
Soothing vibration
Removable toy bar
CONS:
Many reviews say the vibration was minimal or did not work
10

Evenflo Exersaucer Bounce & Learn – Best Activity Table Bouncer $$
This bouncer is perfect if you are wanting something less than the Fisher-Price Jumperoo, but with all of the activities and still have a bounce. The Evenflo Exersaucer can really only be used once your baby has stabilized their head and neck control, but it can be used up until they are 30 pounds so you can still get your money's worth out of this bouncer.
It has a three different height positions to grow with your baby and plenty of activities to keep them busy. While this bouncer is a lot less heavy than the Fisher-Price Jumperoo at 8 lb, I still would not classify it as very portable due to its size.
Check Pricing and Availability
PROS:
3 height adjustment
360 degree spin
Motor skill development
Inexpensive
CONS:
Can only use when you baby is older
Loud design some may find ugly
Have to buy extra toys for the dash
Some reviews stated that the plastic seat was hard
You may also interested: Best Baby Swings with Guide and Full Reviews.
Picking the Best Bouncer for Baby
There is no doubt about it. Being a new mom is hard. On top of lack of sleep, there are endless chores to do and sometimes you just need to take a shower in peace. The right baby bouncer will help you do just that!
When you are deciding which bouncer will best fit your needs, be sure to look at all of the elements listed above. There are tradeoffs with each bouncer so deciding which features are most important to you will make the choice much easier. But no matter which bouncer you choose, if they are on this list there is no way you can go wrong!