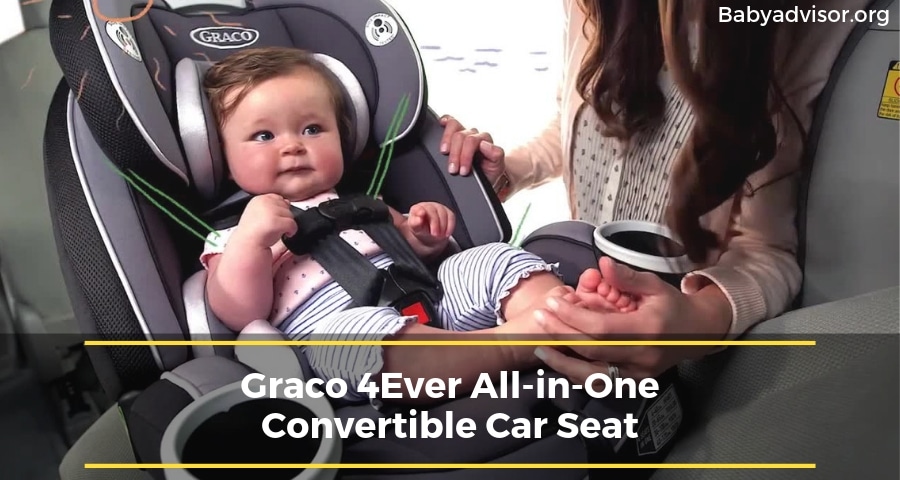 The Graco 4Ever All-in-One is a four-in-one convertible car seat. It's the only car seat your child will ever need! Check out all the details here.
Purchasing two or more car seats per child is expensive and frustrating. You have to worry about when your child is going to outgrow his current seat, and getting one before he does so. The Graco 4Ever All-in-One eliminates any of those worries because it is meant to last from birth until your child doesn't need a safety seat anymore.
In the past, these all-in-one style car seats tended to get bad reviews from parents. They didn't fit small babies well, and larger children felt crowded. This style lacked versatility, and most were unable to rear-face, or kids outgrew them before they should be sitting without a booster. The Graco 4Ever changed the market for all-in-one style car seats.
One thing to keep in mind when it comes to these all-in-one style car seats is that they perform their functions decently. Car seats meant for one purpose – such as just rear facing or just a booster seat – always perform at that function than a multi-function car seat. That doesn't mean you shouldn't try it out. Instead, just realize there might be some small details that aren't perfect, and it's normal.
The Graco 4Ever is as close to perfect when it comes to an all-in-one car seat. So, let's take a look at the key components that make this a fantastic convertible car seat as well as an overview of the pros and cons of the Graco 4Ever.
PROS:
Exceeds federal safety standards
Steel reinforced frame
Easy to Install
Machine washable padding
4-in-1 – works from 4 to 120 pounds!
Two crotch buckle positions
LATCH can be used in high-back booster mode
CONS:
Bulky
Not as comfortable as other car seats
Sweaty material
Expensive
No LATCH for the backless booster
Key Features of the Graco 4Ever All-in-One Convertible Car Seat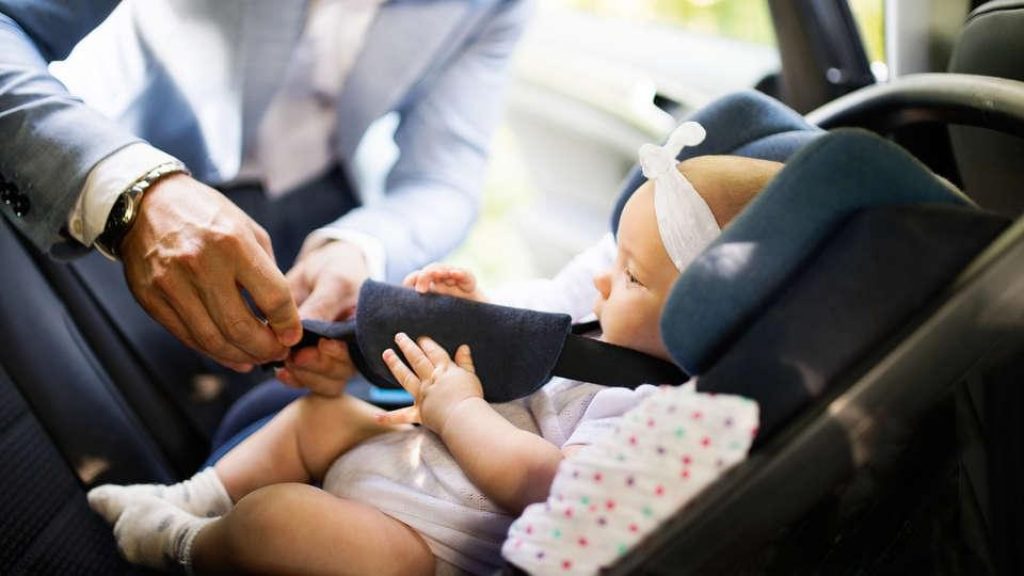 If you're wondering what an all-in-one or four-in-one car seat is, here are the different configurations:
Rear-Facing Car Seat
Forward-Facing Car Seat
High-Back Booster Seat
Backless Booster Seat
That's a lot of configurations. Many are lacking one or two of these options, so you can see why you can use the Graco 4Ever for several years.
Along with these different positions, the Graco 4Ever offers others valuable features, such as:
Features:
A no-rethread 5-point safety harness
Ten position headrest
A total of 6 reclining positions – three rear-facing and three forward-facing
Lower LATCH connectors
Bubble-level indicator
Two cup holders
Steel reinforced frame
10-year expiration date
Storage compartment for harness
10 color options available
Washable seat cover
Check Pricing and Availability
Take a look at the measurements of the Graco 4Ever
Widest Width of Shell: 19 inches
Width at Cupholders: 20 inches
Shell Height: 28 inches
Seat Pan: 12.5 Inches Deep
You may love to read our Graco Pack 'n Play Playard with a Reversible Napper and Changer Review.
---
Weight Limits
The American Academy of Pediatrics recommends that children rear-face until two-years-old at the minimum. The ideal choice is to keep your child rear-facing until they reach the height or weight limits for their car seat.
The Graco 4Ever rear-faces up to 40 pounds, which works great for most average children. An average two-year-old weighs around 30 to 35lbs. You can forward face this car seat starting at 20 pounds, but we know that you should wait longer to do so.
Children can sit in this seat from 4 to 120 pounds – yes, 120 pounds! A full-grown adult weighs 120 pounds. Yes, this car seat is expensive for its start-up price. It can seem overwhelming to purchase it at first, but remember, it's one car seat taking the place of:
An infant bucket seat

A forward-facing convertible seat

A high-back booster

A backless booster seat
So, despite the high initial cost, the Graco 4Ever is actually an excellent choice for families on a budget.
An overview of the full weight limits are
Rear-facing infant car seat: 4-40 pounds
Forward-facing car seat: 20-65 pounds
High-back booster seat: Up to 100 pounds
Backless booster: Up to 120 pounds
Don't forget height limits!
Rear-Facing Height Limit: 1-inch below adjuster button – 43 inches
Forward-Facing Height Limit – Less than 49-inches tall
High-Back Booster Height Range: 38-57 inches
Backless Booster Height Range: 40-57 inches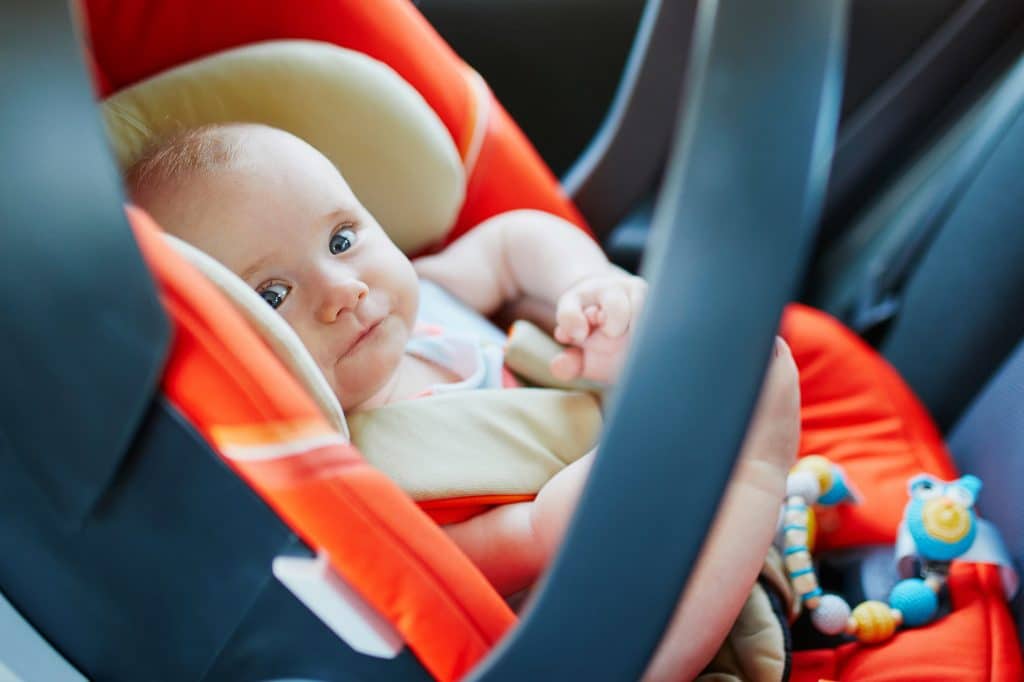 Safety is First
We can talk all day about the awesome color choices or the cupholders, but the number one factor that is most important is safety. The goal of a car seat is to keep your child safe while on the go, and the Graco 4Ever is one of the most reliable car seats you can buy.
Before we go further, note that all car seats in the United States must pass a set of safety standards to be available to distribute. So, all car seats are safe for your child. This portion of the review looks at where Graco went above and beyond those safety standards.
Graco 4Ever Convertible Car Seat is engineered, and crash tested past federal standards. Graco used side-impact testing, performing over two times the car seat standard peak crash force. Part of this impressive performance has to do with the 5-point harness system.
Another feature that parents in hot climates – hello Arizona folks! – will like is that the 4Ever All-in-One succeeded in the Extreme Car Interior Temperature Tests. So, that means high temperatures don't alter the crash protection effectiveness. Yes, that can happen in some car seats!
Easy to Install?
We've all been there. Car seats are notoriously difficult to install in vehicles. You find yourself folded inside of the car seat trying to get the straps tight enough, or wiggling and prying the car seat into the proper position. Installing a car seat can be like a workout, so who wants to struggle to install their new car seat?
So, you might wonder what it's like to install the Graco 4Ever. It's not the easiest to install, but it's far from the hardest. Graco spent the time to make sure the installation isn't too complicated, ensuring parents can do it correctly.
The InRight System, created by Graco, confirms that the installation is correct. You'll hear an audible click when the car seat is installed correctly. On the side of the car seat, there is a bubble-level indicator that lets you know the car seat is in the right position. Position matters, especially for infants without proper head support.
Sound great? It is, but one negative to consider is the size of this car seat. It's not small nor compact, so you will struggle to put it into a small sedan. Some parents with little cars returned the car seat because it didn't fit in their vehicle correctly.
Graco Excels at Extra Features
Graco stands out when you look at the extras that they add to their car seats. It's no wonder that their car seats tend to rank higher than other brands.
Changing the strap placement is a huge pain in the butt, but Graco's no rethread straps make it easier. All you have to do is pull up the lever and slide the headrest up. The straps come with it, making adjusting the height of the seat a total breeze. Rethreading straps are a thing of the past.
Ask any parent, and they'll tell you machine-washable car seat fabric is so important. Diapers leak, kids puke, and crumbs accumulate in the corners of the car seats. The entire car seat pad is machine washable, and Graco designed the fabric to be quick-drying. It's easy to put on, even though it looks like it would be a complicated project.
Cup holders! While far from the most crucial part of a car seat, your toddler or older child surely want a cup holder. Otherwise, you have spilled drinks and sippy cups lost in the van. Think old milk sippy cups – gross.
Graco added two cup holders. These cup holders are useful, unlike other brands. Some car seats have useless cup holders that are too narrow to hold a wide sippy cup. Whether you want a drink holder or a spot to keep your kids crayons, these cup holders rock.
The 4Ever has several reclining positions. The first three are intended for the rear-facing mode, and the next three positions are for the forward-facing mode. So, when you change to the 4th reclining position, you have to switch to forward facing, for a child who is 20 to 65 pounds. The 6th position is for booster mode only. Changing reclining positions is easy. Graco added an adjuster that lets the seat glide to its position.
At some point, your child is no longer going to need the 5-point harness. You'll remove the harness, but what do you do with it? Graco integrated a harness storage compartment. This makes it easier to keep track of the harness later if you want to be able to use this car seat with future children. The expiration is 10-years after manufacturing, which is impressive.
---
---
Read more from our in-depth analysis of Graco Pack and Play Playard with cuddle cove rocking seat Review.
The Bottom Line
You can see all the reasons why the Graco 4Ever All-in-One Convertible Car Seat is a top-seller. It is safe, durable, easy to install, machine washable, and usable for your child's entire first ten years of life. That's impressive and offers fantastic value to parents.
While impressive, the Graco 4Ever does lack when it comes to comfort and luxury. It's far from the most luxurious car seats on the market, but babies don't need luxury. They need safety, and Graco delivers in that department.
Unless an infant car seat is a necessity, starting with the Graco 4Ever is an excellent choice for budget-conscience parents want to make the most of their money. If you want to use the 4Ever but also want an infant car seat, pick up a cheaper bucket seat for the first few months. Save you money for this Graco, which is worth it.