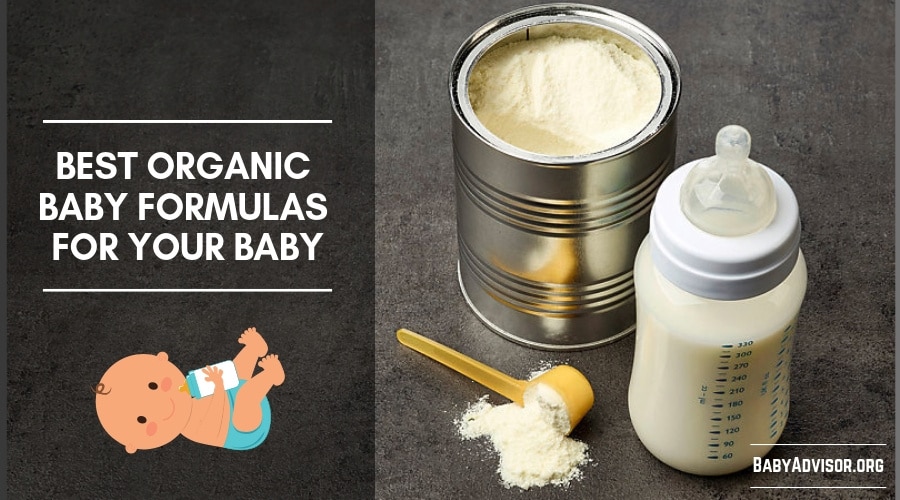 Formula often contains chemicals that parents want to avoid giving their babies. Using the best organic baby formula provides your baby with the best and safest formula.
Organic baby formula is the ideal choice for babies because it contains better ingredients than the average baby formula. Science tells us that breastfeeding provides the best nutrients and health benefits for babies, but breastfeeding isn't always possible for all mothers. If you decide not to breastfeed for whatever reason, picking the best organic baby formula is the next best choice.
---
What's the Deal with Organic Baby Formula?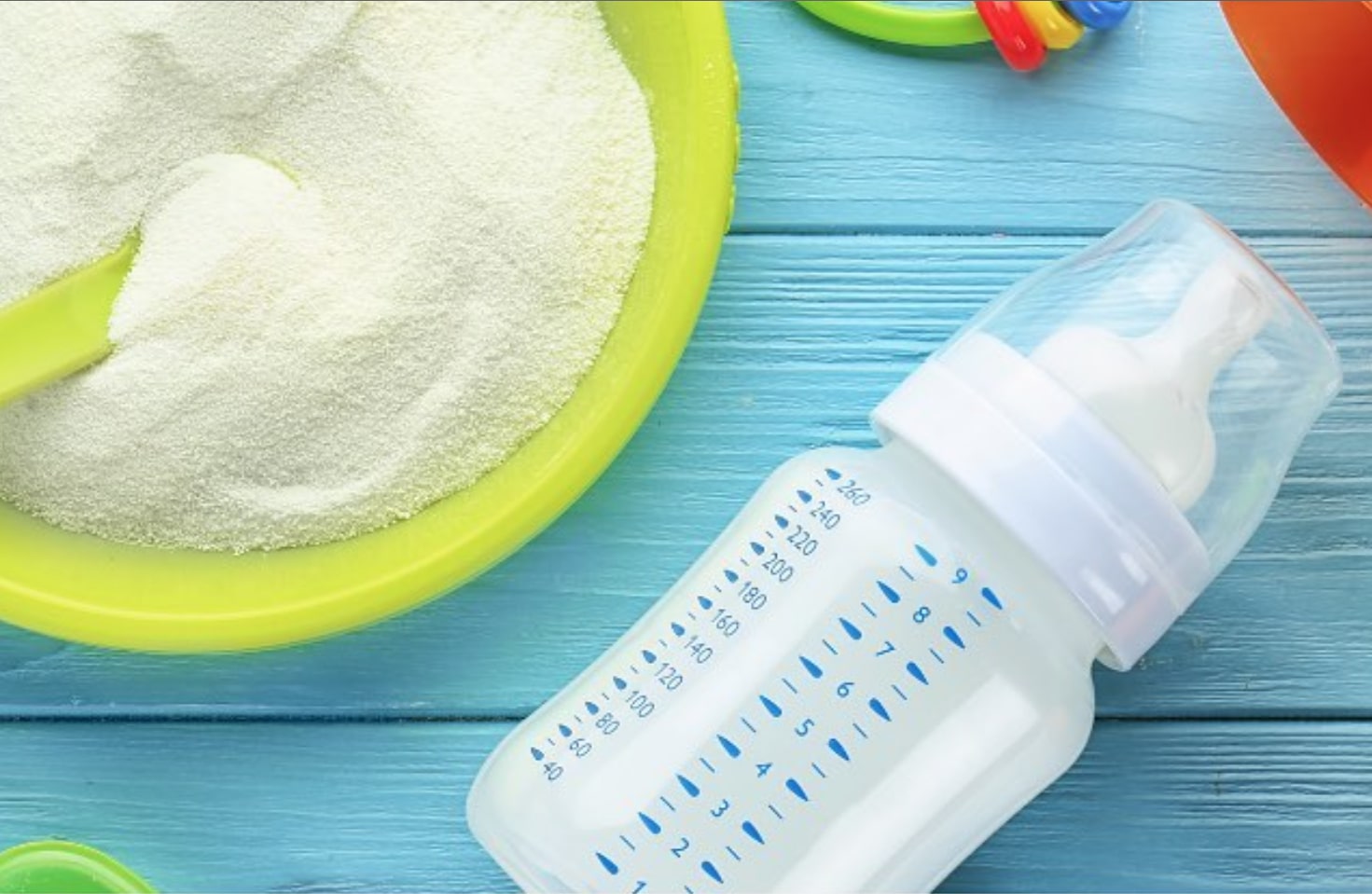 Organic baby formula offers all the same nutrients and health benefits as a general formula. The main difference is that the ingredients cannot have any exposure to pesticides to receive the organic label, just like fruits and vegetables need to be pesticide-free to have the organic label.
Many parents are concerned about the lasting effects of pesticides on their children. Some believe that pesticide residue leads to gastrointestinal problems in children. An extensive debate centers around the safety of the chemicals that make up pesticides including the concern that they need to cancer. The recent court case against Monsanto, the maker of Roundup, which required the company to pay a man millions of dollars because he claimed their product caused his cancer has strengthened this concern.
Aside from the lack of these chemicals, organic baby formula is just like the conventional formulas. All baby formulas must meet the regulations set by the FDA. These companies are held to specific safety standards and must provide a set minimum amount of nutrients that are needed for an infant's proper growth and development.
All formula companies have the same goal to create formulas that closely resembles breast milk. Mimicking breast milk is tricky, and formula manufacturers must added vitamins and minerals to make it easier for infants to digest while providing all the nutrients needed.
---
Can We Order European Brands of Formula?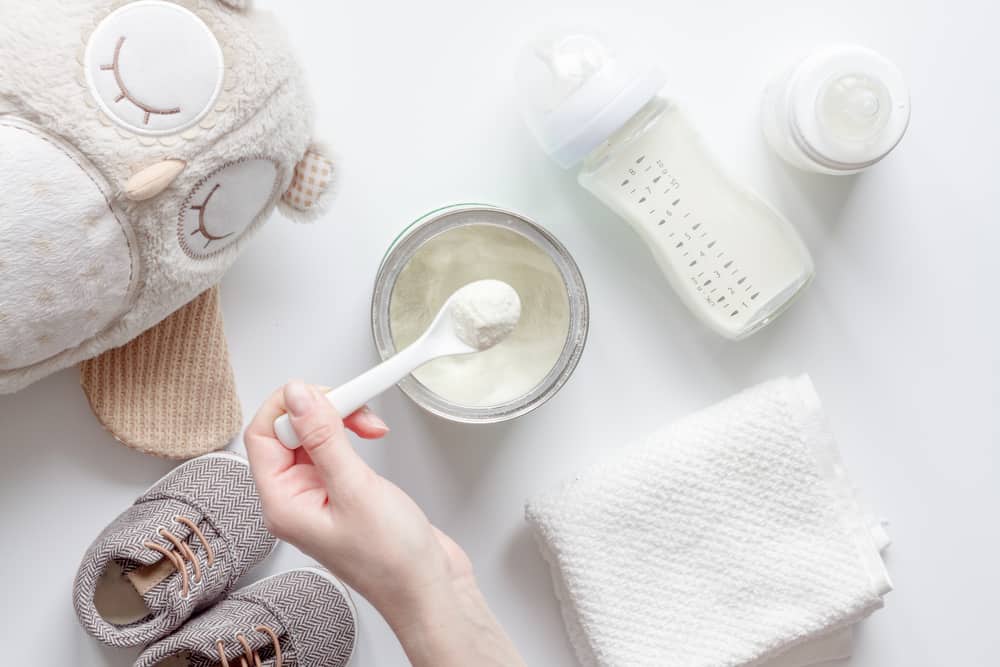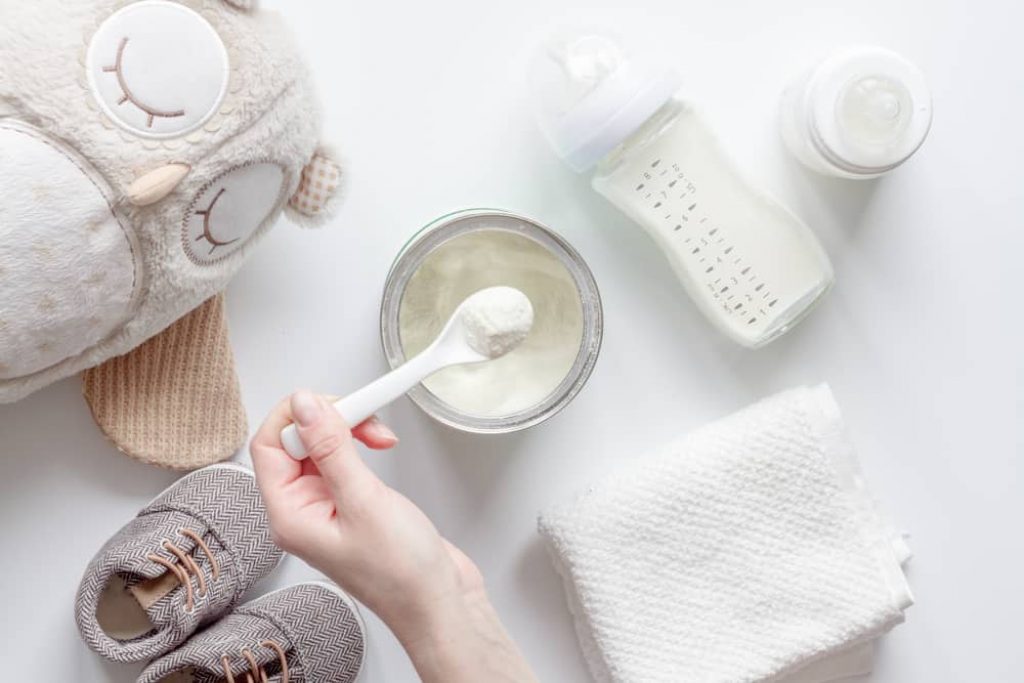 You might want to consider a European brand of organic baby formula, but these formulas aren't available through mainstream stores such as Target. You can order European formula, but you should shop through a US-based store. Two choices are BabyKind Market and Organic Start. Buying from these stores helps to ensure you aren't getting a ripped off.
The standards set in Europe are far superior to those set in the United States, but that comes with a significant price increase. If you can't afford that price increase, don't worry too much. The FDA has set standards for infant formula in the United States to ensure all formulas – brand name and store brands – meet the minimal nutritional needs of infants.
---
Understanding the Composition of Baby Formula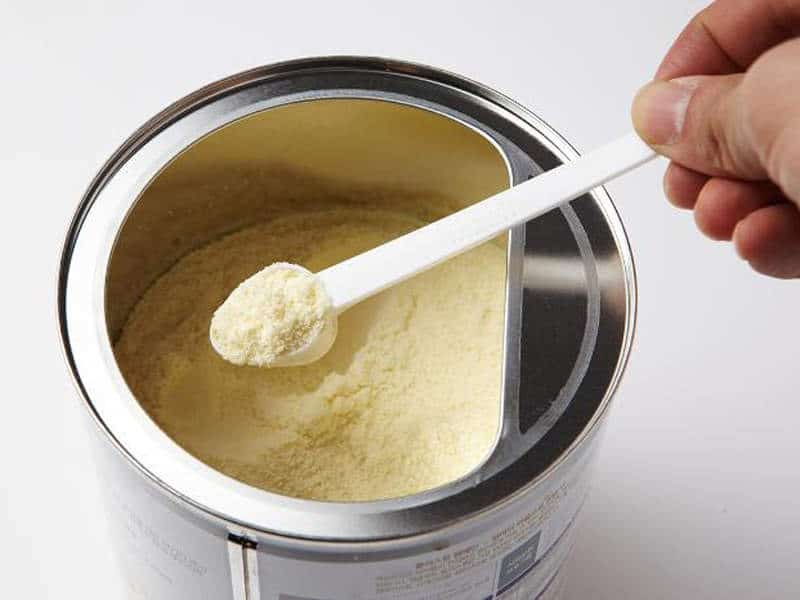 All formulas have different compositions, so you want to understand what is in your formula. It also helps you pick other formulas for your baby if he isn't handling the one you're using currently. So, let's take a look at the composition of baby formula.
The Protein Source
First, you want to consider what the best protein source for your baby is. Cow's milk and soy are the two most popular picks. The other two picks are lactose-free formulas and hydrolyzed formulas. Both of these formulas rely on different proteins or broken down proteins to make it easier for your baby to digest.

The Controversy Around Soy
Soy formula is typically only recommended for babies who have a dairy intolerance. Unless you purchase organic baby formula, soy is almost always genetically modified. In Europe, soy is prohibited in organic foods because soy must be mixed with synthetic I-methionine to meet nutritional needs. Soy also tends to have higher levels of aluminum sucked up from the soil.
The Carb Source
All formulas need to have a carb source. Breast milk contains lactose only along with other vitamins and minerals to help your baby digest that lactose. However, some babies struggle to digest lactose, so they need either a lactose-reduced formula or a lactose-free formula.
Take a look at the formula that you're considering. Several options exist for carbohydrates in formula, such as:
Brown rice syrup

Sugar

Sucrose

Glucose Syrup Solids

Corn Syrup

Maltodextrin
The Fat Source
Last, but not least, you have to consider the fat source of your formula. Organic formulas used different fats. Most brands have similar sources, but some brands exclude palm oil. Palm oil is controversial, so it's best to do your research to decide if it's the right choice for your baby.

---
How to Pick the Best Organic Baby Formula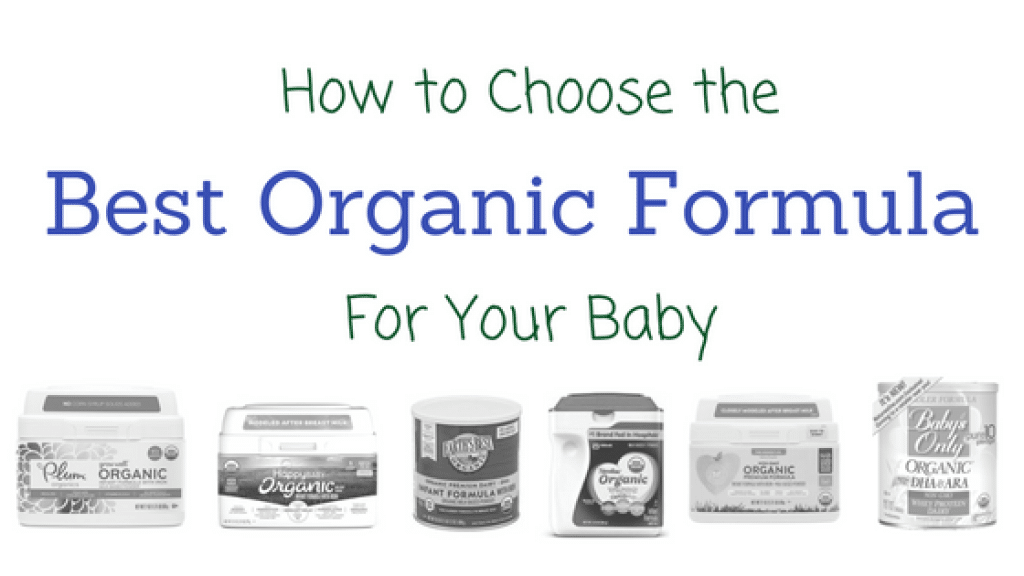 What formula your baby consumes directly affects their health, so many traditional formulas contain harmful and unnecessary ingredients. Some organic formulas even contain unnecessary ingredients that might be damaging to your baby's digestive system.
Unhealthy ingredients that you might want to avoid in the baby formula include:
Carrageenan

Sweeteners

Maltodextrin

Palm Oil

Synthetic DHA and ARA

Artificial Preservatives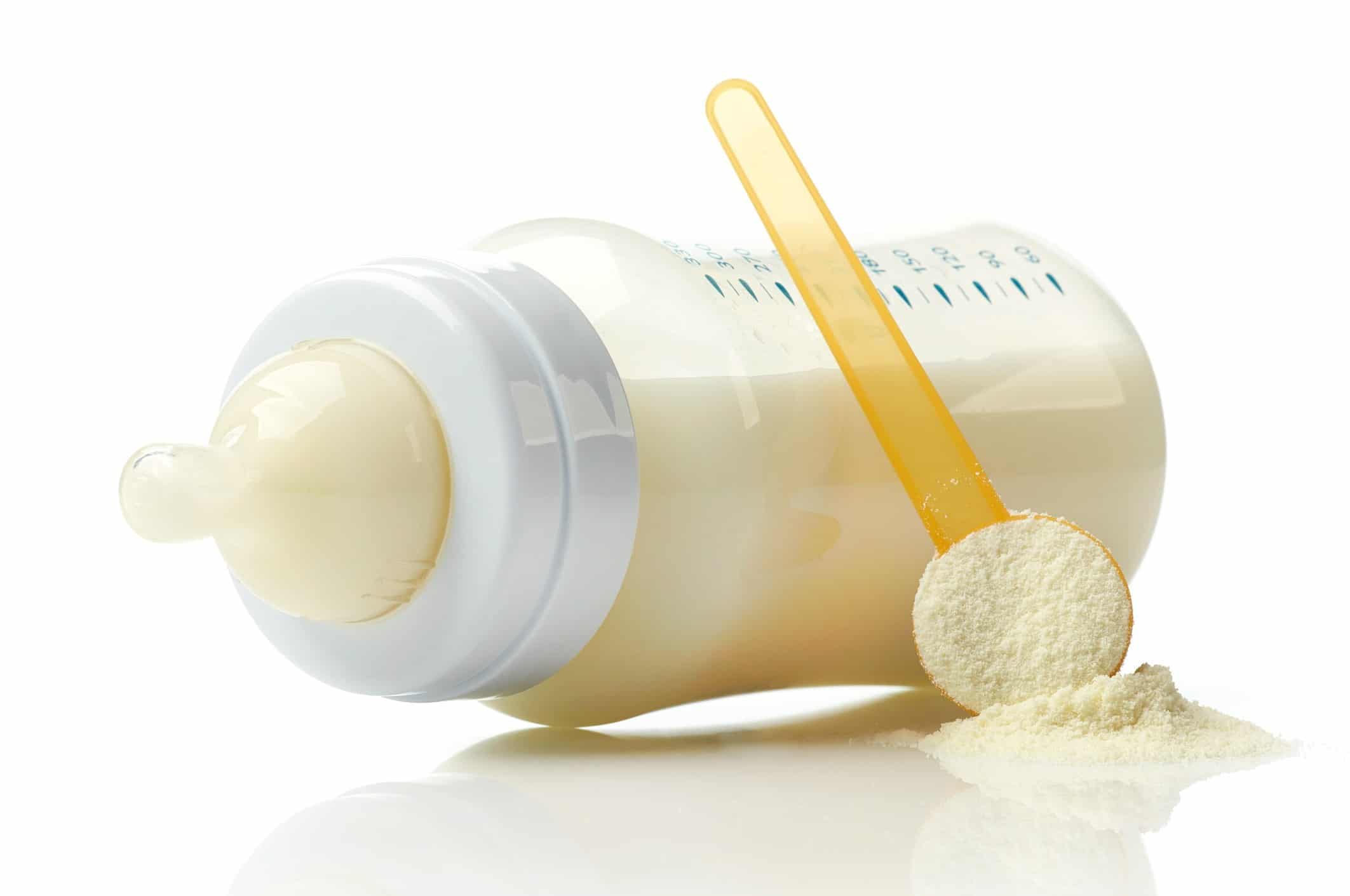 A few other factors you might want to consider:
The cost is always a factor. Your baby is going to be drinking at least one or two cans of formula a week, so you want to be able to afford the price. Switching formulas should only be done under the care of a pediatrician, so you don't want to change when you can't afford it that week.
Do you want to have to order the formula online or do you prefer to shop at your local grocery store? That'll change your options dramatically!
The Form of Formula You Want
Formula comes in several varieties: powder, ready-made, and concentrate. Powder formula is the cheapest, but concentrates and ready to make are often easier. You have to decide what you want to use and if that brand offers formula in the form you desire.
---
The 7 Best Organic Baby Formulas of 2023
1

Baby's Only Organic LactoRelief – Best for Lactose Sensitive Babies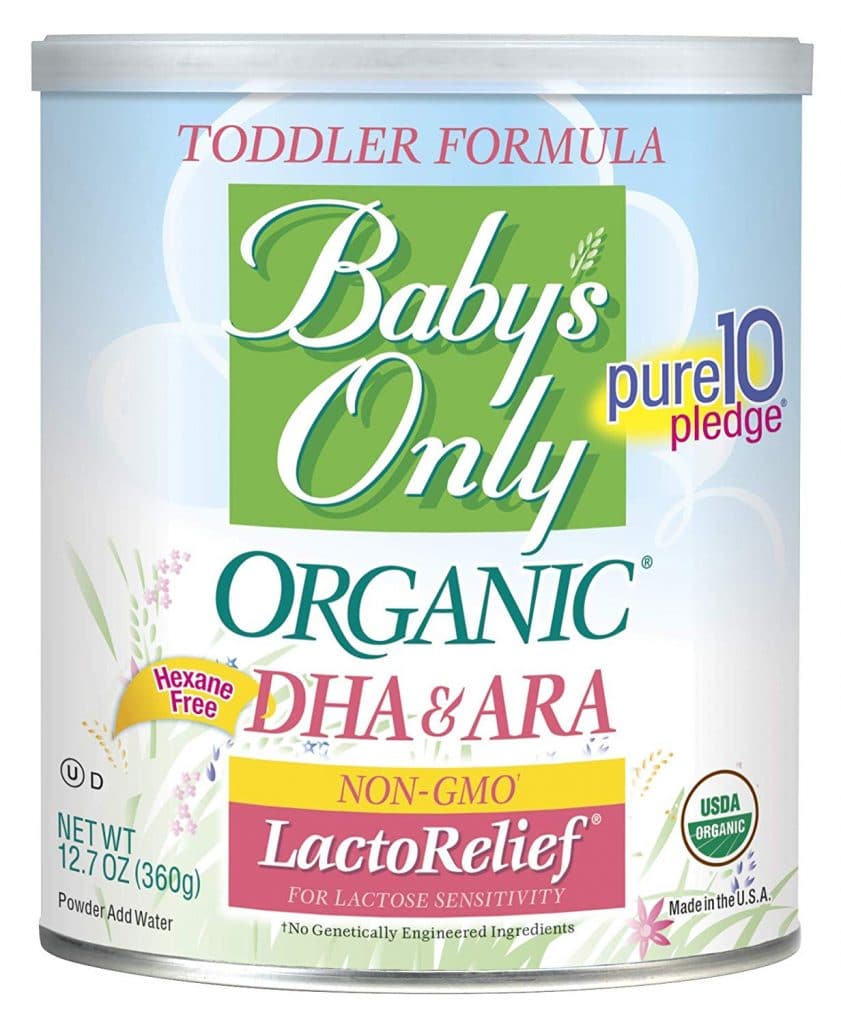 Digesting lactose can be hard for some babies. Baby's Only Organic LactoRelief is an excellent option for babies who have issues related to digesting dairy, such as bloating, acid reflux, or gassiness. It is a lactose-free, organic, kosher baby formula.
Baby's Only added higher levels of essential fatty acids that your baby's body will convert to DHA and ARA, both of which are omega fatty acids. It has no corn syrup or genetically modified ingredients, and Baby's Only uses naturally-sourced vitamins rather than petroleum-based. Also, they use brown rice syrup rather than corn syrup solids.
Parents love LactoRelief; it's the only organic formula for lactose-free babies. Otherwise, babies with dairy sensitivities have needed to use general formulas, which can be a huge bummer.
NOTE: Don't be put off by the fact that the label says "Toddler formula." Baby's Only states that they only place this on the label because they do suggest breastfeeding for all infants under 1-year-old. This formula does contain all of the nutrients needed for newborns, but you can check with your pediatrician to be sure if you're concerned.
Check Pricing and Availability
PROS:
GMO-Free
Lactose-Free
Contains No Corn Syrup
Naturally Sourced Vitamins
Kosher
CONS:
Might Cause Constipation
Might Not Be Best for Newborns
---
2

Lebenswert Stage 1 Organic Infant Milk Formula – Best Organic Formula for Newborns
If you're interested in using a European formula, the Lebenswert Stage 1 is one of the only organic formulas explicitly created for newborns and infants rather than older infants and toddlers. Lebenswert truly is top of the line when it comes to how an organic formula should be made.
Lebenswert is based in Spain, and Bioland Company has been crafting European organic formula for years. The formula is based on organic skim milk, organic whey, organic vegetable oils, organic lactose, and a variety of vitamins and minerals. Some parents are concerned with the first ingredient being skim milk, but remember many formula companies place corn syrup or brown rice syrup as their primary ingredient.
By using skim milk as the primary ingredient, Lebenswert adds the sugars and fats in later. This allows the company to control the amount of sugar in the formula better. Don't forget that the farm and ingredients used are all certified organic, using only high-quality raw ingredients.
Something that we like in particular is that this formula is ideally crafted to use from birth onwards. It's meant for those who want to exclusive formula feed from the start, making it a unique choice in the organic baby formula choices. Parents note that mixing it with breast milk is easy, but it tastes good, not too sweet or too oily as other brands.
The obvious downside is the price. It's manufactured in Europe, with a price tag around $30 for 17-ounces. Shipping is free to the United States if you purchase a specific amount, which you'll want to do because shipping from Europe takes at least a week to arrive or longer.
Check Pricing and Availability
PROS:
Perfect for Newborns and Young Infants
The first Ingredient is Skim Milk
Only Certified Organic Ingredients
Made in Europe
Not Oily
CONS:
Not for Older Infants
High Price Tag
Takes Time to Ship
---
3

Plum Organics Organic Infant Formula – Best Non-GMO Formula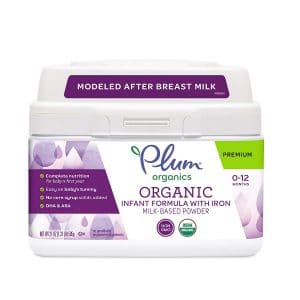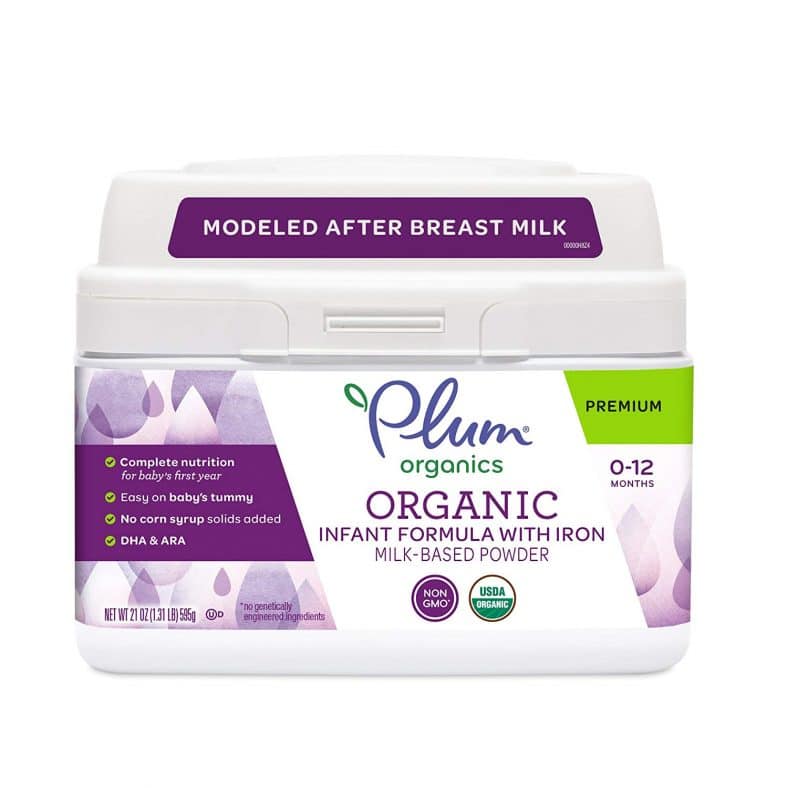 Plum Organics is a well-known organic baby brand that sells formula, baby food, and a variety of snacks for infants and toddlers. The company recently stepped up its formula game by removing the corn syrup solids in their recipe. Now, they use lactose from cow's milk to provide the necessary sweetness. Lactose is also abundantly available in breast milk.
Plum Organics formula is kosher dairy and gluten-free, and it's free of any genetically modified ingredients. It includes a blend of organic lactose, nonfat milk, palm oil, coconut oil, soy, whey protein, and a lot of minerals and vitamins. The formula also contains essential levels of folic acid, choline, calcium, and vitamins D, E, and K.
The only issue with this baby formula is that it does use palm oil as an ingredient, and some evidence suggests that palm oil might decrease bone density. While there aren't any conclusive testing to prove this, it's assumed that palm oil decreases calcium, palmitic acid, and fat absorption. No one has determined if this would be an issue that continues past infancy.
Check Pricing and Availability
PROS:
Gluten-Free
GMO-Free
No Artificial Sweeteners
Contains DHA and ARA
Kosher Dairy
---
4

Baby's Only Organic Formula – Best Milk-Based Organic Formula
Here is another choice for the best organic baby formula by Baby's Only. This formula is very close to their sensitive version, but it does contain regular lactose levels just like you would find in any other milk-based formula.
However, Baby's Only differs from other milk-based formulas because it relies on naturally sourced vitamins, such as vitamin E acetate, rather than petroleum-based vitamins. Also, Baby's Only uses brown rice syrup rather than corn syrup solids.
The DHA and ARA are also naturally-sourced, perfect for brain development. Egg yolks are the source of the DHA, using safe practices. Egg phospholipids make the baby formula easier to digest.
Just like their sensitive version, the Baby's Only can say its a "toddler formula," but they make the same claim that its because they suggest breastfeeding for babies under one year old. We do like that Baby's Only is made in the USA by a family-owned business, and they're dedicated to avoiding palm oil in all of their products.
One thing to note is that this formula contains high levels of lactose. So, your baby might struggle with the high levels of milk protein casein rather than whey. If that's the case of your baby, Baby's Only does create a Whey formula.
Check Pricing and Availability
PROS:
Milk-Based
Naturally Sourced DHA and ARA
Made in the USA
Uses Brown Rice Syrup
CONS:
Brown Rice Syrup is First Ingredient
Contains Nucleotides
---
5

Earth's Best Organic Formula – Most Trusted Organic Baby Brand
Almost everyone knows the brand Earth's Best. They were the original organic baby formula and baby food on the market, starting nearly three decades ago. So, you know that you can trust their products, and they have quite a following of dedicated parents.
The Earth's Best Organic Formula contains DHA and ARA to encourage healthy brain and eye development. It doesn't contain any growth hormone, antibiotics, pesticides, herbicides, or steroids, so your delicate child won't come in contact with questionable chemicals.
Because Earth's Best has been around for such a long time, the reviews on this formula are reliable. Most parents report that their babies enjoy using this formula and have little to no issues digesting it. It's a bit more affordable than other choices, and you can find it in almost every grocery store, organic or not. Most Walmarts sell Earth's Best. So, if you don't like having to order your child's formula online, using Earth's Best would be a great choice.
One controversial issue with Earth's Best is that it uses hexane for extracting DHA and ARA from lab-grown algae and fungus. Hexane is a solvent that can be used as a chemical degreaser and cleaner, and it's a known neurotoxin. So, some parents worry that there might be some traces of this chemical left over in the formula. There is no scientific data supporting the theory that hexane would have residue in the formula, so it's a personal choice for parents.
Check Pricing and Availability
PROS:
Contains DHA and ARA
Easy to Find
Milk-Based
Affordable
Free of Pesticides, Antibiotics, and Steroids
CONS:
Contains Corn Syrup Solids
Uses Hexane to Source DHA & ARA
---
6

Happy Baby Organic Infant Baby Formula – Best Prebiotic Organic Baby Formula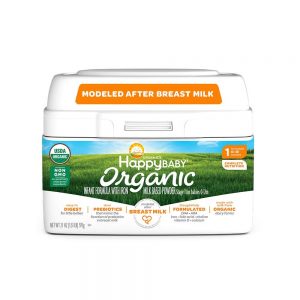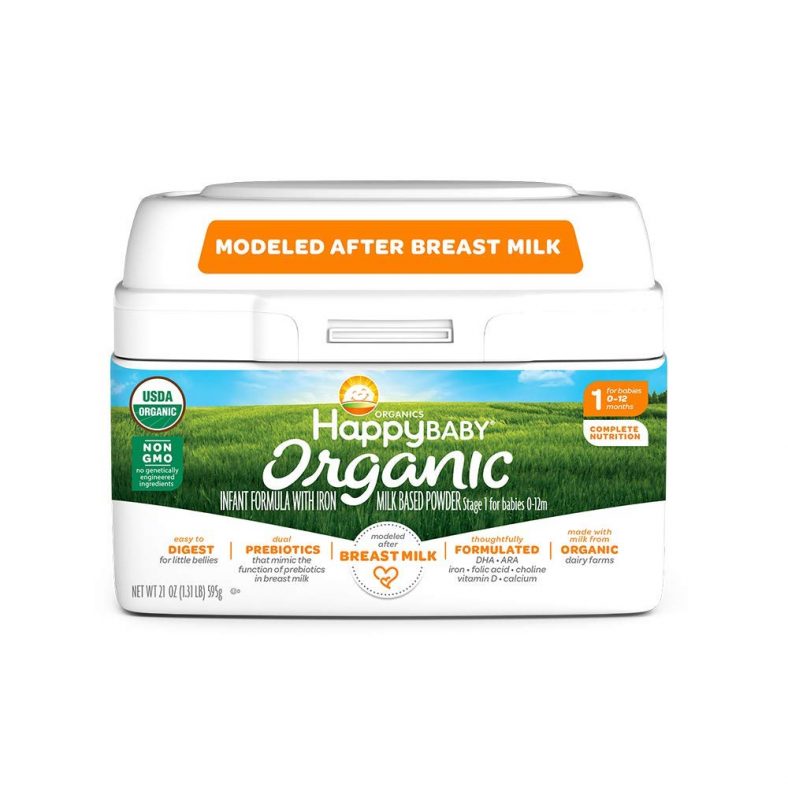 Happy Baby is another well-known organic baby company that you might recognize. If you walk through the baby aisle, you'll find several of their products on the shelves. This organic formula is GMO-free, containing no corn syrup solids or other artificial sweeteners. On the ingredients list, you'll find lactose, milk, palm oil, soy, coconut oil, safflower oil, sunflower oil, whey protein concentrate, soy lecithin, prebiotics, essential fatty acids, and other vitamins.
Happy Baby made sure that this formula has everything that babies need to grow and thrive. Iron, zinc, choline, vitamin D, and calcium also make the included list. You'll like the addition of prebiotics – GOS and FOS – because it helps reduce constipation. Iron can be difficult for babies and make them constipated more often, so prebiotics is a great addition.
The composition of Happy Baby formula is similar to breast milk, and reviewers state that it tastes identical as well. It's not as sweet as breast milk, but that's because of the lack of added sugars.
Reviewers did have a few negatives. Most importantly, several noted that it was harder to get the formula powder to dissolve in the water without leaving behind any clumps entirely. Also, it does contain soy and palm oil, both of which are controversial ingredients to consider.
Check Pricing and Availability
PROS:
Non-GMO
Gluten Free
Uses Two Prebiotics
Only Lactose for Sweetener
CONS:
Expensive
Hard to Dissolve
---
7

Vermont Organic Infant Formula – Best Made in the USA Formula
The last choice on our list is still an excellent choice for families who want to support the USA formula market! Don't think that last place means it's not a great choice; it is. It's one of the most available organic formulas with great reviews on its quality, ingredients, and taste.
Vermont Organic contains no growth hormones, antibiotics, steroids, herbicides, or pesticides. They added DHA and ARA for brain and eye development, but some controversy does surround that because, like Earth's Best, they use hexane to extract DHA and ARA from algae and fungi.
Some parents don't like that it has corn syrup solids as one of the first ingredients. It does say glucose syrup solids, but that's just a fancy way of saying corn syrup solids without people realizing what it is.
Check Pricing and Availability
PROS:
Contains DHA & ARA
Lutein for Eye Health
Made in the USA
Mixes up Easily
CONS:
Has A Strange Odor
Contains Corn Syrup Solids
---
Want to learn more? Read our comparison guide of Similac vs. Enfamil to learn which is the right choice for your baby.
---
The Bottom Line
Picking the best organic baby formula can be difficult in the United States because our standards aren't as strict as European standards. If you don't want to order from overseas, take a close look at the ingredients and decide if there is a brand you feel fits the best based on your desires and needs for your infant.