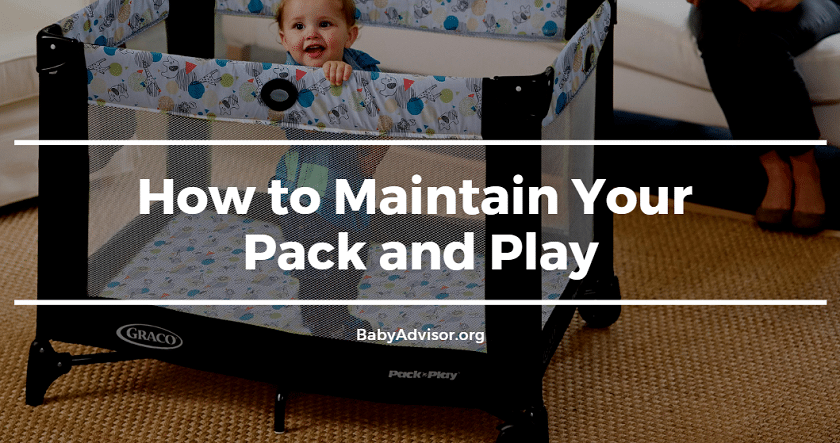 A pack and play is perhaps one of the best investments parents can make today. They are portable and provide a safe place for babies and toddlers to sleep and play. A pack and play can be taken just about anywhere a parent needs to go making it a useful resource for today's busy parent.
In order to make sure the playard serves you well and can last through more than one kid, you want to ensure it is properly taken care of. Here are some tips on how to maintain and care for your playard so that you can keep it in tip top shape.
Setting Up and Taking Down the Playard
A pack n play is easy to set up and take down and many have a simple push-button operation. Always check the latches as you are setting the playard up to ensure they are making the proper connections so the pack n play will be sturdy when it is set up.
Then check them again when you take it down. If any of the joints are ever loose, or the mesh becomes torn, contact the company for replacement parts. In order to maintain the joints, you will need to check them occasionally to see that they are not malfunctioning. If they are not working right – contact the manufacturer to find out the proper steps for obtaining replacements.
Never force the joints to latch. If there is a problem with one of the joints, inspect it to see if there is any foreign object lodged in the joint which is prohibiting it from properly closing. Sometimes there is an object that can be removed and the joint will work properly.
If there is not something visibly lodged in the joint, don't force it to latch. Contact the company to see if there is a replacement part or a recall on the product. If necessary, they can provide both replacement parts and instructions on how to replace them safely.
Keeping Your Pack and Play Clean
If you are like most parents, you are going to use your pack 'n play a lot. A high volume of use can lead to a very dirty playard if you fail to keep it clean. Before attempting to clean the pack 'n play, always read the user's guide which came with it when you made the initial purchase.
It may contain specific instructions on how to clean certain parts of the playard. Some materials may be machine washable, but others may not and it's important to know what can be cleaned using the washing machine. If your playard came with sheets, they are usually machine washable and should be washed regularly. They can be dried in the dryer or hung out to drip dry. Refrain from using bleach on the sheets or any of the parts of the playard. It is a very harsh cleaner and can cause damage.
If your playard came with a bassinet, napper or changing table, you can usually remove the material covers and wash them in the washing machine. If they can be dried in the dryer, set it on the appropriate setting. If they cannot, then hang them out to drip dry. Then you can use a damp cloth to wash off the plastic surfaces. Then allow them to dry completely before putting the clean covers back on.
Soft toys often accompany a playard and these can be spot cleaned using warm soapy water. Be very careful to not let any water get in the battery compartment as this can cause irreparable damage. Check your user's guide, but the carrying bag is most likely machine washable. It can usually be washed on the delicate cycle in the washing machine and then allowed to air dry.
There are also many different parts to the pack and play that need to be cleaned regularly. The plastic, vinyl and metal parts like the mattress, frame and mesh sides can be wiped down with a damp cloth or sponge. You can use dish soap or even hand soap in the water; or another gentle cleaner that contains a disinfectant if you wish. But don't use any harsh cleaners. Using mild soapy water, wipe down the sides, rails and any other surfaces to ensure baby's sleep and play area is kept clean.
Maintaining the Joints and Feet
One of the favorite features of the playard for many parents is its portability. This means it can be taken along outside to the park or beach. Be sure to clean the feet and joints very carefully and thoroughly BEFORE it is packed up to be taken back home. If sand or dirt gets in the joints in the top railing, it can cause damage or cause them to fail to latch properly.
It is important to clean any dirt or sand off the playard including the feet before you put it back in the cover or carrying bag. Remember to periodically inspect the joints and feet to ensure they continue to work properly. Make sure to always set the playard up and take it down according to the manufacturer's instructions. This will ensure it continues to function properly so you can enjoy its use for a long time to come.
Safety Maintenance for the Pack and Play
The portability of the playard is such a great convenience for parents; but be careful to not place the pack and play near a hazard that can compromise the safety of the child or the integrity of the playard's structure. For instance, do not store it near a heater or stove as it can cause damage to the unit. When it is set up, it should always be on even ground. This is safer for baby and playard.
You may also interested to read: How To Fold Up A Pack And Play.
Send in that Warranty Information!
When you first purchase your pack n play and take it out of the box to set it up for the very first time, you'll find a card to register your new product. Make sure to send this card with the required information into the company, or fill out an online registration form.
Registering the product is like claiming your warranty. Most of the pack and paly today have at least a year warranty like other new products. This typically covers any maintenance or malfunction issue that might occur during the warranty period. The company can either send you replacement parts or replace the whole pack and play should there be an issue that is irreparable.