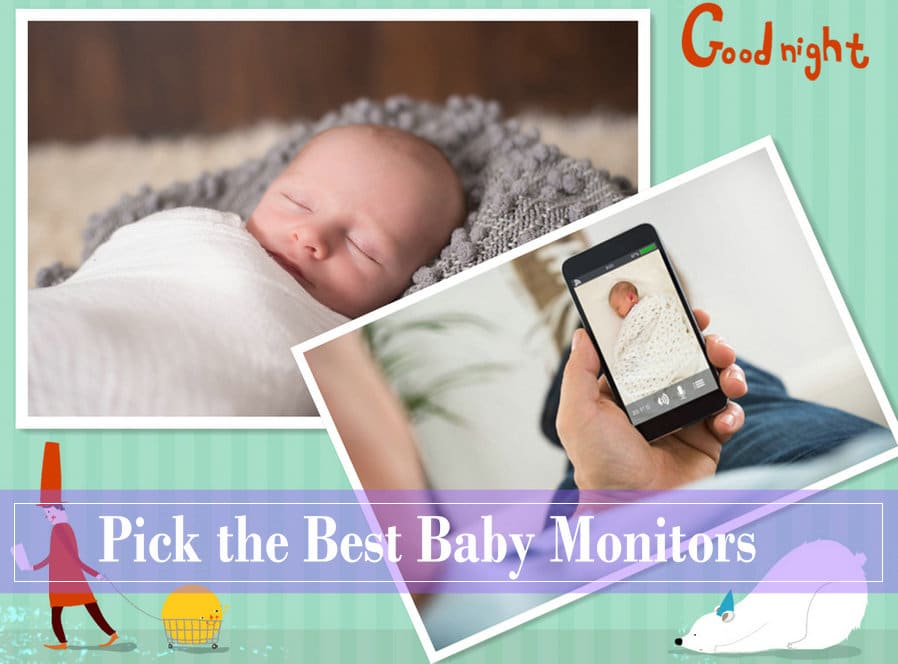 Do you want to keep an eye on your baby without needing to sneak into their room? Picking one of the 10 best baby monitors gives your baby the best sleep while you can keep a watchful eye.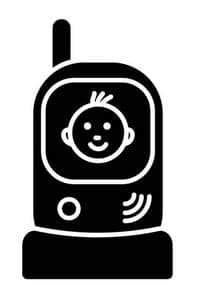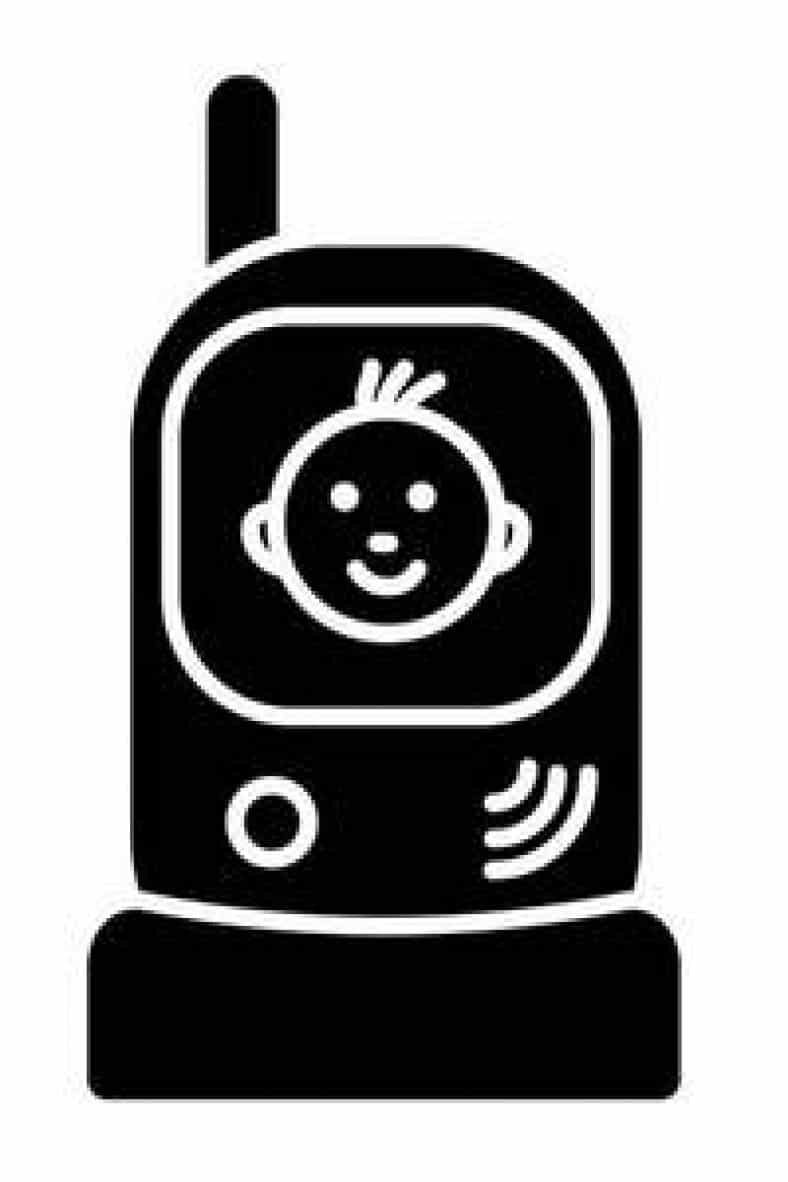 Babies have supersonic hearing. When you try to act like a ninja into the room to check on your sweet sleeping baby, the sound of your breathing wakes her up. The next thing you know, she is staring at you with bright eyes and a wide smile. Say goodbye to naptime!
A baby monitor is a camera that sets on, near, or over the crib and allows the parents to listen or watch the baby. The parent has a handheld device that connects with the monitor in the child's room. Some baby monitors are so advanced that they can track sleeping and breathing!
Picking the best baby monitor can be tricky. Whether you search online or walk the baby aisle at your nearest Walmart, there are dozens of choices. Each seems different yet similar to the previous one. How is parent supposed to pick?
That's why we are going to review the 10 best baby monitors and what you need to know before you purchase one!
---
Is a Baby Monitor Needed?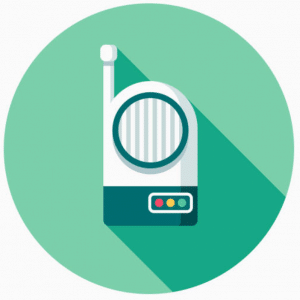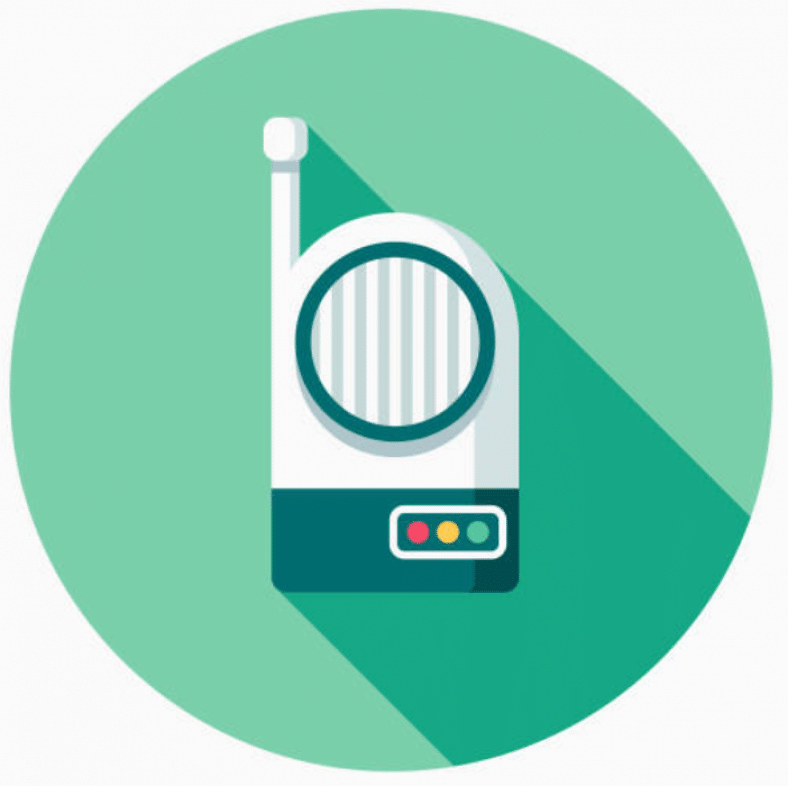 While a baby monitor is a great purchase, parents who co-sleep or live in a small space probably don't need one. If you can hear your baby crying at the opposite end of the house, chances are a monitor is just a nice extra
If you have a larger house or don't sleep in the same room as your baby, a monitor allows you to check on your child without worry. You know that you can hear your baby cry if you are a sleep or you can complete chores downstairs without worries. Naptimes come with less worry and trying to be a ninja, which we inevitably fail at each time.
Something else to consider is that monitors can double as a nanny cam to keep an eye on your child and their caretaker. If you have a nanny come to your house, monitors can ease your fears and let you make sure all is well at home.
---
Types of Baby Monitors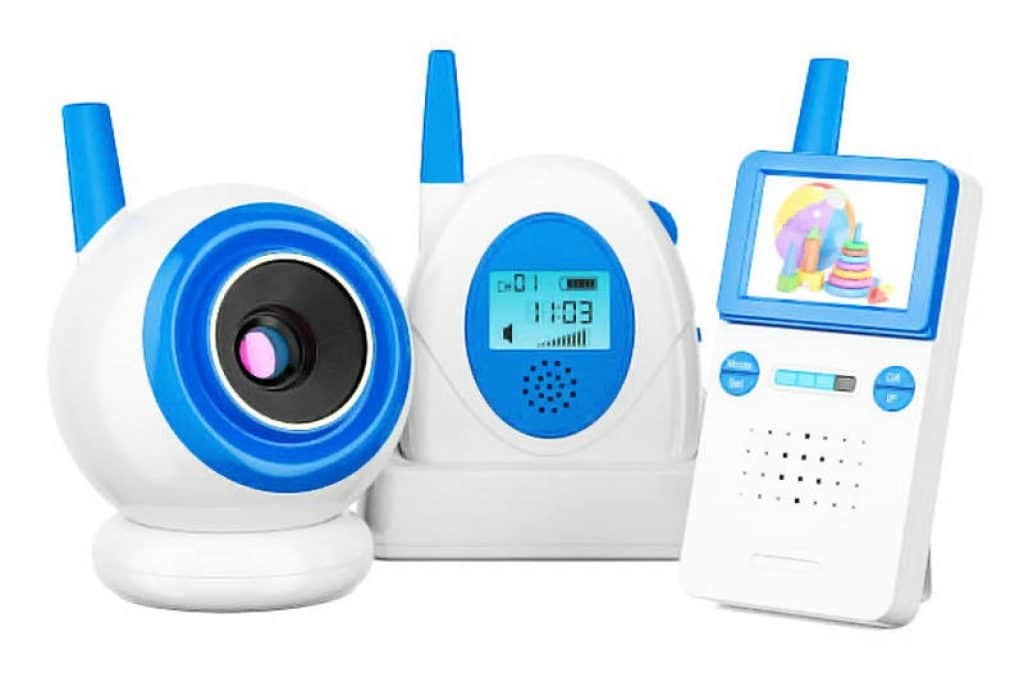 Baby monitors come in two basic types – audio and audio/video. Some are digital, and some are analog. No matter the type you pick, all monitors work with a selected radio frequency band that transmit sounds from your child's room to the other receiver in a different area.
When you purchase your monitor, you will receive a transmitter that goes in your child's nursery and one or more receivers. Typically, when you look at a higher priced monitor, it will have more features, such as high-definition color or a vibration feature that lets you feel if your child is crying.
Overall, remember that a higher price doesn't mean it's higher quality. Even expensive models have audio and video interference, bad reception, and bad parts!
Audio monitors range in price from $25 up to $150. Most have lights on the parent's monitor. As your child cries louder, more lights go on. That helps determine if your child is fussing or actually crying when you have the volume turned down. The nice thing about audio monitors is that they aren't as expensive as the audio/video models!
Combo monitors range in price from $80 up to $300. Many parents love the video/audio monitors because they can see their child as well as hear them. If you want a nanny cam, the combo is the type to pick. These monitors are small and mount to either the wall or a tabletop. It transmits images to a separate video monitor receiver.
An analog monitor sends signals from the monitor to the receiver directly not encrypted.
Digital monitors encode the signal as it is transmitted from the monitor to the receiving unit. That means it isn't possible for recognizable sounds to be heard on other monitors or by other people. If this interests you, make sure you look for the word "digital" on the box.
Wireless Network Monitors
A wireless network monitor uses the existing wireless network installed in your house or apartment, which allows the parent to use their company or other devices (such as their phone) as the receiver. Most brands have a website that you sign up with an account to use.
To use a wireless network monitor, you have to use the transmitter to locate the wireless network. Then, you enter your serial number and the unit sends encrypted videos to your computer, iPad, iPhone, or Android device. The transmitting camera can mount on your child's crib or wall, and it plugs into an electrical outlet.
There are some limitations with wireless monitors. Parents want high definition video, but your internet quality has to be fast enough to stream the high-quality video in real time. If you don't have the right internet speed, you'll find that your video is choppy or unreliable. Also, if you don't have unlimited data plans, you'll be shocked to see how much data you use while streaming the video. If you are on WiFi that won't matter, but it will if you use the 4G LTE cellular service!
Also, these monitors are dependent on your interet. So, if the internet goes down, so does your baby monitor! That's something to consider because you never know when your internet will slow down or go out of service for awhile.
---
What Features are Important for a Baby Monitor?
Now that you have an idea about what type of baby monitor is best for you, you have to consider the features that each model has. The features make the true difference, and it's how you will distinguish one from the other!
If you've ever held two walkie-talkies next to each other, you probably hear static or crosstalk. When a monitor's frequency is close to another device, it happens, even if it's near a cordless phone!
If possible, we encourage parents to pick a baby monitor that runs on a different frequency band than the other wireless products in their home. Cordless phones list the frequency on it somewhere.
Remember that interference can come from the electronic devices you have at home, but it also can come from the devices that your neighbors have! Some brands address the problem by using the 1.9-GHz frequency band. This frequency, called DECT (Digitally Enhanced Cordless Telecommunications), is reserved for voice-only applications by the Federal Communications Commission.
Monitor systems either use an electrical cord or a non-rechargeable battery option for the transmitter unit. The receivers run on either an electrical cord or rechargeable batteries. Take a look at reviews to see if parents note that the monitor drains batteries fast. The transmitter unit is typically fine plugged into the wall since your child's crib isn't mobile. However, you may not want to be stuck inside or near an outlet during naptime.
An audio/video monitor is worthless if you don't have night vision that features infrared light. You need to be able to see your baby at night when she is asleep in a dark room. What's the point of having a combo monitor without night vision?
Some models have a nightlight on the transmitting unit in the nursery that you turn on from the receiver. Higher-end models also allow parents to activate music or nature sounds to soothe your child to sleep. That's a handy feature!
Are you worried that your child's room isn't an ideal temperature? Check for a model that has an adjustable sensor that checks the temperature in your child's nursery. Babies do best between 68 and 72 degrees.
If you pick a video baby monitor, you might want a color LCD video screen, allowing you to watch your baby. Screen sizes vary, so pick a model that has a screen large enough that you can see your baby clearly. Different models allow you to control the brightness and contrast of the screen.
A common feature you will find is the receiver's light turn on when your child starts to make sounds. More lights turn on as your child cries louder. This feature is found in many monitors, and it allows you to know if your child is awake even if the volume is down. If you are on the phone and need to turn it down, you can still "hear" your baby!
Unless you want to sneak into your child's room to fix the camera each time it is out of range or focus, an adjustable camera that lets you pan, tilt, and zoom is important. All it takes is a slight bump and your baby is no longer in focus! An adjustable camera is convenient and important feature. It's also nice if you have a wide-view camera, especially if you aren't able to adjust it.
In an effort to extend battery life, many brands filter out normal sounds and motions. The transmitting unit should only turn on when your child makes a strange motion or sound, such as when he starts to cry or rolls around.
All baby monitors should have volume control; it's super important! Make sure it is easy to access. You don't want to have to scroll through menus to find it. Volume control on the side is the easiest option.
It's naptime, and you head out to your garden to weed a garden bed. It seems as if your baby is sleeping so well until you return into the house and hear your baby crying. Your monitor was out of range and you didn't know!
A model without this feature might only emit some static if it heads out of range. However, a light or beeping sound is much more convenient and obvious. If you want to go outside often when your child is asleep, you want a monitor with a greater range.
Just like the out-of-range indicator, a low battery indicator will light up or show an icon when your batteries are running low. An indicator helps ensure you miss nothing.
Does the unit come with more than one receiver? Two receivers are convenient because it allows you to keep one in your bedroom and carry the other one with you around the house.
If you decide to use a Wi-Fi enabled monitor, wireless encryption makes sure that no one else can tap into the feed and see what is happening in your house. While Wi-Fi monitors are great for portability, hacking is an issue. You will also want to make sure your home wireless network is secure and the firmware updated.
Certain monitor systems allow you to add up to four cameras, which is helpful if you need to watch more than one child. It's also great because it lets you cover other areas in your house, like the playroom! You can mount multiple units throughout the house, so you have an overview of everything!
---
10 Best Baby Monitors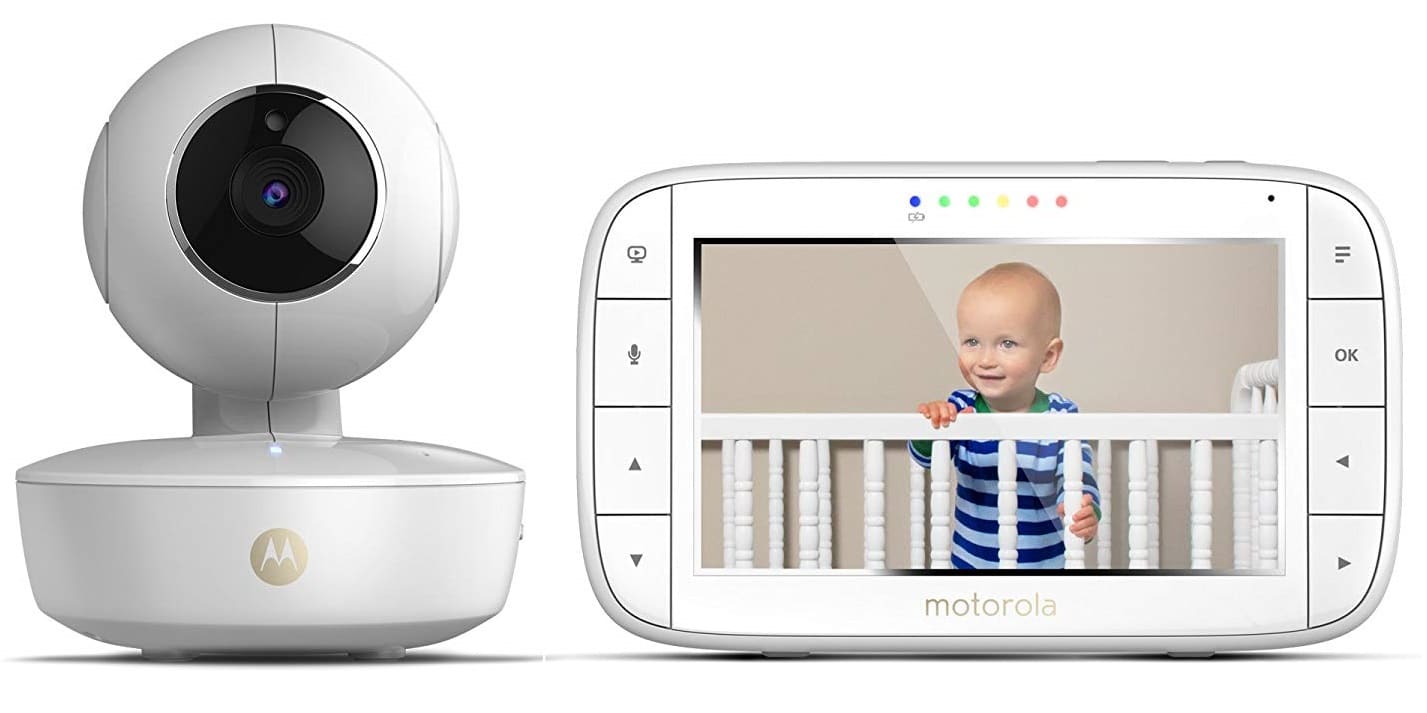 If you have a large house, Motorola offers a monitor with several convenient features. You can use the monitor to remotely pan, tilt, or zoom the camera without needing to enter your child's room. Press a button to play soothing lullabies to your baby.
It is a freestanding monitor, so you can move it from room to room. You can set it on a dresser or grip it onto brackets. If you don't want to bring along the electrical cord, it can last up to three hours on a single charge.
Motorola pulled out all the stops. There is a room temperature display and an impressive 1,000-foot range. That's one of the largest ranges on the market! You are able to connect up to four cameras to this monitor, so you can watch several kids or several rooms.
Be aware that the monitor does make loud beeping sounds when you turn it on. Don't turn it on near sleeping kids. Also, the battery life isn't very impressive.
Check Pricing and Availability
PROS:
Up to 4 Cameras
1,000-foot range
Freestanding for portability
 Room Temperature Display
Two-Way Audio
CONS:
Battery Life Isn't The Best
Loud Beeps
Do you want the ability to zoom in extra close to your baby even if the camera is further away from the crib? The Infant Optics DXR-8 allows you to remotely adjust the camera with the monitor. Parents love that the monitor can sit overnight up to 10 hours in the power-saving mode! You don't have to worry about plugging it in overnight. The power-saving mode provides sound monitoring while the display is off. It will last up to six hours with the display screen working.
Parents love that the video display is of high quality, whether you use it in the daytime or nighttime. The audio is high quality. Infant Optics didn't skimp on features. Some other ones you will love are:
Check Pricing and Availability
Extra Features:
Can do digital audio only (screen off for nighttime)
Encrypted wireless communication
User-Friendly Menu
A few other options that parents love is that you can talk to your baby over the monitor and there is a room temperature display. However, you won't be able to play recorded lullabies for your baby.
PROS:
Remotely Adjustable
Close Zoom
Power-Saving Mode for 10 Hours Battery Life
Room Temperature Display
CONS:
Can't Play Recorded Lullabies
Short Battery Life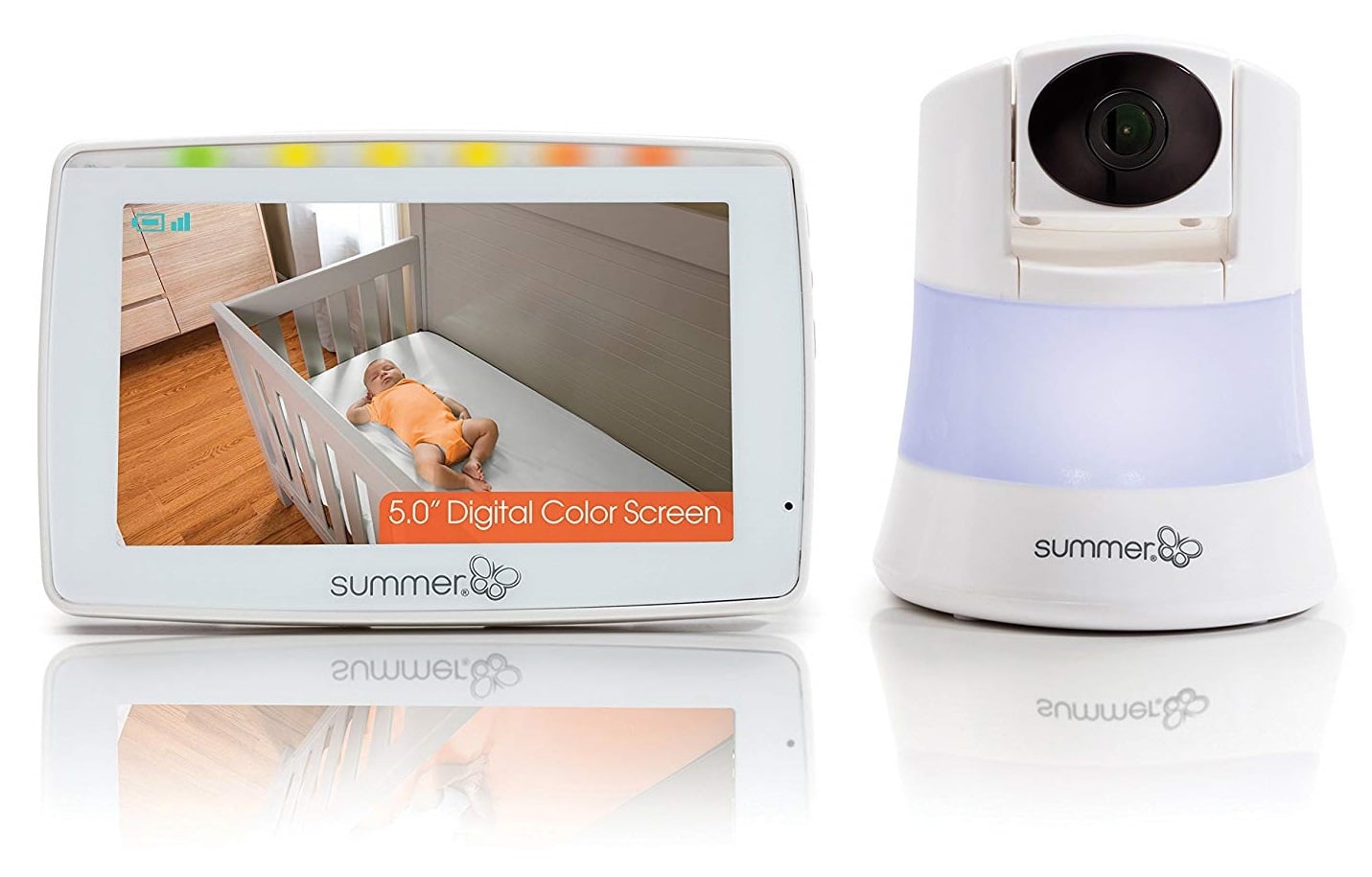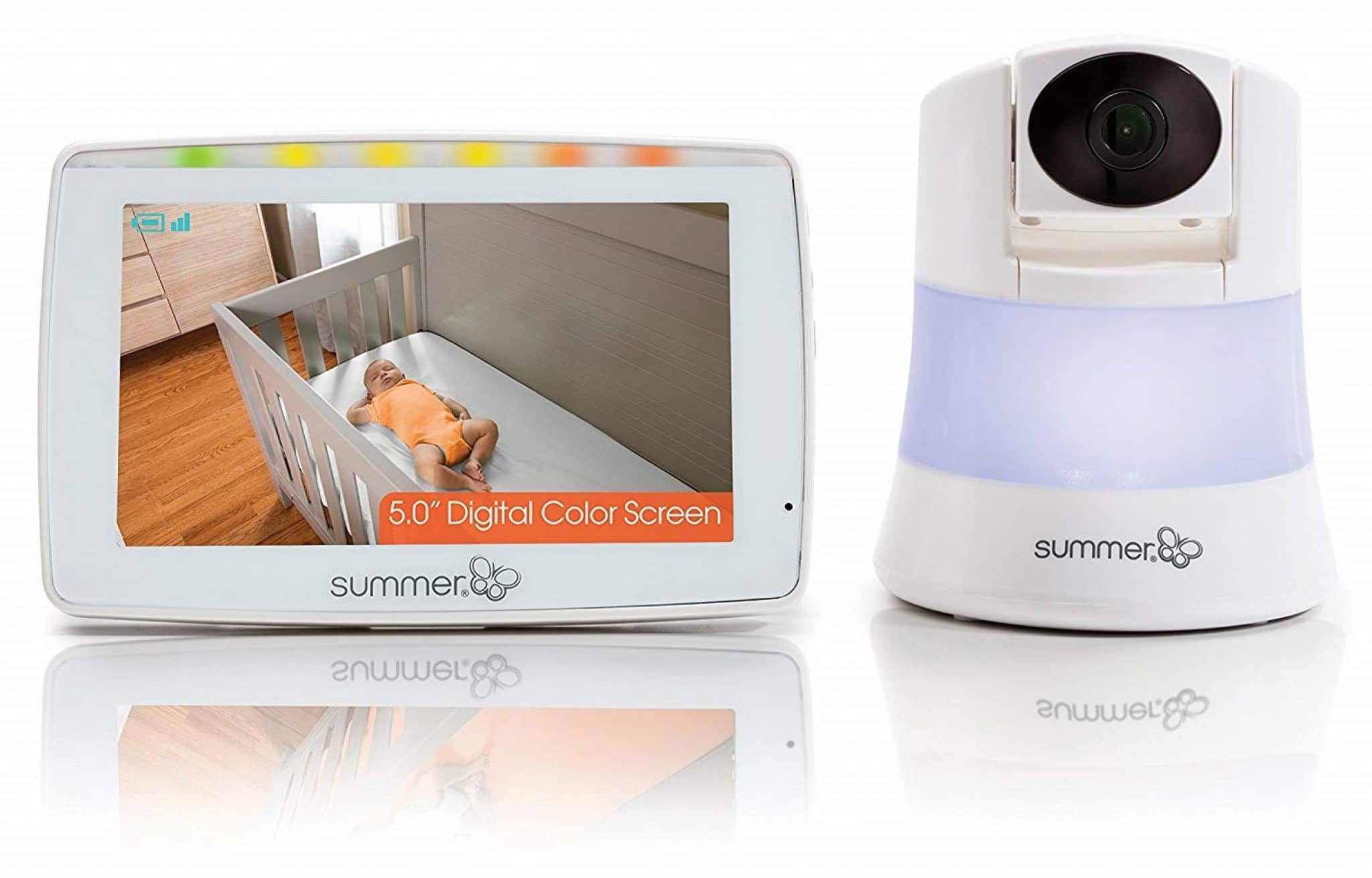 Summer Infant is a top brand for baby items, and they created a large screen camera that zooms in and has a built-in nightlight for those who have a budget. Let's be honest; not everyone can or wants to spend $150 on a monitor. You'd rather save some money to put it elsewhere, but you don't want to miss out on those cool features.
That's where Summer Infant comes into play. The monitor has all of the standard features parents want such as:
Check Pricing and Availability
Extra Features:
Low-Battery Indicators
Out-of-Range Indicator
Sound-Activated Lights
Rechargeable Batteries
You can mount the camera on a tabletop or the wall. The monitor works with up to four cameras! However, the video quality isn't the best when compared to other choices. Don't expect to see sharp, clear details!
PROS:
Affordable
Built-in Nightlight
Works with 4 Cameras
Large Screen
Low Battery and Out-of-Range Indicators
CONS:
Short Battery Life
Video Quality Lacks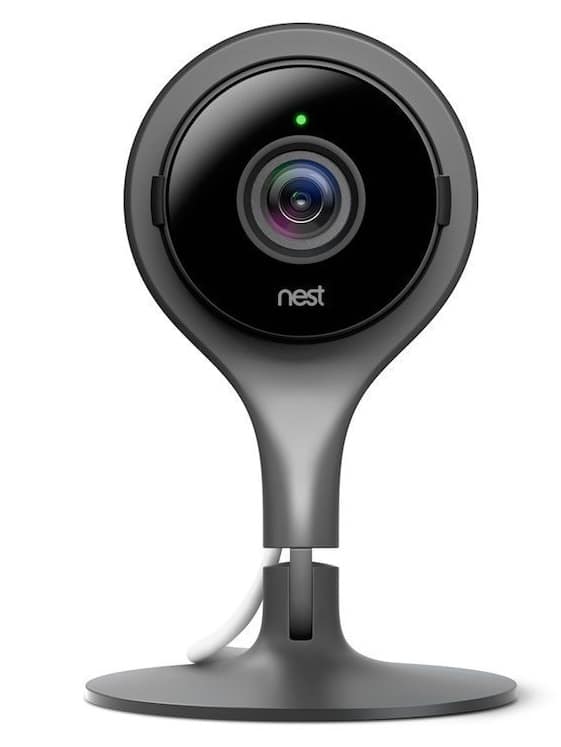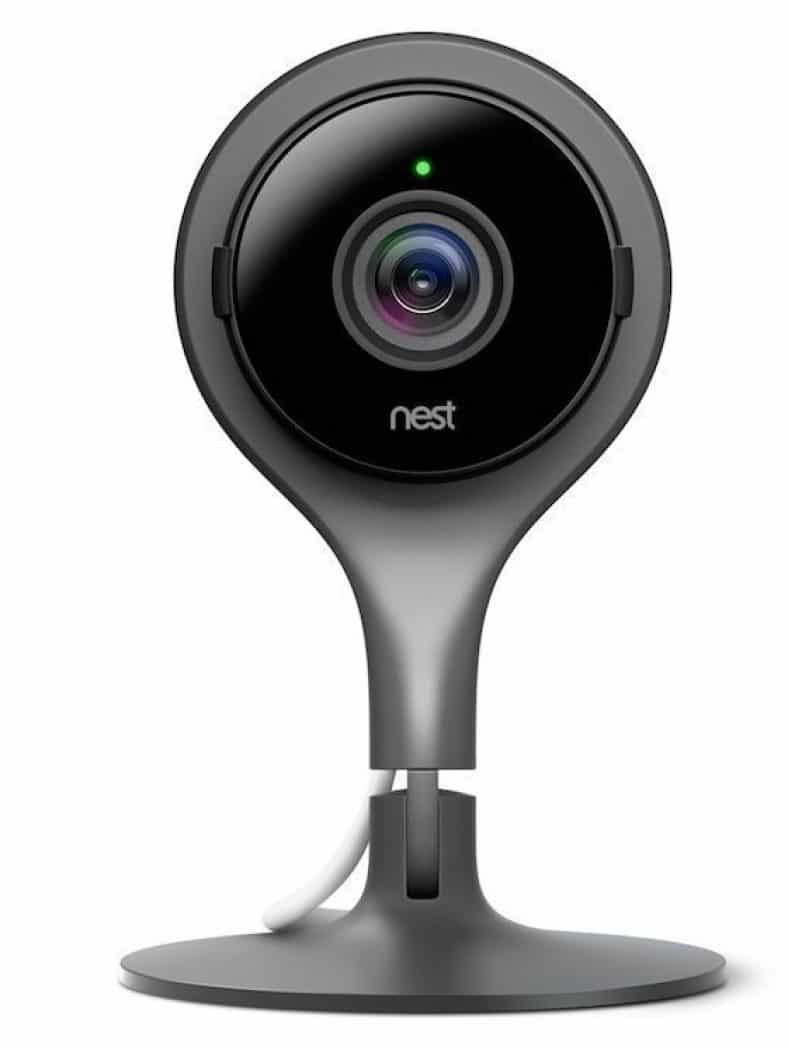 Leaving your baby home with a nanny can be scary! We are trusting someone else to care for and love our child just as we do. Sometimes, you need a nanny camera to be sure things run smoothly at home. The Nest Nest Camera isn't a designated baby monitor, but parents find that it has all of the features you could want for a security camera!
You can set up the Nest Nest anywhere, and then you watch the live streaming from your smartphone. The camera has two-way communications, so you can sing or talk to your baby, even if you aren't at home! That's a fantastic feature for working parents. It will send alerts to your phone if it senses motion or sounds. You can view photos of any activity that took place over the past 3 hours.
However, one thing to consider is that you need to have the Nest Cam app open and running on your phone or tablet. That will act as a handheld monitor.
Check Pricing and Availability
PROS:
Live Streaming From Your Smartphone
Two-Way Communications
Alerts Sent to Phone
Can View Photos for Past 3 Hours
CONS:
Not a True Baby Monitor
Must-Have App Open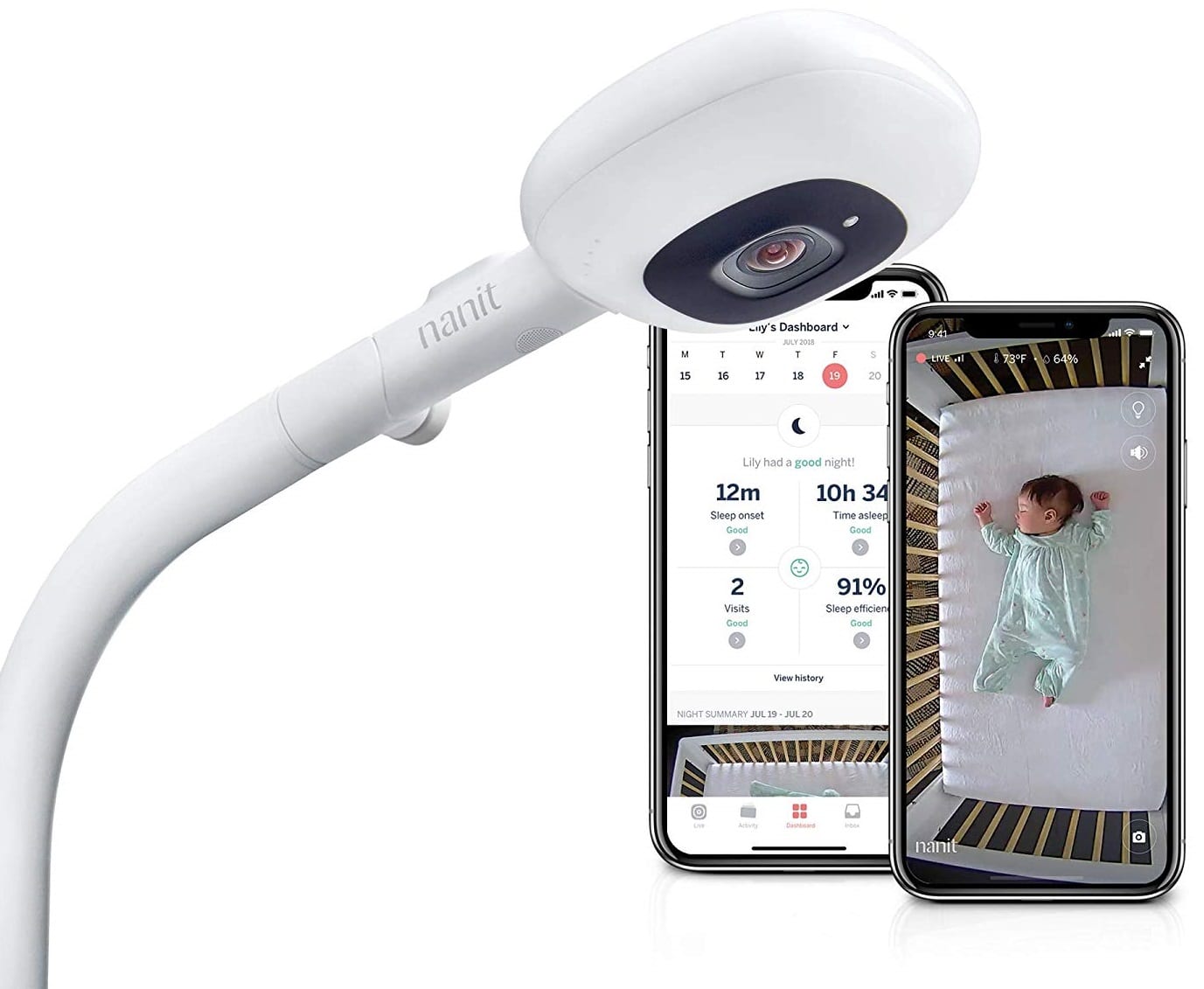 If you want stats and are an analytical type, the Nanit has computer vision that watches your baby's every move. Then, it will analyze and tell you what it means. You will get a notice on your phone, which is your handheld monitor, when your child wakes up, is fussing, or falls asleep. The Nanit will give a sleep score for each night that tells you how many hours your child actually slept. It also tracks stuff like how many times you went into your child's room and how long it took for your child to fall asleep.
The Nanit streams live video and audio directly to your smartphone, so you are able to check your child when you aren't home. It streams in high-definition digital video and digital audio right to your phone. You can get the app on your Android and Apple devices. You have to connect it to your home's existing router. If you use a 4G LTE connection, you'll notice that the video is choppy but that happens with any Wi-Fi-based camera system.
Nanit also included a nightlight, a temperature sensor, and a humidity sensor. It is a sleek and modern looking baby monitor. The digital zoom feature lets you zoom in right from your app to get a clearer view of your baby. The wall-mount gives you an overhead view of your baby rather than a camera that just sits nearby. Nanit includes the wall mounting hardware and cord hiding strips so they won't be in your baby's view or reach!
All of the stats come through the Nanit Insights, which is a subscription-based service with an app. You get a one-year trial with your purchase. However, after the year, you have to pay $100 per year to have access to all the stats. So, if you plan to use this for multiple kids, be prepared to pay for it!
Another negative is that you have to wall mount the camera. If you want a floor mount, you have to pay $50 for a stand. The biggest issue is the price. Nanit is one of the most expensive choices, so you have to decide if the cost is worth it!
Check Pricing and Availability
PROS:
Analyzes Sleep Data
High-Definition Video and Audio
Nightlight
Temperature Sensor
Wall Mount and Cord Hiding Strips Included
CONS:
Subscription App to Receive Data
Must Wall Mount
Expensive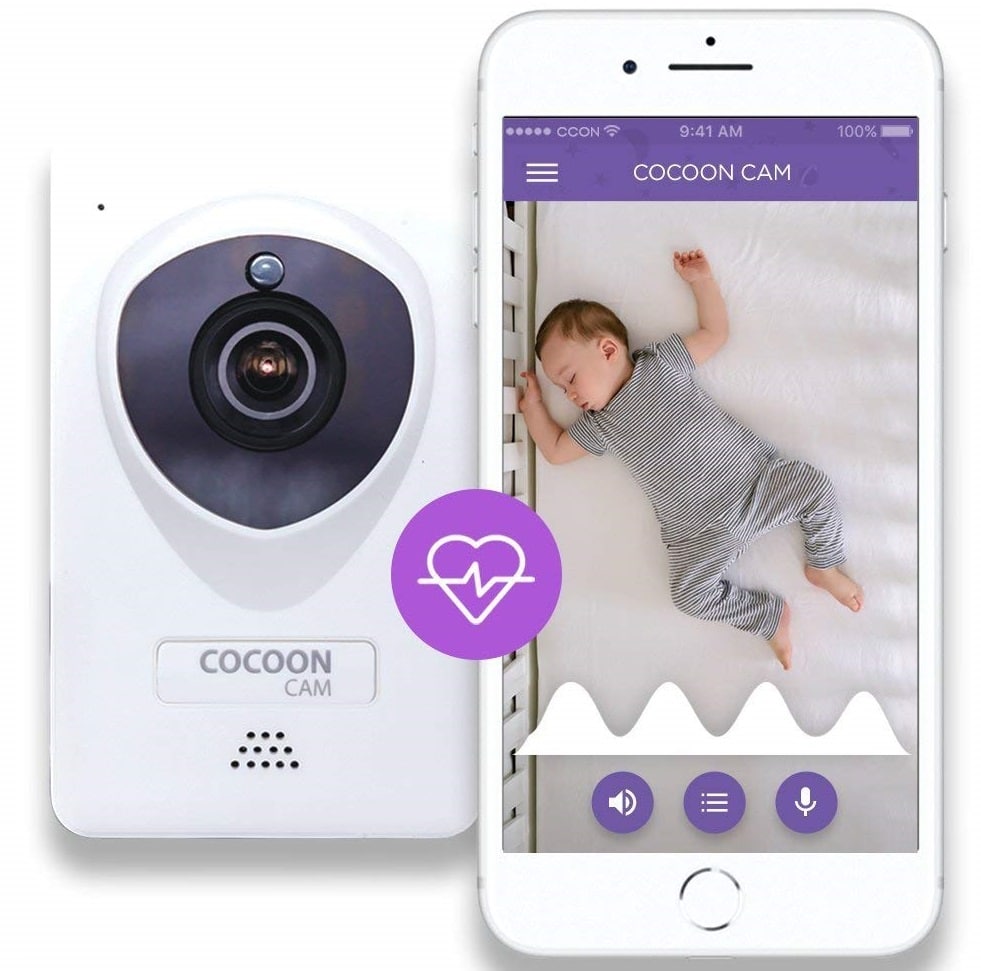 SIDS is scary! If you feel as if you need a bit of comfort, the Cocoon Cam lets you see your baby and create a graph on your smartphone that shows your baby's breathing patterns. The Cocoon watches the rise and fall of your baby's chest. It sends you an instant notification if something seems wrong. You'll also receive notices when your child falls asleep, is crying, or when the baby is about to wake up.
The Cocoon Cam live streams video and audio over WiFi, so you can watch your baby from anywhere! It features 720p high definition that produces clear videos
One thing to consider is that you have to manually adjust the lens, so there is no way to bring your baby into a better focus from your phone. Also, you need to wall-mount and perfectly place it for the camera to work correctly. If you don't have WiFi, you can plug the camera into your router with an ethernet cable.
If all you want is a baby monitor that shows you your baby and uses a phone app, pick a different option. Cocoon Cam is really best for those who want to monitor their baby's breathing and receive data.
Check Pricing and Availability
PROS:
Monitors Baby's Breathing Patterns
Live Streams Video and Audio Over WiFi
High Definition Video
Works With Ethernet Cable
CONS:
Must Wall Mount
No Remote Panning or Tilting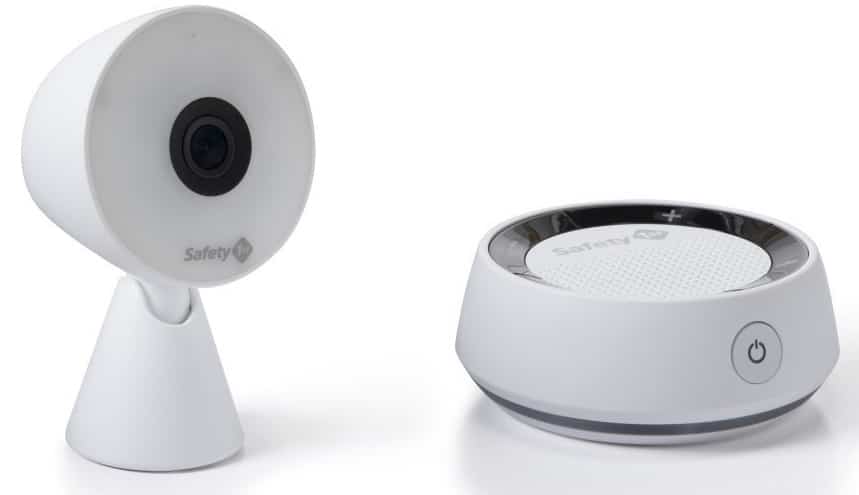 Safety 1st updated their HD Baby Monitor in 2018, and the quality is impressive. It is a WiFi monitor, connecting to your wireless router, and it streams digital video and audio directly to your smartphone. That means you can take a peek at your sleeping baby in the living room, at work, or on a date.
One difference is that the Safety 1st included a wireless speaker pod that you can put anywhere in your house so that you don't have to turn on your smartphone. Who wants to see a bright screen from your cell phone in the middle of the night? The wireless speaker pod is also convenient if you have a low phone battery and need to charge. Best of all, the speaker pod battery lasts 10 to 12 hours before needing to be charged.
The video quality is nice, streaming in high definition 720p, but the quality does decrease if you leave your home. Another impressive feature is the wide-angle camera with a 130-degrees horizontal field of view. You have more options when placing the camera. The monitor will send you movement and sound alerts, and you can customize the sensitivity of the alerts.
While you can zoom in and out, the camera doesn't allow you to pan or tilt. Setup is pretty easy, but the manual is confusing. Also, unlike other WiFi options, the Safety 1st won't revert to streaming over your local area network if the internet goes down. Also, the camera has a really bright light on it that might disrupt your baby.
Check Pricing and Availability
PROS:
Includes a Wireless Speaker Pod
Long-lasting Battery
High Definition Streaming
Wide-Angle Camera
Alerts with Movement and Sounds
CONS:
Can't Tilt or Pan
Confusing Manual
Doesn't Revert to Local Area Network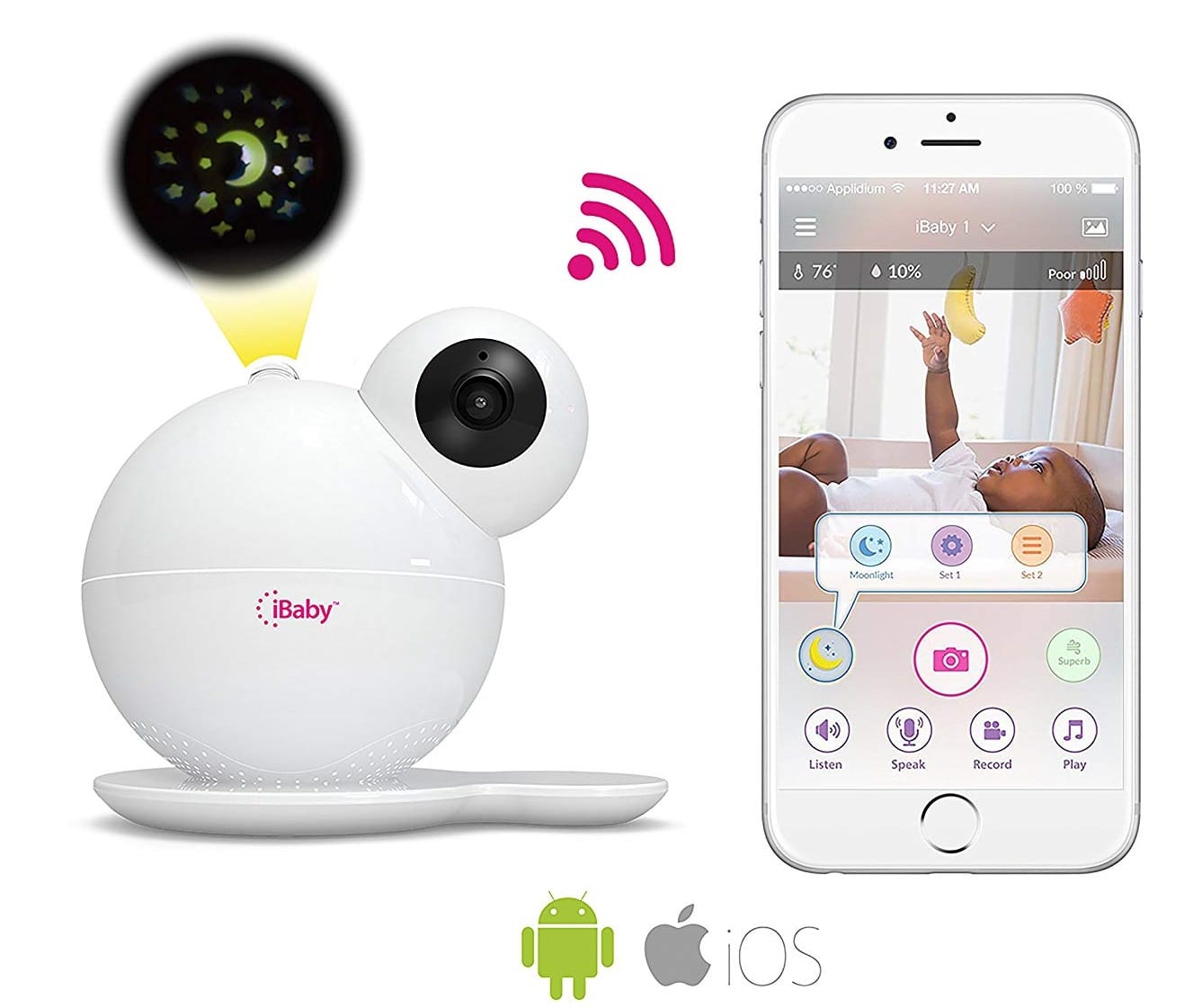 iBaby offers a uniquely styled monitor with WiFi capabilities and a huge list of features that parents love. It is the newest update from their M6S Baby Monitor with extra features including support for both 2.4GHz and 5.0GHz WiFi signals (dual band), a soother projection system, air quality sensor, and a feeding and diaper time alerts.
Parents download an app, available for Android and Apple phones, and control the camera from there. You can play lullabies, music, white noise, and bedtime stories. You can even add your own music; perhaps your baby really likes a certain band! On top of the camera, a small projector projects the moonlight soother onto the ceiling. The moonlight soother can be still, rotating, or off!
iBaby didn't skimp on the features. This monitor includes motion alerts, temperature and air quality alerts, and diaper and feedings. Considering the price, you get a lot for your money. The quality is impressive; the video is quite clear!
One downside is that the manufacturer recommends that the camera stay close to your wireless router. It should be 15 to 20 feet away or the connection will be poor. You might find that it disconnects at times randomly.
Check Pricing and Availability
PROS:
A Soothing Projector
Air Quality Sensor
Feeding and Diapering Alerts
Plays Lullabies
High-Quality Features
CONS:
Must Stay Close to Router
Disconnects Randomly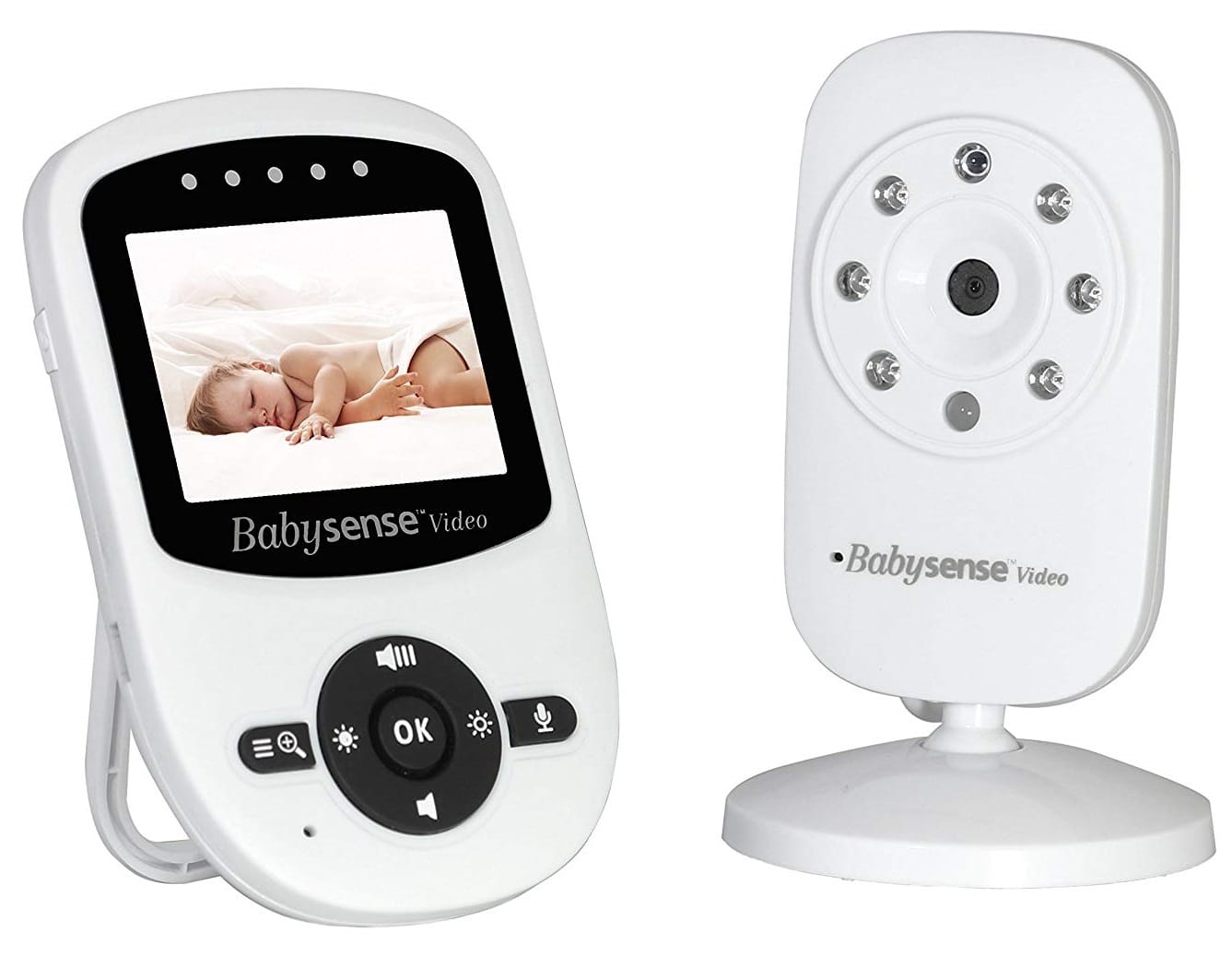 We needed a good bang-for-your-buck monitor with extra features in our list. Babysense sold under two different brand names, so you might be familiar with it under a different one. It's other name is Smilism. They're both the same thing, but they just have different logos.
The Babysense monitor has several features that parents love such as a two-way intercom, room temperature monitoring, an "eco" mode that keeps your screen off until the baby cries, remote zoom, and lullaby options. You can add up to four cameras with the same base unit. Using the base unit, you can cycle through the cameras. Unfortunately, you can't watch the cameras all at the same time.
There are a few features missing that you might want. For example, the remote tilt and pan function isn't included, so you have to make sure you have camera positioned correctly in the middle of the night. Otherwise, you'll find yourself creeping into your child's room to reposition it. Also, it doesn't have the largest range and is better if you just plan to stick inside the house.
Check Pricing and Availability
PROS:
Two-Way Intercom
Room Temperature Monitoring
Stand-By Mode
Up to Four Cameras
CONS:
Have to Manually Adjust the Camera
Doesn't Have Best Range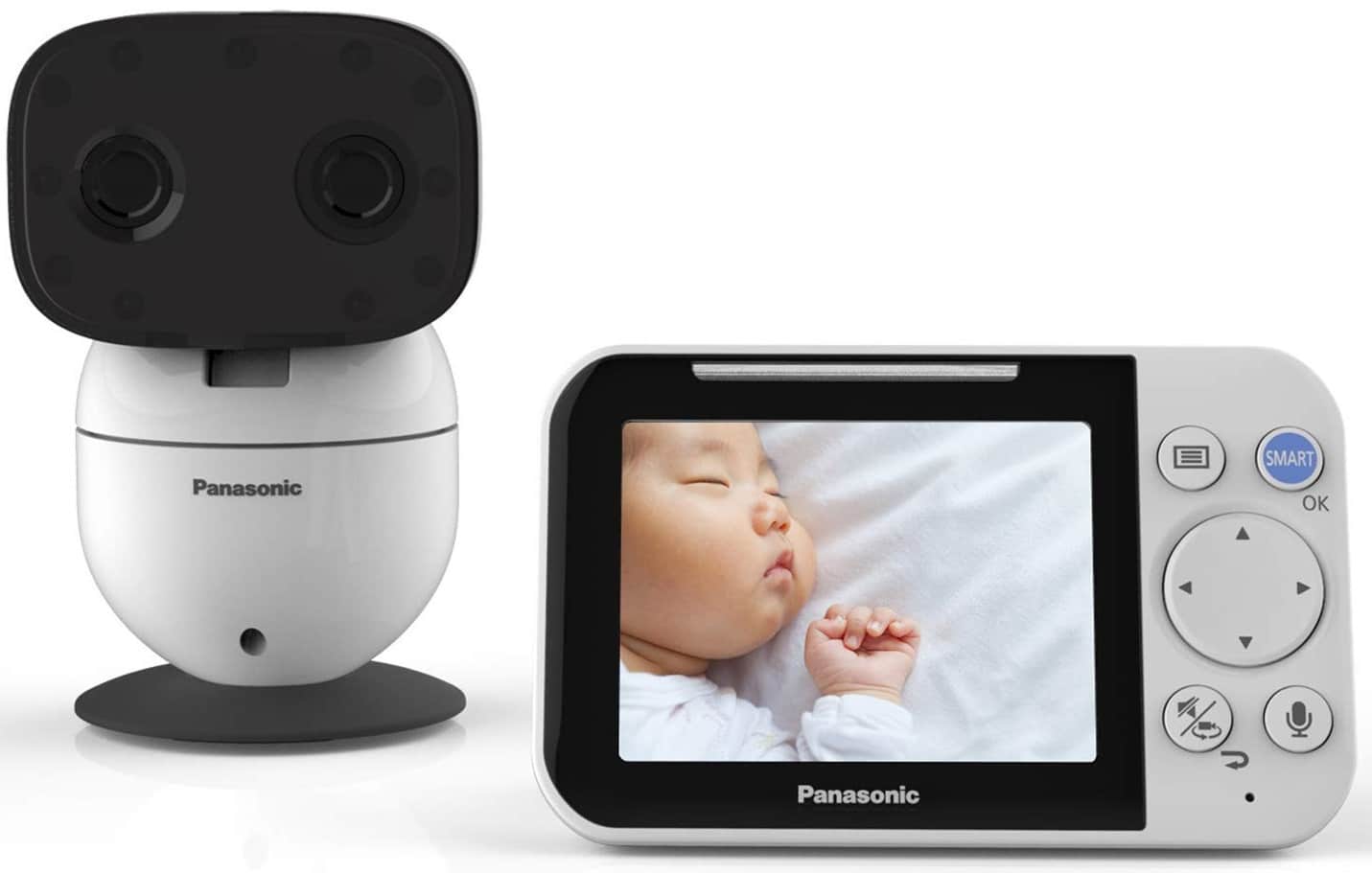 The last choice on our list is the KX-HN3001W Panasonic Monitor. The quality, reliability, and cost make it an appealing choice for parents. You receive a color monitor receiver with a battery and a wall plug, a camera and a wall plug, and a wall-mount for the camera. Once mounted, you can tilt and adjust the camera to get a good direction.
You are able to add up to two extra camera units, and you view them from the same receiver. The battery on the monitor lasts about three hours on constant running mode, but Panasonic offered a stand-by mode that keeps the feature off to extend the battery life. If you run on stand-by mode, the monitor lasts around 10 hours! That means you don't have to keep it plugged in all night long.
Panasonic added other features parents like such as two-way talk feature, melodies and lullabies, and a remote pan/zoom/tilt. That means you never have to try to creep into your child's room to readjust the monitor. It also has room temperature alerts and a current temperature indicator on the monitor! You also can program it to turn on a melody or white nose if your child starts to move around in the middle of the night.
However, compared to other monitors at this price range, you'll find that the night vision is lacking unless you set it up very close to your baby. If you try to zoom in, you'll lose image quality. Also, while the Panasonic says that you can add extra cameras, they've yet to put them on the market. Also, the video is not in high definition. That doesn't matter too much because the screen is small, but some people might be bothered!
Check Pricing and Availability
PROS:
Receives Several Parts
Add Up to Two Extra Cameras
Stand-By Mode for 10 Hour Battery
Two-Way Talk
Plays Melodies and Lullabies
CONS:
Night Vision Lacks
No High Definition
Extra Cameras Aren't Available Yet
---
Picking the Best Baby Monitor for You
Now that you have an idea of the top 10 best baby monitors, you have to make a decision, but how? It's so hard when the options are so awesome! These 10 picks are the best of the best, so you have to decide which one works for you.
Consider your home and lifestyle. Think about the size of your home and your average daily routine. If you work from home and need to make important phone calls, having a baby monitor with light indicators helps you know when your baby is awake without disturbing your call.
Do you want to head outside and work in the garden during naps? You need to a monitor with a long range or that runs on WiFi. Finding one that hooks on your belt or waistband is also convenient! A wireless monitor also is great for parents who work out of the home. Sometimes, you just want to sneak a peek at your baby at home, and a wireless monitor allows you to do so whenever you want. They also serve as nanny cams, which are important for your child's safety.
---
Safety Facts to Remember About Baby Monitors
Using a baby monitor is pretty easy, but you need to remember to be cautious with power cords. Children die after being strangled by monitor cords, or any power cord in general! Because of this, the Consumer Product Safety Commission requires any monitor with an electrical cord to have a label reminder to mount the camera at least three feet away to avoid these tragedies.
It's tempting to place the baby monitor on the crib or on the crib rails to get the best picture. It also not advised to place the monitor in your child's crib or anywhere within your child's reach. However, you are putting your child at serious risk as soon as they start to move around their crib.
Also, remember that baby monitors should never serve as a substitute for adult supervision. They are your extra ears and eyes that let you watch a sleeping baby. The right monitor can alert you to a dangerous situation before it becomes dangerous. However, don't expect a monitor to prevent SIDS.
This fact is important to note when it comes to those monitors that track breathing and movement. Unless the unit is registered with the FDA, it isn't a medical device. So, you can't guarantee it will alert you if anything is wrong. Many parents find that they become too obsessed with the numbers!
You may interested to learn How to Get More Sleep With a Newborn Baby.
Make a Purchase!
Now it's time to go off and pick the best baby monitor for you! Remember what to consider and you'll get the right one. Whether you want a WiFi or video monitor, one of these will serve you well. Don't forget to consider how large your house is and how you plan to spend your time when your baby is sleeping!