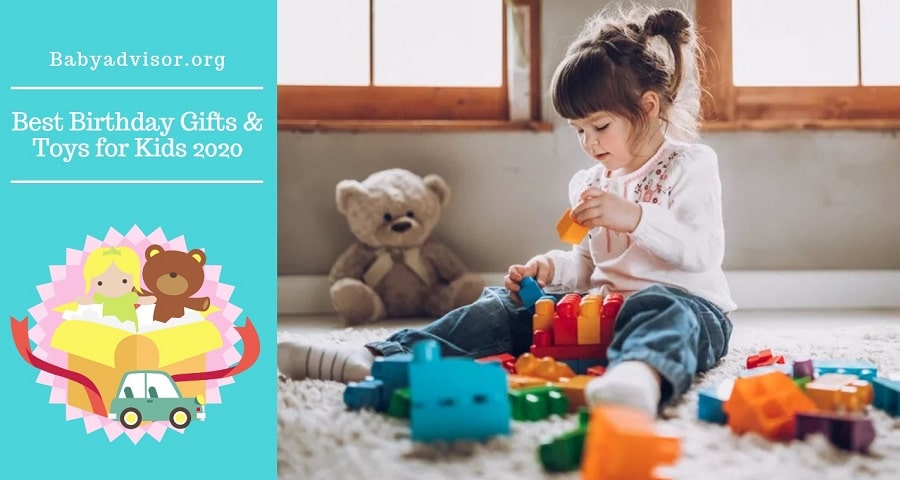 Are you hunting for a perfect birthday gift for kids? This list is a lifesaver as it provides the best birthday gifts & toys in 2021. They are all adorable, and any kid would love them.
When it comes to gifts and toys, kids are fortunate because there is a variety in the market today. This year's toys are incredibly innovative and designed to nurture their creativity and imagination.
The toys also come with outstanding benefits and advantages like motor skills, problem-solving skills, child development, learning cause, effect, etc. So, if you're planning to shop for a young one this year, a perfect toy does not only allow kids to have fun but also help them grow through different stages.
Are you a parent, relative, or a close family friend of a young one somewhere looking for the hottest toys and the latest releases but have no idea? Fret not because we got you covered! Scroll down to find the best gift for kids of all ages (infants, toddlers, tweens, and big kids) in 2021.
Best Birthday Gifts & Toys
Every kid wants to have Toy Story Forky & Duke Caboom Figures as a birthday present. The toy is a perfect gift to add to your kid's story collection. Each figure of the toy story is highly posable and comes on a movie-inspired relative scale. Its style is iconic, but decorations and colors may vary. To expand your little one's adventure fun, you can choose other colorful characters from the wide selection (sold separately). Some of these figures include Buzz, Bo Beep, Woody, Ducky, Rex, Bunny, and Slinky.
---
It is a durable product that gives your kid safe and fun hours of play. SKLZ Pro Mini Basketball Hoop is like the real thing that got the same soul and similar real hoops. It is quick to assemble and mount so that the young one can start balling immediately. The mini basketball hoop comes with a rubber mini-ball, clear shatter-resistant backboard, and a break-away rim. The set can only be used indoors, so it would be perfect for mounting it in your kid's bedroom.
---
LeapFrog Scoop & Learn Ice Cream Cart is fun and allows kids to learn color skills, counting, and sequencing. It will enable them to pretend to run their own ice cream cart, which is sweet learning. With this toy, kids learn to create testy-looking and imaginative ice cream mixtures using different flavors and toppings. The toy comes with ingredients like a magic ice cream scooper, a storage unit, three ice cream cones, three toppings, six double-sided cards, etc. other features include 200+ fun phrases and ten songs and melodies.
---
Check Pricing and Availability
This is a giftable football for junior kids. The ball is durable due to its multi-layered lining and a butyl rubber bladder that allows advanced air retention. The material is of high-quality composite material that offers an excellent grip and spirals nicely. So if you're looking for something to keep your young one busy in the yard, particularly boys, this is a must-buy for his birthday.
---
Building blocks are a genius kit that enhances a kid's creativity, imagination and spatial reasoning, verbal proficiency, motor skills, and empathy. The award-winning kit gives your young one an interactive session with tangible educational toys. It brings amusement as well as other beneficial values like learning and developing incredible skills. The box includes 38 silicone-sticks/rings, a reflector for iPad, a gameplay mat, Osmo base, etc.
---
Beyblade Burst Evolution Star Storm Battle Set allows kids to switch up their special powers. It has an exciting and unique design and acts as the center of the battle. While playing, the burst tops can erupt into pieces which vary in rates. The package comes with a switch Strike, two right/left spin launchers, two right spin tops, one-star storm Beystadium, and guidelines to give your kid a terrific battle. Not to mention, it has a stable ground support wheels and spinning wheels.
---
This package comes with a lot s of laughs. The cards are durable, and since the game is portable, it can be taken anywhere, including parties, flights, sleepovers, road trips, summer camps, and picnics. You can carry fun whenever you go! It is attention-grabbing and easy to learn, making it a perfect screen time-out for kids when at home. Players get to have face-to-face engagement, and the one who draws the wackiest card emerges the lucky winner.
---
Check Pricing and Availability
The digital camera will let your little one take actual pictures on his/her birthday party. It has a selfie mode that detects the face and automatically snaps the perfect shot. The pics can be edited and animated using its 35 fun photo effects, which is an excellent way of enhancing kid's creativity. Additional features include four different in-built games to add some fun, and both voice and video recorder for more creativity.
---
Check Pricing and Availability
It's a perfect gift to challenge your kid's competitive spirit through its motorized boosters, 16 feet of track-hairpin, and endless racing loops. The motor comes with crash zones, car feeder ramp, hot wheels, parking spaces, and convenient storage. With the toy, kids experience crash/bash thrills, storytelling excitement, creativity, and imaginative play.
---
Flybar Foam Master Pogo Stick is an ideal classic toy to buy for your kid as a gift. It introduces one to pogo stick jumping. Whether the kid is a beginner or an intermediate rider, it will work perfectly for them. The pogo stick comes with a foam hand grips that gives your kid a safe and comfortable experience. In case the handgrips wear out, they can be replaced. It also has non slip foot pads to ensure there is stability; these are replaceable as well. If you want a specific color, there are six cool ones to choose from.
---
Barbie Dreamhouse has a newer model making it a perfect gift for your young one. It's a fantastic dream home that allows kids to enhance their imagination abilities. Some of its incredible features include eight rooms, three stories, a working elevator, home office, lights, sounds, transforming furniture (five pieces). It also has 60+ additional accessories, including a cute puppy. The furniture and decorations are perfect for both indoor and outdoor settings hence accommodating play from all angles. So, if you want endless fun for your little one, this is a must-buy birthday gift.
---
This Mini ATM Bank is an ideal choice if your child has been complaining about siblings borrowing money. Kids can secure their own money by creating a numerical password, which can be changed easily if the child forgets. The green lights indicate that a correct password has been inserted while red lights illustrate the wrong password. Another coolest feature with this gift is that it comes with a separate slot for dollar bills. It accommodates 100 pieces of paper money and 600 pieces of coins.
---
Check Pricing and Availability
It's the best play set to get for your young animal lovers on their birthday as it got everything to treat pretend pets. According to toy experts, the set helps kids improve their interaction ability and develop their empathy. With this gift, kids may imagine possibilities like becoming a doctor, and that could make their dream a reality. The package includes tweezers, thermometers, ear scope, stethoscope, syringe, clamp, bandages, cast, ointments, and treatments. There is also a checklist for appointments to make the play feel real.
---
Check Pricing and Availability
Crazy Fort Kit is every child's favorite toy as it allows them to build fun structures where they can experience plays in their fantasy world. Nothing about the toy is complicated; it is easy to play while kids have lots of fun. The balls, sticks, and cover structures are easy to connect to build creative places. Its features include an LCD color screen, 100 games, an LCD color console, and classic video games to facilitate everyone's fun.
---
PLUS-PLUS Open Play Set is a classy and unique construction toy with endless opportunities and hours of excitement.  The play is made fun by merely connecting the colorful pieces using creative and imaginative skills to come up with intricate builds. Kids can create these builds whenever they go since it is perfect for adventures. It could be at a friend's house, car rides, restaurants, or their bedroom.  The package includes 600 colorful pieces and a guideline booklet to motivate creativity.
---
Check Pricing and Availability
Stomp rocket allows kids to run, jump, and stomp to release rockets up to 200 feet in the air. This award-winning toy is super strong and durable and fun for active outdoor play. It is easy to assemble and requires no batteries as it relies on the kids' effort. You'll find four foam-tipped ultra-stomp rockets and a Stop launcher in the packaging to ensure kids are thoroughly entertained.
---
Blume doll is the hottest toy of the summer with an incredible unboxing experience. All you need is a little water to reveal lots of magic. The pot comes with a Blume doll waiting to be discovered. And what's inside is a total surprise. Each Blume doll has unique features, from hairstyle to outfit. The most exciting thing is that your little one can interchange outfits and hairstyles with other dolls. The pot includes more than ten surprises (a sticker sheet, fashion shoes, secret playset, etc.).
---
This is a premium and original magnetic building set that provides a safe, imaginative play. It makes science and math fun while kids engage with different shapes. Magna-tiles have a unique design that presents smooth edges, a crisscross lattice, Magna-tiles stamp, and metallic corner rivets. The magnets of this toy are fully encapsulated with ultrasonic welding to prevent breakage while playing. So, you're assured of zero accidents and maximum fun. In the set, you'll find 100 translucent brightly colored shapes.
---
This fun coloring book allows kids to practice amazing art with one sticker at a given time. The package comes with everything that a kid would need to create up to 10 pictures. The colors are playful and illustrate an ocean's wonders on a perforated stock card, which is easy to tear the final product to frame or share. Since the book ten pages of stickers, kids can fill it with creative artworks. They can also watch a painting come to life by merely finding a sticker, peeling it, and placing it in the right space.
---
Difficult Riddles for Smart Kids can also be used by the whole family to have a fun moment. This fantastic book comes with 300 brain-challenging riddles and puzzles to help kids enhance their thinking capability. Riddles test logical thinking and memory. They are incredibly helpful as the brain can comprehend connections and patterns between different circumstances and things. If your kid likes problem-solving, this would be a perfect gift to challenge their creativity and literal thinking.
---