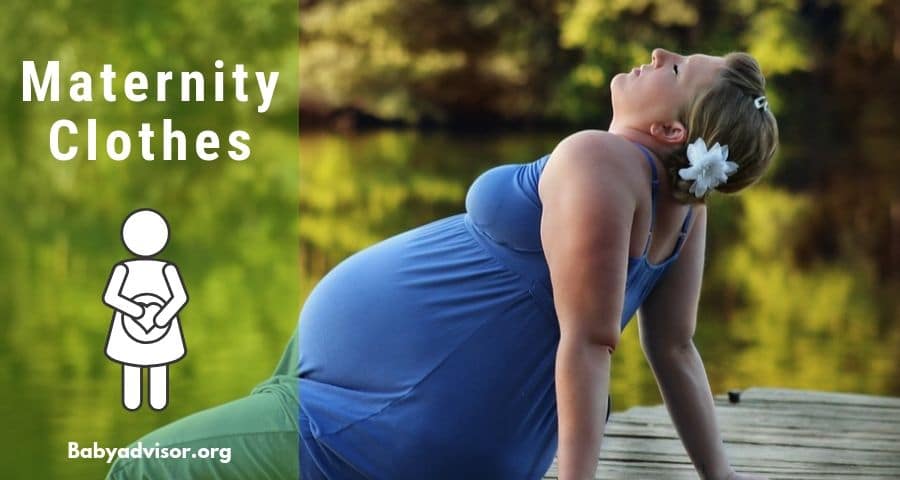 Pregnancy causes our bodies to continually change and grow, so finding the best maternity clothes to cover your expanding bump can be hard without breaking your bank.
You need to make sure you pick the essential items, spending your money well.
Long gone are the days when you had to wear oversized shirts and pants to hide your belly. Nowadays, it's perfectly acceptable for mothers to show of her body and her growing belly. For the first few months, you can avoid getting any maternity clothes, but eventually, you'll need some. Lucky for women, maternity dresses are much more fashionable than ever before.
---
When to Buy Maternity Clothes?
No one experiences pregnancy the same way, so when you buy maternity clothes will depend on you. Some expecting mothers start to buy maternity clothes during their first trimester, but some don't need them until the end of their second trimester.
A few signs that you need to buy maternity clothes are: 
You search for the stretchy items in your wardrobe.

Unbuttoning your pants becomes a regular thing throughout the day. 

You feel bloated all day, every day.

Your belly starts to come out underneath your shirt.

Button-down shirts don't actually button down all the way.
By 20 weeks pregnant, your uterus is near your navel, so most women start to show by them if they haven't already. Of course, it does vary based on the mother's height, weight gain, and body type. The number of babies in utero is a factor – moms of multiples do get larger faster. Also, if this is your first pregnancy, you may be able to wait longer to wear maternity clothes than a mom to two, three, or more kiddos.
---
What Size Maternity Clothes to Buy?
Trying to figure out how your body is going to change throughout the pregnancy before it does can be tricky. It's even trickier to try to figure out what size maternity clothes you'll need to buy.
In most cases, whatever size you are now is the size you'll be in maternity clothes. Everyone is different, and all brands are different. You might be a maternity size 8 in one brand and a size 10 in another brand. It's more important to go with what's most comfortable rather than sticking to a number.
Remember that your entire body doesn't grow at the same rate. Some women experience an explosion in bra size before their belly even starts to make an appearance. It could be reversed, or your butt might grow faster than everything else. That happens as well.
---
Tips to Find the Best Maternity Clothes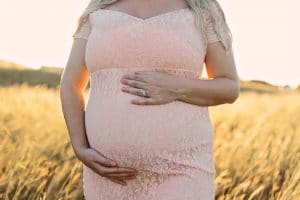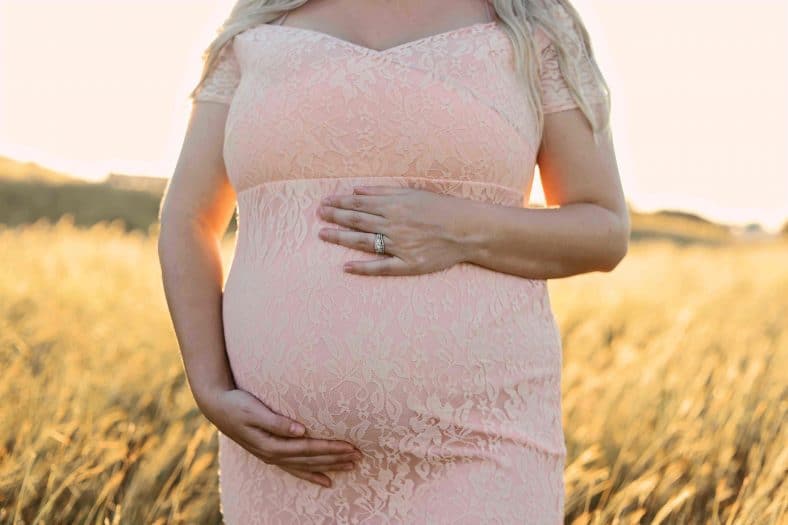 When you're shopping around to find the best pregnancy clothes, you need to remember these tips to get the most out of your budget. Because there are a lot of trendy maternity clothes are available in the market. Wise purchases will last you even longer than the pregnancy and, perhaps, through multiple pregnancies. 
Read More: You can learn more about the best foods to eat when you're pregnant.
Whatever fabric that you pick needs to be stretchy. You don't know where all of your weight will be distributed over the second and third trimester. Flexible fabric is a must-have, letting you be more comfortable and helping the clothes fit your growing and changing body better.
You don't just get to wear the clothes while standing and not moving. You're going to bend over, tie your shoes, chase a toddler, and make dinner. When you try on the clothes, move on them and look for any sheerness. Step out of the fitting room and look in different, brighter lights. Maternity clothes typically are stretchy, so sometimes that means they are a bit sheer as well.
Ruching is your friend. It lets maternity clothes to grow with your bump, and it works with all body types. You won't run into issues no matter the trimester that you're in, so it's safe to buy ruching tops in the first trimester. They're flexible with all body shapes.
Try to think beyond the pregnancy. It's nice when there are nursing features built in, so if you intend to breastfeed, maternity clothes should be able to perform double duty.
If you have a friend or relative that might have some maternity clothes in their closet, don't hesitate to ask! People love to share maternity clothes because moms only have to wear them for a few moms. It saves you money and makes the original owner feel like they wisely spent their money.
---
The Best Maternity Clothes for Your Money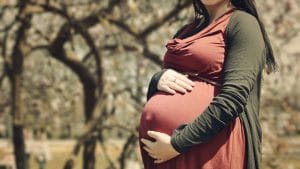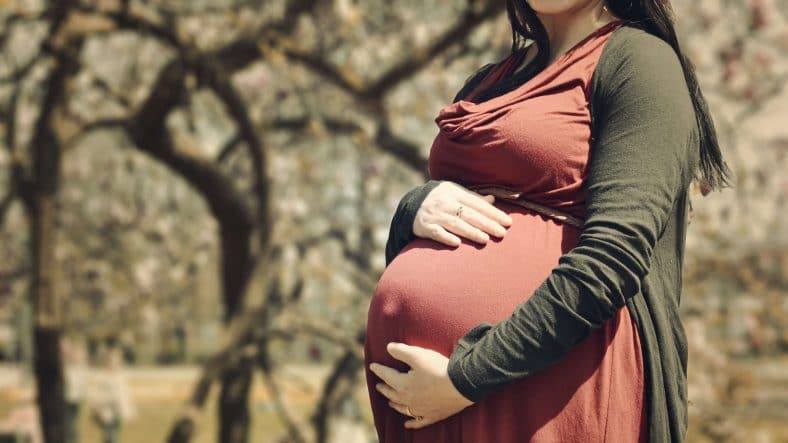 You don't want to go buy a full new wardrobe that only works for a few months. Some of your current clothes may work for all or some of your pregnancy, like your t-shirts and sweatpants. Depending on the material, some other shirts may work as well.
Wondering what items you really need to buy? Here are the essential maternity clothing.
One of the first things you will need to buy in your pregnancy are bras. Your breasts start to change in the first trimester, becoming sore and growing. A good, supportive pregnancy bra helps to give your breasts room to grow and support to reduce the soreness.
During pregnancy, your breasts grow and change cup and band sizes for a variety of reasons, such as:
Weight Gain

Hormonal Shifts

Expanded Rib Cage

Swelling

Milk Production
By the third trimester, you might need to upsize again. Nursing bras are a must-have item if you plan to breastfeed. You should invest in one or two high-quality nursing bras. These will work throughout the third trimester and your postpartum stage.
When you want to purchase the best maternity bras, look for a few things, such as:
Don't go for underwire for your everyday maternity bra or while breastfeeding. Underwires can cause damage to your milk ducts, and they're just uncomfortable.
Pregnancy does weird things to your body and boobs. Towards the end of your pregnancy, you might start to leak colostrum, and you'll definitely leak after delivery when your milk arrives. You want a bra that provides good coverage because no one wants a wardrobe malfunction.
Thick straps give you better support and more comfort. Those straps keep the girls up in place and prevent strain on your back.
Pregnancy hormones cause your nipples to be sore and sensitive. Rough fabric can make you feel uncomfortable, so look for soft-lined cups that won't irritate, chafe, or rub your nipples.
An extra row of hooks makes your bra more secure. It will let you adjust to more sizes, giving you more use of the bra. Also, the extra hooks will provide more support and reduce strain.
Throughout pregnancy, your cup and band size will continue to grow throughout pregnancy. You want a bra that is adjustable and flexible so that you don't outgrow it too quickly.
Another aspect to help to provide support to your body. If your bra doesn't have a wide band, then it might cause your breasts to pull on your back. Back pain is never enjoyable.
---
Top Suggestions for Maternity Bras
1

Kindred Braverly Simply Sublime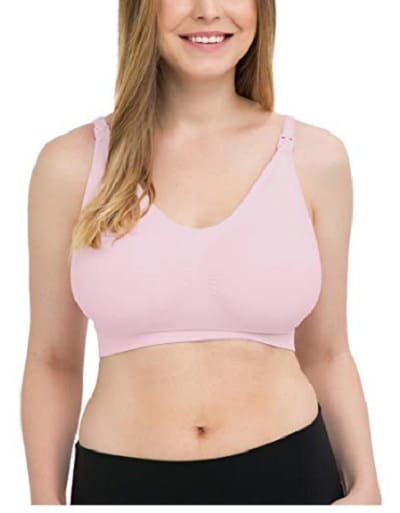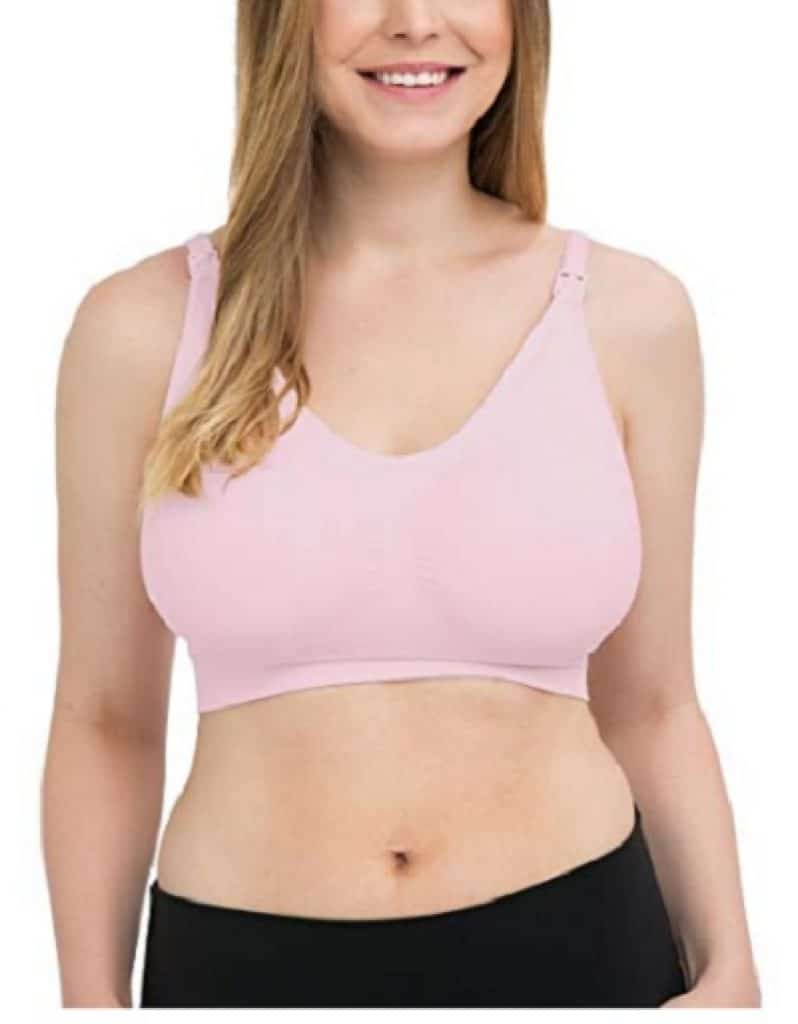 This bra is soft and roomy with enough stretch to accommodate your growing and changing body. At the same time, the bra provides the right amount of support and coverage with full-cups. The band is wide with three clasps, keeping your breasts secure.

Check Pricing and Availability
---
2

Kindred Braverly Terry Scoopback Sleep Bra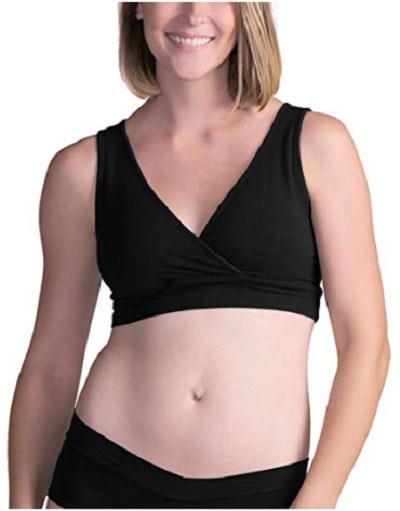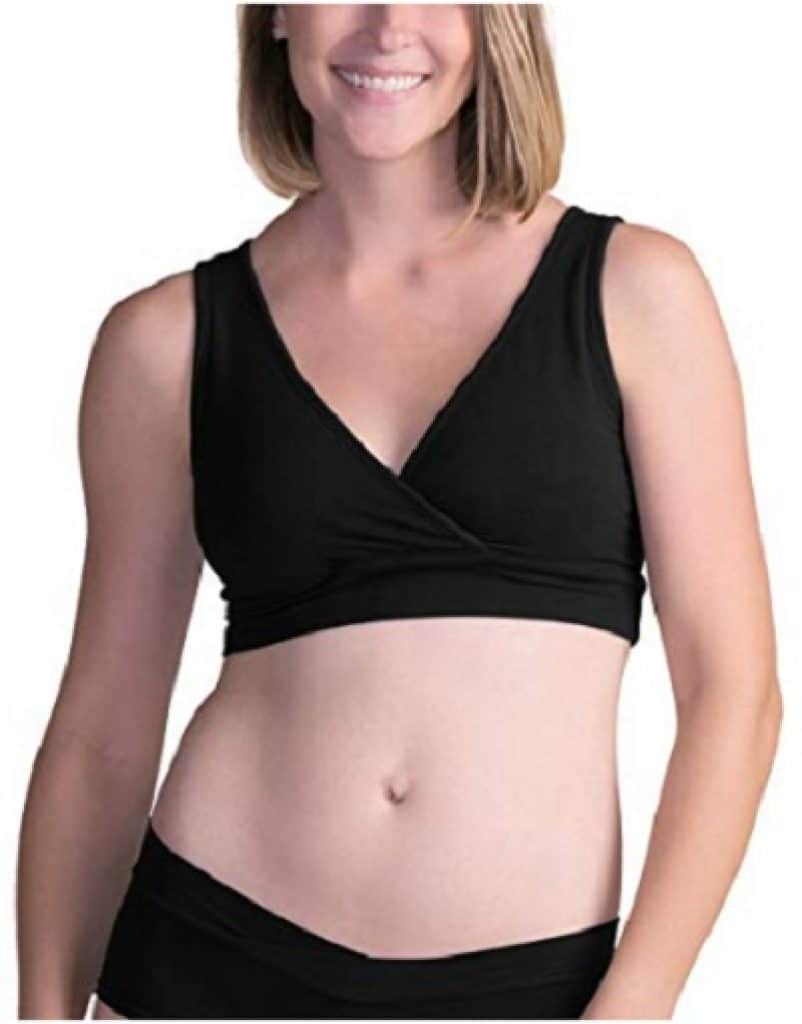 Every mom needs a good sleep bra, and this ultra-soft French Terry material is perfect for sleep. The fabric is stretchy, accommodating your growing boobs. There are no wires, clasps, or hooks, making it easy to use in the middle of the night. Kindred sells this bra in a range of colors and sizes.
Check Pricing and Availability
---
3

Hofish 3-Pack Maternity Bras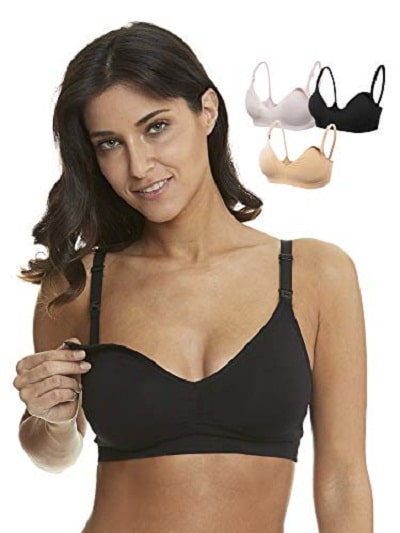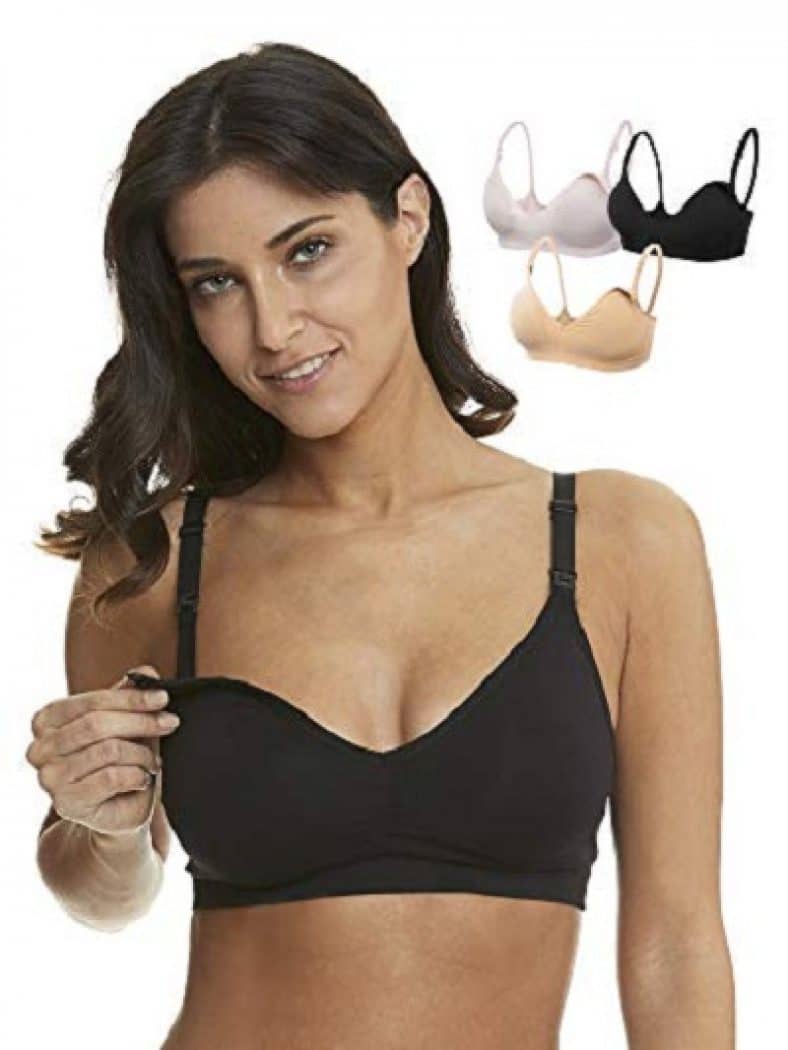 Moms need a sexy and sleek bra, and the Hofish adds extra support without any extra, bulky fabric. It has a deeper V-neck design with push-up padding. The bra will make you feel confident and sex while still having the right amount of support.
Check Pricing and Availability
---
4

Mothers En Vogue Seamless Nursing Bralette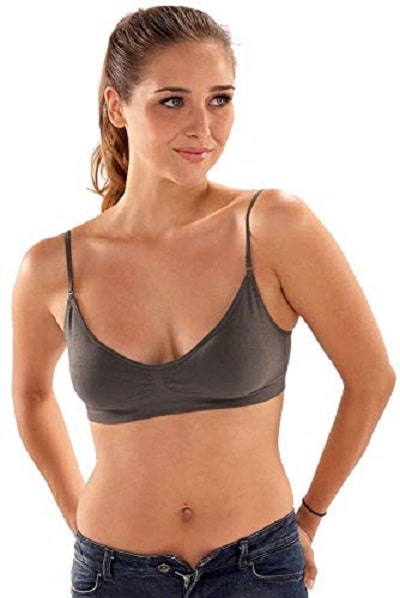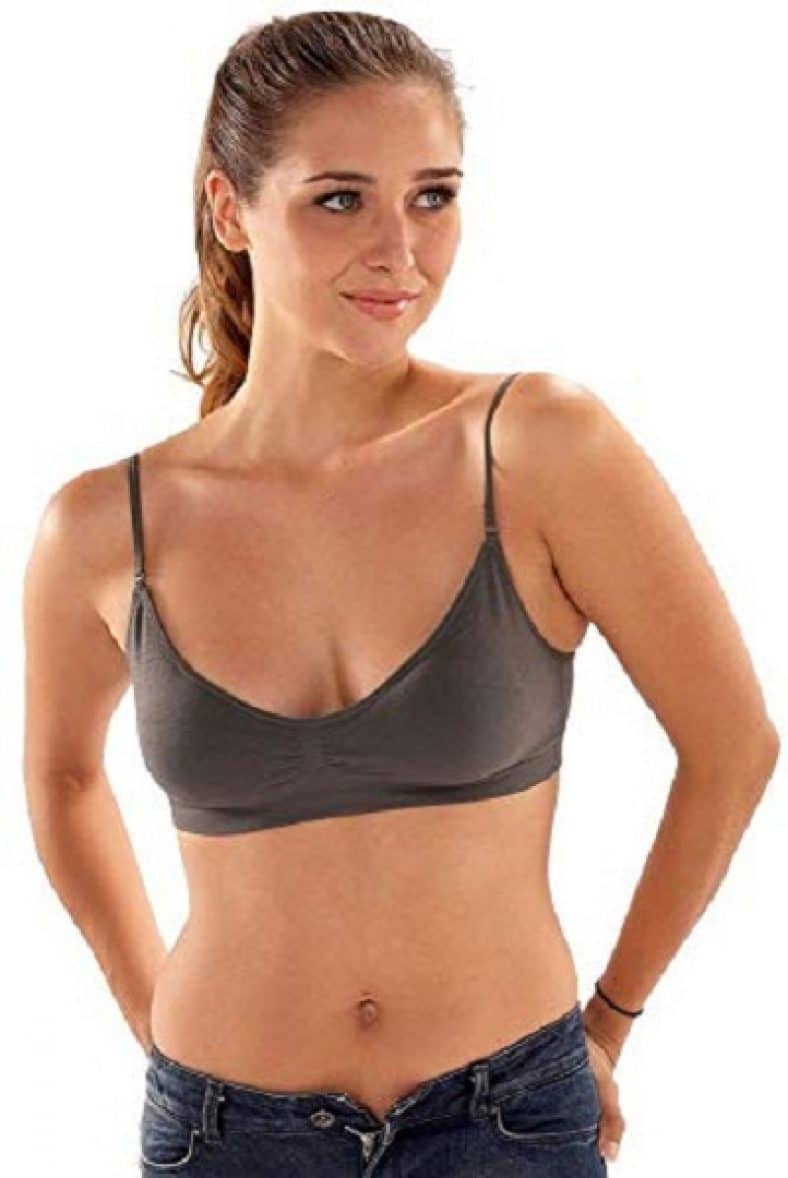 For moms with small breasts, the Mother En Vogue is designed for small-breasted mamas with cup sizes A to C. It has a low profile, made of nylon, spandex, and cotton. The bra is stretchy, adjusting to your breasts and body change.
Check Pricing and Availability
---
5

Voygal Seamless Nursing Bra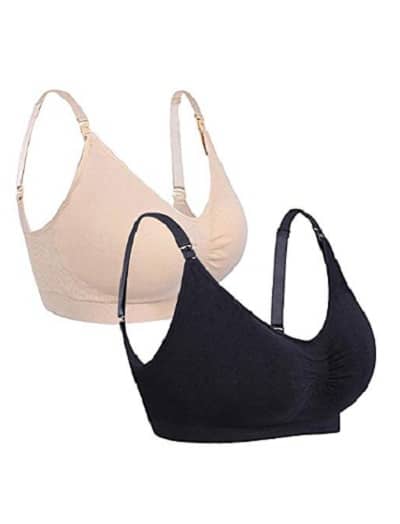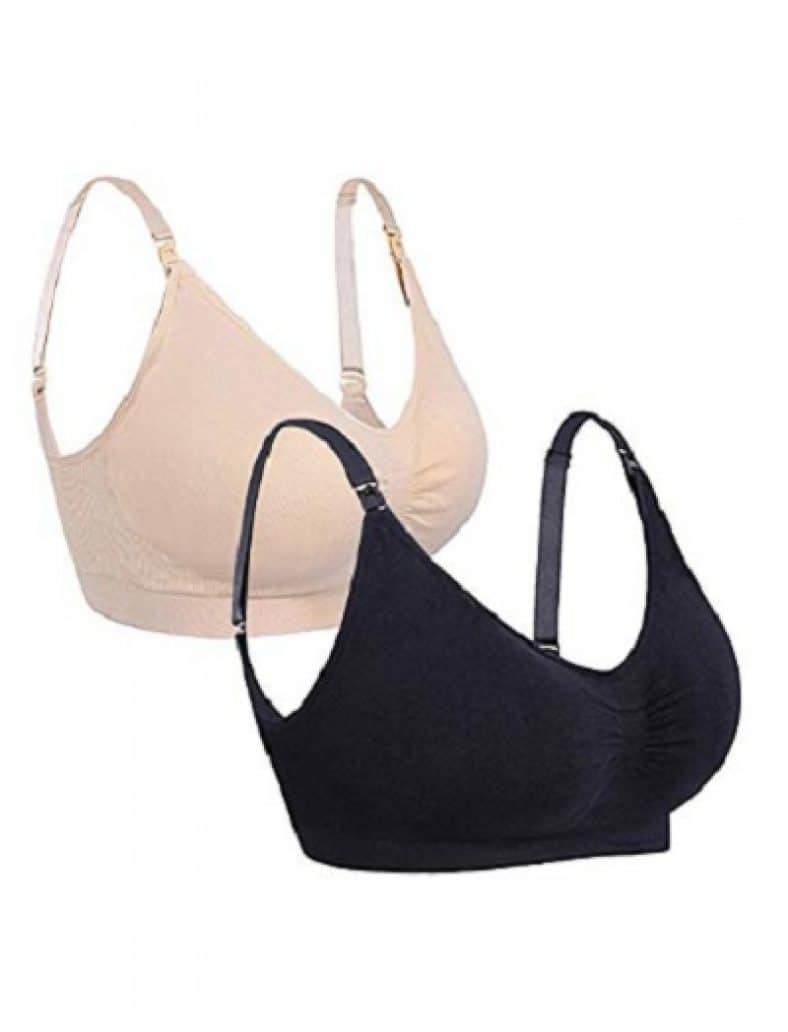 If you want a good maternity and nursing bra, the seamless design reduces chafing. The elastic band lets the bra conform to your body with a three hook-and-eye loops for additional support. Voygal added removable padding and a nursing panel. You can wear it throughout pregnancy and postpartum periods.
Check Pricing and Availability
---
Long Tank Tops
Some people don't consider long tank tops a necessity, but they are. The long, stretchy tank tops help to extend your wardrobe. You want them to be as long as your bump will be by the end of your pregnancy, letting you use them throughout your entire pregnancy.
One of the best reasons to use long tank tops is that they can help you wear shirts longer. At some point, your current shirts will get shorter, so you can put a tank top underneath to avoid your midriff from showing. Layering is key when you're trying to make your maternity wardrobe.
You have two options when it comes to long tank tops. You can either size up your regular tanks tops or grab 2 or 3 nursing tank tops. Nursing tanks are great because you can use them throughout pregnancy and breastfeeding. They're more expensive but you will get plenty of use out of them.
Moms love the nursing tank tops because you can use them to turn any shirt into a nursing shirt. They keep your belly covered, and you'll definitely want these during the summer months!
---
Top Suggestions for Maternity Long Tank Tops
1

Zumiy Pregnant Maternity Cami Shirt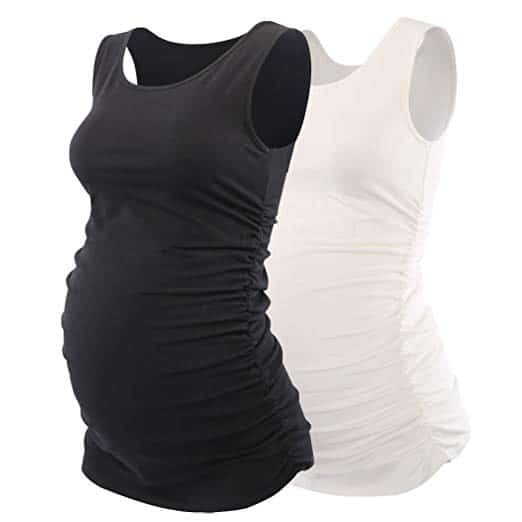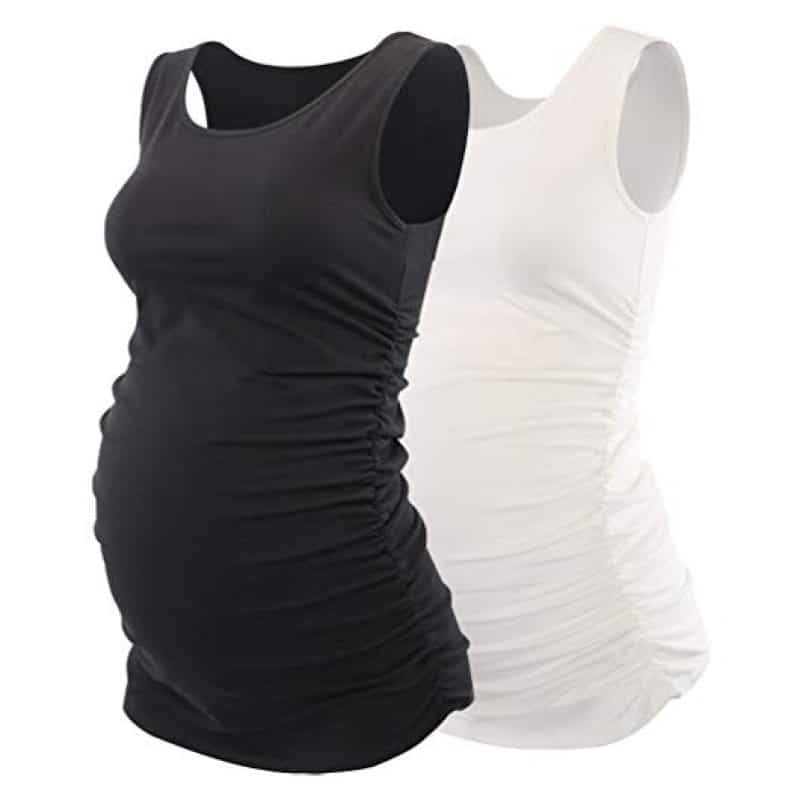 One of the top rated choices is by Zumiy. It's made of 95% cotton and 5% spandex. The neckline is rounded, and the sides feature a ruching waist design that accommodate your growing body throughout pregnancy and postpartum. These tank tops offer the ultimate stretchy fabric.
Check Pricing and Availability
---
2

Hofish Ultra-Soft Pregnant Seamless Nursing Cami Tank Top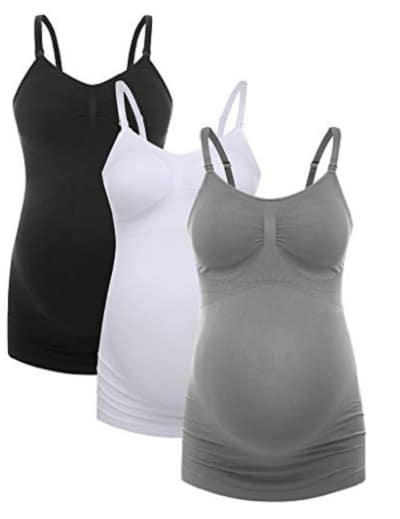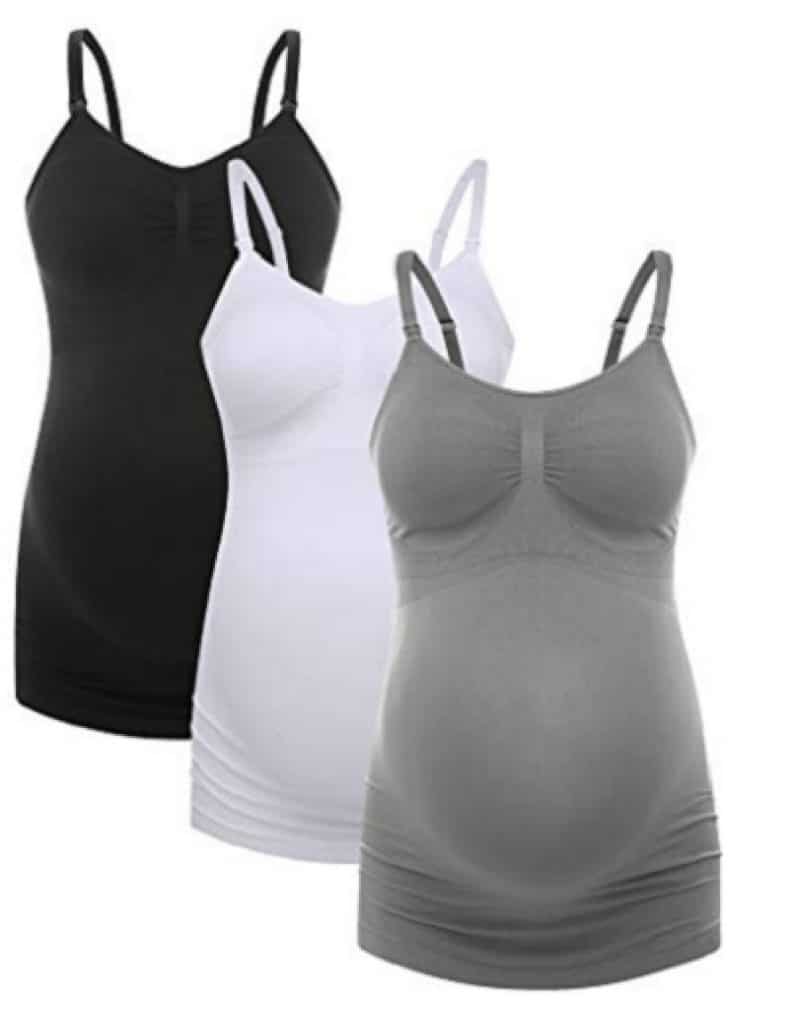 Hofish sells these tank tops with nursing pads in a 3-pack. They're great for pregnancy and nursing, featuring adjustable shoulder straps and easy drop cups for easy feedings. These tank tops are seamless and feature breathable, full coverage.
Check Pricing and Availability
---
3

Ecavus Mama Basic Layering Maternity Tank Top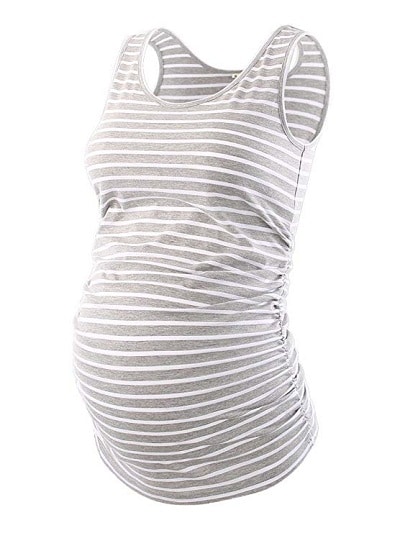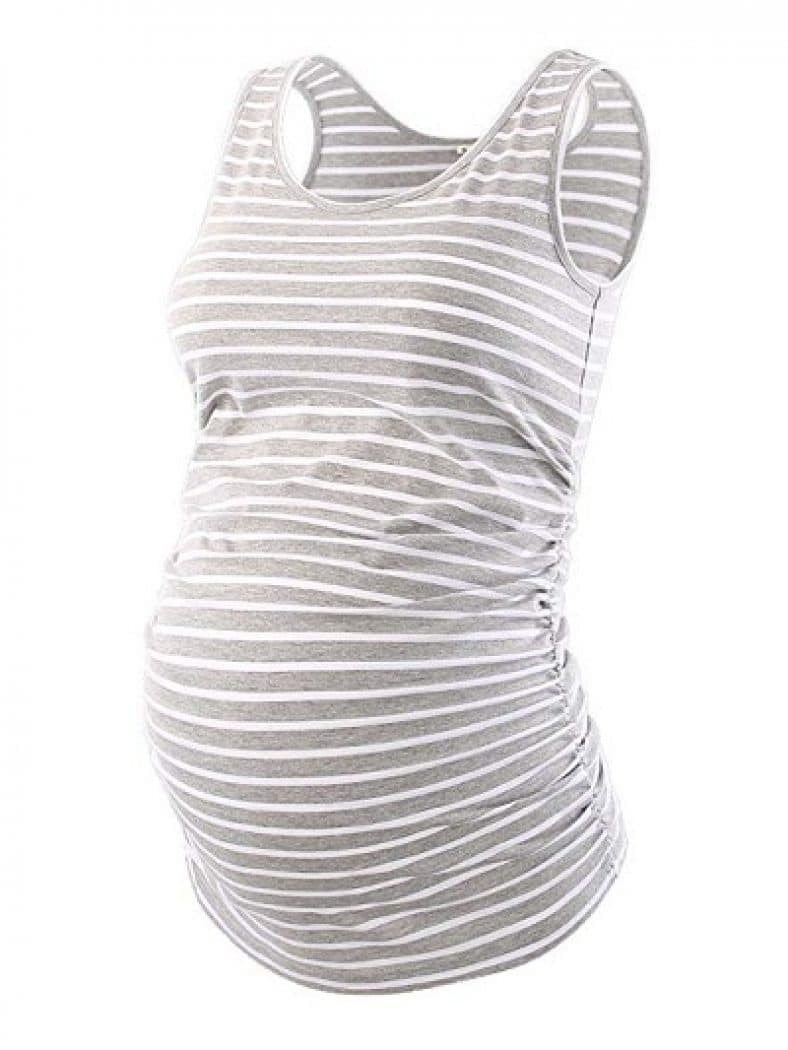 Ecavus uses 95% cotton and 5% spandex, featuring super-soft jersey. This material is stretchy, creating a comfortable fit. The sides of the tank tops have ruched side details for a good silhouette. Moms like the scoop neck in the front and back, flattering through the entire pregnancy.
Check Pricing and Availability
---
4

Peauty Maternity Tank Tops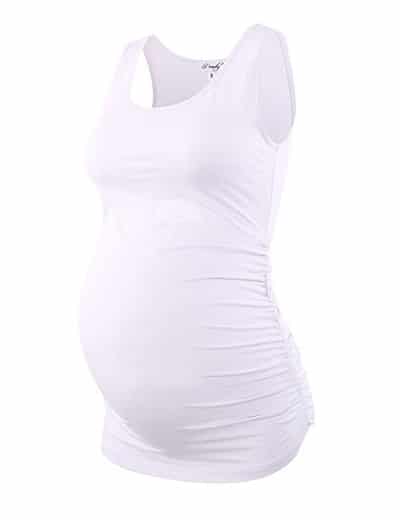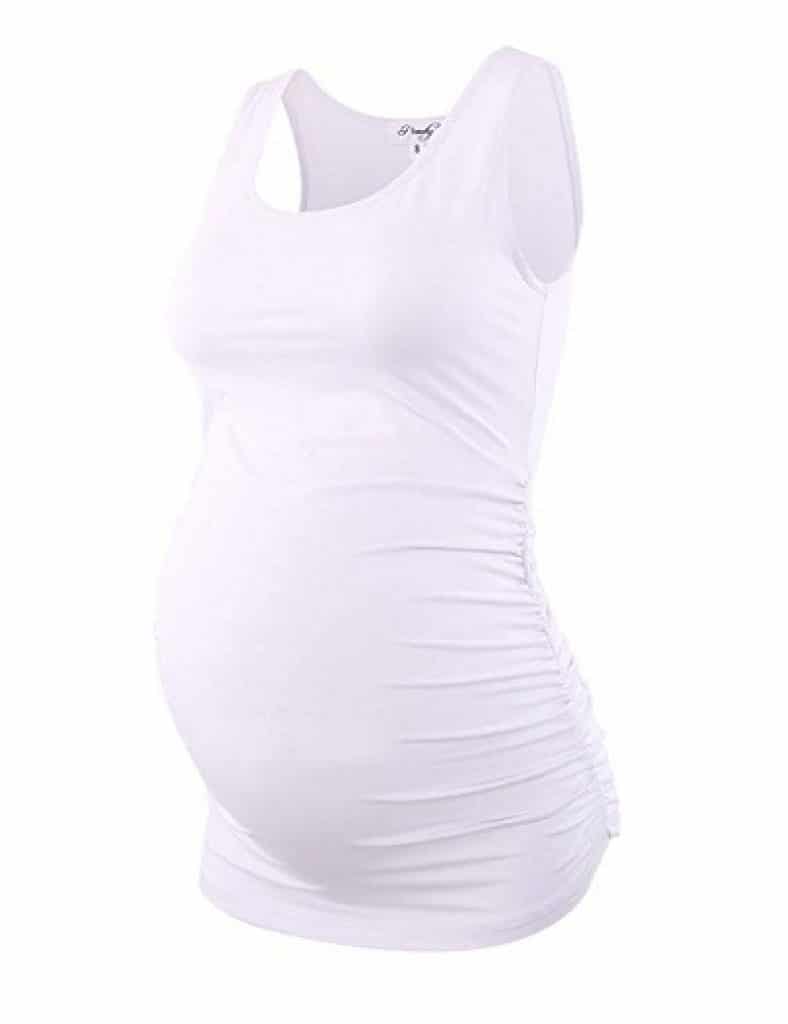 Peauty tank tops are made of 95% rayon and 5% spandex. The ruched waist design is long and multi-purposed, covering your bottom. Moms like the round neck and sleeveless design. It's the perfect top to wear with leggings, jeans, or shorts. This is the classic maternity tank top.
Check Pricing and Availability
---
Maternity Underwear
More than your belly grows during pregnancy – your butt does too. Pretty soon, once you enter the second and third trimester, you'll notice that your underwear is getting tighter. You will want to either invest in some maternity underwear or size up your current underwear. It's worth the comfort to have some underwear that actually fit your growing butt.
How Many Pairs Do You Need?
Unless you do laundry often, you want to make sure you have at least a week's worth of underwear on hand. Most women get 10 pairs or more, so that they don't have to stress about washing clothes quickly.
How to Pick The Best Maternity Underwear
Shopping for maternity underwear doesn't take a lot of work. You have a few things to consider, such as:
There are three different styles of underwear, such as:
This style is extra long and fully covers your bump with the waistband hitting right over your navel. It might go up around your ribcage depending on how far you are in pregnancy. This style is great for those who want support and coverage or when it's winter and your butt might be cold.
That happens to the best of us.
This style is prettier than the over the bump style, and they do look very similar pair of underwear for when you aren't pregnant. Low-rise underwear are lightweight and won't bother you. However, this style won't work for those who want the coverage and doesn't add sturdiness. This style is ideal for the earlier months, but they won't be visible under clothing.
Some maternity underwear have absorbent panels for incontinence – these things happen when you're pregnant as well. Some help you feel dry and comfortable throughout your day. Other companies add heavy-duty support panels for your bigger bumps. There are seamless underwear that get rid of visible panty lines.
You have to consider your current size and how many weeks you have left until you deliver your baby. Think about how many pounds you might gain during that time. Some women gain more than 25 pounds while others only gain 20 pounds. Every woman is different. If you are expecting twins, you will gain even more.
The good thing is that comfort doesn't have to equal ugly. Pick underwear that makes you feel good about yourself. Some are comfortable, some are fashionable, and many are both. You do a lot of work each day, and your underwear shouldn't hold you back or irritate you.
---
Top Suggestions for Maternity Underwear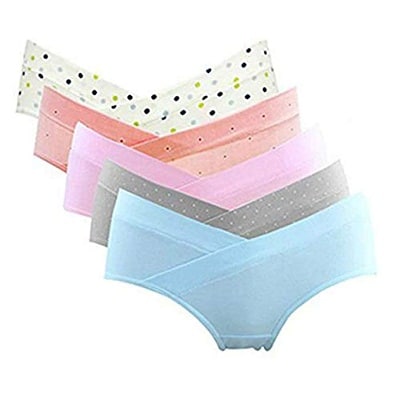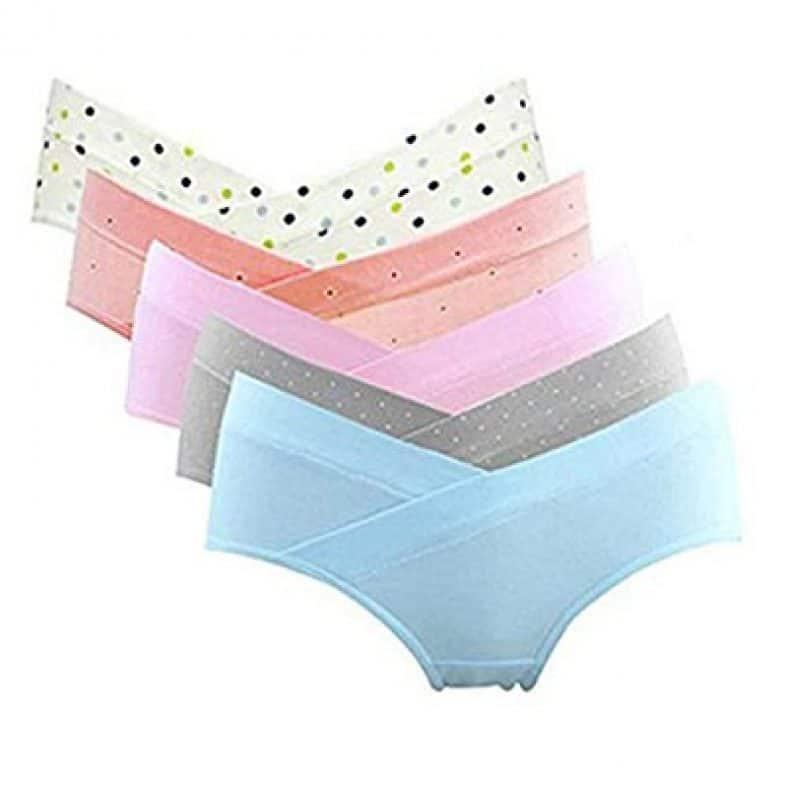 Giftpocket underwear are made of 95% cotton and 5% spandex. These underwear sit low on your waist, providing moderate coverage on our butt. Nothing will hang out! Each pack contains three pairs of underwear, and they come in several different colors. You'll love how soft and breathable the material is.
Check Pricing and Availability
---
2

Kindred Braverly Under the Bump Maternity Underwear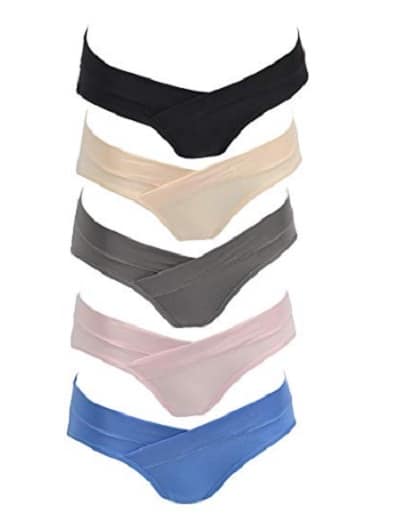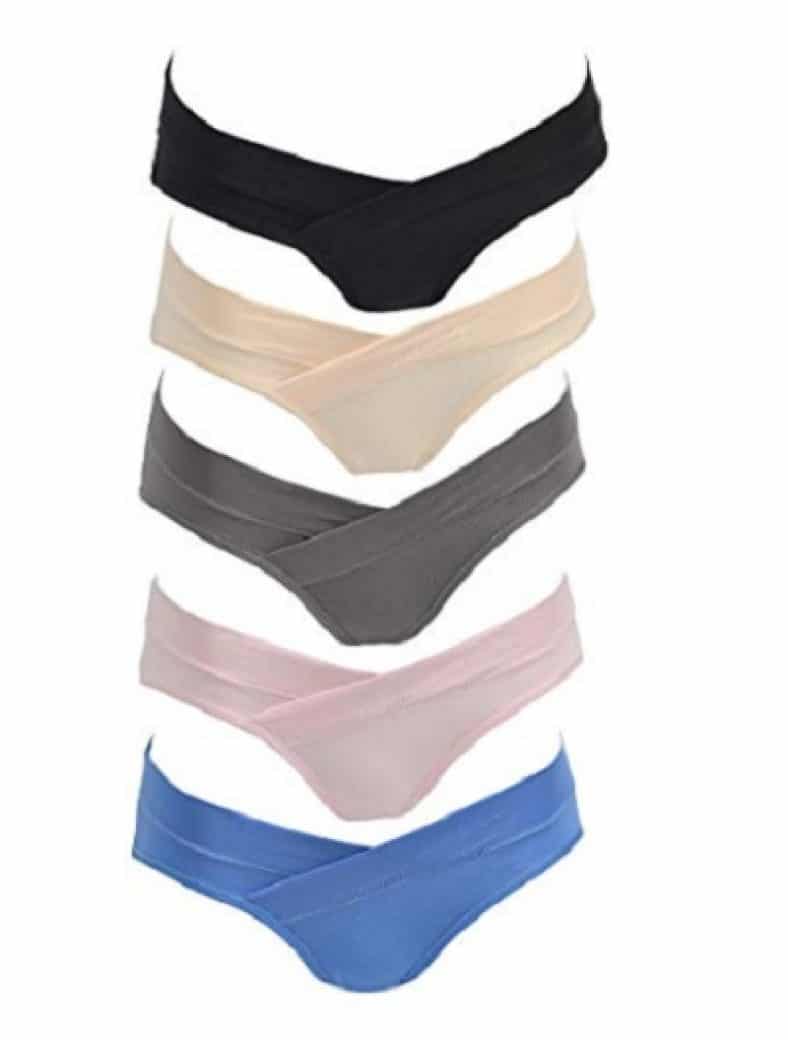 Do you want a good, low rising underwear that work for jeans? The Kindred Braverly works with all types of clothing, especially jeans. They don't have any extra bulk or discomfort with a low riding waist and soft fabric. It conforms to your body as it changes and grows.
Check Pricing and Availability
---
3

NBB Lingerie High Cut Maternity Panties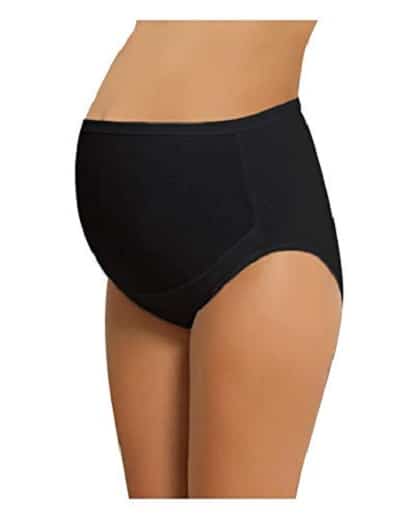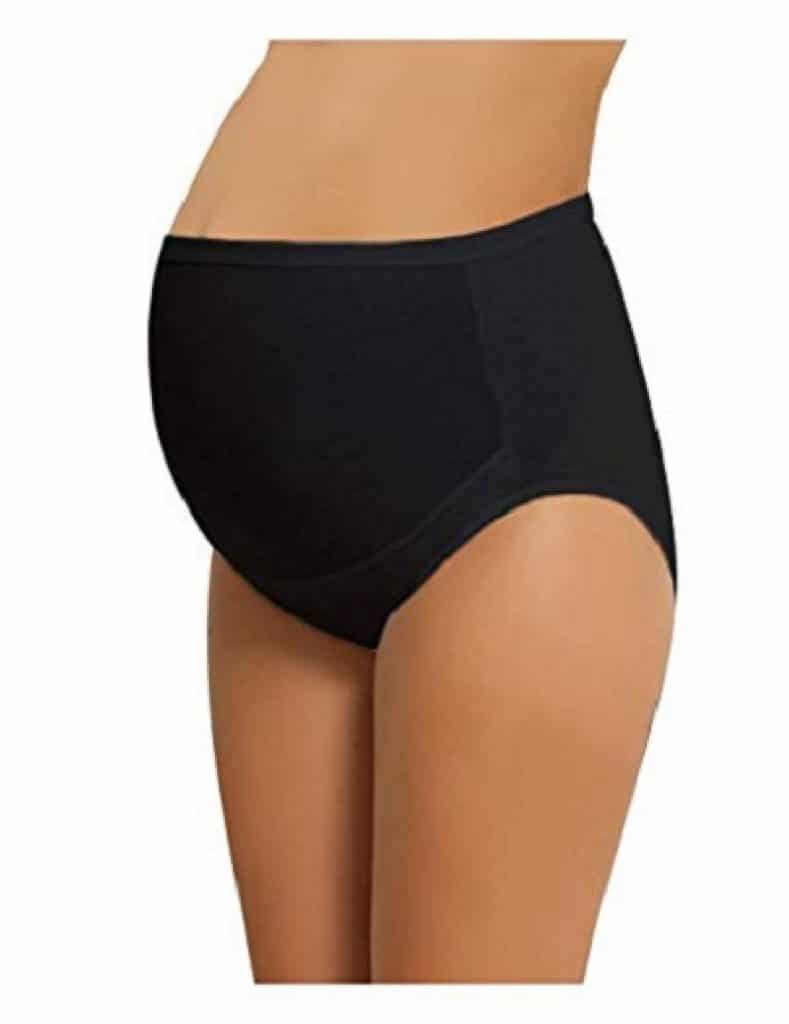 If you want a good pair of over the bump maternity underwear, the NBB Lingerie Panties are great. They reach your belly button and stay put without slipping or sliding. The band is gentle and won't press uncomfortably in your belly. Since these are made of cotton, they won't feel hot or scratchy.
Check Pricing and Availability
---
4

Hanky Panky Women's Low Rise Thongs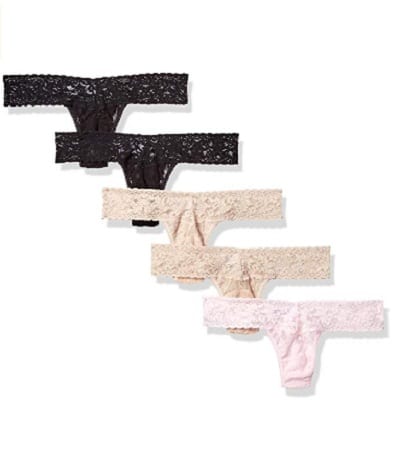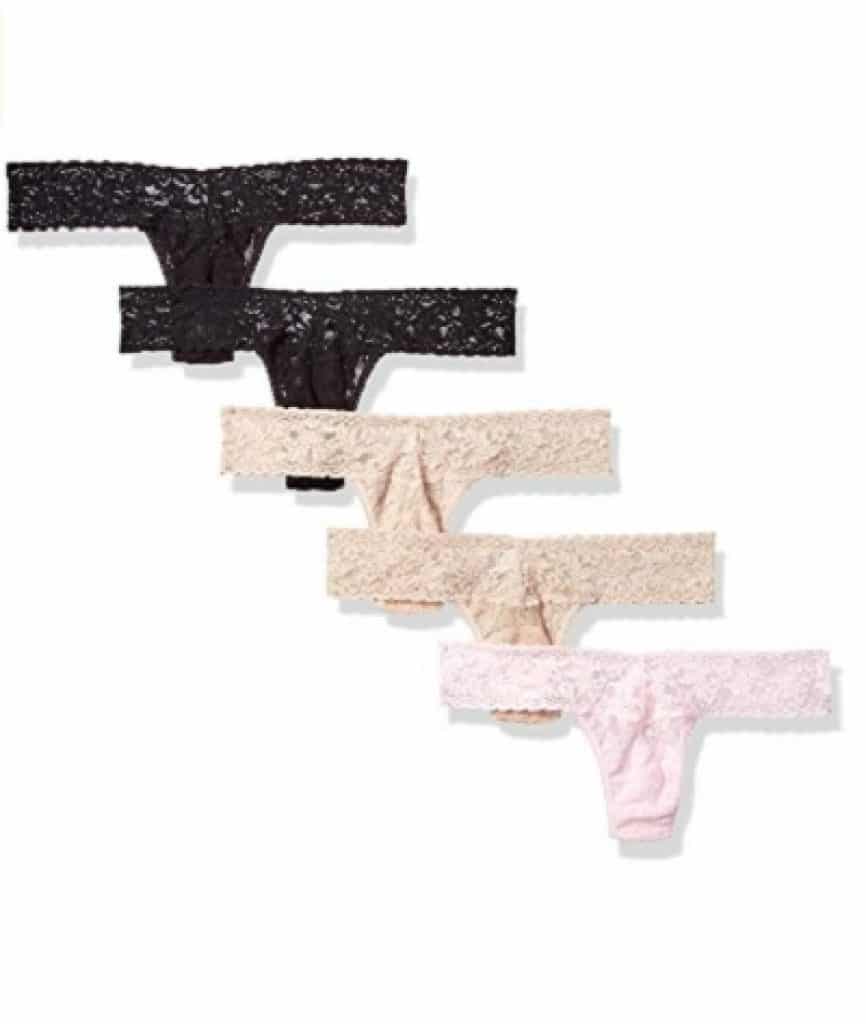 Every woman needs a pair of sexy underwear. The Hanky Panky thongs are made of durable lace, stretching to fit over any body size and shape. These thongs have a v-front and v-back waistband, fitting well under dresses, pants, and shorts. You'll feel sexy and confident when you wear these, waiting to surprise your partner later.
Check Pricing and Availability
---
5

Motherhood Maternity Fold Over Brief Panties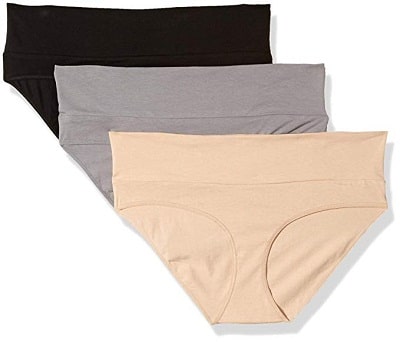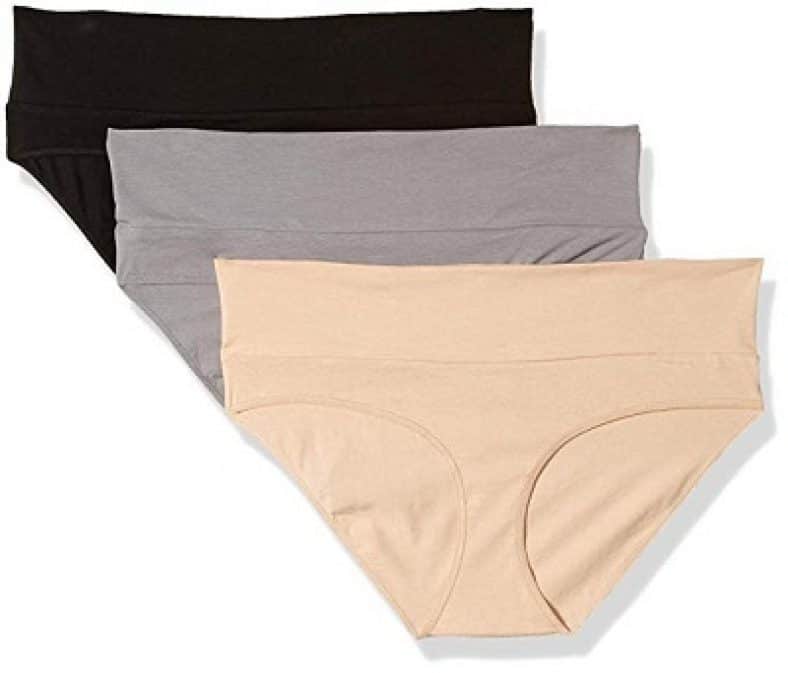 These Motherhood Maternity panties are great for every trimester. They are fold over underwear that adapt to meet your needs over the months. In the beginning, when your baby bump is small, you can fold the underwear over to stop bunching. As your bump grows, the top panel can be unfolded for support.

Check Pricing and Availability
---
Since you probably can't go pantless all day every day for half of your pregnancy, you'll need some bottoms. You need to consider investing in:
Invest in a good pair of maternity jeans, and you'll want two or three pairs of maternity leggings. Leggings are so comfortable and conform to your growing bump. Maternity leggings are also great during your first trimester when your belly is just tiny and you're suffering from morning sickness and bloating. You want to be comfortable, and leggings will help keep you comfy.
Considering leggings are a must-have for most women's wardrobe, it's not wonder that maternity leggings top the list of essential maternity wear. They're a mixture of pants, tracksuit pants, and heaven. They can be comfortable around-the-house wear, dressed up with a top for work, or casual with a tunic when you head to the grocery store.
Maternity leggings are probably the most important maternity clothes you will add to your wardrobe. Now, you can wear non-maternity leggings, but remember that maternity leggings have a waistband that is forgiving. This style won't push on your stomach making it uncomfortable.
---
Picking Some Maternity Jeans
When you're picking maternity jeans, make sure they have plenty of stretch. Some have the elastic bands or panels at the top to accommodate your growing belly. Under the bump maternity jeans have a wide, elastic waistband that sits below your belly. These are great throughout the early stages of pregnancy especially when you don't want any tightness around your belly when you're nauseous.
Over the bump pregnancy jeans work best in the later stages of pregnancy or for those who have had a c-section. These get pulled up high over your belly, so they stay in place and stay above your lower stomach. No matter how big your belly is these pants stay in place. Both of these types are soft and comfortable.
---
Top Suggestions for Maternity Bottoms
1

Three Seasons Boot Cut Maternity Jeans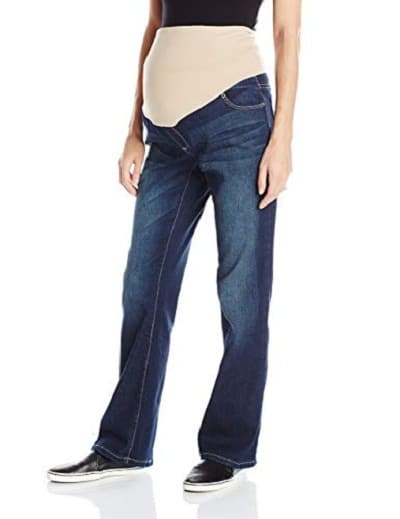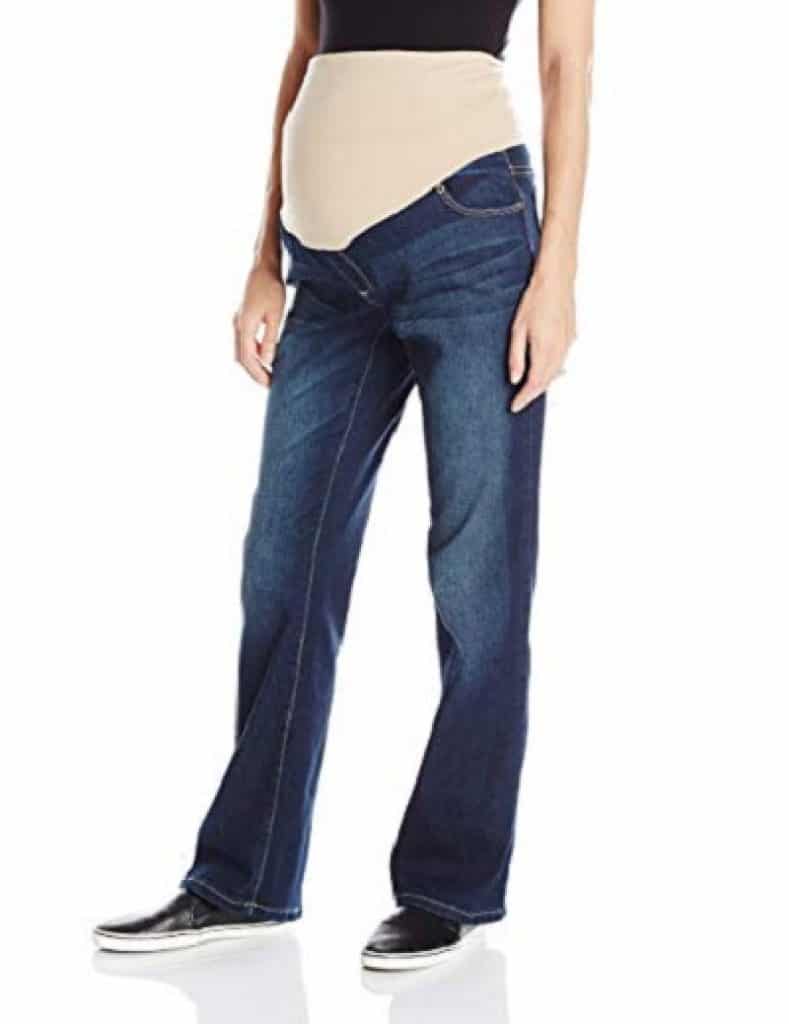 These are relaxed, yet stylish, jeans that give you room in your thighs to grow. You don't have to worry about them being too tight. They flare a bit at the bottom. At the waist, there is a light-colored belly band that won't show through thin tops. The embroidered pockets are placed on your bum to reduce the look of sagging.
Check Pricing and Availability
---
2

Levi Strauss Signature Maternity Skinny Jeans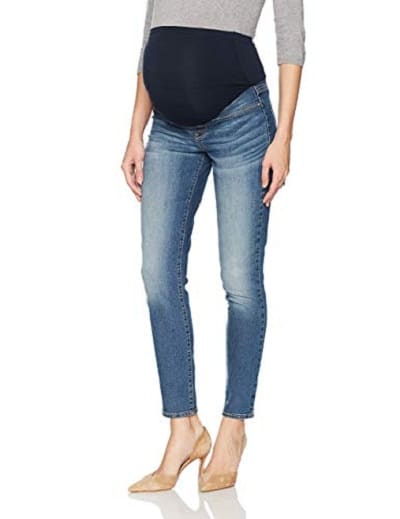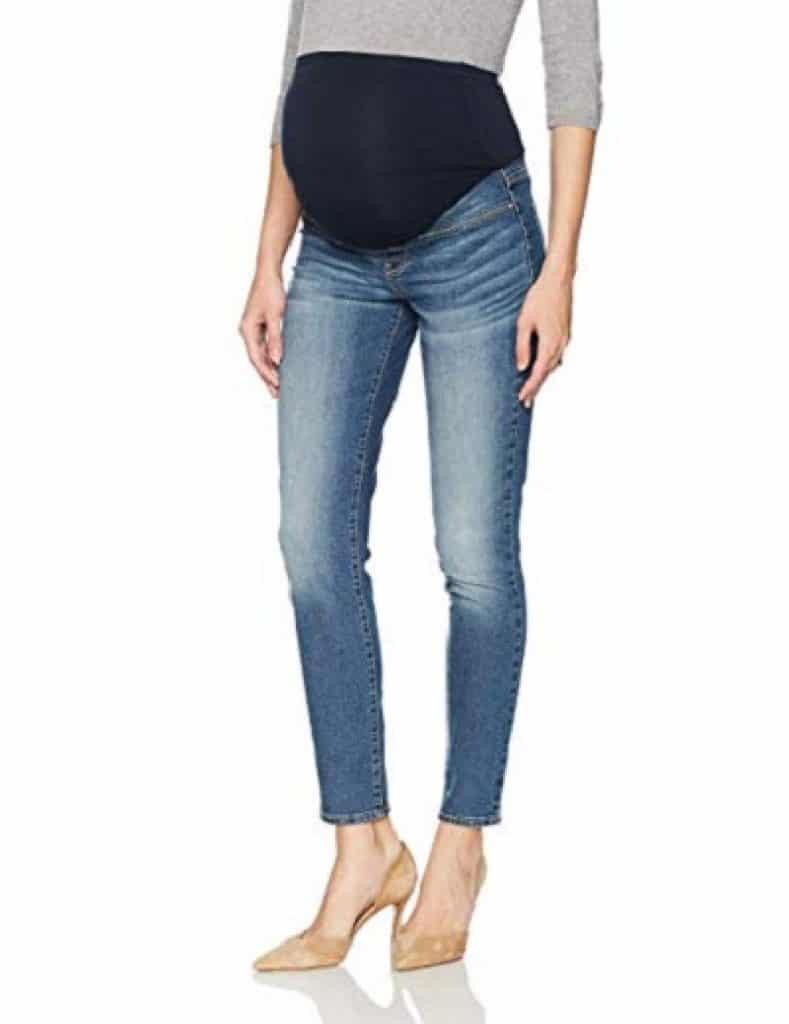 If you need an affordable pair of maternity jeans, the Levi Strauss Skinny Jeans come in four different washes. They have a skinny fit, made of stretchy denim that keeps its shape. Levi added a full-belly panel to keep the jeans in place over your growing belly.
Check Pricing and Availability
---
3

Three Seasons Skinny Maternity Jeans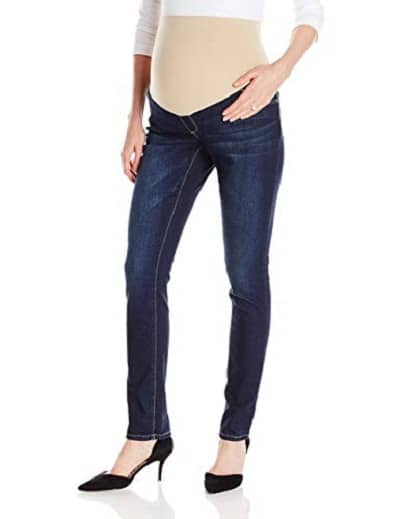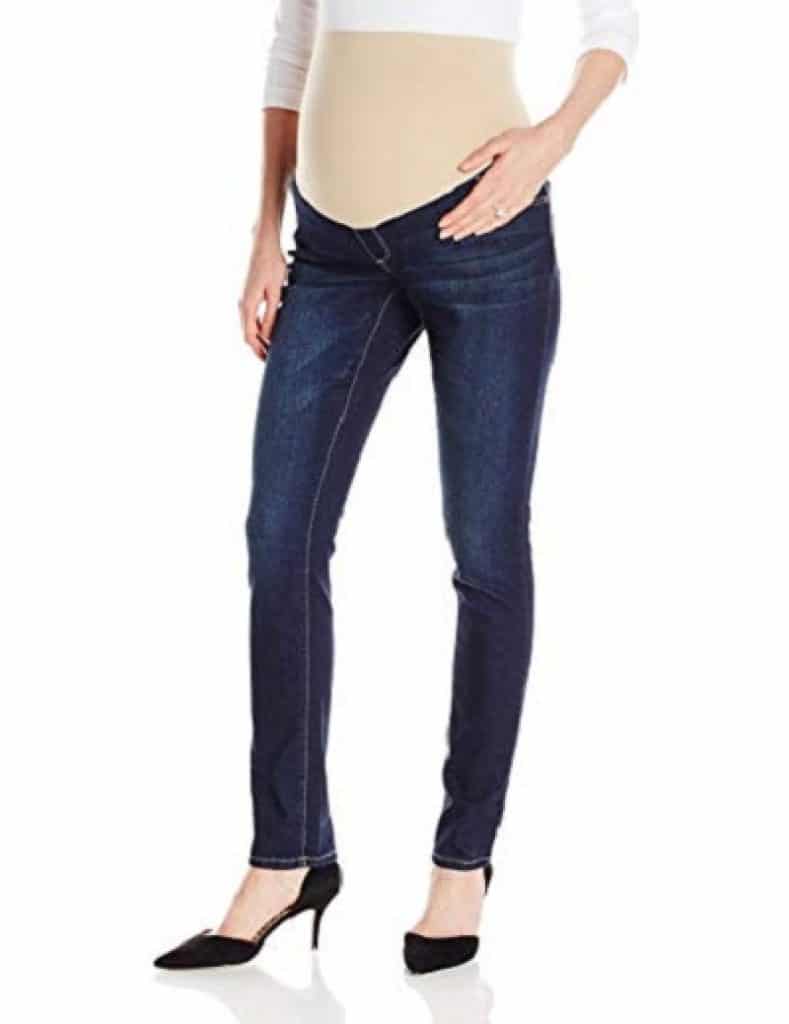 This skinny jeans are a wardrobe staple. Moms love the dark wash on these jeans that make them easy to dress up for work or casual enough to head to a restaurant with friends. Three Seasons added a neutral-colored belly band to keep the jeans in place and won't show through your top. You'll love the fabric blend that helps the jeans give and move with you comfortably.
Check Pricing and Availability
---
4

Motherhood Maternity Women's Maternity Full Length Leggings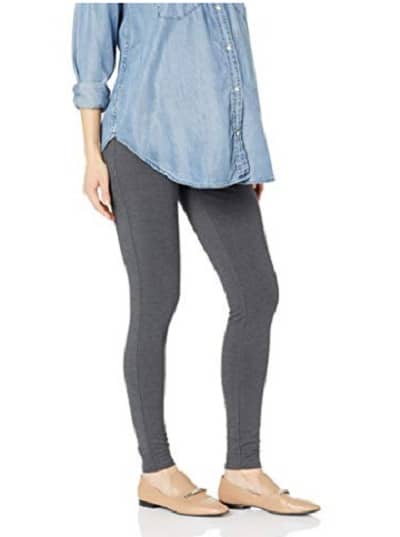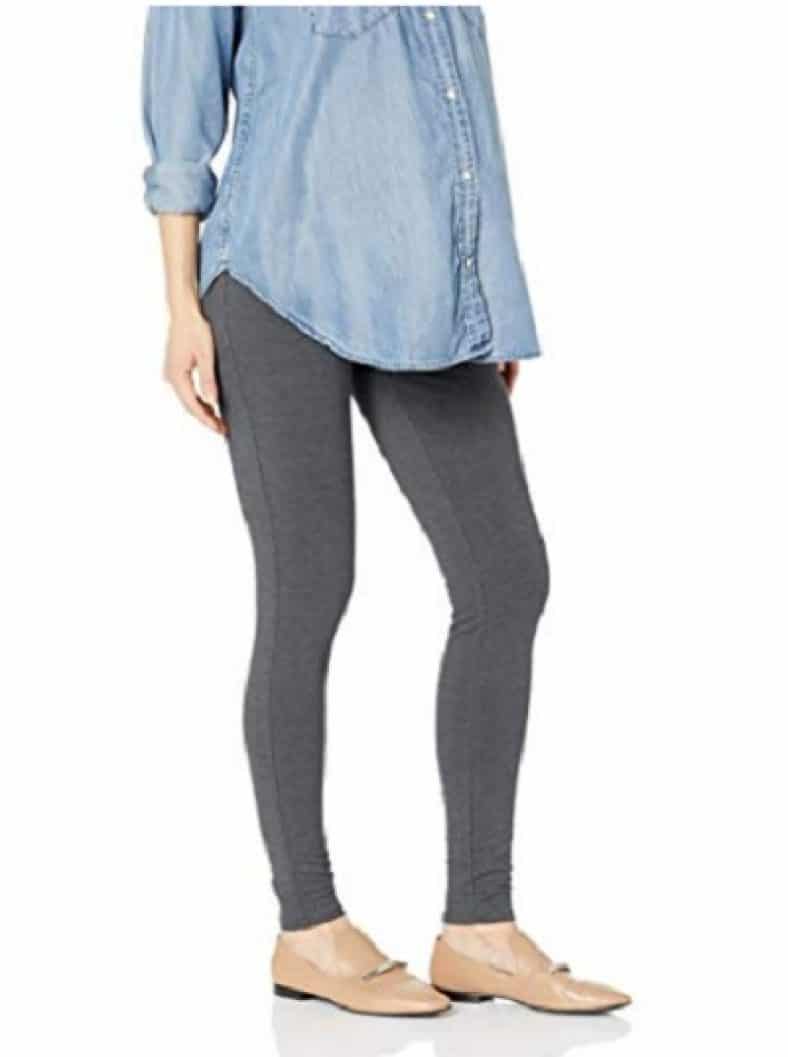 These leggings are a blend of cotton, polyester, and spandex. They're great for layering during pregnancy. You can wear them around the house or dress them up with a tunic. The leggings have a 29-inch inseam, functional back pockets, and a full-belly panel.
Check Pricing and Availability
---
5

Mothers Essentials Maternity Leggings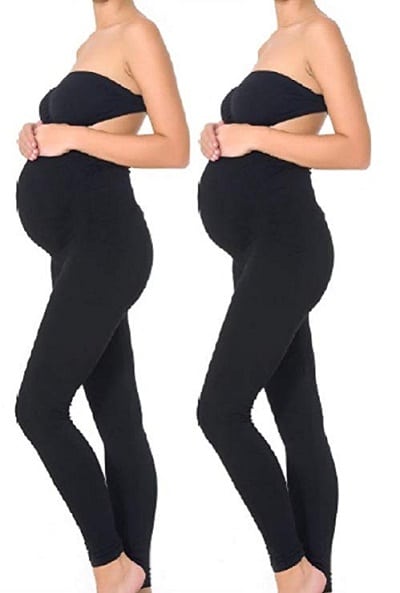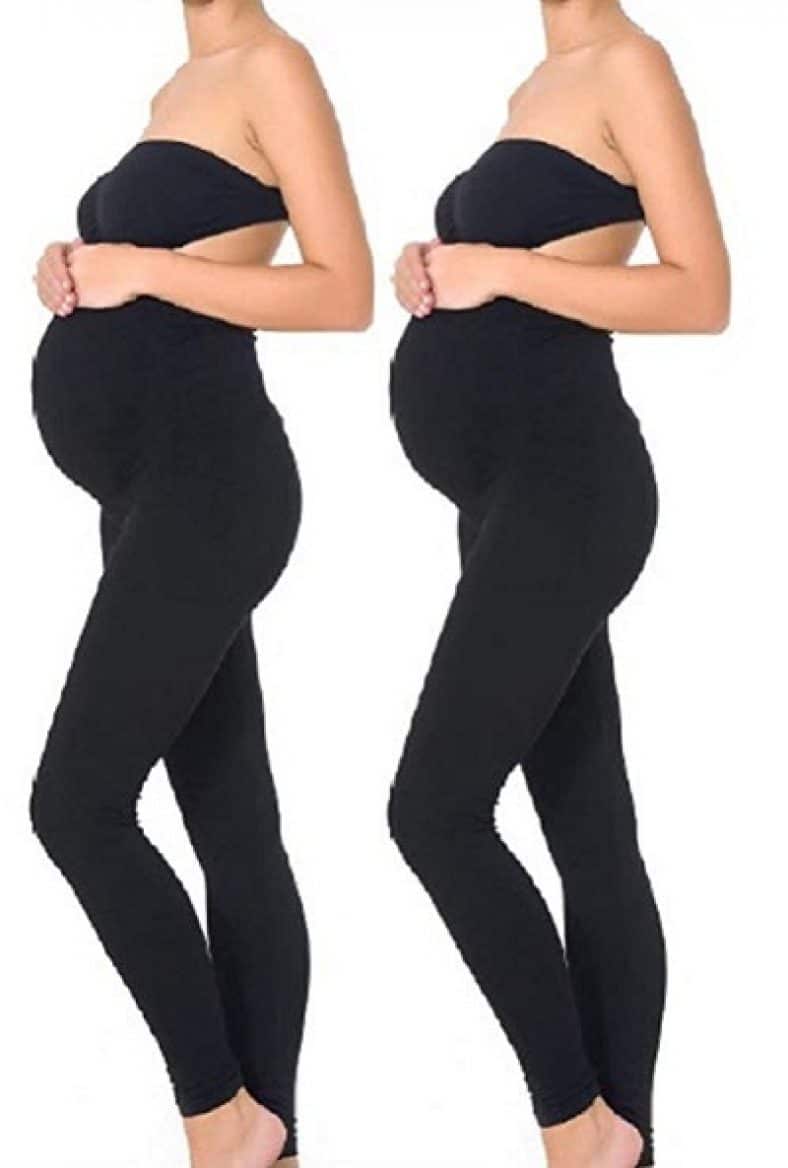 These are a seamless, comfortable maternity leggings that offers posture and back support. The elastic fabric gives your belly support. You can comfortably wear them during and after pregnancy. Some women love them for after workout gear because they're moisture wicking maternity leggings.
Check Pricing and Availability
---
6

Shop Pretty Girl Maternity Leggings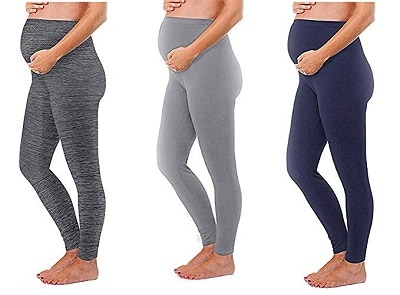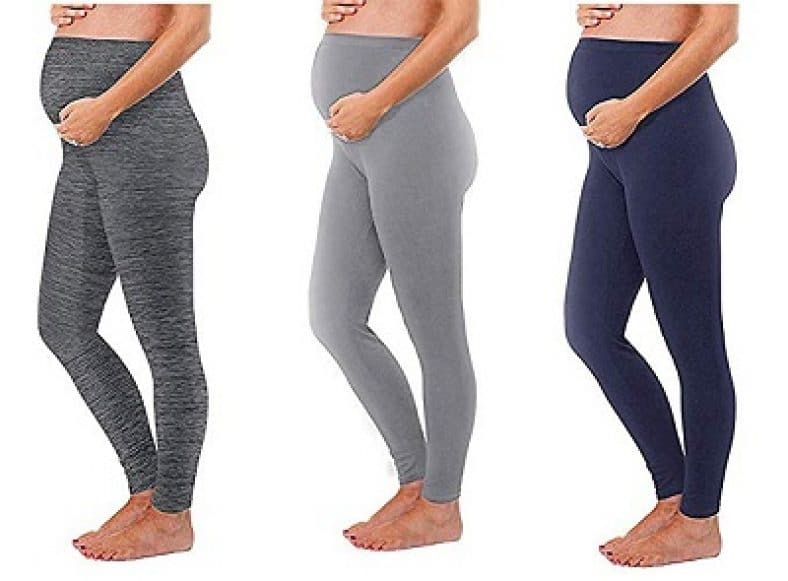 These are a one-size-fits-all maternity leggings. Each pack contains three leggings, so they're a great affordable choices. They're ultra-soft, seamless maternity leggings that will embrace your changing body. The leggings are made from 92% nylon and 8% spandex.
Check Pricing and Availability
---
7

Levi Strauss Mid-Rise Shortie Shorts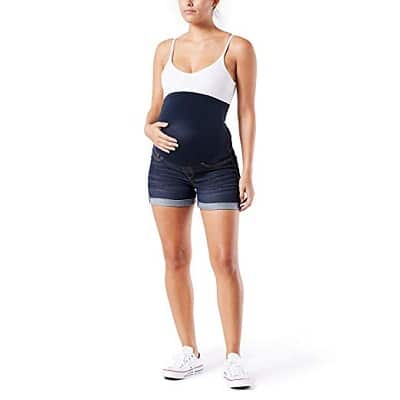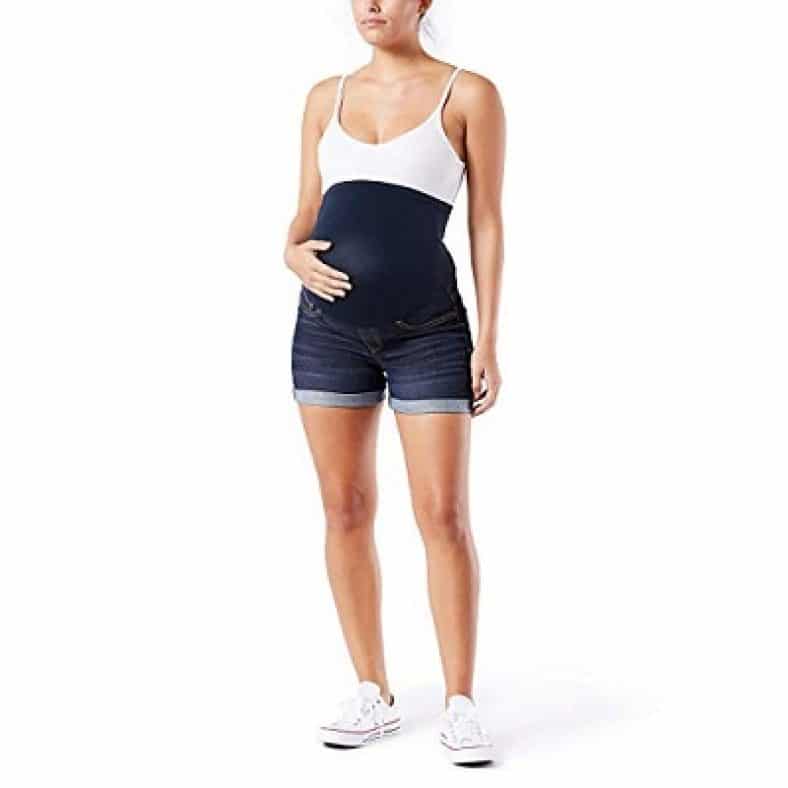 If you have a summer pregnancy, you need at least one pair of shorts. Levi Strauss made these shorts to hug your curves and have a full panel that covers your belly. They fit true to size and the color is dark, perfect for any occasion.
Check Pricing and Availability
---
8

Motherhood Maternity Relaxed Fit Sleep Short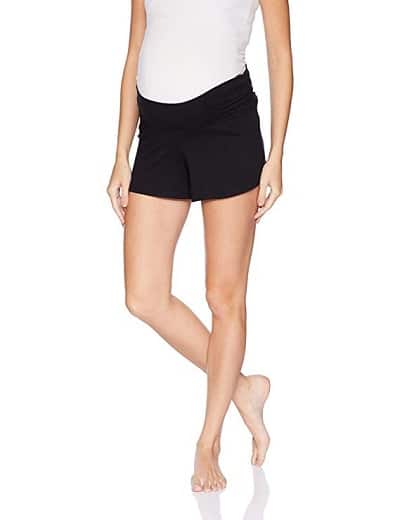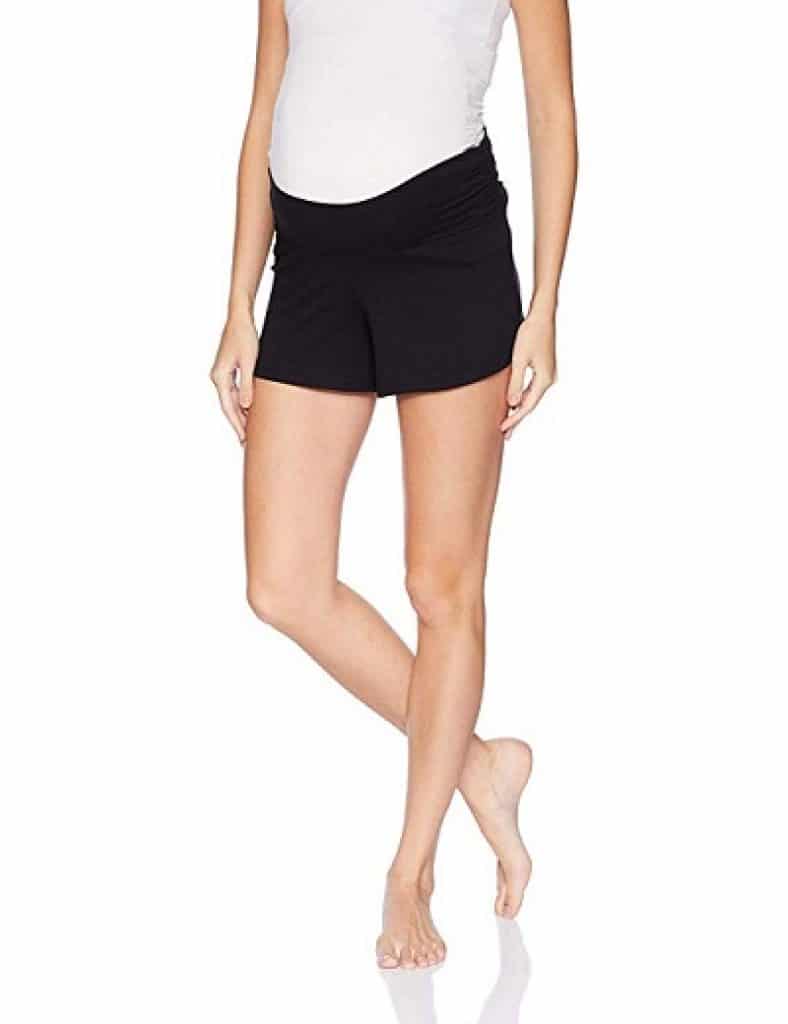 You need a comfortable pair of shorts that you can wear around the house. These are basic shorts that you can wear throughout your pregnancy and postpartum months. They're lightweight, super-soft, and comfortable – you can't ask for more! Motherhood Maternity added a fold over belly waistband that gives you the right amount of stretch.
Check Pricing and Availability
---
Tops
A few tops you might want to buy include:
Maternity t-shirts are your main staple for your wardrobe, whether you're pregnant or not. T-shirts come in different patterns, colors, shapes, and more. V-neck style shirts are more breastfeeding friendly, but any shirt can be nursing friendly with those long tank tops underneath.
Make sure that you grab some with a bit of stretch in the material. It'll grow with you. Some have side-ruching. Classic tees go with basically anything, whether it's your maternity jeans or maternity leggings!
If you're pregnant in the fall and winter-time, then you need long sleeve shirts. Ruching on the side of the shirts make it so they fit well throughout all the trimesters. You will want to have a few plain colored long sleeve shirts – everyone needs a black shirt! Grab some patterned shirts that you can dress up for dinners or when you head to work.
Tunics are a good choice for a maternity top because they are longer than regular maternity shirts and shorter than a dress. A good maternity tunic shows off all the curves you want to show off because they're fitted across your shoulders and arms. At the same time, tunics cover your growing hips, belly, and bottom.
You want to remember that you're buying tops for second and third trimester. It's best to buy tops that will work for both trimesters and can be considered staples. You can dress things up by adding cardigans, layering, or adding different jewelry.
You might be surprised at how many tops and sweaters will work for a long time. Also, you want to think about seasons in which you'll be pregnant. If you're going to be in your second and third trimesters throughout the spring and summer, you'll primarily need short sleeves and tank tops.
Top Suggestions for Maternity Tops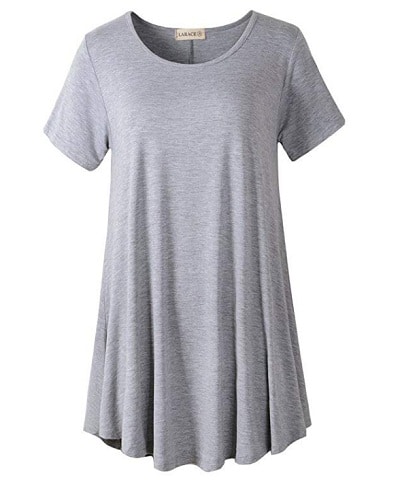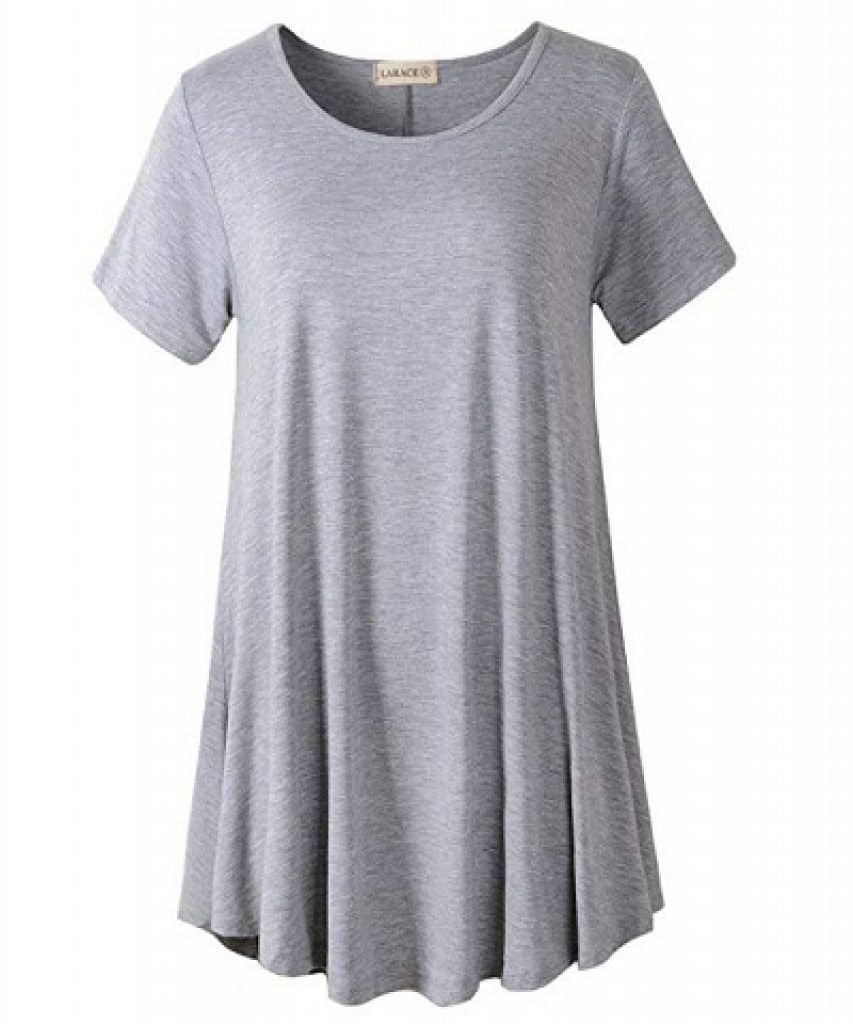 The Larace Tunic Top is lightweight, perfect for spring, summer, and fall. It works great with leggings. The swing style short sleeve shirt with a scoop neck is flattering for almost all body types. You can wear it out shopping, traveling, on a casual date, or wherever you want to go. This shirt is sold in many color options!
Check Pricing and Availability
---
2

BBHoping Women's Classic Maternity T-Shirt Tops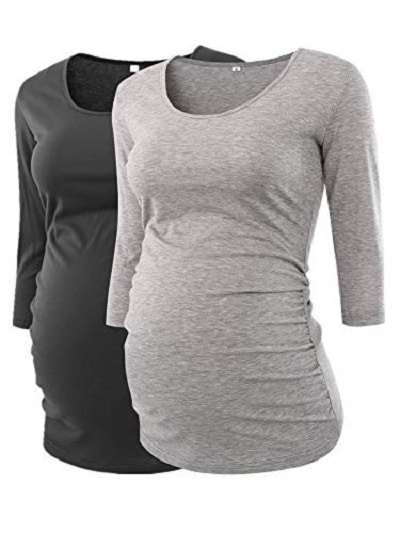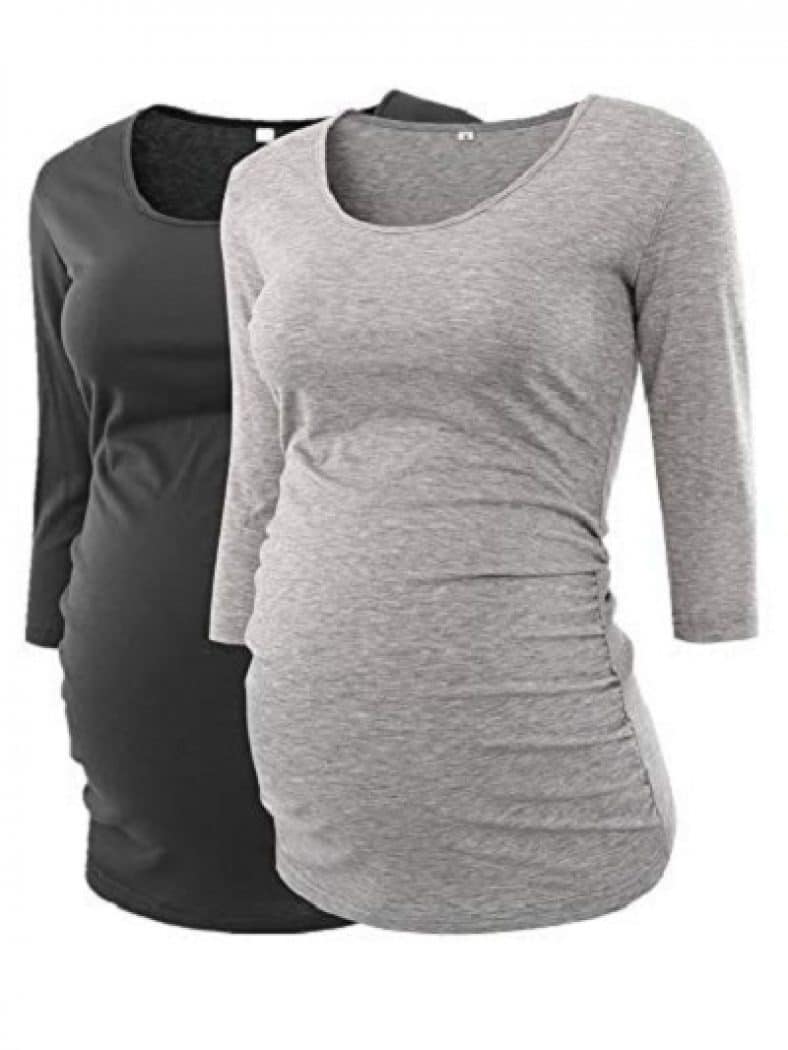 These shirts are designed to be simple and trendy, while also being comfortable through all stages of pregnancy. BBHoping made these tops from a spandex blend that is soft and stretchy – 95% cotton and 5% spandex. You can purchase these as single shirts or in two-packs.
Check Pricing and Availability
---
3

LaClef Women's Baseball Raglan Tops
Raglan tops are all the rage right now, and their versatility makes them an appealing maternity top. You can pair this shirt with leggings or jeans. LaClef uses soft rayon jersey for a comfortable, stretchy maternity top that will fit your body comfortably. The prints are adorable, ranging from floral to stripes.

Check Pricing and Availability
---
4

Love2Mi Maternity Tunic Tops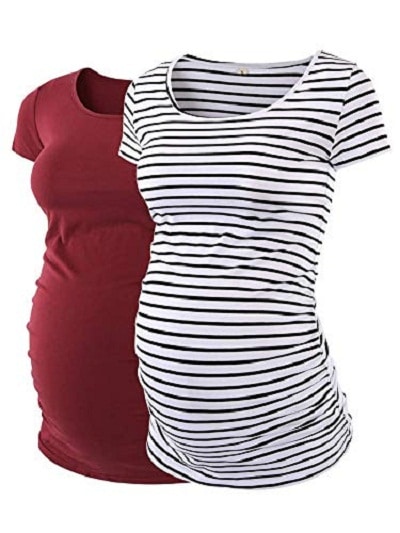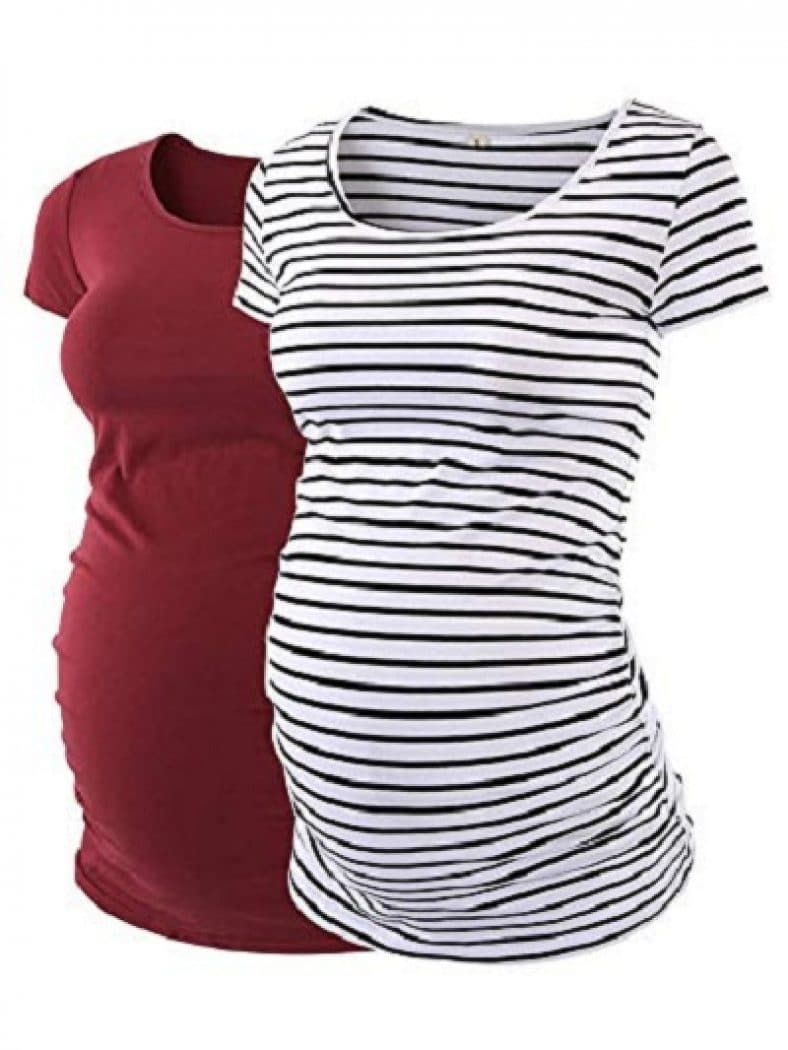 Love2Mi sells these tops in 2-packs. They're comfortable with a wrap design that works for pregnancy and postpartum. There is subtle side ruching to create a lovely silhouette that makes you feel good about yourself. The soft, jersey-knit material has plenty of stretch.
Check Pricing and Availability
---
Work-Appropriate Maternity Clothing
Depending on your job, you may need to dress for work, and that can be expensive. One of your friends will be skirts and dresses. You can easily layer them to make a professional look. Cardigans, jewelry, and fashion scarves change the look of your outfits. Also, you might want to grab one or two pairs of two maternity dress pants.
Grab Some Maxi Dresses
Maxi dresses are one of those versatile items that everyone needs in their wardrobe, whether you're pregnant or not. They're comfortable, versatile, and still flattering despite the length and size. Maxi dresses show off your baby bump without making you feel like you're fully exposed.
These dresses come in a variety of length, cuts, fabrics, and prints. They cater to every style, so you can find ones that are casual, for special occasion, and for the workplace.
Try These Ones!
Mother Bee Maternity Short Sleeve Dress


This dress comes in a variety of prints and colors. It's stylish, comfortable, and perfect for every stage of pregnancy. It features a v-neck with a wrap style. You can purchase this maxi dress in sizes small to XL.
Check Pricing and Availability
---
Don't Forget the Cardigans
No wardrobe, maternity or not, is complete without at least one or two cardigans. Cardigans are versatile and can change the look of an entire outfit. It's the fastest way to turn your average maternity t-shirt into a dressed-up outfit. Cardians are versatile, comfortable, cozy, and they're perfect for breastfeeding.
Try These Ones!
Rags and Couture Women's Maternity and Nursing Cardigans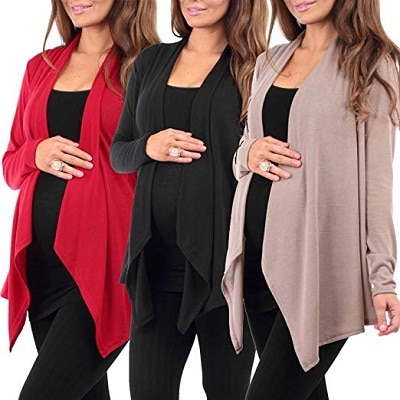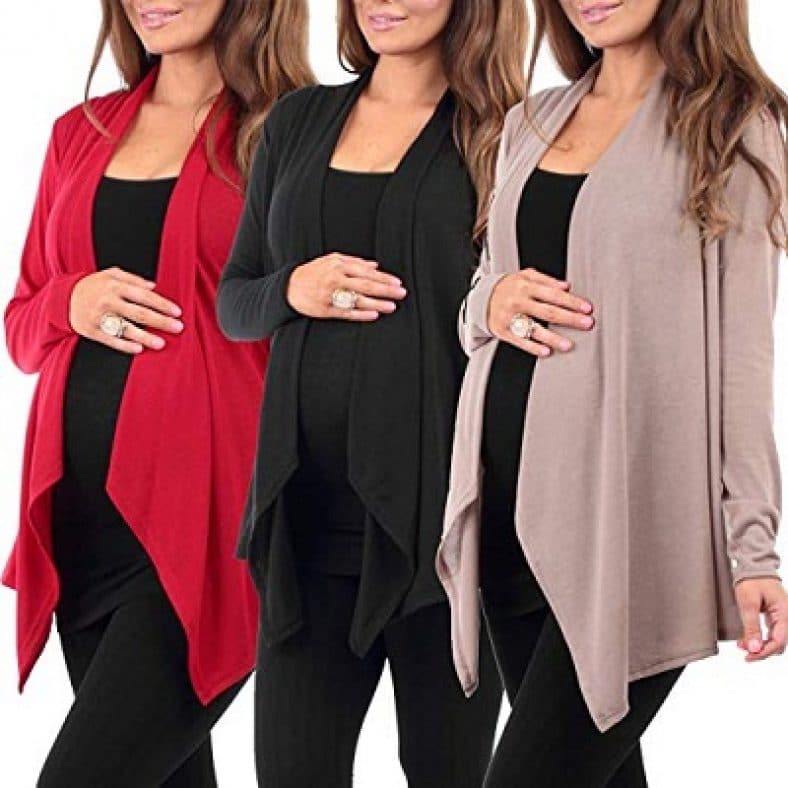 These cardigans are made in the USA and come in a 3-pack. Made of polyester, rayon, and spandex, these cardigans are soft and stretchy, perfect for every stage of pregnancy and postpartum. You can toss one on for extra warmth while still being appropriate for every event. They come in a range of sizes from small to 3XL!
Check Pricing and Availability
Read our complete guide of Best Pregnancy Pillow.
---
Picking the Best Maternity Clothes
Maternity clothes are a necessity, and they're an investment. You don't want to waste your money on some cheap maternity clothes that you'll only wear once. Your maternity wardrobe should be versatile, so you can use accessories to change up the looks. By grabbing the best maternity clothes, you'll have something that works for every occasion without breaking the bank.